Our first home was a quaint little bungalow built in 1900, but the mustard yellow walls and cave-like kitchen was not so quaint. After tearing everything out, we built a dream kitchen for our little home. Here is our low budget DIY kitchen remodel before and after tour.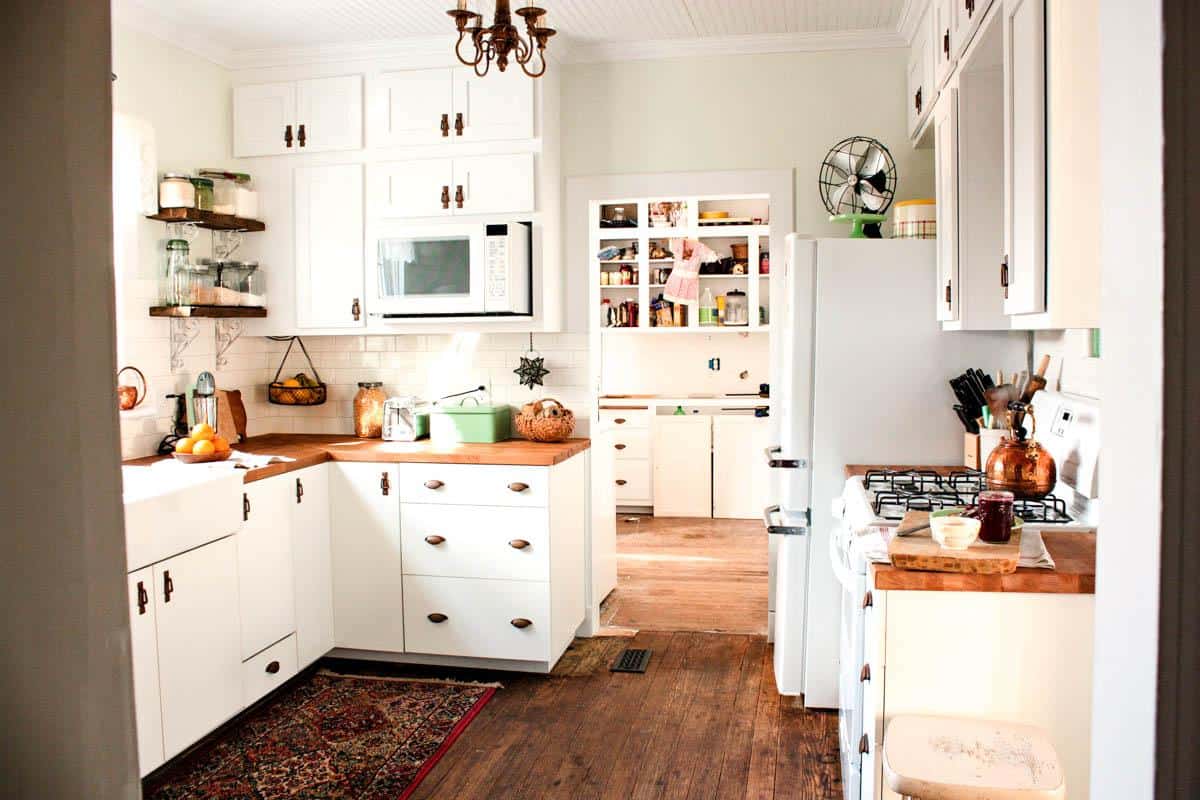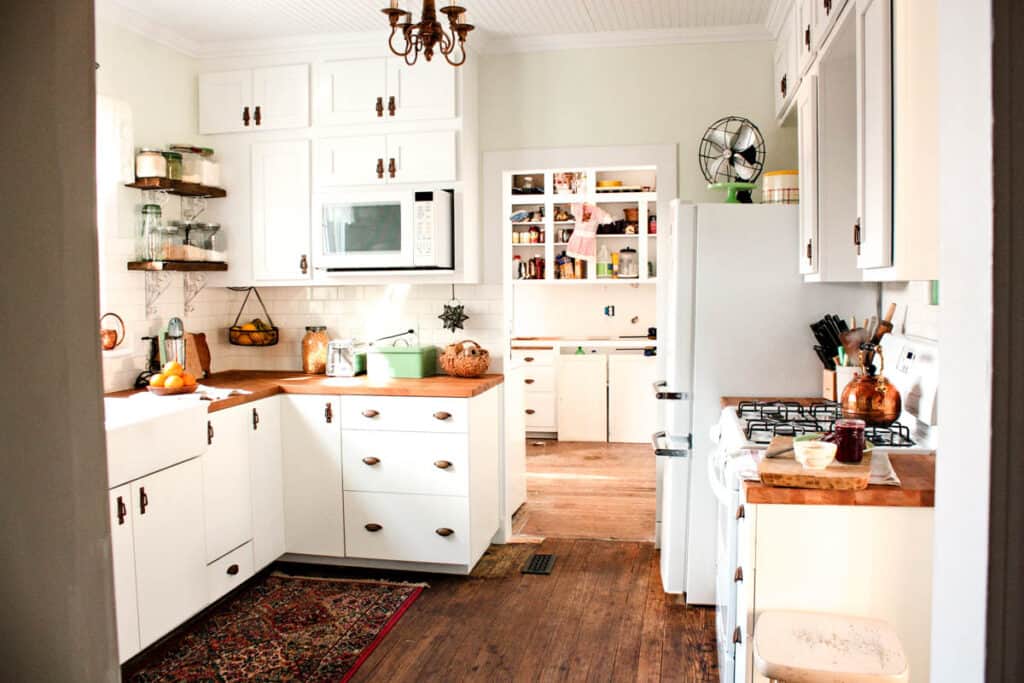 I may earn a small commission through your purchase through any Amazon Affiliate links on this post. This is at no additional cost to you. All recommendations are my own because I believe in each product. See my full Privacy Policy here.
Before Our DIY Kitchen Remodel
The original kitchen was dirty and had mouse problems for many years. The dark countertops, mustard yellow walls and small kitchen window created a cave-like feeling in the room. The floor had 7 layers of linoleum and laminate flooring that made it a full two inches above the other rooms. Many existing cabinets had no doors, and it was not in a cute "open shelving" sort of look.
This bungalow was our first home, and we were excited to make it beautiful. The DIY low budget kitchen makeover was a complete overhaul, where we tore the lathe and plaster walls, the seven layers of flooring, cabinets, window, light fixtures and sink out of the old kitchen. We did it as quickly as possible since cooking on an electric griddle and washing dishes in the bathtub were not my idea of a good time.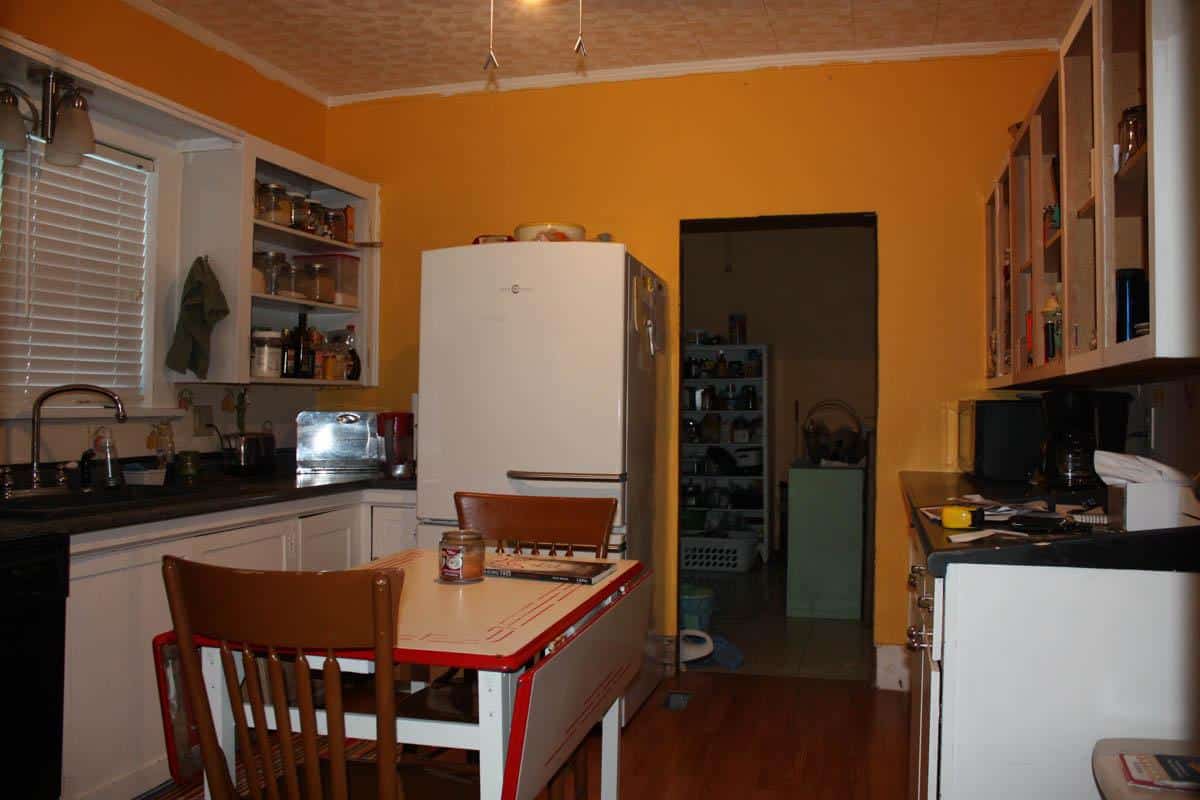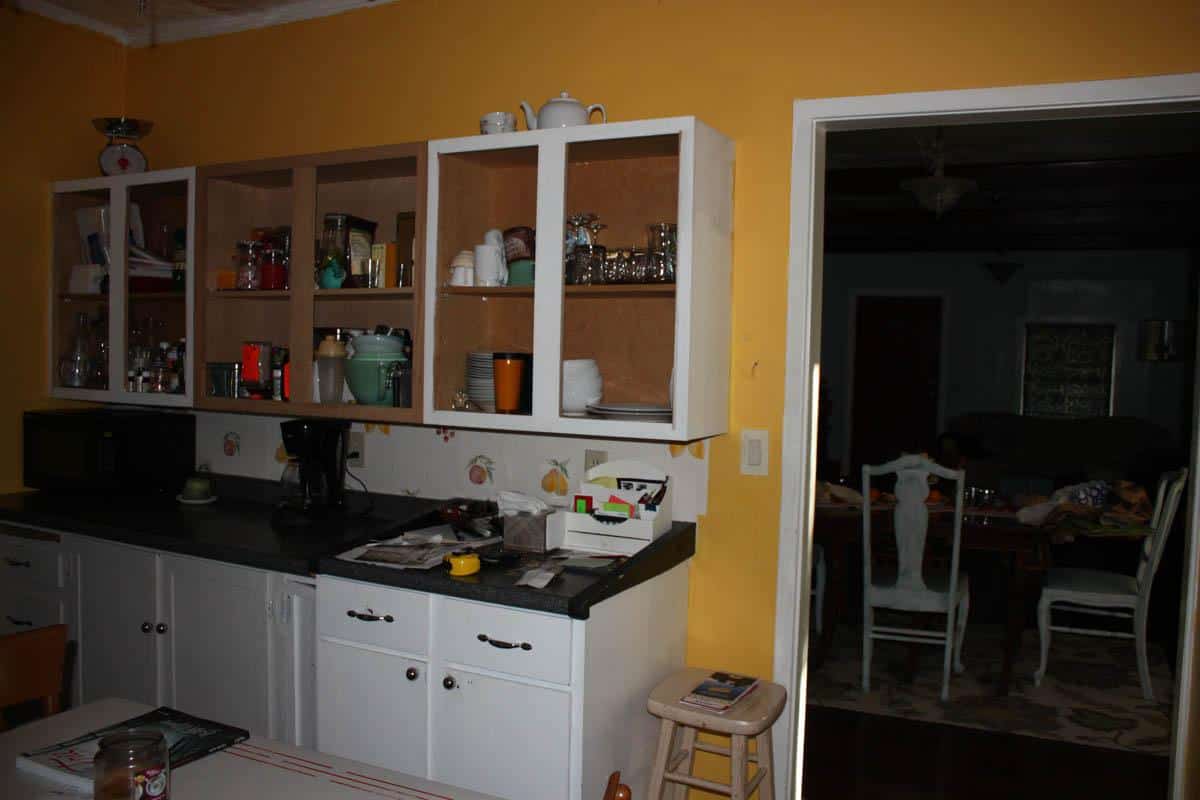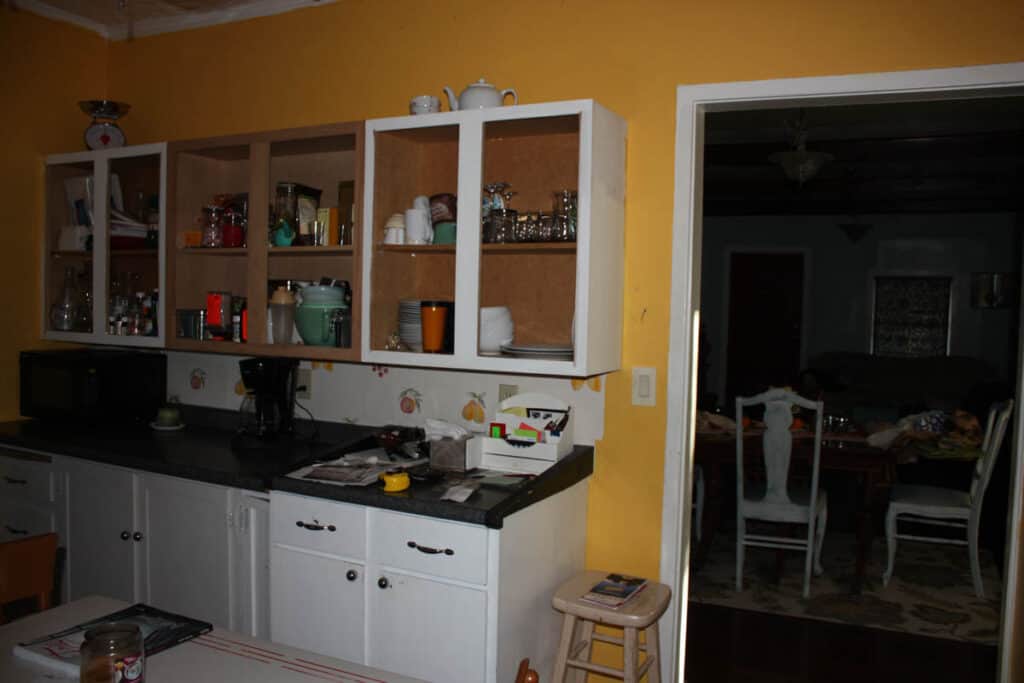 You can find links at the bottom of this post to most of the items seen in this low budget DIY kitchen remodel before and after tour.
Definition of DIY for Our Kitchen Remodels
As with all our remodel projects, we did this DIY style. When I say "DIY," I mean D.I.Y. (well, DIY plus Youtube). We couldn't spend a lot of money due to a small budget. We completed the kitchen update in 2015, and the total farmhouse style kitchen complete remodel cost just under $6,000, including appliances.
I must admit, that my dad does electrical work, so he is always on hand whenever we do a project. Also, we had the upper cabinets custom built, but I painted the cabinets myself to save extra money. This was our first time doing a remodel project this large. Though I grew up renovating my parent's farmhouse, it is certainly different when it's your own home. We definitely learned a lot along the way.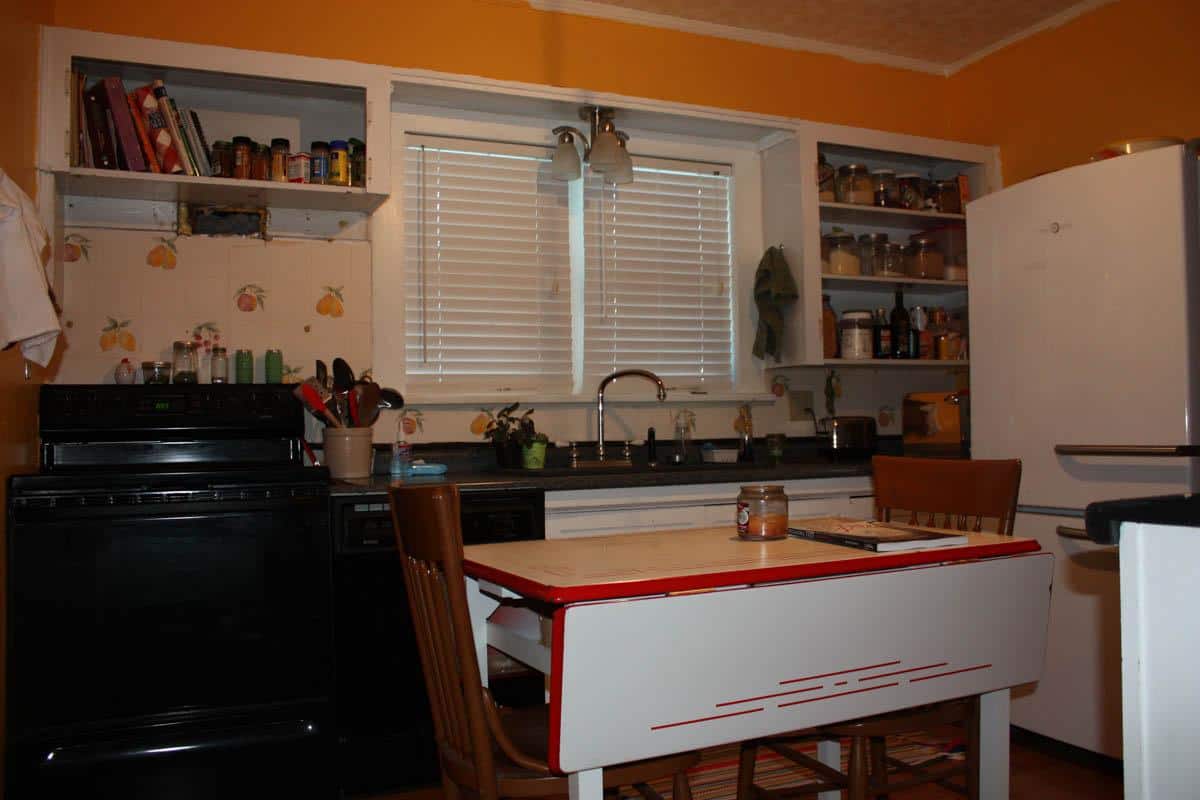 The Style of Our Bungalow Kitchen Renovation
I wanted a Rustic Modern Farmhouse kitchen style for our renovation. I love rooms full of natural light with wood accents to warm the space. The rustic décor style came from the butcher block countertops and original wood flooring. The modern look was implemented with all the white cabinets and white subway tile. The farmhouse kitchen element was seen through a very light green paint (Sherwin Williams Spinach White) on the walls, the apron front kitchen sink and the authentic farmhouse décor added.
At the time, decorating with subway tile backsplash, butcher block countertops and open shelving was hugely popular. I was worried that it would look outdated in a few years. But studying photos of old homes showed me that these decorating elements were anything but new. Open shelves have been in every style of kitchen throughout the decades. Subway tile, butcher block and farmhouse sinks are also timeless. In the end, I had little worry about the style fading. Even after declining in popularity, they would still have a timeless style.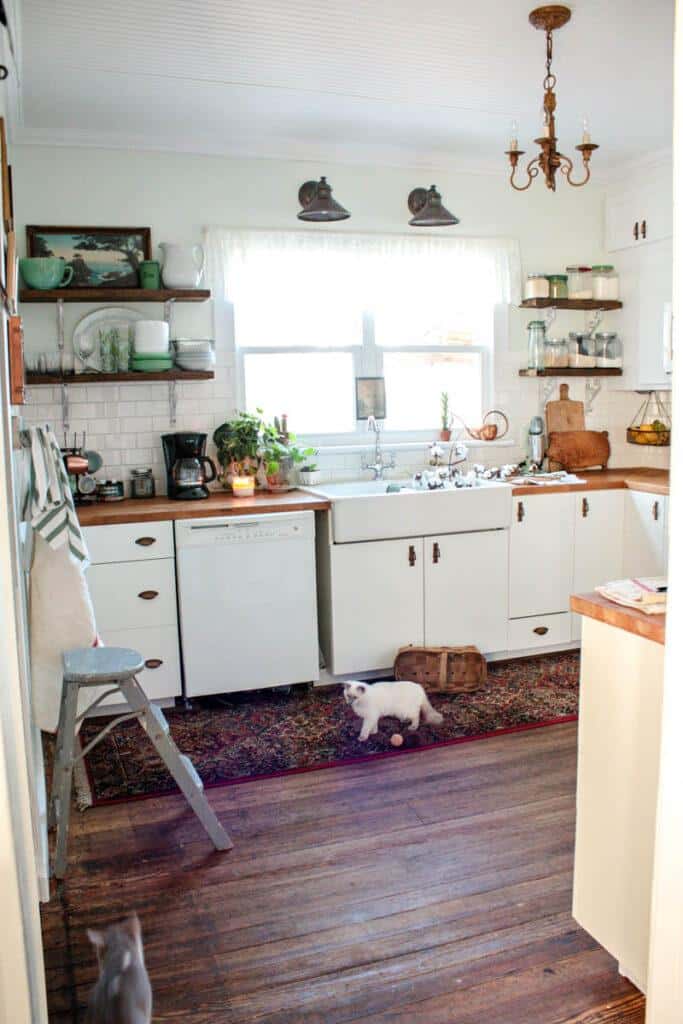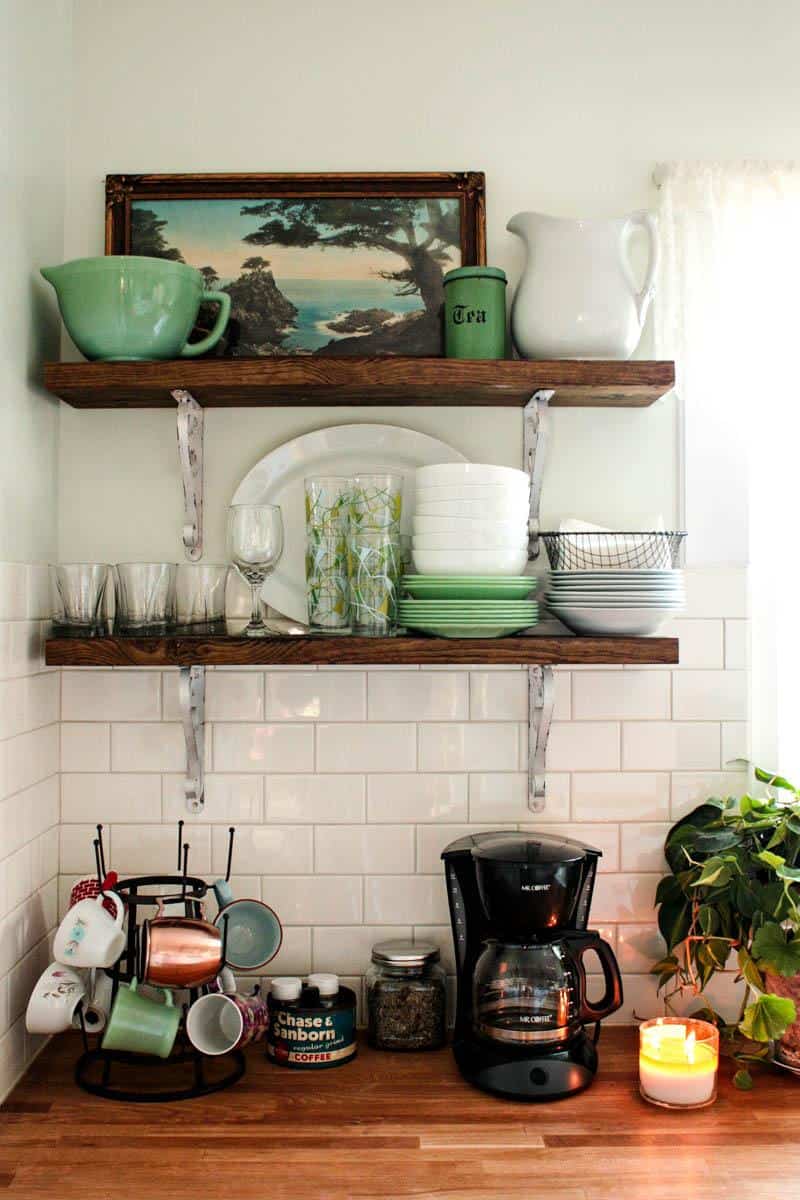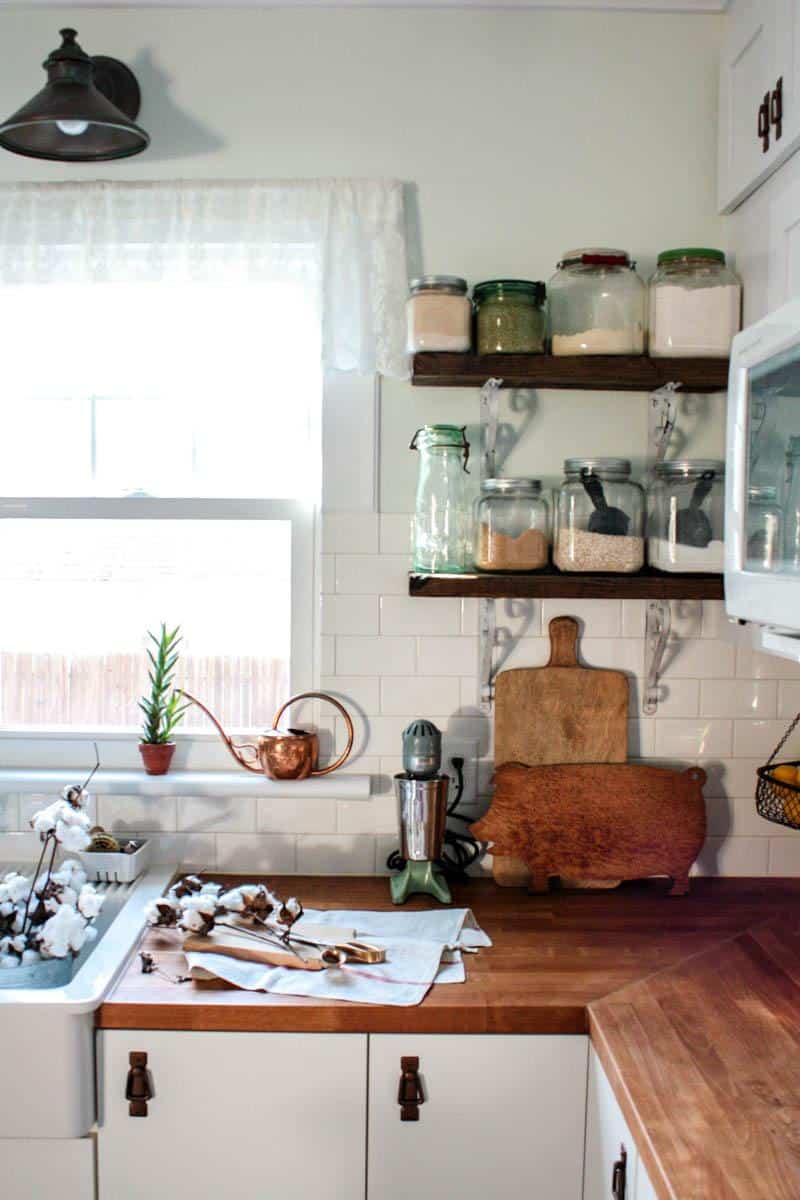 The Layout of Our Bungalow Kitchen Remodel
We had a horseshoe kitchen layout, which stayed the same. There really wasn't any other way to design the kitchen space as we had doorways to the dining room, family room and laundry room all coming from the kitchen. However, I did redesign the appliance and cabinet placement The square footage was approximately 10 x 12. Formerly, we had a kitchen table in the middle, but this just made the space feel cramped.
The lower cabinets were stock cabinets from IKEA. Most of them were soft closing drawers instead of cabinet doors. I got this idea from a friend, and it made for easy access getting to dishes, pots and pans in a drawer instead of digging to the back of a cabinet! Admittedly, we learned that IKEA cabinets are probably not the best choice. They held up fine, but they will not last as long as a wood cabinets for sure. The problem is that they're laminate and can't be repainted. When a cabinet is scratched, the scratch stays.
The upper new cabinets were custom built clear to the ceiling. I never understand why you would leave a gap above kitchen cabinets and waste all that storage space! I loved our taller cabinets. However, I wished I had them painted professionally. Saving money by painting them myself was not a joy and took a lot of time. I'll splurge next time.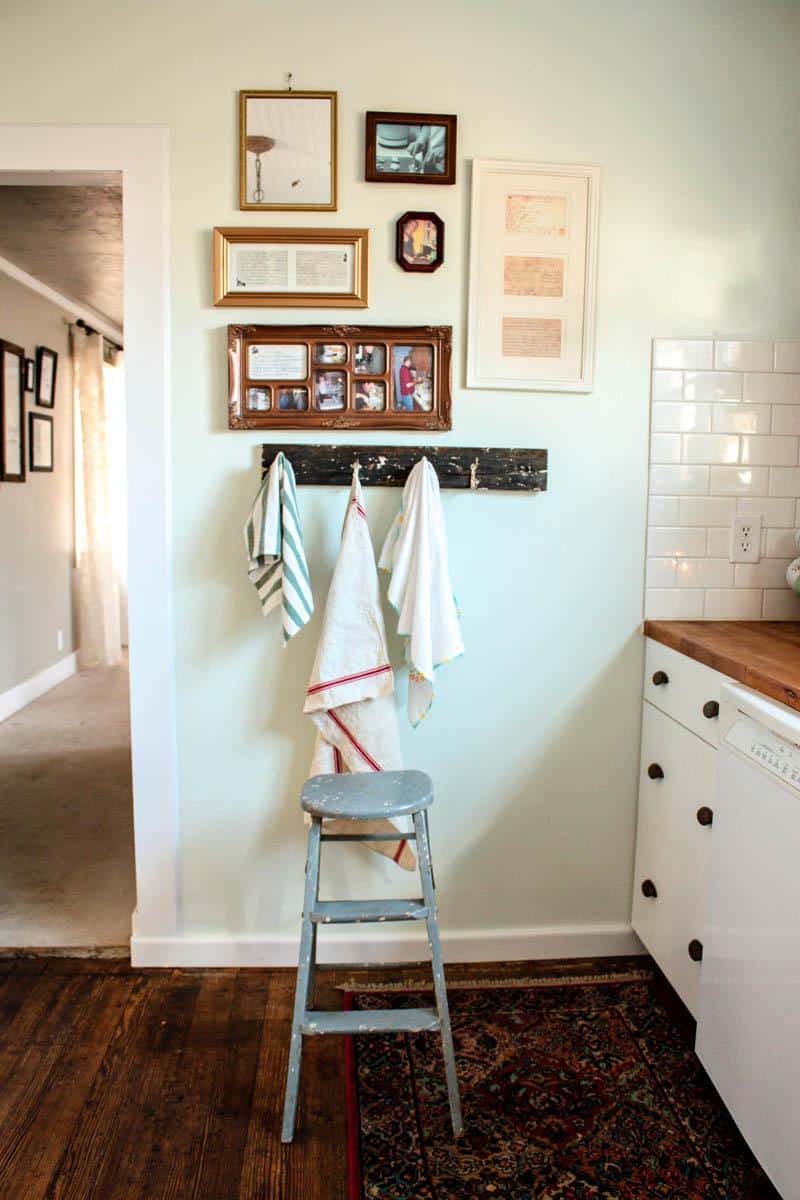 The Hardwood Floors for the Kitchen Remodel
Living in an old house always makes us curious as to what's underneath the layers. For the kitchen flooring, there were plenty of layers to be curious about. One Saturday morning, I got out my hammer and crowbar and decided to answer my burning question, "Did the kitchen have the original wood flooring?" Caleb came home from work that morning to be greeted with the mess. Needless to say, his day was planned out from that moment.
We scraped and pried our way through 120 years of linoleum floors to find our answer. We did indeed have original wood floors that were in pretty good shape! I only had to scrape small amounts of the tar backing from the wood and finish them with tung oil from The Real Milk Paint Company. **cue angels singing**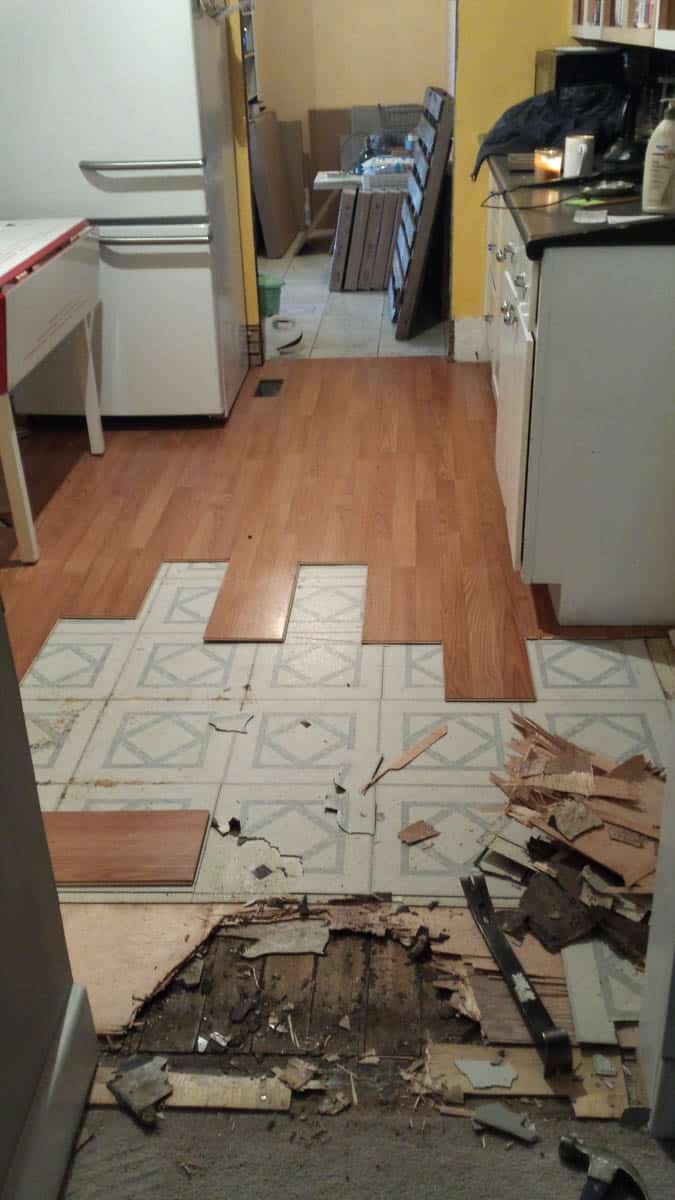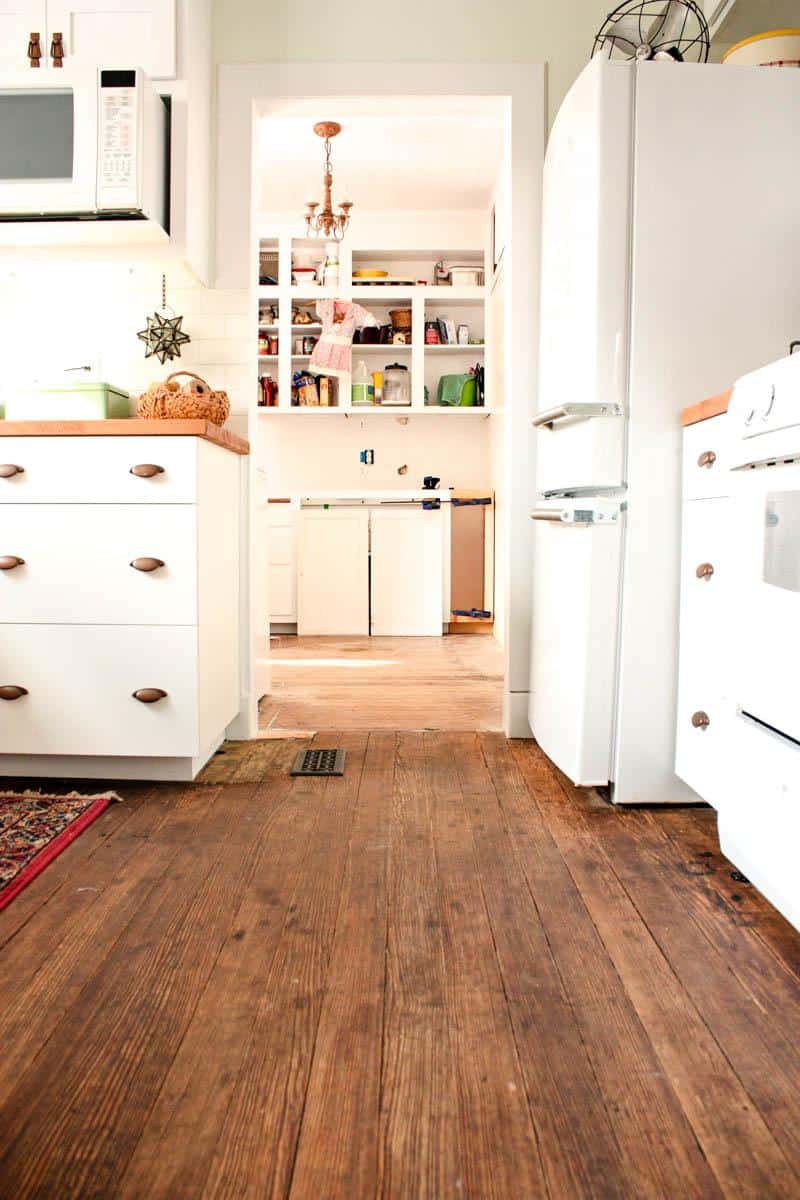 "New" Appliances for our Farmhouse Style Kitchen
I am die-hard when it comes to buying second hand house furnishings. I think I'm so accustomed to it that when I look at new price tags, I go into sticker shock coma. I'm not saying buying new is bad, not at all. It just isn't my go-to. The gas stove, microwave and dishwasher all came from Craigslist and were in good condition so that they were still going strong when we moved six years after the remodel.
However, I saw the vintage-style GE Artistry Refrigerator online and just couldn't forget the beauty. Even then, I didn't want to pay full price so through dozens on online searches, I found one at a Sears Outlet in Oklahoma for just under $650 including shipping. I love it so much that I'd be willing to pay new price to get another one should this one die.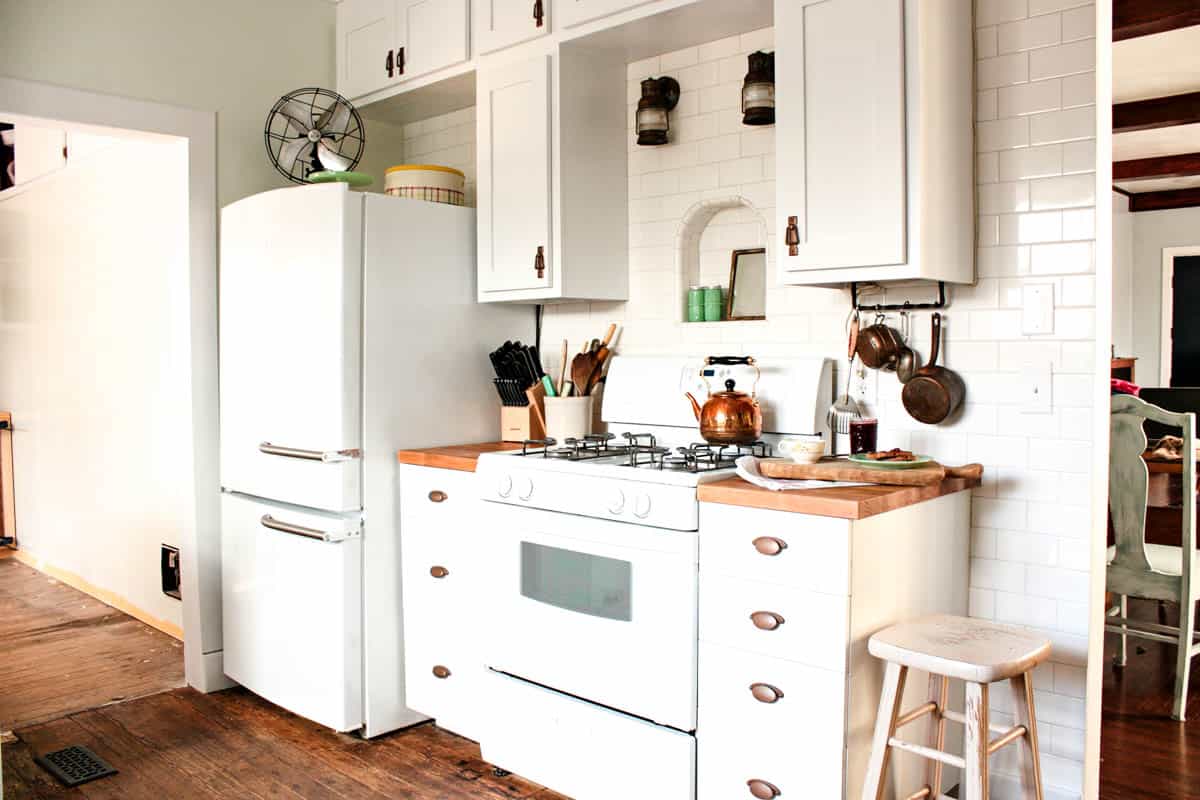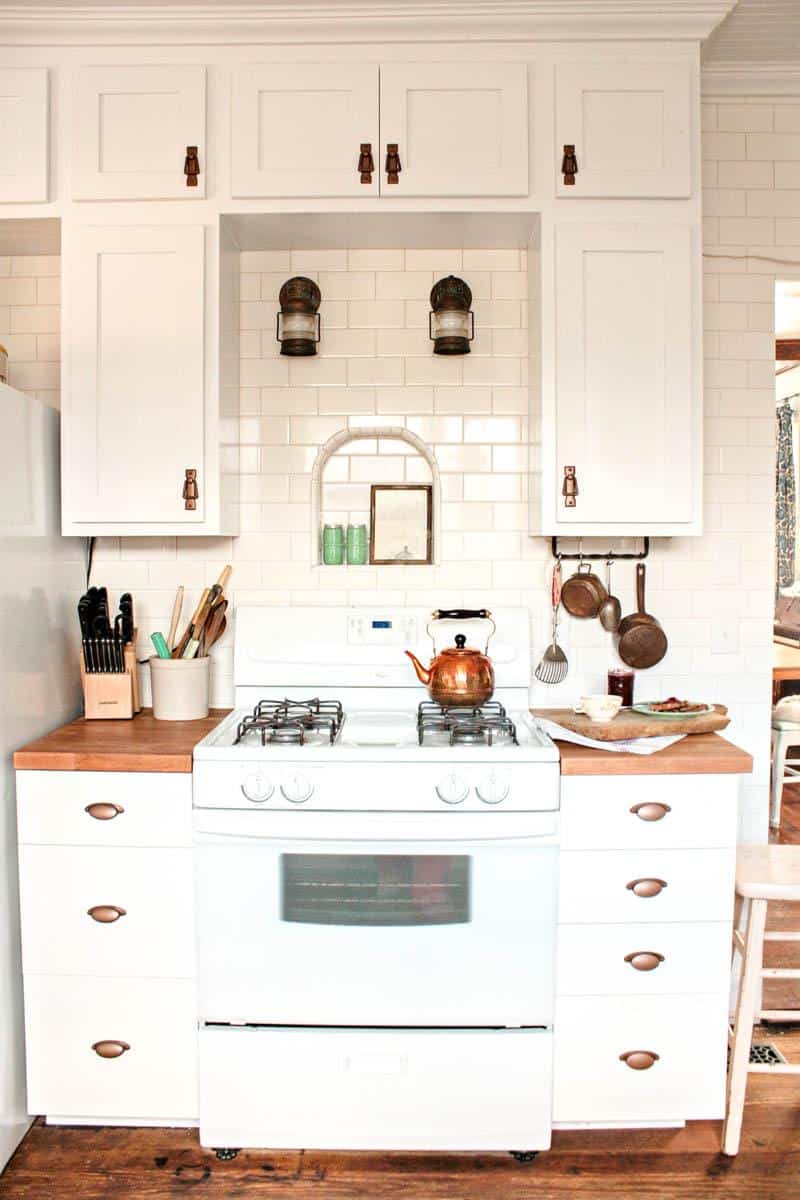 Farmhouse Sink and Butcher-Block Countertops
Oh, how I love the world of IKEA! So many things you didn't know you needed. Fortunately for our budget, the closest one is 3 hours away. While I wouldn't highly recommend using IKEA cabinets for a long-term kitchen remodel, the farmhouse apron-front sink I found there is da' bomb. (Yes, channeling my '90's childhood lingo here.) We purchased an on-sale floor model, that had a couple chips in it, so I asked for an additional discount on it. Scored this new farmhouse sink for $180!
The unfinished butcher block new countertops from IKEA also worked great for us. Currently, I think they only sell laminate butcher block…ours were all wood. I finished them with food grade tung oil from The Real Milk Paint Company. They held up very well, but you do have to be willing to live with a little wear on the wood. I lightly sanded and re-finished them once in the six years we had the kitchen, which covered up some but not all of the water marks and imperfections.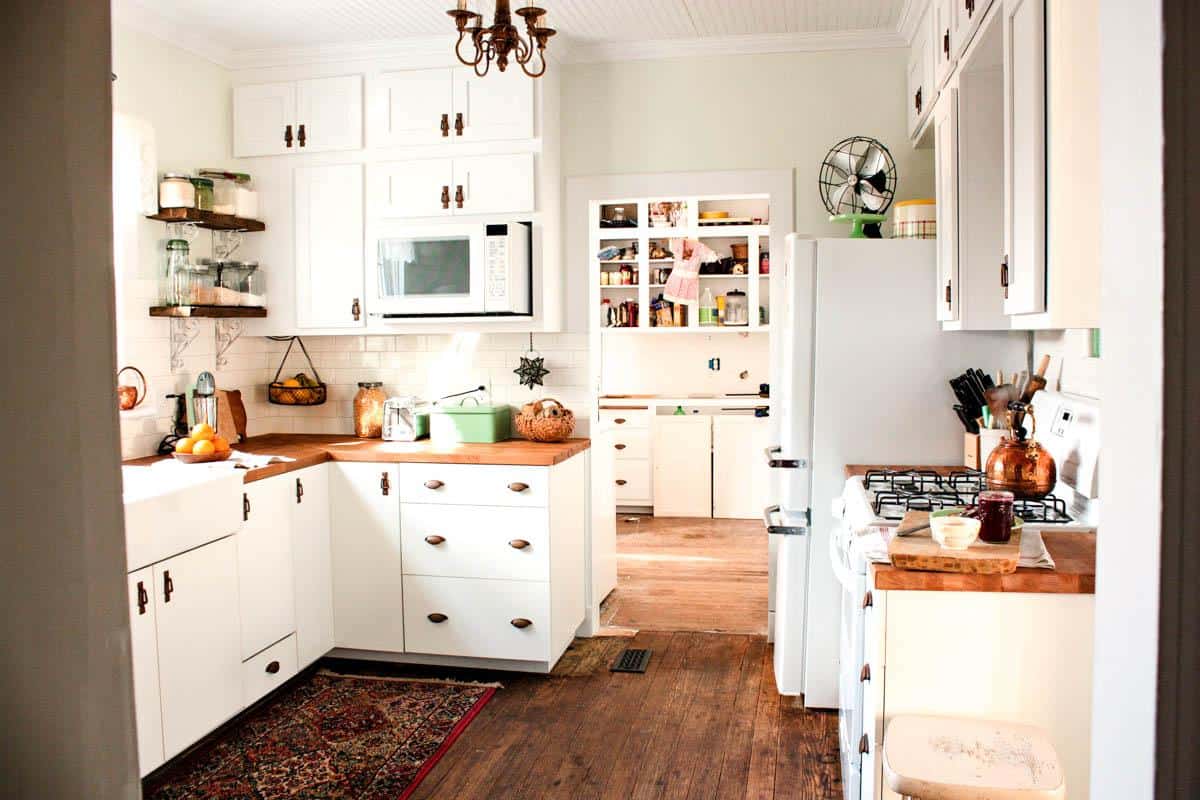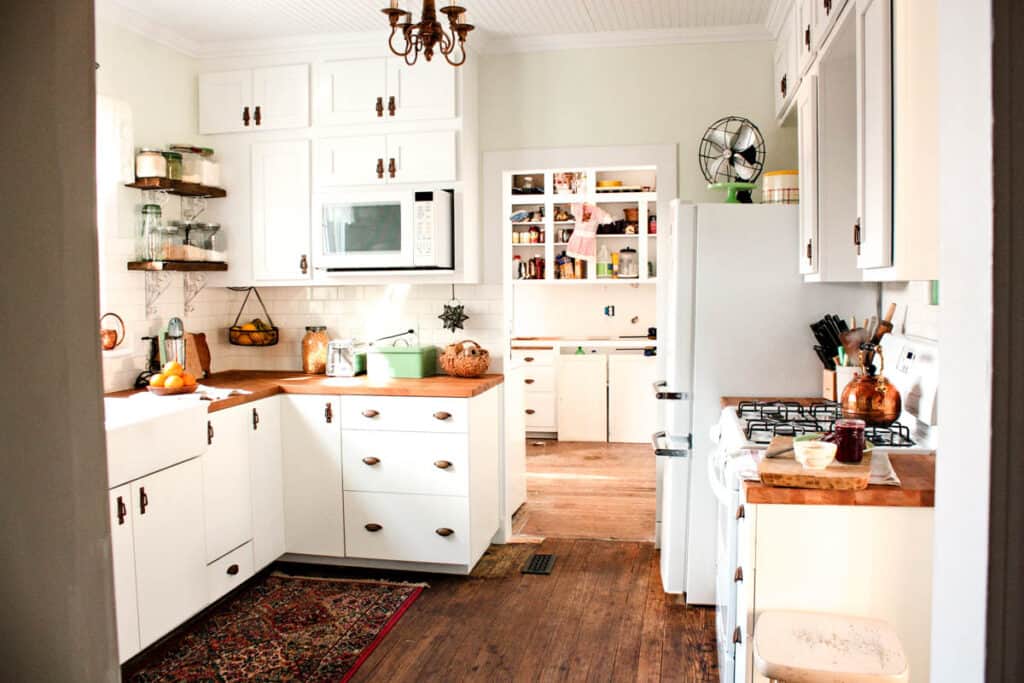 For the entire time we lived with our bungalow kitchen remodel, I absolutely loved it. It was open, bright and airy. I never got tired of the styles we chose. Since it was our first DIY kitchen remodel, there were things we succeeded at and some things we learned from.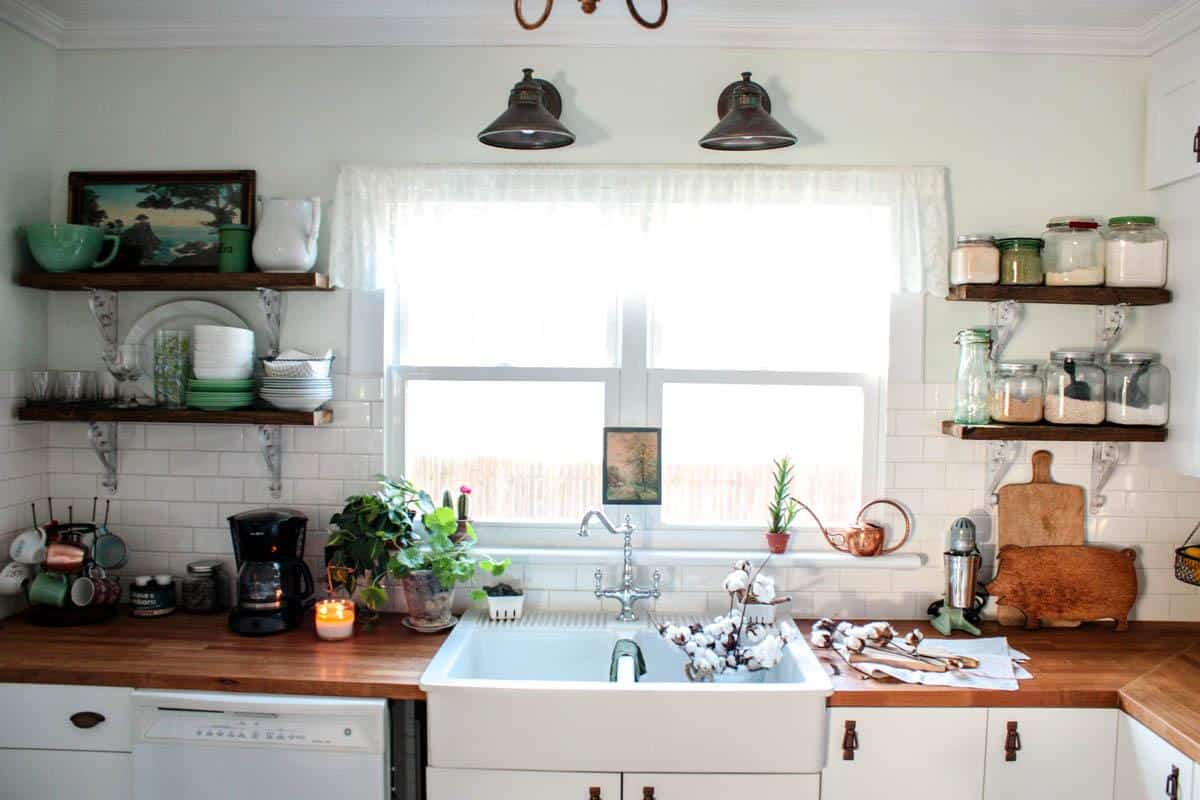 For the full cost and links to each item in our low budget DIY kitchen remodel before and after tour, see my post here.
How Much Does a 10 x 10 Kitchen Remodel Cost?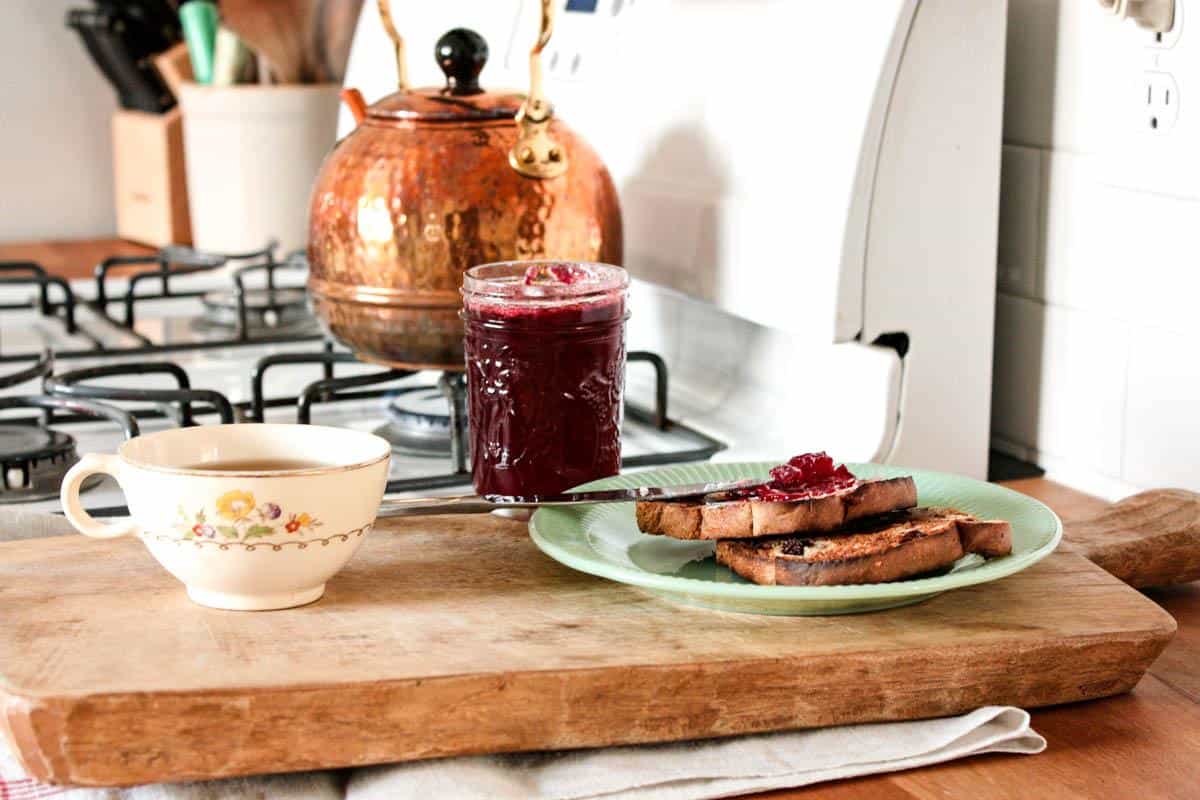 See below for links to items we used in the kitchen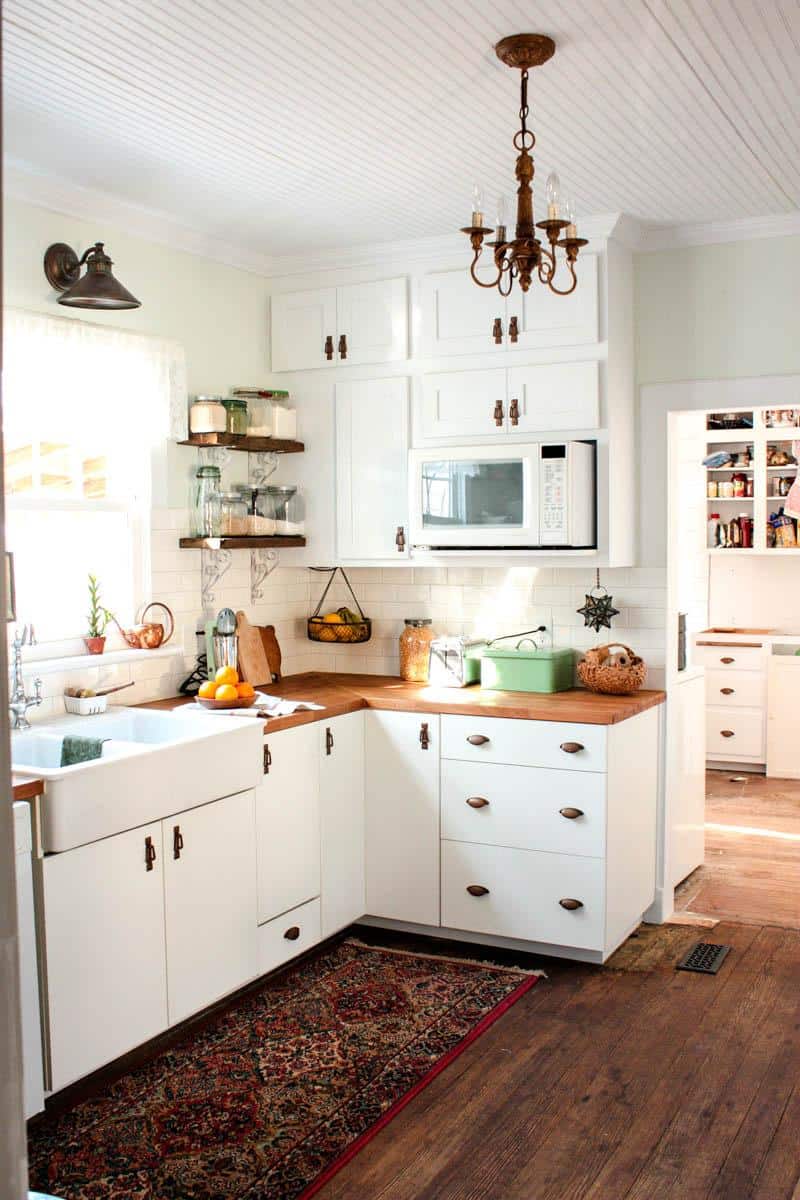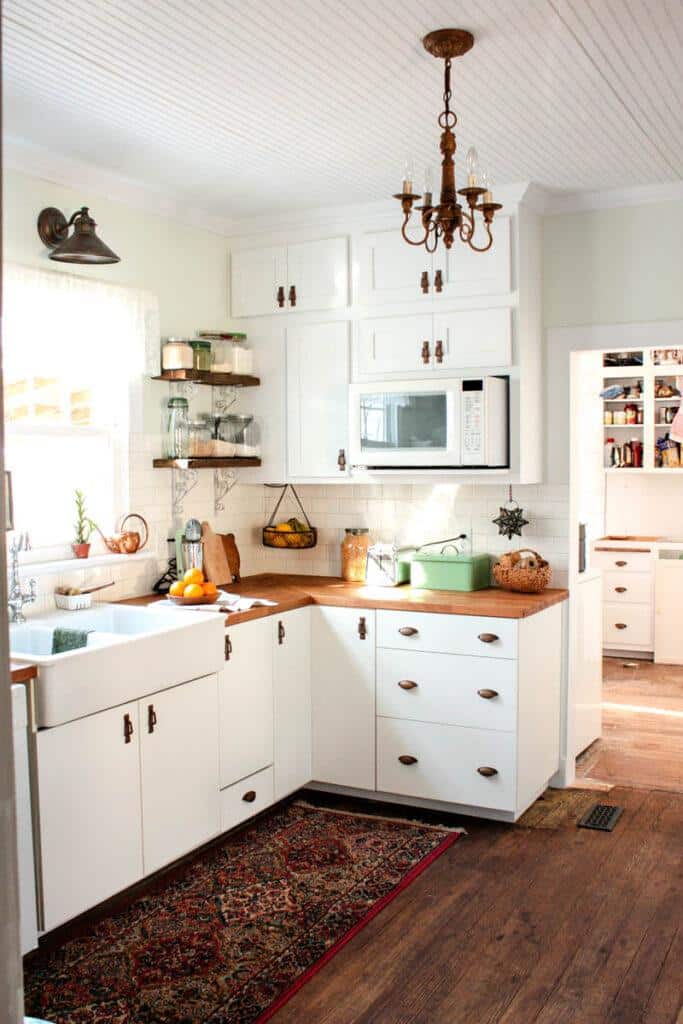 I hope you enjoyed seeing our bungalow kitchen remodel before and after tour. Comment below and tell me what things YOU would love to include in your dream kitchen.
Check Out Our Other Low Budget DIY Remodeling Projects
Mobile Home Mid Century Style Kitchen Makeover Before and After
Rustic Modern Bathroom Remodel Before and After
Vintage Bungalow Front Porch Design Makeover
Vintage Laundry Room Makeover on a Budget Before and After
Mid Century Nursery Before and After
Farmhouse Renovation During Pictures
Old Farmhouse Addition During Photos
Pin for Later Low Budget DIY Kitchen Remodel Before and After