In our 1900's bungalow remodel, we transformed a dark maroon room into a bright nursery for our baby boy. Follow along to see our Mid Century nursery before and after photos!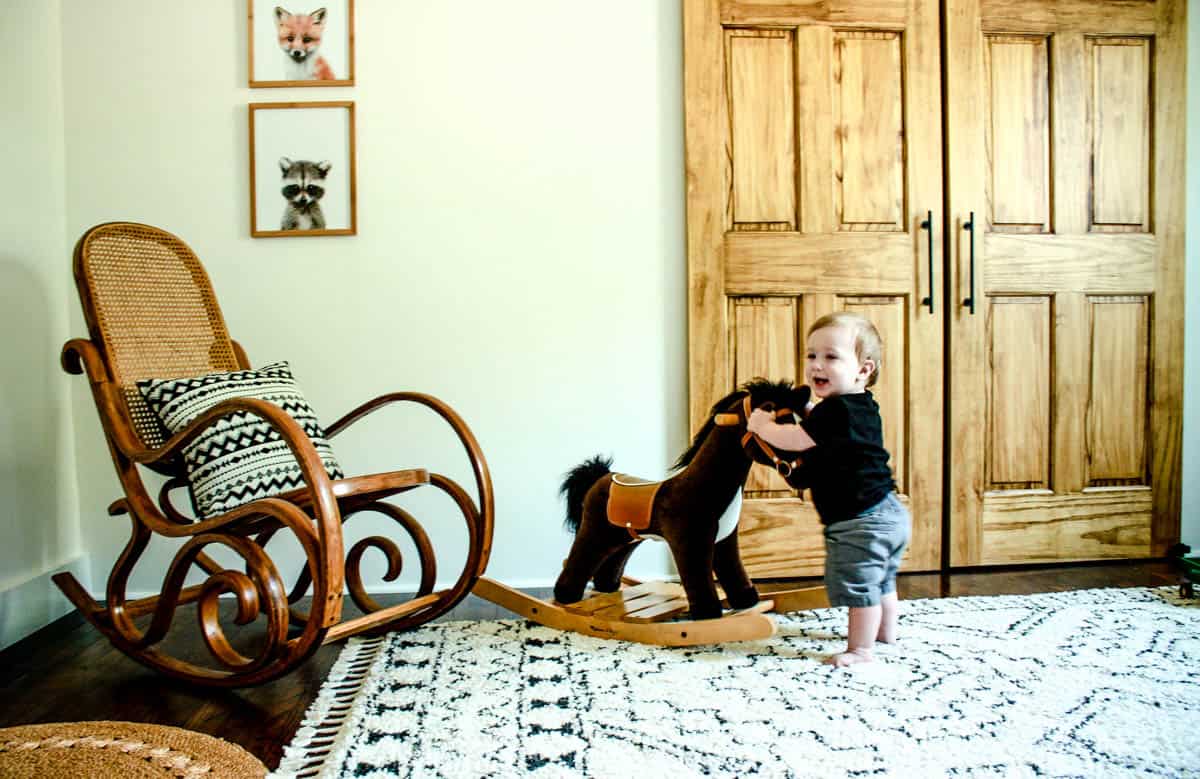 As an Amazon Associate, I may earn a small commission through your purchase through any Amazon affiliate links on this post. This is at no additional cost to you. All recommendations are my own because I believe in each product. See my full Privacy Policy here.
Though we moved from this first home last year, I wanted to do a little throwback tour of our 1900's bungalow nursery. I absolutely loved this space both for the way it turned out and for the memories we made with our new baby in this nursery!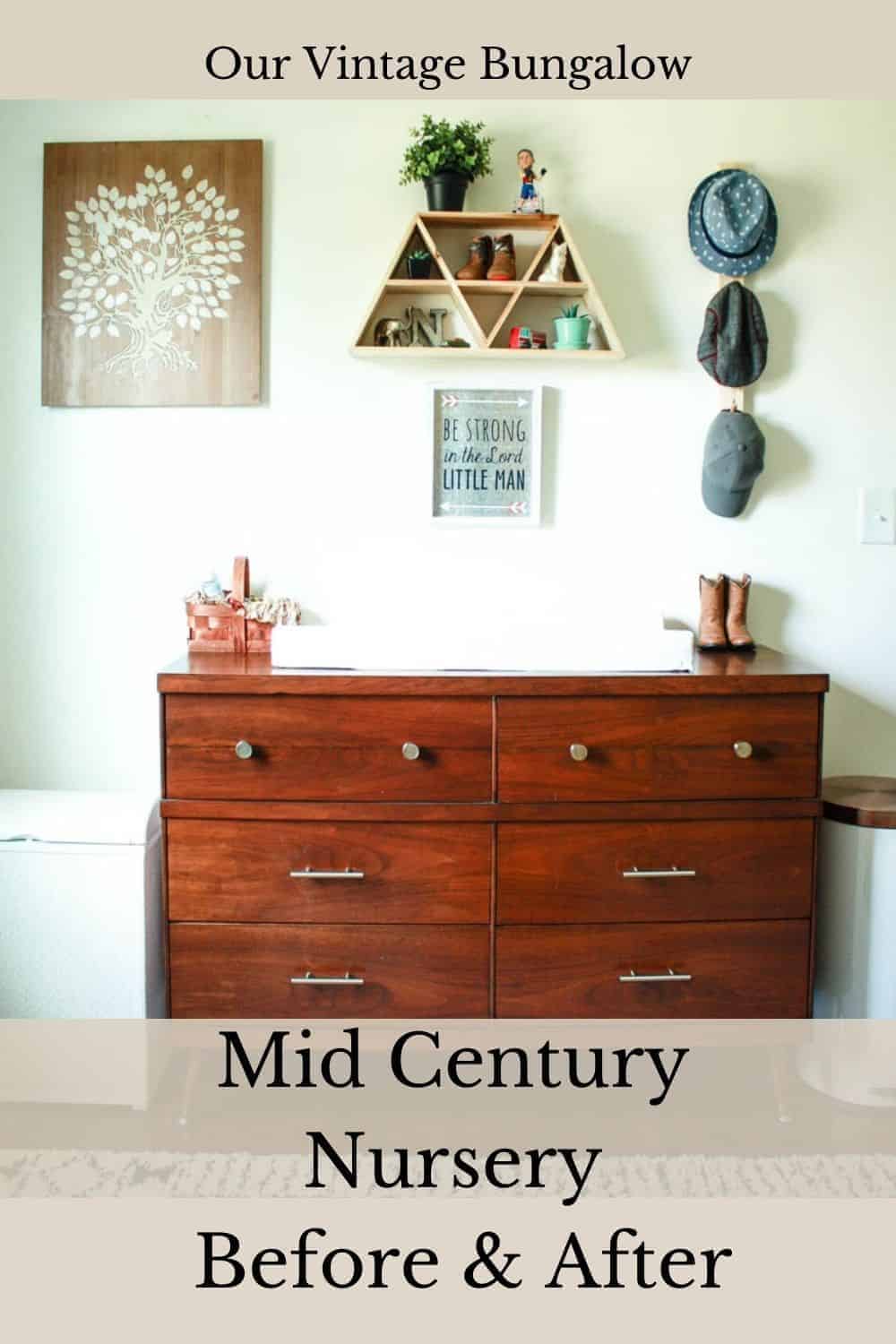 The Story Before the Nursery Remodel
Our first home was a sweet bungalow built in 1900. It certainly had good bones but needed a complete remodel. Since it was just the two of us, the downstairs bedroom was not high on the remodeling priority list. We used it as a guest room, storage space, office and work space for my Etsy business, Our Vintage Bungalow.
But the room was tragic to say the least. At some point, previous owners put in a tiny window in the corner that let in very little light. The walls were a very dark burgundy paint color, and the carpet (which I never got a photo of) was old and full of mouse poo. Oh, but my nieces and nephews thought the neon light ceiling fan was da' bomb though!
During an old house remodel, uncovering the history is fascinating. Pulling up the carpet, we found a trap door in the floor. Underneath was a covered cement well-looking thing. My mind started creating all kinds of stories for this strange space. Then a friend told us it was a cistern, a rain water tank that provided old houses with their water. Since we didn't need an ancient water tank, and it creeped me out a little with kids around, we made sure to secure the cistern trap door.
Transforming the Bedroom into a Nursery
When we found out the happy and long-awaited news that our beautiful baby boy was on the way, our nursery and downstairs bathroom remodel moved to immediate priority. With the help of family, we got to work. The changes we made to the bedroom turned nursery were:
Ceiling texture scraped, drywall patched and sanded
Original wood floors refinished (carpet had been removed when we moved in)
Electrical replaced
Most wall drywall replaced
Old window removed, new window opening created and replaced
Second door to dining room blocked off
Closet doors replaced with sliding barn doors
Walls and ceiling painted
New trim installed
New ceiling fan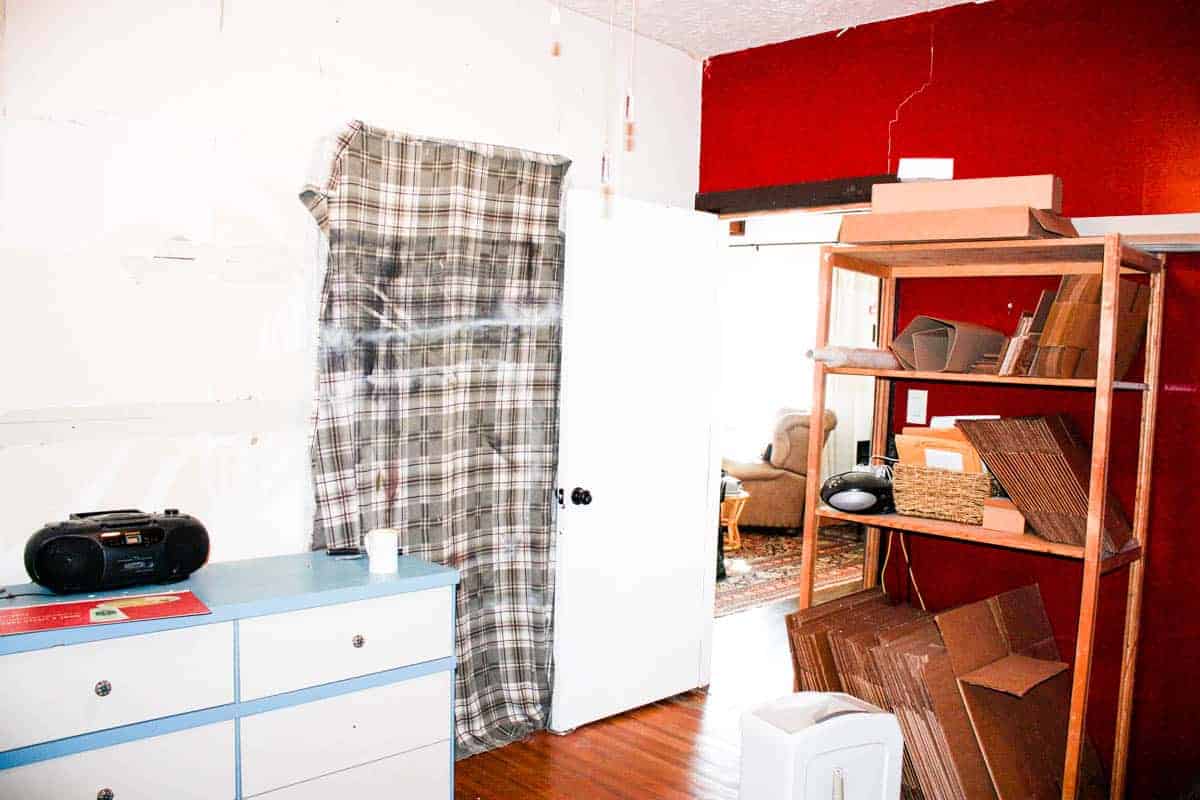 Choosing the Style of the Mid Century Nursery Design
I wanted a gender neutral nursery since it wouldn't be a nursery forever. The decor needed to transition into a kid's room (or possibly a future baby girl room) without a lot of changes made. White walls and neutral colors became the perfect backdrop for the wall decor and offset the dark wood floors so the room remained bright.
I loved the mix of light woods and geometric patterns yet simple lines of Mid Century Modern. Since the adjoining hallway had light colored wood siding (per Caleb's Rustic loving request), the light wood colors of the Mid Century look paired well with the rest of the house.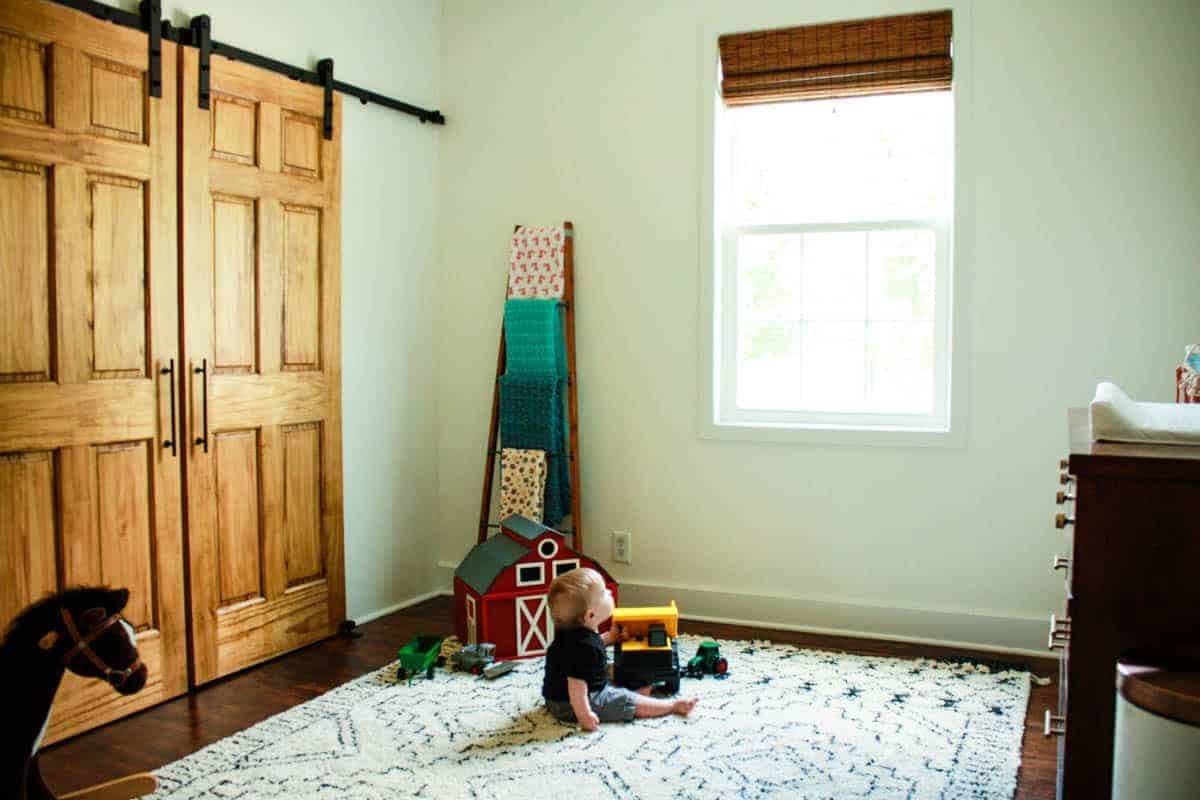 The Hardware, Rug and Window Treatment
We needed sliding barn doors for the closet, so a little Farmhouse was thrown into the style but with the clean lines of a Modern look of the black hardware. We stained the closet and bedroom doors the same natural wood color as the hallway to keep the number of wood tones to a minimum.
And I prefer a light fixture over ceiling fans, but the room needed extra ventilation. I searched everywhere for a Mid Century style ceiling fan. But then I realized that I didn't want my eyes drawn to the ceiling when walking into the room. Something that blended in with the ceiling would be better. I chose a simple white ceiling with slightly Modern design.
For the window treatment, I chose a simple wood slat roman shade from Blinds.com. I am totally in love with that company for high quality custom window treatments, by the way! Their customer service is top notch. The dark wood broke up the white walls and matched the floor color. Since wood slats do allow light in and this was a nursery, I got them with room darkening fabric behind. Also, we chose to upgrade to a blind with no strings since it would be right by the crib.
Again, I needed to break up the darkness of the stained wood floor, so I chose a geometric print fluffy rug from.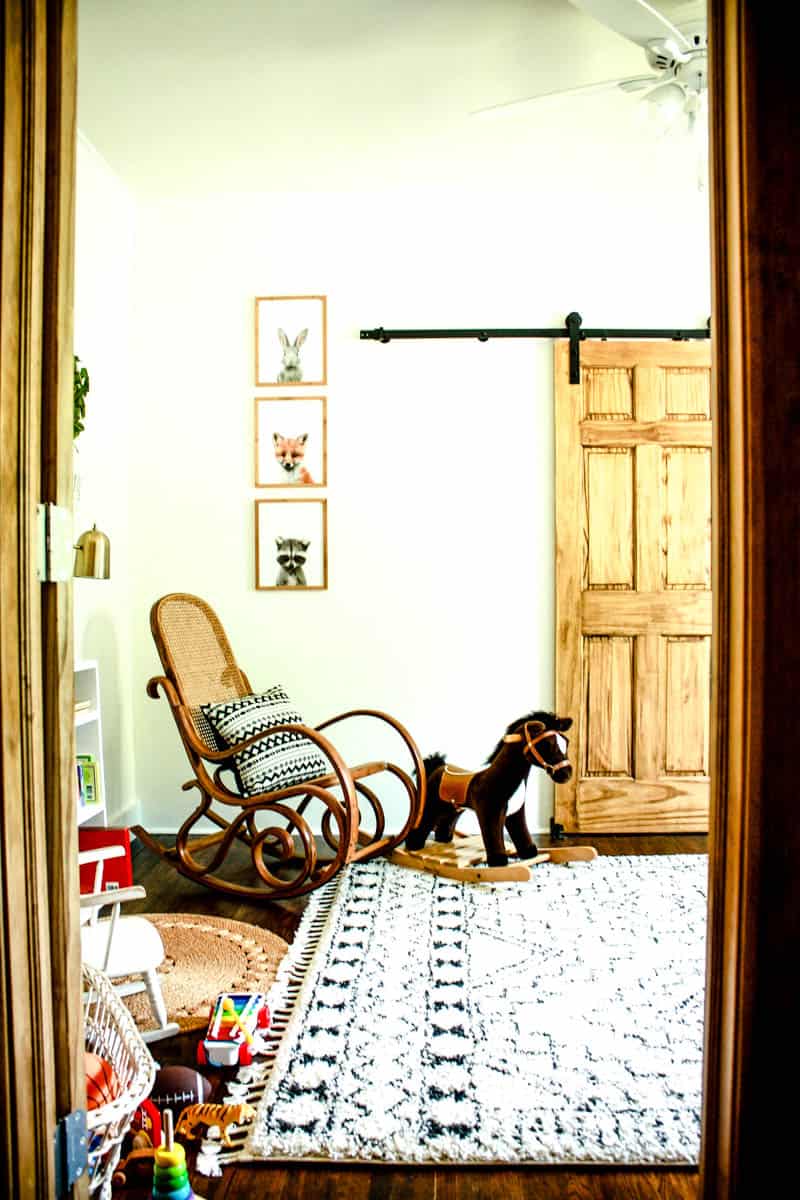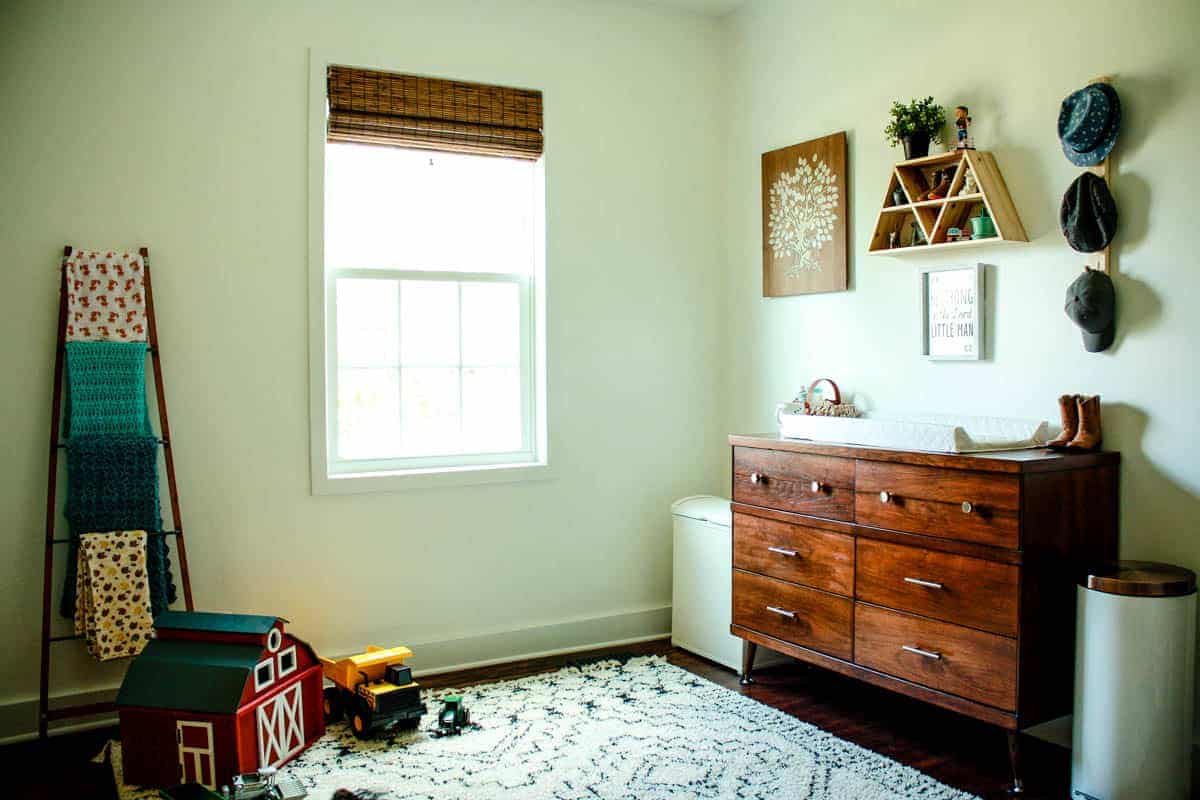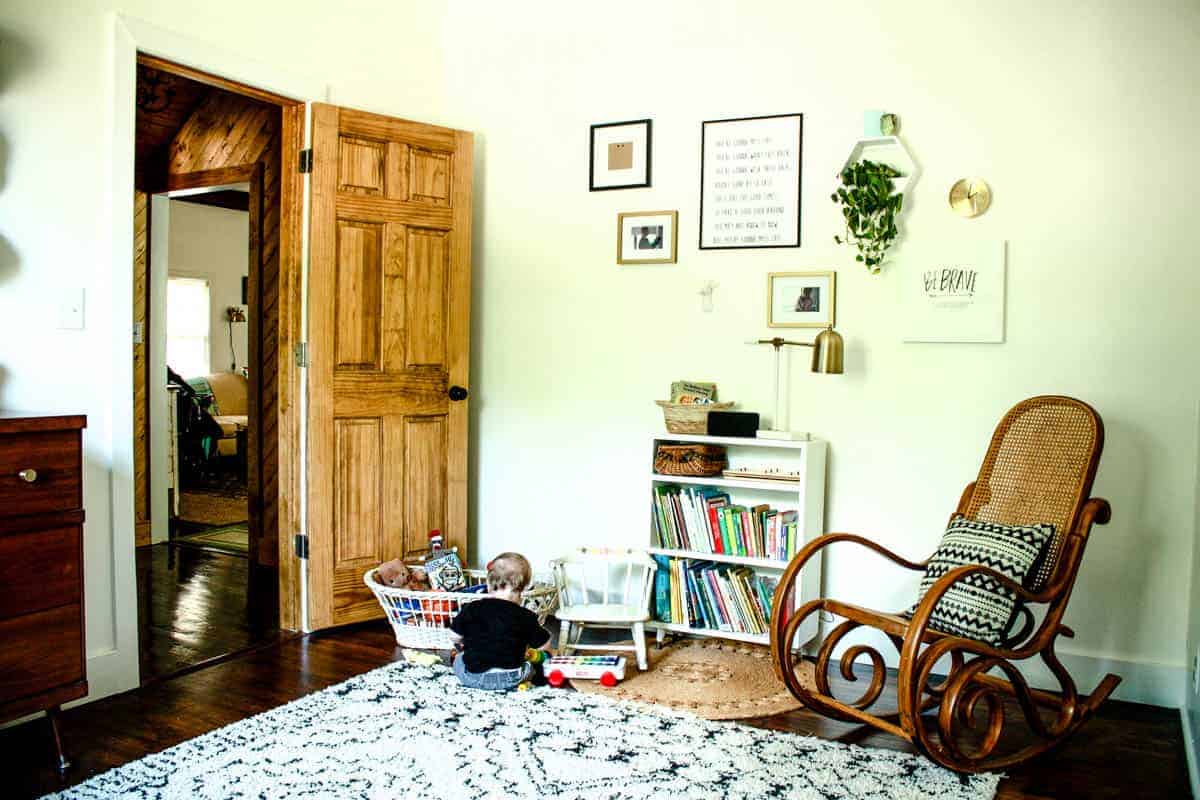 The Mid Century Modern Furniture
I had purchased a horribly ugly blue and cream dresser years before. My mom, a genius at furniture restoration, kindly transformed the solid wood dresser back into its original Mid Century glory. It was a labor of love since the wood had been damaged under the paint. Side note, next time I will just purchase an unpainted vintage dresser because it was not worth the effort. But I love the finished product!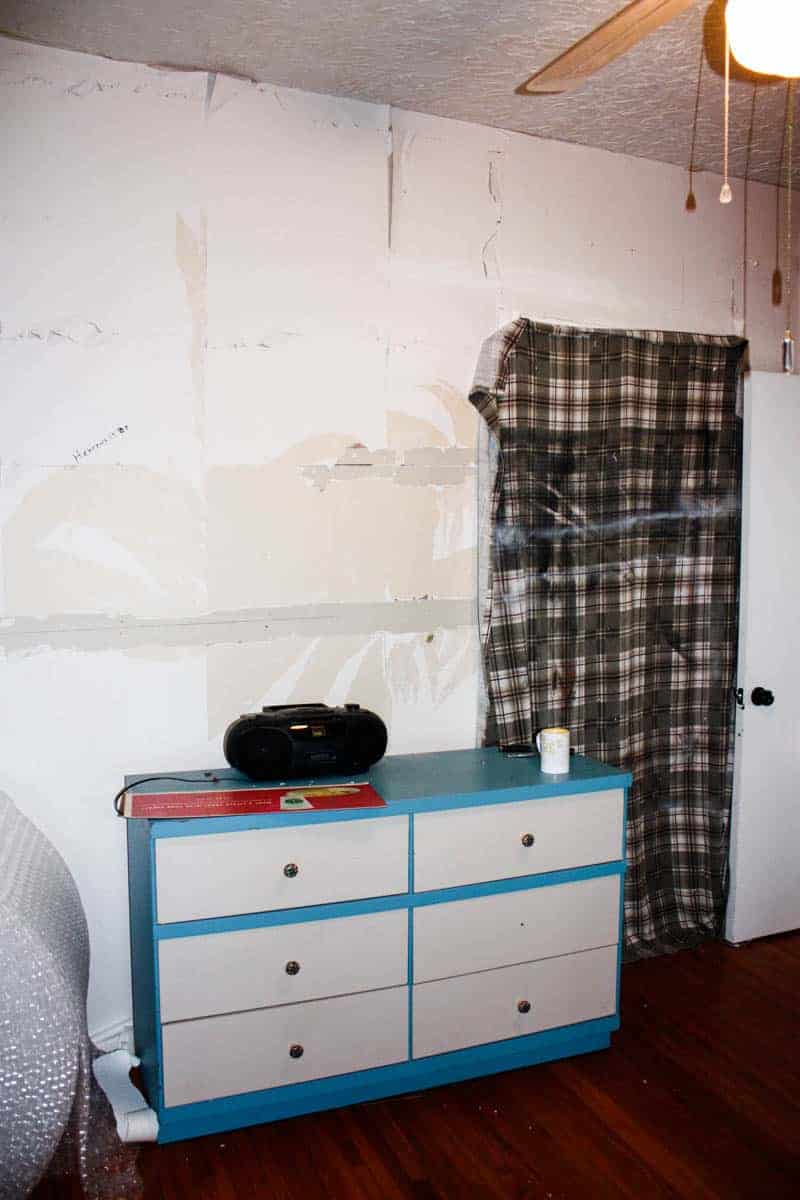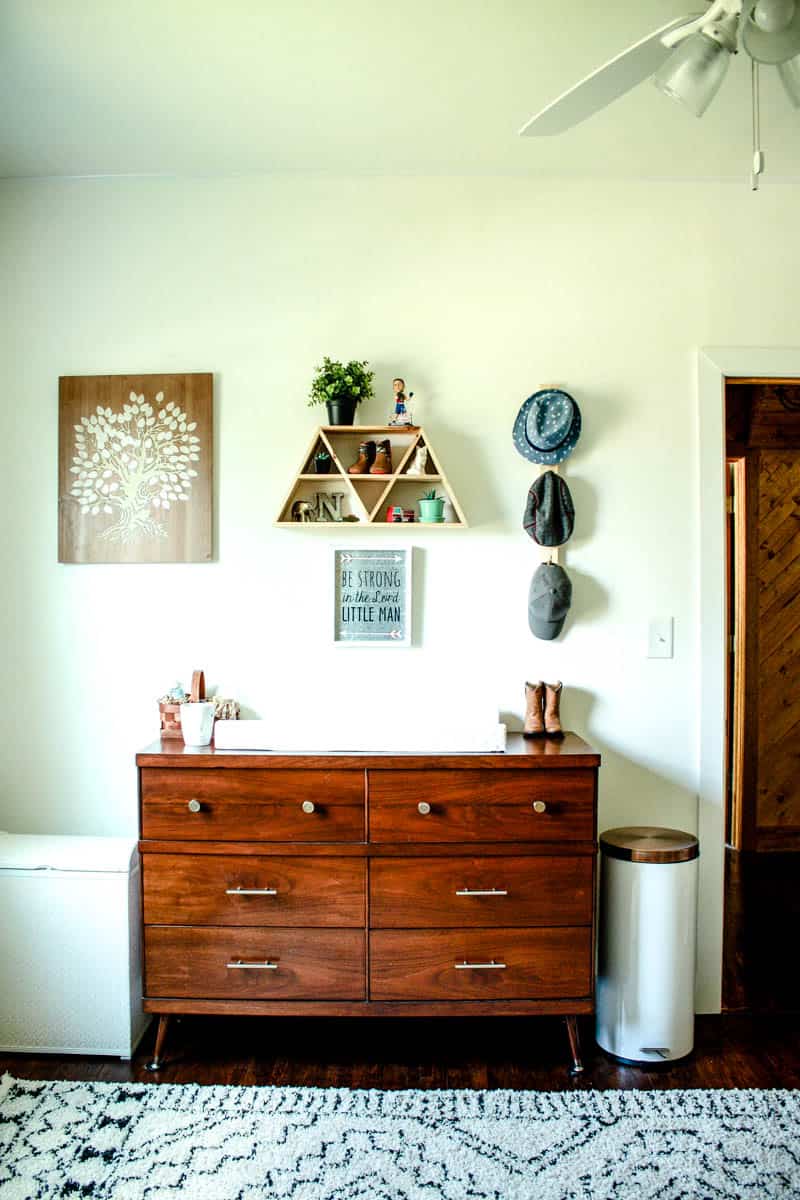 This dresser also served as a baby changing table. I just put a changing pad on top and the diapers and supplies in a top drawer. I love furniture pieces that serve multiple purposes since space is always a premium.
An ugly little wood bookshelf I painted white and added flared tapered legs Mid Century legs (from Amazon HERE) for an easy Mid Century design transformation. I enjoy a good furniture upcycle as long as it's quick! It also served as an end table while we rocked our little man.
Of course I wanted a comfy chair also I wanted something that fit the rest of the room. The bent wood rocker was a vintage piece I found at a garage sale that added the perfect charming vibe of authentic Mid Century.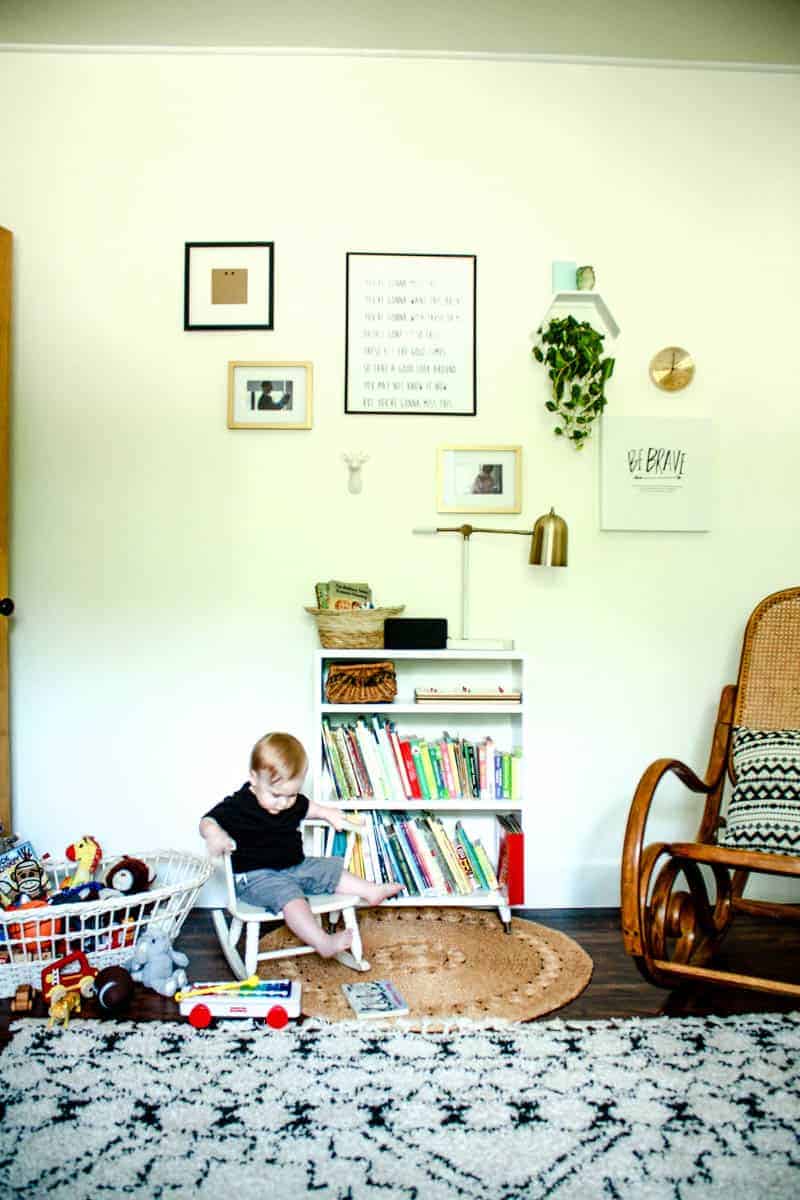 You might notice that there is actually no baby crib in this nursery. Well, we added one next to the window AFTER I took photos. I wanted an awesome Mid Century wood one, but settled on a simple white slat crib from Facebook Marketplace because I got all cheapskate at the last second. I still liked the white crib we purchased, just not as much as the ones I was eying.
The Decorations for the Mid Century Nursery
I wanted a touch of a baby animal themed nursery after I found and fell in love with these baby animals wall art from Etsy. Most of the wall décor was from Hobby Lobby or Target to match the Mid Century style. Some of the items did come from my stash of vintage décor.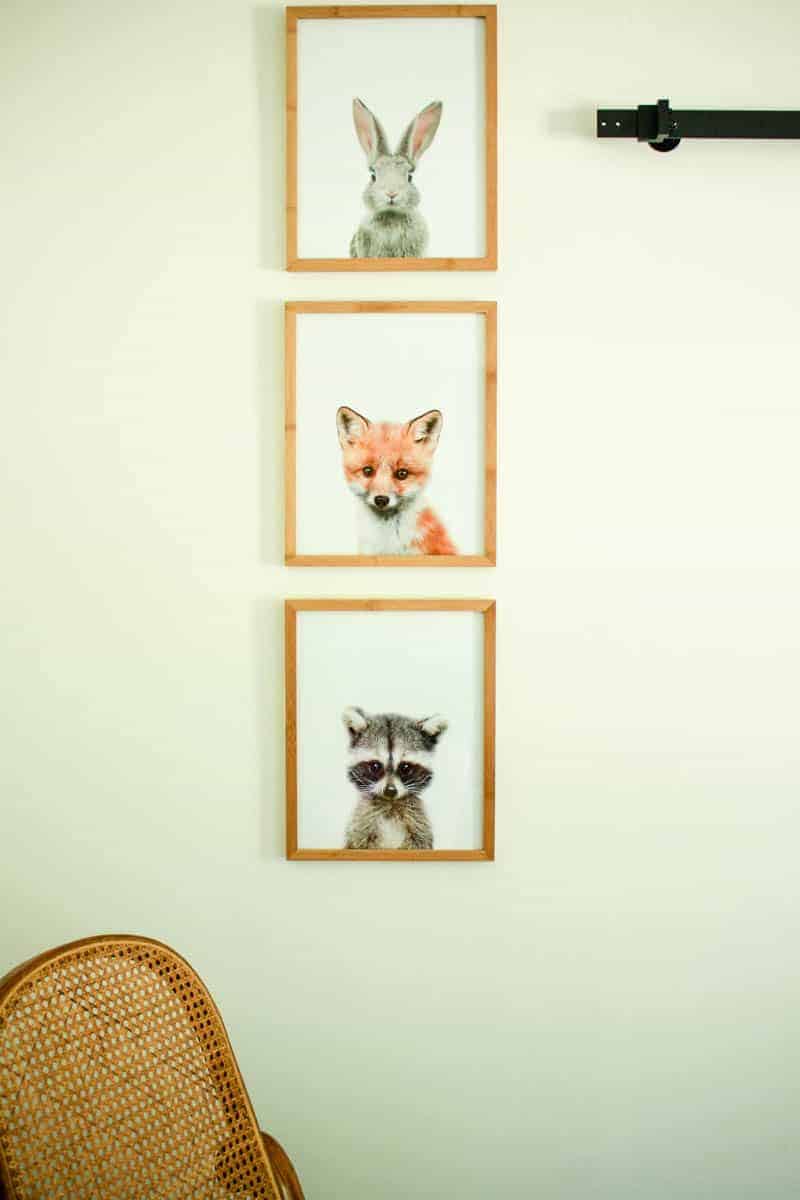 Our baby boy rocked hats from the very beginning. In an easy diy projects, I made a simple hat peg rack out of solid pine wood. We could then decorate with his adorable, man-style baby hats and also have easy access to them.
I also purchased a simple wood blanket ladder to display and use the throw blankets that were a special gift made by his Mamaw and Grandma.
And that concludes my Mid Century Nursery before and after tour! No, our baby's new space was not complete before our baby was born, but since he stayed in our room the first few months anyway, it worked out. And that means that he was able to begin start his remodeling journey in his own room! It became a favorite room of mine because of its brightness and Mid Century Modern style.
Shop the items in this post.
Pin this for later!