"Oh, I love your open shelves, but I couldn't do them. My dishes aren't pretty. And don't your dishes get dusty?" I hear this often about my open kitchen shelves. Today, I am going to give you practical ideas to style open kitchen shelving in your home.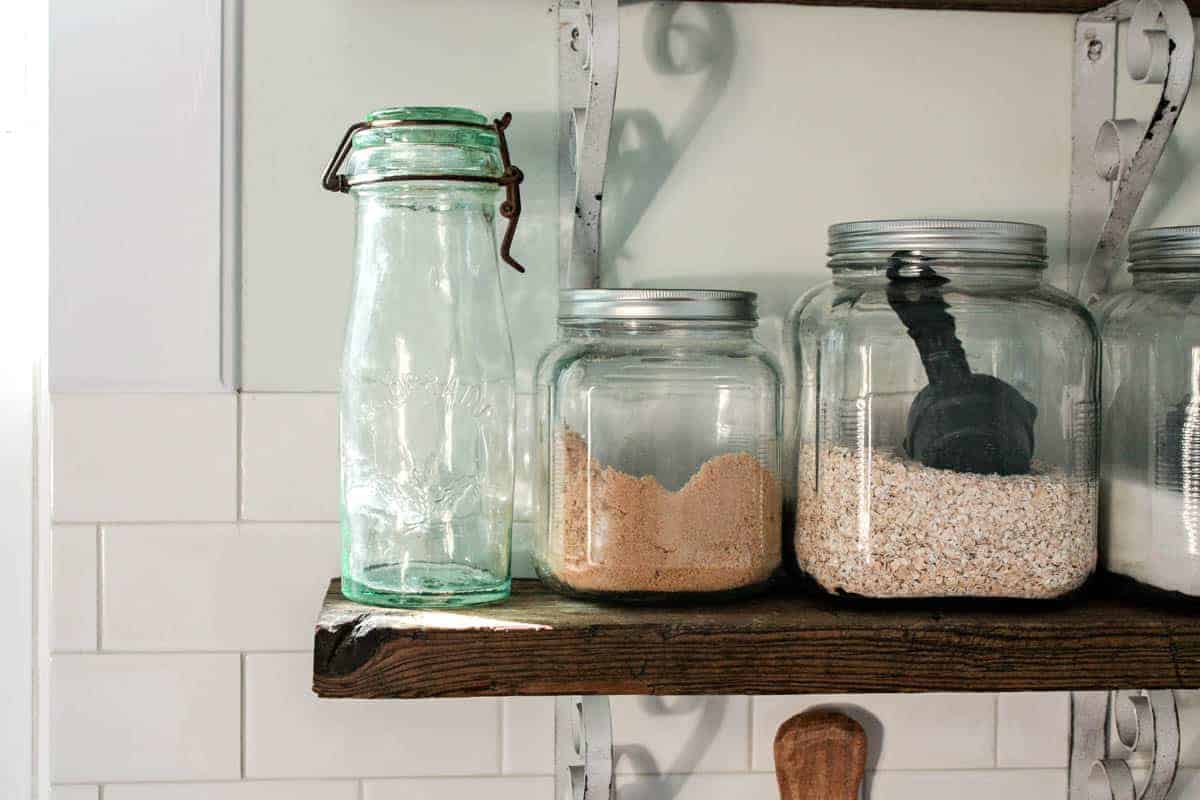 As an Amazon Associate, I may earn a small commission through your purchase through any Amazon affiliate links on this post. This is at no additional cost to you. All recommendations are my own because I believe in each product. See my full Privacy Policy here.
My friend's recent remark got me thinking. How many people LOVE open shelving in the kitchen but don't think their dishes are "pretty enough." Or that they can't style their shelves "good enough" or that it simply isn't "practical enough" for them? Well, I'm here to tell you, open shelving is not only pretty and practical, but I am going to help you make it easy and beautiful with my practical ideas to style open kitchen shelving.
Will Open Shelving Work for a Small Space?
Most definitely, open kitchen shelves will work even for small kitchens. They might work even better as upper cabinets can make things feel crowded. Open shelves lighten a small kitchen and still provide storage space. Simply add baskets to hide smaller items or display dishes as described below.
You can also mix open shelves with upper kitchen cabinets. No one is saying to remove the entire cabinet space in your kitchen. Even a single shelf can really make your room feel open.
How to Test Out Open Kitchen Shelves Before Committing?
If you have upper kitchen cabinets and wonder if open shelves are right for you, remove you cabinet doors and do a trial run. No, it won't be the same style as your future shelves, but you can play around to see if you like the look of open shelving before actually committing to an entire wall of shelving. (And maybe this will convince your practical minded husband too!)
What Type of Shelving Should You Choose
I have seen glass shelves and floating shelf ideas. There are wooden shelves, white shelves and colorful shelves. Some shelves have a brass railing around or ornate brackets or very simple shelf brackets. So what open shelf design should you choose?
First you need to know your personal style for your kitchen space. Are you designing a farmhouse kitchen or an industrial-style kitchen? Then do simple Pinterest searches with your style name along with "open kitchen shelves." This will give you tons of ideas to work with.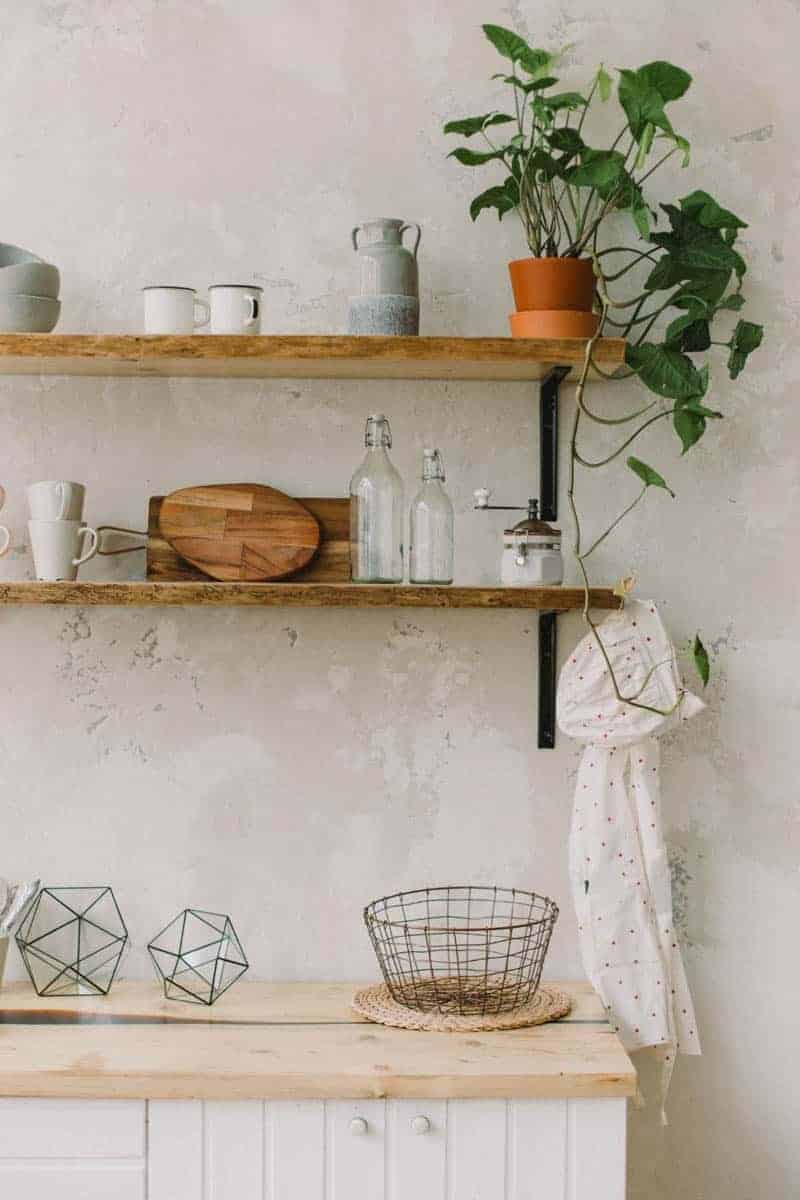 Purchase Inexpensive Dishes for Your Open Kitchen Shelving
Before you laugh and say, "yeah, right. I'll just go out and buy all new dishes!" hear me out. Most of my everyday dishes are cheap. CHEAP. My former glasses were from Dollar Tree (find some here). My current glasses are from Ikea. My simple white bowls? Yeah, we replaced the expensive ones that kept breaking with almost exact ones from…Dollar Tree. All our glasses and white dishes we have were $1 each. Walmart and Amazon (of course) also have great, inexpensive options. If you don't have a Dollar Tree or Ikea near you, never fear. They ship.
Stop.The.Presses, Folks. I just said that.
Dollar Tree ships to you. (So does Ikea.)
Yes, you have to pay shipping, but when you're getting a dish for $1.25, pretty sure $8.00 shipping total is still an awesome deal for dishes.
Choose Simple Dishes for your Open Shelves
Having your everyday dishes on open shelves provides easy access. White everyday dishes and a simple colored drinking glass are a great option for open shelves. I find that it's easier to swap out bright vintage décor on my open kitchen shelves than it is to purchase new dishes each time I want to update the look. You can also choose a different color dishes for simple yet beautiful open kitchen shelves.
My drinking glasses are now a simple green to go with my green kitchen walls. Again, this is a neutral color that can go with many different styles of vintage décor.
Hide Your Plastic Kids Cups and "Ugly" Dishes
Eve-Ry-One (even Joanna Gaines) has ugly dishes. The plastic cups, the paper plates, the mish-mashed collection. You are NOT alone. With open shelving in the kitchen, you also need some extra storage for everyday items. What's behind the pretty white doors in my (and Joanna's)) kitchen? Nobody with ever know…
I also store my dinner plates in the lower cabinet drawers just because they're too big for open shelves. (Drawers for lower cabinets are MUCH more versatile and easy to use than cabinets with doors, fyi.) But you could pick another upper cabinet with doors for your dinner plates and plastic dishes.
Splurge on a Couple Key Pieces
My splurge is my vintage Jadeite dishes and vintage Ironstone pitcher (and, yes, we use them everyday). (Find a similar Ironstone pitcher HERE!) If your splurge is vintage, you can probably find it on Etsy or Ebay. Ooooooor, you can just stick to the low cost route and buy reproduction vintage dishes at Target, Amazon or World Market. My Jadeite cake plate is totally reproduction and makes me feel more at ease when using it. (Find a similar Jadeite cake plate HERE!)
If green and white isn't your thing, search for a few vintage-style dishes, cake plates or platters for your open kitchen shelving in other beautiful colors or patterns. But open shelves are a great way to display your special pieces that have been hiding behind a cabinet door, and since they are in easy reach, you will be more likely to use them!
View Everyday Staples as Beautiful
Maybe it's not your everyday kitchen items that are the problem with open shelving. Maybe it's how you look at your everyday kitchen items. Dry goods stored in glass jars have a simple Farmhouse charm. Use glass canisters (find some HERE and HERE) or colorful Ball jars to make the everyday simply beautiful (find some HERE). And it's a bonus that they're close at hand when you're cooking.
Add Non-Kitchen Decorations to Your Open Shelf
Look around your house for items that have your kitchen colors but are more subtle. (You don't want to go overboard with a color "theme" but adding small portions can tie everything together.) Or you can look for a couple vintage items at your next flea market jaunt. Trust me, you don't have to be an interior designer to make your space beautiful and special to you.
Some vintage decorative items to add to your open kitchen shelves are:
Old family photos or recipes in frames
Vintage artwork
Candles (just make sure it's not too close to the shelf above!)
Plants (Philodendrons and cactus are especially perfect for an open kitchen shelf)
Baskets (to hide essentials like napkins, etc)
Collection of vases
Small lamp for soft lighting
Vintage cookbooks
Collection of vintage utensils
Tea or coffee supplies, favorite coffee mug or teacup for a tea or coffee bar
Stack of vintage patterned tea towels
Use Items on the Shelf. Don't Dust It
A common question is, "Do your dishes get dirty being out in the open?" No. Our everyday dishes are on lower open shelves, and they get used often, so there really isn't time for them to get dirty. Our prettier items on the top shelf, yes, they get a little dust on them. The occasions I use them, I just do a quick rinse.
Just make sure you're placing your important things you use everyday on a lower shelf so you're not reaching for a step stool every time.
Gather Everything First, Style Second
If you're like me, I have to see all my dishes and decorations together before adding them to the shelf. I like to play around with the arrangement, take a step back look at it, play around some more, live with it a while, change it up. Gather everything in one place that you think you might use on your kitchen open shelves. Then and only then start to play around with the arrangement. Stack dishes, layer items front to back (like the rarely used platter behind the everyday bowls), let things hang (like a plant cascading off the side of a shelf). Just start playing. It may take a few days of thinking and re-arranging, but just have fun! Do what YOU like.
I will say a very important lesson I learned, SECURE STANDING PLATTERS! Don't be like me and prop up a platter behind all your dishes and expect it to stay. I might for a while, but someday, SOMEDAY, it will fall and wipe out all your dishes.
Later, I added a couple simple push pins in front of the platter so it wouldn't slip.
Don't Worry About Open Shelves Going Out of Style
Open kitchen shelving has become a kitchen trend in recent years, but it is not a new home décor trend. In fact, it is very, very old. Not until the 1940's did matching kitchen cabinets become standard in American kitchens. Until then, the kitchen was comprised of open shelving and free standing cabinets and cupboards. Adding open shelves in your kitchen will give an authentic vintage vibe to your home.
I have found photos of open kitchen shelves through the 1800s, 1920s, 1950s and 1970s. There have been open shelves in French kitchens, American kitchens, old farmhouses and Modern Swedish apartments. Open kitchen shelving will continue to be timeless.
Click here to check out all the different eras and styles of open shelving on my Pinterest board, Décor Ideas: Open Shelves Kitchen.
Those are my practical ideas to style open kitchen shelving. I hope it's given you the confidence to try at least one in your kitchen for extra vintage style in your kitchen design.
Comment below to tell me what your biggest success or biggest fear is with open shelving ideas!
Save this idea for later.