Whether you're living in a single wide mobile home, apartment or rental, it is completely possible to add vintage character to a home you love. You don't have to wait for your "perfect home" to make it cozy and unique. I will show you how to decorate a mobile home living room that is both vintage inspired and family friendly.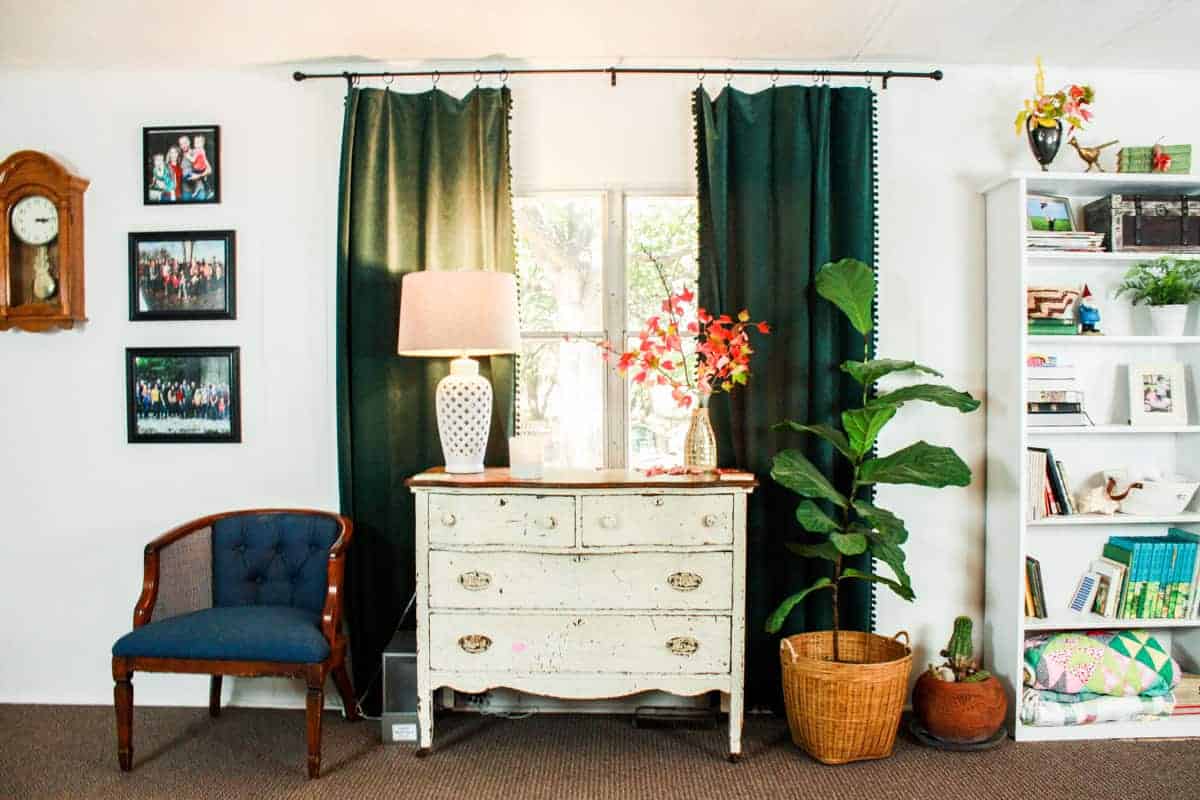 As an Amazon Associate, I may earn a small commission through your purchase through any Amazon affiliate links on this post. This is at no additional cost to you. All recommendations are my own because I believe in each product. See my full Privacy Policy here.
When we bought our country property, it included a 1979 manufactured home. Everything that old and (I'm sorry but) that ugly needs a name. So we call her Bertha. (To this day, my kids say they're going "to Bertha" rather than saying they're going "home.")
Initially, the idea was to make Bertha into my office for Our Vintage Bungalow. But as the farmhouse renovation drug on, we decided to sell our house in town and move into Bertha the single wide mobile home. Read more about renovating our single wide mobile home HERE!
In this post, I will walk you through the practical steps and ideas I found in decorating a mobile home living room. But you don't have to live in a mobile home to benefit from these ideas. They apply whether you live in a single-wide or double-wide mobile home, rental house, apartment or even your dream home!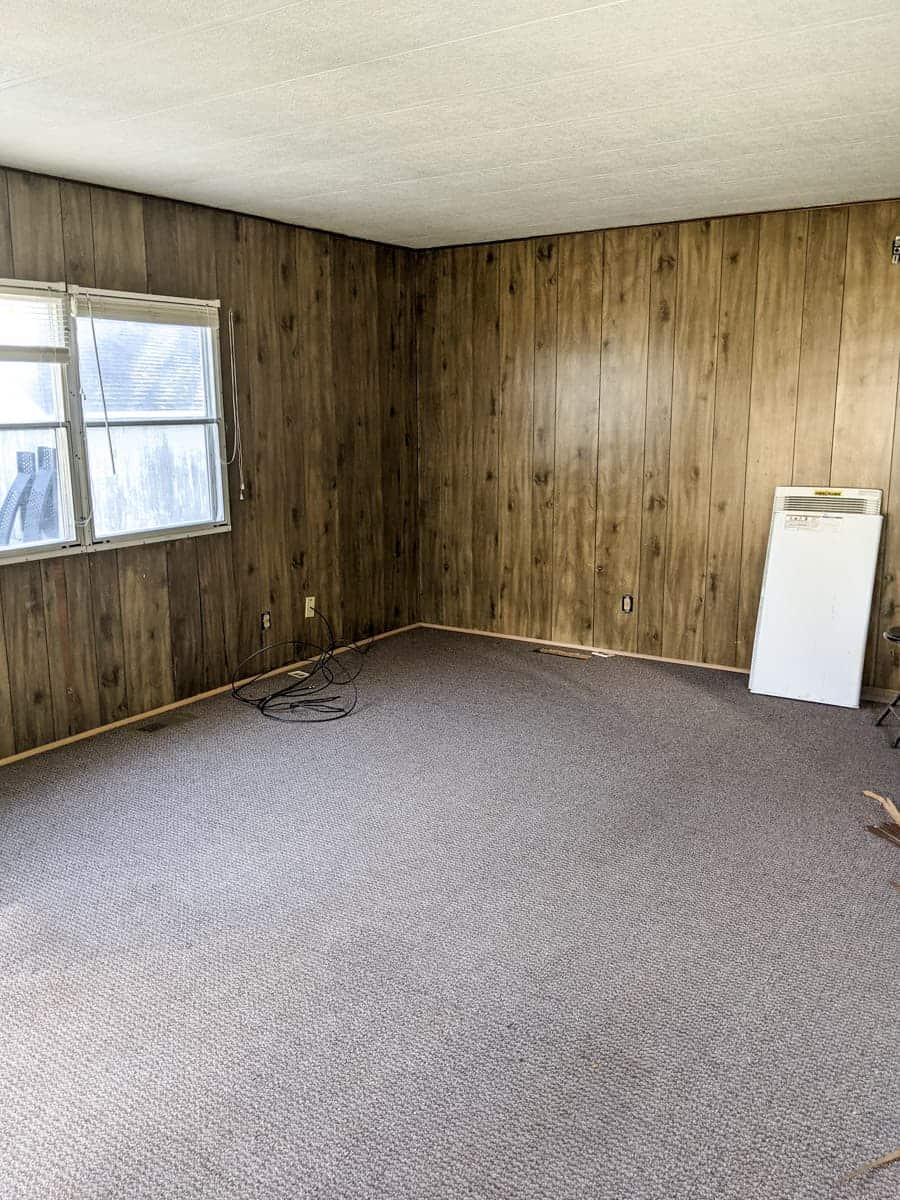 Choose Your Style as the First Step in How to Decorate a Mobile Home Living Room
Whether you know all about decorating or are just starting, choose one main style you love and 1 – 2 supporting styles. A good way to find your "style" is to go to Pinterest and pin living rooms that catch your eye. Then look to see what it is about them that you like. And you can also take my free What's Your Decorating Style Quiz HERE to get started!
I selected a Mid Century style for Bertha's main living area. It generally has clean lines and blocks of color. The supporting styles are Modern and Farmhouse. Modern comes through in the slight use of black in the light fixtures and curtain rods. Farmhouse comes through in the simple homey style of hard working pieces like baskets, the rug and a chippy painted dresser. I call this style Mid Century Modern Farmhouse.
Sticking with a couple particular styles in your tiny home will
Make all the rooms look cohesive instead of jumbled
Allow you to invest in a few pieces to use confidently
Minimize the clutter from gather anything and everything that catches your eye.
Use A Fresh Coat of Paint To Open Up the Space
Single wide trailers have narrow spaces and low ceilings. And our older mobile home is an open floor plan with the kitchen, so everything can be seen from everywhere. This means it can look really cluttered really fast. Choose a white paint that can be used on the walls throughout as well as the ceiling. This will do the following:
Create a simple backdrop for colorful decor
Make the ceilings look taller since you don't have a visual cut off point between the wall and ceiling.
Make the rooms flow instead of chopping them up with different colors
Brighten the rooms so sunlight bounces around instead of creating dark corners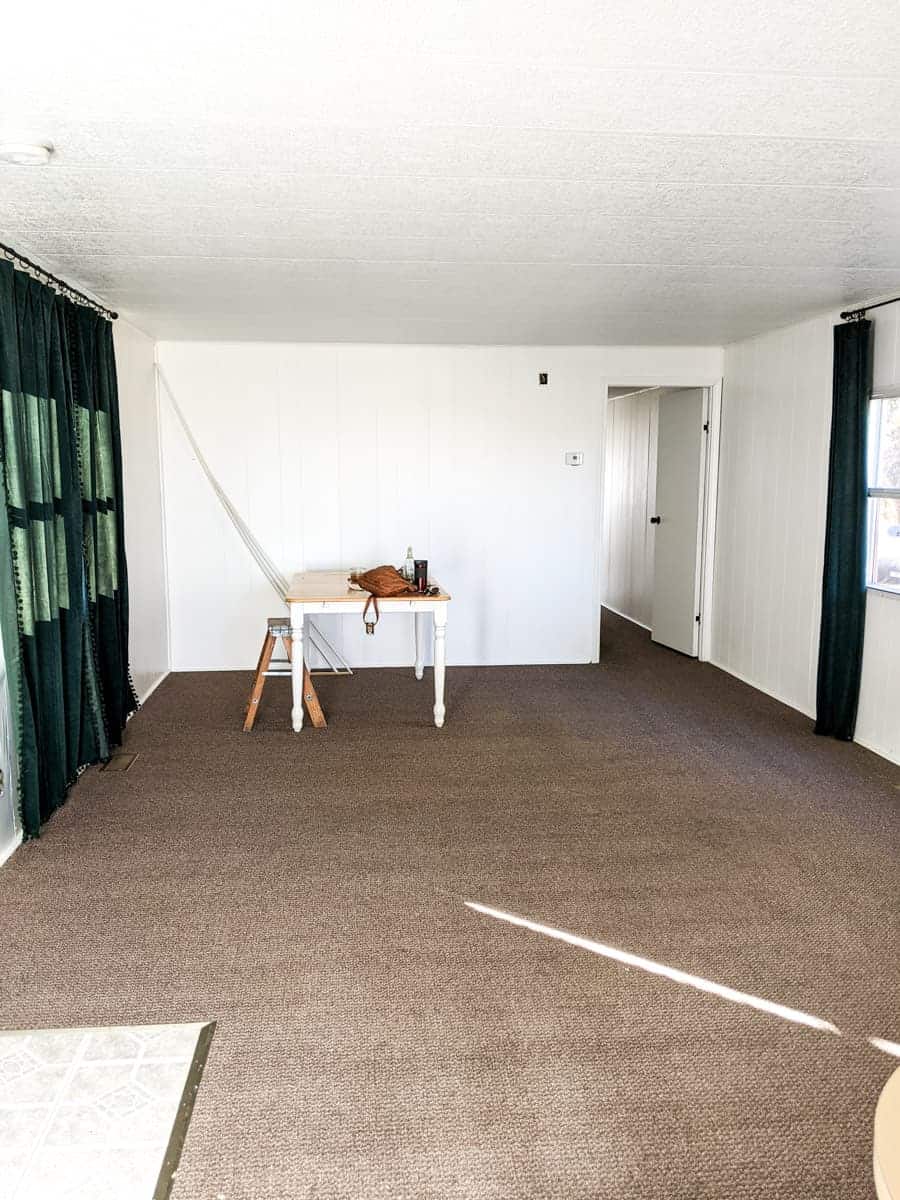 Add Color Through Curtains and Hang Them High In Your Living Room
As I said, the ceilings are short and the windows squatty in our older home. A solution is to hang the curtain rods as high as possible. Also extend them wide enough so the open curtains only slightly cover the window but mostly cover wall. These small details are an optical illusion that will trick your mind into thinking the windows are larger and ceilings higher than they are.
I chose hunter green velvet curtains. They add a block of bold color that ties into the hunter green sticky tile backsplash of the adjoining kitchen. They also break up all the white of the walls.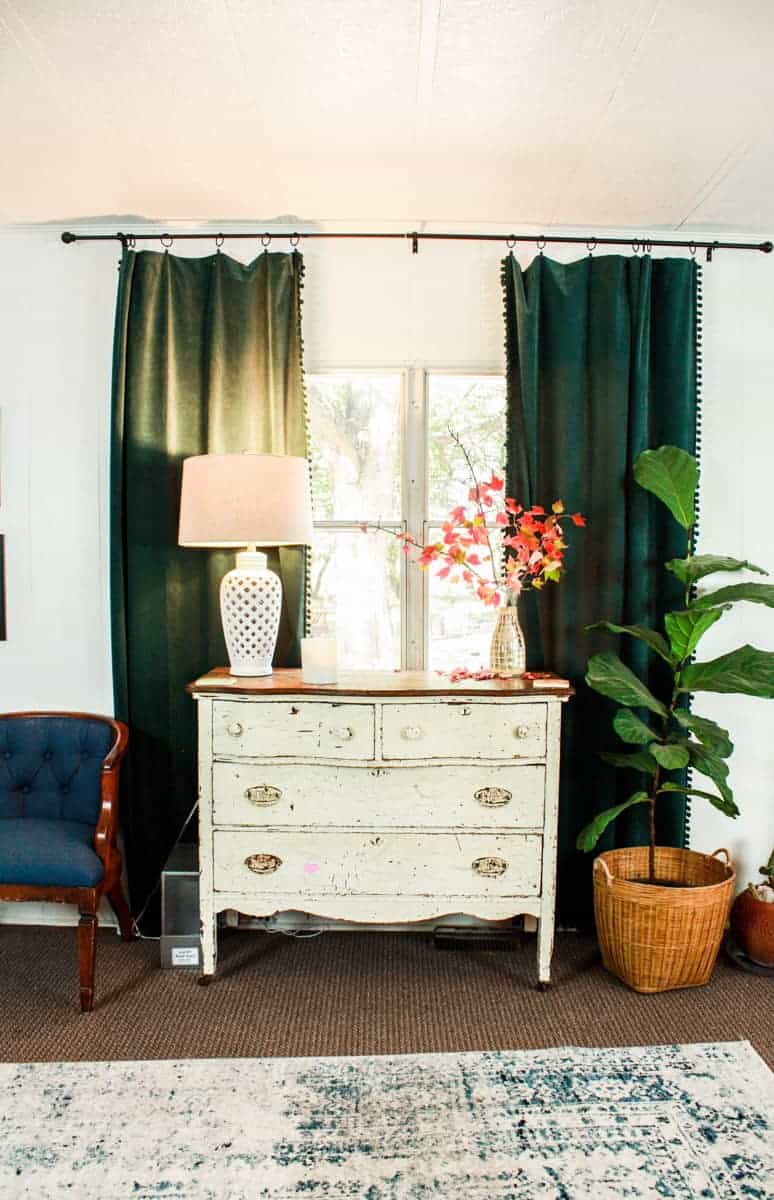 Choosing the Carpet or a Rug for Your Living Room
If you're replacing your carpet, I would highly suggest these qualifications:
Neutral color
Not too dark (it would swallow up the light in the small room)
Not too light (this is a main walkway and will get a lot of traffic)
Bertha's carpet had been newly replaced. While I didn't love it, it was okay. So I added visual interest to the floor with a large area rug. The blue of my rug goes with some furniture pieces I have, and it has a vintage-y pattern that complements the Farmhouse style. This personal touch gave the room a whole new look! Make sure your rug is:
Large enough to define the living room space (small rugs makes the room look small)
Fits a couple inches under the front legs of the couch (this anchors the space)
Is longer than the couch lengthways by an extra 6 – 8 inches on each side
Can be bold and bright colors if you want to add style here
Can be soft colors if you want to add character somewhere else
Choose The Right Furniture In Your Single Wide Living Room
Obviously, there are not a lot of excess square feet for unnecessary furniture. Make a list of your three top things priorities in your ideal living room. This will then let you decide on furniture that meets these needs. My top three uses are Family relaxing/Television, Hosting Company and Kids Playing.
The furniture had to meet the following requirements:
Comfortable
Sturdy enough for lots of kid use
Often has more than one use (coffee table also serves as a bench for extra seating)
Color that fits with the room
Movable to create a more open space
Using what we already had, I chose eight key pieces of furniture.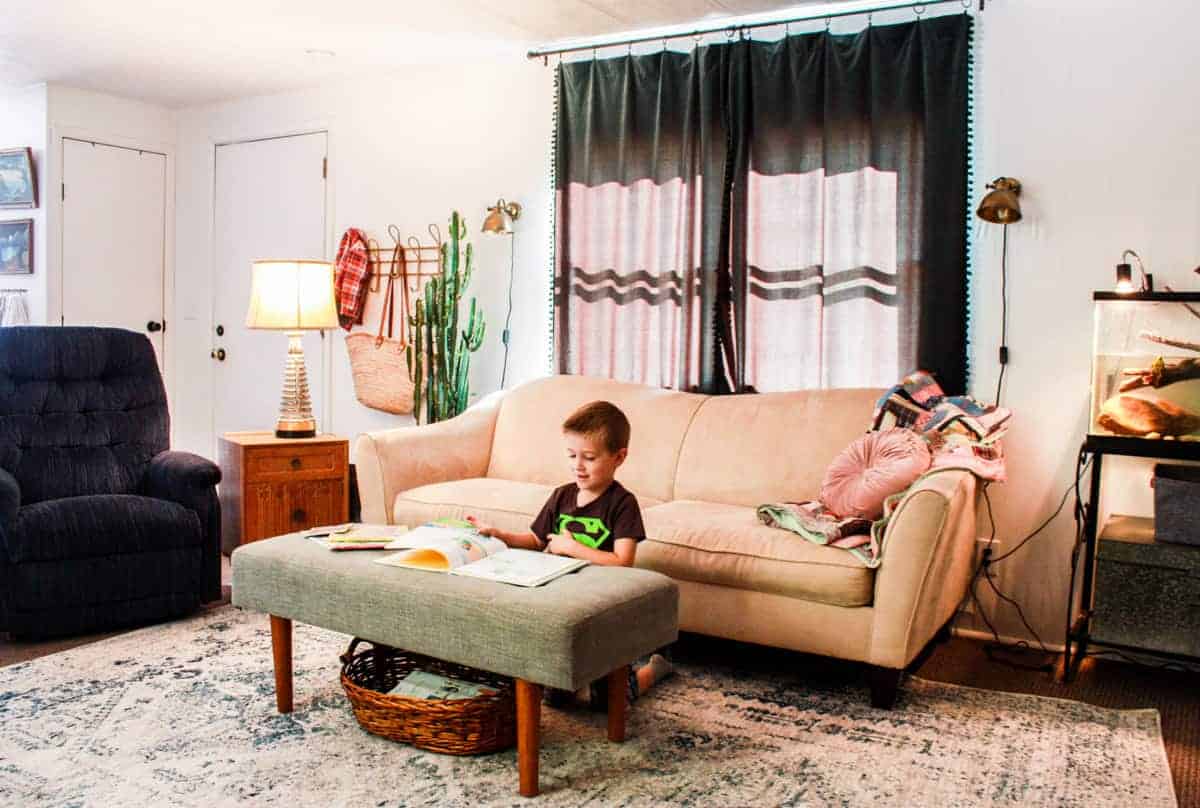 1. Couch
Our existing couch was a tan color that blends well with my chosen color scheme and helps the room feel calm. I could have gone with a bold color as long as the other furniture and flooring were neutral. It's comfortable yet not too big for our small living room.
2. Lazy Boy Reclining Chair
We needed a rocking chair for our comfort and for rocking our kids. I wanted something super comfortable and not a wooden chair. Ours was blue, so that's what I used. I did add some more blue in the room so it didn't stand out as odd.
3. Mid Century End Table
This original Mid Century wood side cabinet is a great piece to add the chosen style to the room as well as give much needed extra storage.
4. Coffee Table Bench Combo
This piece has many, many uses which is key to small house living. The padding is firm enough to use as a coffee table. But since it is a padded bench, we bring it to the kitchen table for extra seating when company comes. We also use it as a game table with the kids. (Or as a launching pad to the couch for the kids, but we won't officially count that as a use.) Find a similar Mid Century style bench HERE.
5. TV Stand Dresser
I am a huge fan of dressers used for things other than clothes. This Mid Century piece was Little Man's in our old house. It now gives perfect Mid Century charm while holding our television. And all the out of sight, out of mind dresser drawer storage is a great way to keep small spaces from feeling cluttered. Find a similar reproduction dresser HERE.
6. Farmhouse Side Table Dresser
Always in the search for extra storage in this tiny home, I added a chippy paint dresser against the windows. While it is completely opposite of the TV console Mid Century style, the dark wood top ties into the Mid Century dresser. It also adds my Farmhouse style element. This dresser works as a plant table against the windows, a lamp table and much needed storage.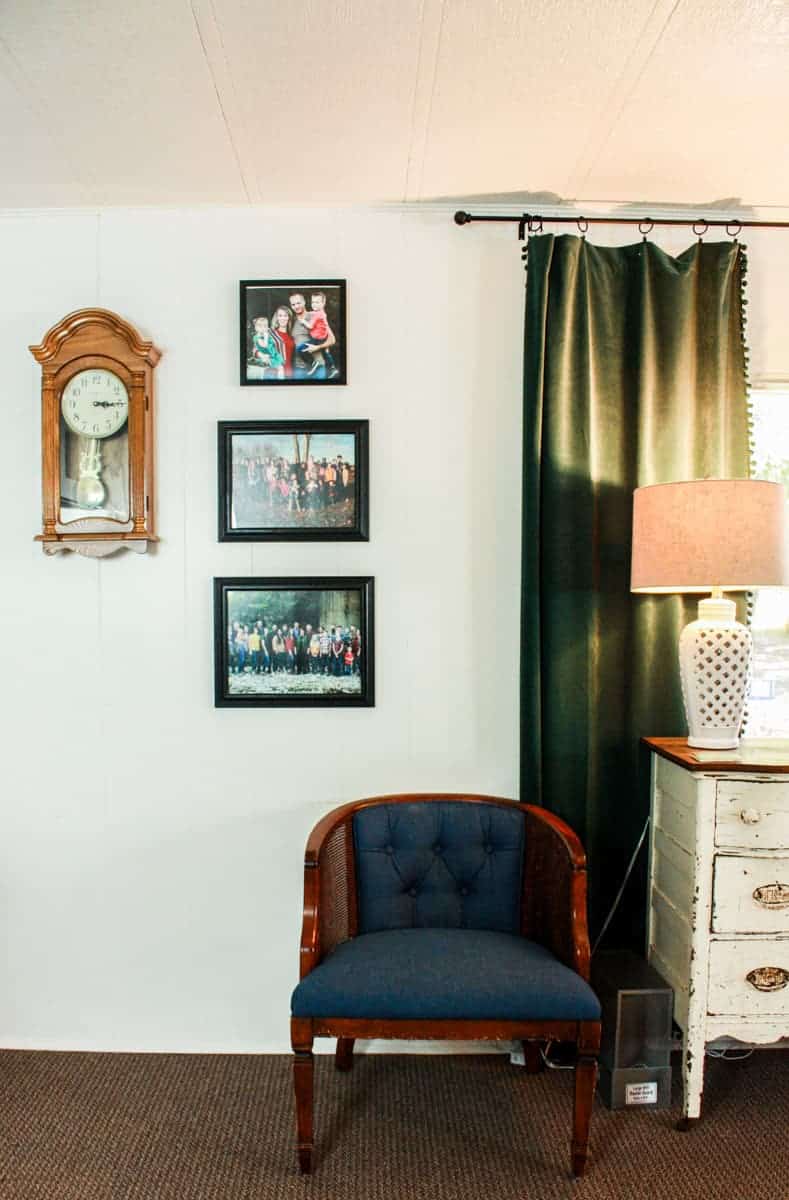 7. Side Chair
With both sides of our families and lots of friends in the area, we actually host quite a bit of company. I needed extra seating. I had a Mid Century side chair with blue upholstery that tied in with the other blue. It sits out of the way next to the Farmhouse dresser.
8. Tall Book Shelf
Storage, storage, storage. Something a single wide or any small home lacks. I chose a narrow, tall bookshelf for books, hidden basket storage and adding vintage decorations to the room.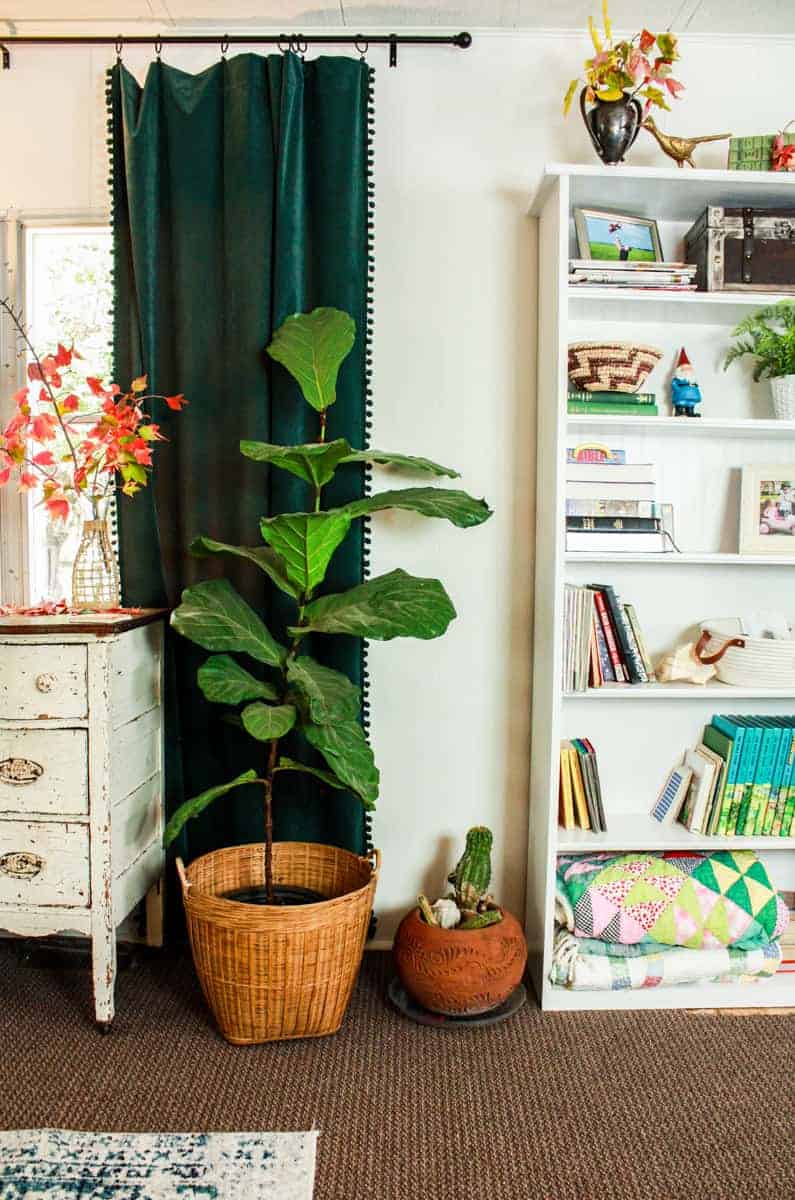 Adding the Right Lighting in How to Decorate a Mobile Home Living Room
There are no overhead lights in our single wide living room. Maybe your home is the same. Lots of different lighting is crucial for a cozy home, especially a home with no overhead lights.
The double duty lights do in a small home is provide light and add style. Always, always, always make the practical look beautiful.
Natural Lighting
Look at your natural lighting first. Do you have a lot of windows or little natural light? By using the trick I mentioned earlier of hanging the curtains wide, this will let in the most light possible.
Overhead Light Fixtures
Overhead light fixtures are a very easy way to add vintage decorating style to your room! In other rooms, I chose a variety of Mid Century Modern style light fixtures. It gives you the biggest style bang for your buck.
Lamp Lighting
Again, don't overlook an easy way to add practical beauty to your room. I chose a Mid Century lamp next to the couch and chair and then added a neutral lamp across the room. Tuck floor lamps into dark corners and place a table lamp next to any seating you have.
Wall Lighting
Walls are often overlooked in the lighting department. I added brass sconces on either side of the couch as an extra way to brighten the room. These are pretty small for what you ideally want, but I did not want something that overpowered the small space. (Plus they were what I already had.) Find similar brass wall sconces HERE.
Candle Lighting
Yes, this is a source of light and adds another layer to your home…a cozy layer. Add some candles around the room to instantly inspire someone to sit down and relax.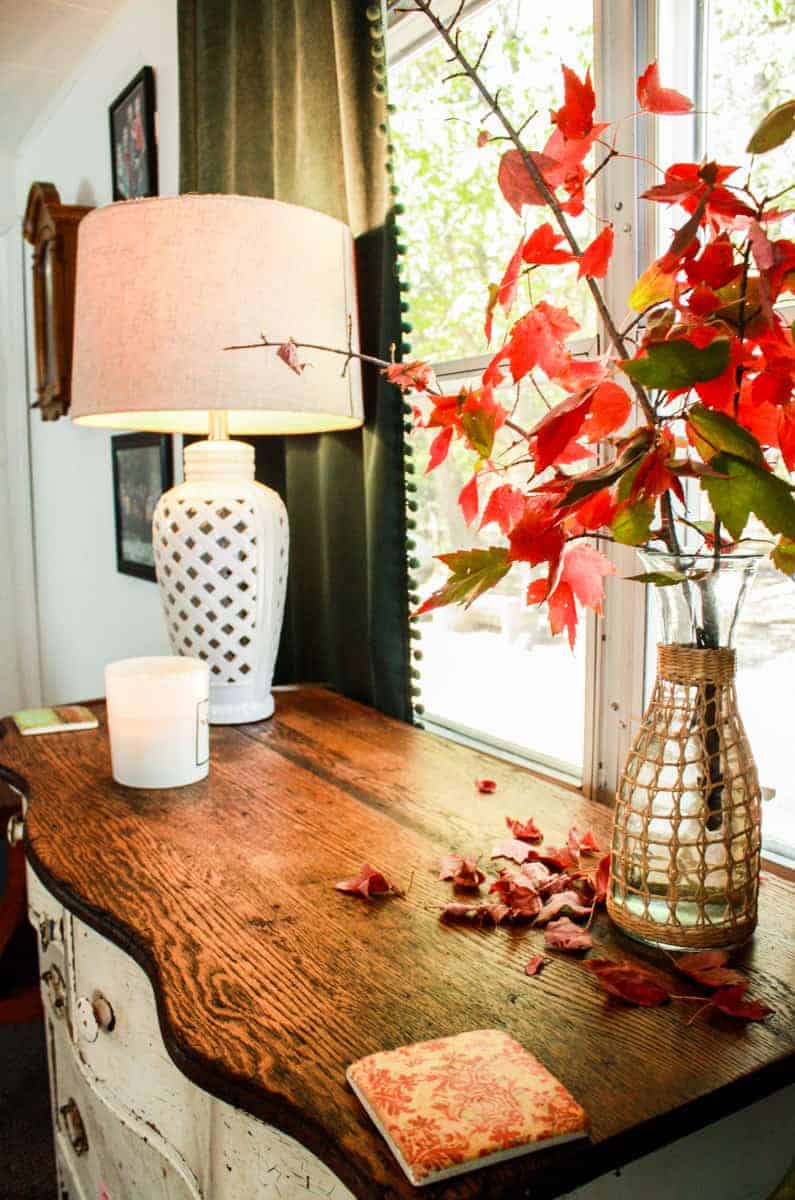 Adding Beauty to Practical Zones In Your Living Room
Look at your list of uses you already wrote on the worksheet for your living room. Then write down the pain points that drive you crazy or where you're always having to clean up. Do you need a basket for kids toys or a place to store movies or books? We needed the following: Extra storage (for everything) and an entryway zone. I've already covered the extra storage. Now I'll talk about adding vintage style for the entryway zone.
Boot Tray
We live on a farm, so that means we have lots of muddy boots. I added a copper boot tray just inside the door. We live a couple days without it, and there were ALWAYS muddy shoes piled up. Make your room work for you. If something drives you nuts, maybe you just need to add a solution.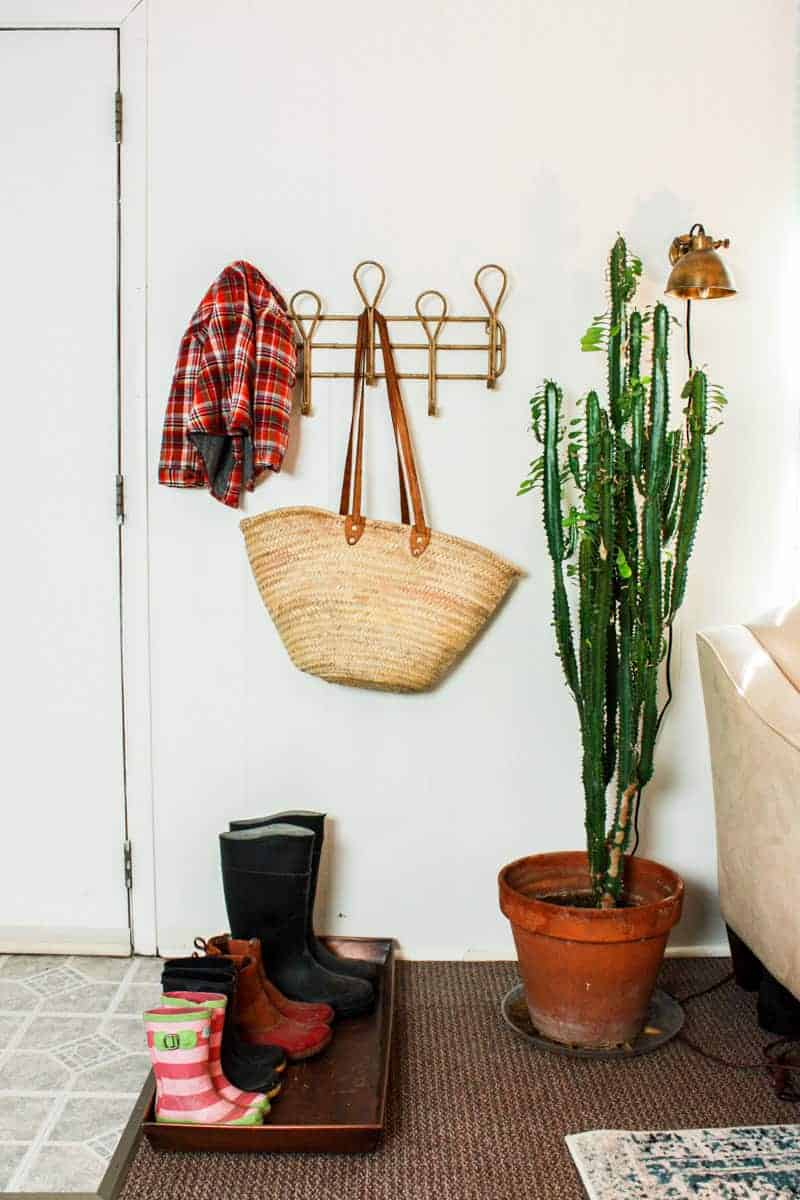 Wall Hooks
While I'm not a super fan of having tons of coats and hats hanging in plain sight, we do need wall hooks for certain things. My purse, market bag, some hats, keys and a couple jackets usually wind up here. Some pretty wall hooks made for an easy solution.
Door Pocket Hanging Organizer
Thankfully there is a small coat closet right next to the door. I added a pocket hanger on the inside of the door to store extra kid shoes, hats, gloves and all the miscellaneous stuff that piles up next to an entryway.
Closet Cubby Cabinet
Again, what is it with all the stuff next to an entryway?! From things to take back to the store to outdoor toys to library book bags…all of this gets tucked away in its own spot inside our closet cubby cabinet so I don't have to fuss about all.the.piles.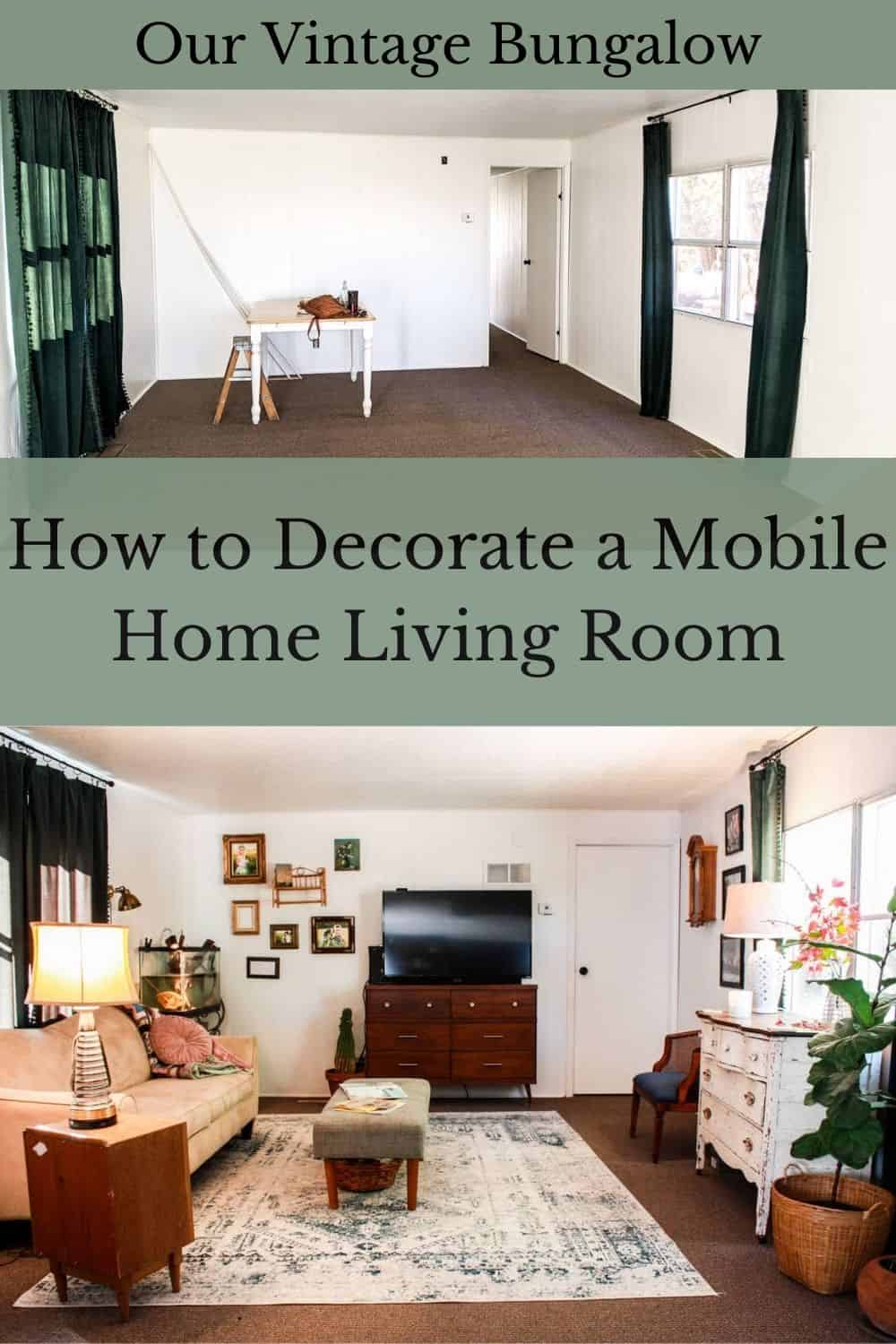 Wall Décor for Your Mobile Home Living Room
Mobile homes aren't known for their floor space, so most mobile home decorating comes through furniture, practical items and wall décor. We've already taken care of the furniture and practical items. Just remember, in a small space, a lot goes a long way. You don't want the living room walls to feel heavy with stuff.
Pick one or two wall areas for a simple gallery wall or larger statement art piece.
Let your personality shine! This is all about what makes your home unique to you.
Either stick with colors already in the living room or choose an art piece that has 1 – 2 pops of new color.
Still think of using practical items (ie a clock)
Don't be afraid to go 3-D. Gallery walls don't always have to be flat like photos.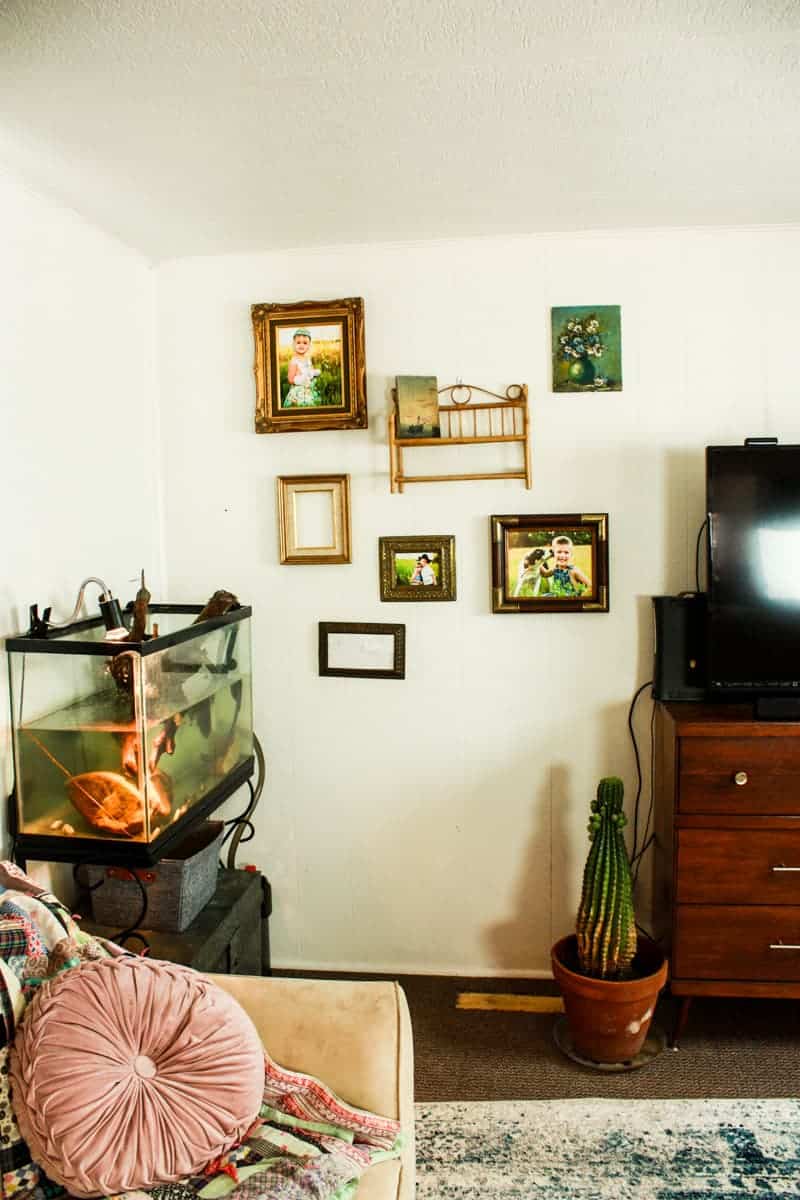 Shelf Décor for Your Mobile Home Living Room
There is the one bookshelf in our living room that lets me put a few pieces on there to give the room a vintage style that tells our family's unique story.
Books
Books can be used as vintage living room décor. Arrange them at different angles, put some with the pages pointed out, remove the dust jackets to reveal the colorful binding underneath.
Baskets and Bins
Here again, storage is important. Baskets and bins that add beauty yet serve a practical purpose of hiding stuff are a good idea. (One of these baskets holds our "drop zone" items like keys, loose change and receipts.) Just be sure they're plenty sturdy!
Throw Blankets and Quilts
To make a living room comfortable, I always love to have blankets and quilts on hand. Choose pretty ones that add style without becoming an eyesore.
Pictures, Figurines and Keepsakes
I've included a few family photos, keepsakes and figurines to add our family's personality into the living room. Keep these decorative items at a minimum or it can quickly look cluttered.
Plants for Your Mobile Home Living Room
I'm a plant lovin' girl. Many of the plants in our living room are there more out of necessity than choice. We had no other place to put them when we moved from our old house. But I do love the style and texture plants bring to a room.
Use a flowy vine-like plant like Philodendron (bonus is that you can hardly kill this plant!) Or a tall Fiddle Leaf Fig or Mother In-Laws Tongue for added height. Just know the lighting your space has and what each plant requires.
Read more about great plant choices at my Top Five Easy House Plants for Busy Moms HERE!
And that wraps up how to decorate a mobile home living room. Ours is always a work in progress. Sometimes our needs change, and I have to tweak something so it works better for us. And always, clutter seems to just grow and grow in a small space, so I'm constantly stepping back to look and clear out the unnecessary items. Still, this mobile home owner is proving that mobile home living rooms can be vintage inspired, too!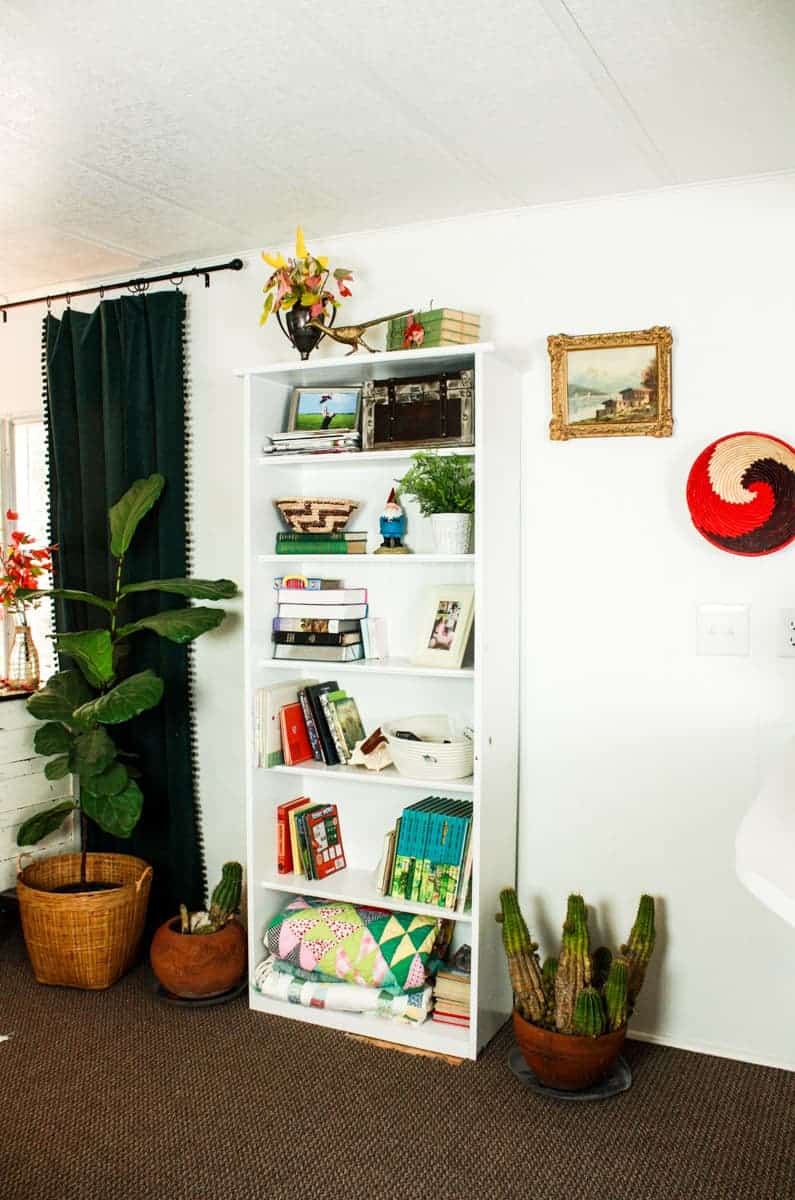 Comment below and tell me if you live in a mobile home and what your biggest pain point in decorating is!
Further Reading on Mobile Home Renovation
DIY Mobile Home Remodeling Ideas
Mobile Home Mid Century Style Kitchen Makeover Before and After
Top Five Easy House Plants for Busy Moms
Farmhouse Remodel Before Photos
Shop the Look from How to Decorate a Mobile Home Living Room
Over the Door Pocket Organizer
Pin for Later How to Decorate a Mobile Home Living Room