I feel like these fabulous HGTV house renovation shows leave out the people who live in a manufactured home. I'm here to give you DIY mobile home remodeling ideas based on our recent move to a 1978 single wide trailer.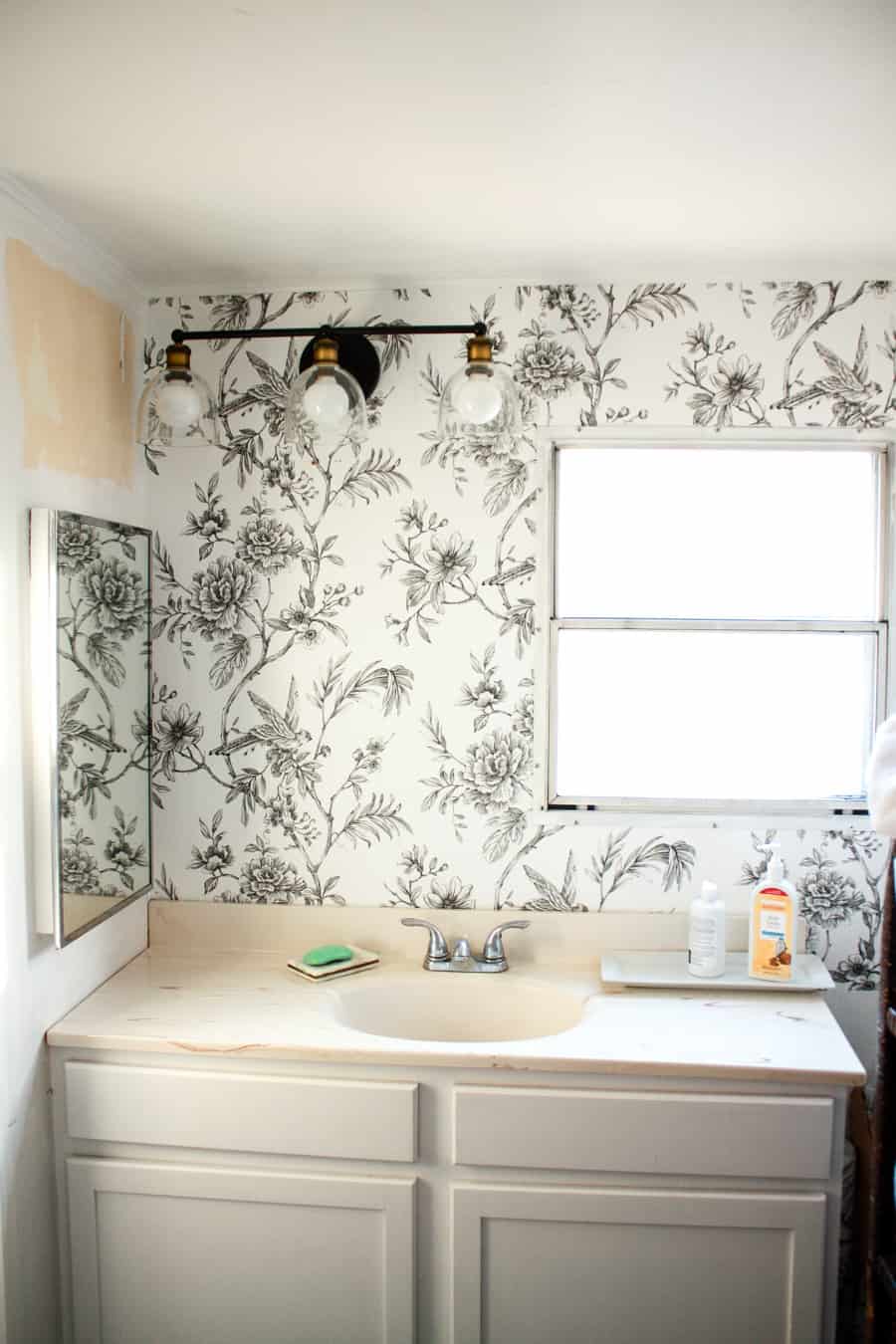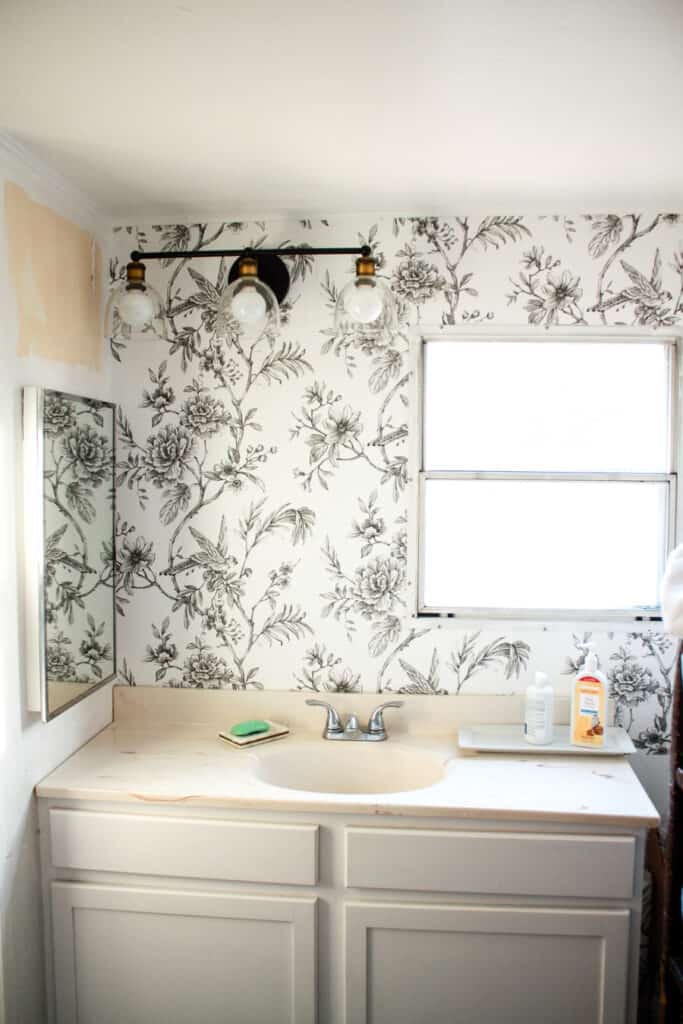 The Story Behind Our Mobile Home Renovation
We bought our own land and farmhouse in the summer of 2021. The place included a mobile home in the back. Throughout the summer, we did a lot of work on the farmhouse renovation. But as fall came, we decided to renovate the older mobile home and live in it until our farmhouse remodel was complete.
We named her Bertha (or "Burfa" if you ask my kids). Because if you own anything made in the 1970's, you just have to give it a name. Saying "the mobile home" is just so drab.
I insisted that Bertha get her own face lift. I could technically live in a brown paneled 1978 mobile home. But my attitude is going to be much, much better if I do NOT co-exist with brown paneled walls.
While selling a house and packing we launched into an all-out total makeover of our old mobile home in a month. From our personal experience, here are five DIY mobile home remodeling ideas that we did on a tight budget and short time period. They are small diy projects that make big changes to the look of a mobile home design.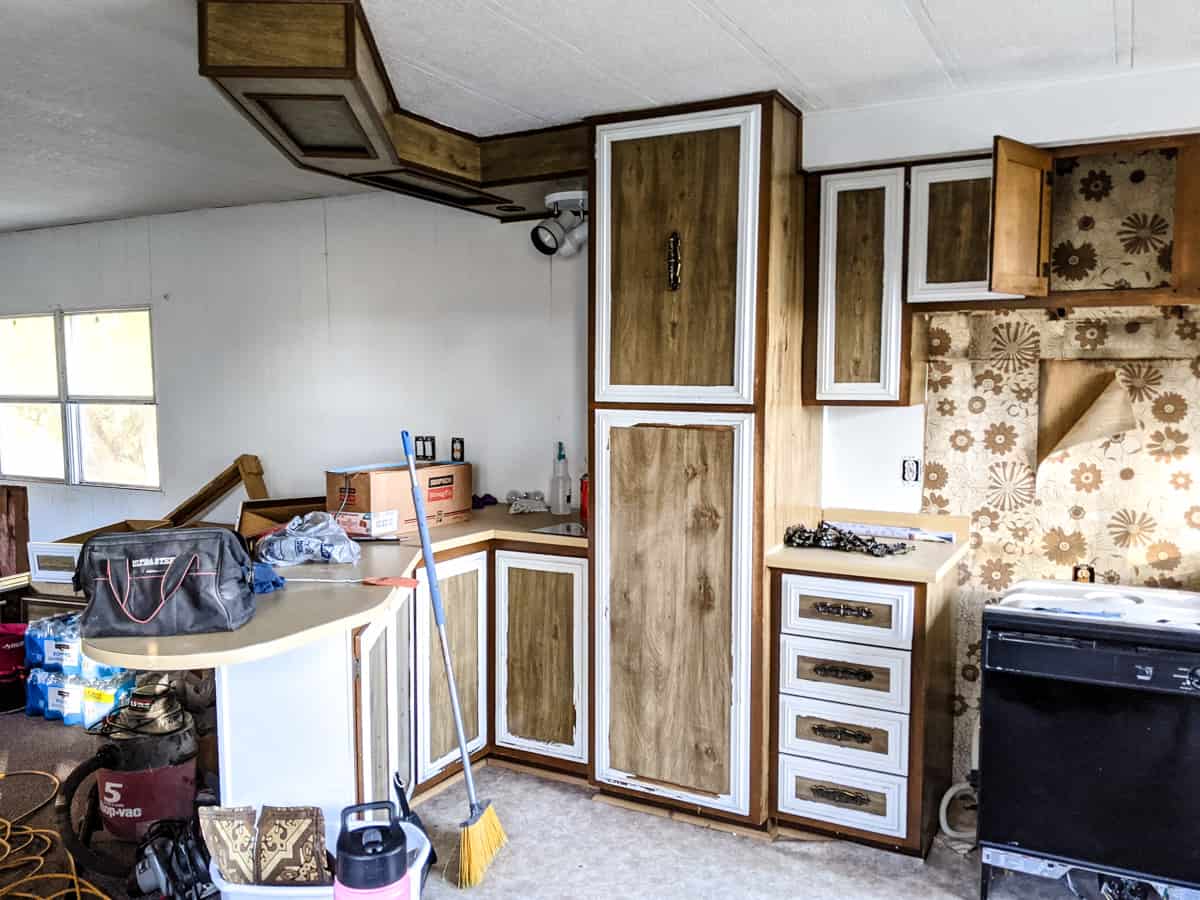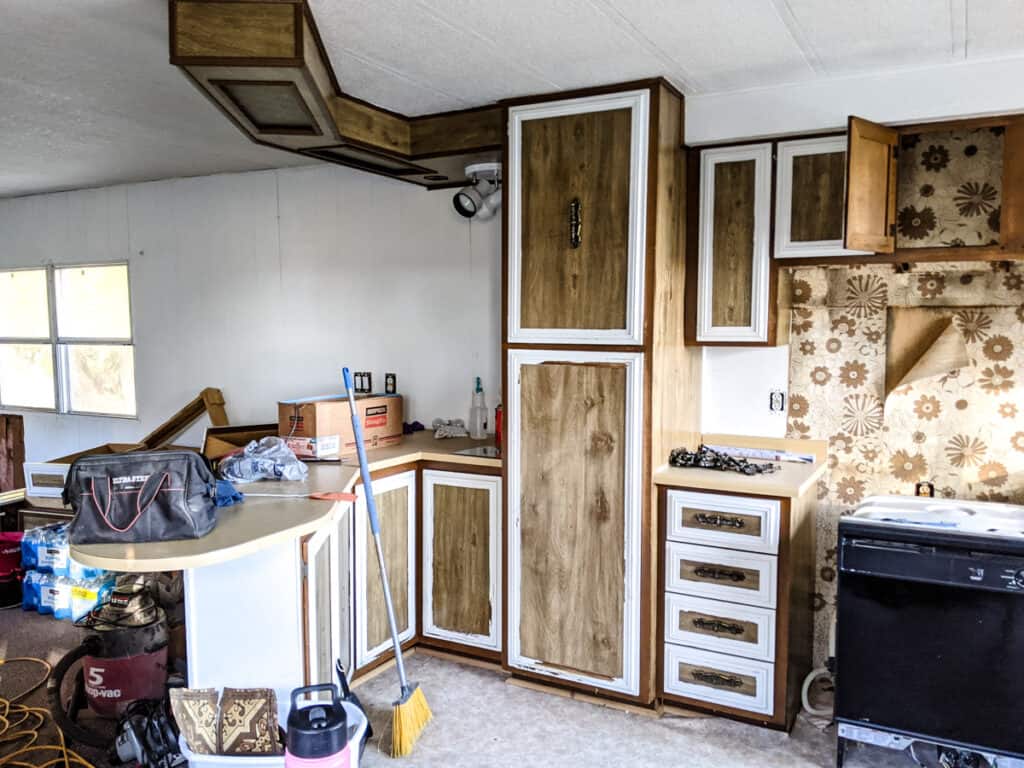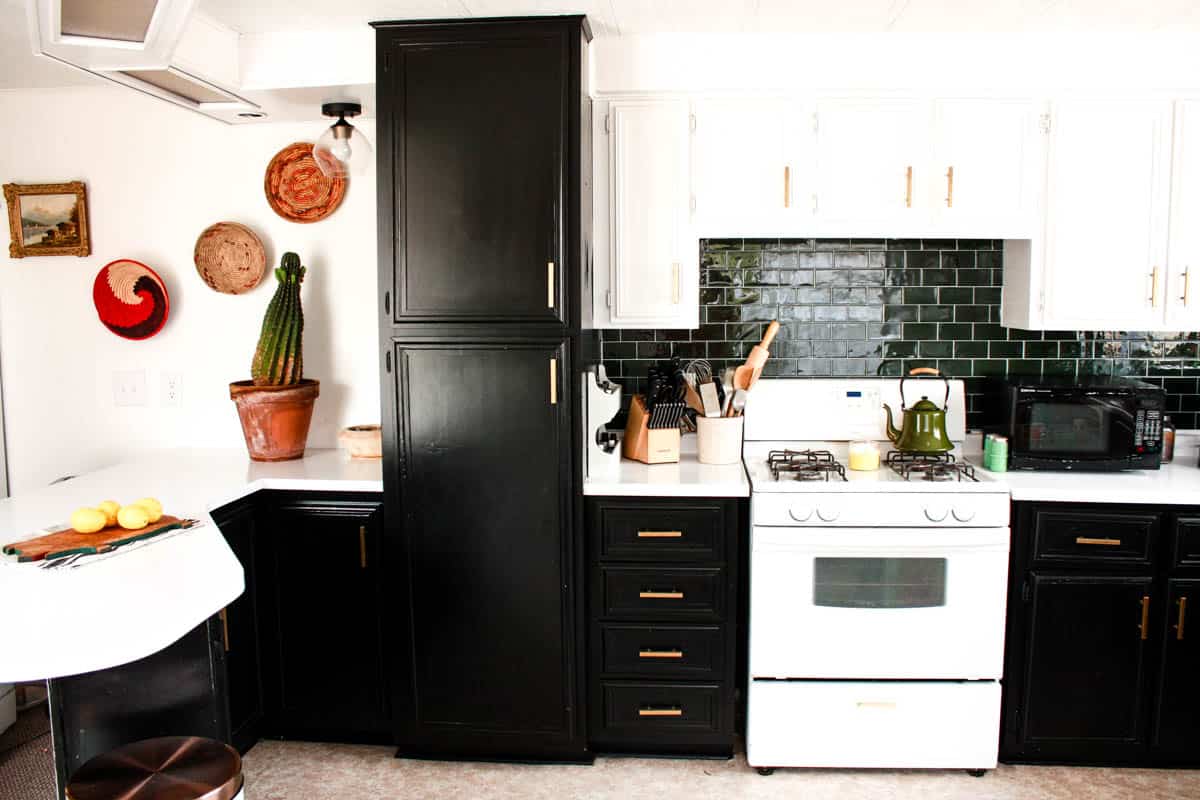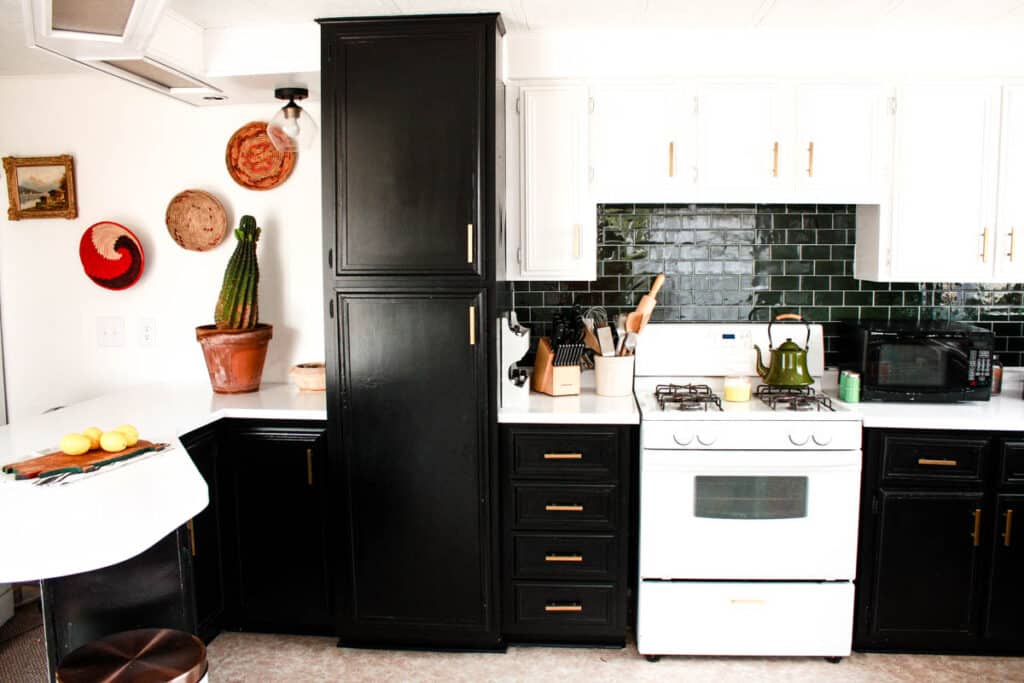 Painting Everything in the Mobile Home
Paint is the foundation for an ugly house makeover. It doesn't fix things, but boy howdy, it sure can cover up a lot of problems. The entire home got a good coat (or three) of paint.
I wanted a fresh, bright and simple background for our single wide mobile home walls. We simply wiped down the walls before painting. I did not sand the walls, and the paint stuck well. It did take some patience and three coats of paint to completely cover up the brown, but it was completely worth it. I tried two paint primers, and would suggest using Zinsser Bulls Eye 1-2-3 primer found HERE for the first coat.
Since this was a very low budget home remodel, I removed the door hinges and knobs and painted them.. In all honesty, I did not do a proper job on the handles, so the paint is coming off and will need to be redone. The paint on the hinges is holding up well.
I scrubbed the hinges and screws with soapy water, roughed them up on all sides with sand paper and spray painted them with Rustoleum spray paint with primer found HERE. The screws I screwed into a board before painting them. Painting hardware is a great update for low cost and little effort.
The brown hollow core interior doors matched the brown paneled walls in 1970s (un)glory. I took them off and painted them the same color as the walls and ceiling so everything would flow in the small space. The exterior doors got a quit coat of fresh paint while still hanging.
Thank goodness for my niece who is a professional cabinet painter. Our kitchen cabinets, bathroom cabinets, laundry room cabinet and bedroom built in drawers also got a new coat of paint. We scrubbed them with Krud Kutter degreaser found HERE, filled in the old knob holes, sanded them with a light grit sand paper and wiped them down. They got several coats of paint inside and out. Though there is still damage to some of the cabinets, paint does a world of wonders at covering up imperfections, and you can barely tell the damaged areas. Read more on the mobile home kitchen renovation HERE.
After painting the kitchen cabinets, the yellow countertops looked especially off. I sanded them and cleaned them extremely thoroughly with Krud Kutter degreaser (found HERE) then used Rustoleum appliance epoxy found HERE. I am extremely happy with the outcome. Read more about our much our mobile home kitchen remodel cost HERE.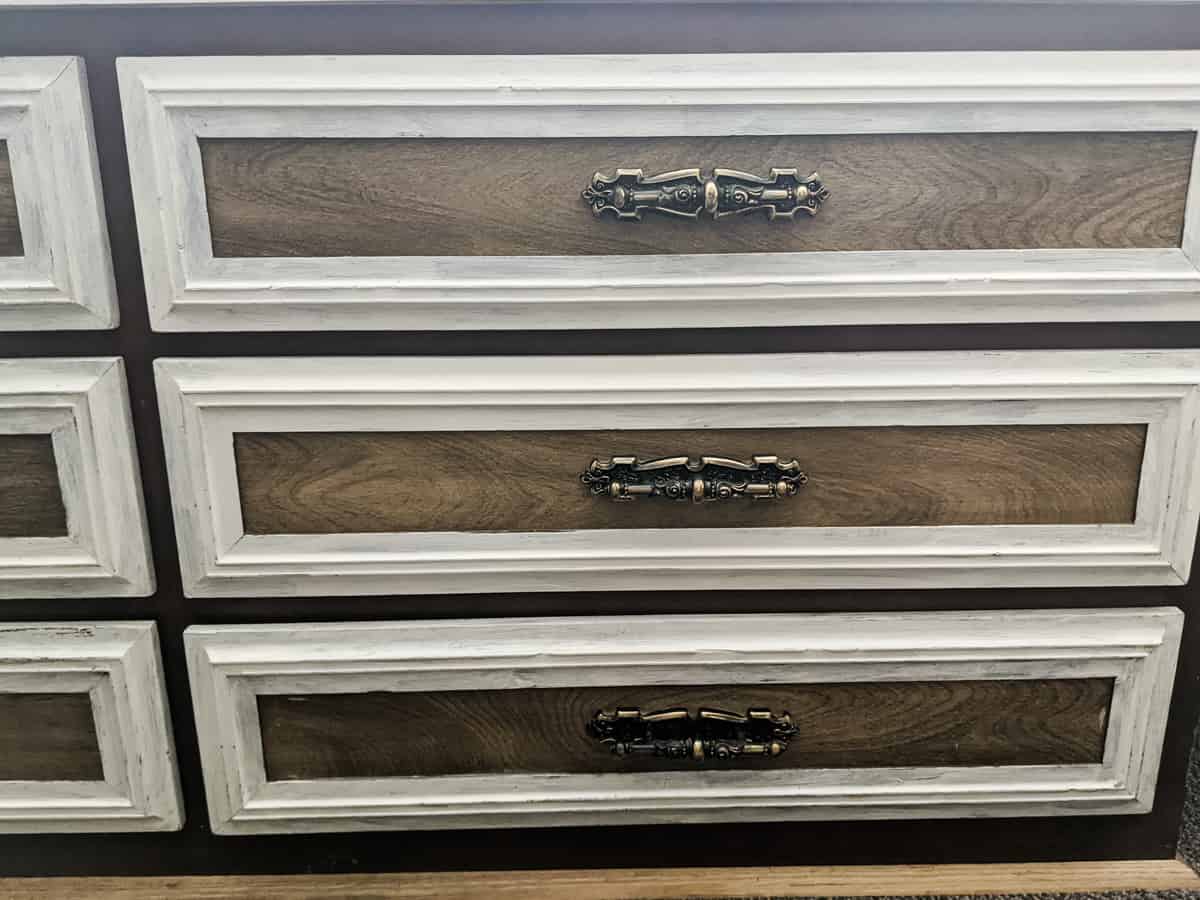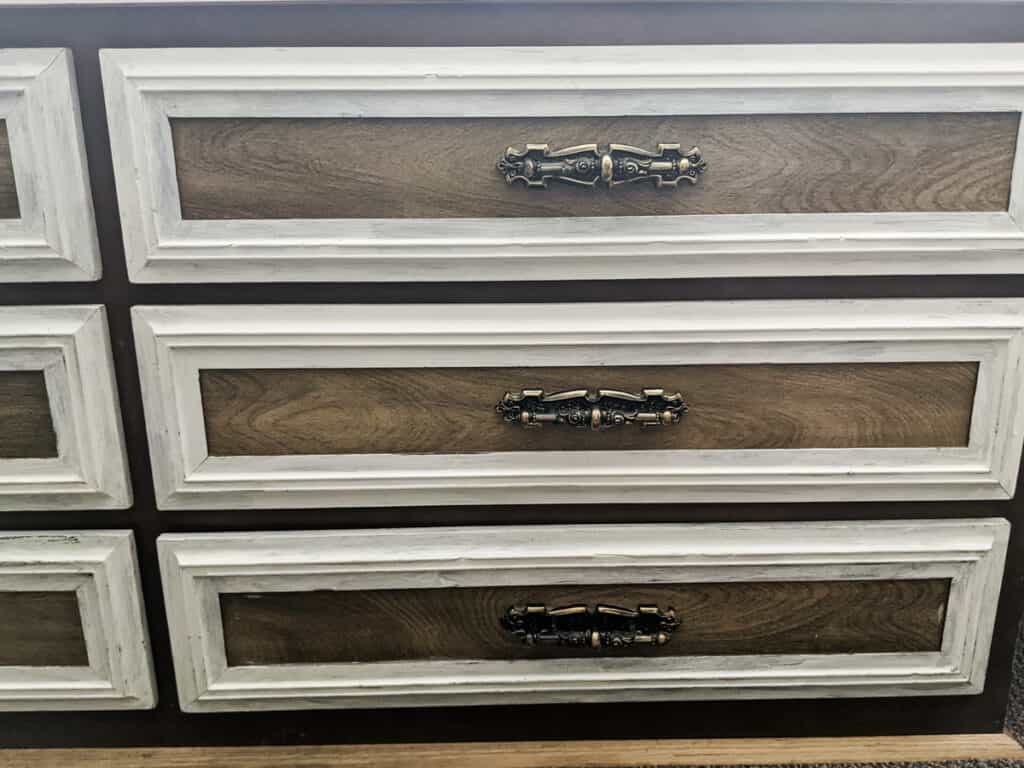 Updating the Hardware for an Easy Mobile Home Refresh
I mixed Mid Century Modern and Modern Farmhouse styles for our mobile home. Changing the hardware is a great way to add decorating style to modular homes. I changed hinges (found HERE), drawer pulls (found HERE) and cabinet handles (found HERE).
Both bedrooms have built in dresser drawers (which are super handy, by the way). We painted the drawers and added new hardware, but there was one thing that completely annoyed the dickens out of us. The plastic drawer slides had broken, so the drawers would fall out, dumping everything in the process. We found out that mobile home hardware (and drawer slides) are completely different than regular houses. We looked everywhere for matching drawer slides and finally found them HERE. It may not seem like a big deal, but if you live in an older manufactured home with drawers that constantly fall out, you know that it IS a big deal.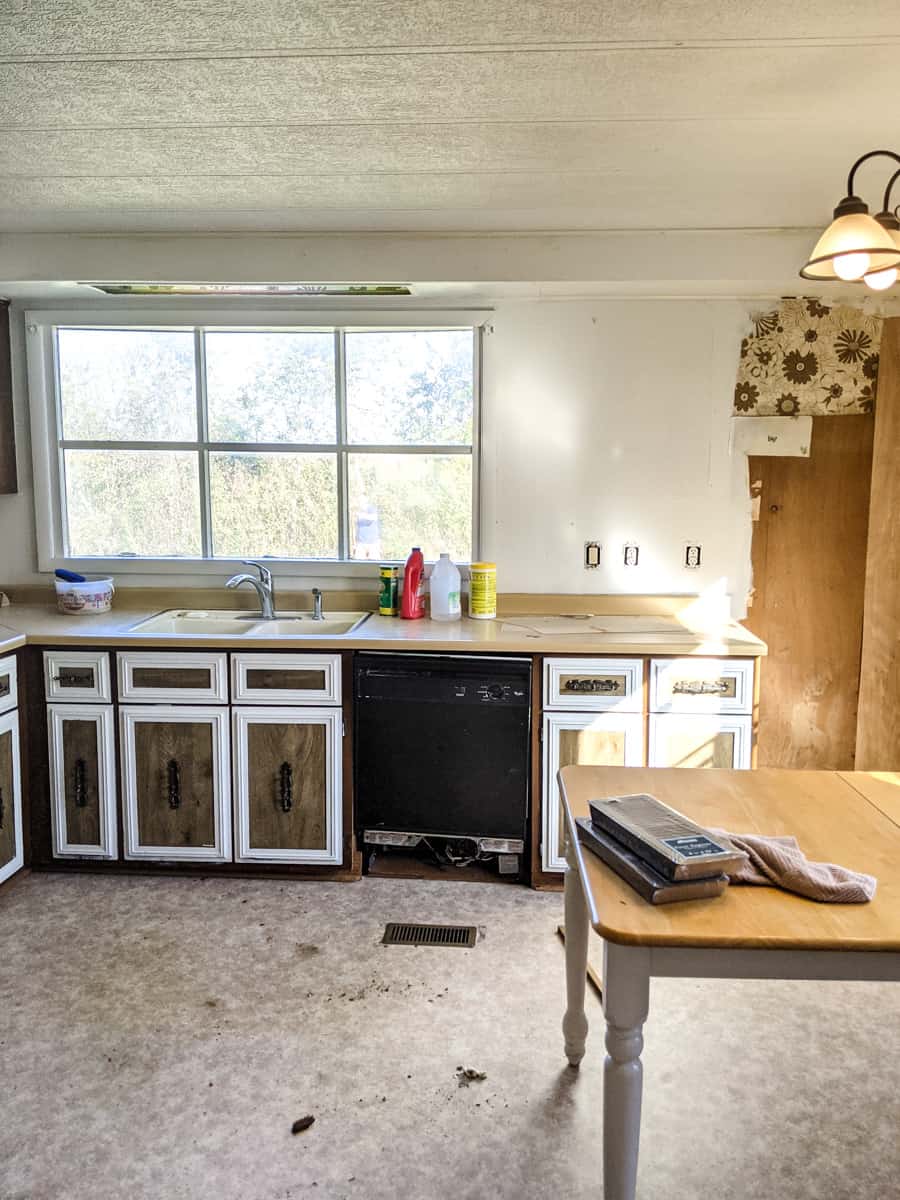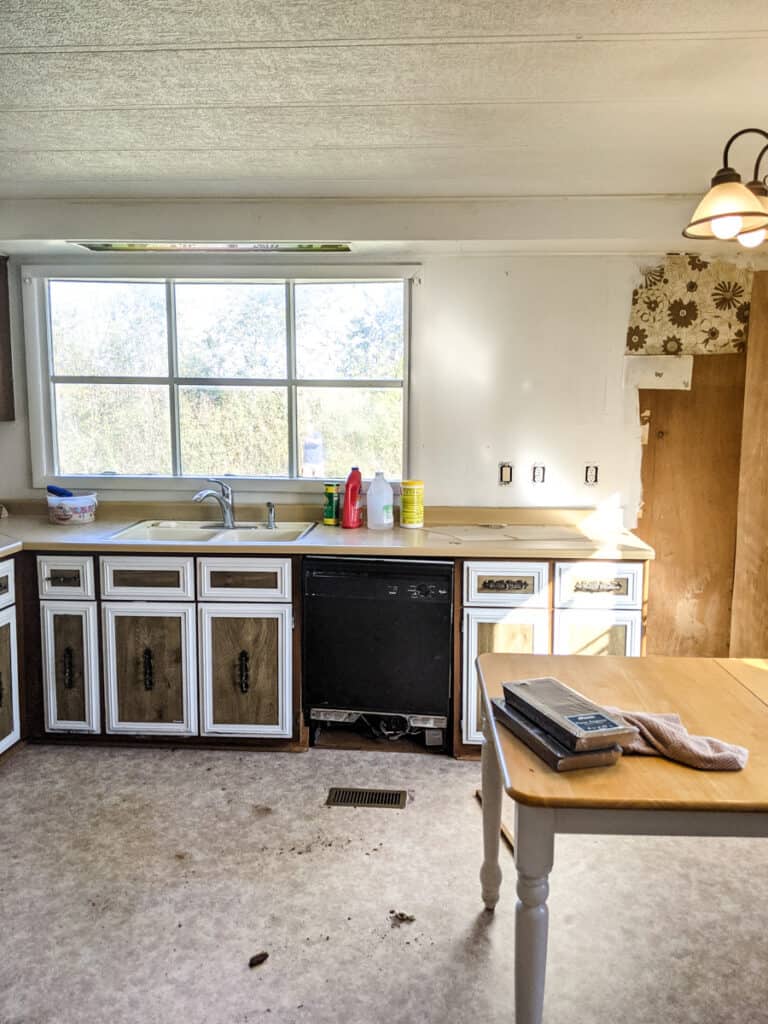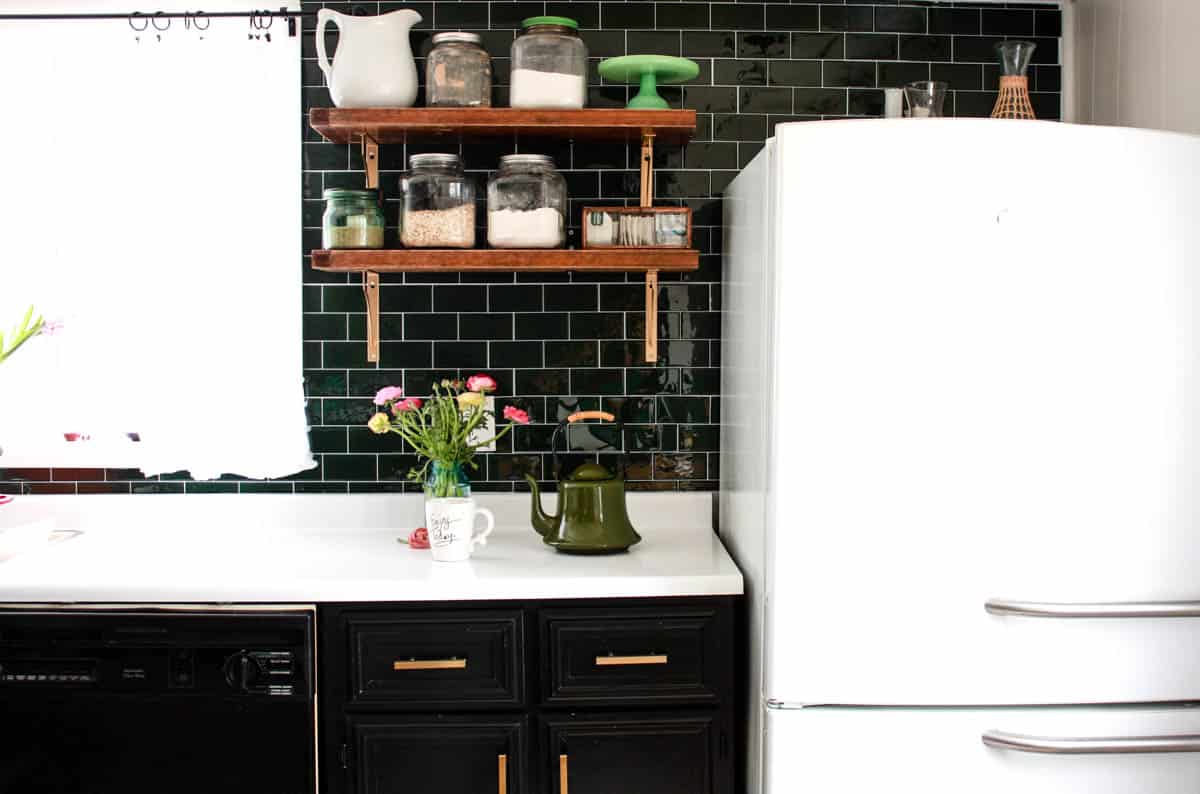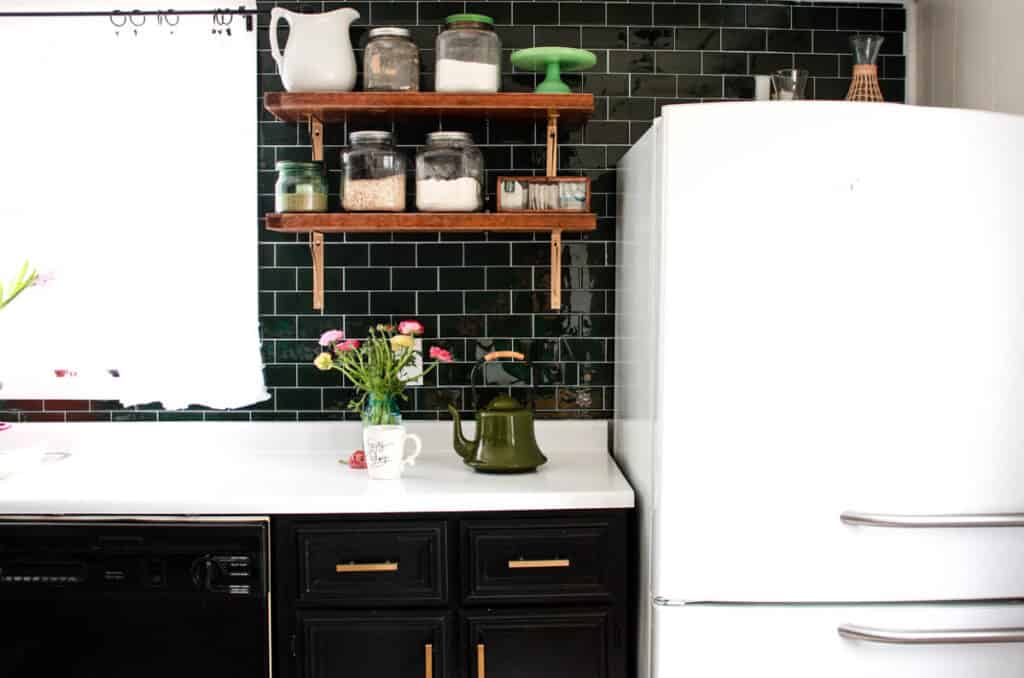 Using Sticky Tile Backsplash and Sticky Wallpaper
I wanted to add a totally new look to the kitchen and bathroom walls. For the kitchen area, we did not have the time or money for ceramic tile backsplash. I found some peel and sticky tile backsplash that has been a great remodeling idea. I don't think it's going to last for years and years, but it solved our immediate need for a kitchen makeover on a tight budget. Read my extensive post Pros and Cons of Peel and Stick Tile Backsplash HERE.
Then I went on a peel and stick journey and decided to do the bathroom with peel and stick wallpaper. The peel and stick wallpaper was not such a great idea. However, the idea of REAL wallpaper for a mobile home renovation is a good one. And putting a large print wallpaper makes the small space feel open and fun.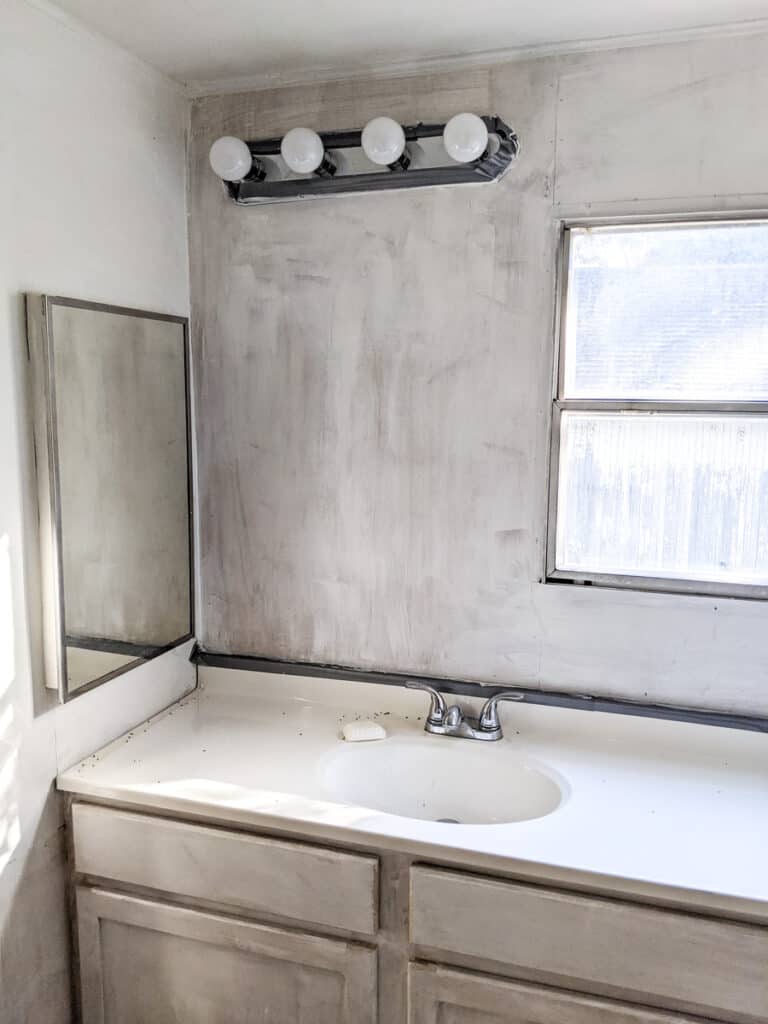 New Lighting for the Mobile Home
New light fixtures can actually be costly and not fit in a tight renovation budget. However, if you search hard enough, you can affordable price, high impact lighting. My favorite stores for cost effective light fixtures are
In the master bedroom and kids bedroom, we replaced the "boob lights" with IKEA light fixtures found HERE.
In the kitchen, I found a black chandelier from Home Depot (found HERE) and a flush mount light (found HERE) that complemented the Mid Century Modern Farmhouse style. I also found a three light bathroom vanity light in the same style at Home Depot (found HERE).
We needed a light for the low ceiling hallway that didn't hang low and also fit the Farmhouse style. I happened to find this one HERE on clearance at Lowes.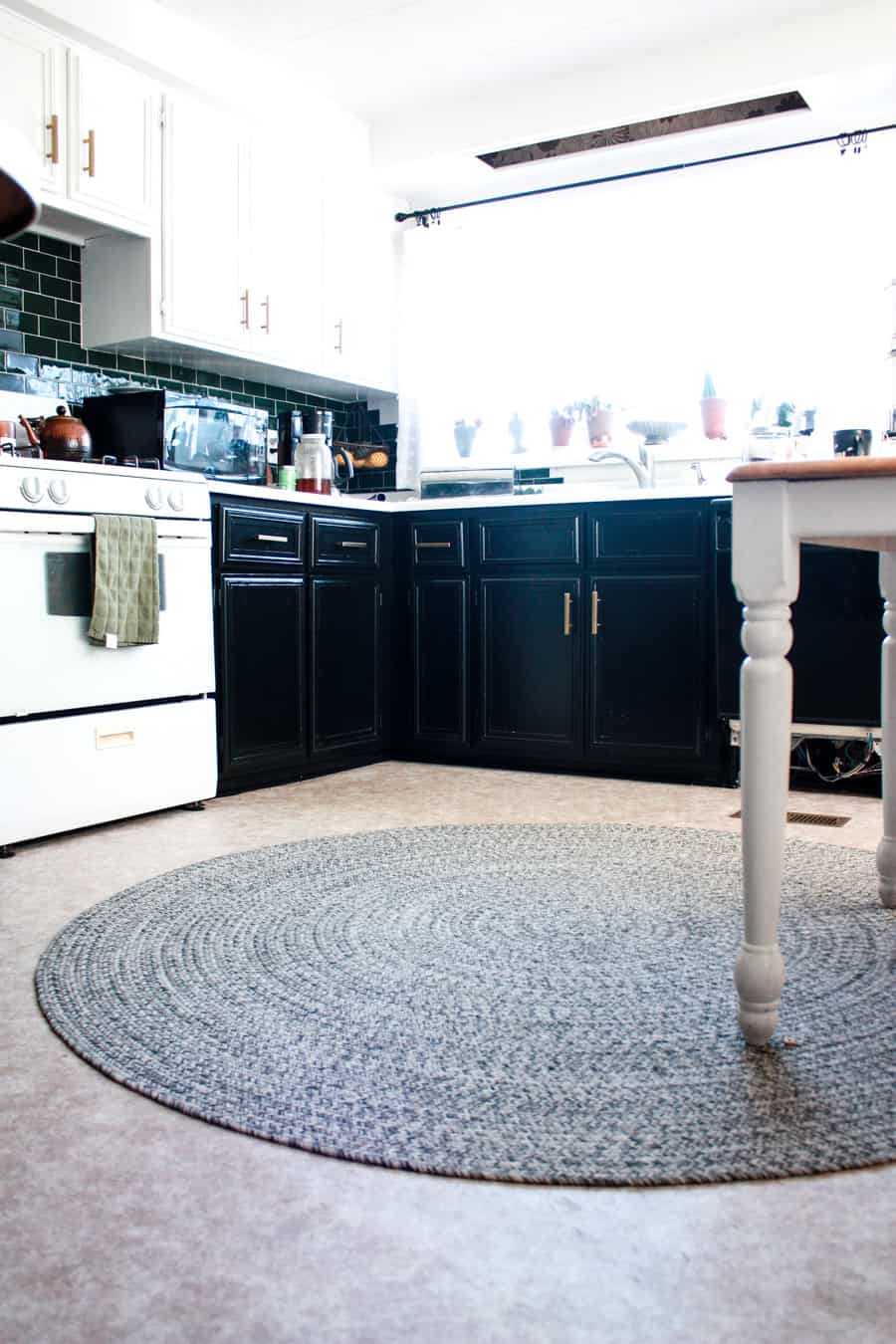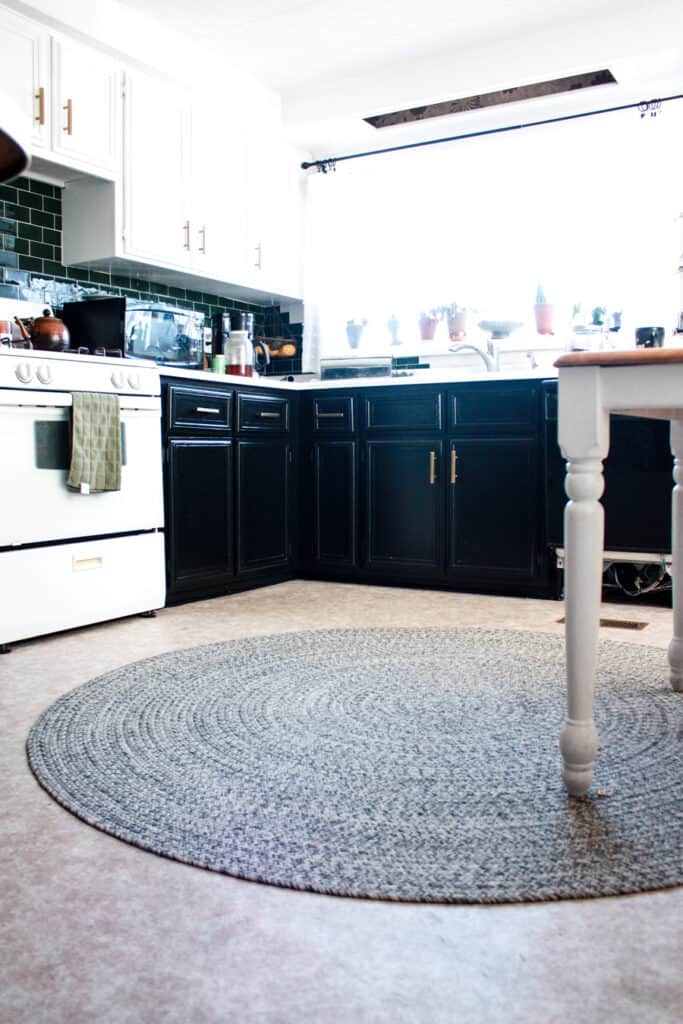 Adding Rugs to Update Your Mobile Home
The one thing we didn't change in our DIY mobile home remodel was the flooring. While I would love to add laminate hardwood flooring, we had fairly new carpet and linoleum, and while it wasn't exactly beautiful, it was livable. After we gave it several deep carpet cleans, I felt good about letting the kids play on it. Buuuuut, it weren't beautiful. (Did I already say that?) So, I just took rugs from our old house and put them in every room. Rugs on top of carpet work great, add style and cover up flooring that you might not love but can't afford to replace right away.
I already had the rugs, but you can find the braided kitchen rug from Rugs USA HERE that added great cozy farmhouse style. The living room rug can be found at Rugs USA HERE.
And there you go, DIY mobile home remodeling ideas on a tight budget and short time frame. These ideas will works for double wide mobile homes, single-wide mobile homes, new mobile homes or older mobile homes. I hope it is useful information for your mobile home makeover.
Do you live in your own mobile home? Comment below and tell me about what you have remodeled (or would love to someday).
Read More
Mobile Home Mid Century Style Kitchen Makeover Before and After
How to Decorate a Mobile Home Living Room
25 Ways to Make Your Older Mobile Home More Energy Efficient
64 Storage Ideas for a Small Home
How to be Content Living in an Ugly House
Pin for Later DIY Mobile Home Remodeling Ideas