Whether you live in an apartment, mobile home or small house, you do not have to sacrifice vintage style for necessity! After a year of living in a 1979 single wide mobile home, I'm sharing 64 storage ideas for a small home.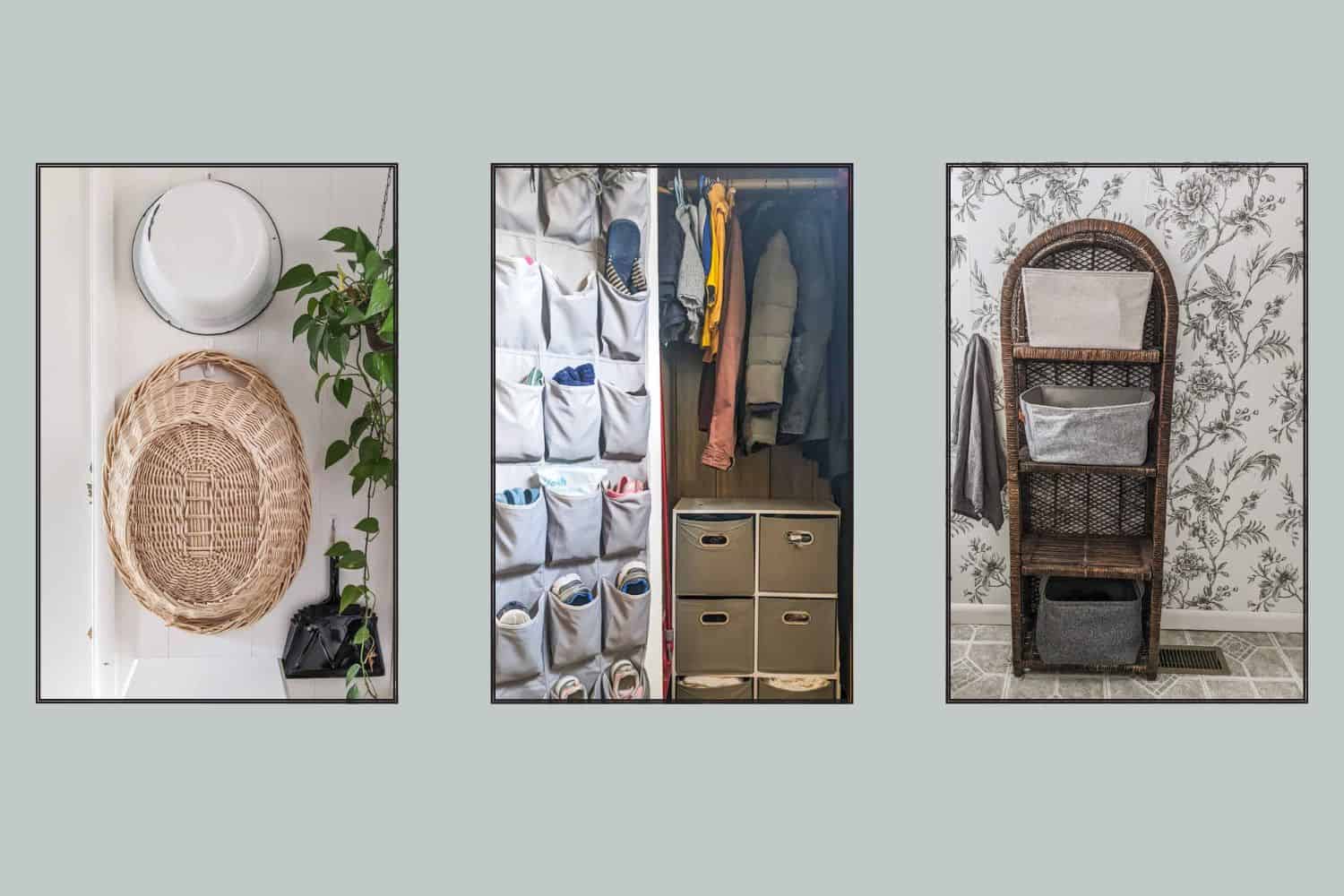 As an Amazon Associate, I may earn a small commission through your purchase through any Amazon links on this post. This is at no additional cost to you. All recommendations are my own because I believe in each product. See my full Privacy Policy here.
The Back Story of Moving into Our Tiny Home
When we bought our country homestead and farmhouse, we embarked on a journey of DIY home renovation that is taking us several years. (Read more about our farmhouse HERE.) Thankfully, the property also came with a single wide mobile home where we can rest our heads during this time-consuming process.
If you've ever been on the inside of an older mobile home, you know that it can have, well, we'll call it "character." And whether it be a car or an old mobile home, anything with that much character needs a name. So we call her Bertha. I knew before moving in that we needed to spend a little bit of time and money to spruce up ol' Bertha.
In the year since we've moved in to our single wide mobile home, I've learned a lot about adding vintage character to a manufactured home AND coming up with creative vintage storage ideas for a small home.
How To Combine Vintage Style and Necessary Storage Solutions
Small homes can pack in an impressive number of cabinets considering the limited space, but no matter how many cabinets in a 10 x 10 kitchen, it's still a 10 x 10 kitchen.
Some of these storage ideas from our vintage mobile home are more for function than beauty since we can hide away certain things in closets and cabinets. But for the most part, since most items are in plain sight, these storage ideas for a small home have a dual purpose of storing things AND adding vintage beauty to our home.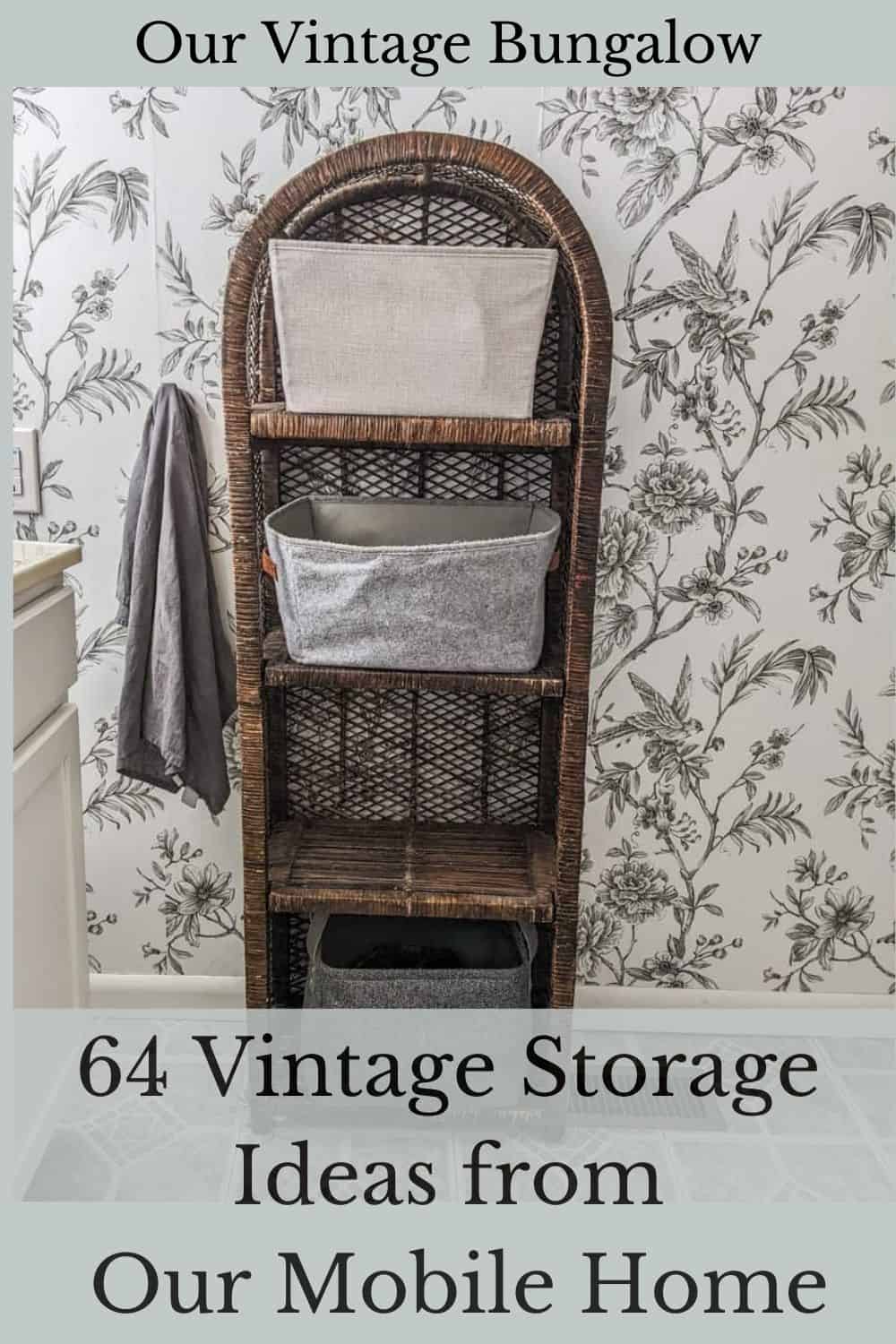 Am I Maximizing Every Storage Possibility In Our Single Wide?
No. I have long heard how to store items in absolutely every.single. nook and cranny of a small apartment or house. And I subscribed to that idea in the beginning of living in our cramped house. But then all the STUFF crammed in every available cabinet, bench and closet began to feel very, very heavy. Sure, things had a place, but when the kids would bring out all the toys from all the hiding spots, the whole house erupted into chaos. It was TOO MUCH stuff for our small space (even though it really wasn't a lot of stuff).
I have come to the conclusion that while I did need storage ideas for our vintage mobile home, the main storage solution was to pare down possessions to those absolutely necessary and loved. It is a journey of simplifying that I've begun and continue to improve. To reiterate: your biggest challenge will be to purge unnecessary items before beginning to organize tight spaces!
But with that caveat, I have found many storage ideas for a small home that I'm happy to share with you! Let's begin.
Kitchen Storage Ideas
Like I said, we have an impressive number of cabinets for our mobile home kitchen thanks to a kitchen island and tall storage cabinet. In these, I am learning organization is key. Some of these ideas I've implemented, some I'm planning on adding, and some are just overall good ideas I want to pass on.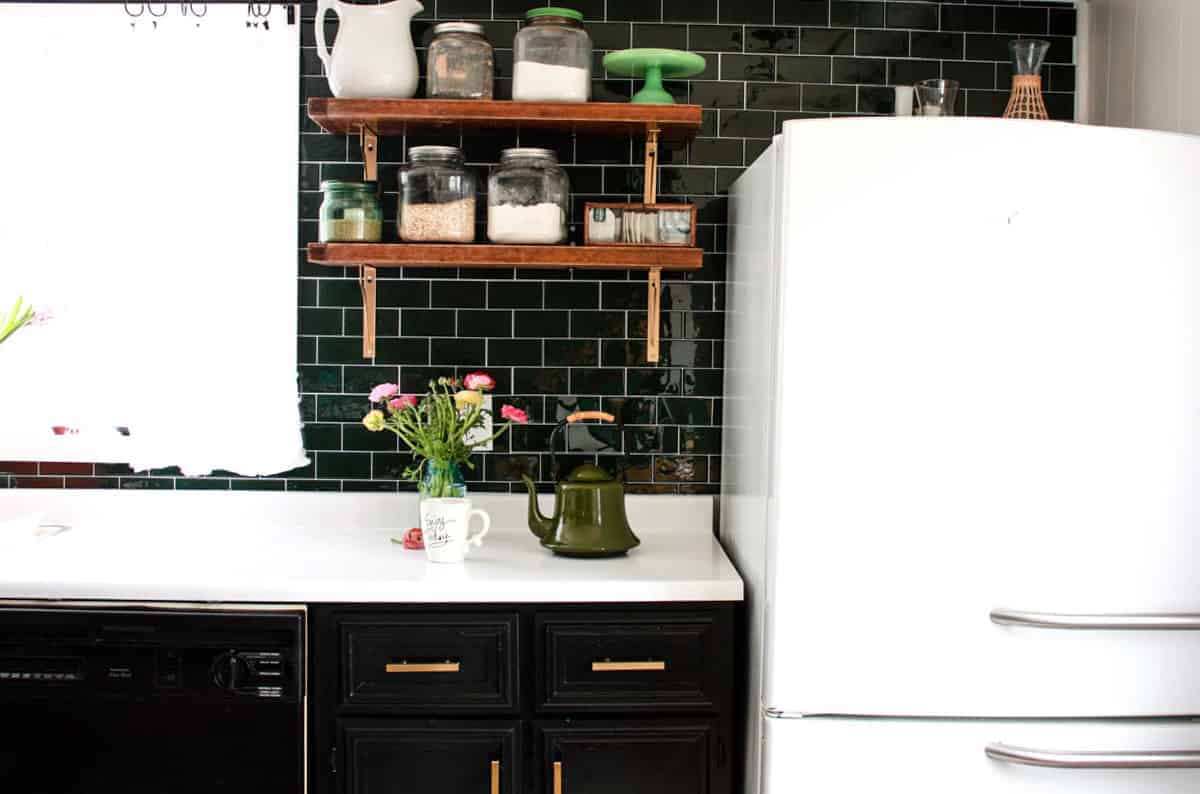 While I don't like every single wall space to be filled, I needed more storage for dry and canned goods. Add vintage style brackets to add beauty to your space.
If you're going to put things on open shelving, you want it to be pretty. These glass canisters are an awesome way to display your dry goods simply yet beautifully.
Top of the Refrigerator
I HATE things on top of the fridge. It's kind of a pet peeve. But I've actually begun to see it as a space to decorate with vintage items that I occasionally use and need, like enamel buckets, vases and the like. Or you could put a vintage bread box on top of the fridge and hide anything you want in it.
Wall space is a PREMIUM in a small house kitchen. I have a cork board mounted on the door inside of our tall cabinet for our calendar, notes, and grocery list.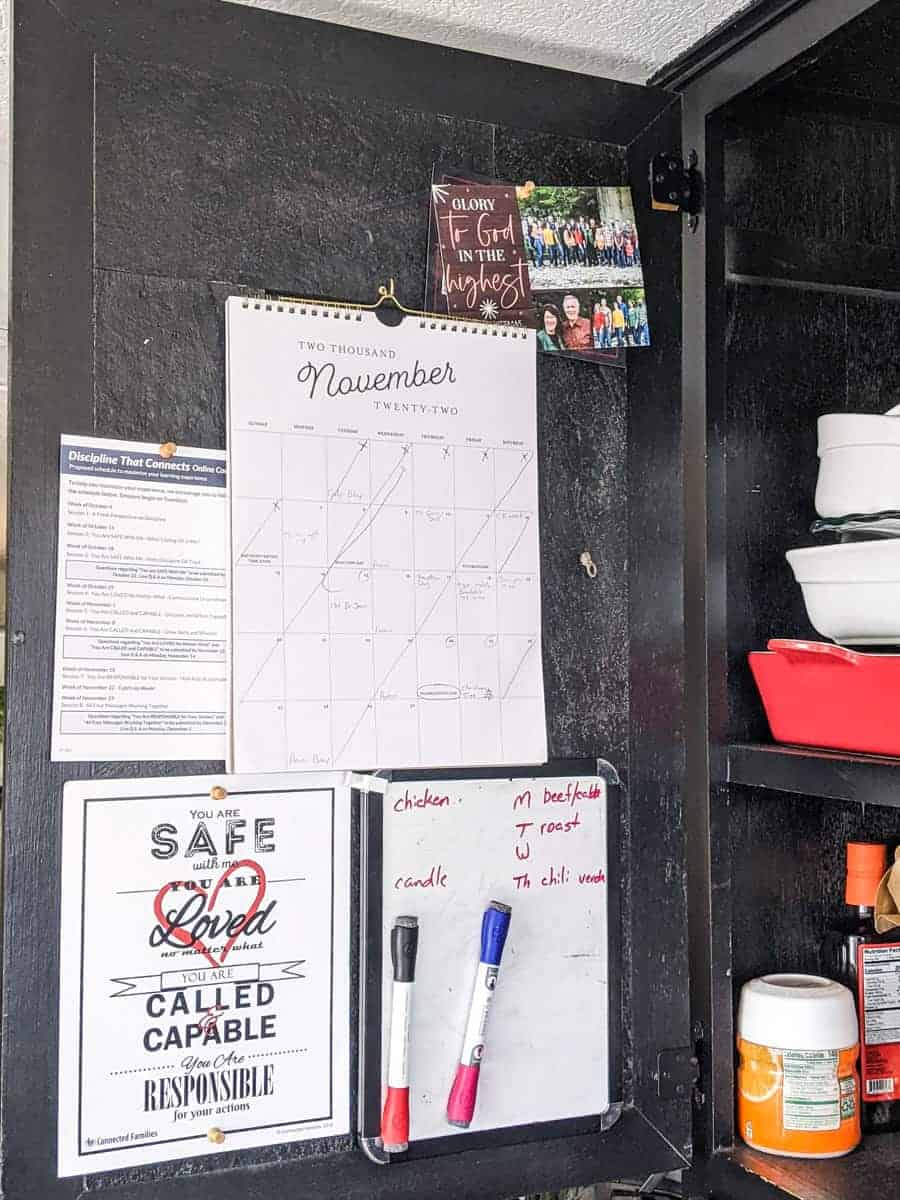 I found this vintage style set of hooks to hang our dish and hand towels.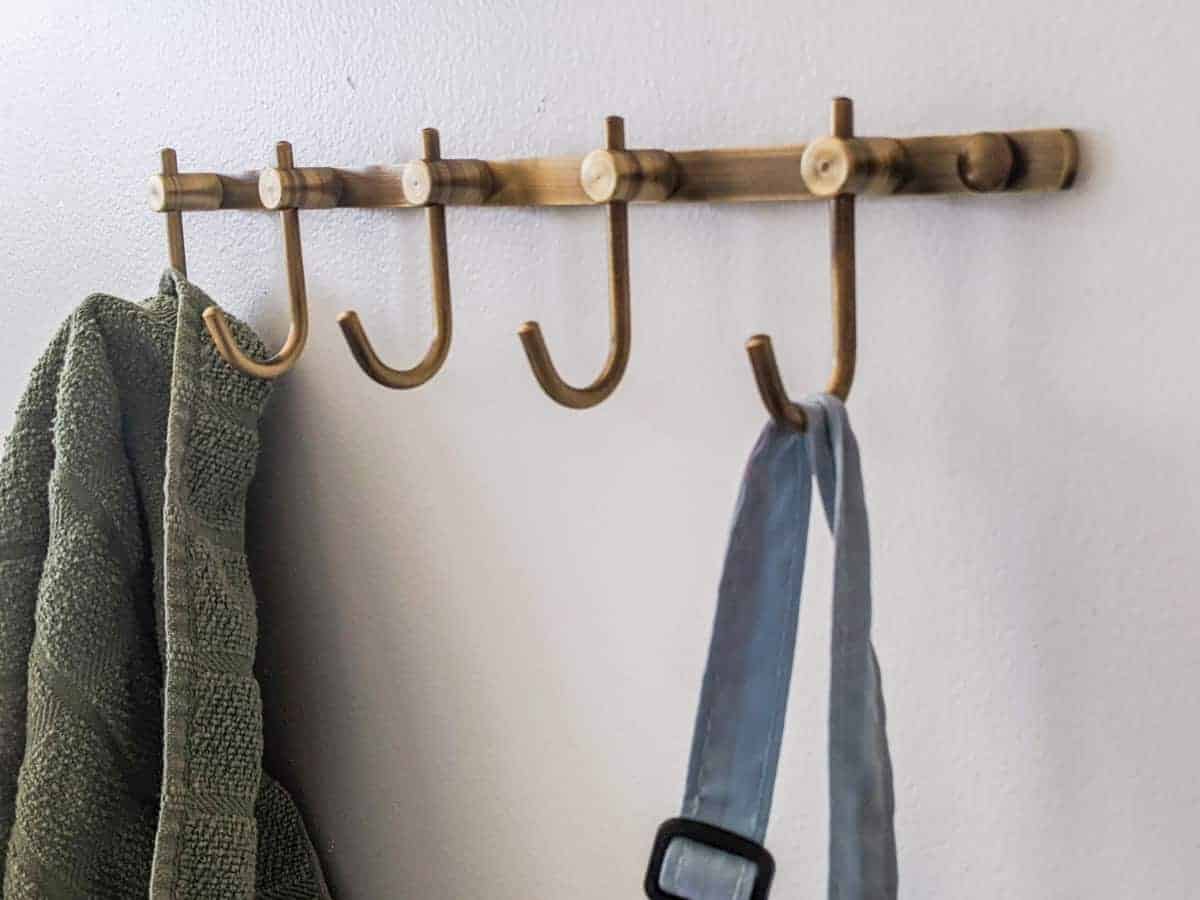 Inside the cabinets, I have various bins and baskets to gather our food together. I have to periodically re-organize them, but at least it keeps items from falling all over the place. (And they look so much better than plastic bins!)
This is perfect for my tall cabinet. It fits out cookie sheets, muffin tins and some pans.
I don't have these particular ones (wish I did!), but in the past I've used shelf inserts for additional space, and it has been a great way to utilize tall cabinet space.
If this fits your space, what an adorable way to add organization and style! I love this easy way to store and see your spice collection.
I love having vintage style yet usable utensils that add beauty to the kitchen. A pretty utensil holder will give you extra space for all those gangly utensils that crowd up drawers way too fast. (Read my 40 Vintage Style Kitchen Utensils from Amazon post HERE.)
From mugs to utensils, pot holders to buckets of potted herbs, this brass bar with S hooks would come it ultra handy wherever you hung it.
From fruit to plants, these hanging baskets can hold a lot and utilize unused ceiling space for a stylish storage option!
Entryway Closet Storage Ideas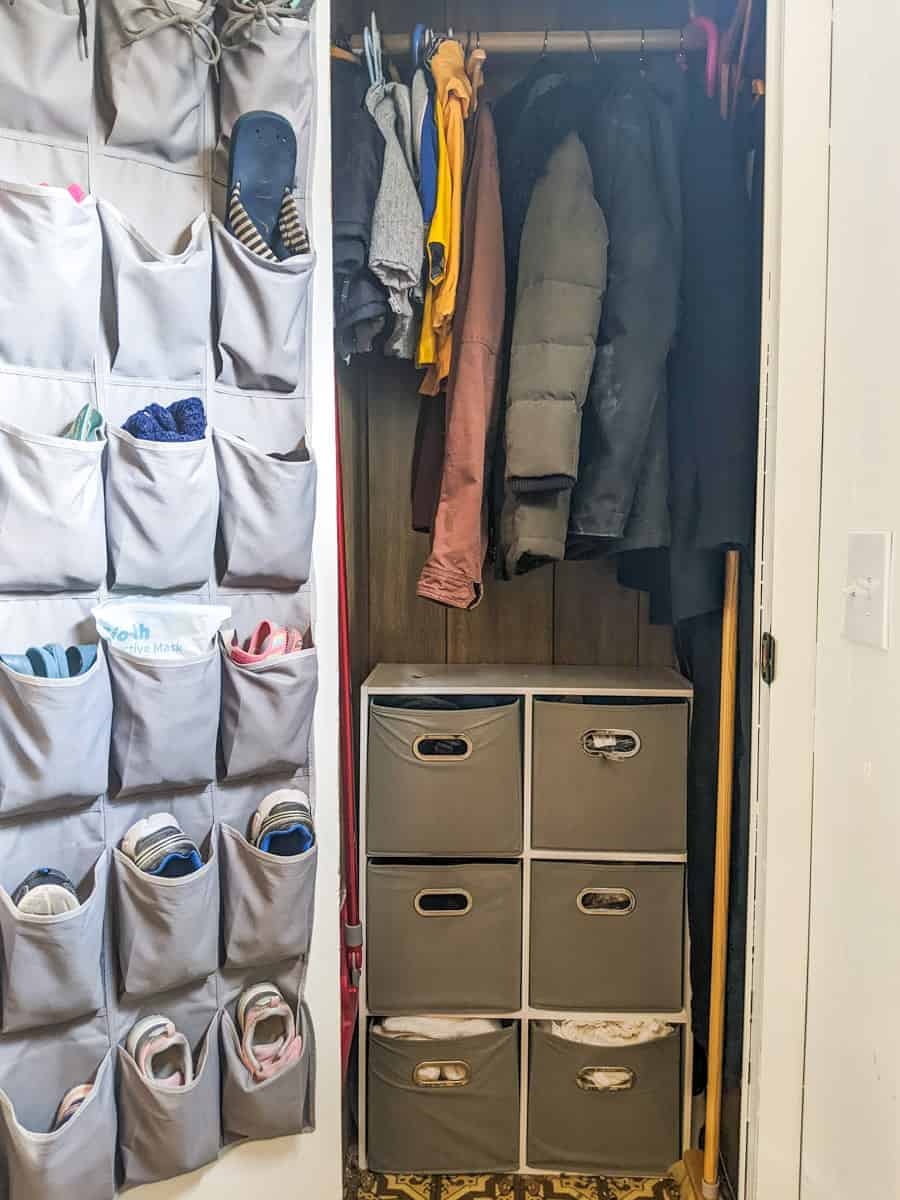 Each and every (small) closet in our single-wide mobile home is gold and utilized to the max. I have added cubby organizers and baskets in every closet to organize things into their own space so everything isn't falling everywhere. These have been lifesaving!
Search "shoe organizer ideas" and you'll find storage solutions for everything under the sun. I added one to our entry closet for our most used shoes as well as hats, winter gear, work gloves and such.
Since we live in a mobile home, finding a stud to mount a screw in hook is difficult and the wall board just won't hold anything by itself (even with an anchor). I use command strip hooks everywhere to hang brooms, dustpans and the like in our closets.
Living Room Storage Ideas
The living room is one big, open area in most homes. Much of life happens right here, meaning toys, TV, books, blankets, homework and so much more RIGHT HERE. Vintage style storage solutions are a must, but add too many in a small home (like our single wide trailer), and you will find the space completely overwhelmed.
Pare down to a few hard-working key items, and then add storage for these items.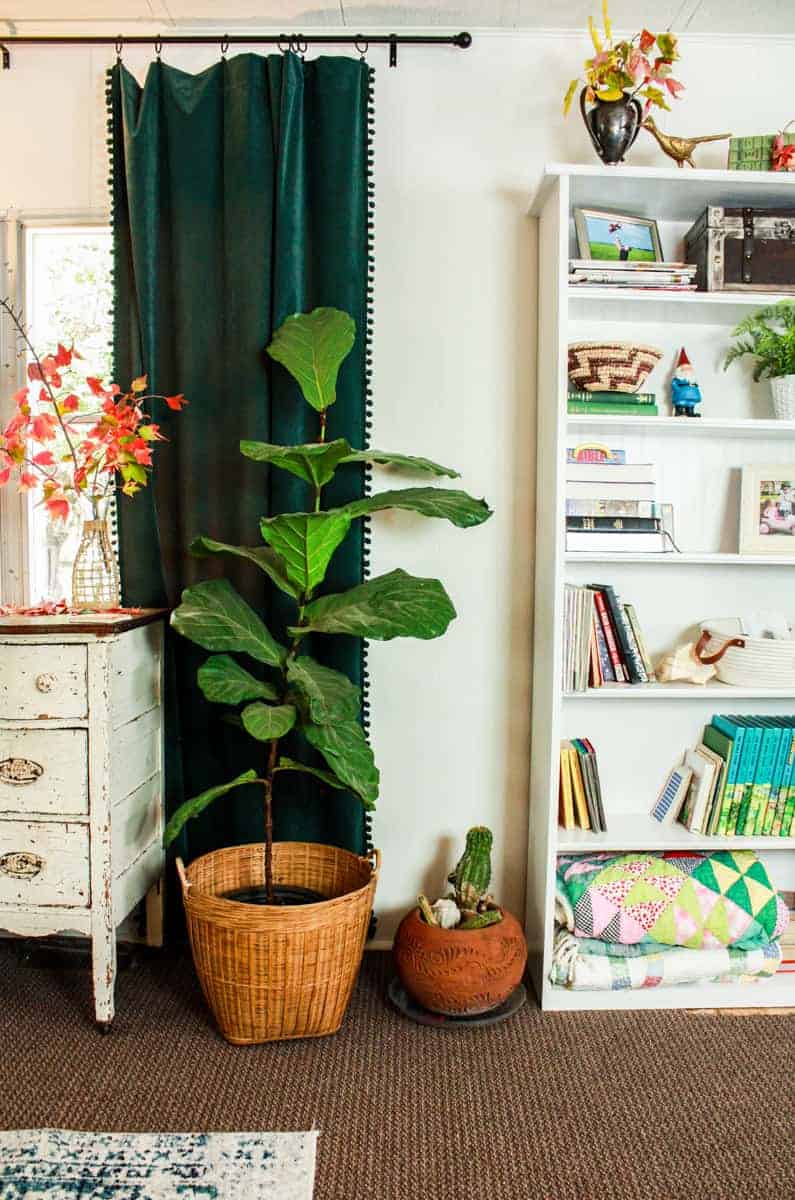 We use a book shelf as a entryway drop zone for keys, spare change, receipts…allllll the stuff. It is also a book shelf (go figure), a blanket shelf as well as a place for a few keepsakes and decorations.
I add baskets and boxes throughout our bookshelf to organize and hide the things we are storing so it doesn't feel overwhelming
I have a whopping TWO dressers in our tiny living room, but they don't seem to crowd the room. These are absolute work horses when it comes to storage. They hide our extra technology items (cords, remotes, games and DVDs), aquarium supplies, miscellaneous household items and whatever else we don't want to see. Using a dresser instead of a TV stand is perfect because of all this extra hidden storage.
They also serve as a place to set lamps (since this room doesn't have overhead lighting) and plants next to the window.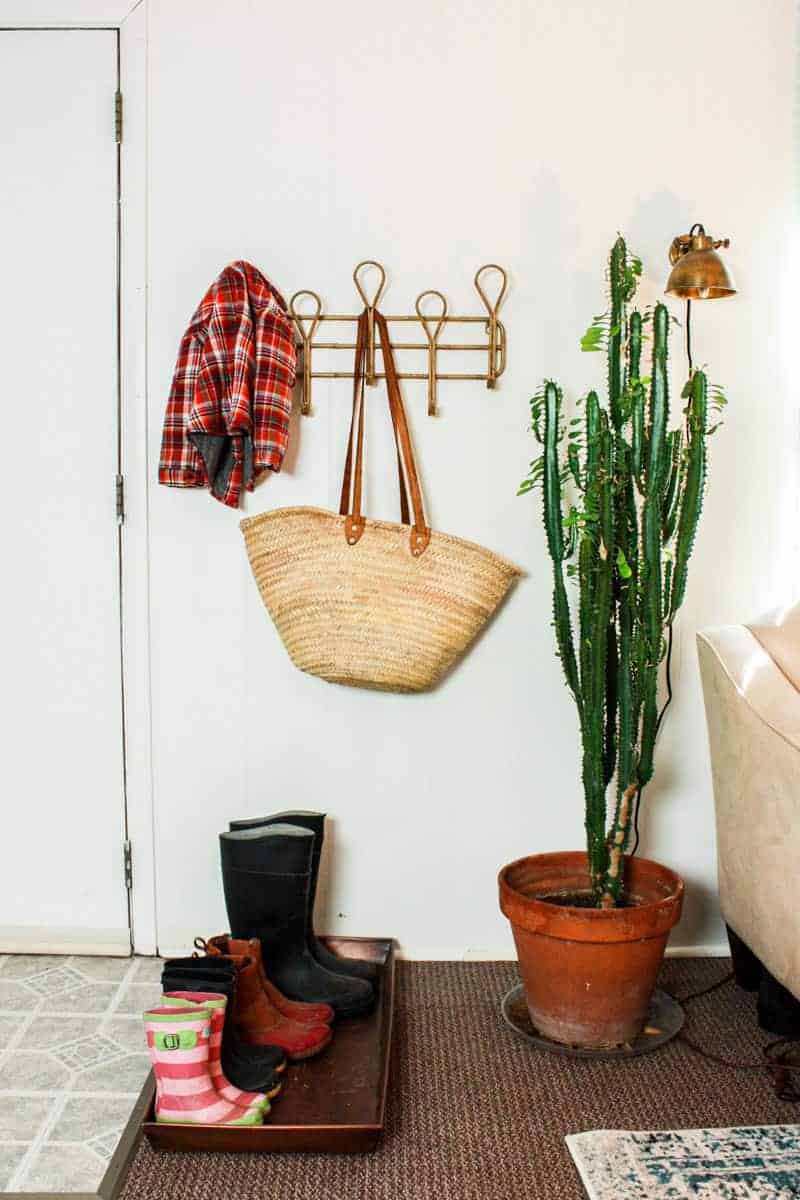 There's always coats, bags and purses to hang somewhere. While I don't love hanging everything out in the open, I do have some wall hooks for a few items as well as for company's coats and purses.
Again, we need an end table, so choosing a cabinet adds more storage.
We have a book basket under our coffee table bench as a place to gather the kids' books. They are always reading in the living room, so I needed a place to gather them.
Under the Couch
I need to get a storage box for under the couch like this one we use under our bed. For now, we just shove a few items under there like the current puzzle we're working on.
And, yes, in the winter we always have a puzzle going. I found this puzzle mat that works pretty well. No, nothing is going to hold all the pieces absolutely perfectly when you roll it up, but we've been happy with it!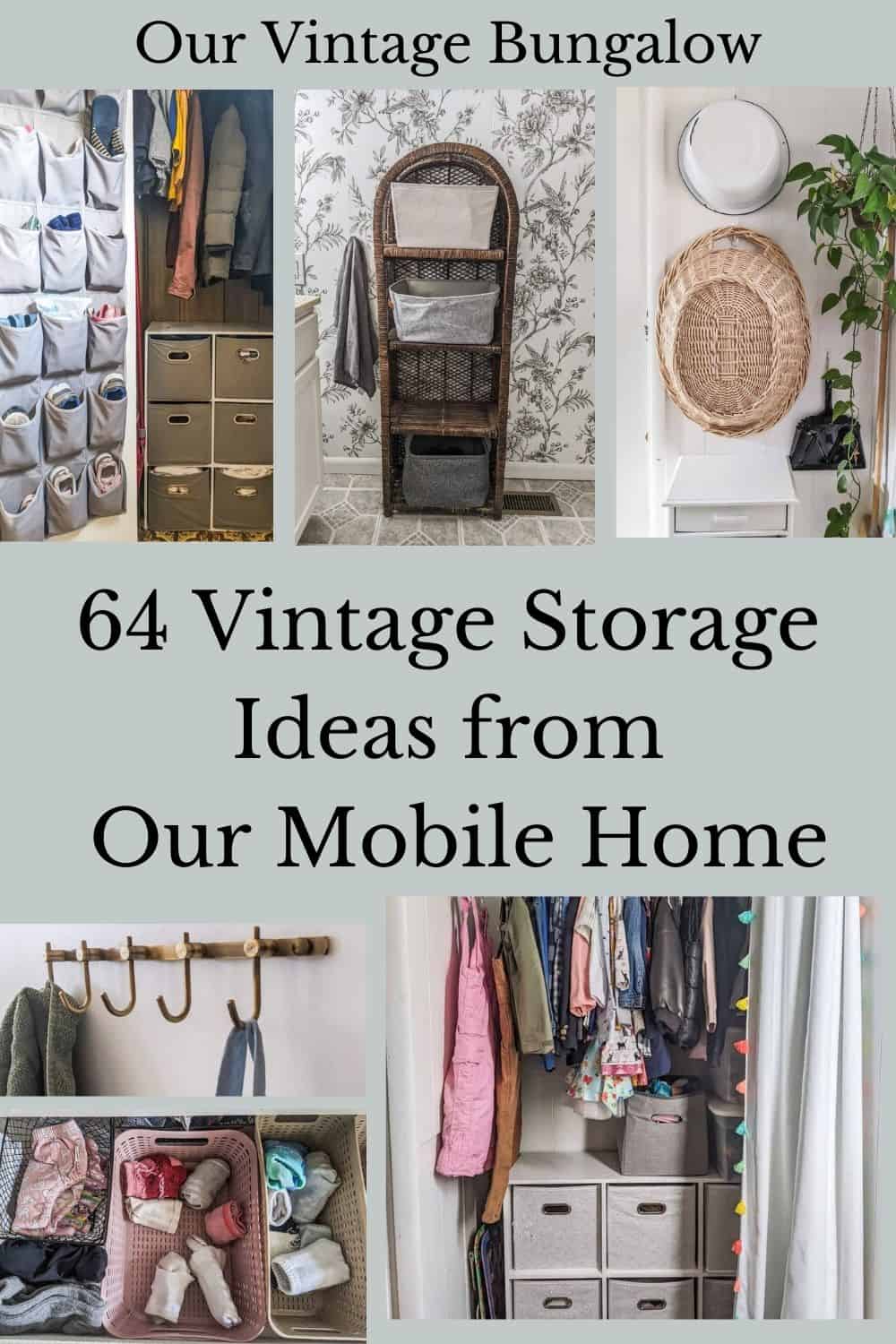 Kid's Room Storage Ideas
This is a two bedroom single wide mobile home, so both kids are sharing a pretty small room. Thankfully, they are small, but all the same, we've had to cram a boat load of stuff into a tight space.
We have a bunk bed, so this doesn't work for us, but it would be awesome if we had the space for under the bed drawers.
Again, this particular bunk bed would not fit in our space, but what an awesome way to pack a couple kids and their clothes into one piece of furniture!
This has been the best toy, puzzle and book storage solution for us. The top can hold a lamp, night light, radio and whatever kid paraphernalia we have. Then each shelf is adjustable to the perfect size of storage. I added shoe box tubs and cubby totes on the bottom for easy toy access.
I debated over and over whether or not to add this big piece in a tiny room, but the kids said they "luuuuuuved it." Sooo, here we are. They have few kitchen toys (since the toys generally just get pulled out and strewn about). But what kitchen toys they have live here.
I organize the rest of their toys in separate tubs to be pulled out one at a time. This makes it easy to stack and not so easy for them to get to and make piles of toys everywhere.
Closet cubby cabinets are the best storage ideas for our vintage mobile home. It's easy to organize and gives us a visual space of how many things we can keep. Can't fit your shoes into your cubby bin? Then we need to get rid of shoes.
This holds all the kids shoes and boots, extra bedding, some toys and the upcoming season's clothes.
Built In Dresser
Thankfully, our little trailer comes with built in dressers. The kids' is pretty small, but it works for the size they are. Each kid gets a drawer; clothes are folded Marie Condo style. And then they share the top drawer for socks, underwear, etc.
For their sock, underwear and misc items, it's an absolute must to divide things into baskets. That way each (young) kid can immediately find their own items when they need to get dressed. Organization certainly is key when it comes to tiny house living!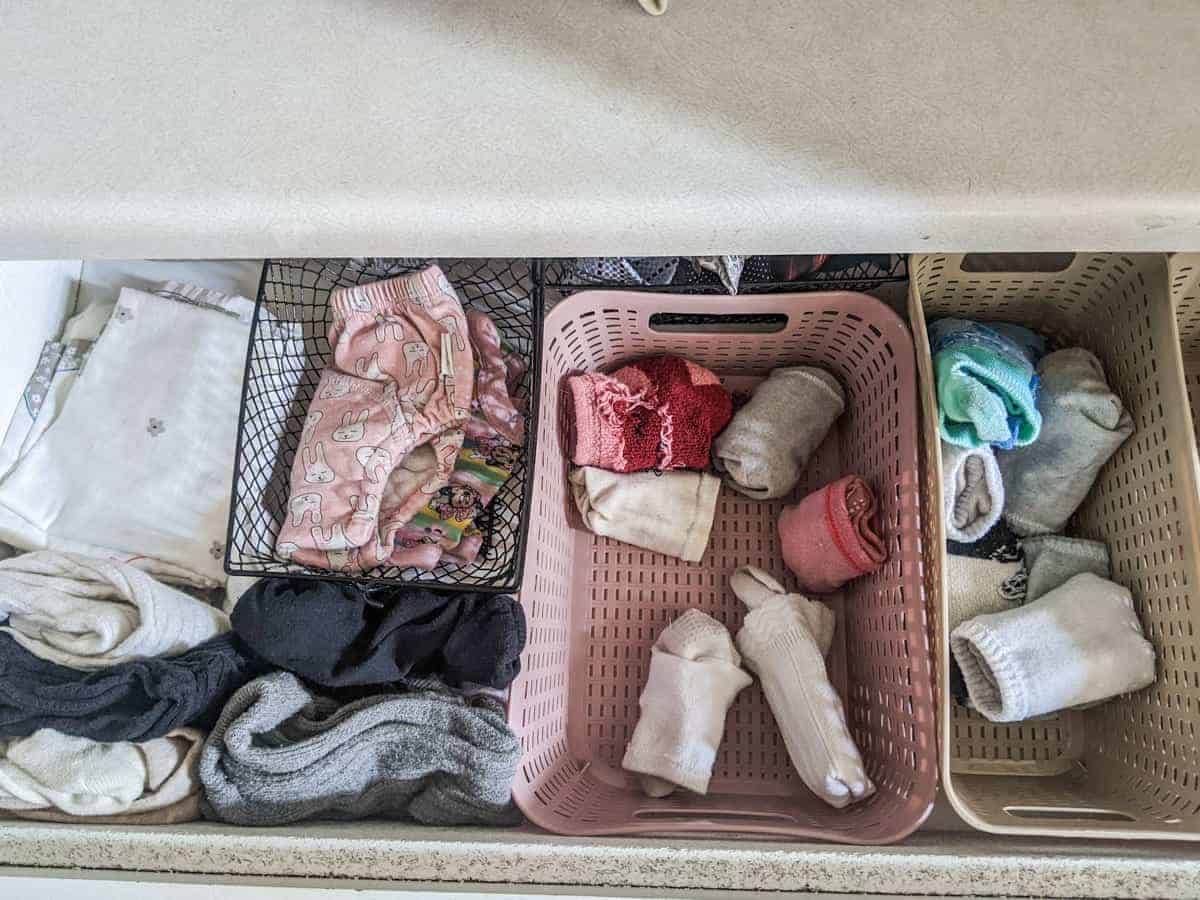 Again, I'm all about practical items that can double as decoration. I love putting hats on the kids, but hats take up space. I've always thought it cute to display kid hats on the walls, so these hang on command hooks.
Hallway and Laundry Area Storage Ideas
Our hallway doubles as the laundry room at the end. While it's a small space, extra storage can easily be added without it feeling too crammed in.
When Little Man was beginning to have art projects, I made this simple vintage style framed cork board to display his creations. It's now hanging in our mobile home hallway as an easy way to display the kids' crafts without taking up space.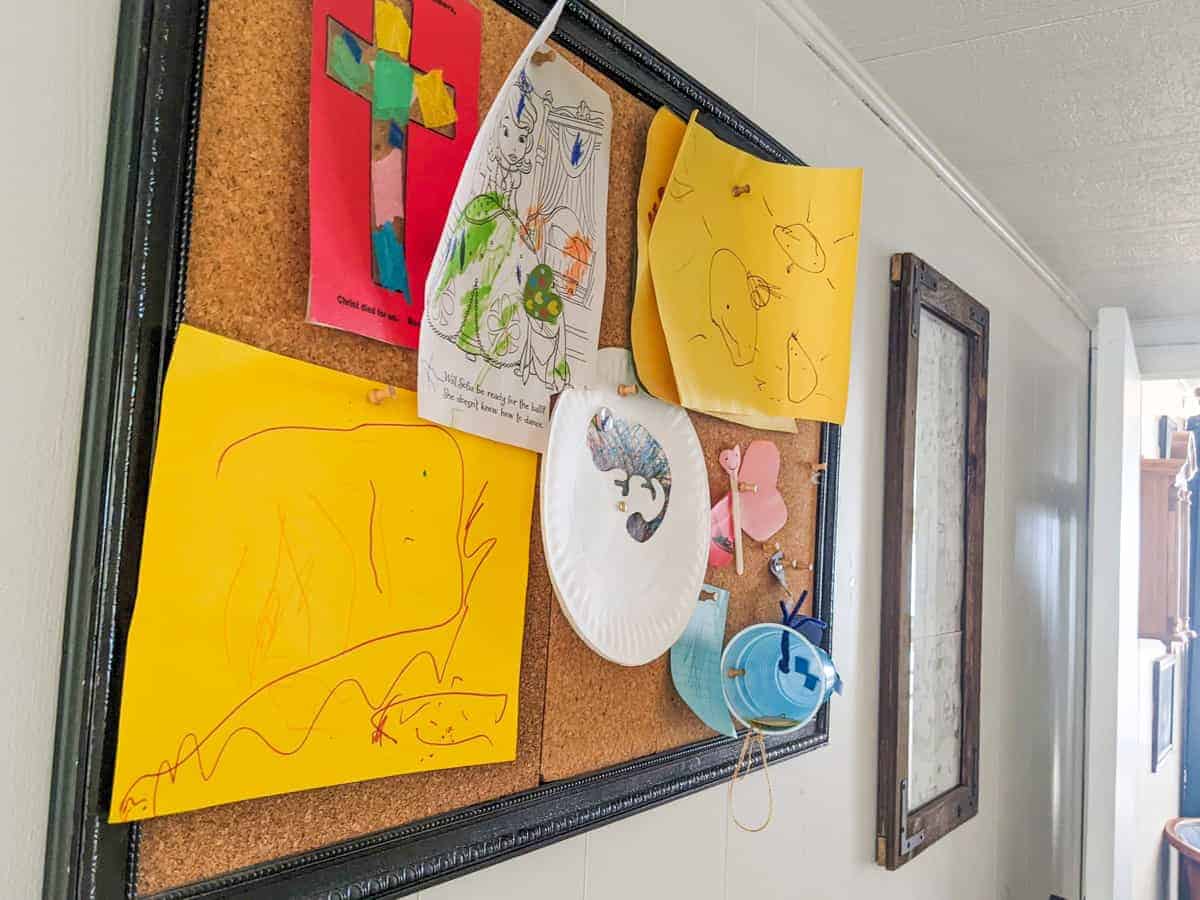 Laundry Cabinet
This cabinet is a blessing for sure. I have each category of items in baskets and bins to keep things from falling out.
For items that need to be hung dried, I love this vintage accordion wall rack. It adds simple vintage style while serving a purpose.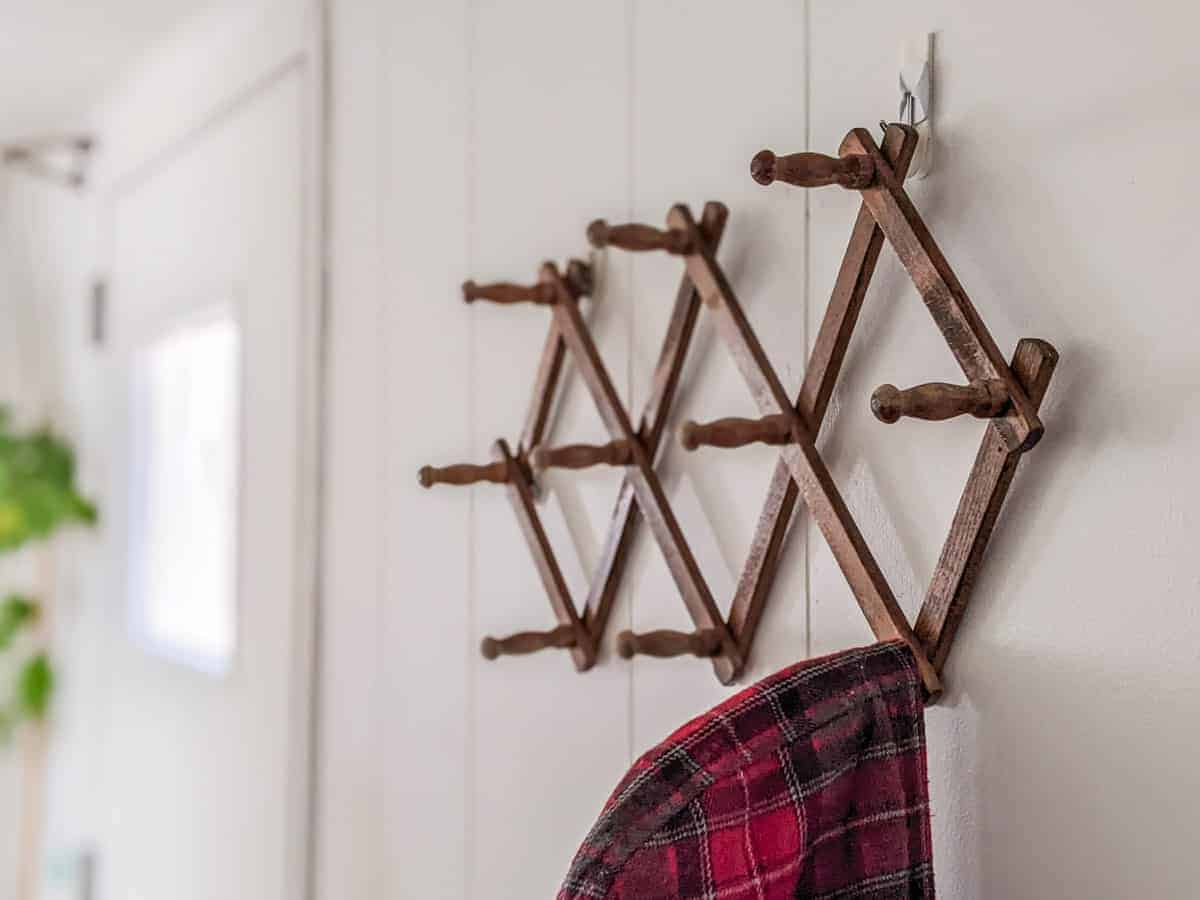 #1. Buy useful items that have a pretty vintage style so you don't mind them in plain sight.
#2. Hang various items with Command hooks in the laundry area for easy access. This corner stores a bowl for soaking laundry, a laundry basket and various brooms and dust pans.
This hamper is narrow enough to allow us to walk by unhindered but large enough to keep all the family's dirty laundry from several days out of sight (and smell).
Bathroom Storage Ideas
For a tiny mobile home, our bathroom is actually decent size. Not that it's big, but I'm grateful for the space we have in it. Still, four people have to fit their personal items, linens and sundry items in this space, which means we have to have some creative storage ideas!
For everyday hair items and such, we have a tall wicker shelf with cubby bins that works perfectly in the space.
There are many items we use fairly often but not everyday. Again, organization is key for such little space. I group items like nail polish, first aid and sunscreen into shoe box size bins and can just take out a stacked bin when I need it.
For all our wash clothes, hand towels and a couple extra towels, I have a large-ish basket that also fits in the sink cabinet. If it doesn't fit, it doesn't stay.
The space under the cabinet is pretty tall, and I didn't want to waste the area above. But I also didn't want to stack mountains of items like toilet paper so tall they would fall out each time the door opened. I used this tiered shelf for space above and below.
I researched quite a bit for these hooks. While they are hidden most of the time, I still wanted them to give a Modern look to the bathroom. Also, our mobile home doors are hollow core, so we couldn't securely mount a hook for heavy wet towels just with screws. These door hooks have sticky mounting and have held up for almost a year with our towels. I highly recommend! (Though I can't verify how easily they come off if you're renting.)
For every home (not just small homes), bathtub hooks are a life save for mesh toy bags and various bath items.
You can buy a wall hook for your shower scrubby, or you can just use the hooks that every shower already has. I turned one shower hook around so I can hang my shower scrubby out of the way.
Master Bedroom Storage Ideas
Under our bed is absolutely maxed out for storage. There are always large items our out of season clothes that you just need a spot for. For our out of season clothes, I have used and loved these under the bed totes.
If you need extra space under your bed for storage, use these bed risers! They will give you extra clearance to store your bulky items.
Use Your Suitcases
Suitcases are so bulky but you need to put them somewhere! Don't just store them empty or semi-empty. Whether you fit them under your bed (with bed risers) or in a closet, make sure you use them for much needed storage space (maybe for out of season clothing).
I admit, I don't love our nightstands and would like to replace them. I just plopped in what we had when we moved in. But nightstands with storage are an absolute must for living in a small house.
Floating shelves can be a great way to add storage instead of a nightstand.
Don't forget to look up when needing to store items. I love these macrame baskets, which is why I mention them twice. I'll use mine for plants, but you can add a basket inside to hide any number of things.
And yet again, I've used cubby cabinets in our closet to maximize the organizational space. They.Are.A.Lifesaver! And it also gives me a flat space on top to store items like my sewing machine.
I highly recommend using bins or totes to organize your space at the top of the closet so things don't fall all over the place. Also, it's a good visual reminder of how much space you can allow yourself for a particular kind of item.
I'm not huge into shoes, but I do have more than three pair. This hanging shoe organizer doesn't take up much space and is perfect for our small closet storage.
Ok, so everyone uses hangers, so this is nothing new. But as a firm believer in making everyday items pretty, I have switched over to wood hangers so that even this simple item can give me joy. The little things can sometimes go a long way to bringing a spark of happiness!
Built In Dresser
The master bedroom also has a built in dresser. Honestly, this space is my second favorite part of our Mid Century mobile home! (The first being the big kitchen window.) Sometimes mobile home storage surprises me! Built in dressers are such a practical solution. I only have two drawers for clothing (folded in the Marie Condo style). Caleb has his drawers, and then we use the other drawers for office and business items.
There is a desk space on the end of the built in dresser (yes, I love working here while looking outside!). There is space in this area for a file cabinet to keep our important papers.
On top of our built in dresser, we have various vintage items to keep our miscellaneous items (read "junk") and jewelry organized.
For jewelry, bag or scarf storage on the wall, choose pegs or hooks that will add style to your room while serving a useful purpose.
This stool adds styles and seating while also giving us a place for our winter accessories like scarves, hats and gloves. Bonus: the kids think it's the greatest box of dress up clothes!
I don't need this because of our built ins, but you'd better believe I'd get me one if I needed it! I love this compact storage shelf that folds out as a floating desk when you need it. Surprising storage systems can be so fun!
Outside Storage Ideas
Ok, I admit, we do have a storage shed. Actually we have a TON of storage sheds on our property. But for the sake of storing household items, we just have a shed that's only partially filled. I am in the process of minimizing our life so that we will not need so much additional storage (a project for a rainy day! Ha). But there are a few things that we just can't fit into our small home…like a Christmas tree and decorations. So outside storage is part of my storage ideas for a small home.
This is a must for outside storage because, well, there are creatures called MICE. I hate them. I fight them. But truth be told, they are there. Well-sealed totes will at least keep them out of your belongings.
With totes you need good garage style shelving units. I've used both metal and plastic and, for household items, don't have a preference which kind.
If you don't have access to a shed or want to pay for storage, these Rubbermaid storage closets are great. I've considered using them close to our mobile home for gardening tools.
So while we have not maxed out every.single.inch of storage space in our single wide mobile home, I have made thoughtful choices for making the most of our storage space. Again, the best option is minimizing our
stuff
, but in the end, there is certain
stuff
we need and have to store.
Thank you for joining me for a tour through our single wide mobile home. I hope you were able to take some of these storage ideas from our vintage mobile home and use them in your own tiny house or apartment storage area!
Read More About Living in a Mobile Home Below!
How to Decorate a Mobile Home Living Room
DIY Mobile Home Remodeling Ideas
Sources for Inexpensive Vintage Style Lighting
Mobile Home Kitchen Makeover Before and After
Comment below and tell me which of these 64 storage ideas for a small home was most helpful to you!
Pin for Later Storage Ideas for a Small Home