If your home is like many others, you have an unfinished, cave-like basement where you stick the washer and dryer into a deep, dark corner. If doing laundry wasn't bad enough, just the thought of entering the dungeon to switch out a load makes you put it off one more day. Fear no more! Here are 45 DIY unfinished basement laundry room ideas that will add vintage style even to this area of your home. These will make you actually happy to enter this space!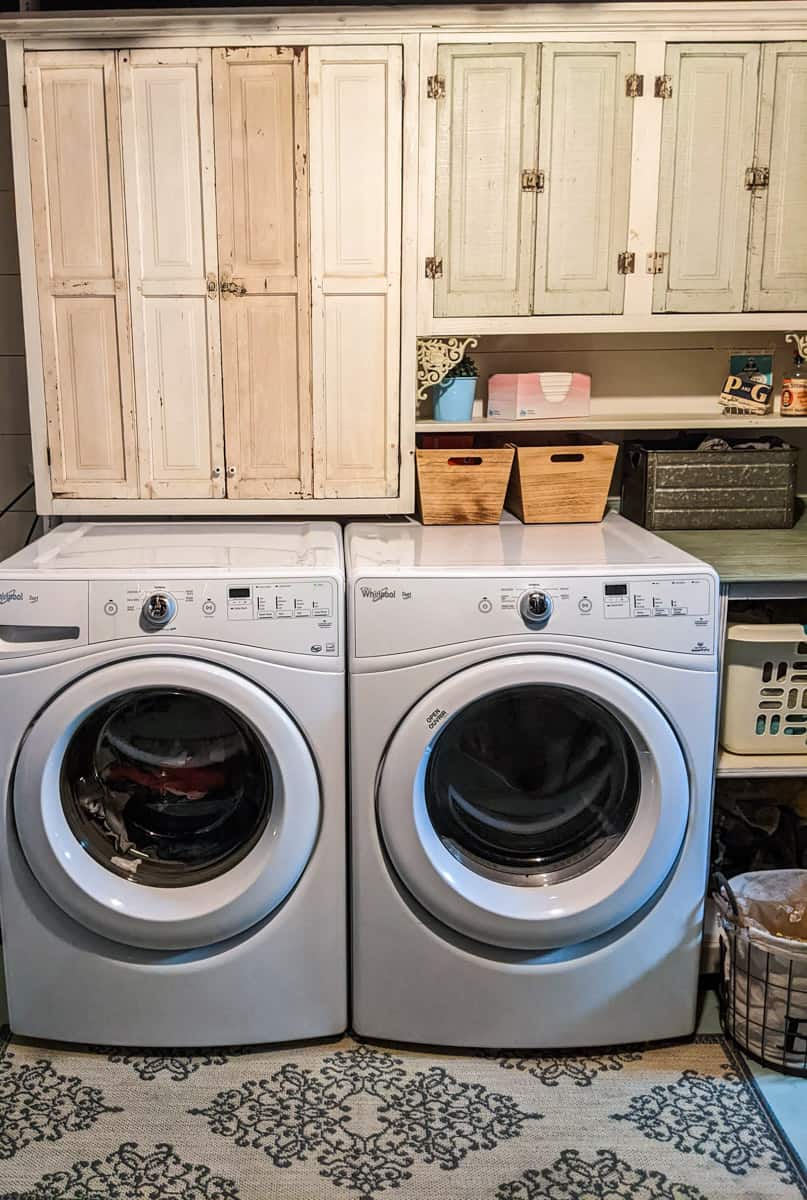 As an Amazon Associate, I may earn a small commission through your purchase through any Amazon affiliate links on this post. This is at no additional cost to you. All recommendations are my own because I believe in each product. See my full Privacy Policy here.
This post of 45 DIY unfinished basement laundry room ideas is inspired by my sister's refinished basement laundry room.
Concrete Floor
Most unfinished basements have concrete floors, and concrete floors are boooooring. Here are lots of tried and true ideas to turn those floors from blah to ta-da!
This is probably the easiest way to spruce up your concrete floors. Whether you use dark color or add a pop of color to your floors, this will make a statement while also hiding any imperfections. Make sure you clean the floor really well and use a high quality concrete floor paint to keep it from wearing.
I added this because wet basements are a problem in many homes. The old farmhouse fixer upper I grew up in had a flooded basement more times than I can count. But this didn't stop my mom from painting the floors. You just need to use a high quality waterproof floor paint like THIS. It's no guarantee, but it is the best method for wet basements.
If you have a basement laundry room sectioned off space, laminate flooring is a fabulous way to set off your space with little effort. Coming in so many finishes and styles, this will give you a good foundation for the rest of your unfinished basement laundry room ideas.
Before you think of bright, primary color mats and run away screaming, let me tell you, foam mats have come a long way. There are solid color options or beautiful patterned options to give your floor the best of both worlds with added warmth and vintage style. Check out these suggestions below! (Bonus: if you're basement is prone to flooding, these will not be ruined and are easy to reinstall!)
Whether you paint your floor, add ceramic tiles or just leave it as is, it's nice to warm up the space with an outdoor rug (or even an indoor rug). This gives your laundry room warmth and another layer of style that's super easy to maintain. Check out my suggestions for great vintage style outdoor rugs below.
Again, if you have a dedicated laundry room, ceramic tiles are a beautiful way to add style to your space. Yes, it takes a little more effort, but tiles will stick around for the long haul. This is completely do-able for a mid-level DIY project. And, seriously, who doesn't love the classic penny floor tile in a laundry room?
Along with the concrete floor paint idea, floor stenciling will be fairly easy and give your vintage style laundry room extra va-voom! Buy floor stencils or tape off a checkerboard pattern for low cost laundry room makeover.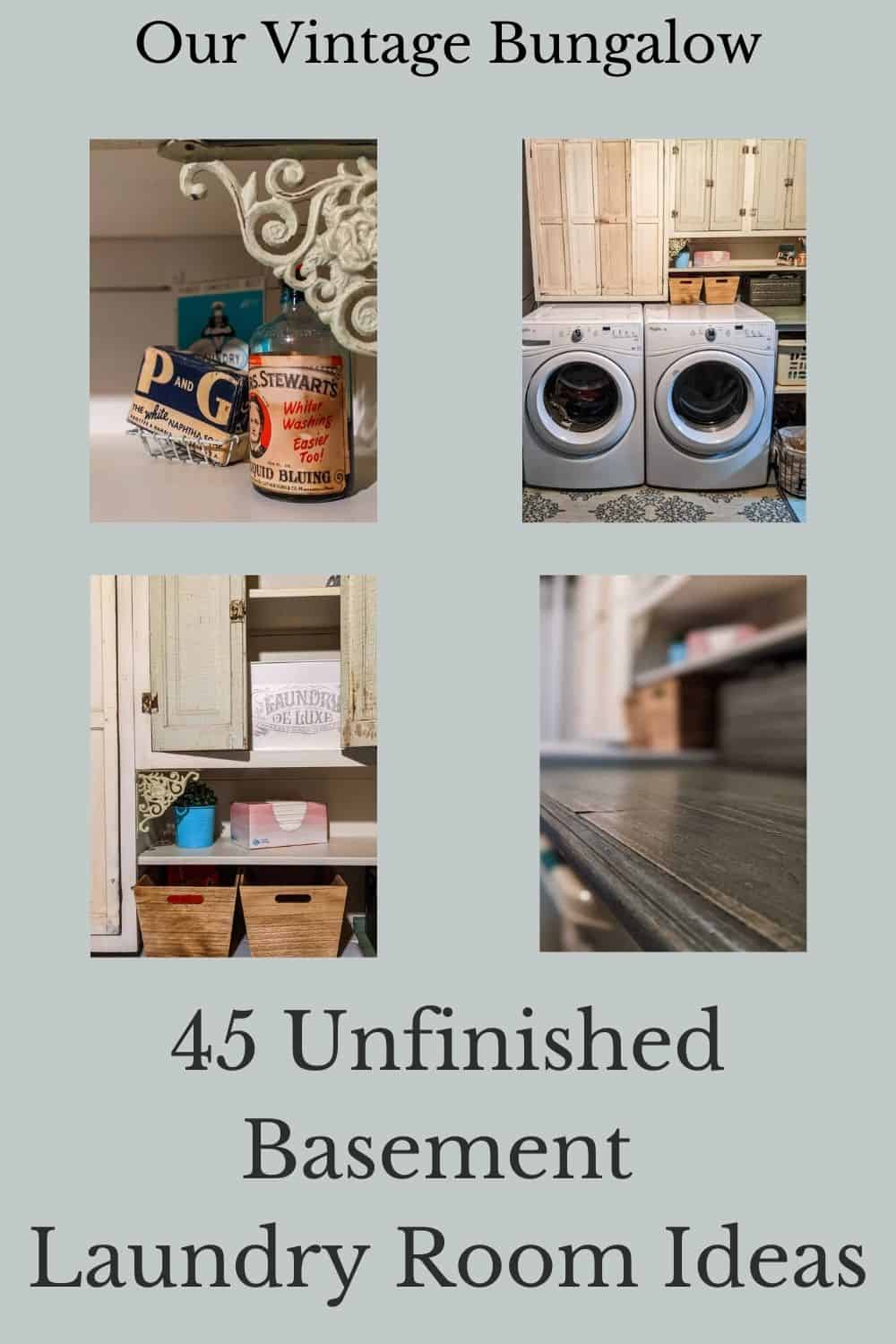 Unfinished Basement Wall Ideas
Whether you have concrete block or brick walls or plain concrete walls, your basement laundry room is full of concrete, concrete, concrete. Let's cover up all that coldness as a part of this list of 45 DIY unfinished basement laundry room ideas.
White Paint
White paint or light color paint is an ideal way to brighten up your basement laundry room. Light bounces off bright color making it not only a bright room but also giving the illusion of a bigger room (a necessary illusion for a small space).
Pop of Color
Having a pop of color is always a fun addition for a basement laundry room. Whether you add an off-the-wall color (pun intended) as an accent wall or on all the walls, don't be afraid to go bold here. I mean, it's going to be better than concrete walls, so you can really go wrong experimenting here.
Shiplap
My sister added a faux shiplap wall in her basement laundry room, and it gives a beautiful vintage style farmhouse look in the space. Since the boards are wood, they aren't as susceptible as sheetrock to water damage.
Wallpaper (Self Adhesive or Traditional Pasted)
With the right wallpaper and a wallpaper liner, you can definitely add amazing style to concrete walls. Just do your research and then be your creative self!
Backsplash tile for a laundry room gives a fabulous vintage charm that's reminiscent of an early 1900's subway-style Industrial laundry room. But don't think you have to just stick with white subway tiles. Use ceramic tiles to create Mid Century, Industrial or Farmhouse style to your laundry room.
Peel and stick tiles or wallpaper are fabulous options for basement laundry rooms (as long as you don't have water issues). No, they won't last as long as the real thing, but sticky tiles are easier to install, cheaper and allow you to try something new without long-term commitment. Read my Pros and Cons for Sticky Tile Backsplash post HERE.
Light Fixtures for DIY Unfinished Basement Laundry
Lighting is an important part in a list of unfinished basement laundry room ideas. The main problem with this space is that it's so dark and dungeony. Let's fix that with the right lighting and lots of it!
Hanging a stylish pendant lights or a couple of them is such an easy way of adding vintage style to an item that you need anyway. No matter your style, there are amazing lighting options out there that will amp up your wow factor.
If you're not able to change the overhead lighting, just adding string lights under a cabinet or around the top of the room can give much needed extra lighting.
While these are not my favorite lights, I do love them in a basement. I hate dark, dingy spaces, and fluorescent lighting will brighten up any workspace in a flash! Plus, you can fit many options in between the floor joists if you have a low ceiling and need extra head room.
Don't rule out lamps in the laundry room. I'm a firm believer that every single space in a home could use a lamp. Layered lighting gives extra, well, extra light but also extra character and warmth.
If you need just a leetle bit more light for your folding counter, consider under the counter lighting. This can be plug in or battery options. Either way, it is a crazy easy way to add brightness.
Basement Windows
Lucky you if your washer and dryer area happens to be near a basement window! Skip the blinds or curtains and let the full natural light shine in as much as possible.
How to Add Pizzaz to Your Floor Joists
If you have an unfinished basement, you have exposed floor joists. Some people love them; some people hate them; some people just don't have a clue as to what to do with them. Never fear. This list of DIY unfinished basement laundry room ideas has you covered in how to add vintage style to your laundry room ceiling.
White Paint
If you're going for as bright as possible but low cost options, white paint all.over is your best bet. Either spray (with a sprayer, not a can) or brush every single inch of the floor joists AND exposed pipes. This is an awesome Industrial Farmhouse look that people often do on purpose in their older homes!
Dark Paint
For an Industrial or Rustic look, you can actually paint the floor joists and pipes a dark paint like navy blue or gray. You just want to make sure you have great lighting so your room doesn't look like a cave!
Bead board paneling in 4 feet x 8 feet sheets is such an easy and low cost way to add Shabby Chic or Farmhouse style to your basement laundry room. Paint them whatever color you want and screw them into your floor joists to hide all those pipes and electrical wires.
Talk about high vintage style in a low cost and easy way! Faux pressed tin ceiling tiles can be painted with a metallic finish, white or a fun color. Depending on the material (metal vs foam board) you can easily screw, nail or glue these tiles to the ceiling joists.
Ideas for Hiding the Water Heater in Your Unfinished Basement
Oh, those items that you love to have but hate to see. What to do with your big ol' water heater? There are definitely options for these DIY unfinished basement laundry room ideas ranging in easy to medium high difficulty.
Closet or Cabinet
The most stylish option (in my opinion) is to build a cabinet or closet around your water heater. This, of course, is the most time and skill intensive, but you're a DIY-er, right? It's not as difficult as you think if your room allows for it. Find a tutorial for a great closet from Twelve on Main HERE.
Easier than an all-out closet, you can build or modify a room screen to wrap around your water heater. This will hide the water heater but still give easy access.
If you add a flat surface to your ceiling (in other words, you don't have open floor joists), consider mounting a ceiling curtain track (like those in hospitals). But don't think ugly hospital curtain. Oh no. You can add a stylish or plain shower curtain or regular curtain to hide that beastly thing.
Washing Machine and Dryer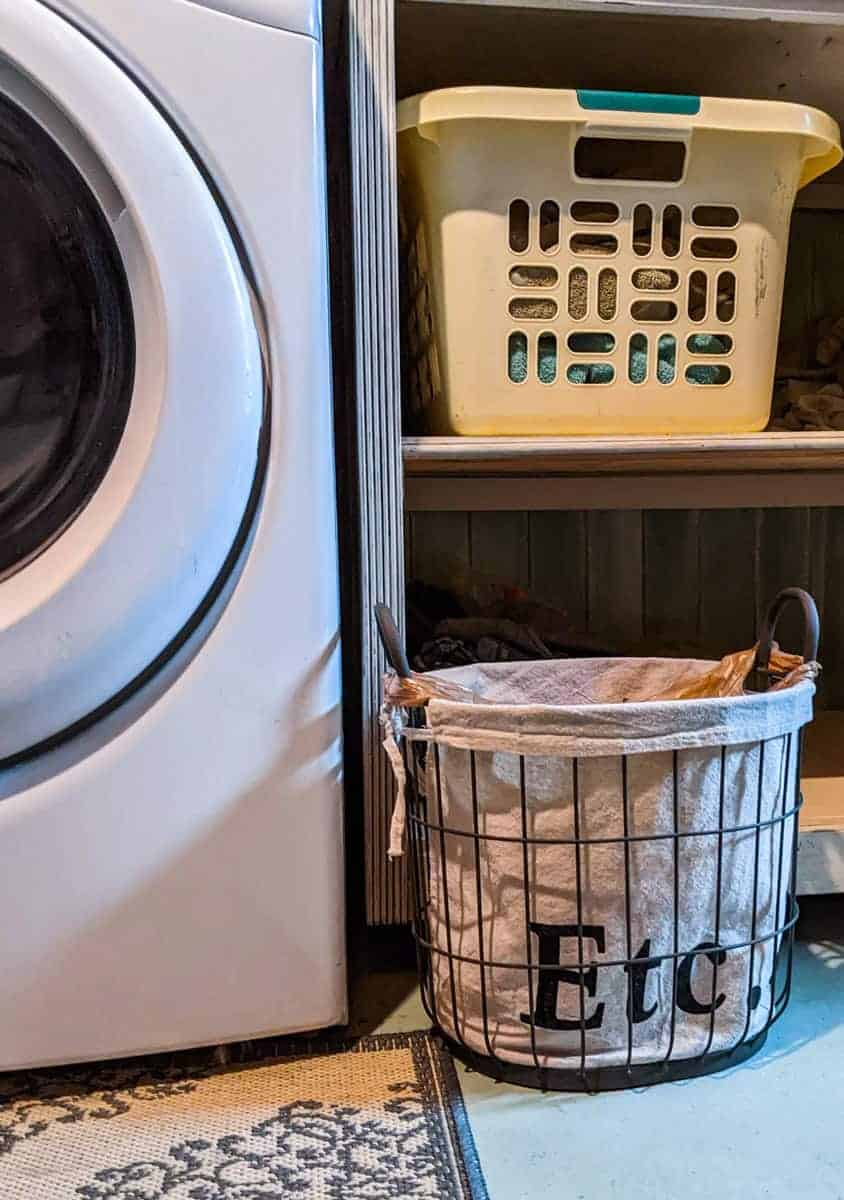 New (or Used) Laundry Machines
Ok, so you're doing all this work for a new basement laundry room. If you're like us, we limp along as long as possible on our "works pretty well" washer and dryer. But if you can, get a washer and dryer that works properly and works for your family. (And don't forget to look for these at estate sales! We got a practically new washer and dryer that I luuuuv from the sale of an older lady who barely used them. Keep an eye out on EstateSales.net, show up early and nab you a great deal.
If this works for you, washing machine risers can be a great addition. My mom loves hers. They can even add some space underneath for storage bins.
Laundry rooms are rarely just laundry rooms. They often double as store rooms at least. Adding storage to your basement laundry room is pretty much a must. Yes, you can mount things into a cement wall. For light items and décor, consider using Command hooks. For heavy items, find a good tutorial, the right screws or bolts and a drill to securely screw into cement.
Of course, you need a drying rack in your laundry room. Whether you choose a small accordion style drying rack or a larger fold down rack, there are many options that give vintage style to this utility piece.
Storage Cabinets (Floor or Wall) for your DIY Basement Laundry
You can build, buy new or repurpose vintage cabinets to add vintage style and necessary storage. My sister bought gorgeous antique cabinet doors and then built custom cabinets around them. (Yes, she is skilled, but it is a completely do-able DIY project!)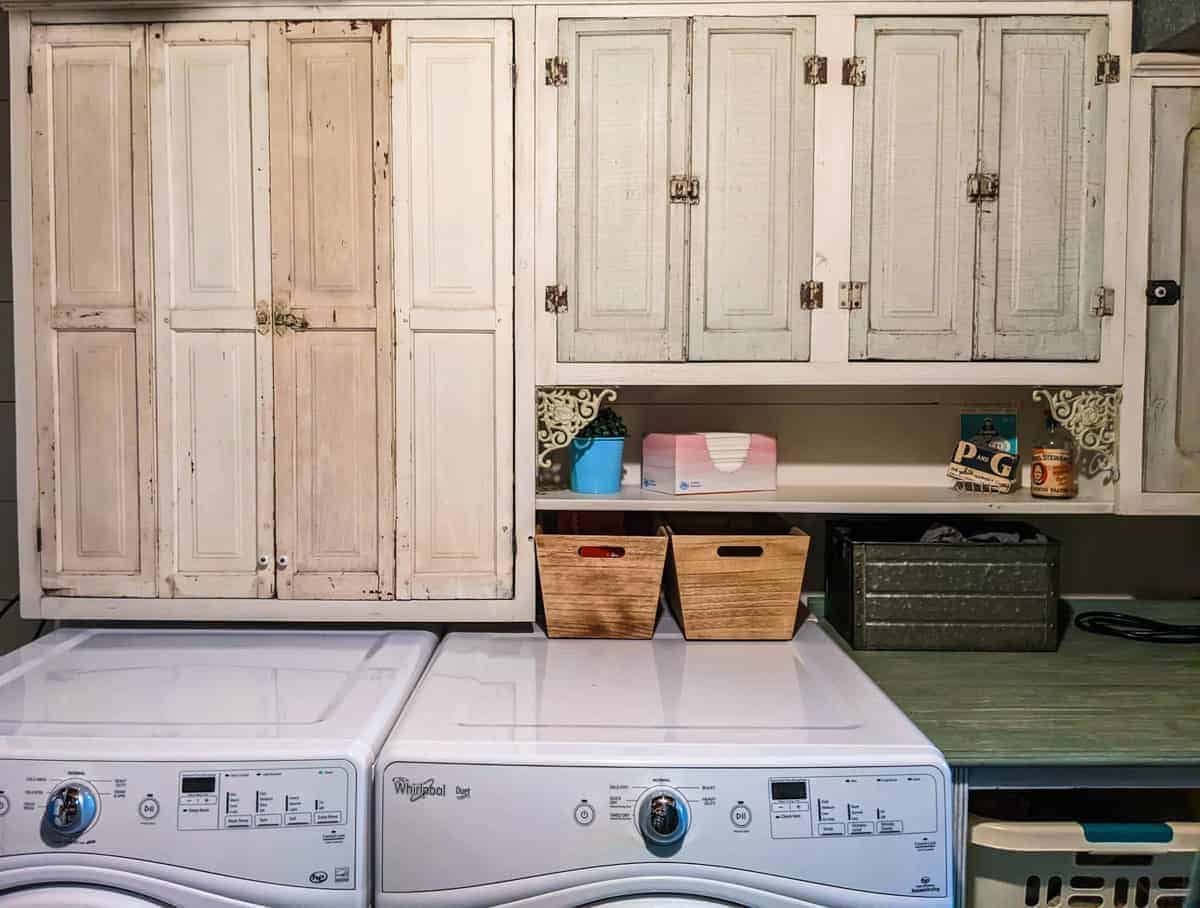 Don't forget alllll the bulk items like toilet paper, paper towels or extra detergent you need to store out of sight! Don't rule out using a vintage dresser, wardrobe or bookshelf for your bulk storage.
Pretty looking storage baskets, bins and glass jars are an absolute must for DIY unfinished basement laundry room ideas. There are a jillion things you want to hide…why not turn that into something with vintage style? Even pretty storage baskets inside cabinets can make you smile every time you use it.
Laundry Basket Storage
Don't forget that you most likely need storage space for your laundry baskets! Build or buy a cabinet with properly sized shelves underneath to store all your baskets. You can leave it open, hang a curtain in front or add doors. Or, if you like the look of your laundry baskets, consider simply hanging them on the wall for vintage display.
Utility Room Serving Double Duty in your Laundry Room
Your laundry room might be one of the hardest working rooms in the house. Making sure it's set up for easy utility use will make your life so much easier.
Find a good spot to store your ironing board. If you have a small laundry space, consider this great wall mount ironing board!
Having a folding table in your laundry room is essential for easy use (even if you don't do the majority of your folding there). You can build one over the top of your washer and dryer, use the top of a cabinet or have a small fold down table.
Don't forget…always try to add vintage style even in the everyday utility items. White utility sinks are completely fine and can have there own style. But if you want to really spring for style, consider a farmhouse sink, stainless steel sink, wall mount sink or even large sink bathroom vanity. The stylish options are nearly endless with many being quite affordable.
I might just see how we can add this to our Farmhouse laundry room. I think they are the coolest things and just a perfect way to add vintage style. If the set up is right in your home, consider adding a laundry chute for ease of use and awesomeness!
Utilitarian Vintage Style for Your Basement Laundry Room
I keep harping on vintage style, but really, my goal is to add beauty to the normal every day.
Industrial Look
If you're vintage style is Industrial, then you're really in luck with your unfinished basement laundry room! You can really play off the concrete and exposed pipes for the ultimate Industrial laundry room.
Mid Century Modern Look
Never fear if you love Mid Century Modern style. By choosing the right backsplash, cabinets and floor finish, you can really add geometric and blonde wood finishes so typical of this era.
Farmhouse Look
By selecting shiplap or wallpapered walls, chippy paint cabinets and dark wood laminate flooring with a rag rug, the Farmhouse look will shine in your basement laundry room.
You can definitely use sturdy plastic laundry baskets. They are definitely the most user friendly, I'll admit. But I like using large, sturdy woven laundry baskets for something that adds style and that I don't have to hide away.
Again, you need to put your dirty laundry somewhere. Choosing something pretty will add great style to your laundry room. You can choose a rolling laundry cart, antique canvas mail sorting cart or a simple woven laundry hamper.
I love enamelware. While vintage enamel isn't so great to eat off anymore, using it for laundry tasks is perfect. I have a large vintage enamel bowl hanging on our wall for soaking stained clothes in.
From clothespins to laundry tabs to dry detergent, glass jars are essential to laundry room storage. They can match but don't have to!
And finally, it's always fun to add just a couple things to your laundry room that are just simply decoration. Use old laundry bottles, advertisements, quote boards, art work or any number of things to make your personality shine!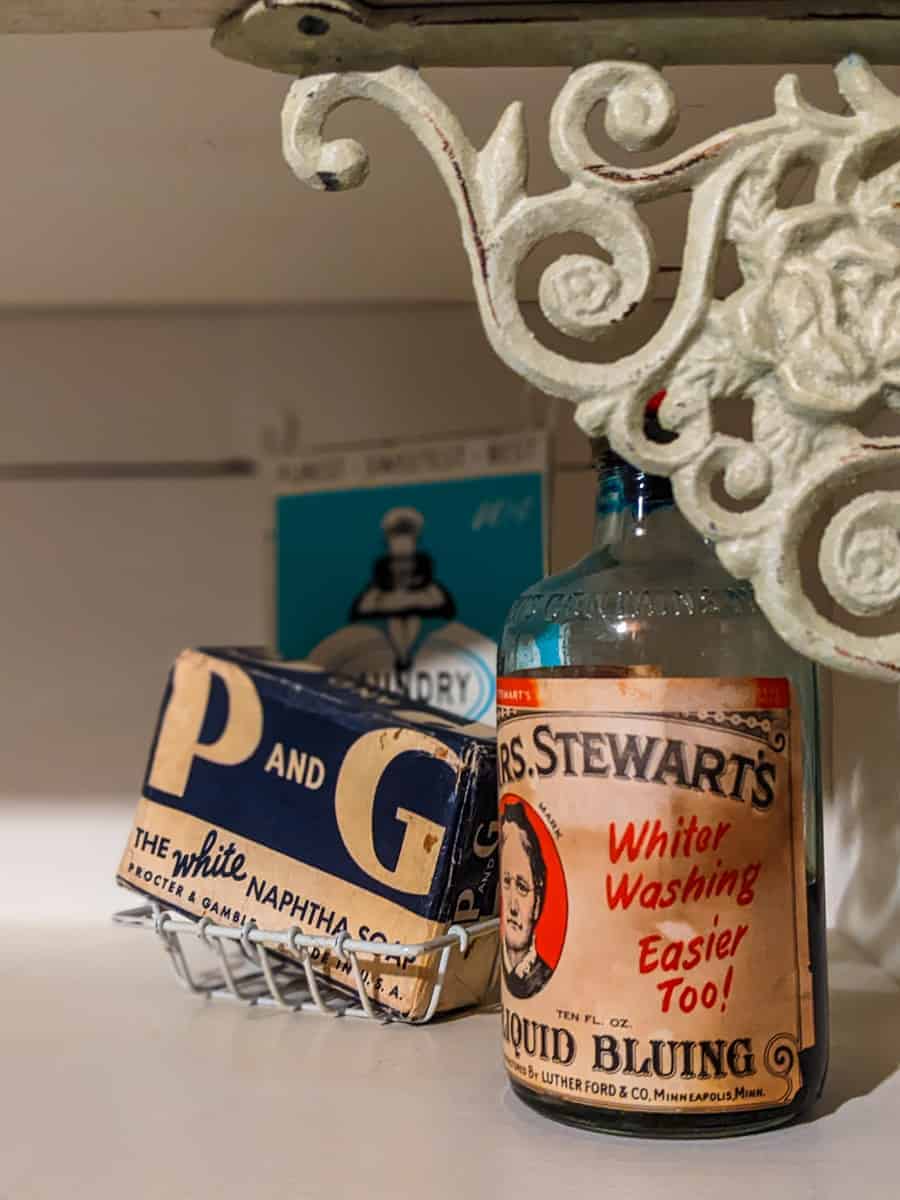 I hope this list starts you thinking about 45 DIY unfinished basement laundry room ideas of your own! No room in your home is too far gone or impossible to add vintage style too. And this room especially needs to be inviting. After all, we go in it nearly everyday!
Read more about vintage home makeovers below.
Pros and Cons for Sticky Tile Backsplash
Vintage Laundry Room Makeover On a Budget Before and After
Rustic Modern Bathroom Remodel Before and After
Craftsman Bungalow Bathroom Remodel
Pin for later 45 DIY unfinished basement laundry room ideas.