When we did our fast 1979 mobile home makeover the bathroom walls were in terrible shape with peeling wallpaper, nail holes and bumps in the wall. I decided to use removable wallpaper as a quick fix and a way to add a punch character to the small space. Here are my pros and cons of peel and stick wallpaper from a total beginner (but also with insight from a seasoned wallpaper hanger – my mom). (Spoiler alert: I probably wouldn't use it again! Find out why.)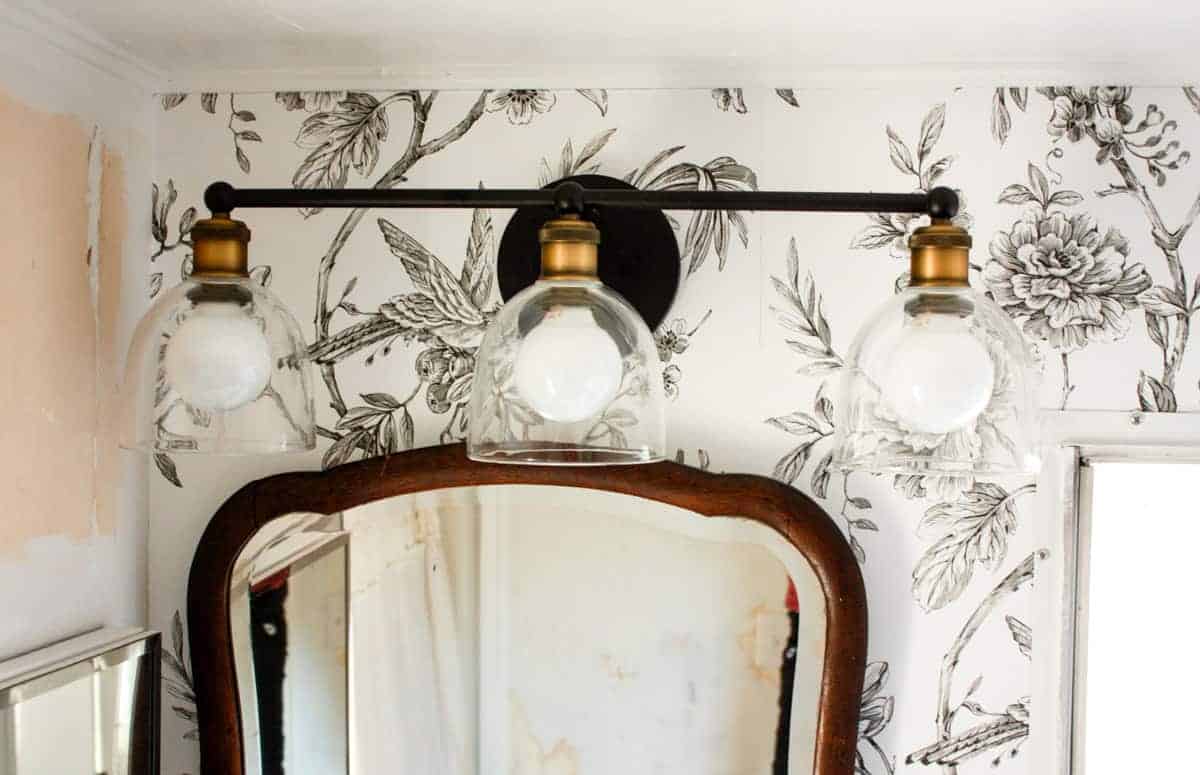 As an Amazon Associate, I may earn a small commission through your purchase through any Amazon affiliate links on this post. This is at no additional cost to you. All recommendations are my own because I believe in each product. See my full Privacy Policy here.
Why I Chose Self Adhesive Wallpaper
Our single wide bathroom walls were dismal. We peeled off the old wallpaper, but the backing stayed. This meant layers of papery residue that made it impossible to paint. There were also holes and bumps in the wall that made for one hot mess.
I did NOT have TIME to properly remove the wallpaper backing, skim coat (apply spackling over the whole wall) and sand the bathroom. My brain began searching for a quick solution. Since I planned on doing sticky tile backsplash in the kitchen, I settled on sticky wallpaper for the bathroom. I thought it would be a great (long-ish) short term solution.
Follow the links at the end if you would like to read more about our 1979 single wide mobile home makeover!
And if you're wondering about sticky tile backsplash, read my much better experience HERE at Pros and Cons of Peel and Stick Tile Backsplash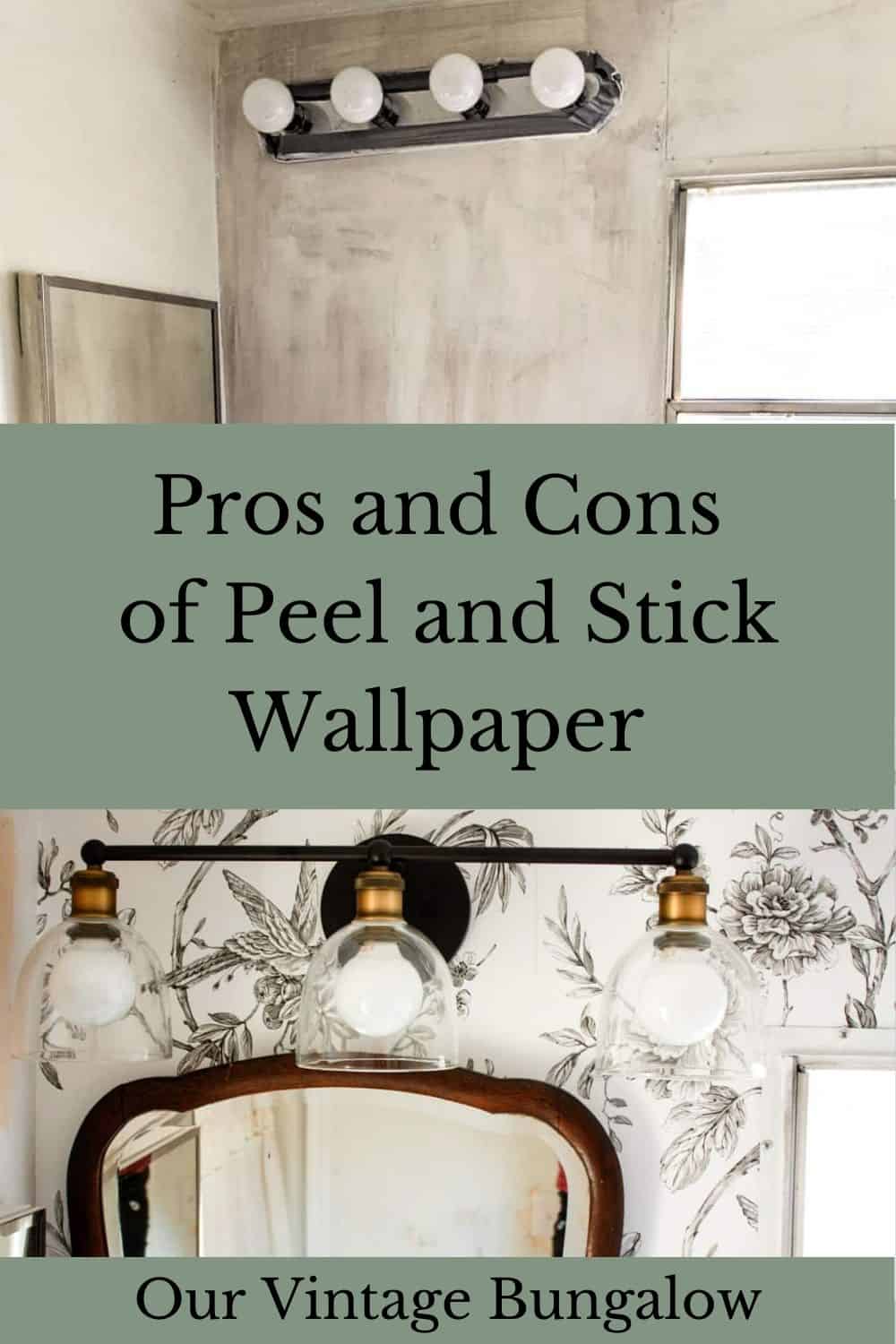 My Experience in Applying Wallpaper
I will say here and now that my experience in wallpaper hanging is almost zero. (Which may be a huge help to you to know if a beginner can actually do it!)
However, I had help from my mom who is an old school DIYer and wallpaper-er – I mean, she cut her home décor teeth on flocked wallpaper from the '70s. She has installed different types of wallpapers so many times, it's crazy. She did help on this self-adhesive wallpaper project of mine, and I interviewed her to get her take on the comparison of sticky vs traditional paste wallpaper.
With all that said, here is my list of pros and cons of peel and stick wallpaper (from a beginner)!
Style Options of Sticky Wallpaper vs Traditional Wallpaper
Google "wallpaper," and you'll come up with thousands of options. And the options at the top? "Peel and stick," "removable" or "self-adhesive wallpaper." (These are all names for the same thing.) Amazon is all but taken over by peel and stick wallpaper options.
With that said, you can find pre-pasted or non-pasted regular wallpaper in plenty of places. Try Wall Paper Direct for thousands of traditional options. Also plenty of "designer" companies like Graham & Brown have lots of traditional options. You just need to pay close attention to the adhesive types as there are several pre-pasted or non-pasted options.
Winner in Style Options: Peel and Stick Wallpaper simply because it is so much easier to find in thousands of patterns.
I found my peel and stick type of wallpaper from WallPops HERE.
Cost of Sticky Wallpaper vs Traditional Wallpaper
You can find a fairly wide cost variety for both kinds of wallpaper. I paid $38 per roll, which is low. The average for sticky and traditional wallpaper seems to be $60 – $80 per roll. But it is not uncommon to find wallpaper rolls $150 – $300 per roll for more designer brands.
Winner for cost per roll: Tie between sticky wallpaper and traditional paste wallpaper. Both kinds have low and high priced options. I would strongly suggest with whatever kind you choose that you do good research on the quality. But cost does not always equal quality. My low cost $38 per stick paper roll is holding up extremely well in the bathroom.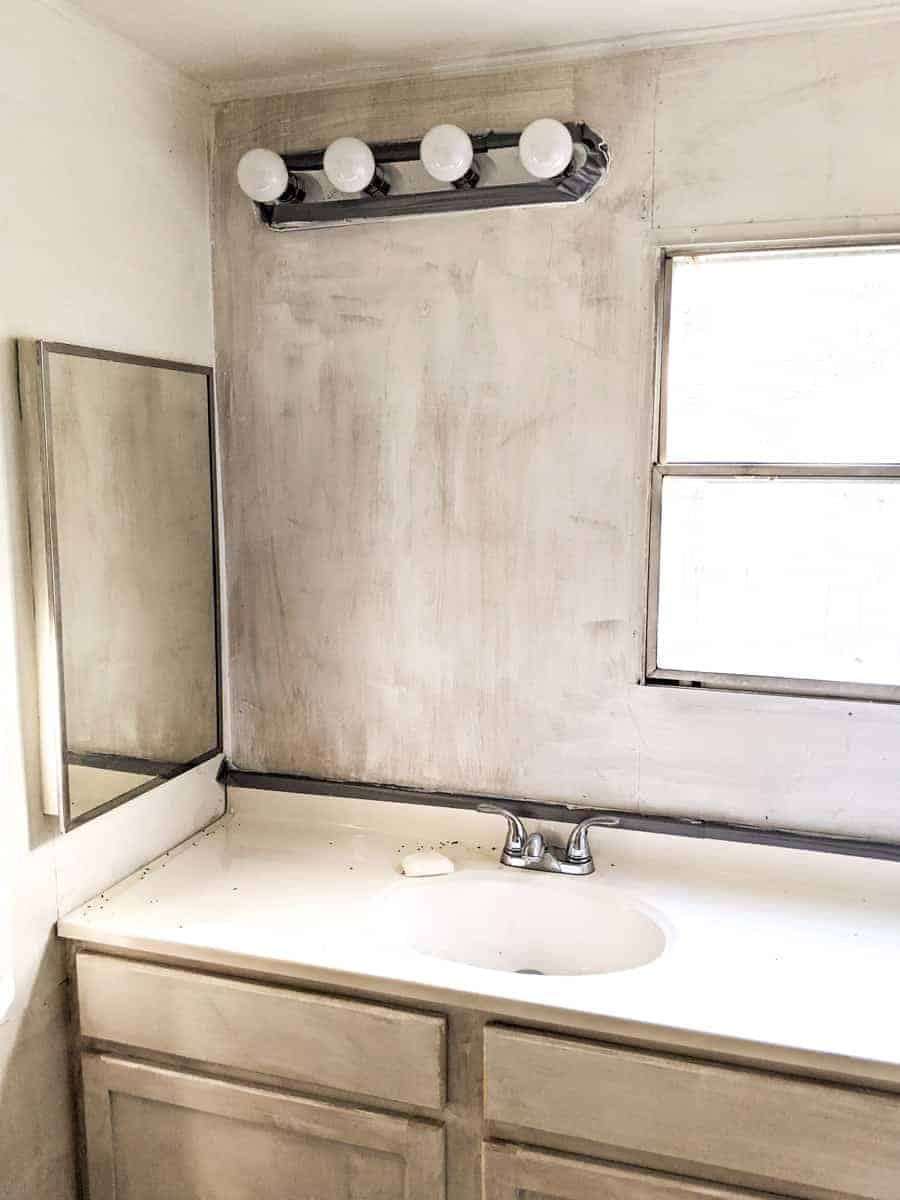 Wall Preparation for Hanging Peel and Stick vs Traditional Wallpaper
Like I said, our bathroom walls were terrible. They weren't smooth and had tons of wallpaper backing still stuck on. In my hurry, I could not take the time to properly prepare the walls. Do NOT do this. I had the mistaken thought that wallpaper would cover up imperfections like bumps and holes. I don't know why I thought this because you can see every tiny bump in the wall. You absolutely need a smooth wall for a smooth surface finish.
However, my peel and stick wallpaper is sticking just fine, and I think traditional wallpaper would have stuck well too. The problem is seeing bumps and air bubbles through the paper. With traditional wallpaper, you can put on a wallpaper liner. Yes, this is more cost and another step. But if your walls are terrible, applying paper is much easier than the alternative of smoothing the walls.
Winner for wall preparations: If you have bumpy walls that you use wallpaper liner on, then traditional wallpaper wins. If your walls are good to begin with, then it's a tie between the two kinds.
Surfaces You can Apply Sticky Wallpaper vs Traditional Paste Wallpaper
For traditional wallpapers, you can find kinds that can apply to painted walls, old wallpaper and even concrete blocks and paneling. Since the goal is not to "someday remove" this wallpaper, you can apply it to matte surfaces.
It is suggested for peel and stick wallpaper that you put it over a glossy surface like semi-gloss paint and even mirrors. This makes it easier to remove. I will say that I put ours over old wall paper backing. It stuck just fine. But it might be harder to remove without damaging the walls. In my case, removal is a non-issue as I don't care if it ruins the walls, but take this fact into account. It might not be a good idea in your situation.
Winner for surfaces: Traditional wallpaper. There are more options where you can apply whereas sticky wallpaper should have a semi or fully glossy surface.
Tools for Sticky vs Traditional Wallpaper
Sticky Wallpaper Tools:
Tools for Traditional Wallpaper
Pencil
Paste (if not using pre-pasted wallpaper)
Winner for tools needed: Peel and Stick Wallpaper. Having to activate pre-pasted wallpaper or apply paste to the walls or paper brings on extra tools.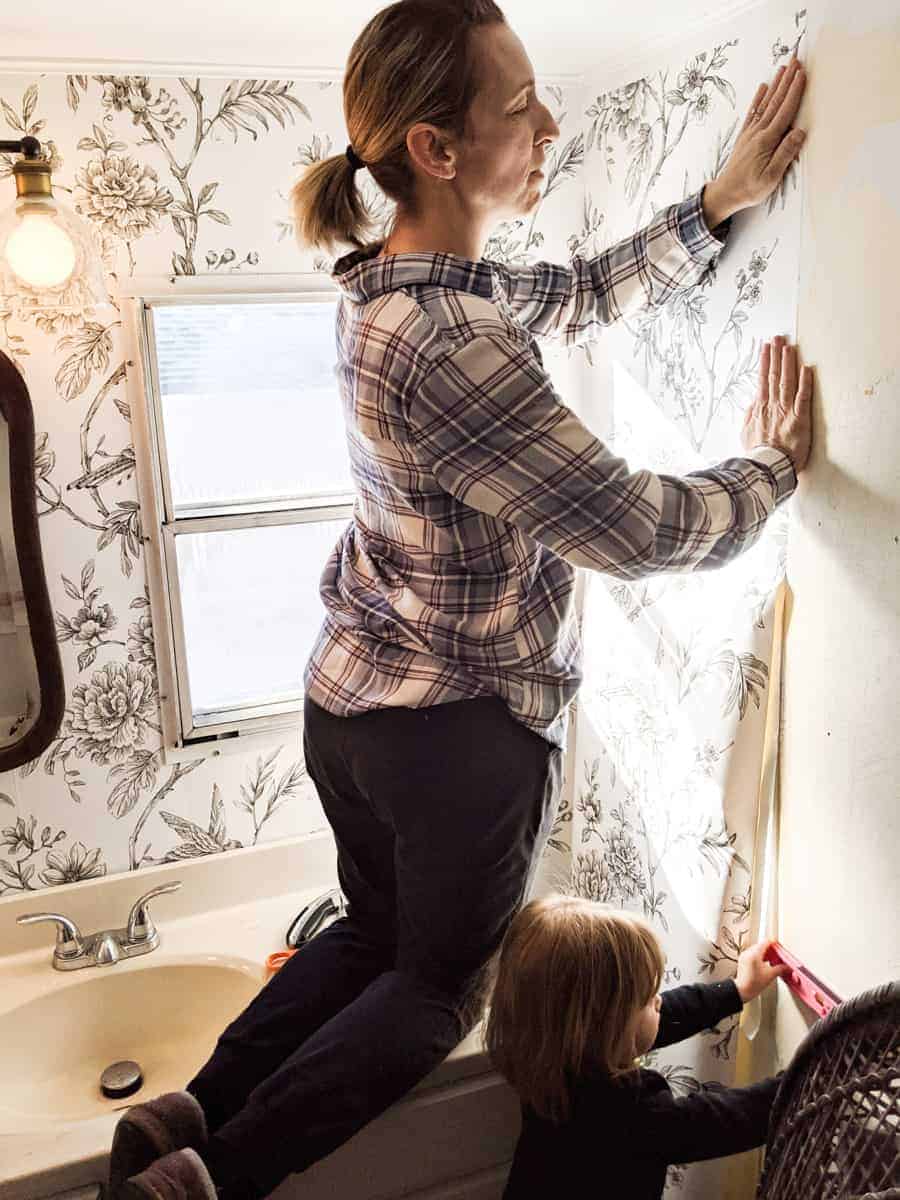 Ease of Installing Peel and Stick vs Traditional Wallpaper
Ok, here's the grandmother of all issues I had with the peel and stick wallpaper. INSTALLATION WAS A BEAST!!!! So much so that I have sworn off future use of sticky wallpaper except in certain cases. I saw tutorials praise its ease of application. How?? Why???? Maybe I did it wrong? So I asked my mom who also helped with installation, and she said traditional is much easier.
Here is why we found it so difficult:
We hung it in a bathroom with tight corners and tricky areas. Wide open walls would have been much easier.
Everyone seems to say that sticky wallpaper can be re-positioned. If you mess up, "just peel off and reapply." Not so. You can peel 3 – 4 times before it starts losing its, you know, stickiness. You may think 3 – 4 times is a lot…try lining up a pattern where the back of the wallpaper magically grabs the wall if you get too close. It's like a magnet.
Each wallpaper panel of our vinyl paper STRETCHED OUT each time we peeled it off to reposition. So that made it absolutely, maddeningly impossible to lay without bubbles (think pregnancy stretch marks on your wall. Ugh.)
It sticks to everything. Better not even get close to the wall unless you want the paper to stick. If it's in the wrong place, then you have to pull off…and then we have stretch marks.
Why is Traditional easier to hang in my mom's opinion?
Once you have traditional paste wallpaper on the wall, it's a bit slimy. That means you can hang it and slide it around slightly to position. While you wouldn't want to slide it around a crazy amount, this small ability is GOLD when trying to line up patterns.
Winner in ease of hanging: Traditional wallpaper by far. Though this is a highly unpopular opinion in the DIY world since sticky wallpaper is viewed as the "easiest thing since sliced bread."
Living with Sticky vs Traditional Wallpaper
I will say, living with sticky wallpaper has been a dream. We purchased vinyl, so it's very easy to wipe off. And we installed it in our bathroom. Let me be clear, this bathroom has no exhaust vent, and I take reeeeeally hot showers. The entire room gets steamy! In the year since we've installed it, there has not been one corner or seam that's come loose.
Compare that to traditional wallpapered bathrooms I grew up with that peeled in steam, and sticky wallpaper has held up incredibly well.
Winner in staying stuck: Peel and stick wallpaper
Removing Sticky vs Traditional Wallpaper
And here we get to the main selling point of peel and stick wallpaper – ease of removing it. For renters and DIY enthusiasts, this is a dream come true. You can add temporary wallpaper that will give you style without ruining the walls. Although I will say, I believe peel and stick wallpaper could last just as long as traditional, depending on the quality you buy.
Winner of ease of removing: Peel and stick wallpaper. Though to be sure of not damaging walls, you need to make sure it's a semi-gloss surface and test in an inconspicuous area.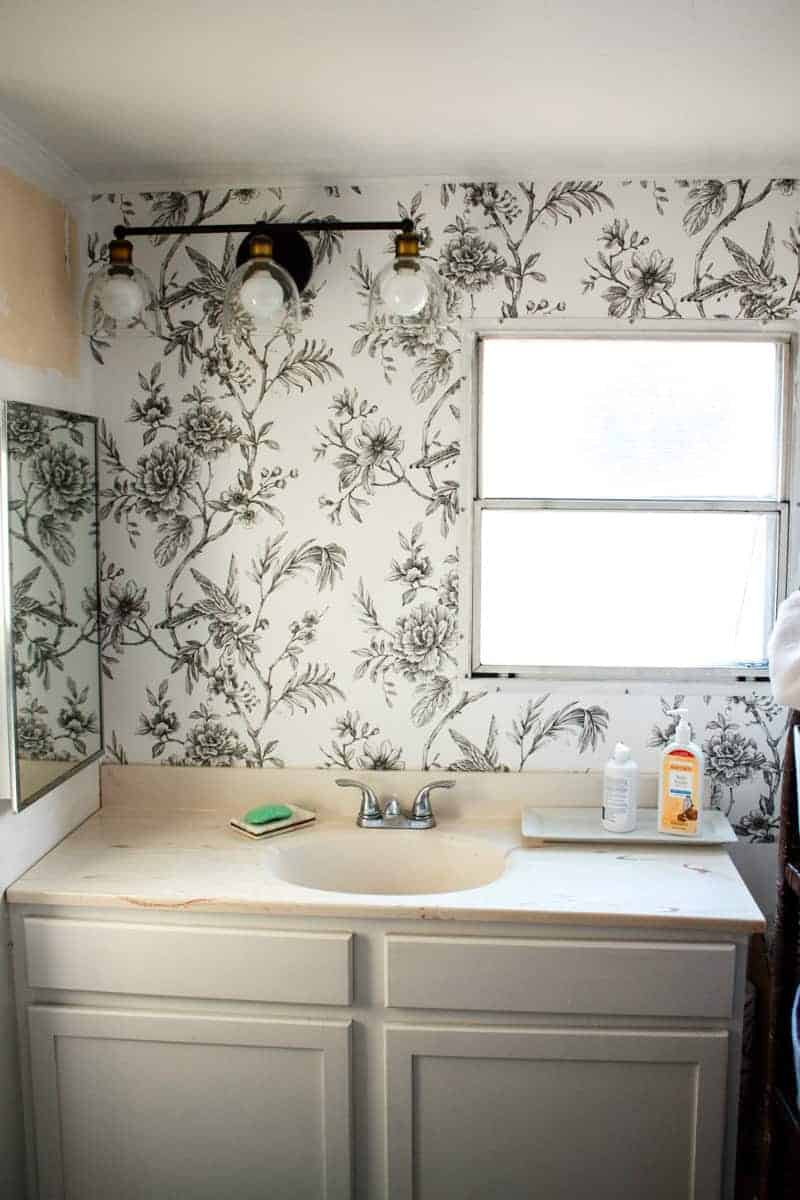 Questions regarding self-adhesive wallpaper
Q: Does it have a bad smell?
A: I am not super sensitive to smells. I was worried about this as reviews mentioned an odor you could smell across the house. It would depend on the material, of course. We got the "highly smelly" vinyl kind, and I did not smell anything more than a faint odor out of the box.
Q: Where would I use sticky wallpaper again?
A: I would use it in small projects like the back of a cabinet or inside a drawer. If I really wanted a particular pattern and it had self-adhesive backing, I might consider it on an easy access accent wall.
Q: Can you clean sticky wallpaper?
A: This totally depends on the material of your wallpaper. I purchased vinyl wallpaper, and it cleans like a dream with a damp cloth.
Overview of Pros and Cons of Peel and Stick Wallpaper
Pros:
Thousands of gorgeous style options
Cleans easily (vinyl options)
Stays stuck to walls even in humid bathrooms
Easily removed
Fewer tools needs for installation
Low cost options
Cons:
Ideally can only apply to semi-gloss surfaces if you want to remove it without damaging the wall
More difficult to install than traditional wallpaper
Loses its stickiness if pulled off too many times
Stretches out if pulled off and re-positioned
Would I Install Vinyl Peel and Stick Tile Again?
Even though there are more pros than cons to peel and stick wallpaper, I would say…
No, I won't hang peel and stick wallpaper again.
If I found an amazing pattern that I could absolutely not live without, maaaaaybe I would reconsider. But the difficulty and eventual impossibility of hanging without stretched out bubbles made it pretty much a nightmare. I do not think it has an easier installation than traditional wallpaper!
I do love our bathroom wallpaper very much and am thrilled that it's holding up! I don't hate the fact that we installed it in our mobile home. It was a great option for our situation.
So that is my take on the pros and cons of peel and stick wallpaper. Again, I am not a professional wallpaper hanger. But if you're reading this, my guess is that you aren't either, and our experience will be closer to yours. Depending on your wall surface and size of wall, removable peel might be the right choice for you!
But whatever style of wallpaper you choose, I hope you have fun with it! Though it was out of vogue for years, I am loving the fact that we once again have tons of wallpaper options to add character to our homes.
Comment below and tell me if you would ever consider sticky wallpaper or not!
Shop the Look
Mid Century Style Black Cabinet Handles
Wall Pops Peel and Stick Wallpaper
Walnut Wood Trim Vanity Mirror (Similar)
Read more articles on wallpaper below
Pros and Cons of Peel and Stick Tile Backsplash
Read more about our 1979 single wide mobile home renovations below
Mobile Home Mid Century Style Kitchen Before and After
How Much Does a 10 x 10 Kitchen Remodel Cost?
How to Decorate a Mobile Home Living Room
64 Storage Ideas for a Small Home (Vintage Inspired)
DIY Mobile Home Remodeling Ideas
How to Be Content Living in an Ugly House
Pin for Later Pros and Cons of Peel and Stick Wallpaper