You might look at inspiring Pinterest boards at all the beautiful Mid Century Modern or Farmhouse kitchen remodels and sigh. Because you live in a mobile home, apartment or some other home that just isn't cut out for design inspiration. Or is it? Today I'm sharing with you our mobile home Mid Century style kitchen makeover before and after that just might change your mind about the possibilities of your type of kitchen.
As an Amazon Associate, I may earn a small commission through your purchase through any Amazon affiliate links on this post. This is at no additional cost to you. All recommendations are my own because I believe in each product. See my full Privacy Policy here.
The Story of Our Mobile Home Kitchen Renovation
We were able to find our "dream" farm of ten acres last summer. It had lots of outbuildings, a gorgeous barn, a farmhouse full of potential and, oh, a 1979 mobile home out back. While we worked on the farmhouse renovation, we chose to live in our renovated bungalow in town.
We named the dated single wide out back "Bertha." Because anything that ugly needs a loving name. The plan was to clean her up and use it as an office for Our Vintage Bungalow.
As we worked on the farmhouse remodel that summer, the joke was that if we didn't finish in time, we could always move into Bertha.
The joke became a reality.
That fall we decided to go ahead and sell our bungalow in town, spend a couple years to renovate the entire farmhouse instead of just part of it and move into our mobile home until everything was complete.
It was time to give Bertha a makeover.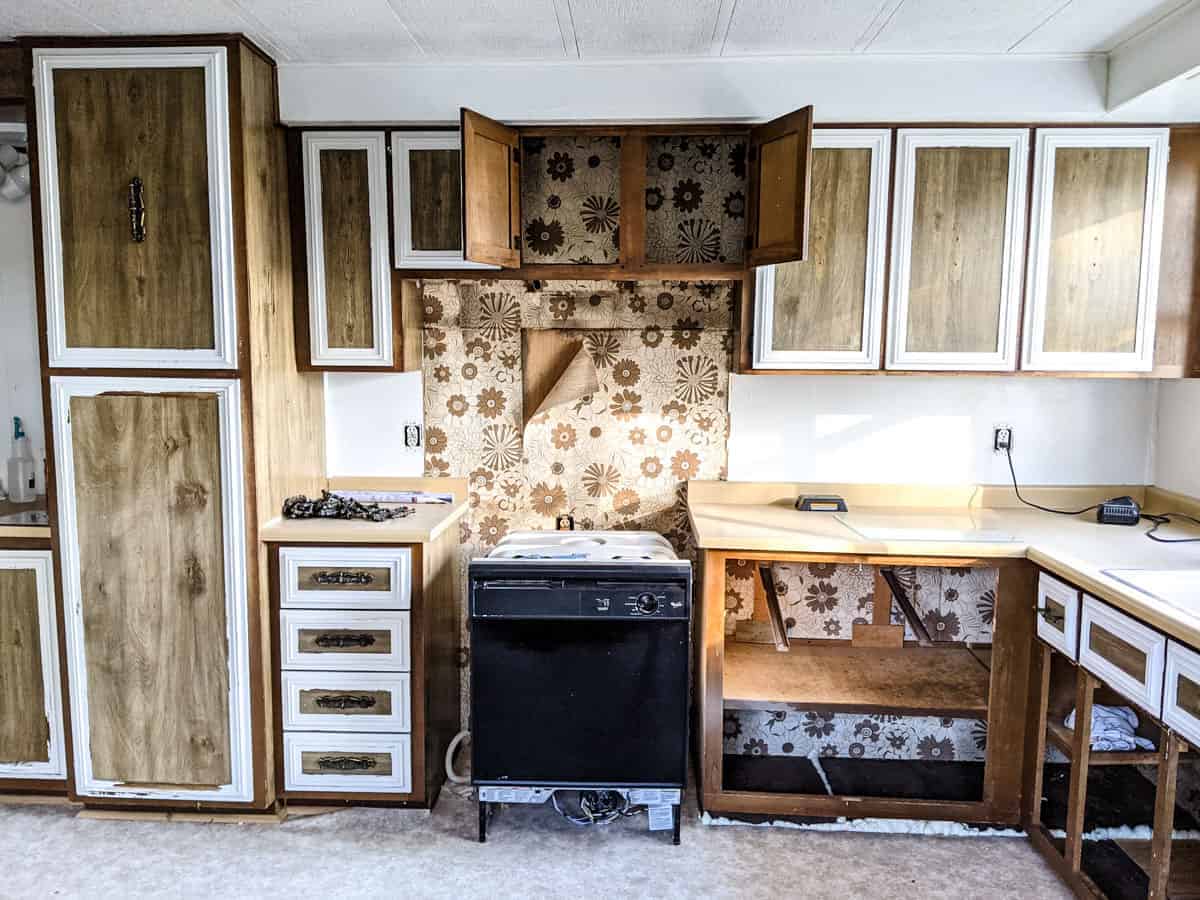 The Mobile Home Kitchen Makeover Time Frame
Our mobile home had been lived in up until the time we bought the farm. As with all our renovations, my goal is to be respectful of the previous owner who loved and lived in this place before us. They did their best to care for the place as we will do going forward. Now, I'm not going to call this an easy diy project. But I will say the original kitchen provided me with the easiest way to try a new design!
We had a month to renovate the entire mobile home. My niece, a professional cabinet painter, cleaned and painted the cabinets in probably under a week. (I say probably because her time was spread out over the month.) Some other family members worked on jobs in the kitchen like painting, electrical and cleaning.
We had a lot of other projects going at the same time, but I estimate if just two people had just been working on the kitchen, we could have completed it in 1 – 1 ½ weeks, working 4 – 6 hours a day.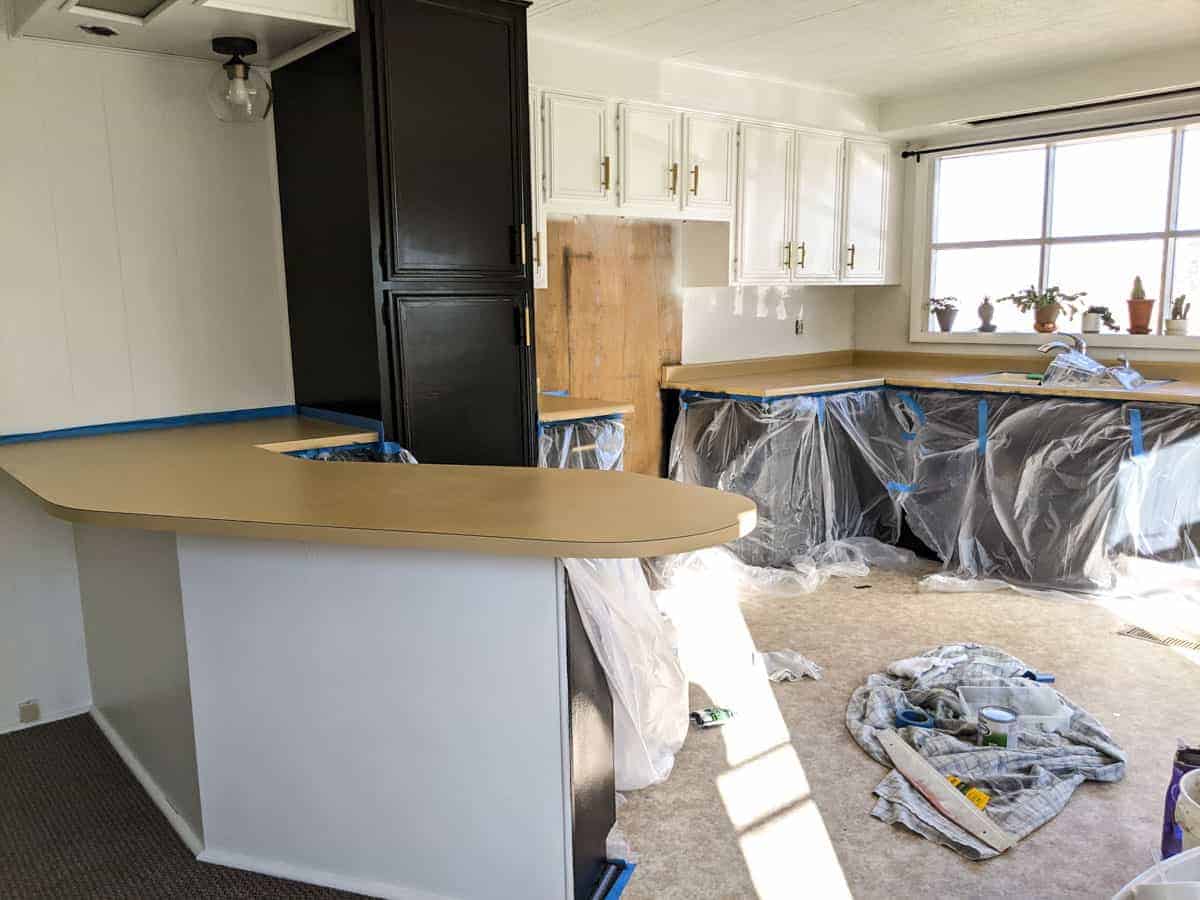 The Budget for the Mobile Home Kitchen Remodel
As I said, our single wide mobile home renovation was just one of the three renovations we were working on at the time. The bungalow needed lots of finishing touches as well as some expensive repairs found during the inspection. And the farmhouse, well, the farmhouse was smack dab in the middle of its total renovation process.
Caleb and I discussed the need for putting money into, basically, a worthless, old mobile home. I told Caleb, "Renovating Bertha is not for Bertha. It's for me."
That said, the total mobile home renovation budget was extremely low. The new kitchen total costs were $1,593. I did pay my niece to paint the cabinets, though she didn't charge as much as a normal cabinet job would have cost. This was partly because I helped clean and sand the cabinet doors, partly because I told her just to do a "good enough" job and partly because she's, well, family.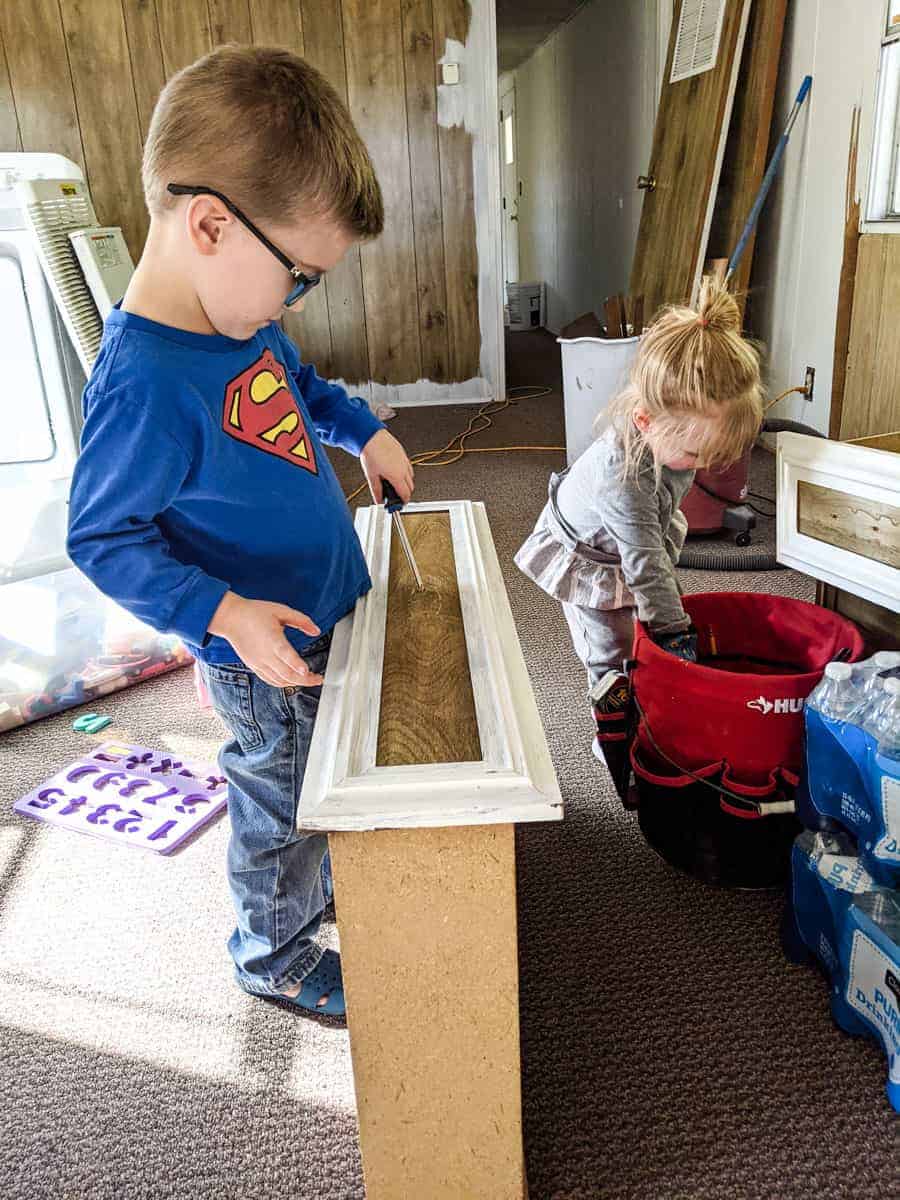 The Vintage Decorating Style of Our Mobile Home Kitchen
Even before we thought of moving in, the single wide just seemed to call for a Mid Century Modern style décor. I also had Farmhouse style decorations from our old house that I would be using since there was no budget for getting all new décor.
I call Bertha's design style Mid Century Modern Farmhouse.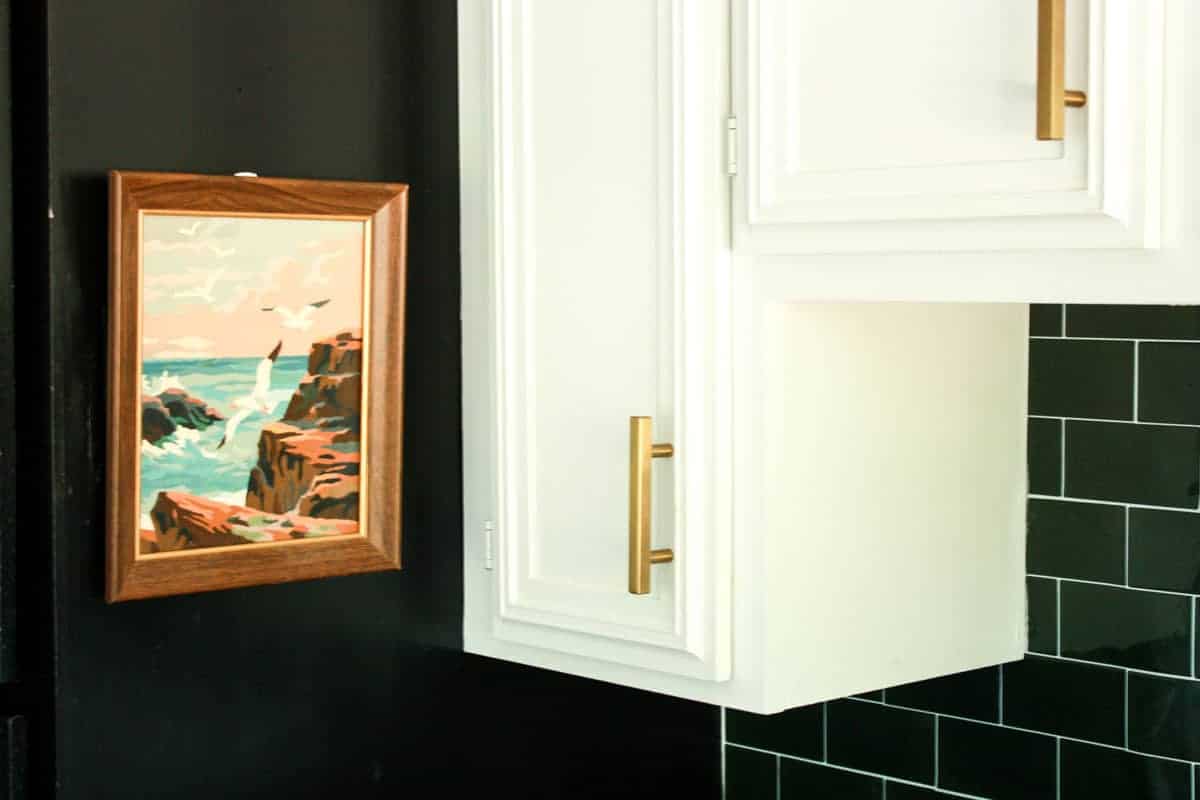 What We Replaced in the Kitchen Remodel
We didn't really "replace" much in the kitchen, but we added lots of things and fixed almost everything. No single piece is more important than any others:
New paint on old cabinets
Repairs to rotten bottoms of cabinets
New cabinet hardware
Dark green peel and stick tile (read more on that process HERE)
Open shelving
New light fixture above table
New curtains and rod
Painted laminate countertops
Painted walls and ceiling
Appliances brought from other house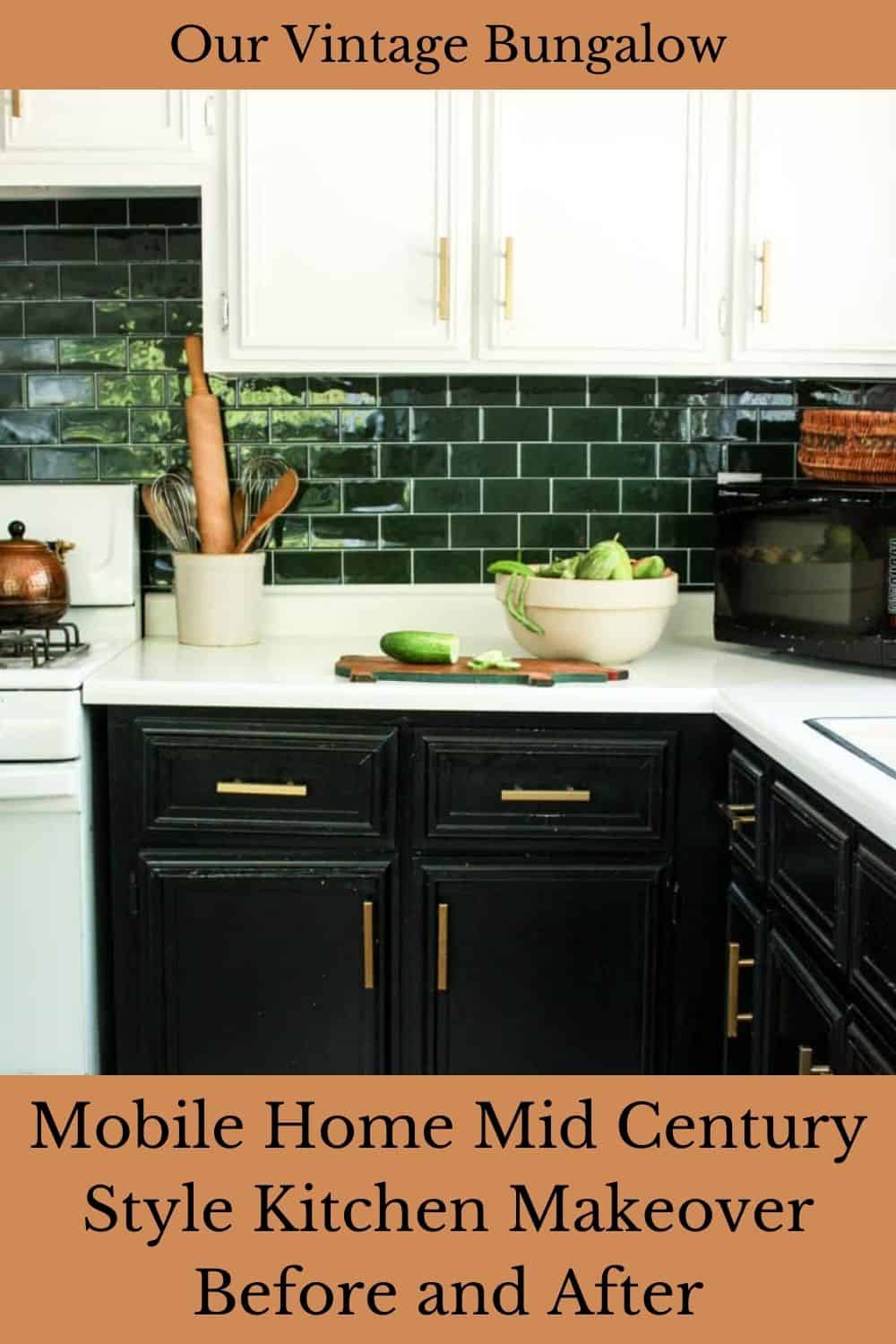 What we left in the kitchen:
Flooring – I don't love the vinyl flooring, and it's not good quality at all, but it was fairly new and a neutral color. I just added a rug to warm up the space.
Fluorescent lights – Above the sink and peninsula counter, there are fluorescent lights enclosed in ceiling "cabinets." I didn't have time to restructure these lights, so we just added "daylight" bulbs to them.
Sink and Faucet – The sink is pretty bad. I'm not a fan of the color, but it's not absolutely terrible. However, something has eaten away the finish on the bottom, so it's perpetually brownish. But this wasn't something we had the time, money or gumption to replace right now. The faucet I hope to replace sometime soon.
Windows – I absolutely love this kitchen because of all the large windows that let in natural light. The window over the sink curves out, creating a nice ledge for my plants. Pretty sure I'm actually going to miss this space when we move!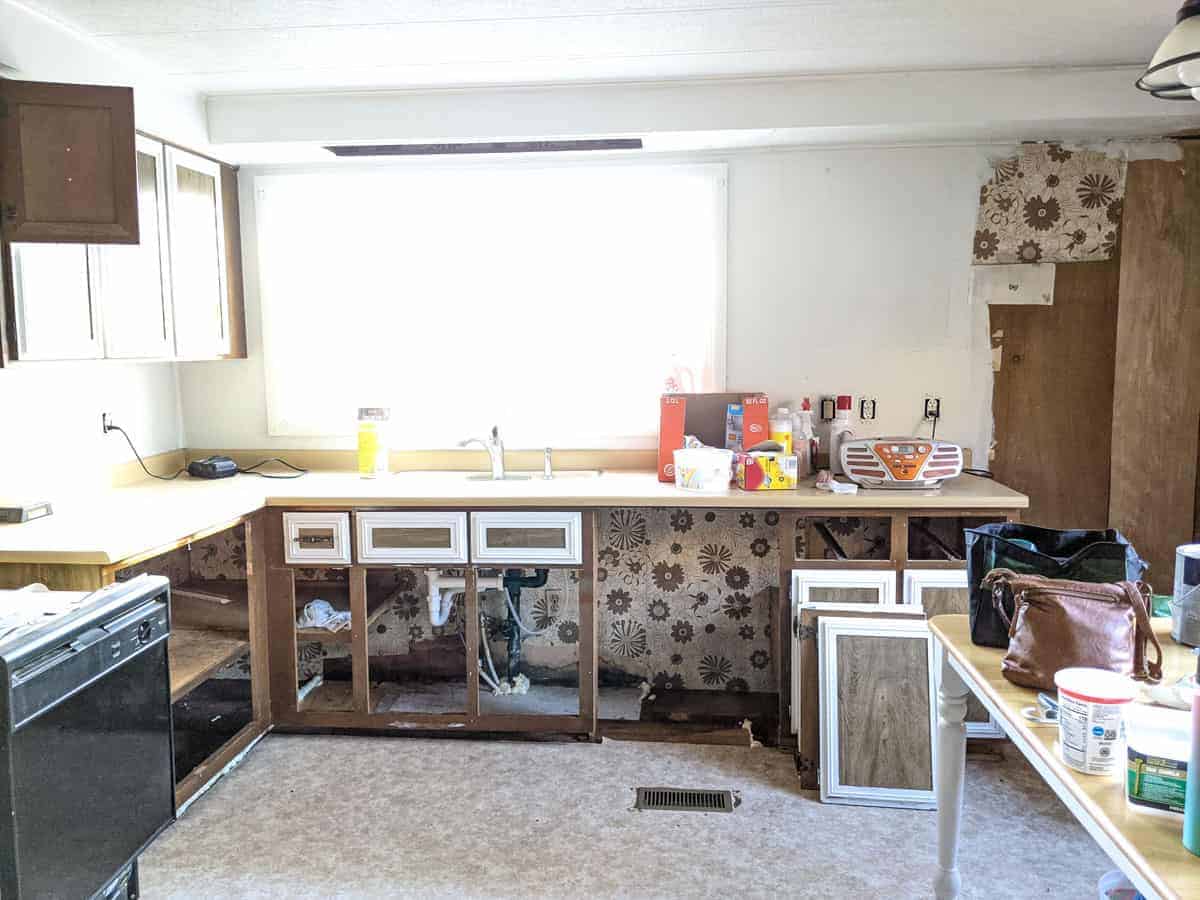 Details About the Kitchen Cabinet Update
Color of the Cabinets
In photos I've seen here and there, I love black kitchen cabinets. But it's a scary color to try on a long term home. My theme in this kitchen reno was "It's just Bertha. We certainly can't make her any worse." So this was a great way to experiment with black cabinets. The color is Sherwin Williams Tricorn.
I didn't want the bright space to be overpowered by all black, however. So we went with white upper cabinets in the same color as the wall. I love the boldness of the black and have not regretted the decision. The white cabinet color is Glidden Atmosphere.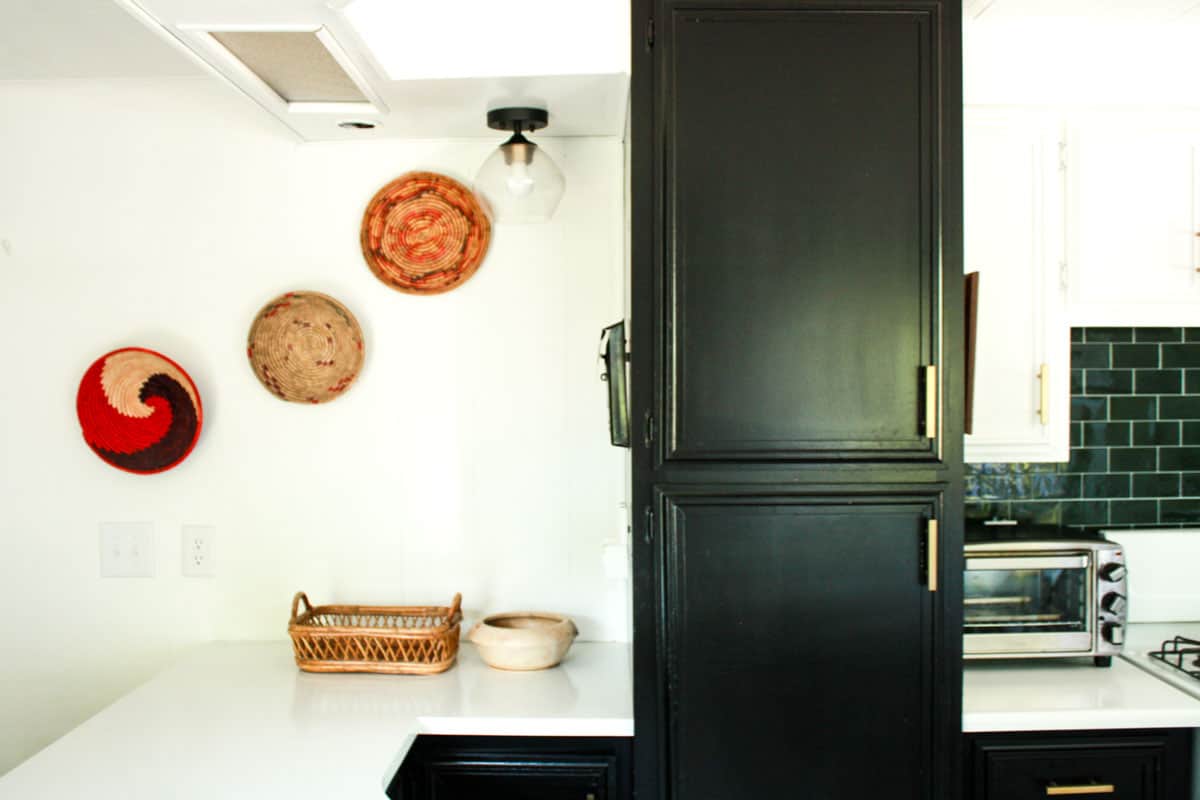 Cabinet Hardware
To keep with the Mid-Century kitchen design style, I chose a simple rectangle brass handle on both the upper and lower cabinets. They pair well with both the black and white cabinets while giving it a good pop of style. You can find the brass cabinet and drawer pulls Brass found HERE and Black found HERE
Open Kitchen Shelves
We had wood planks from shelves in our old house. We cut the wood to fit the space and then gave it a Mid Century Modern update with new brass brackets found HERE.
Laminate Countertops
Again, time and money did not allow for replacing the yellow laminate countertops. I did research and decided to paint them with white appliance paint to go with the upper cabinet color. I did not tint the paint at all, but I would think you could. The painted countertops have held up very well.
Sticky Tile Backsplash
Another design I've loved but haven't been willing to try long term is deep green backsplash. Well, since it was "just Bertha" I had my chance. It's so dark it sometimes looks black. Black or green looking, it goes well with the black cabinets and breaks up the white between the counters and upper cabinets. You can find the peel and stick tile HERE.
Read my Pros and Cons of Peel and Stick Tile Backsplash HERE.
Kitchen Light Fixtures
I wanted black to align with Mid-Century Modern Kitchen designs but also wanted something in the kitchen that gave the Farmhouse style vibe as well. Light fixtures can be pretty pricey, but after lots of searching, I found a chandelier that fit the look and the price point. You can find it HERE.
For an accent light fixture in the corner, I went straight Mid Century Modern style found HERE.
Kitchen Curtain Rods and Curtains
I purchased the same curtain rods for all over the house. They were inexpensive and the black went with the Mid Century Modern style while also contrasting with the white walls. These kinds of clean lines are visually appealing in many different styles. You can find them HERE.
The DKNY curtains were brand new from a thrift shop. The ones above the sink I hemmed to fit. You can find them HERE.
Kitchen Walls
A couple walls had the original 1970's wallpaper on it. Fortunately, this peeled off very easily. I actually kept some in the light cabinet above the sink just to remember the history of the mobile home.
We painted the entire house walls and ceiling with the same color white. Since the home is small, we needed a simple, clean backdrop with color added through decorations and curtains. Since the walls were brown paneling, painting them white gave them a farmhouse bead board style with the grooves really showing up. The color is Atmosphere from Glidden.
Kitchen Decorations and Furniture
I added a mixture of Mid-Century Style, Boho and Farmhouse decorations from vintage items we brought from our old house or some from storage. Some of the pictures are carefully placed so they can cover holes in walls or cabinets that were not able to be replaced.
I love the way our mobile home Mid Century style kitchen makeover turned out. It was a fast turnaround with not everything absolutely perfect. But the fresh painted cabinets gave a whole new life to the room, not to mention creating a barrier to the years of mice infestation gunk which can be common to older mobile homes. Kitchen renovations are always an adventure!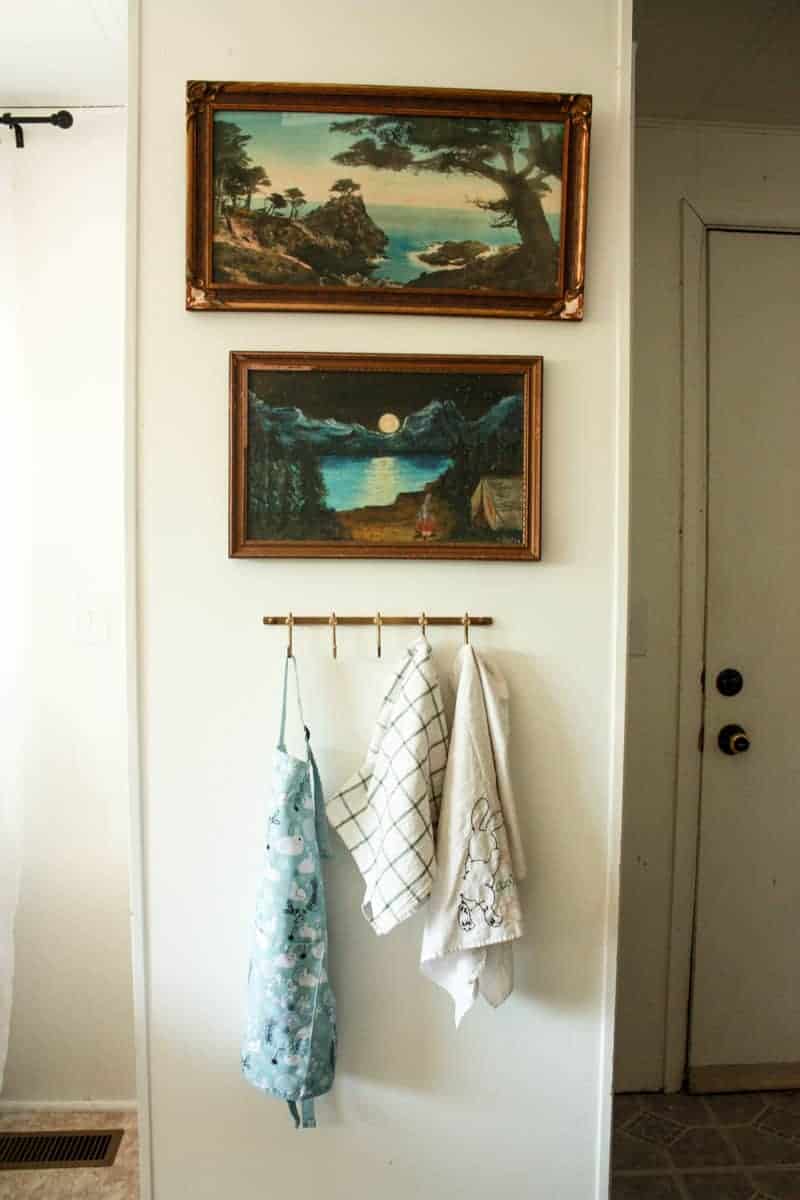 Since it's an open plan kitchen with the dining area and living room, we have used the space constantly. Some things I love about our small kitchen are
Big, bright windows (seems like such a little thing, but it makes a huge difference!)
Bold choices I got to experiment with – color of backsplash and cabinets (Bertha was the perfect place to try current trends!)
Open to the living area for joining in with others' activities (though I'm not typically an open concept kind of girl)
Big enough space to host lots of people (we've had over 20 people over at a time without feeling extremely crowded)
A window for all my plants. Seriously, I love that ledge!
Resource List for the Mobile Home Mid Century Style Kitchen Makeover
Black Lower Cabinet Paint – Sherwin Williams Tricorn
White Upper Cabinet and Wall Paint – Glidden Atmosphere
Kitchen Cabinet Hardware Brass found HERE and Black found HERE
Open Shelf Brackets found HERE
Countertop Paint Rustoleum Appliance Epoxy found HERE
Green Peel and Stick Tile Backsplash found HERE
Kitchen Accent Light found HERE
DKNY Curtain Panels found HERE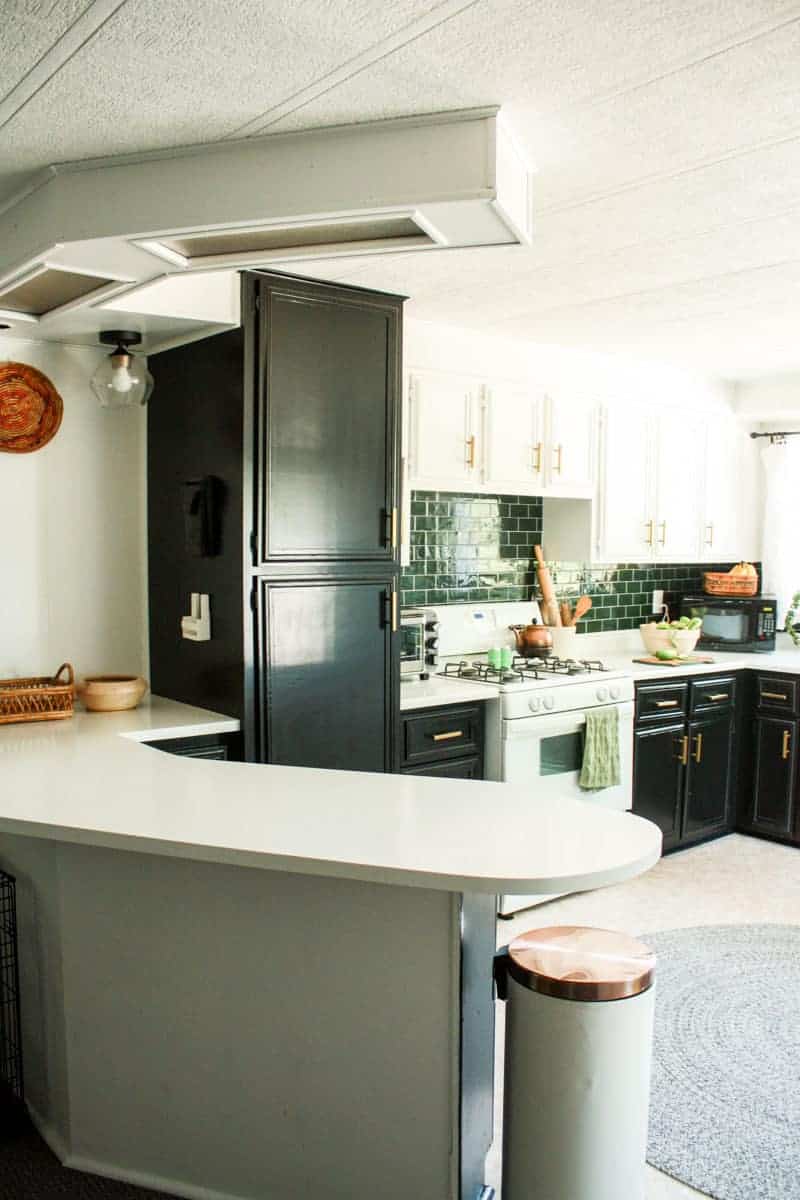 More Posts About Our Single Wide Mobile Home Remodel
How Much Does A 10 x 10 Kitchen Remodel Cost?
Pros and Cons of Peel and Stick Tile Backsplash
DIY Mobile Home Remodeling Ideas
Comment below and tell me what kind of home YOU have! What room is hardest for you to create vintage character?
Pin this Mobile Home Mid Century Style Kitchen Makeover for Later!