Have you ever wondered what authentic farmhouse decorating is? I mean, what did the farmhouses really look like throughout the years? Today, I am sharing with you 120 years of our farmhouse's history of wallpaper. Keep reading to discover all our antique farmhouse wallpaper found during renovation.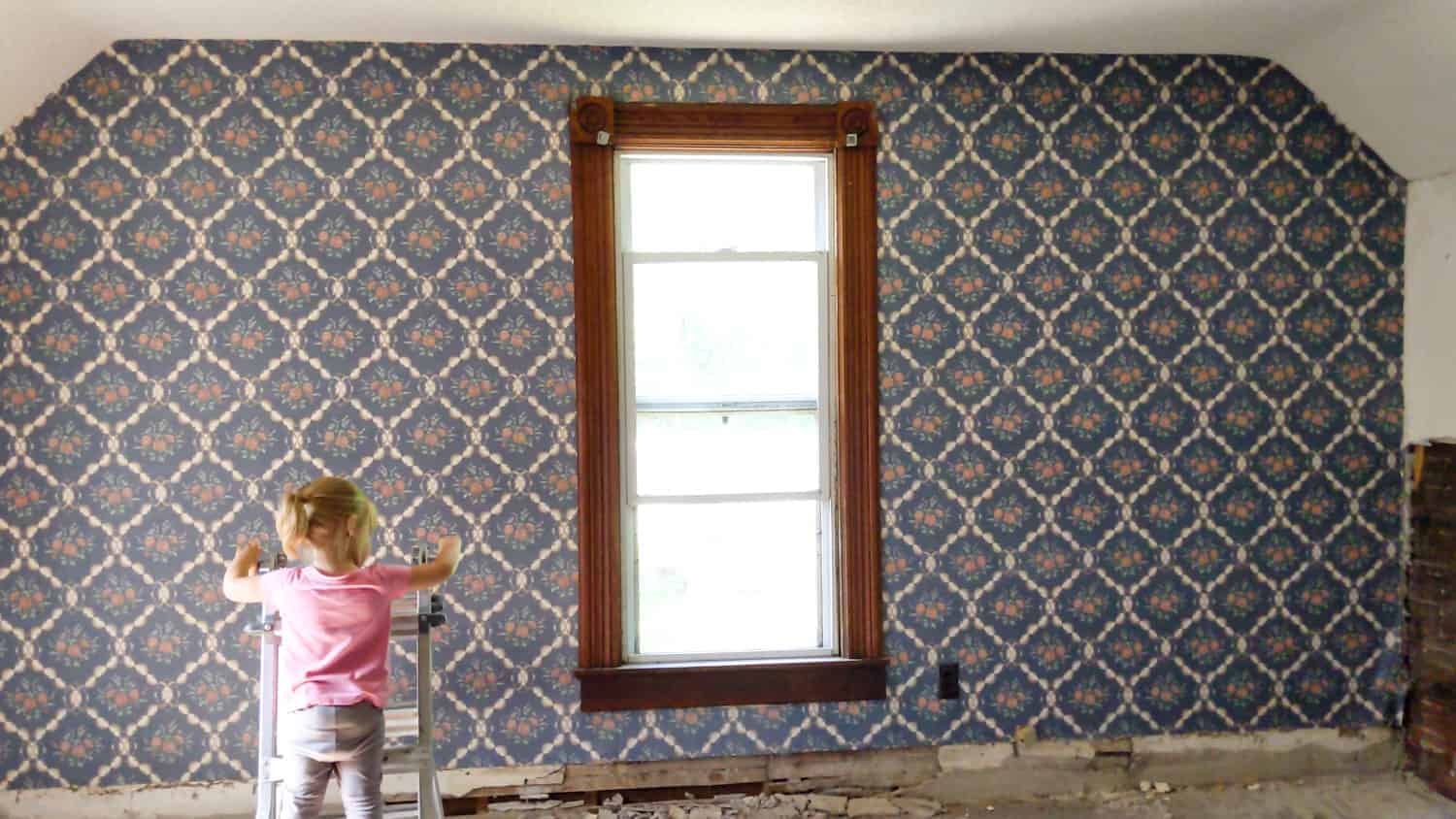 The Story of Our Farmhouse Renovation
Last summer, we found and purchased our "dream" farm on ten acres. There were lots of outbuildings (just like we needed), a gorgeous big old barn with hayloft big enough for barn dances (just like we dreamed) and, oh, a farmhouse needing lots of renovation (just like we expected).
Undeterred, we jumped right in throughout the summer. The original plan was to renovate one room at a time. And then either Caleb or I would say, "I wonder what's behind this wall." So the plan changed to renovating one whole floor at a time. Then Caleb or I would say, "Do you suppose we could add on to this room?" So the plan finally became renovate the entire house over a couple years while we lived in a mobile home on the property. (Read more about our 1970's mobile home renovation HERE.)
The History of Our Farmhouse
Our property was settled by a Civil War veteran in the 1880's. At some point, we were told there was a big cattle operation on the property. A permanent cement stock water tank still testifies to those years of farm industry.
The farmhouse was built in 1900. We don't know a whole lot of the history of the farmstead, but I've been doing a little research here and there on past owners through Ancestry.com. As a history major in college, the story of a home is very important to me. I love to know who lived here before us, what the old home looked like in years past and how it's changed.
The couple who lived here right before us purchased the home in the 1990's. They loved the place, which shows in all the massive barn renovations and numerous trees Hazel planted during those years. Their family continued the decades old tradition of using the barn for weddings, dances, graduation parties and family reunions.
Tearing the Farmhouse Down to the Studs
As we tore layer after layer from the farmhouse, it hurt my heart a bit. Yes, 120 years of settling water leaks, termites, mice and snakes had left damage. And the settling foundation put the floor in desperate need of massive leveling and foundation work.
And please don't get me wrong, during our journey of the farmhouse remodel and caring for the property, my goal is to be respectful of those who have loved this place before us. Although the house needs (in our opinion) lots of work, I don't dismiss all the work that has been put into it up to this point.
But back to the hurting heart. I love the history of a home, good and bad. Tearing walls and floors feels like we were tearing out history, even though it was necessary. We will be adding in the original character back in by reusing the original hardwoods for the floors, keeping some wood beams intact, and trying to match the original trim that was once in the house (before the 1970's paneling came in). I'm committed to giving this old house a new life while keeping its old story!
Finding the 120 years of Historical Wallpapers
But as I tore out one wall after another of lathe and plaster, sheetrock and shiplap, I discovered a history that had been hidden for decades upon decades. Layer after layer of beautiful wallpaper in nearly every room.
I began saving and photographing remnants to preserve this history of the home.
Here is a walk through time of antique farmhouse wallpaper found during renovation.
Main Level Farmhouse Wallpaper
I must admit, I did not think to purposefully saving the wallpapers while we tore out the main floor rooms. I paid attention, but I didn't save or photograph much. It was in our "we're going to renovate the entire floor in a summer and then move in this fall" phase. Meaning: we were in a massive hurry and overwhelmed. (You know how it is with big projects like this.)
Living Room, Dining Room and Kitchen
These were paneled in the 1970s, and I honestly don't remember coming across wallpaper.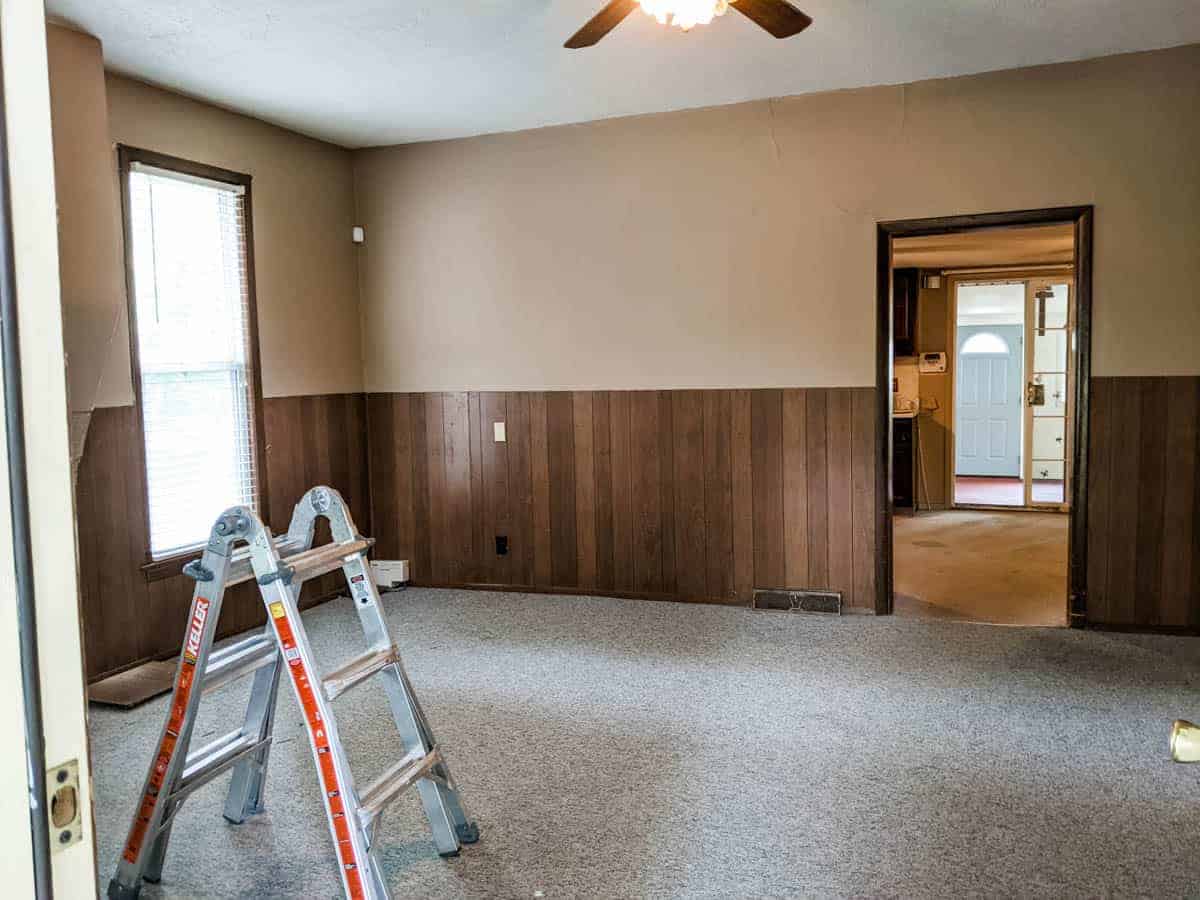 Former Living Room-Turned-Bedroom
This was painted a vibrant blue. Again, I don't think there was wallpaper in that room.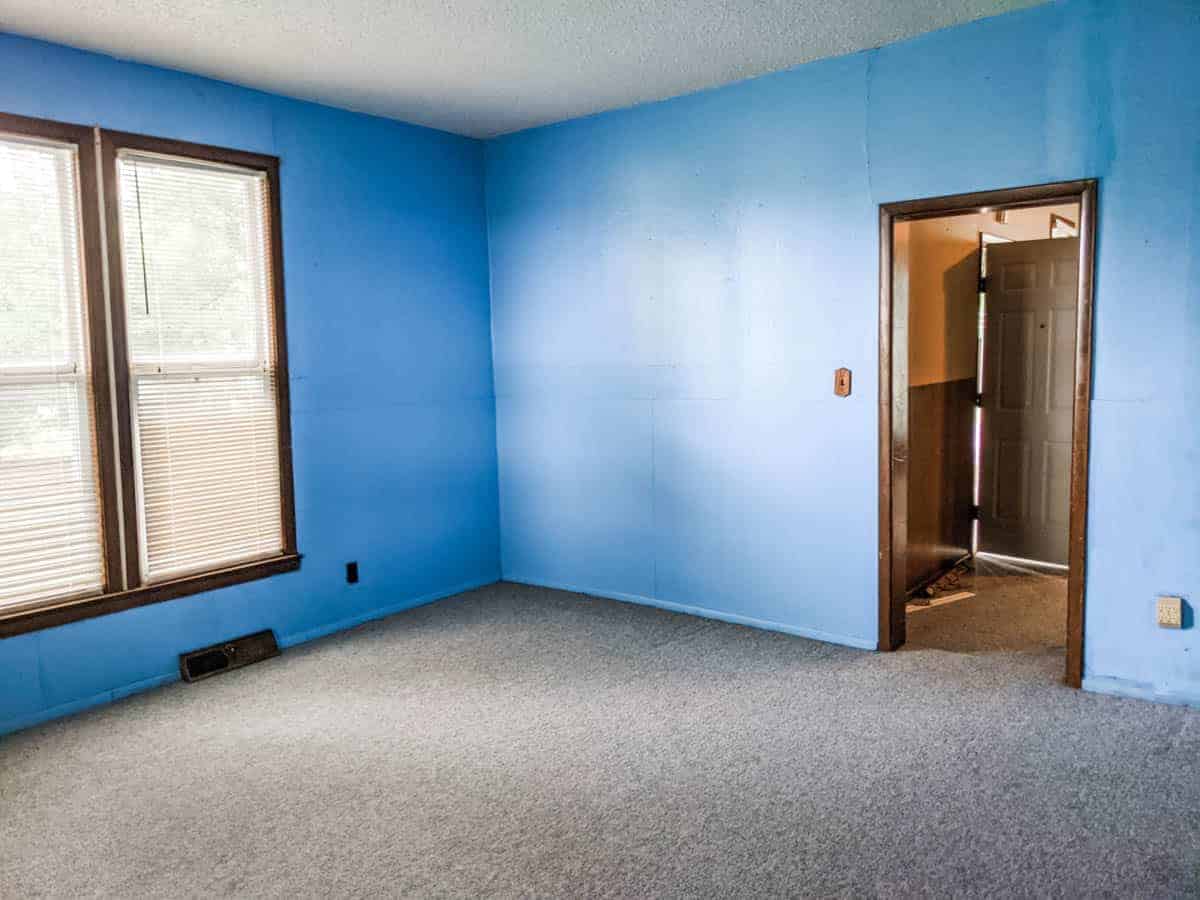 Hallway and Bathroom
These did have old wallpaper that I documented, and I was careful to document the papers throughout the rest of the house.
The Old Chimney in the Hallway (used to be kitchen)
This had two different wallpapers. I'm going to guess the floral was from the 1910 – 1920's, and the geometric floral 1930 – 1940's.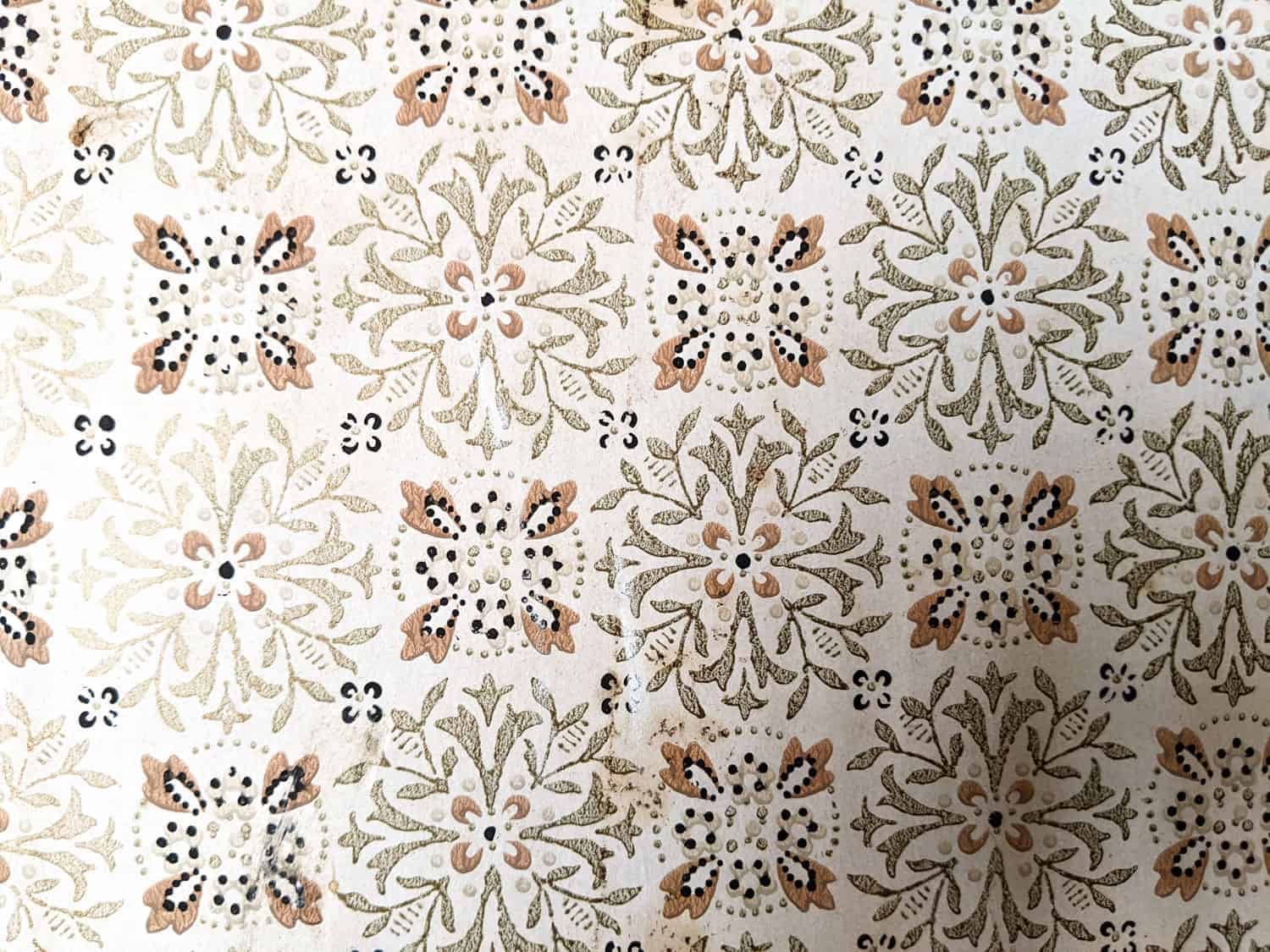 Hallway Closet Ceiling – I don't know if the whole hallway ceiling was wallpapered or just the closet, but only the closet remained. This is circa 1980's.
Primary Bathroom (ok, the only bathroom)
Since the house was built in 1900, there was originally no indoor bathroom. This space was created who knows when. Maybe the 1930 – 1940's? The bathroom and laundry room are where the kitchen originally was.
In the 1990's, the bathroom was remodeled to what it looked like when we purchased the farmhouse. There was a plum colored paint throughout. Underneath, I found some obvious "bathroom" wallpapers. And then as we dug deeper, we found a board way up high with many different wallpapers that I'm presuming to be from the time it was a kitchen.










Second Floor Wallpapers
As is to be expected, the colors on many of the old wallpapers in all the upstairs rooms have faded. Sometimes it was hard to determine the wallpaper patterns. And a couple times it was impossible to peel off a remnant. Over a century of dirt, paint, more wallpaper and sun had done their damage. I'll never know the true colors on some of the older ones, but it's fun to imagine.
Upstairs Adjoining Bedroom #1
This was covered in 1970's paneling, but I uncovered a couple layers of beautiful wallpaper underneath.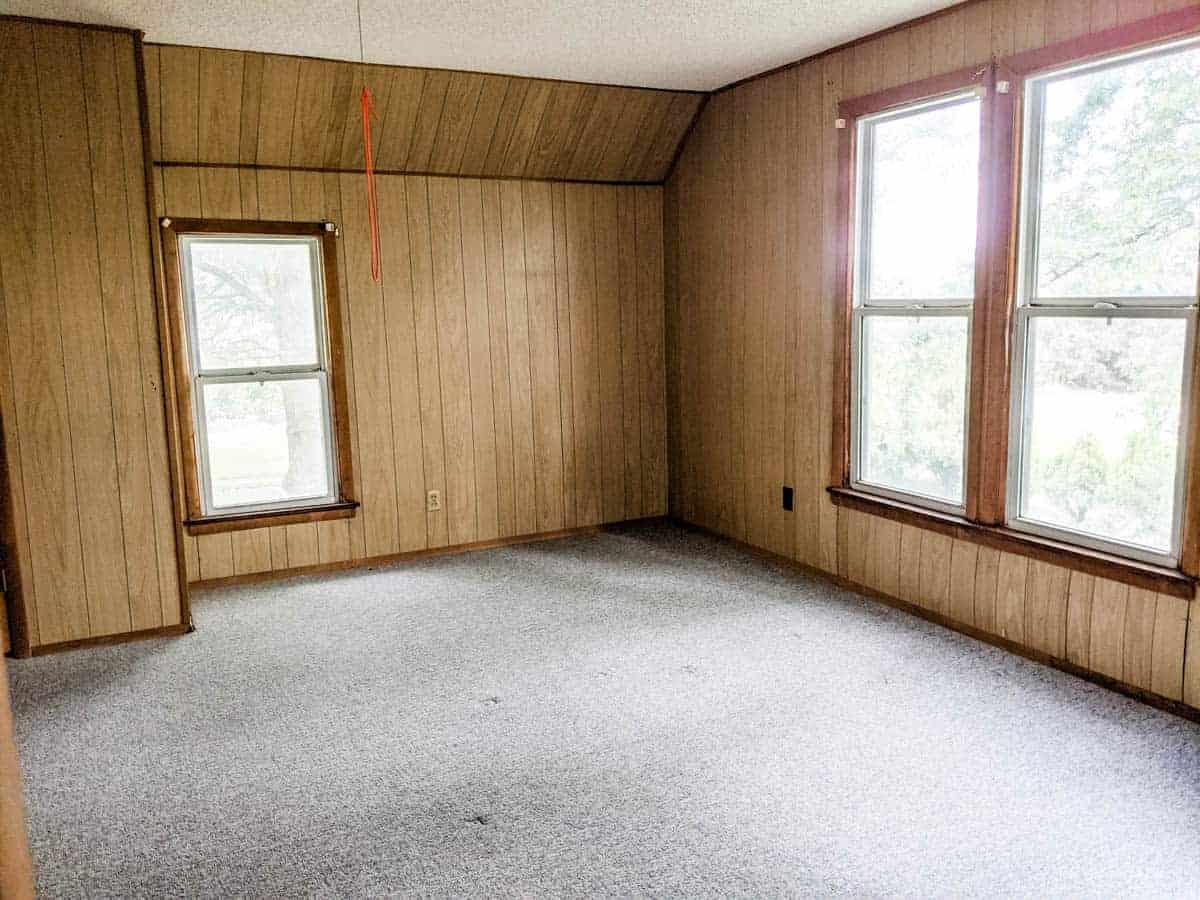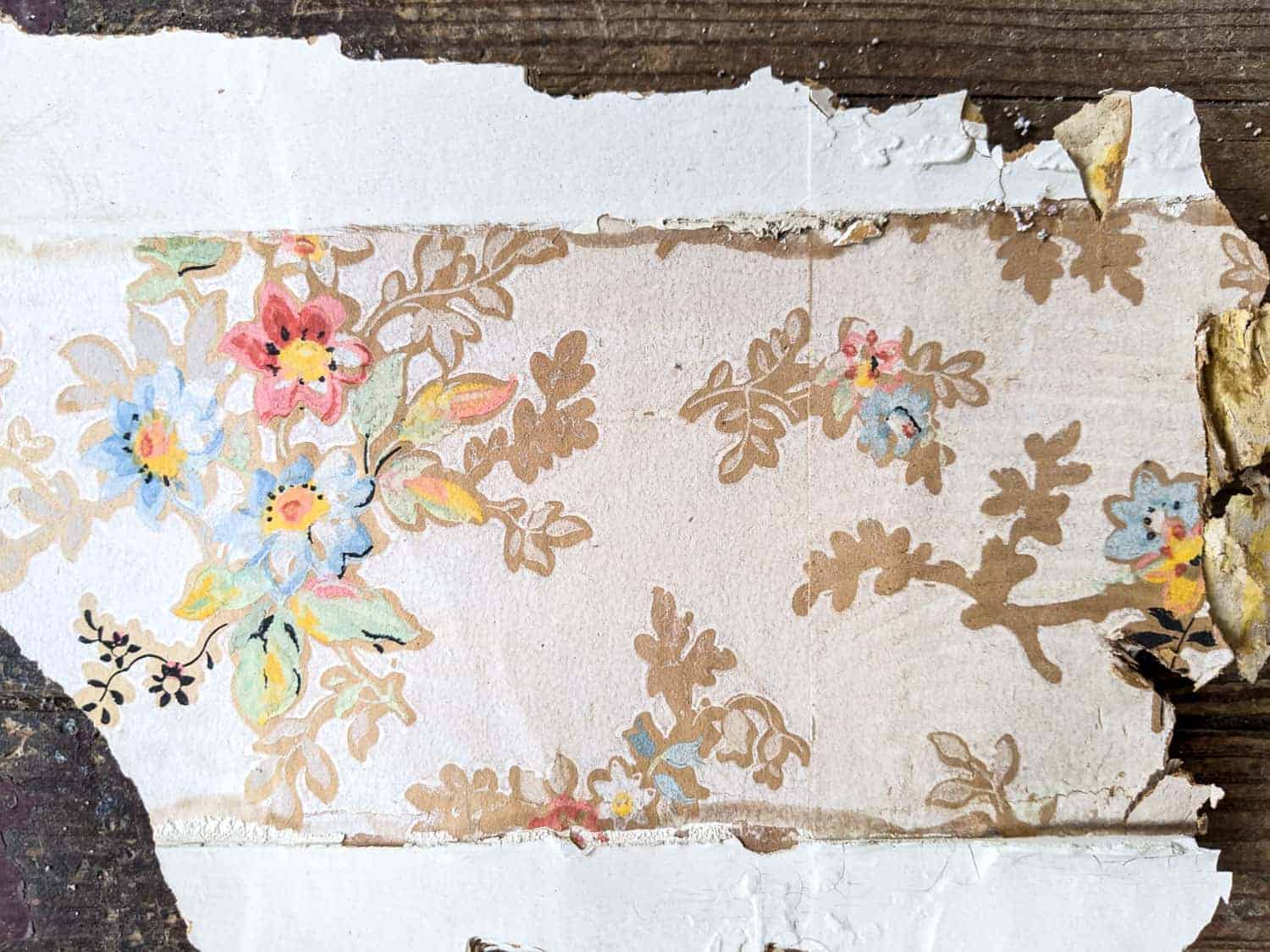 Upstairs Adjoining Bedroom #2
This and the hallway were the only rooms with the original wood trim. Why it survived the 1970's renovation of paneled walls and thin trim? We'll never know. But I loved this room. Sadly, the plaster was crumbling so bad, it had to be torn out. But that let us discover its hidden wallpaper history!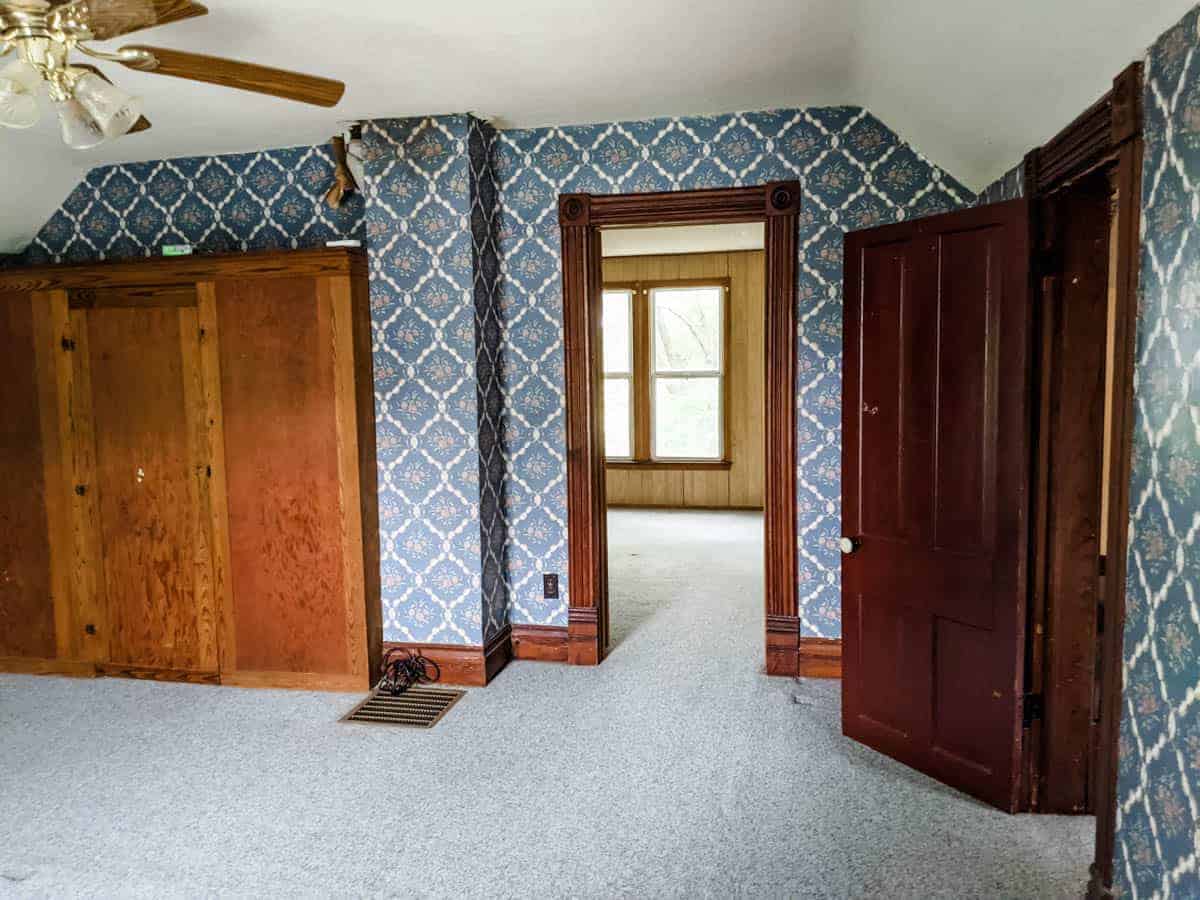 Upstairs Bedroom #3
This room is what will become the master bedroom because we are adding on to make it larger, add a walk-in closet and a bathroom. But originally I imagine it was always a little girl's room. I can just imagine all the girls who sat by the windows daydreaming and playing with dolls. **Edit: we had to tear out the ceiling to get to the attic joists and reinforce them. When we did, I found remnants of wallpaper in much better condition! Why there were random boards with wallpaper remnants in the unused attic, I'll never know.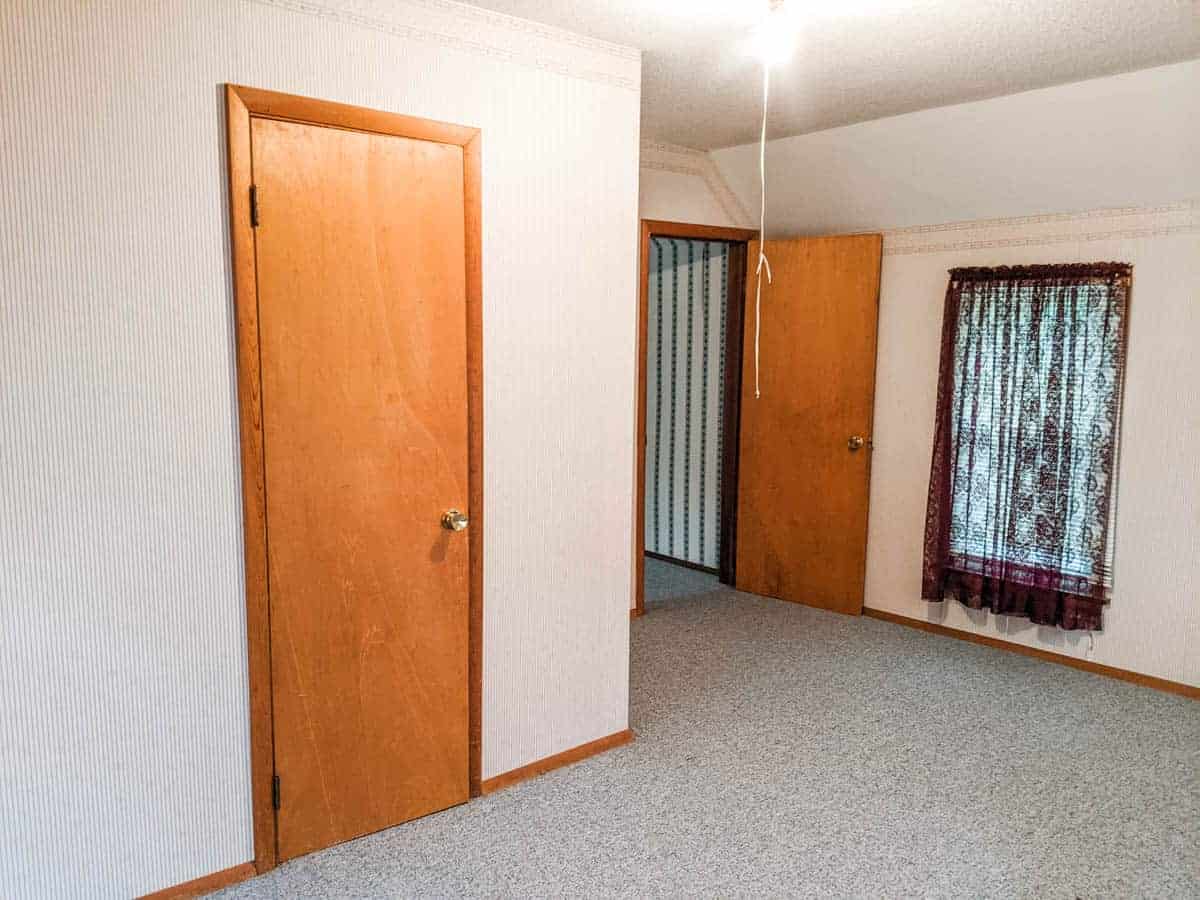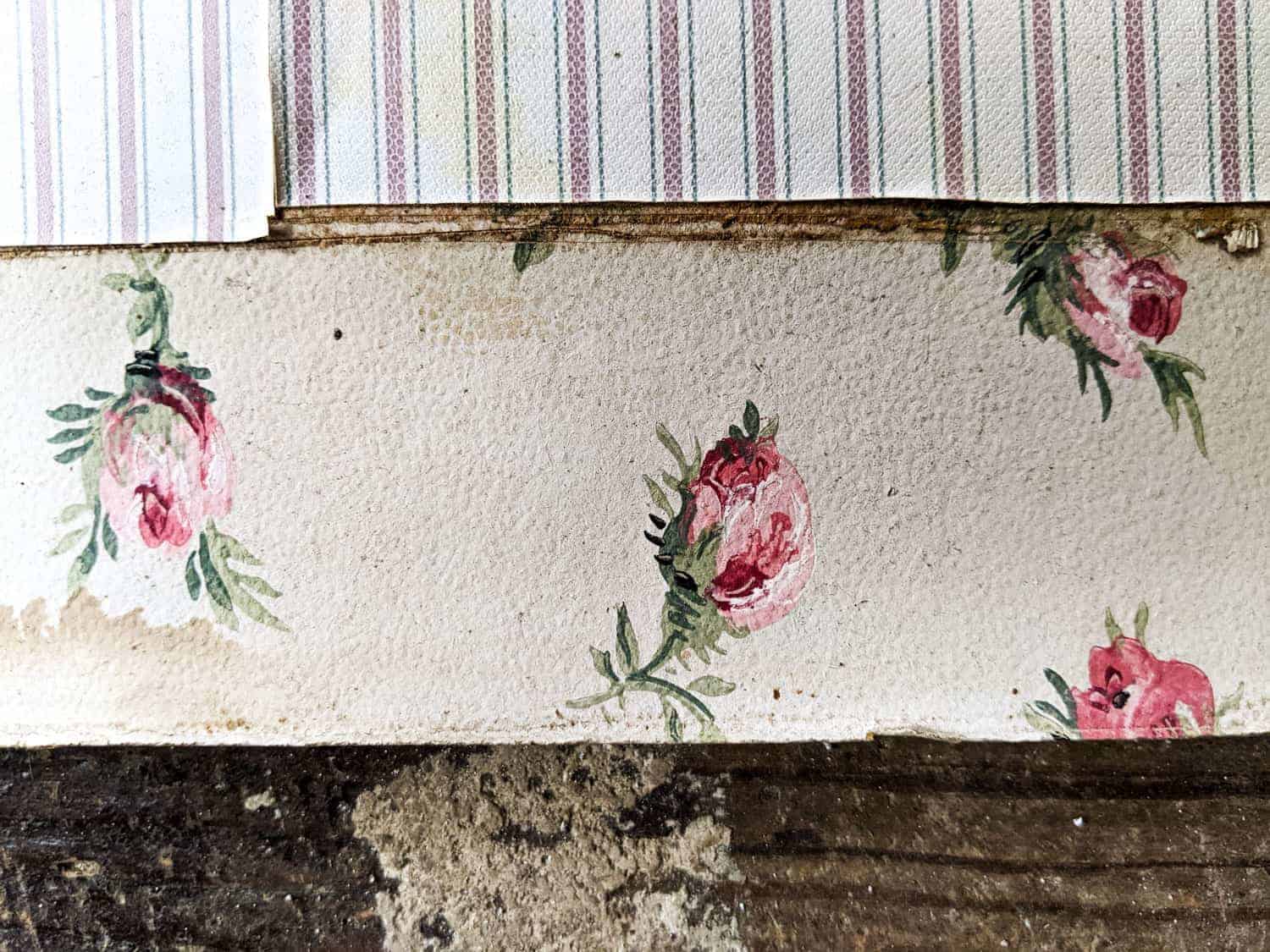 (and bonus carpet fragment!)
Upstairs Hallway
I have fond memories of renovating an old farmhouse with my parents and sisters as I was growing up. Every time we looked behind an old wall or false closet floor, our goal was to find treasure. Well, our current farmhouse so far has yielded only one true treasure. As I was pulling off the original trim board, out slips a photograph of a boy. He is not standing in front of our place, but I think it's safe to assume that this little boy lived in the house. I named him Alvin.
As with the bedrooms, the wallpapers in the hallway were numerous. I especially love the peach wallpaper because it reminds me of a spare room my grandma painted and wallpapered peach in the 1980's.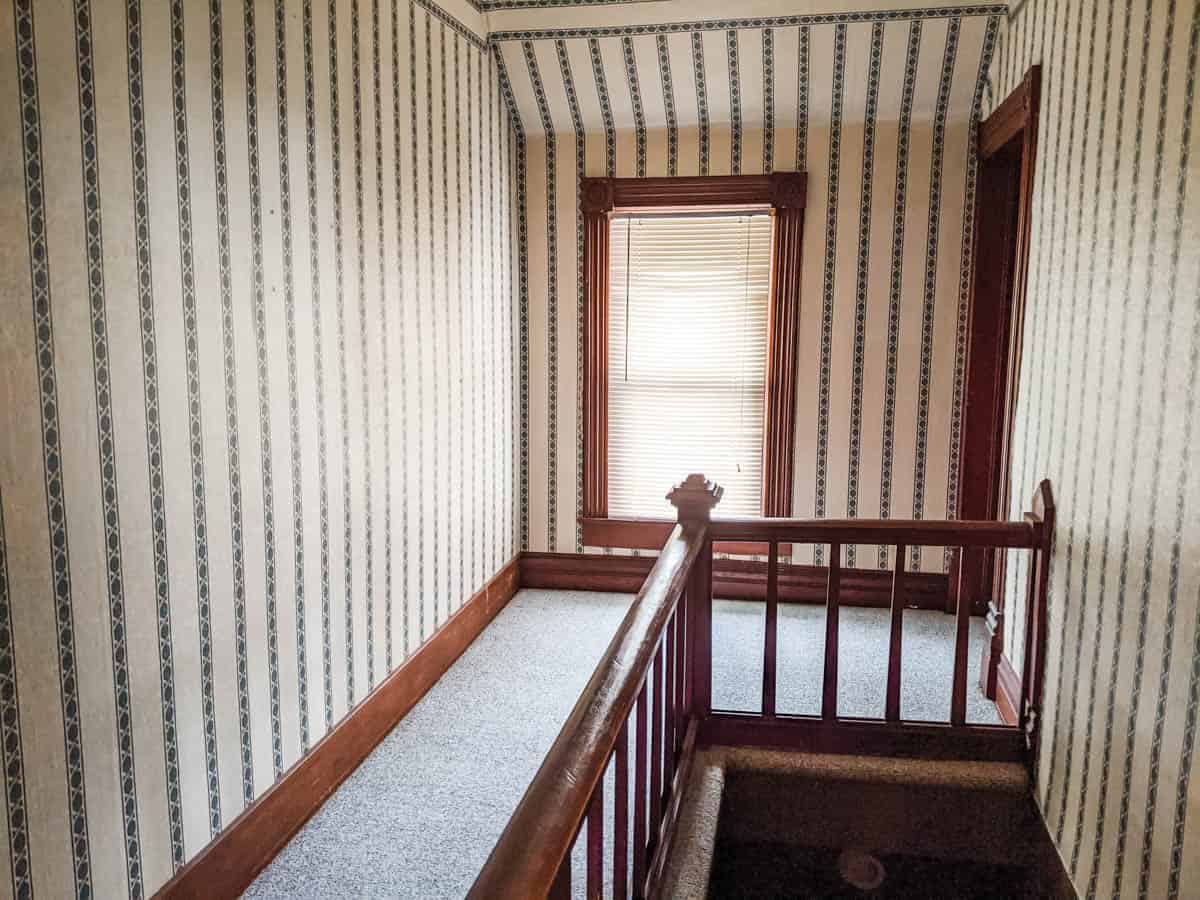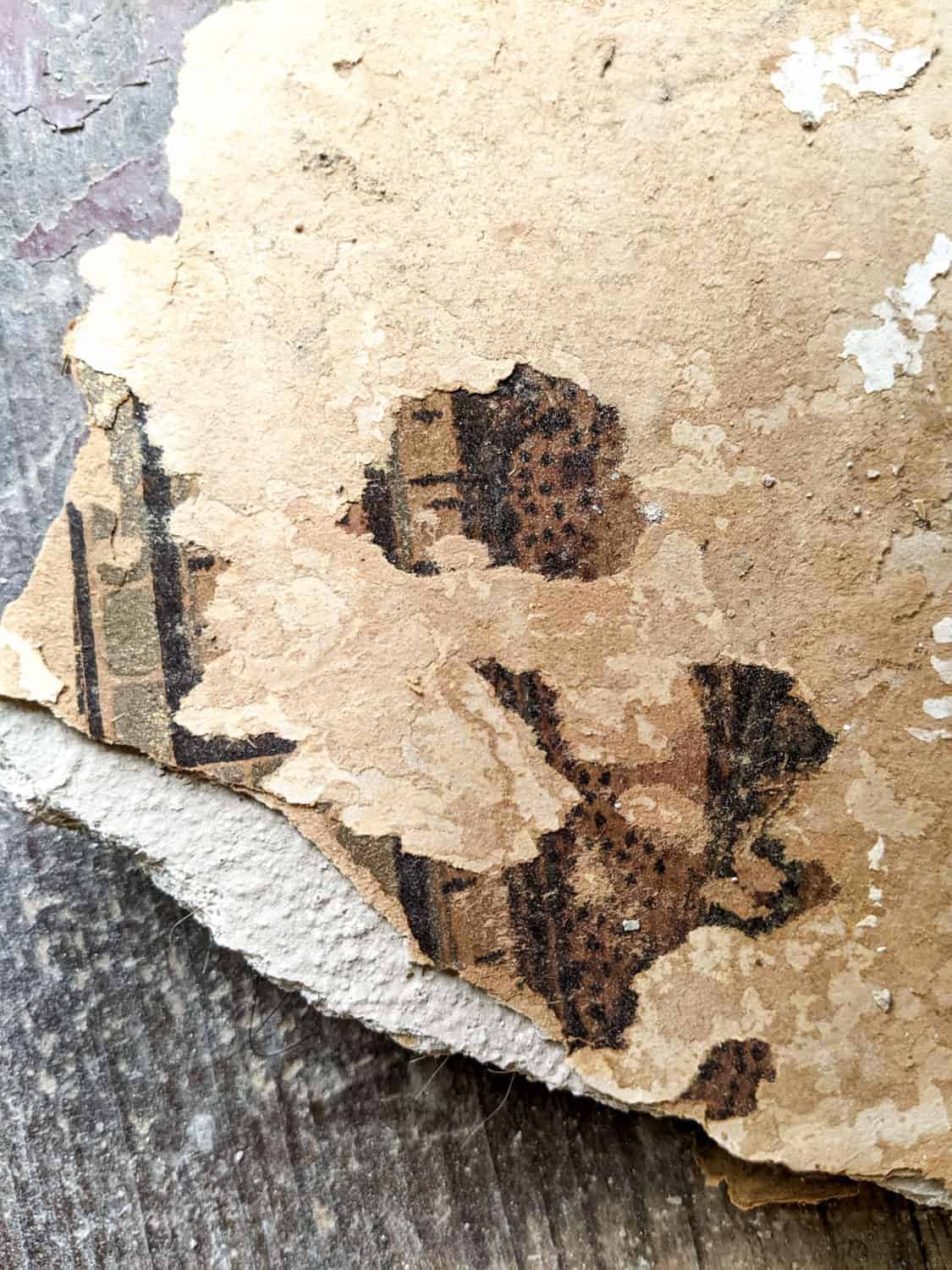 So there is the 122 years of history of the antique farmhouse wallpaper found during renovation. Whether you have a modern home or old farmhouse, these antique wallpapers are such an inspiration. They're such a testament to the former glory of this old house.
While I didn't really want to tear out the entire house to the studs and floor joists, doing so let us uncover secrets of what the rooms once looked like – at least, a little bit. Someday, I hope to incorporate one or several of these vintage wallpapers back into the home. It seems like a great way to honor the beauty of the spirit of the house in the past.
Did you enjoy the post about antique farmhouse wallpaper? Read more about our farmhouse renovation below!
Farmhouse Remodel Before Photos
Comment below and tell me what piece of architectural history you've found in your home renovations. Or you can tell me are you a wallpaper kind of person or a no wallpaper ever, never kind of person!
Pin for Later Antique Farmhouse Wallpaper Found During Renovation