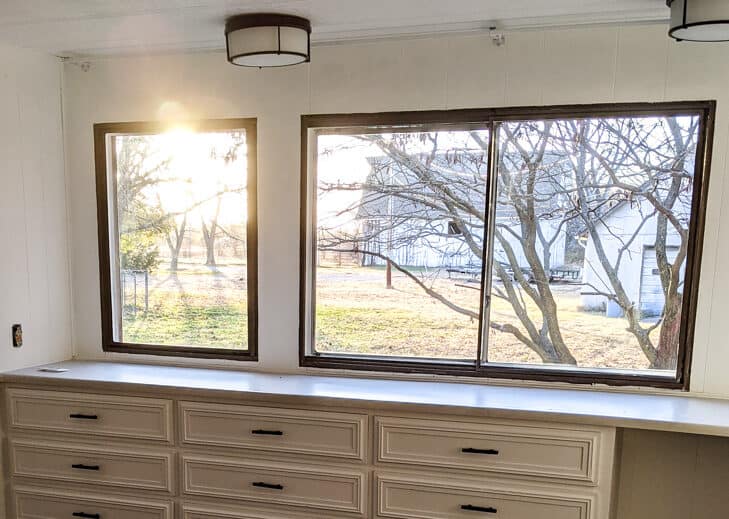 When we bought our farmhouse this summer, Caleb and I joked about moving into the 1978 mobile home on the property (which we named Bertha) while finishing renovations.
Weeeeeell, summer turned into fall. Driving back and forth between our house in town and our farmhouse reno project was becoming time consuming and difficult. AND we realized the farmhouse renovation was going to be longer than planned (no big surprise there). The mobile home living "joke" turned into reality.
But boy howdy, Bertha was ugly. And dirty. And mousy.
As I stepped into the place that was going to be my temporary tiny home, I struggled with the blahs.  It was full of brown paneling. And it was smelly from a septic problem Bertha had.
I wandered around Bertha and moped a bit. (Ok, a lot.)  And then I realized, that this was a decision I helped make.  I could either mope for months (or years) while living in Bertha, or I could be content while living in Bertha.  But the fact remained…we were living in Bertha.
But how to be content while living in an ugly house?  Here's a couple things I did to change my attitude from angry to excited to move into Bertha, the ugly mobile home.
Make a list of the good qualities
Maybe it's not evident at first, but everything has something good about it.  For Bertha, my good was the windows and the beautiful views out of them.  Also, the open concept living area, the woods behind us and the closeness to our reno project on the farmhouse was a-ok.
Fix what I could
Lots of time, paint and cleaning went into the ol' girl.  I couldn't change the situation.  But I could make it better. Read more about the makeover HERE.
Let go what couldn't be changed.
I'll be honest, there are parts that are still ugly or still falling apart.  Someday I would love to paint the outside or fix the rotted subfloor.  But we can't right now.  And I'm fine with that.
Decorate and live like the home is permanent.
We might live here 6 months; we might live here 2 years.  It may be temporary, but I'm going to hang pictures on the wall, buy pretty curtains and fix it up to be as homey as possible.
Enjoy our unique situation
I most likely won't live in a mobile home again. (Praise the Lord!) But you know what? I most likely won't live in a mobile home again.  You won't believe how fast I can vacuum this place.  And the simple, small house lifestyle (aka I can't go out and buy a ton of junk) is refreshing
What used to be a joke that turned into a "you've got to be kidding me" move into our mobile home, I found that somehow, I COULD find ways to be content while living in our ugly house.