I'm doing a bit of a throwback this week to the time when we remodeled our Craftsman bungalow bathroom. Follow along with me today as I journey through this Craftsman bungalow bathroom remodel with before and after photos.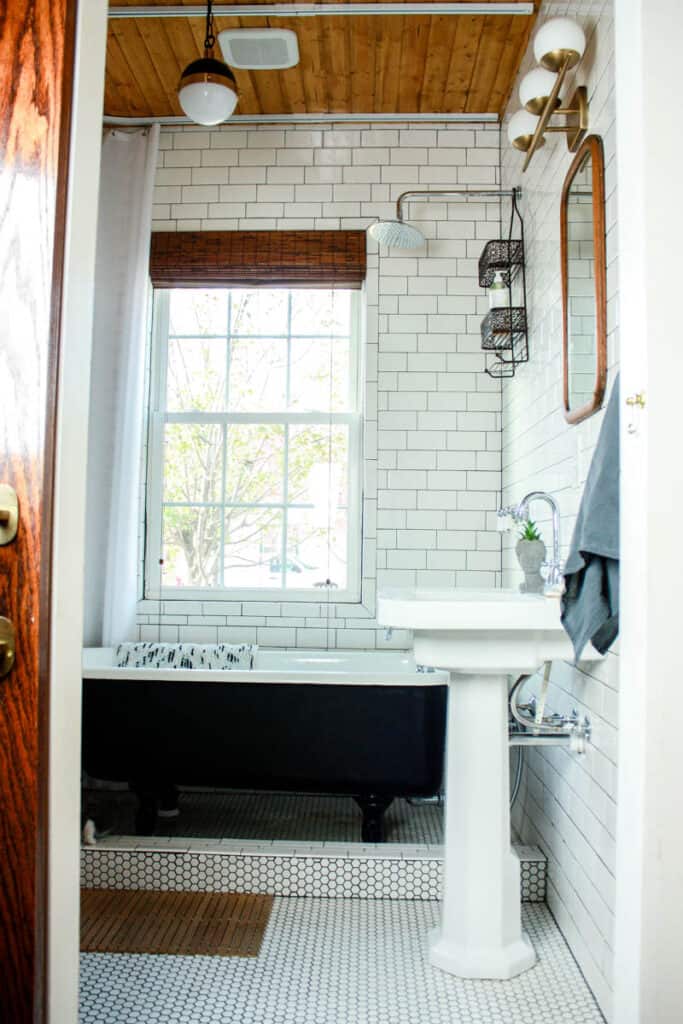 The Story Behind Our Craftsman Bungalow Bathroom Remodel
For those who are new to our journey, our first home was a old Craftsman style bungalow that we did a complete DIY remodel on for eight years. It was the home that inspired me to name my blog and Etsy business Our Vintage Bungalow.
We purchased this 1900 built bungalow for a great price with the knowledge that it would take years to make her beautiful once again. We learned so.many. DIY remodel lessons on this first home of ours. She was a good sport through it all.
As we continue our renovation dreams on our "new" farmhouse renovation project, I still remember the love and effort that went into our vintage bungalow home. Once in a while on this blog, I will journey into the past to our Craftsman bungalow bathroom remodel to show you some before and after photos.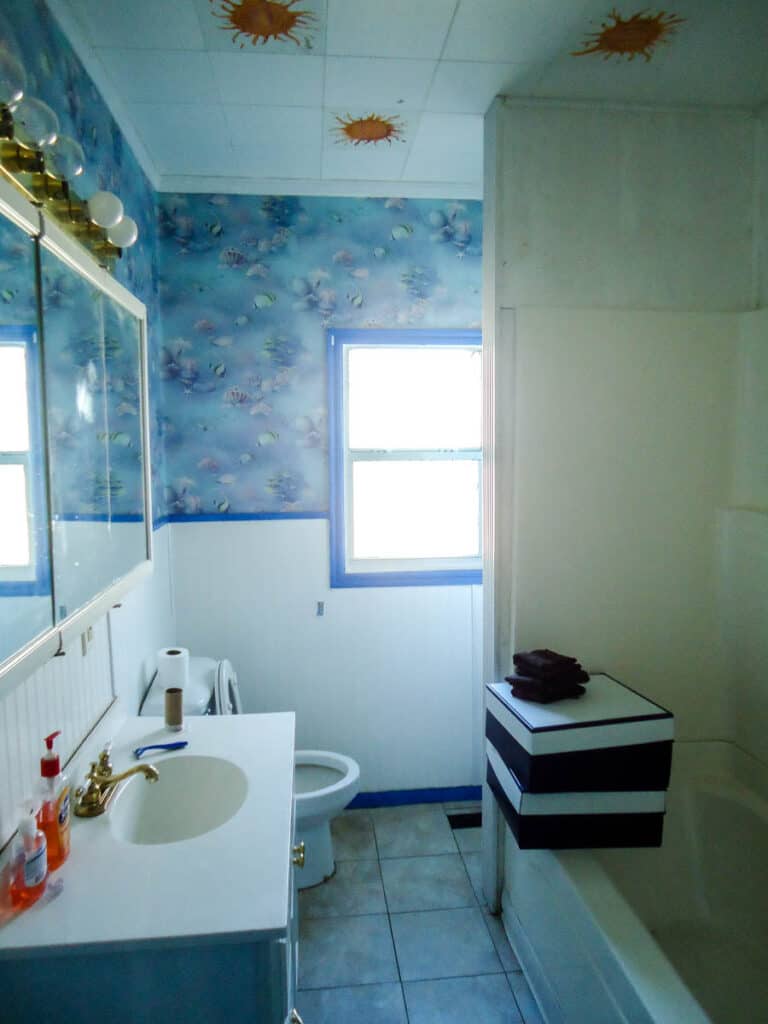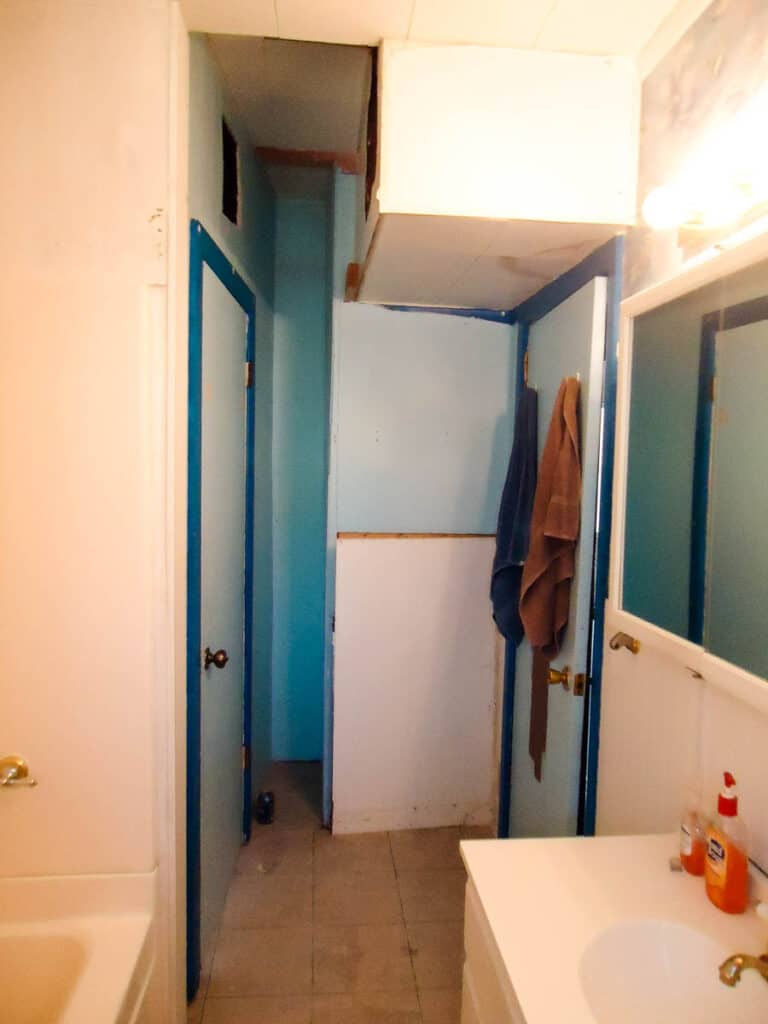 The New Bathroom Layout Floor Plan
Before we started, the bathroom and hallway in our bungalow was weird at best. We had a tiny "hallway" about 3 feet x 4 feet with maybe a 7 foot ceiling that led to the bathroom on one side and to a bedroom on the other. The hallway felt like we were stepping into a closet. The old bathroom was nearly as bad. The bathroom layout out was small, long and narrow with a second door that led to a second bedroom. While the bathroom layout design could have worked if necessary, it definitely made you feel cramped.
By changing the hallway and bathroom layout, essentially we gained an extra room for a mudroom hallway and a small yet spacious bathroom, but, in fact, we didn't add any square footage to the space! Instead of a long, narrow bathroom on the side, we created a rectangle bathroom layout in the back and rectangle mudroom hallway in the front. Visually, it opened up the line of sight so we could see straight to the bathroom window.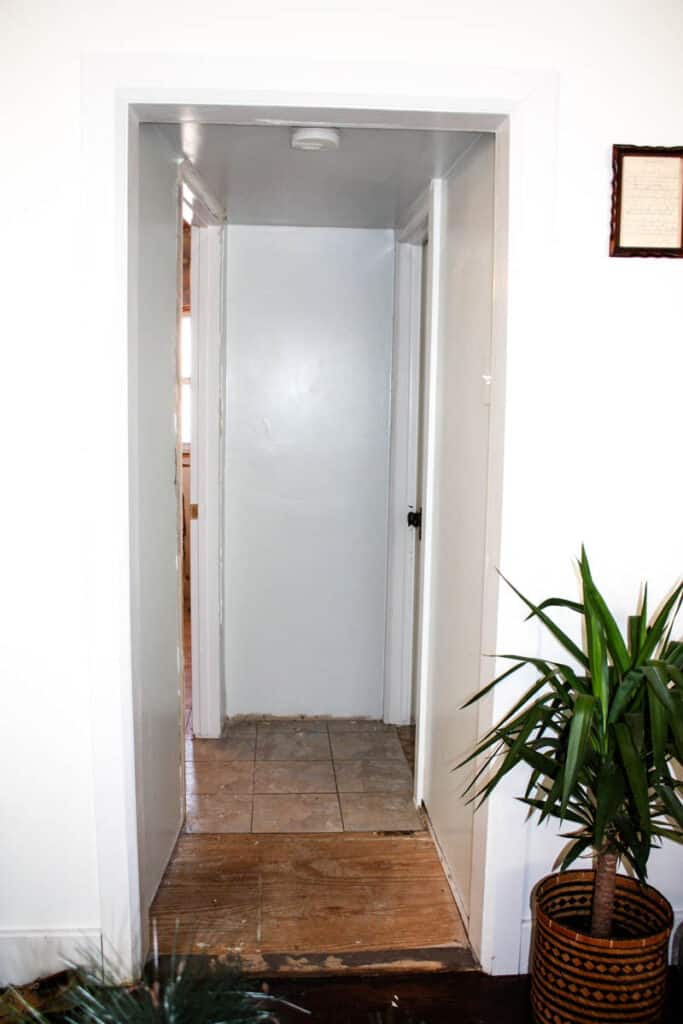 The Small Bathroom Design: aka Rustic Modern Farmhouse Bathroom
Caleb loves a cabin style home design, so we did wood tongue and groove walls in the new hallway mudroom. To give it a modern update, I decided to angle the wood pattern. But with the cabin style hallway mudroom, we needed to make it flow into the bathroom, which I wanted to be black and white tiled bathroom centered around our black and white claw foot tub.
To offset the white subway tiles covering the nearly ten foot bathroom walls, the white bathroom floor penny tile and all the black and white bathroom fixtures, we used the stained tongue and groove wood again on the ceiling. This added the "Rustic" to the Rustic Modern Farmhouse bathroom direction that let us tie in the definitive Rustic cabin hallway.
To add the "Modern" to the Rustic Modern Farmhouse Bathroom, I picked Modern style globe light fixtures. The black and white globe light tied into the subway tile walls as well as the black and white claw foot tub. The brass elements on the globe lights tied into the Rustic ceiling design.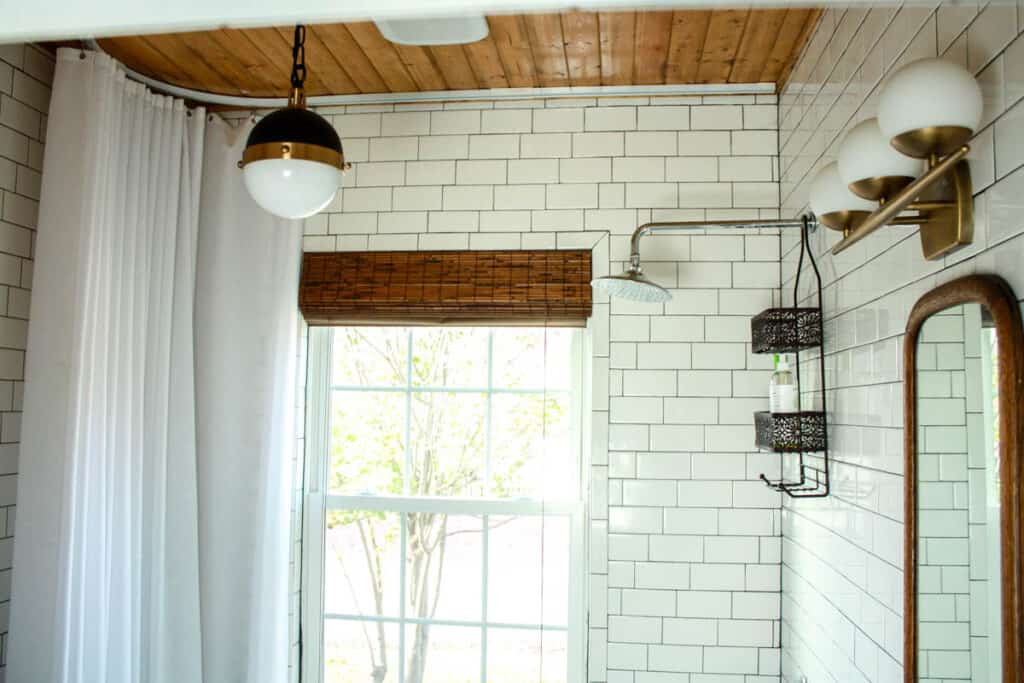 The Bathroom Fixtures: Antique Claw Foot Tub!
Let me tell you a story about my antique claw foot tub. I was twelve years old, and my parents were doing their own farmhouse bathroom remodel. They tore into the bathtub surround and discovered that our tub was actually an antique cast iron claw foot tub but without the feet. As a weird, vintage-loving twelve year old, I claimed that old claw foot bathtub as mine and convinced my parents to store it in their barn.
Fast forward twenty years, and I finally had my own old house renovation under way. With this bungalow bathroom remodel, I was determined that the star of the bathroom would be my claw foot tub. So, my parents scoured antique stores and finally found some claw feet to put back on the tub. We contacted a company to sand blast and refinish the clawfoot tub, and waa-laa! I finally had my dream come true.
However, we also needed a shower in this small bathroom, and I didn't want the traditional claw foot tub shower curtain rod that attaches to the shower head. (See what I mean HERE.) So we came up with a unique claw foot tub shower curtain idea. We constructed a stand alone subway tile shower with a curtain mounted to a ceiling track (similar to hospital curtain tracks). Then we added the claw foot tub into this very large shower and made the tub simply drain into the shower drain.
As for the rest of the fixtures for this Craftsman bungalow bathroom remodel, we chose a white pedestal sink in a medium size. The space was just too cramped for a sink cabinet. I ended up loving the pedestal sink option as it opened up the view even more and made the small bathroom feel more spacious.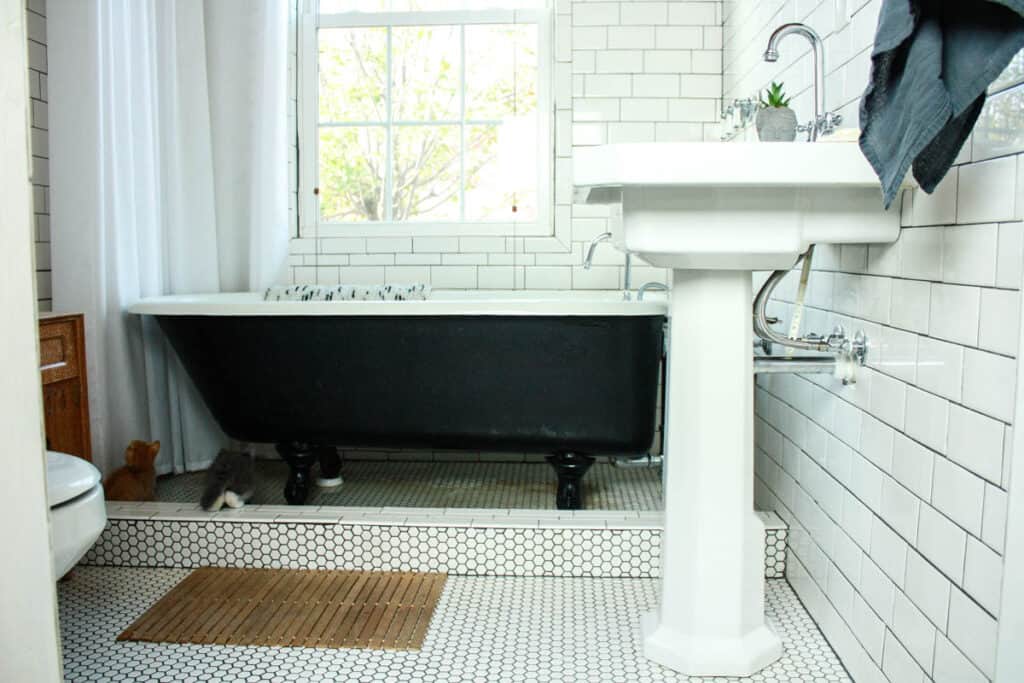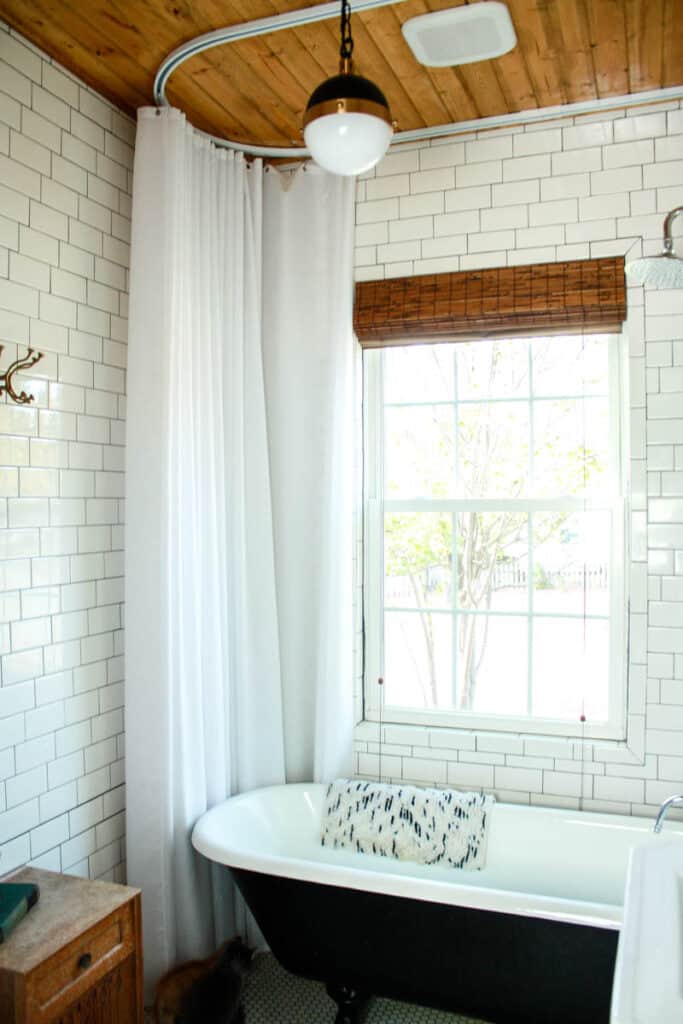 The Craftsman Bungalow Bathroom Décor: White and Black with Wood Accents
All that white subway tile, white penny tile and white bathroom fixtures needed a little warmth. I've already mentioned the tongue and groove wood ceiling. For the Rustic Modern Farmhouse bathroom décor, I added a little wood cabinet (Mid Century style) for our bathroom storage. On the walls, I added vintage Native wall baskets, a green plant and brass towel hooks and bathroom hardware. This kept the black and white bathroom from feeling too hospitalish. (Is hospitalish a word? I think it should be.) A bamboo bath mat warmed up the white tile floor as well.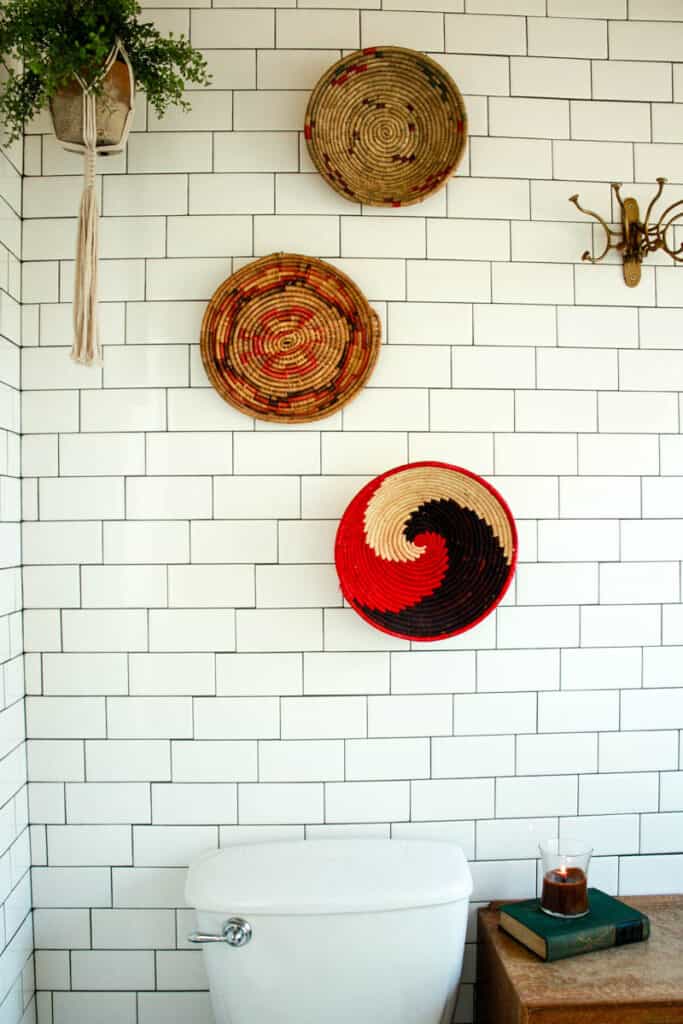 So there you go, a walk through of our Craftsman bungalow bathroom remodel, and how I decided on the Rustic Modern Farmhouse bathroom style. I was completely in love with the finished product both in design and in ease of everyday use.
If you stuck with me during the whole blog post, congratulations! Share a comment below on what YOUR dream bathroom style is!
See More Bungalow Home Remodel Before and After Photos Here:
Craftsman Bungalow Kitchen Remodel
Farmhouse Style Laundry Room Remodel
Craftsman Bungalow Living Room Remodel
Pin this idea for later!