Today I'm sharing our vintage bungalow front porch design makeover to inspire you in your porch or outdoor space design, big or small! Whether you have an old home or a new build, most houses have some form of a front porch. The classic front porch rocker or front porch swing is a vintage ideal that can finish the entire house. Even if you don't have enough room for a rocker, you can add a few items to a small porch to create that vintage feel.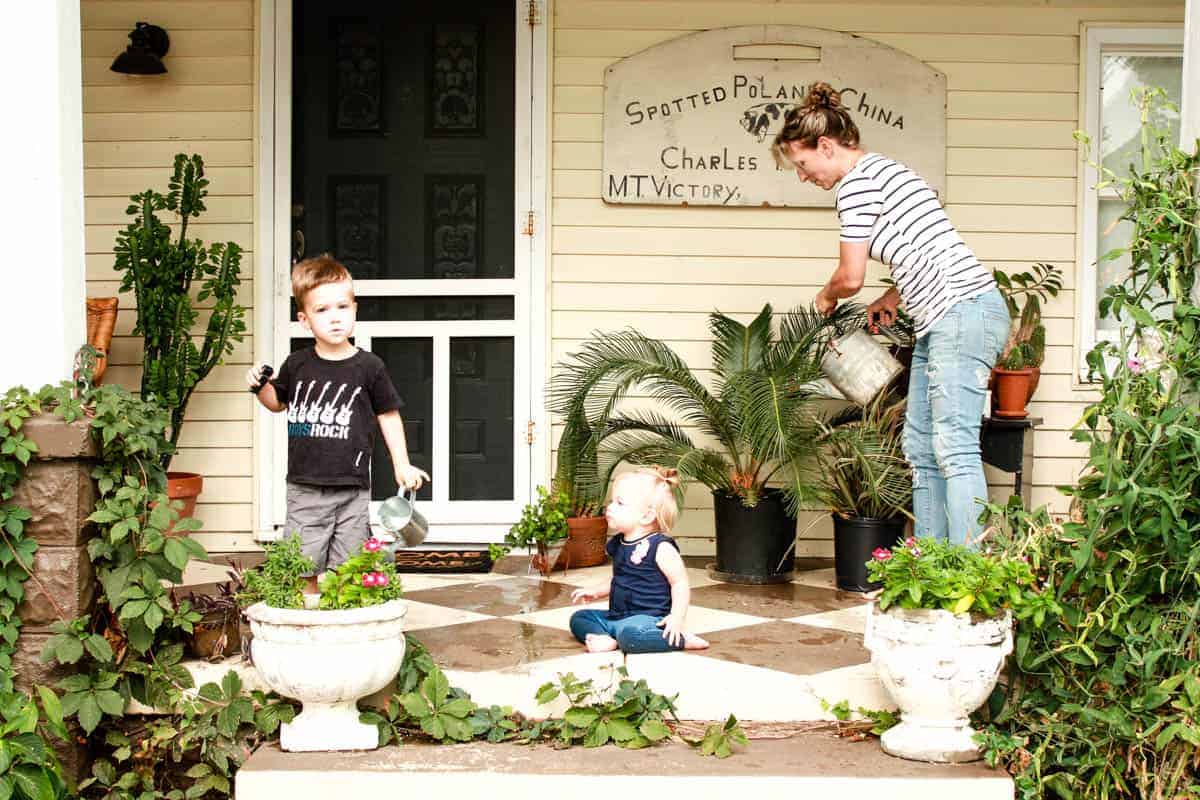 As an Amazon Associate, I may earn a small commission through your purchase through any Amazon affiliate links on this post. This is at no additional cost to you. All recommendations are my own because I believe in each product. See my full Privacy Policy here.
Another throwback to our 1900's bungalow remodel, today I am giving you a tour of our large front porch makeover. It is one of the things I miss most about that house. We spent many hours sitting and watching the rain, pushing the kids on their swing, watching cars drive by (Nico's favorite pastime) and visiting with neighbors.
We did this vintage bungalow front porch design makeover the first year we lived in the house. I am sharing photos taken immediately following the makeover as well as photos taken seven years later.
While we're living in our 1979 mobile home (aka "Bertha"), we have no covered front porch. I'm determined to add a large one on our farmhouse remodel!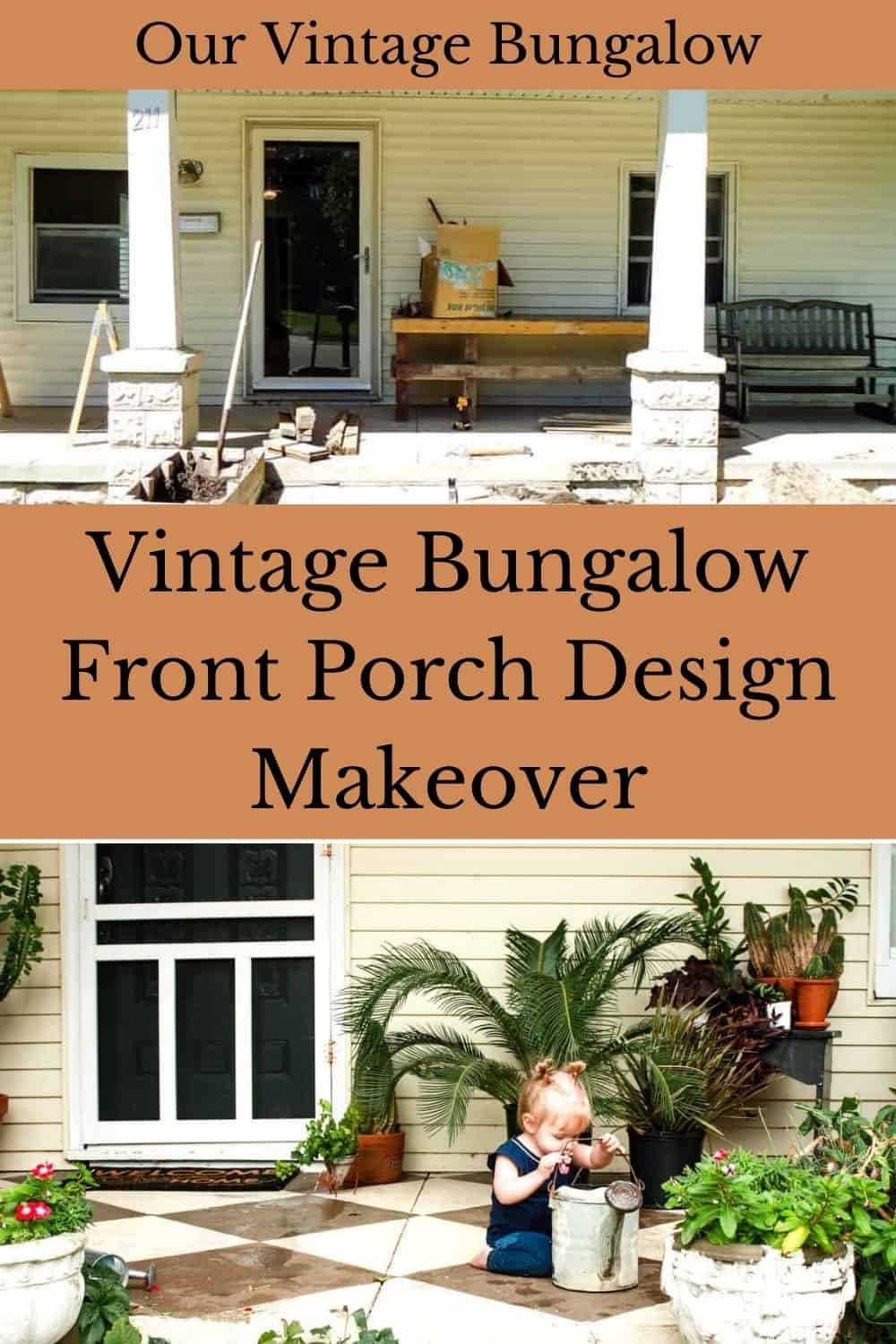 What Our Bungalow Porch Looked Like at the Beginning
Our porch wasn't terrible per se before its makeover. It was just dull. The house had a creamy yellow vinyl siding that also went on the porch ceiling. The floor was plain concrete. The "flower beds" in front were patches of dirt with grass.
Previous owners had built wood planters on each side of the steps. While they were not necessarily bad, it just didn't fit my own personal style or add any curb appeal.
Blah, blah, blah.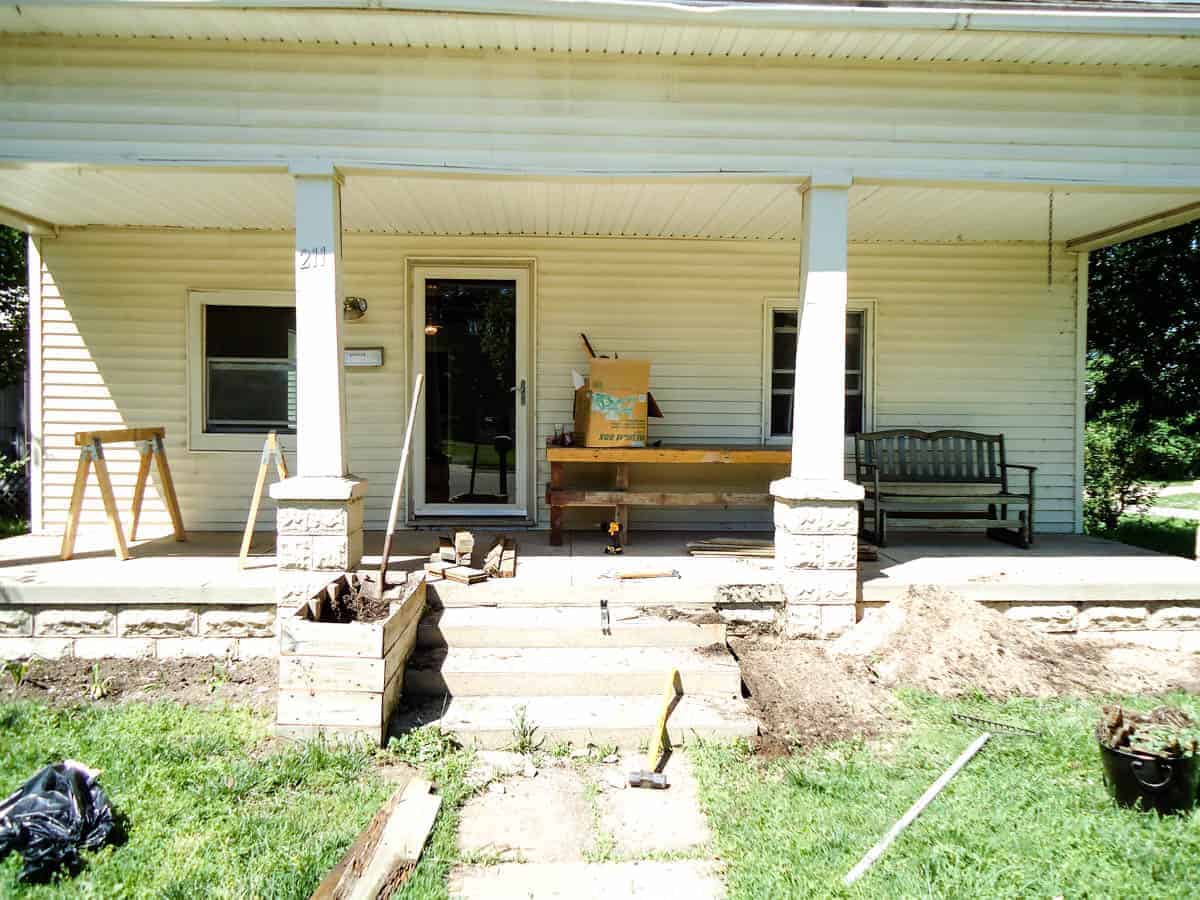 What I Changed in the Front Porch Design Makeover
Thankfully, the bones of the porch were good. I updated the whole thing simply with coats of paint, potted plants and porch decor. It really was a budget friendly front porch makeover!
Color Scheme
Since we couldn't change the house color because of the vinyl siding, I had to find two contrasting colors that fit with our home's exterior. I went with neutral colors that would blend well with nature and the house.
I settled on a cream and brown for the porch floor, pillars, foundation stones and steps. We used a shade of white called Atmosphere from Glidden for the pillars and trim. For the accents and furniture, I used black.
Ceiling
Just a few months after I moved into the house, my curiosity got the better of me. I knew that many porch ceilings of this era were painted blue. Soooooo, I started tearing into the vinyl siding on the ceiling. Sure enough, I found a tongue and groove porch ceiling painted a beautiful robin's egg blue! It was in such good condition that I left it as I found it.
I was able to sell the vinyl siding on Craigslist for $40, so I already was ahead. Cha-ching!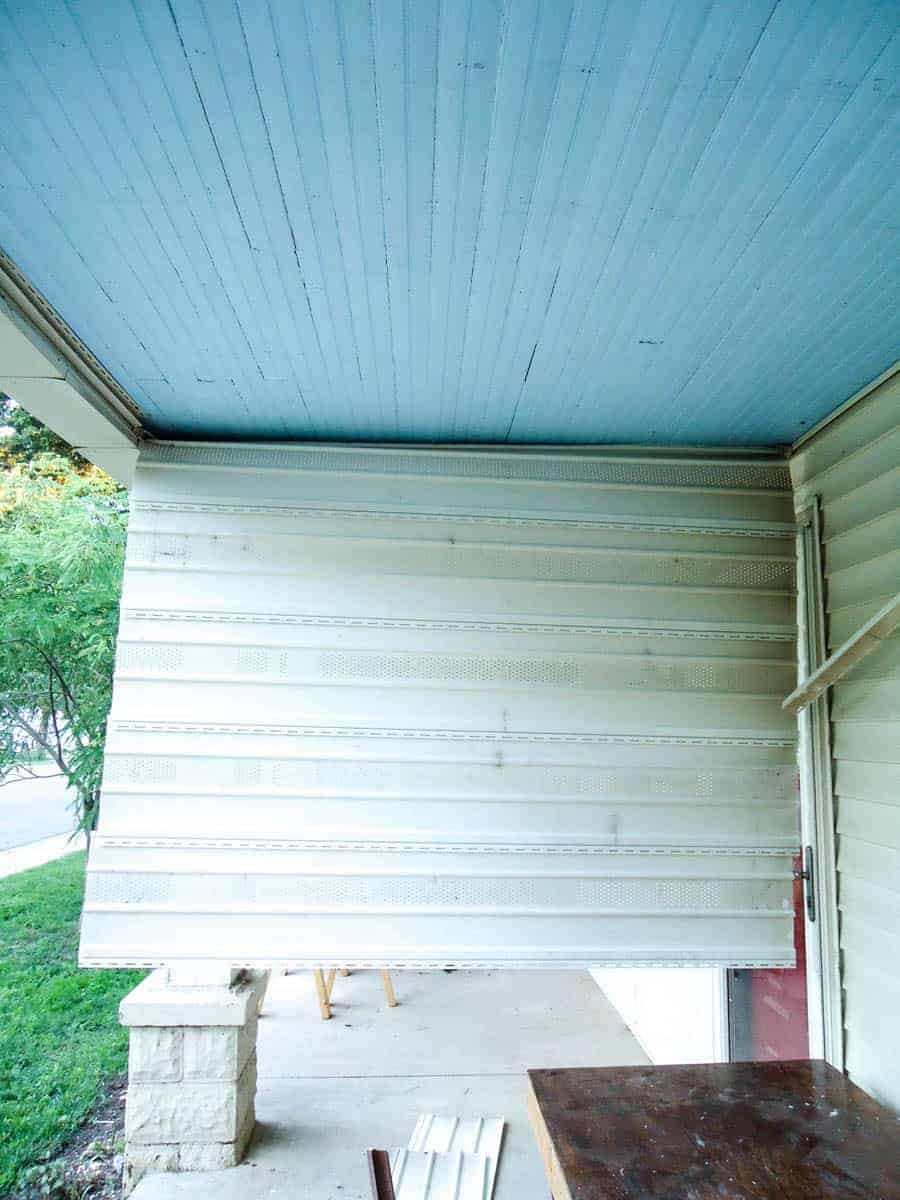 Cement Floor
The concrete floor and steps were in good condition, but I wanted them to have a lot more design pop. I researched for a long time and finally settled on a large checkerboard pattern.
I scrubbed the cement several times and painted a couple coats of cream all over. And then because my brain does not work in angles and numbers, Caleb had to tape off the checkerboard pattern for me to get the clean lines. Then I painted the brown on top.
This paint held up for about 8 years before we had to repaint it. (Granted, I should have re-painted at year 6 or 7, but it was still fine.) It withstood water often as I watered plants and consistent traffic.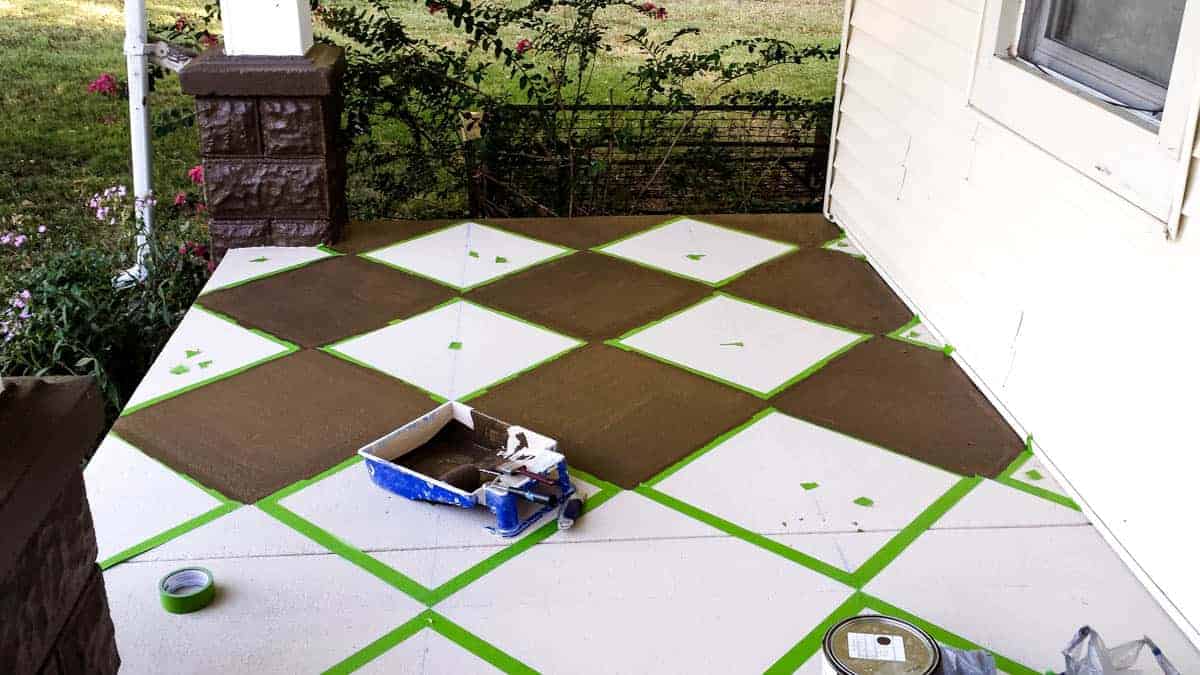 Pillars and Foundation
Again, the concrete pillars and foundation were just a boring cement color. I continued the brown paint from the porch floor to add some contrast. The foundation I painted all around the house.
The wood part of the pillars was already white but was peeling. I used Atmosphere from Glidden for the pillars and trim. It may have been an odd choice to go with the creamy house, but I thought it was the perfect touch. It blended in enough not to punch you in the face with a dark color yet stood out enough to define the pillars.
Front Door and Windows
I repainted the real wood front door a very dark blue since it would be the focal point of the porch. There was no screen door initially, and I do love me a good slamming screen door. So we got a simple one from Lowes and painted it the same white as the pillars.
I also used the trim color around the windows to join everything together. Since it was metal trim around the windows, painting it was not the most ideal, but it held up well the 9 years we lived there.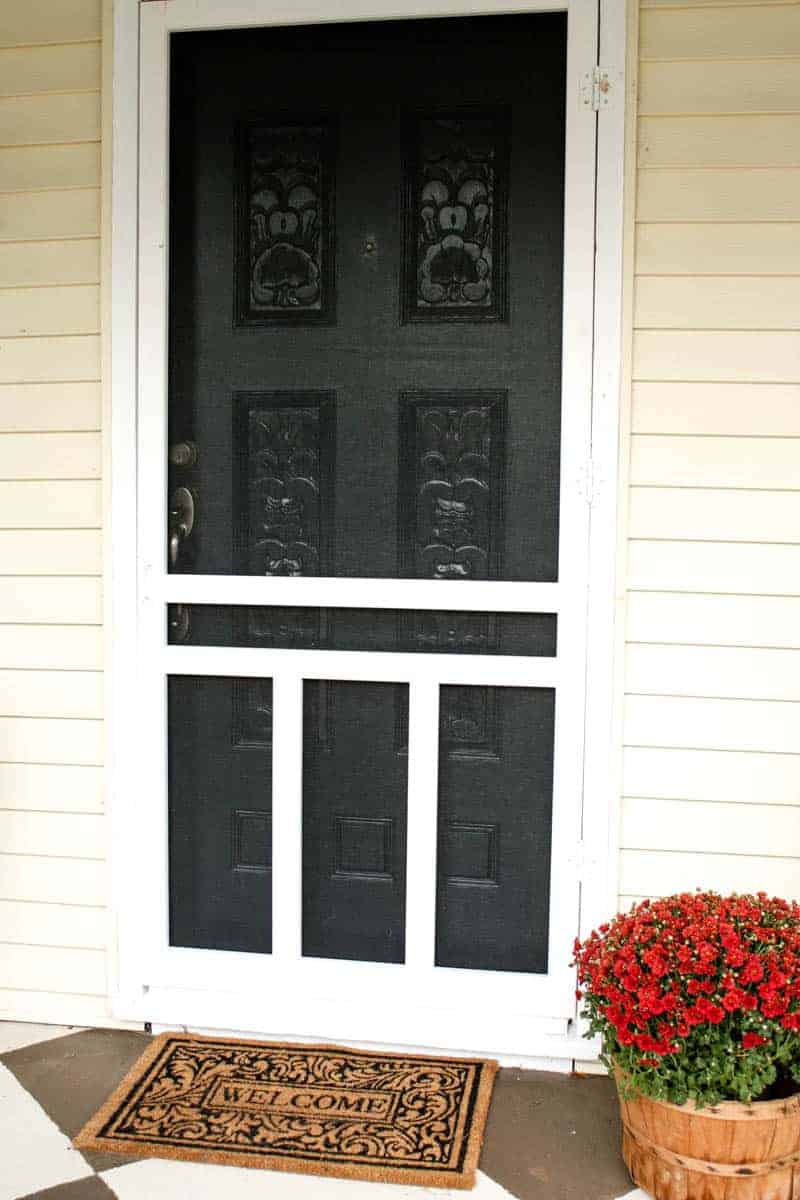 Front Flower Bed
I love gardening and full flower beds, so I immediately went to work on some fresh landscaping in front of the porch. I used flowers that I knew thrived and spread in our area so it wouldn't take a ton of upkeep. Throughout the years, it kept filling in and looking better.
The flowers I used were:
Daisies
Tall Phlox
Mums
Echinacea
Hydrangea (not easy to grow, but I love them)
Sweet Pea (climbing vine)
For the flower bed border, I got small limestone rocks and laid them down in a continual line. This kept the grass out very well. When I did need to remove grass, I would just lift the stone to get to the roots.
Outdoor Furniture
All the chairs, glider and side tables I picked up at garage sales. The chairs had been painted green, so I just gave them a coat of black paint to match the glider.
There was no glider cushion when I bought it. I found a foam mattress top at a garage sale and cut it into the right size for a seat and back cushion. The fabric was a cream and white outdoor fabric that went well with the existing house colors.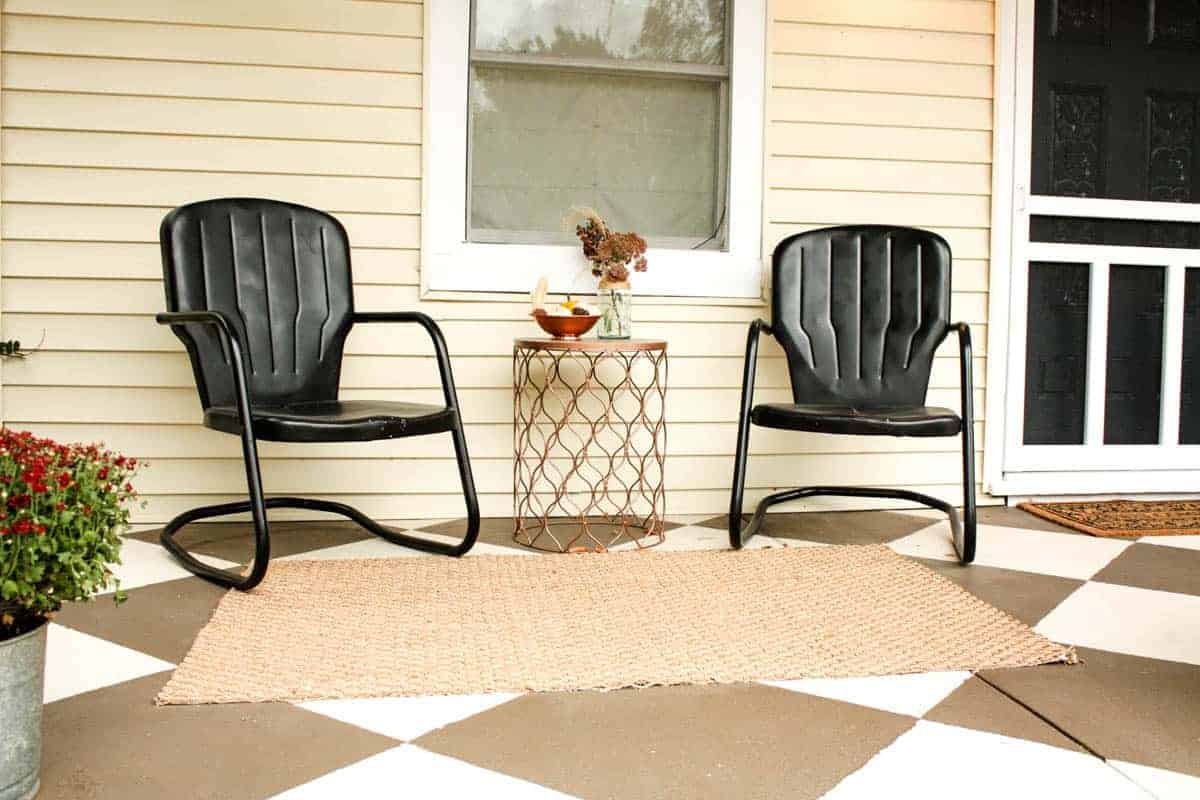 Final Touches
All the other decorations, planters, rug and houseplants were things I picked up at garage sales. (Yes, I found the cactus and other house plants second hand…you can find anything at garage sales!) Throughout the years, I would rotate or change the décor up whenever I felt the urge. It was easy to add a pop of color with some throw pillows or flower pots.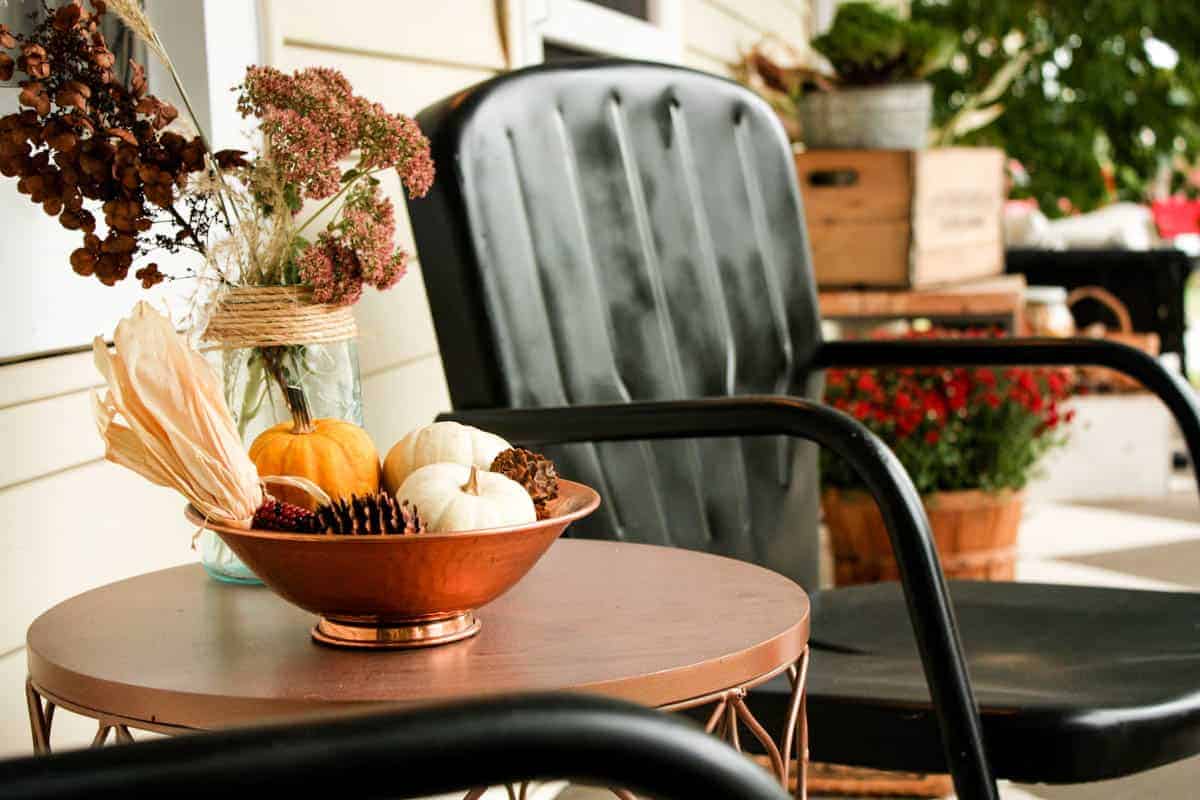 Our Vintage Bungalow Front Porch Design Makeover 7 Years Later
Since this was one of the very first things we worked on in the house remodel, we were able to live with it for nine years before we moved. (Photos here are of the front porch 7 years after the makeover.)
Throughout the years, I really never wanted to change anything in our original design except for small decorations and plants. I always loved the checkerboard patterned floor. The paint on the trim, pillars and foundation held up excellently. As I mentioned before, the porch paint held up very well, but we did need to scrape loose paint and repaint it 8 years afterwards. (Not bad for outdoor cement floor paint!)
The front flower bed filled in, and to this day gives me hope when I look at my practically flower-less flower beds in our mobile home and farmhouse.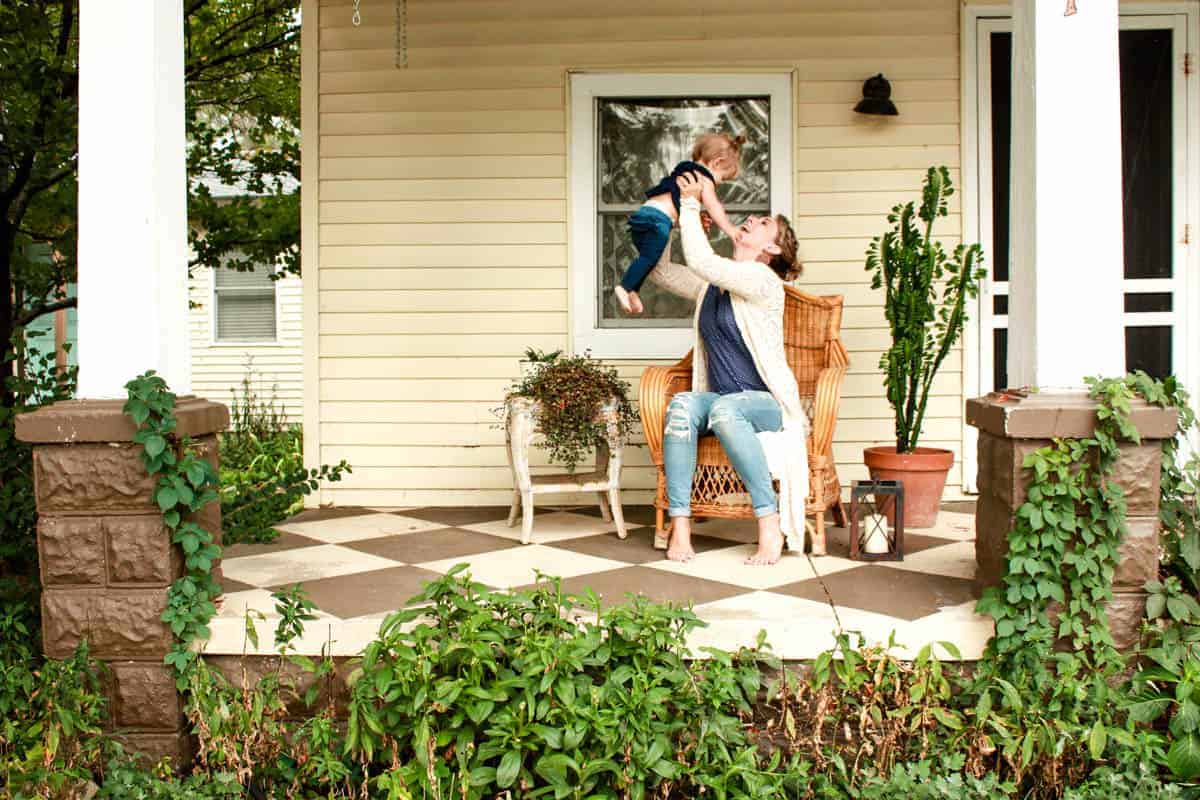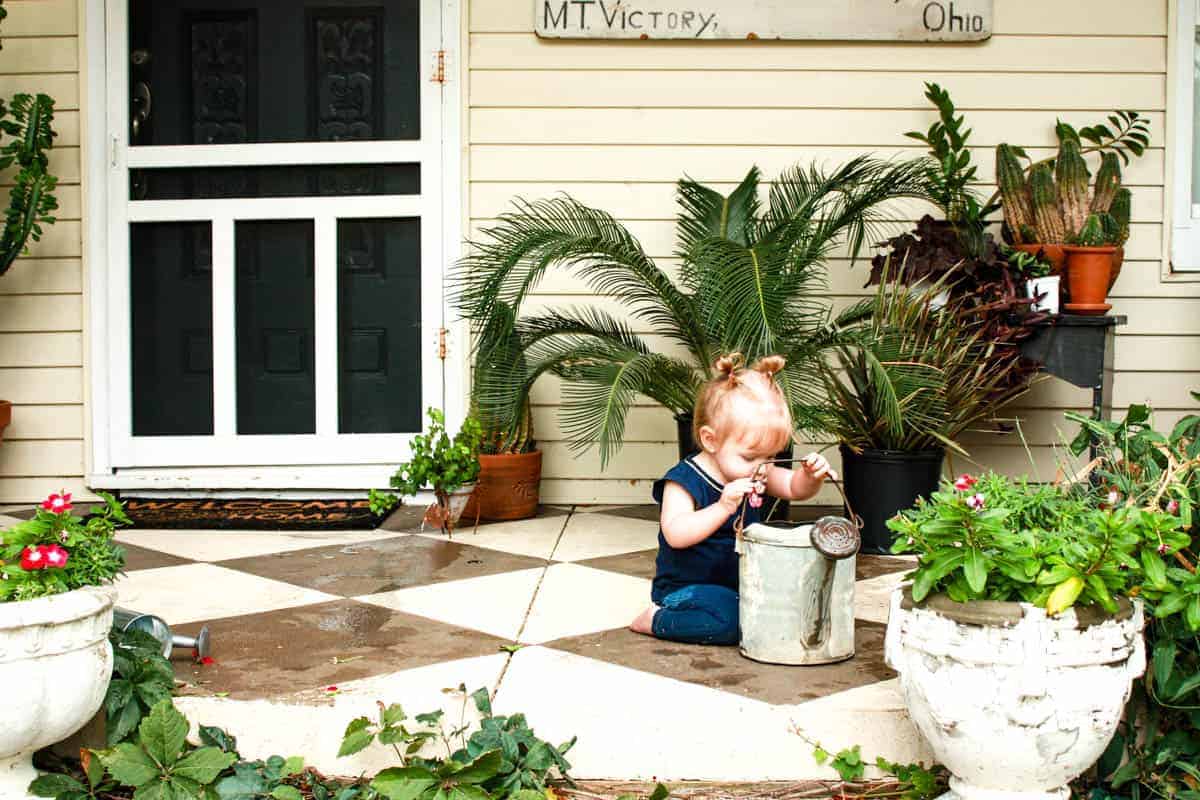 I'm glad I was able to take this walk down memory lane and share our vintage bungalow front porch design makeover with you! It took some elbow grease but was really was an incredibly cheap way to add huge curb appeal to the house and reflect my own personal simple style. I hope this gives you some front porch ideas to create your own perfect spot! Whether you have a small front porch, back porch, covered porch or uncovered space, you can add some small details to create your own classic look.
Comment below and tell me what you love about your front porch or what you would like to update!
Shop the Look in the Post
Trim Paint Color – Glidden Atmosphere
Porch Paint – Floor and Porch Enamel 100% Acrylic Latex from Glidden
Porch Paint Color – Sherwin Williams Kilim Beige and Sherwin Williams Van Dyke Brown
Farmhouse Porch Light (similar)
Outdoor Farmhouse Striped Pillows (similar)
Collection of Vintage Crates, Planters and Baskets from Our Vintage Bungalow shop on Etsy
Pin this Vintage Bungalow Front Porch Design Makeover for Later