Usually very inexpensive and easy to find, vintage baskets are a fabulous way to add a touch of charm to your home. Learn how to decorate with vintage baskets that serve double duty as storage AND classic vintage home décor.
As a teenager, I thought I had better organizational skills than mom. During the annual storeroom clean out, I would roll my eyes at the "basket shelf." I mean, who neeeeeds a shelf full of baskets?! Come on, mom! Well, years have passed, and I have become my mother after all. Now I realize the value of vintage baskets. When I find a basket that speaks to me, I grab it right up and add it to the collection. But I'm not collecting vintage baskets simply for the sake of gathering items. I live in a single wide trailer (aka not a home suited for pretty but useless collections). Nearly every decorative basket in my home must also serve a secondary purpose. Let me share my vintage basket journey with you.
Where to find vintage baskets?
Nearly everywhere, you can find shelves and bins and tubs full.of.baskets. There are woven baskets, metal baskets, baskets with handles, wall baskets, laundry baskets, market baskets and the list goes on and on. You might be tempted to pass by without a second glance. Don't. Do a quick dig, and you might be surprised! My favorite sources for vintage baskets:
Flea markets. Good for: unique styles of baskets (hand woven and Native styles, Mid Century Modern, different colors) as well as really large baskets
Garage sales. Good for: anything and everything. Usually the cheapest baskets can be found at a garage sale.
Estate sale. Good for: Lots of options at cheap prices. Unique baskets may be priced higher at an estate sale. But remember my mom's shelf of baskets? Yeah. Every estate sale is selling a similar basket collection. More traditional baskets will be priced low.
Antique stores. Good for: Unique baskets but maybe a little higher price.
Thrift stores. Good for: Traditional, smaller baskets at low prices.
What kind of baskets to buy?
I must admit, not all baskets are created equal. It's important to know what home decorating style you're looking for. (Not sure your vintage home décor style? Find out
HERE with my free quiz!)
Whether you're Mid Century Modern or Rustic Farmhouse, there are baskets that will fit in and accentuate your home. Once you have your style in mind, then make a list of why you need a basket. Do you want to gather flowers? Would you like a centerpiece basket? Do you need book, blanket or toy storage? Finally, you need to know the size of your space. Measure your shelf, or next to the couch or under a coffee table to know what will fit. Yes, these few steps will require a tiny bit of planning, but if you take a few quick notes in your notes app on your phone beforehand, then you can basket shop with confidence. (Pssst, there's nothing wrong with picking up a basket that "speaks to you" and finding a place for it later.)
Where do you put all the baskets you've bought?
I will admit, I have A LOT of baskets, but I don't uselessly store more than a few. I don't have space for basket storage. Buuuuut I do decorate with unused baskets. Confused yet? Just look at the photo below of my former laundry room. I had some gathering baskets and seasonal centerpiece baskets that I don't use every day. So how to store these? Arrange them on a shelf for vintage home décor even when they're not in active use. Bonus: whenever I need a basket, it's right there, so I end up using them often.
How decorate with vintage baskets?
Kitchen
Pantry storage and organization – I have a friend who uses an old wood cheese box for tea bag storage…super cute!
Food service – Layer a towel in a basket for serving rolls. Or neatly gather utensils together at your next party.
Electronics storage – We have a spot for all our cords and earbuds so they're not falling everywhere.
Fruit basket
Living Room
Blanket storage
Book basket
DVD storage
Card game storage
Planter basket
Large basket with lids for end table or coffee table
Entryway
Catchall for keys, change, etc
Mail sorter
Shoe storage
Winter gear basket (hats, mittens, scarves)
Market basket ready for your next adventure
Laundry Room
Laundry Basket – because of our small space (single wide mobile home) I don't have any space for a plastic laundry basket. I decorate with a large laundry-size wicker basket and then bring it down during laundry time.
Laundry hamper basket/cart
Laundry supply storage basket
Bathroom
Towel and washcloth storage
Toilet Paper Storage
Hygiene product storage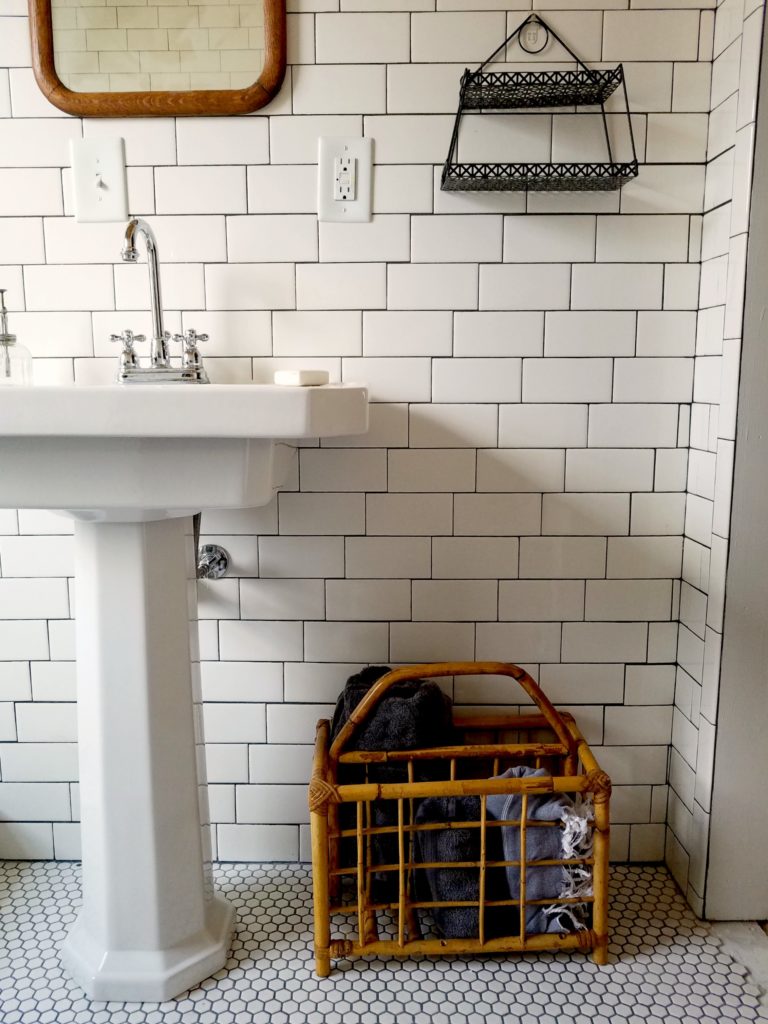 Bedrooms
Toy basket
Catchall basket
Drawer organization – vintage basket style!
Nightstand organization
Everyday uses for vintage baskets (to add a vintage flair to your everyday life)
Flower gathering basket
Shopping basket
Egg basket (if you're the chicken kind of gal)
Garden tools basket
Gift basket for a friend (at a thrift store, a basket is cheaper than a gift bag AND cuter!)
Really, there are a million and one ways of how to decorate with vintage baskets whether you're needing extra storage or just want to add some texture to your home décor. Next time you notice a spot in your home getting a little unruly, ask if a basket would help organize it. Then measure the spot and check out that basket bin next time you're at the thrift store! Comment below to let me know what you're favorite uses are for vintage baskets!
Save this idea for later!