When you think of Bohemian vibe, you probably envision a wild and free spirits. But when it comes to decorating, Boho can quickly go from enviable free spirit to cat lady cluttered real fast. Here are 50 vintage Boho living room ideas to get you started decorating with a free spirit flair.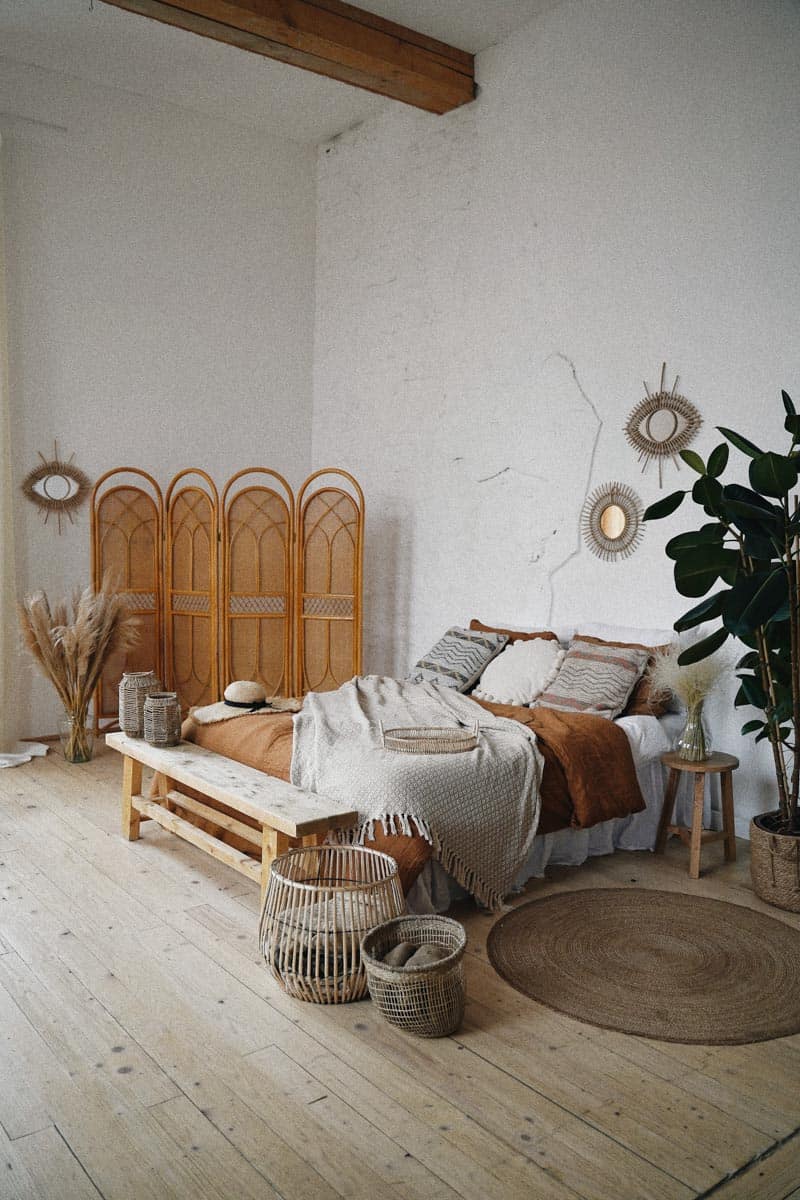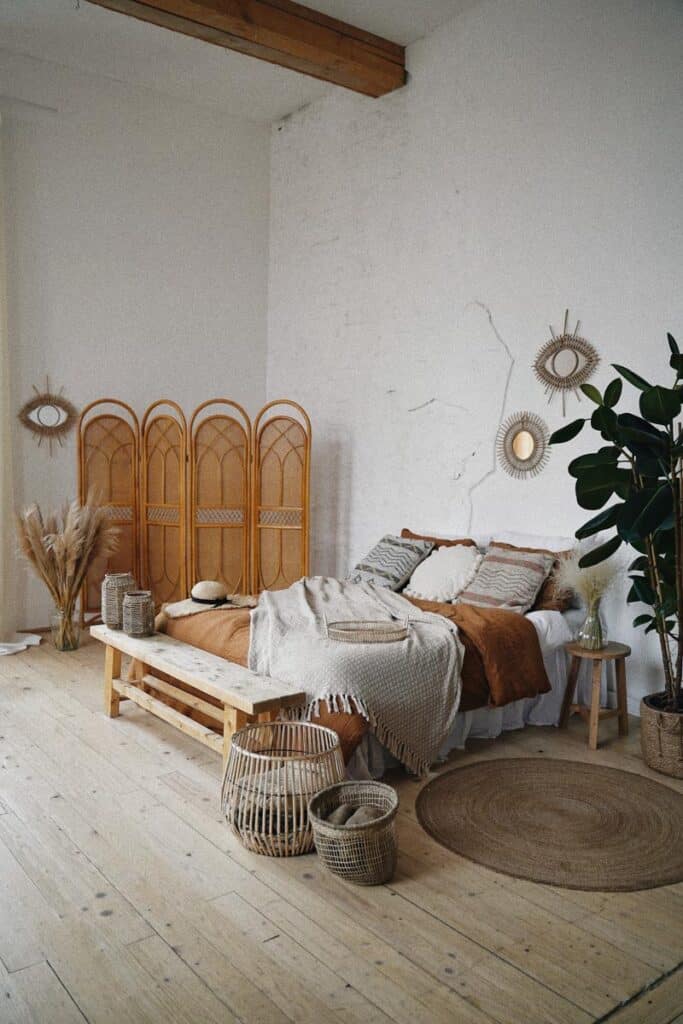 I may earn a small commission through your purchase through any Amazon Affiliate links on this post. This is at no additional cost to you. All recommendations are my own because I believe in each product. See my full Privacy Policy here.
"I'm going to make everything around me beautiful – that will be my life."
– Elise de Wolfe
What is Boho Style of Decorating?
First, you need to understand WHAT Bohemian style of decorating is before you can achieve it. Overall, Boho living room or home décor in general is a eclectic (translation: unique to you) look. Your home décor is a collection of items you love.
Boho style has a common theme like bright colors, moody lamps, woven rugs and oversize floor pillows. It is cozy and comfortable. It make you want to curl up in an oversize knit blanket and browse through the stack of books in the corner.
Does Boho Style Have to be Cluttered?
There are often lots of layers of items like books, rugs and blankets in Boho home decor. But layers are not fast rules (because, really, Boho is in its very essence free of decorating rules).
Modern Boho Décor includes
Neutral walls
Nature brought inside (pampas grass)
Succulent or large cactus plant
Bamboo couch or chair
One or two splashes of color (optional)
Traditional Bohemian Décor includes
Dark walls
Moody lighting with lamps and candles
Layers of rugs
Layers of blankets
Stacks of books
Several overflowing collections
Lots of color and patterns mixed
Obviously, the very definition of Boho is "unique," so you can land on either end or anywhere in between this scale of Boho interior décor.
Steps for How To Create Boho Decor Living Room
Look at inspirational photos
Write down what specifically you like
Make a list of what you're looking for
Shop your house for items that can be grouped as a collection, something inherited from grandma, etc
Be patient in finding the right items
Experiment with different vintage finds (if it doesn't work, then move it somewhere else)
Be open to what you find
Start a collection (or two)
Play around and have fun (wild and free spirit vibes!)
Elements of a Boho Living Room
If you're a list person like me, you need a starting place. Telling me to be wild and free scares me…what does that even MEAN?! Give me some guidance here, folks! Below are 50 vintage Boho living room ideas to inspire you and get you started on your Bohemian decor journey.
1. Cactus and Succulents
Many times, the plants of choice for Boho décor are cactus and succulents. *Hint: if you're not a plant person, faux succulents are an easy way to pull off the look without all the work!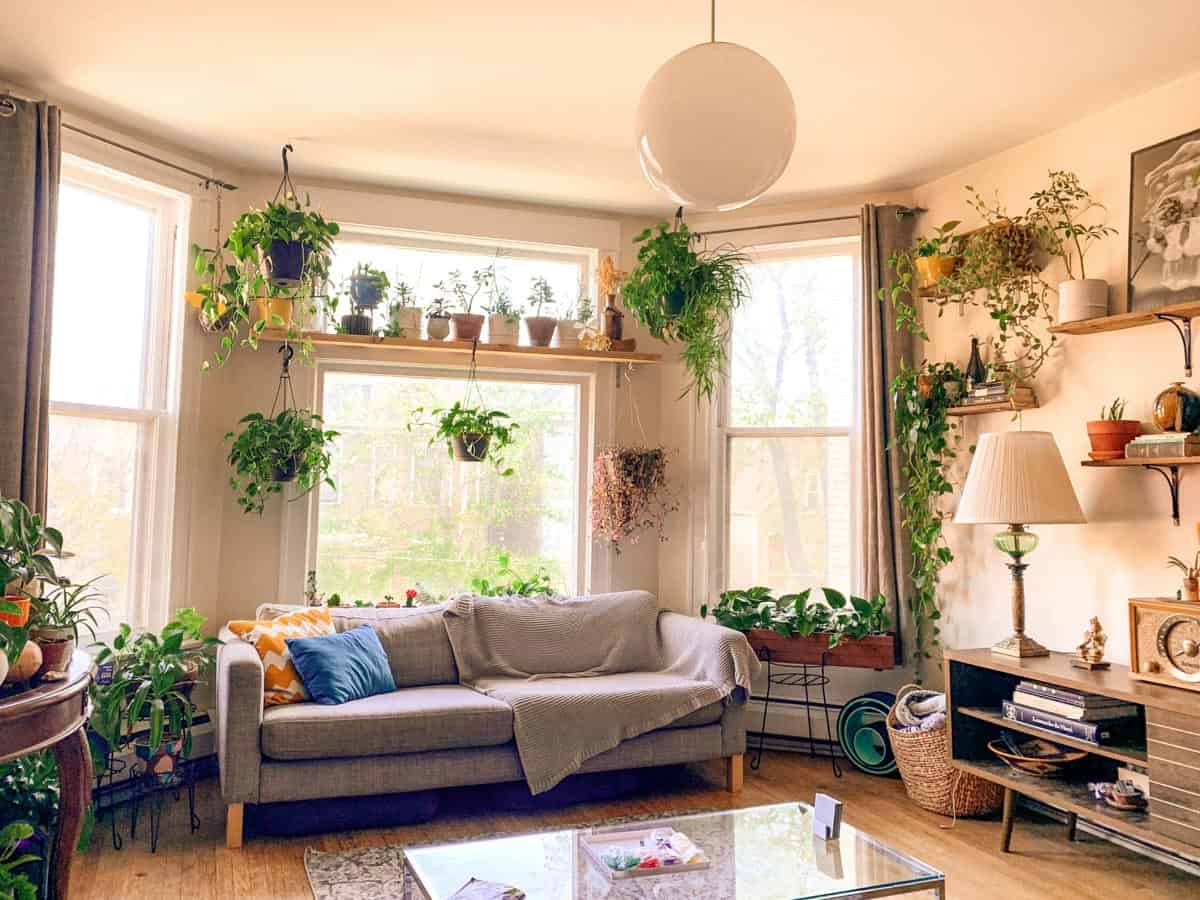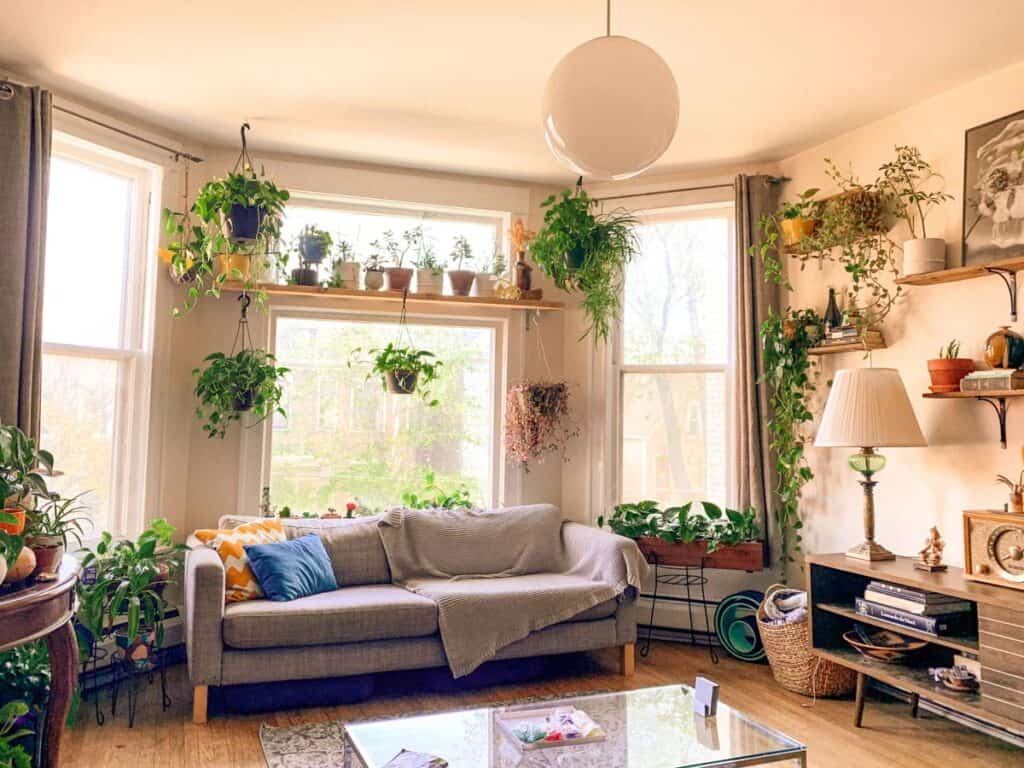 2. Lots of House Plants
A Boho living room must have at least one plant, but typical Boho rooms have lots of plants. If you have a green thumb, you're in luck, because lots of plants are a sure-fire way to add Boho style to your living room!
3. Large Indoor Plants
If you can't keep up with lots of plants, then one large plant or tree will add good Modern Boho style. Place it inside a basket or brass bucket for extra Boho style.
4. Hanging Plants
Hanging plants are another big yes for Boho style. Buy or make a macramé plant hanger. If you're unsure about keeping a hanging plant alive, start with pothos. You can hardly kill these great Boho style plants.
5. Layered Vintage Rugs
If you can't purchase a large, vintage Oriental rug, then buy a smaller one and layer it on top of a neutral, cheaper rug like jute or natural fiber rug. Layered rugs are also a great way to hide unsightly carpet you can't replace right away.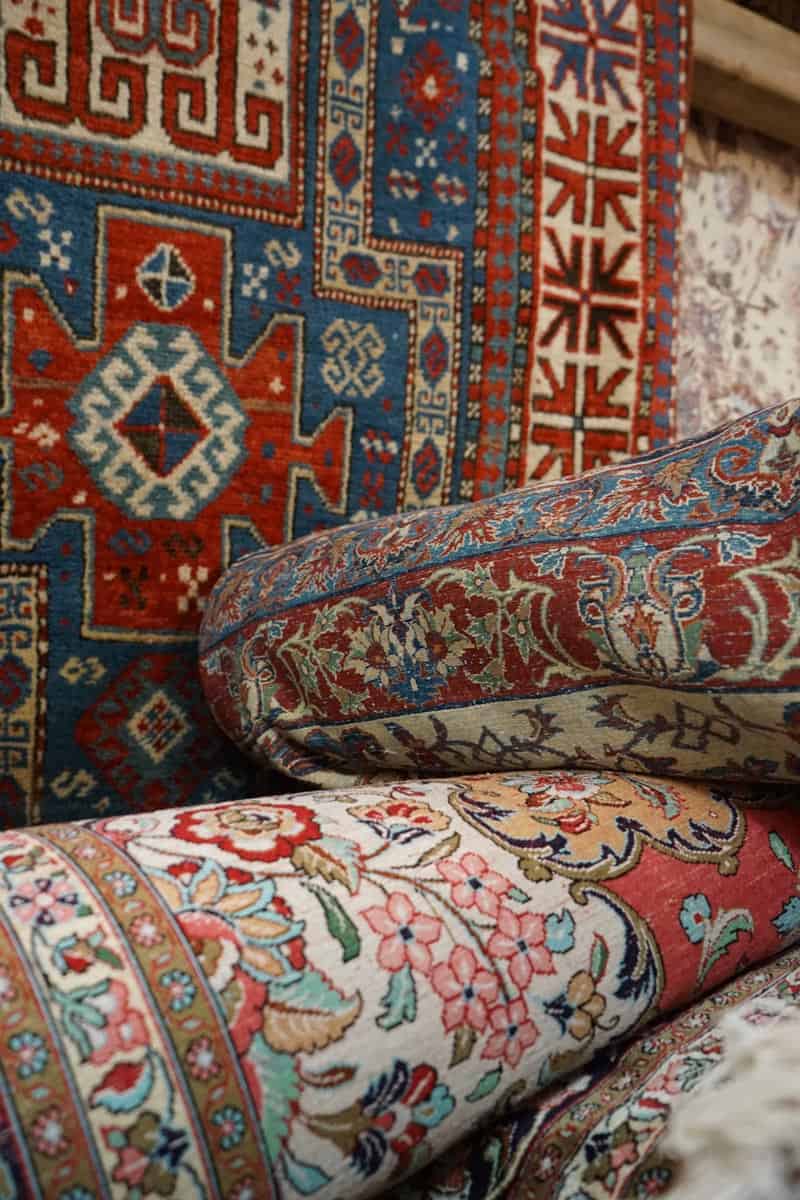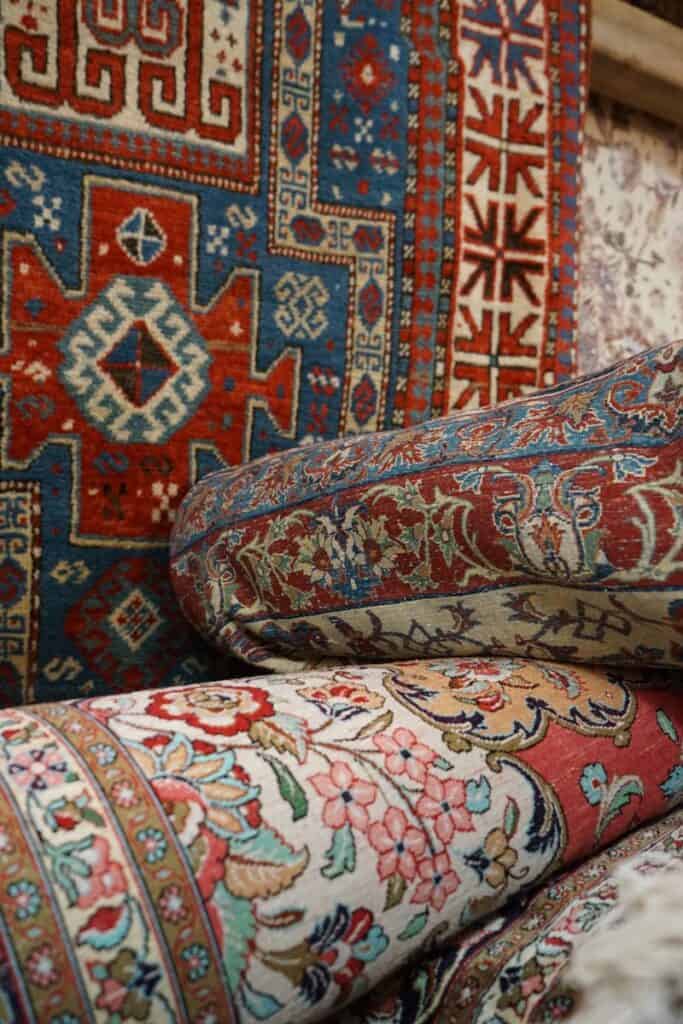 6. Jute Rug
Round, lace-like jute rugs are very common in Bohemian design (find one HERE). Place one under your coffee table for a beautiful, neutral, textured addition.
7. Vintage Area Rug
Vintage Oriental rugs are a go-to Bohemian style. They have bold colors and lots of pattern to fit the bill.
8. Natural Textures
Boho is all about nature and natural textures. Knobby knit blankets, rough wool rugs, feathered pampas grass, smooth ceramic pottery all add interest.
9. Vibrant Colors
You can choose to have color everywhere or just a couple pops of color. Either way, the color palette of Traditional Boho style is generally full of rich jewel tones.
10. Macrame
This is indeed a throwback to the 1970's and will make your mother laugh at its return. (But really, aren't the 1970's the very essence of wild child Boho vibe?) Use macramé as wall art, door curtains or plant hangers. (Find one HERE.)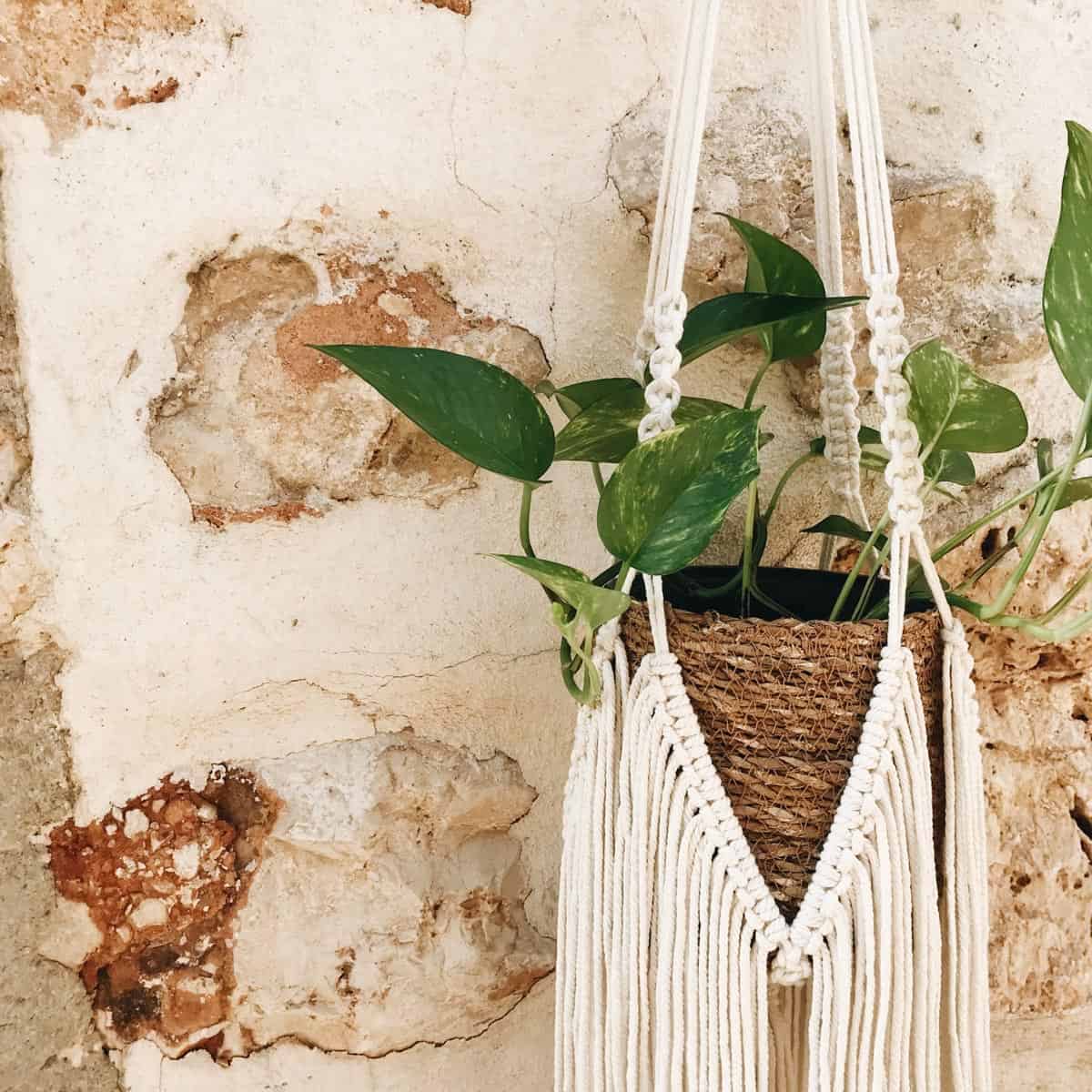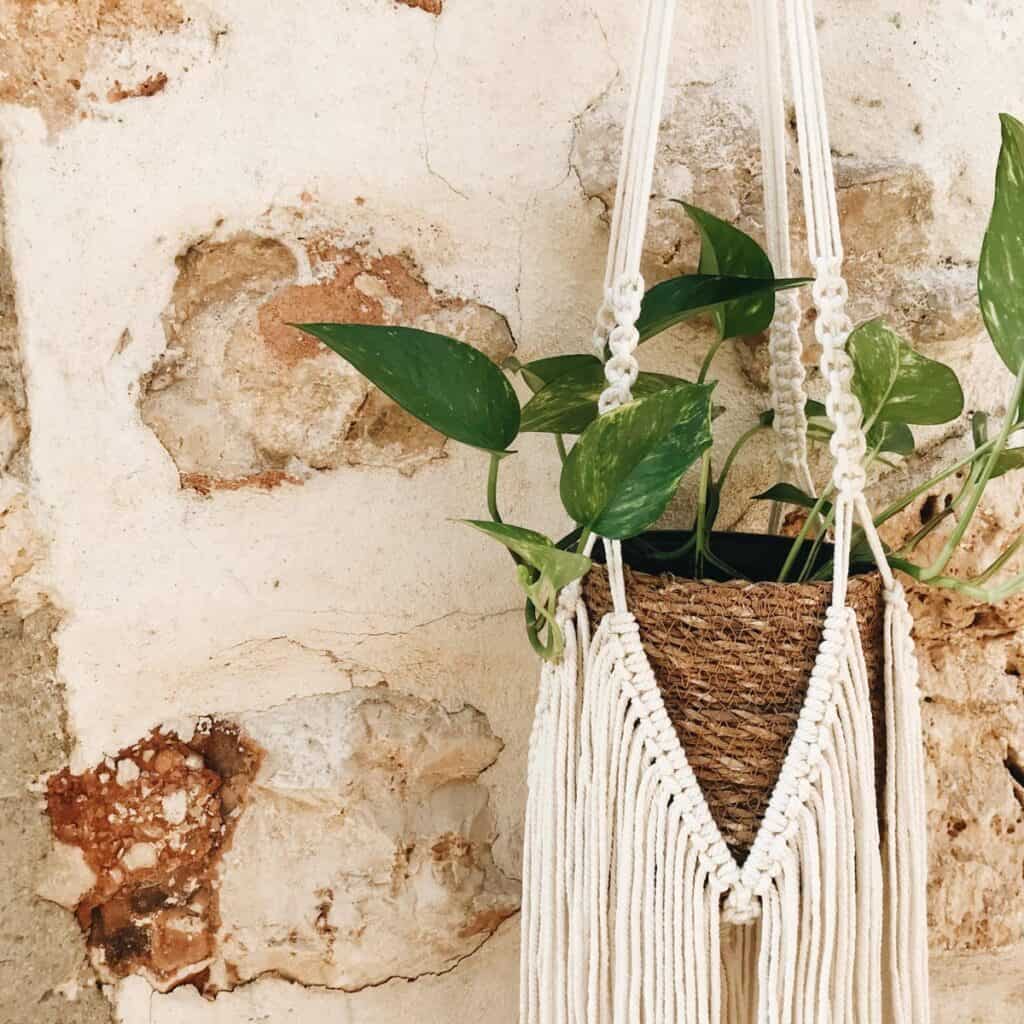 11. Bamboo or Rattan Furniture
Again, bring natural elements and colors inside through brown bamboo, rattan or wicker furniture. If you can't afford vintage rattan accent chair or couch, then start with a wicker side table to add Boho style.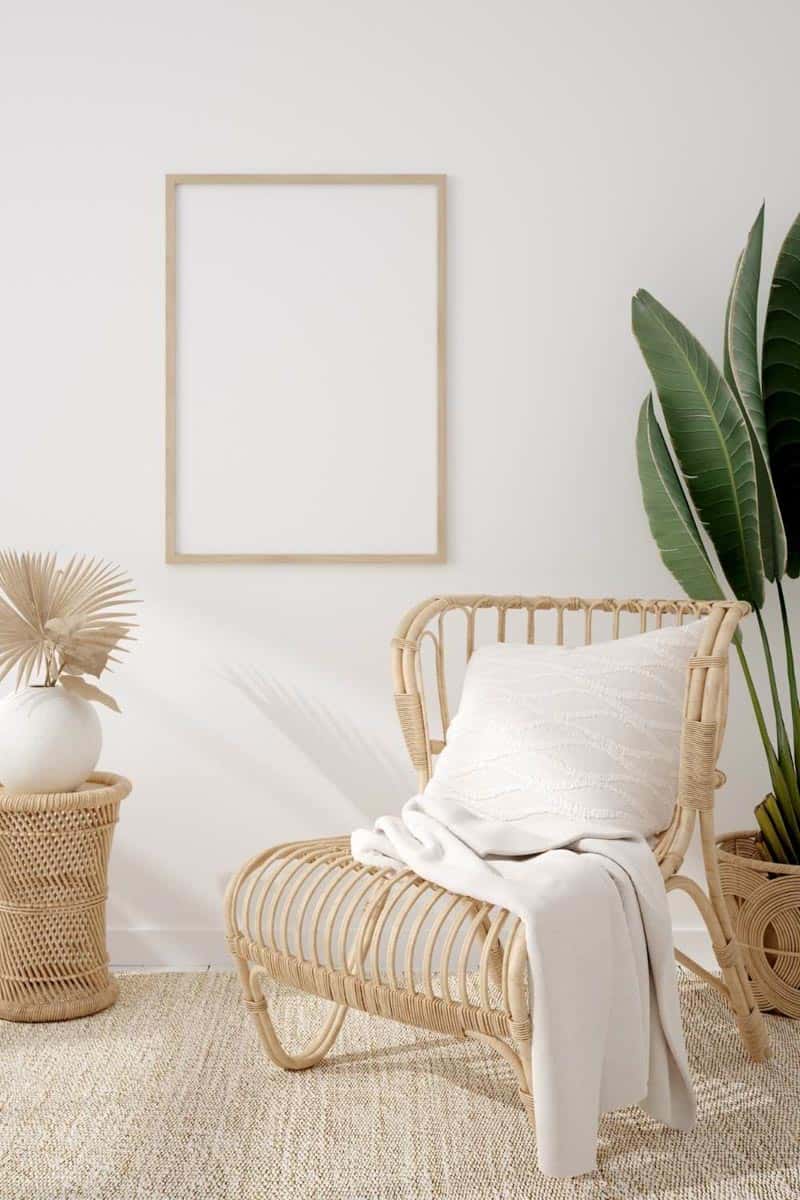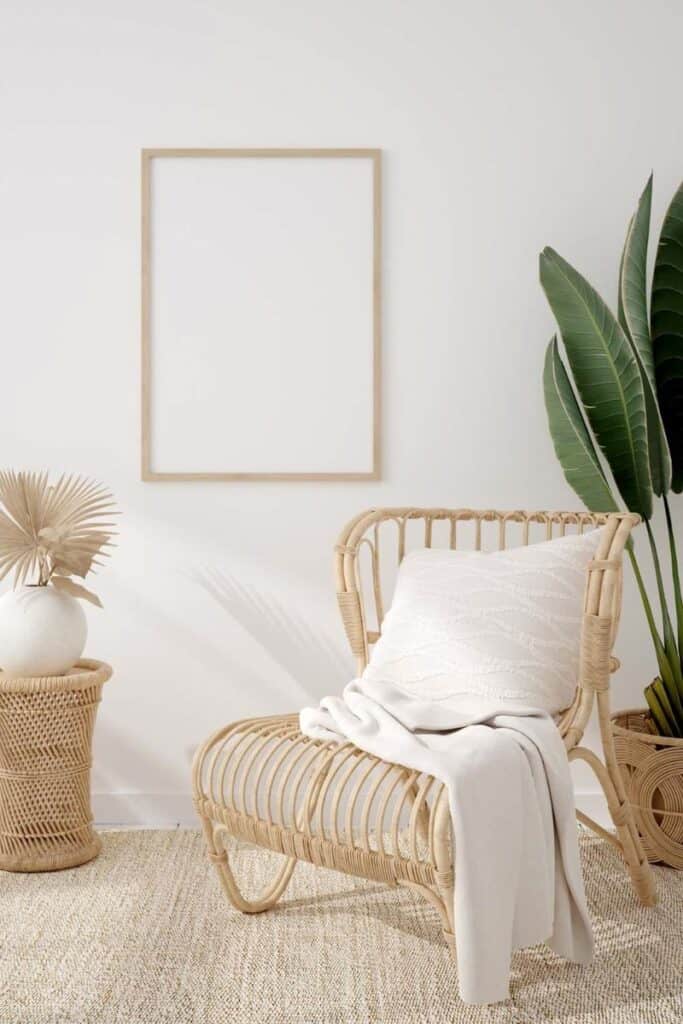 12. Neutral Furniture for Backdrop
Neutral furniture provides the perfect backdrop for bright, patterned blankets and pillows. Go with white, gray, blues or greens. *Hint: "neutral" means colors common in nature, not just white, gray or brown.
13. Brown Rattan or Bamboo Shelves and Wall Décor
This is an inexpensive way to add natural bamboo or rattan elements to your living room. Just make sure it's the brown finish and not painted white for full Boho style.
14. Stacks of books
More is better in the traditional bohemian interior design. If you're a book person, that's going to come as great news. Stack books randomly on shelves, on tables, on the floor. Even better if the books are vintage and have a time-worn look.
15. Kitschy Artwork
Cat paintings, felt art, seed art, To stay in the Boho style and not in the random, cluttered style, group a collection of similar artwork together (like a group of animal paintings, seed artwork or felt art) or buy one large piece for instant pop.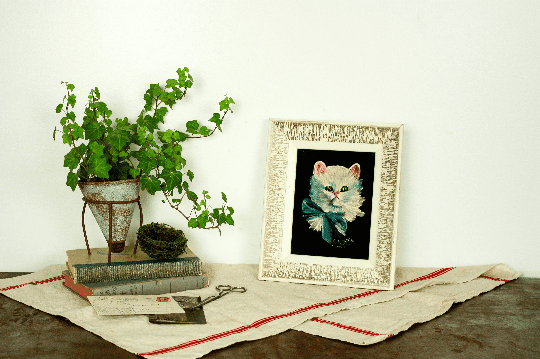 16. Moody/Dark Color Vintage Portraits
One or a collection of moody vintage portrait or scenic paintings can be fascinating and add awesome Boho style to your living room.
17. Ornate Gold Frames
Ornate and gold…a couple of pillars of the Boho style. Find a large gold framed mirror or collect vintage landscape paintings in ornate gold frames.
18. Floor Cushions
A stack of floor pillows to be pulled out when doing a puzzle or game at the coffee table will add the perfect Middle Eastern vibe to your Boho style.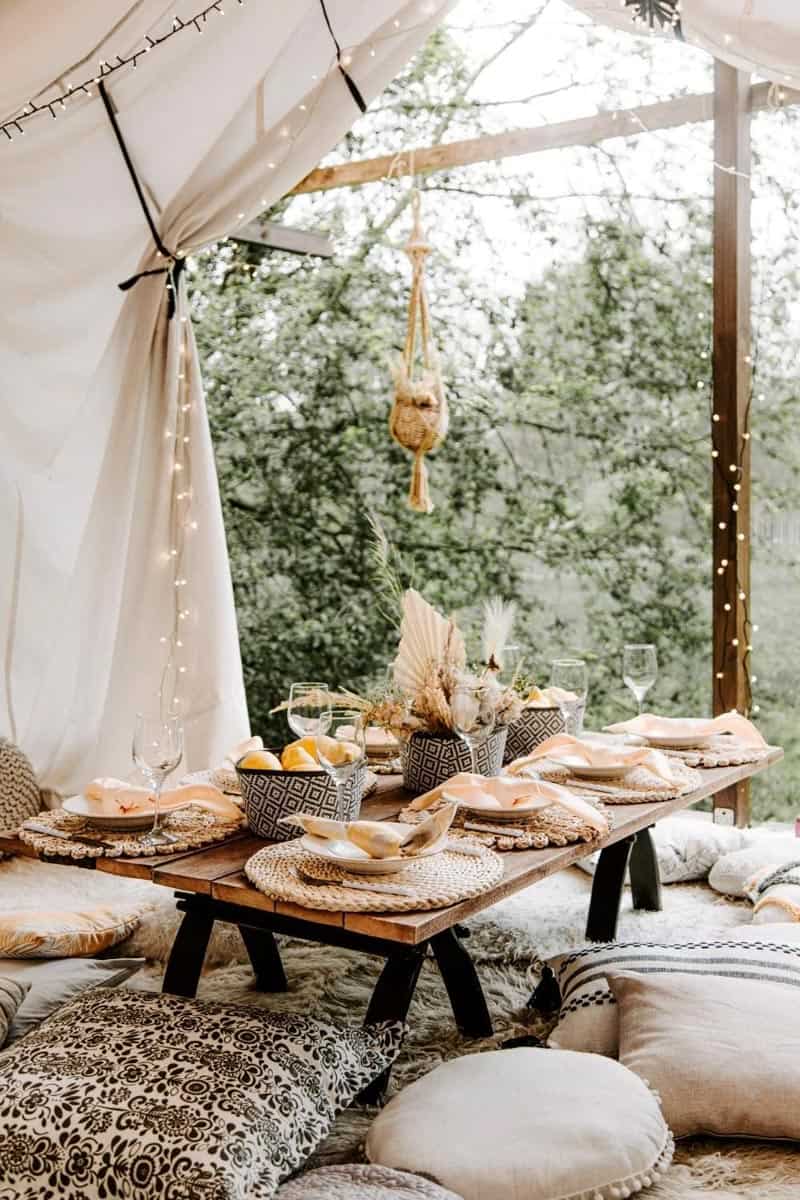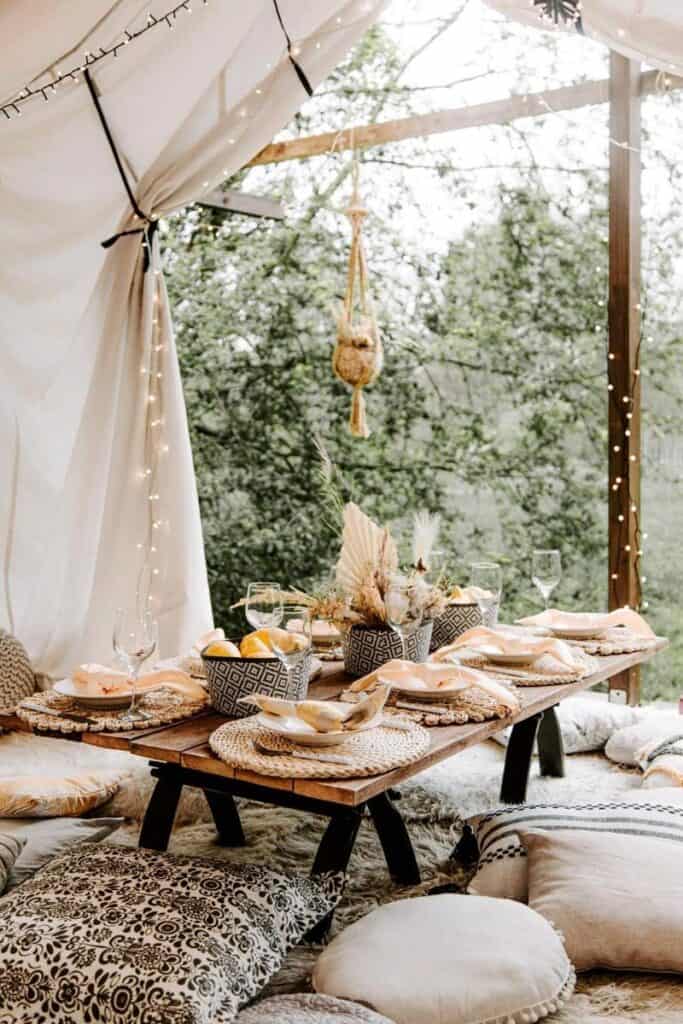 19. Thick and Comfy Blankets
Knitted, crocheted, quilted…mix different styles of handmade blankets for instant bohemian comfy coziness.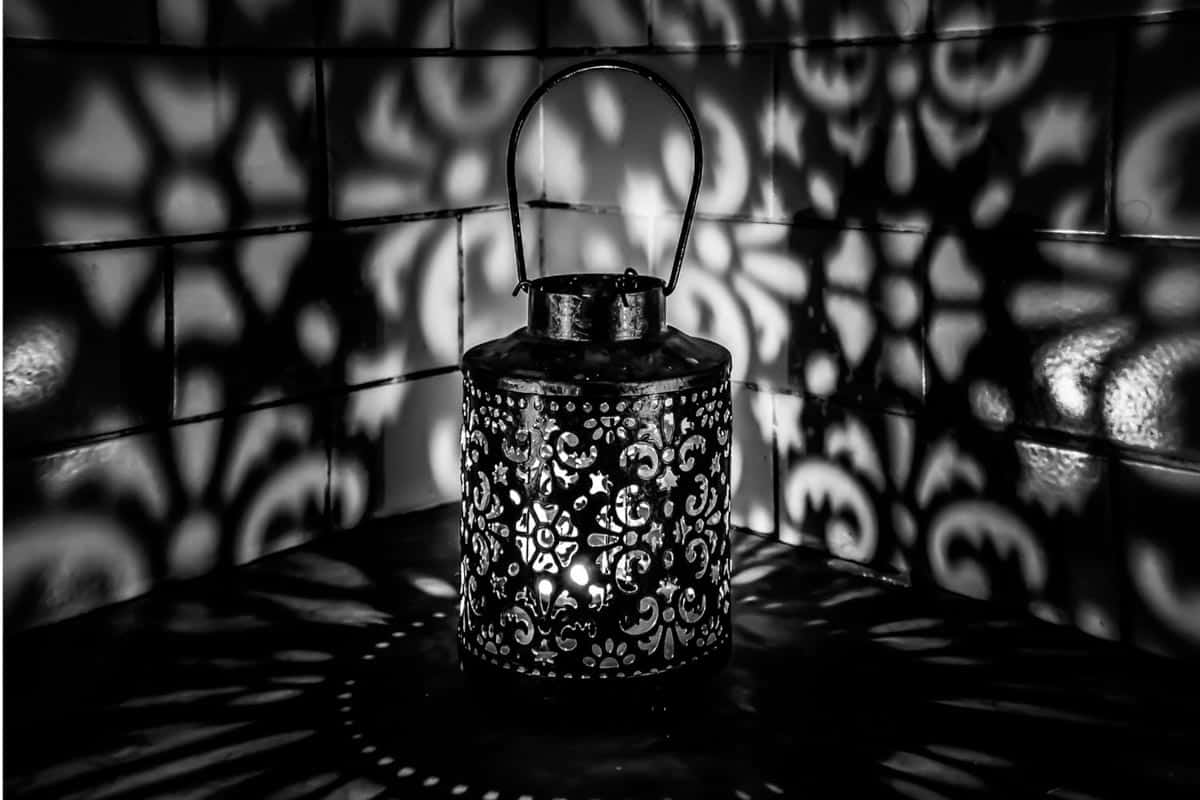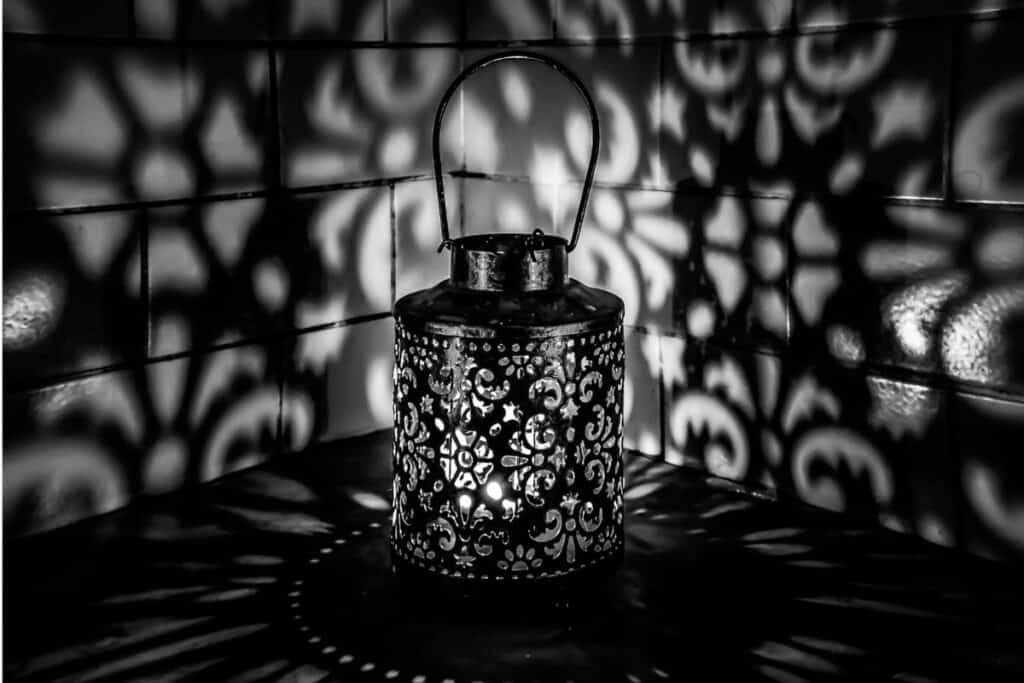 20. Punched Tin Lanterns
Punched tin ceiling lights or lamps give a perfectly candle-like vibe when lit.
21. Colored Glass Lights
Blue glass ceiling lamps or morocan lanterns with various colors will add the perfect Bohemian lighting with a moody feel.
22. Unique Ceiling Lamps
There are so many unique ceiling (or table) lamps that can fit right in with the eclectic (collected) look of a Boho living room. Look for Moroccan lamps, vintage rain lamps or brass lanterns.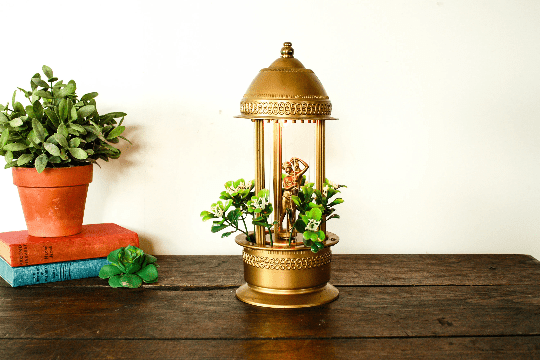 23. Lots of Candles
Another influence of Boho style is gypsie, so when you think of a bohemian look, you need to add lots of candles. To keep it collected instead of cluttered, group vintage brass candle holders together on a table.
24. Lamps instead of Overhead Lighting
If you haven't noticed, we've talked a lot about moody (aka dim) lighting. That means, to have a room lit enough, you need to have multiple sources of lamps and candles, hanging from the ceiling or on a table. If you have overhead lighting, a dimmer switch will give a great Boho feel.
25. Curated (Specific) Collections Crowded Together
Traditional Bohemian décor is all about collections. Find something that interests you to add to your shelves. Whether it's a travel collection, a bird nest collection or a vintage trophy cup collection, it will add a punch of unique style to your Boho living room.
26. Unique Vintage Baskets
Vintage baskets have such a wonderful live-with look about them and add great usefulness. Use baskets to keep your collections in place, for blankets and books or for planters. These will add unique texture in your room.
27. Collections from Nature (feathers, bird nests, rocks)
Boho is about nature and the earth. What better way to add inexpensive Boho style than to started collecting beautiful rocks, feathers or other natural items on your walks!
28. Crystal Rocks
Crystal rocks are a big Boho addition to your home. These add beautiful texture and color to your space, whether or not you believe in the power of crystals.
29. Shell Art Décor
Shell art is another kitchy way to add Boho style. Either have one statement piece or group a collection of shell art together to keep it from looking cluttered.
30. Tramp Art
Like shell art, vintage tramp art is amazingly unique and perfectly Boho if grouped together. This would be such a conversation piece in your home!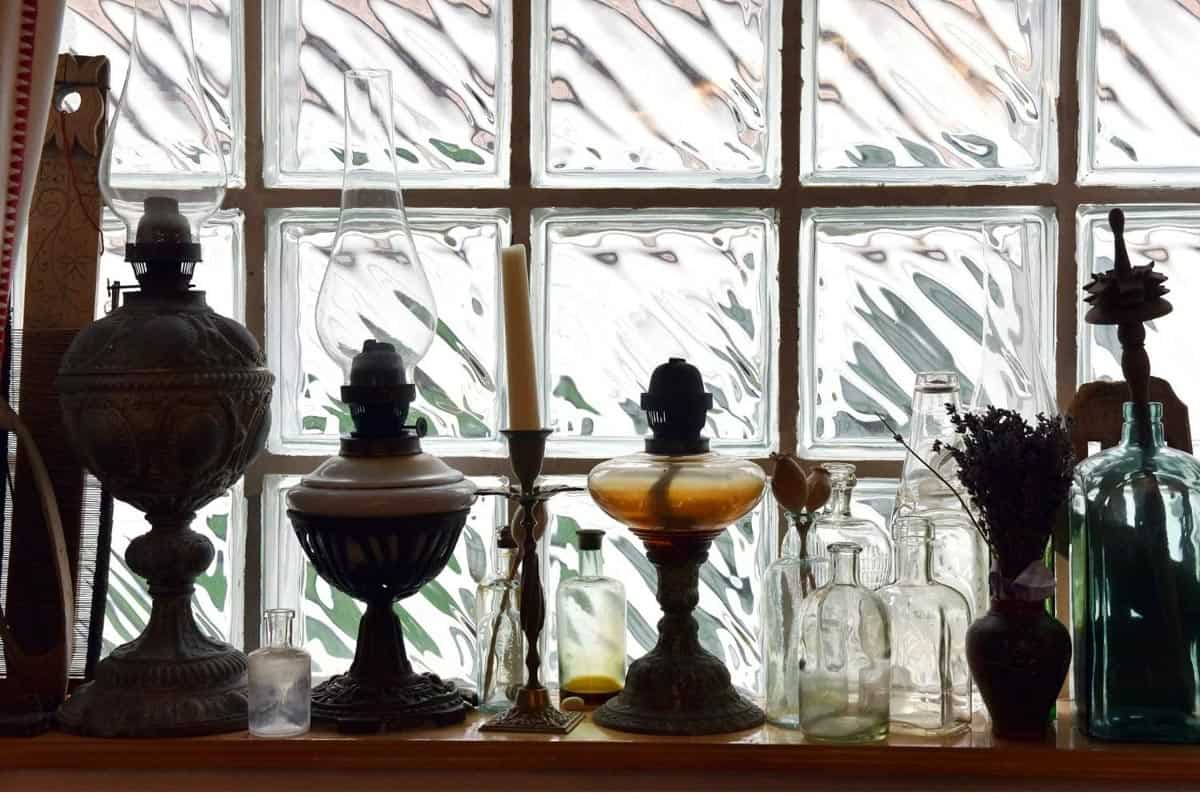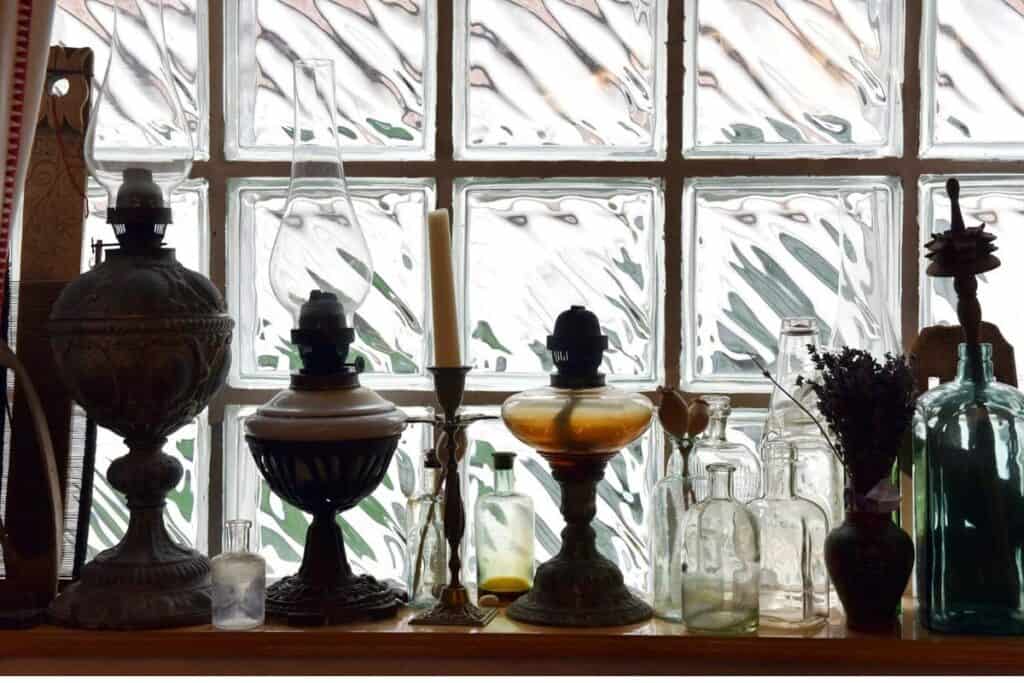 31. Collection of Brass Animals
Boho style is much about brass, and vintage brass animals can lead you on such a fun treasure hunt! This would be the perfect crowded grouping on your Boho shelf.
32. Warm Scents
Vintage Boho décor is not just about items, but also about how you feel in a room. We've talked a lot about lighting, but don't forget the thing that creates the most memories for humans…scent. Keep a diffuser going with warm, earthy fragrances for a well-rounded Boho home.
33. Lime Paint
I am new to the lime paint world, but I'm really looking forward to adding this wall paint to my home. It gives a very Middle Eastern vibe, full of visual texture. Whether you choose white or pink, this is the ultimate Boho wall finish, in my opinion.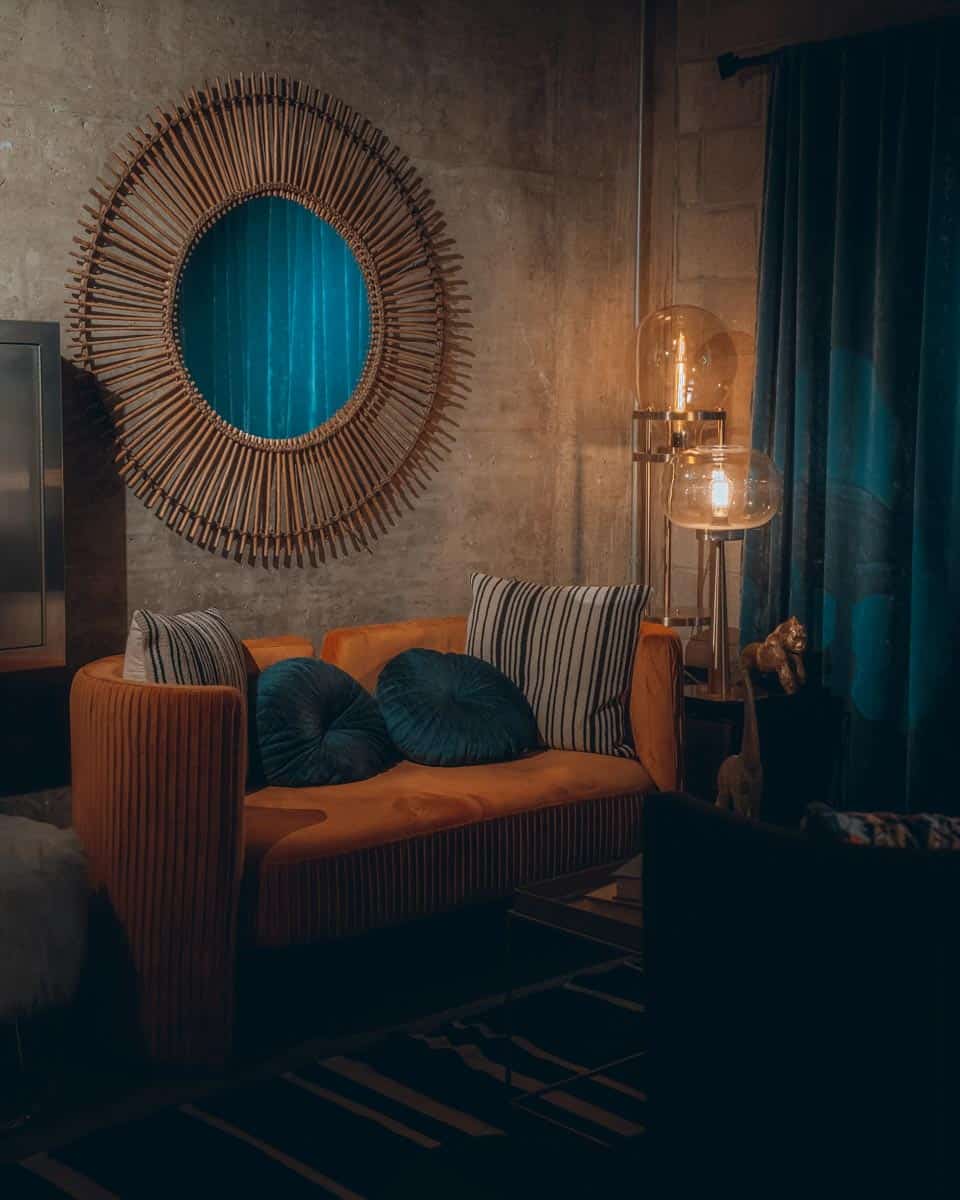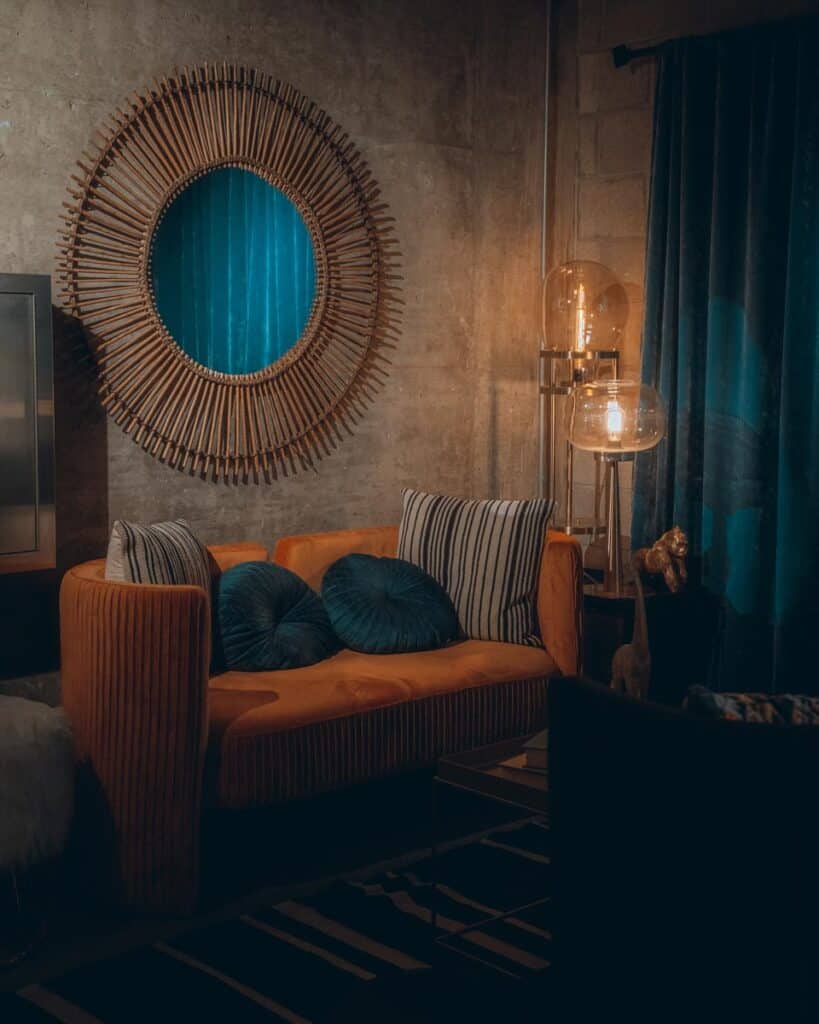 34. Warm, Neutral Walls
For Modern Boho style, calm neutral walls provide the perfect backdrop for the pop of color or a muted texture-driven Boho decorating style.
35. Bold, Dark Walls
For the Traditional Boho style, dark and bold wall color adds the perfect moodiness to a living room.
36. Swinging Chair
Rattan swinging chairs are such a fun way to add eclectic style to your Boho living room. Add a bright pillow and knitted blanket for the perfect reading spot.
37. Tribal Patterns
Tribal pillows can add the pop of color and pattern necessary for a Boho living room. Don't be afraid to mix and match colors and patterns!
38. Coffee Table for Low-Level Seating
A long coffee table is the perfect spot to do a puzzle, play a game or even eat a meal, Middle Eastern style. Just make sure you have those floor pillows to pull out for the full effect.
39. Worn Wood with Muted Ornate Patterns
Vintage wood furniture or pieces like room dividers with a muted ornate pattern is also a perfect way to add Boho style. You want something that looks like it's from India or Persia.
40. Worn Stool for End Table
Think outside the box for your side or end tables, vintage stools, crates or plant stands can serve as unique Boho furniture.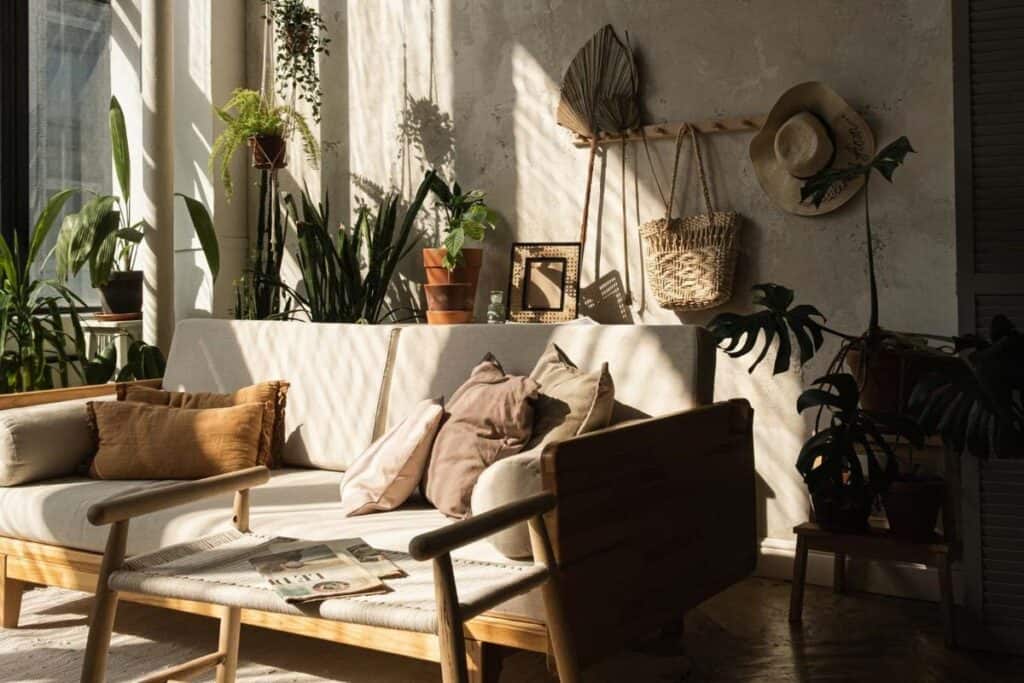 41. Mismatched Furniture
Don't worry about spending a lot of money on matching furniture! Boho is all about the collected look, NOT about matching. To make sure your mismatched furniture "goes" together, try to stick with 2 – 3 wood tones or materials and 1 – 2 colors.
42. Handcrafted Blankets
Boho style is all about stories behind the décor, and handcrafted blankets are a wonderful way to add unique stories.
43. Craft Project Sitting in Basket
This is a lifestyle of wandering, journeying and learning new things, so start a craft project and keep it handy in a basket.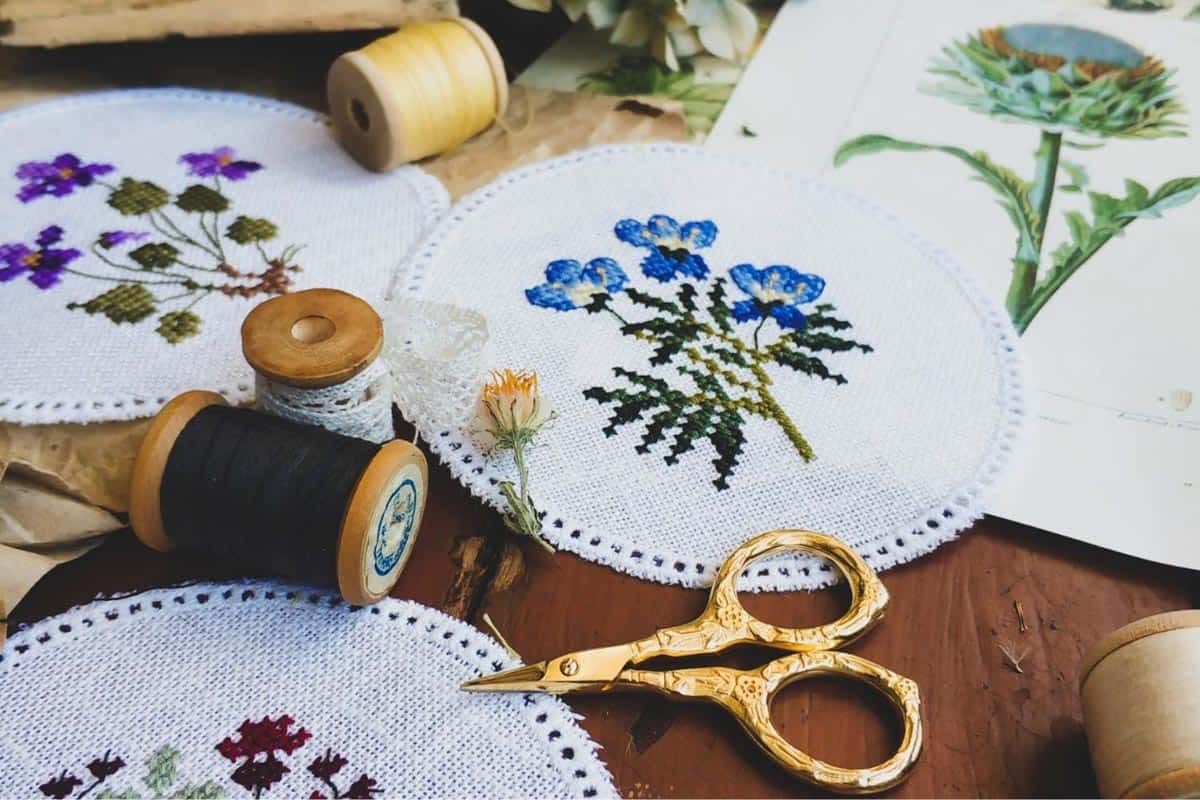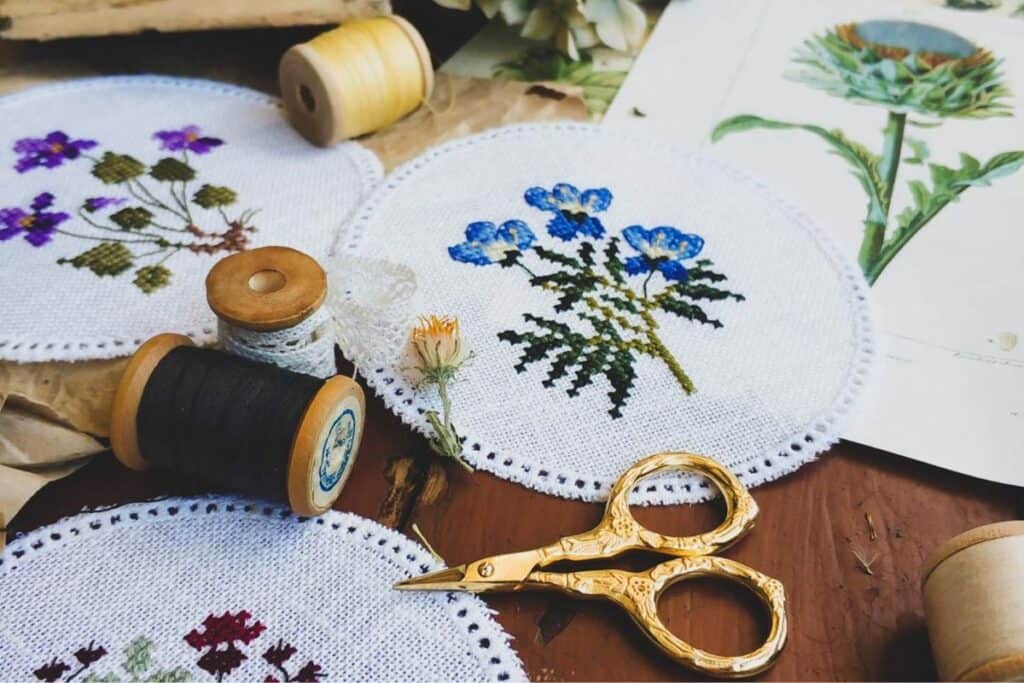 44. Record Player and a Stack of Records
Sound is another layer to add to your Bohemian flair. Grab some Simon and Garfunkle records and play them on your vintage record player.
45. Felt Hats on Wall Hook by Door
Decorate with everyday items like hats and umbrellas. Bring your personal and home style together with the perfect Boho hat.
46. Native Baskets on Wall
Add texture and pattern to your walls with a collection of native wall baskets for a classic Boho design.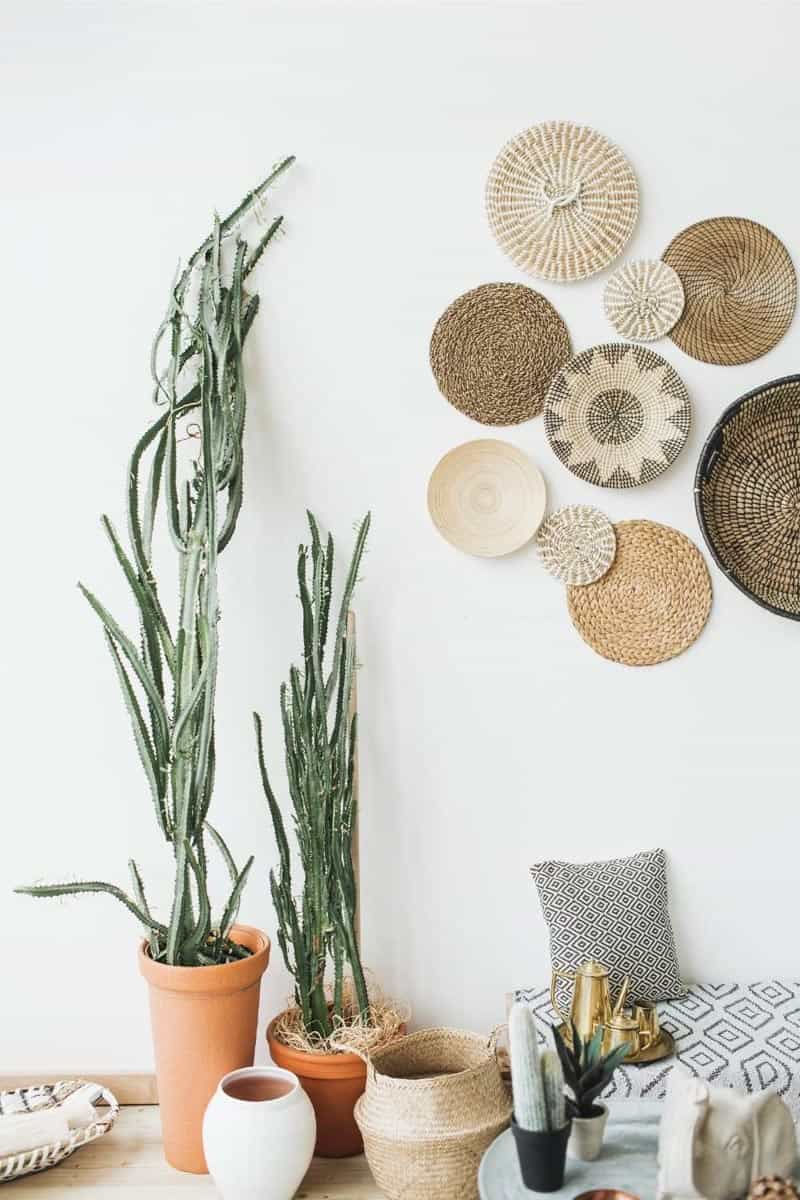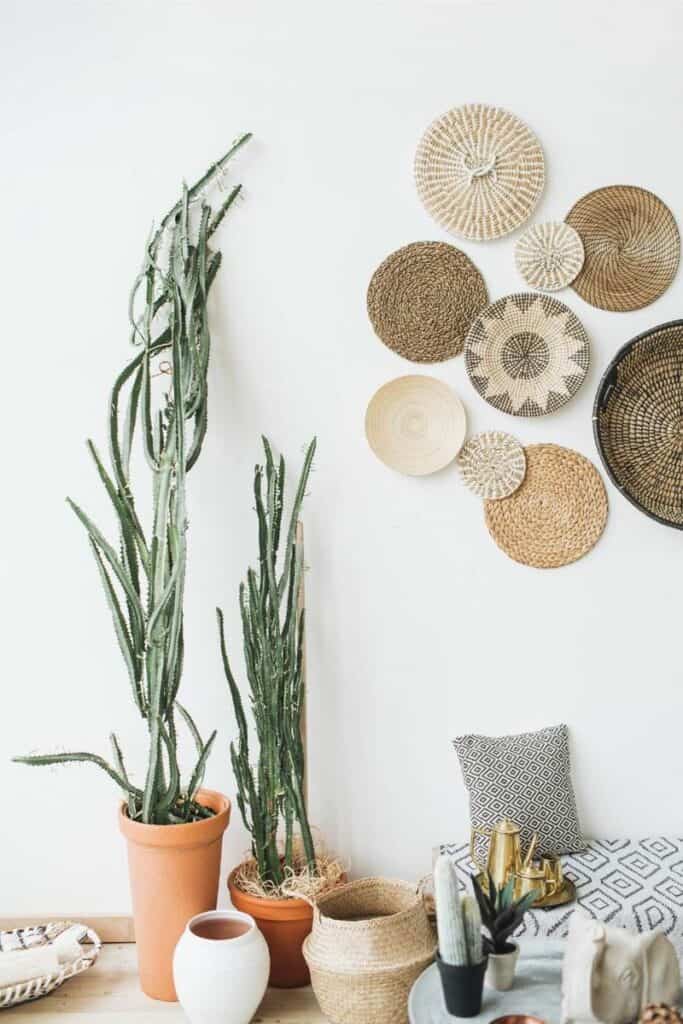 47. Comfy Seating Area to Read Books
Don't forget that home décor is so we can actually enjoy our home. Create a comfy reading corner for the ultimate Boho living room.
48. Lots of Throw Pillows
To give your Boho space lots of comfort, be generous with the throw pillows in different colors and geometric patterns. (But don't make it so many pillows you can't sit on the couch.)
49. Vintage Pieces
You could go out and buy all new Boho style home decor, but your room would lack the right feel. Make sure you create a collected look through vintage items.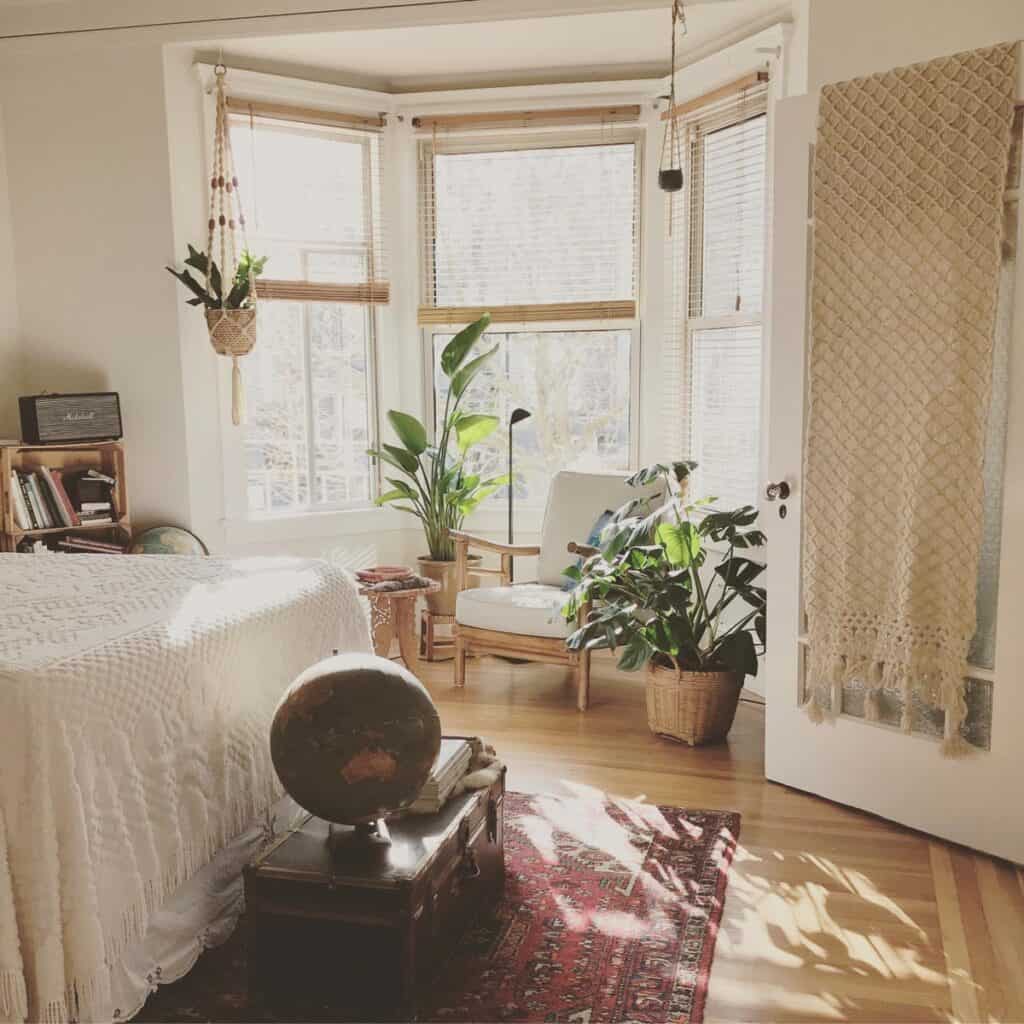 50. Lace Curtains
Yet another way to add texture, lace curtains are perfect for Bohemian interior style.
I hope these 50 vintage Boho living room ideas will help you in your boho living room designs! The bohemian vibe is certainly all about the journey, so give yourself time to wander the flea markets to find vintage furniture, art pieces, handmade items and collections that will give special meaning to your design style.
Great Boho Home Décor Blogs and Resources
Easy Houseplants for Busy Moms
Vintage Home Decor from Our Vintage Bungalow
Pin for Later!