Whether you've completed the kitchen remodel of your dreams or if you're still planning for your "someday" kitchen, your modern appliances might not fit your vintage ideas. Here are 25 vintage style kitchen appliances that will complete your retro or antique kitchen.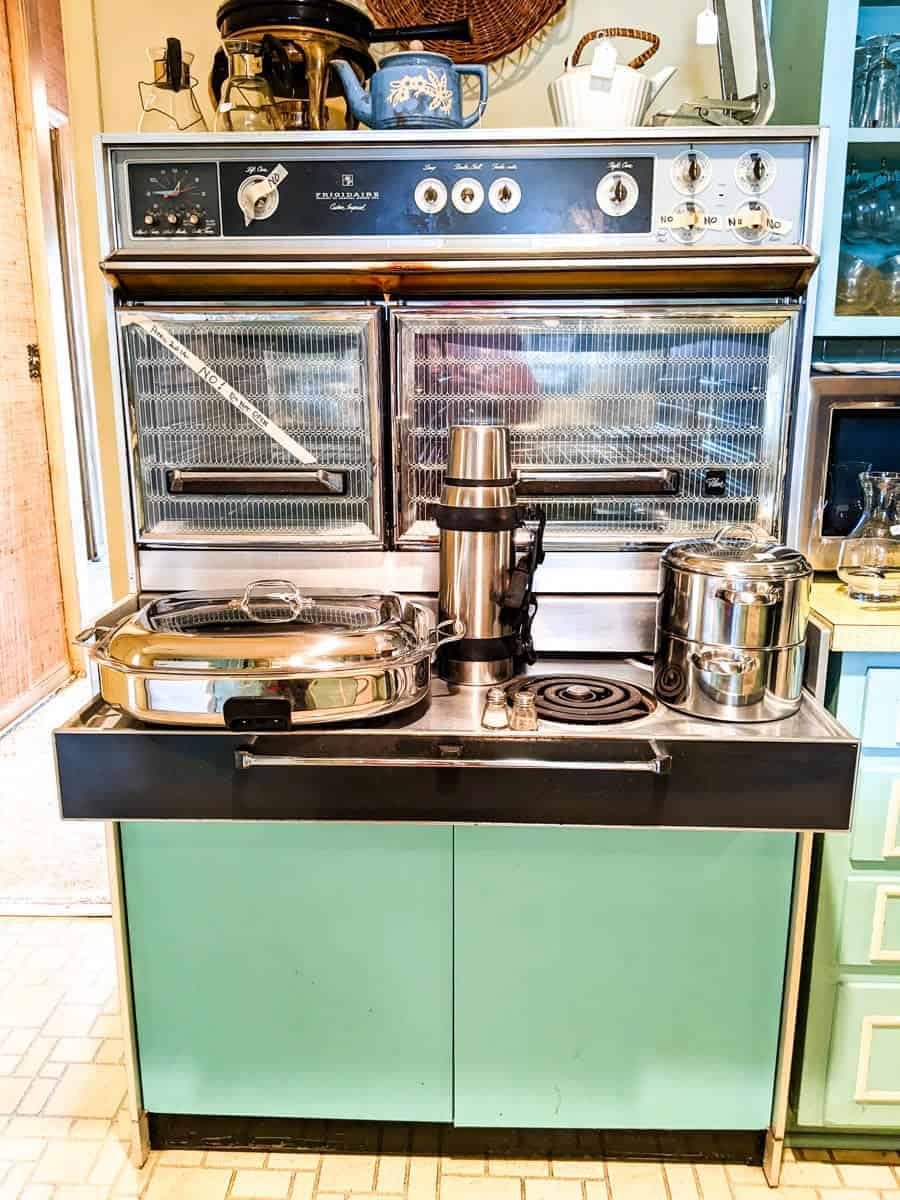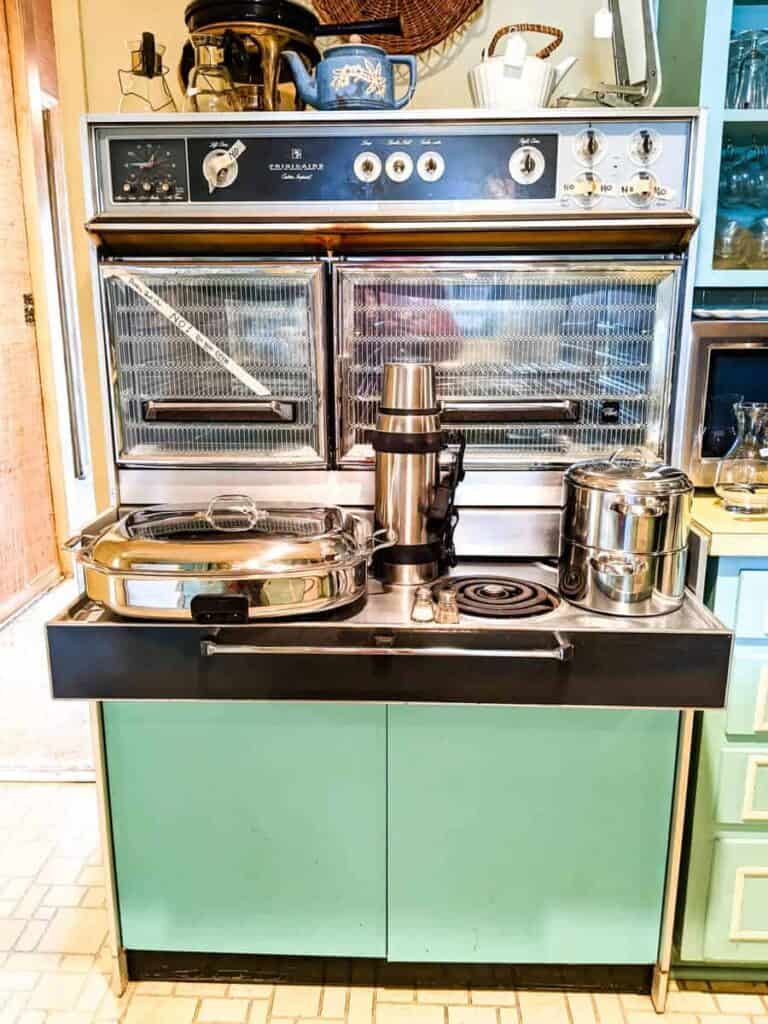 As an Amazon Associate, I may earn a small commission through your purchase through any Amazon links on this post. This is at no additional cost to you. All recommendations are my own because I believe in each product. See my full Privacy Policy here.
Vintage Style vs Original Vintage Appliances
I grew up with an original 1930's stove and double oven that came with my parent's farmhouse. My mom refuses to let the ol' girl go. They can no longer get parts to fix it, so every holiday, I have to hold my tongue just right and wiggle the oven door to get it to open.
Searching online will find you plenty of authentic vintage stoves. The condition and price will vary, but buying an original vintage appliance is certainly an option. Just keep in mind that you will probably need to hire or figure out how to modify stoves yourself. Also, some stoves might not have replacement parts available. I have seen several people find and love their original stoves like Lisa at Farmhouse on Boone. See her fabulous vintage stove HERE.
What If I Can't Afford Vintage Style Appliances?
I'm not going to lie, vintage style new appliances can be more expensive than the modern/traditional style new appliances. I have my eye on a $7,000 stove that makes Caleb choke. (Though my friend says that's not out of line for a quality stove. Apparently, I haven't been stove shopping for a while.) However, there are retro style appliances to fit various budgets. The vintage kitchen appliances trend is in full swing, so you can find many good options at big box stores.
If you currently can't buy major appliances, you can start small by switching out your toaster, microwave, coffee maker or hand mixer for ones with a retro flair. I've included small retro appliances here along with large appliances.
Small Kitchen Appliances
Take a step back to 1950's vibe with this microwave (even though the 1950's didn't actually have microwave ovens.). It will certainly add a punch to your retro kitchen instead of detracting from it. It is available in various colors including red, pink, yellow, black and white.
Yes, this retro appliance is what you would call an "investment," but I wanted to include it. You will see several Big Chill recommendations in this post because they do retro appliances so doggone well. This microwave is a large option, which is crucial for many families. And the fact that it comes in various colors including "Pink Lemonade" adds to the wow factor.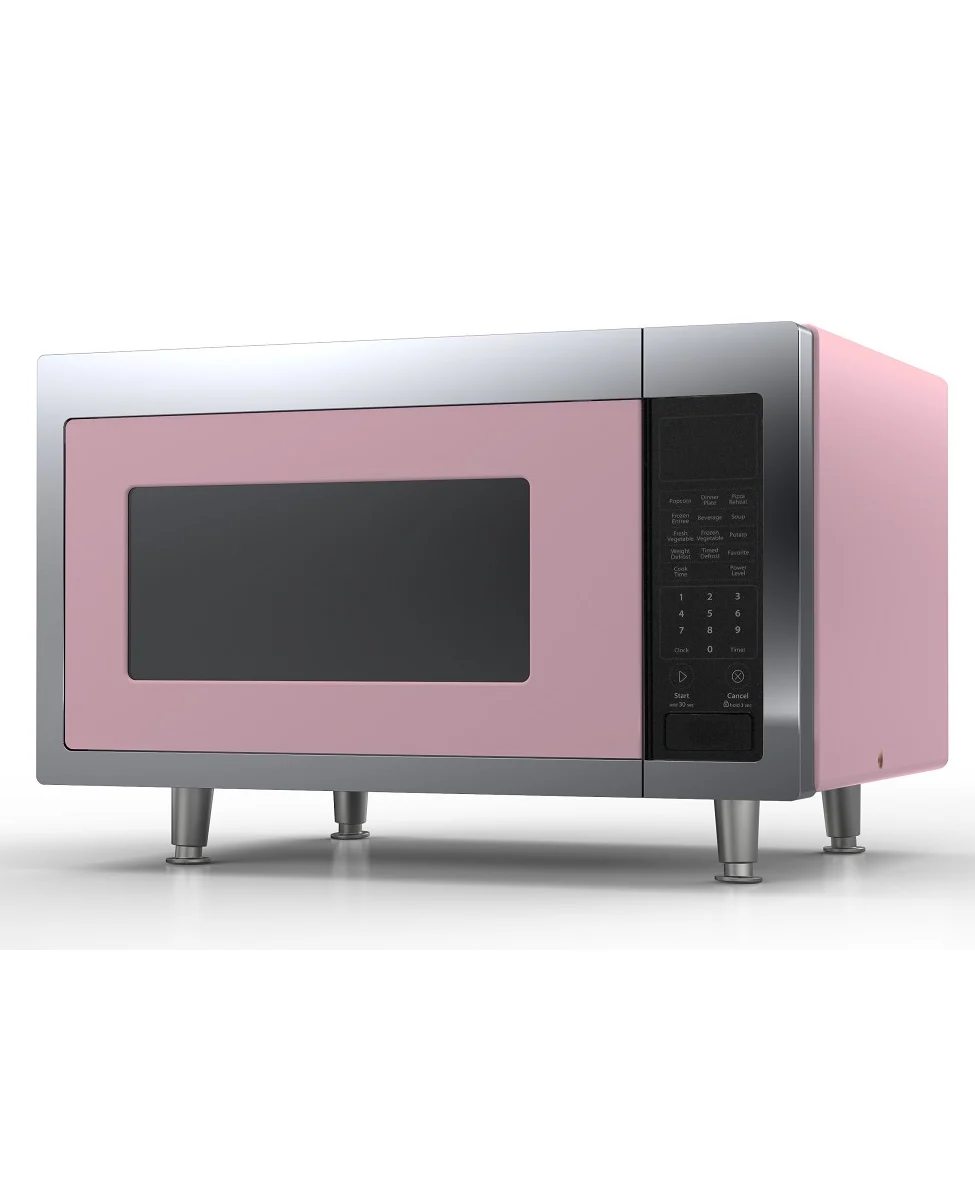 Kitchenaid, long known and trusted for great mixers, has many different retro colors available. Choose from red, black, mint green, just to name a few for a timeless look in your kitchen.
Oh.My.Word. Sign me up for the darling yellow toaster. It mixes vintage style with modern convenience and gives a fabulous retro feel.
Talk about statement piece in a small package, the Redmond toasters come in bright colors like mustard yellow, hunter green and red just to name a few. The only problem with it is deciding which pop of color to get!
I can't be the only one who grew up with the classic 1970's hand mixer that my parents received as a wedding present. (I'm pretty sure mom still uses hers 50 years later.) Maybe it's my childhood calling, but I just had to include this vintage option from the Etsy shop, PinkNoseVintageLtd.
Redmond delivers again with a vintage style hand mixer. Choose from yellow or mint green.
Not your traditional coffee maker, this syphon coffee maker will add early 1900s charm to your antique style kitchen. Making a cup of coffee in this beauty has got to make it taste better. Pretty sure I'm putting it on my wish list now.
For a more traditional drip coffee pot, try this amazing option from Amast. At the price point, you can't go wrong!
Mix up your morning smoothie diner-style with this turquoise blue blender. This small kitchen appliance is fun enough to leave on your counter as a piece of vintage décor!
I put a fan in the 25 vintage style kitchen appliances list because can't you just see this sitting on top of your refrigerator, giving you fresh air in a hot kitchen. It seems like a retro kitchen should have a fan.
Vintage Style Refrigerators
Adding retro style to your man cave or office is easy and affordable with this retro mini fridge. Its color options of mint green, red, black and white will add great '50s big style.
No list of retro kitchen appliances would be complete without the mention of Smeg. This company does it all from mixers to coffee makers to refrigerators in a variety of colors and sizes. If you're in the market for a retro frig that will pack a punch, then Smeg is the place to go.
Often, retro style refrigerators are pretty small. This Hisense Energy Star retro style frig delivers style and size with its 17 cubic foot capacity. Pair the size with the low price, and this is a deal you really can't beat.
Are you ready to drool? The refrigerators from Elmira stove works are definitely an investment, but, oooooooooh, you can't beat the style. Their Northstar line is an amazing Mid Century style in every retro color imaginable and a size that will accommodate a family.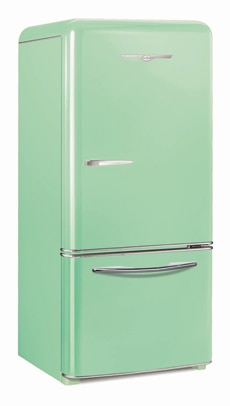 Here is the perfect refrigerator for your vintage farmhouse kitchen. Modeled after a 1898 style, this frig will be the talk of your home. Heck, this frig will be the talk of your town!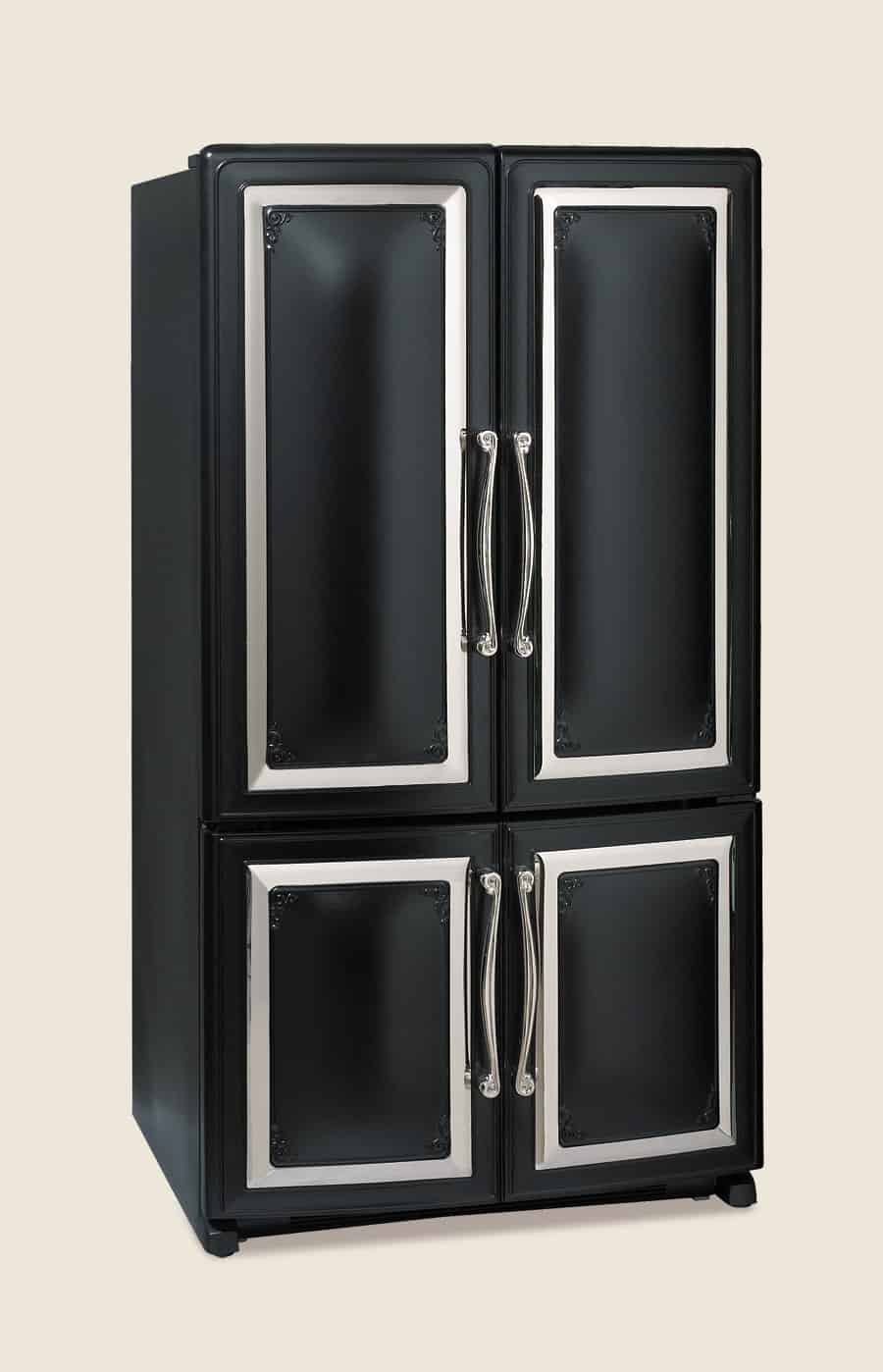 The Big Chill appliances kills it in the retro kitchen department. Find every retro shade in tons of different styles and sizes. Sure, you'll be paying a bit of cash for this brand, but some splurges are worth it.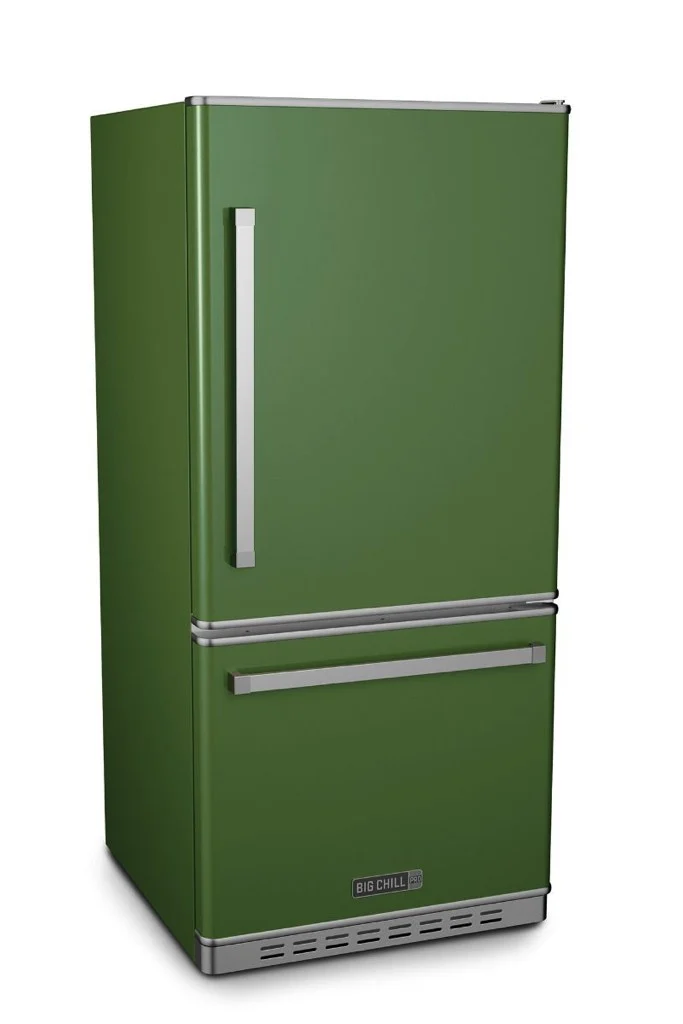 I am loving the Café brand refrigerators in a classic white. They come in various sizes perfect for a family and also styles that include an internal water dispenser and bottom freezer.
Vintage Style Dishwashers
Elmira Stove Works delivers big time with their dishwasher. Not typically a vintage style appliance (seeing that dishwashers were not available way back when). However, this appliance should not be overlooked in adding vintage character. If you don't want the complete dishwasher, Elmira sells panels that can fit on "panel ready" dishwashers. Elmira carries this in various styles and colors to suit your needs.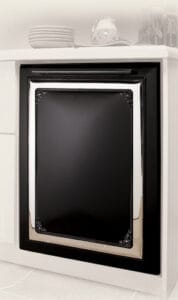 This company seems to make a pretty good retro dishwasher in multiple colors, including copper and royal blue. The white is pretty simple, but sometimes simple is the best retro option.
Vintage Style Vent Hoods
Whether you wand show stopping pops of color like retro teal or need a traditional white or black range hood, this Mid Century style will give you that retro look. Just add black and white checked flooring, and you're in 1950's business.
Add major vintage European charm with this blue and copper range hood. It almost makes you want to bake an fire oven pizza!
Vintage Style Stoves
You're welcome. Yes, I know you can't un-see this beauty of a vintage stove. It comes in black, royal blue and white with various sizes as well. Hand crafted in Italy, you surely can't go wrong with this vintage kitchen appliance!
Yes, yes, another Elmira option here. I am completely in love. This is the range of my dreams for our farmhouse kitchen. I can dream.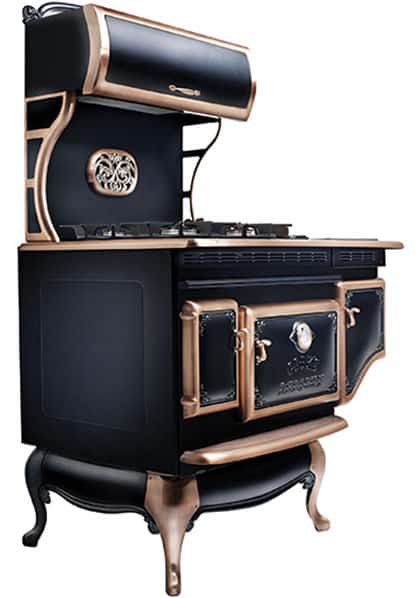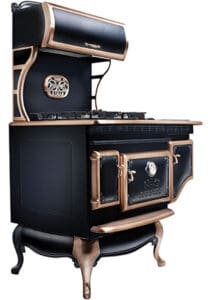 Yes, here is Big Chill again, this time with one of their vintage style stoves. This one comes in a most perfect beach blue, but they also offer it in pink lemonade and jadeite green just to name a few. And if you want to choose a custom color, boy howdy, you can have just about any color imaginable!
I hope you enjoyed this list of 25 vintage style kitchen appliances. Whether you're planning on doing a kitchen remodel or just want to add a slight vintage look, these retro home appliances all will fit the bill.
What was your favorite item from the list? Comment below and let me know!
Tour My Vintage Style Kitchens
Bungalow Kitchen Remodel Before and After Tour
How Much Does a 10 x 10 Kitchen Remodel Cost?
Pin This for later!