"Windows are the eyes of the house" as the saying goes. So when we were ready to replace the vinyl windows in our 1900 farmhouse, I wanted to get it just right. These new windows will probably last our lifetime, cost a fair bit of money and are just too important to mess up. No pressure! After days weeks months of research and final installation, I am thrilled with the result. In this post, I will share all I've learned in our authentic farmhouse renovation how I chose new windows.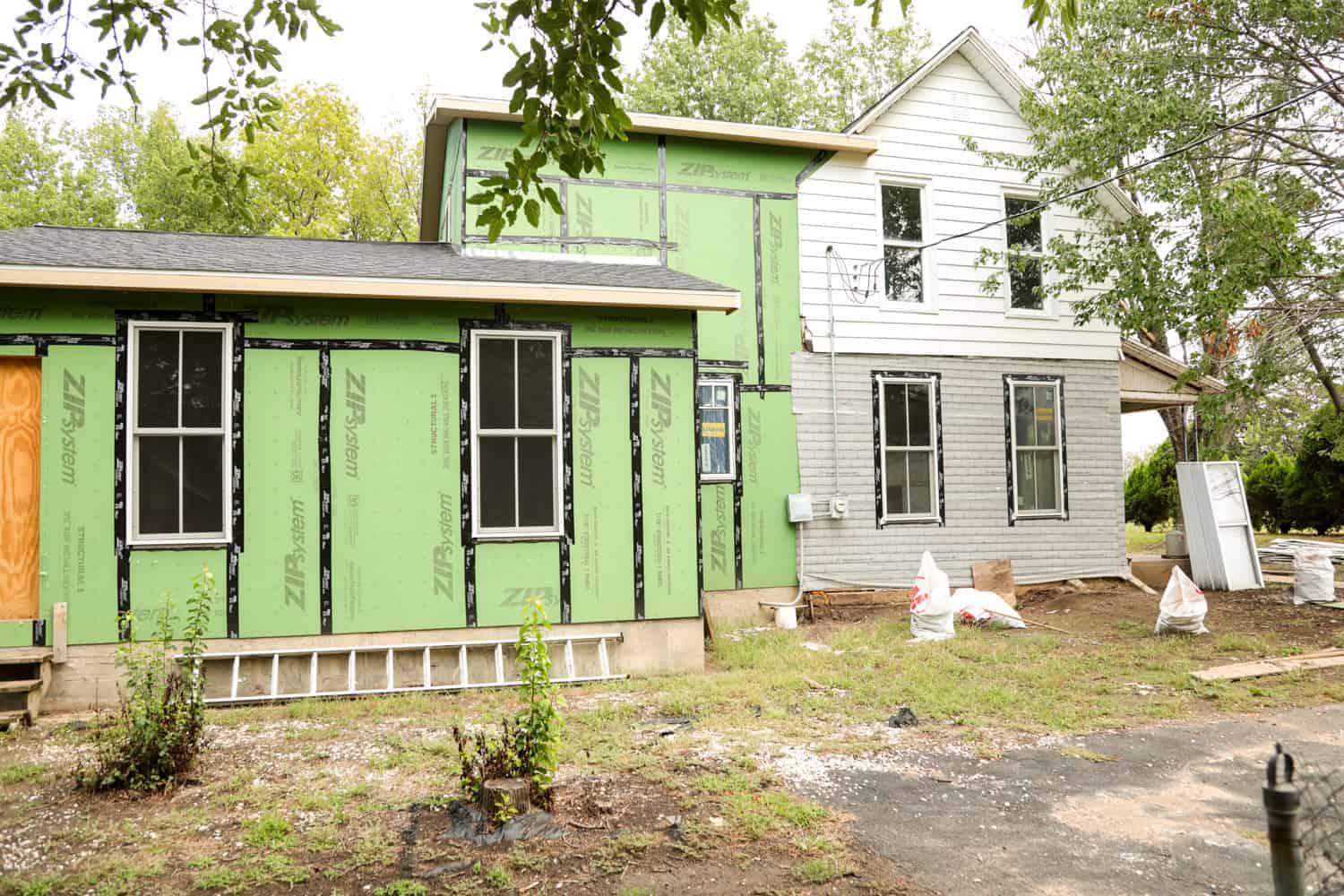 As an Amazon Associate, I may earn a small commission through your purchase through any Amazon affiliate links on this post. This is at no additional cost to you. All recommendations are my own because I believe in each product. See my full Privacy Policy here.
Our Farmhouse Journey
Two years ago, we purchased an authentic country farmhouse built in 1900…and immediately tore everything out for a massive farmhouse restoration and renovation. Since it is almost a total DIY project, it is taking a long time, but we are (mostly) ok with that. (See the farmhouse before photos HERE.) Thankfully, there was a mobile home on the property that we've been living in quite comfortably during this project.
During this remodeling project, I always want to be respectful of those who lived in and loved this historic house before us. Without them, the house would be an abandoned mess. However, through 123 years of remodels and additions, very little of the original woodwork and beauty was left to this authentic two story farmhouse. The overall vibe was 1970's paneling with 1990's add-ons here and there.
Window Terminology to Know
Double-Hung Windows – Windows where the top AND bottom windows slide vertically so you can open both.
Single Hung Windows – Windows were just the bottom window slides vertically. The top window does not open.
Casement Windows – A window that attached to the frame with hinges on one side. It is opened out with a crank.
Aluminum Clad Wood Windows – Windows with wood frames. The interior has the wood visible while the exterior has the wood wrapped with water tight aluminum so the wood doesn't rot. These wood windows can come in various finishes or unfinished. The window grilles are on the outside of the glass just like an old style window would have been.
Vinyl Windows – Windows with vinyl frames. The window grilles are often flat and in between the panes of glass. This makes cleaning easier but is less authentic.
Window Grilles – Vertical and/or horizontal bars or divisions in a window to make a grid shape. Originally used because large panes of glass were not available, so windows were composed of multiple small panes of glass. Now used as decoration to resemble old window styles.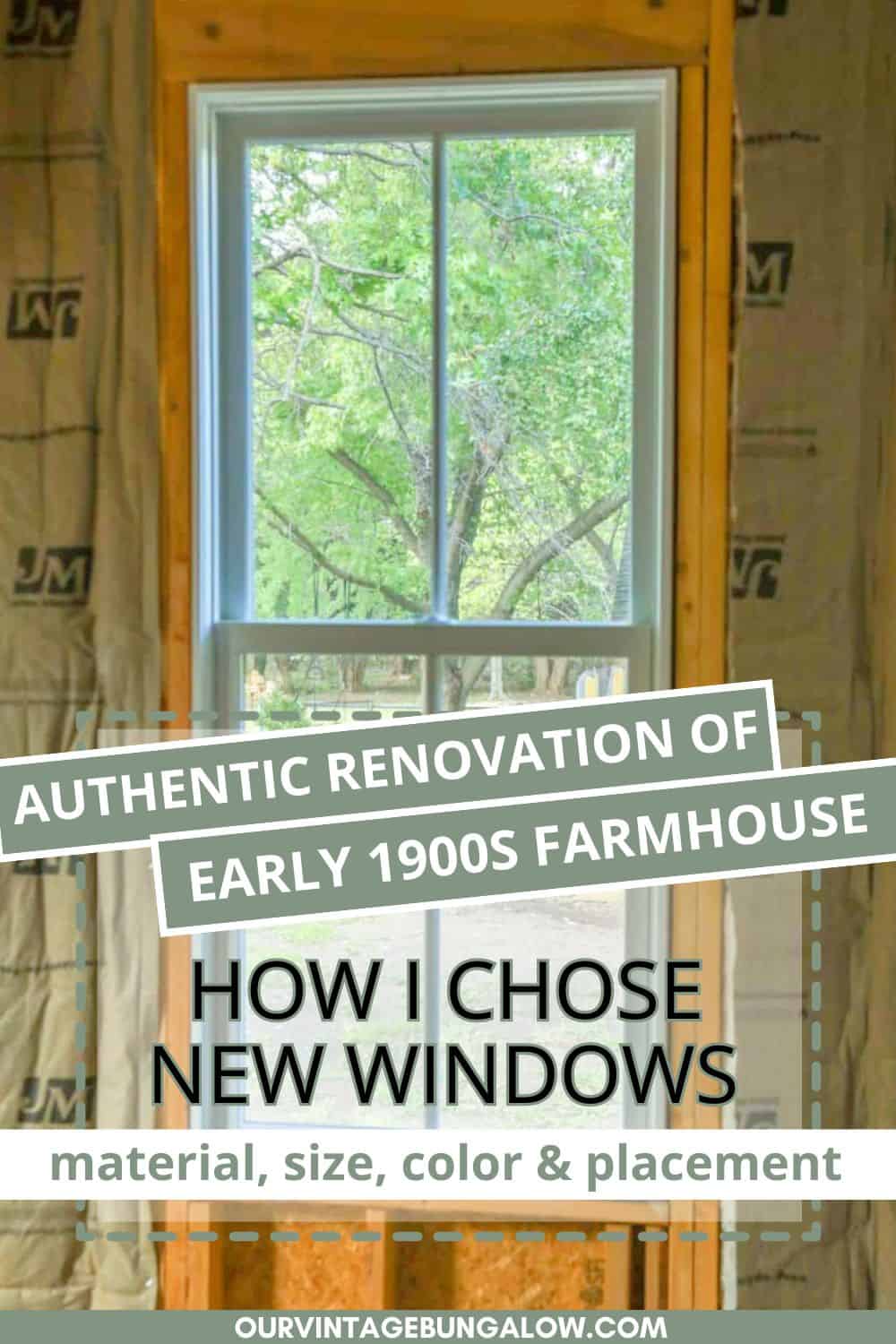 Window Resources for Authentic Farmhouse Renovation How I Chose New Windows
Our Vintage Bungalow's Pinterest Inspiration Board "Old Farmhouse Exterior"
Book – Get Your House Right: Architectural Elements to Use and Avoid
Existing Windows in the Farmhouse
We are finally at the stage of replacing the vinyl windows with something more authentic for an early 1900's farmhouse. I don't hate vinyl windows necessarily. We used and liked them in our 1900 bungalow renovation. But for the farmhouse, I wanted something with more authentic architectural style while still modern enough to provide energy efficiency.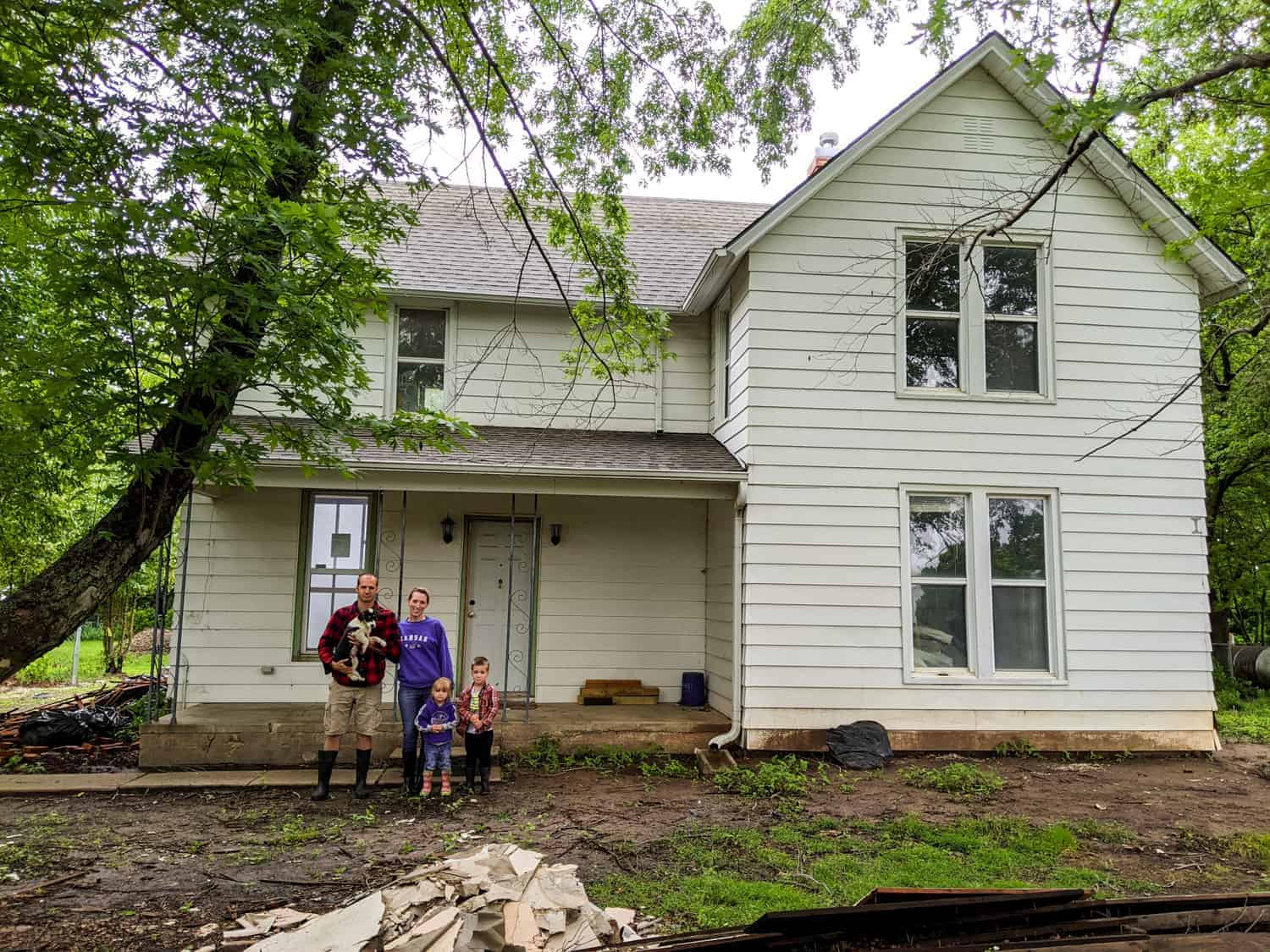 New Windows: The Goal
With our old farmhouse renovation, we are trying to take it back to the semi-original style while also meeting our family's current needs. I don't want to be stuck with a decision just because "that's the way it was built in 1900." I also don't want our modern updates to stick out like they don't belong with the existing structure and original features of the home.
After researching as many farmhouse and century old building exteriors as possible to see the authentic styles of homes from that period. Some of the photos were of broken down old homes that still had the original windows. Some of the photos were of historic homes that had been restored. I poured over the book Get Your House Right to make sure our design decisions and architectural elements worked with an older house and didn't look odd.
Terms I searched online to find authentic farmhouse ideas
Original Farmhouse Exterior
Old Farmhouse Exterior
Old House Windows
Early 1900's House
Authentic Farmhouse Windows
New Windows: Grille Style
There were several window grids that fit the era and style of our home, so I just had to pick which one I wanted to live with for the next several decades. We could have gone with the following replacement windows for our farmhouse that would have fit the history of the house:
6 Over 1 – Grid pattern of six smaller glass "panes" on top with one large, undivided glass piece on the bottom.
Top Cross Bar – One vertical grille on top (making two grids) with one large, undivided glass piece on the bottom.
Top and Bottom Cross Bar – One vertical grille running through the middle of the top and bottom glass with the window sash running horizontal through the middle, creating a "cross."
3 Over 1 – Grid pattern of three vertical glass panes on top with one large, undivided glass piece on the bottom.
I am a very visual person, so after immersing myself in windows online, I finally had to just go the old school route. I cut strips of brown butcher paper about 1 ½ inches wide x the length I needed. There were two existing windows side by side in our house. So I taped up the butcher paper strips to resemble the grilles on the windows so I could picture what that division would look like. Each window had a different choice.
In the end, I decided that the full cross bar on the top and bottom (2 over 2) was what I loved the most. My worry was if that bottom bar would be distracting when looking out the window. By taping up strips of paper, I could actually "live" with it for a while. I found that I looked right past the bar, so it wasn't an issue seeing outside.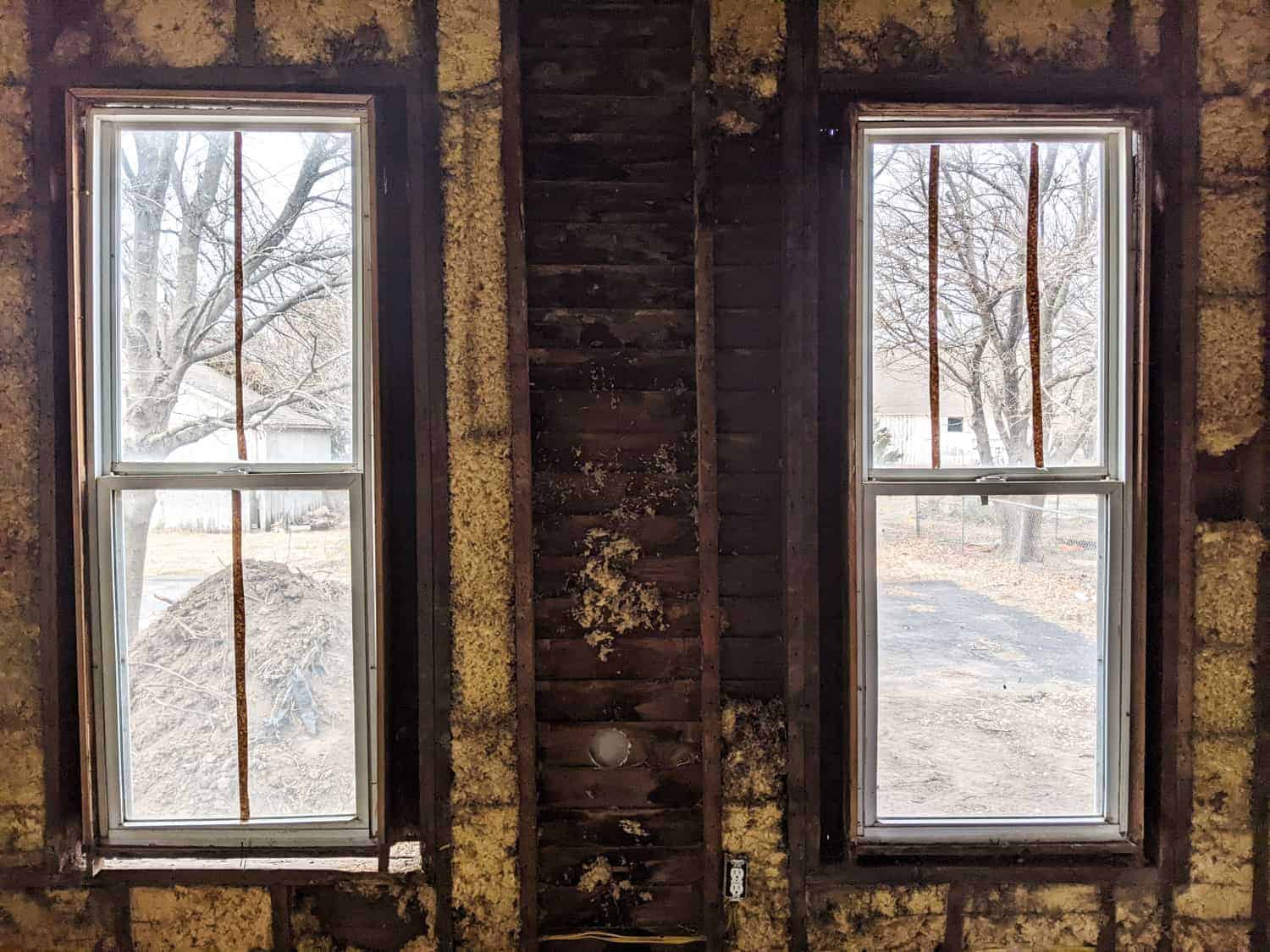 New Windows: Material
I definitely wanted wood windows because that is all that was available in 1900. Also, with wood windows, you have the window grille outside of the panes of glass. Most vinyl windows I saw had the grilles inside the double panes of glass. That doesn't seem like such a big deal, but to me it was a noticeable difference.
However, I grew up in a farmhouse with the original wood windows. If we had them in this farmhouse, I might have considered keeping them. However, 123 year old windows just aren't handy. They stick; they have layers upon layers of paint; they aren't energy efficient; they leak air. It is possible to restore original windows, so research that if you still have them in your home.
We purchased aluminum clad wood windows that have all the modern window amenities with the authentically old look. This means that you have wood windows on the interior side and aluminum wrapped wood on the exteriors so that the wood doesn't rot in the weather. This keeps the upkeep to a minimum since exposed wood outside would need to be painted fairly often to protect it.
New Windows: Size
In our authentic farmhouse renovation how I chose new windows, this is the part that had me scared and beating my head against a wall more than once. I'm not an architect, so I had a hard time knowing technicalities of window size.
Things I learned:
House windows need to be smaller (shorter and narrower) on the second story and larger on the first floor.
Windows have specific ratios. This drawing helped immensely to see standard sizes instead of creating a height/width ratio that looked odd.
Since we had ripped out the layers of 1970's paneling and crumbling plaster walls, we could see the original size of the original farmhouse windows. When previous owners added the vinyl windows, they made the original space smaller. Part of the charm of an old house (in my opinion) are the very large windows. The original intention was to let in as much fresh air as possible since there was no air conditioning back in the day.
Again, I went old school to see in person the different sizes of windows I was considering. With butcher paper, I cut out various sizes of "windows" and literally taped them inside and outside the house to see what looked best.
We went with 72 inches tall x 32 inches wide for all the main level windows except for a smaller casement kitchen window.
Upstairs kept the same height and width ratio but with smaller windows. Because of our roofline, we went with two different sizes original on the house. 63 inches tall x 29 ¾ inches wide for the windows on the peak side. 58 inches tall x 29 ¾ inches wide for windows with the low roofline.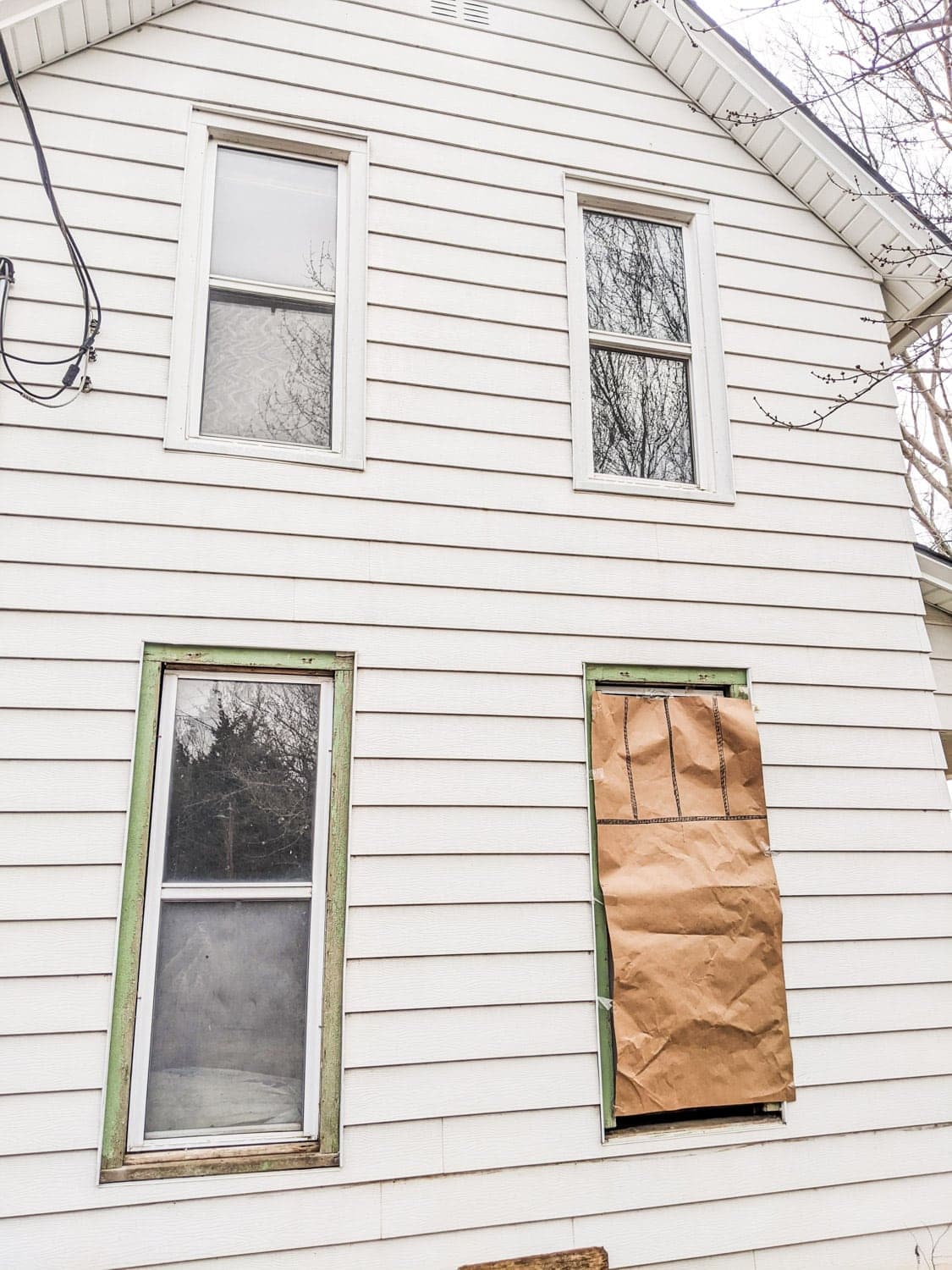 New Windows: Color
Here is the kicker, I LOVED black windows you see on Modern Farmhouse styles. They are striking against the white paint of the house. After doing a bit of research, I decided that black windows could be an authentic choice for a farmhouse built in 1900. So I went back and forth, black or white? Oh, the choices! I couldn't change them once they were in.
AND THEN, after pouring over blog posts, window pictures and books, I found one little blog post that changed my world and saved my window decision from a mistake. (I'm sorry to say I can't remember the link to that post.) They said something like, Notice all the photos you see of black windows. They either have light shining or light colored curtains behind them. THAT'S because window glass appears black, so to have the black frame and grid stand out, you have to have light behind windows, and that's not going to happen on a normal basis in real life.
Lesson #1 on black windows: they look great in photos. I have also seen them look great in person. But they can get lost in the window glass that naturally shows dark and look like blank "eyes" of the house.
Before this grand revelation, I had also been wavering about black windows for another reason. While black windows were used on original farmhouse or house design, in today's world they are extremely popular, so they tend to look modern.
Lesson #2 on black windows: Even though something is authentic to an old house, if it is highly popular in modern times, it will look dated in a decade or two.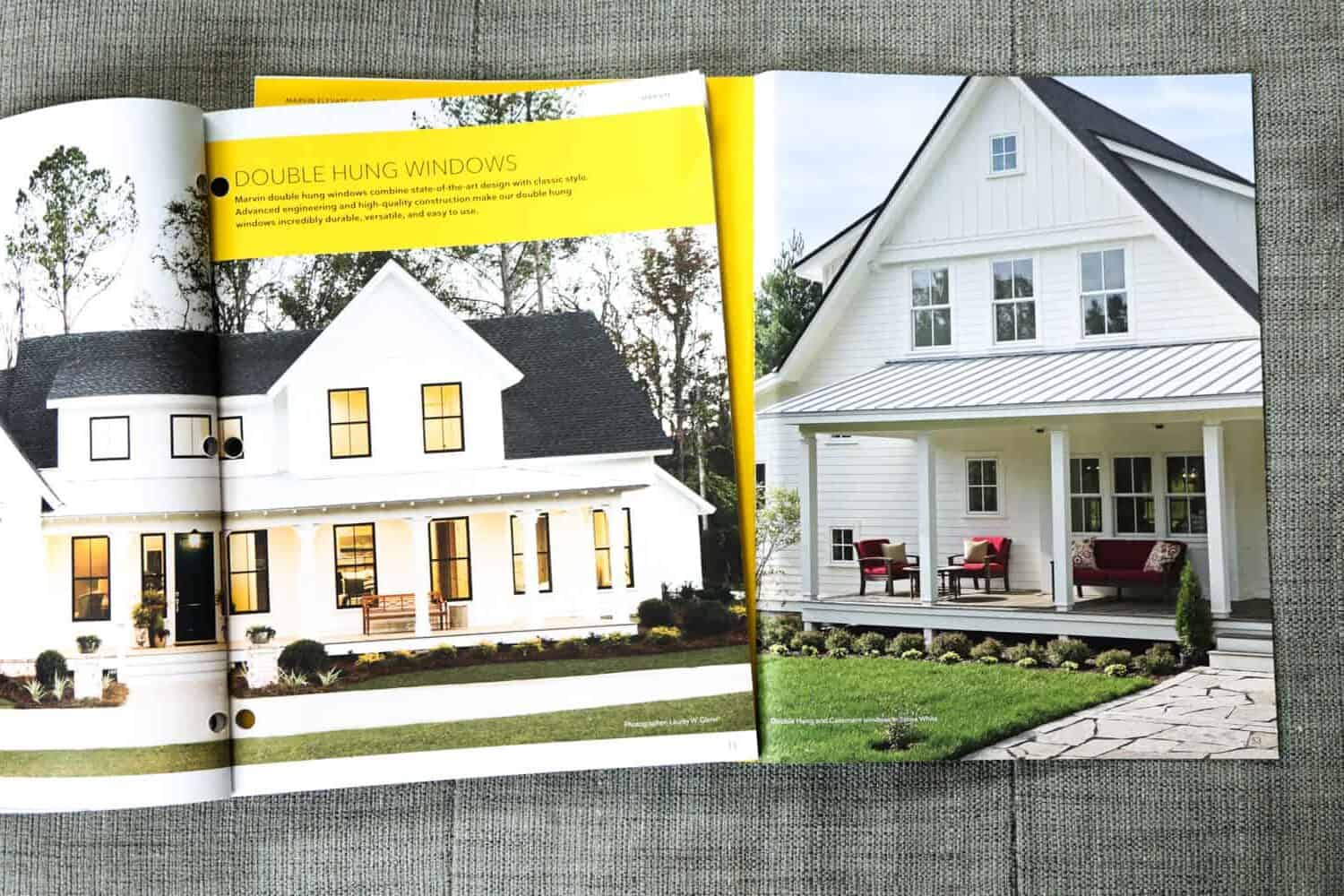 New Windows: Placement on the House
Since we could see the original window openings after the walls were ripped out, we kept them all in the original position. Farmhouses have second story window directly over a first story window. They are very precise and lined up squarely.
The few exceptions we made were adding a window to our farmhouse kitchen that wasn't original simply because I wanted to see outside while in the kitchen. Also, the placement of the bathroom window had to fit the inside bathroom layout and not the outside original design. That's because the bathroom was added to the house years later in what was originally the kitchen. Because of wall placement, we couldn't put that window where it used to be.
New Windows: Making a New Addition Flow with the House
The windows in our new kitchen and family room addition are, of course, not original placement since that whole part of the house isn't original. But in our authentic farmhouse renovation how I chose new windows, I still wanted everything to flow with the original style. I went with a sunroom feel in the back family room, so it fits the style of our house.
We kept the same size of windows in the addition as in the rest of the house for continuity. There are a couple areas where the design of the addition did not allow for the same sort of precise lining up of second and first story windows, most noticeable in the addition. When we ran into an either/or situation, I chose to put the window where we needed it interior design wise.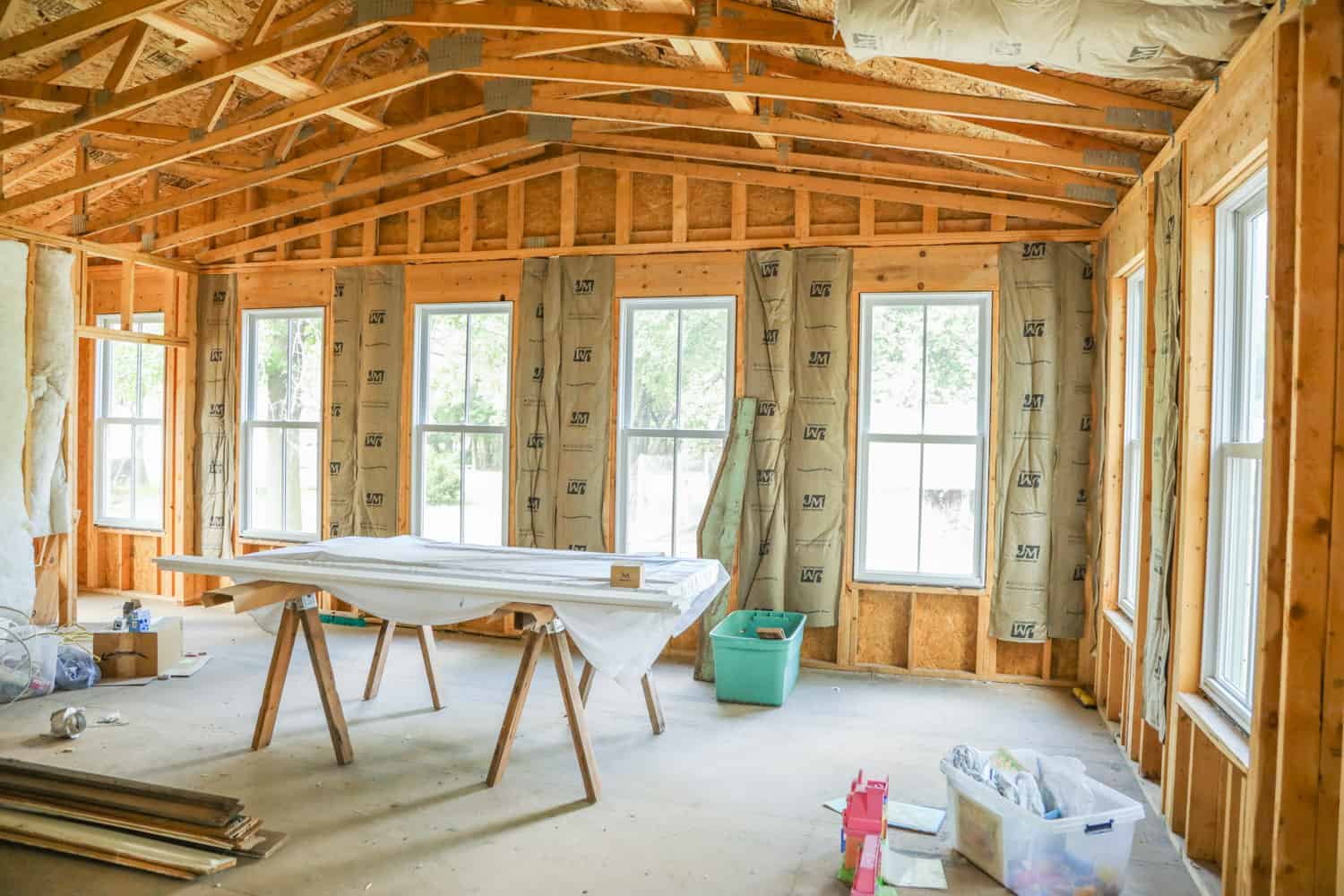 New Windows: Disaster with the First Order
So after allllll the research, window size, placement and color choices made, Caleb and I dropped the kids off at grandma's house and headed to Lowes to make this all-important window order. We had chosen Pella wood windows based on a friend's experience with them.
We ordered in January, 2021 right during all the building supply backup fiasco. Nothing was coming in for months, but we were prepared to wait the 7 – 9 months they told us it would take. And then I called in September to check if the windows would be in soon. And then another phone call in October…and November…and December. To be fair, the employee at Lowes was doing his best and was so kind and helpful. He was getting the run around from the company himself.
In January 2022 (an entire year later), Pella finally informed us that "they lost the order and hadn't even started making our custom size windows." That's when we cancelled the order and started over somewhere else. facepalm
New Windows: Finding the Perfect Window Company
So, I went back to the computer and researched and researched and researched. I wanted a reliable window company with quality wood windows. But who?! Again, I went to window company websites, blog posts and online forums to find people's recommendations.
And we found the perfect (for us) window company, Marvin Windows. Of course, there were some people who had awesome experiences with the company and a few who had terrible experiences. But my takeaway from the forums was that it wasn't the window company but the retailer who SOLD the windows that was responsible for people's good and bad experiences.
We found an amazing mom and pop lumber company in a small town an hour away who sold Marvin Windows. Soooo, again we dropped the kids off at grandma's house and went for a date to the lumber store. (Pretty much how dates go lately.) Boy, I am breathing a sigh of relief that Pella screwed up our order for a year because Marvin sold a much higher quality window, so much so that we were able to purchase the lower end Marvin window and still get a better product. The salesman had a cross piece of both brands of wood windows showing the actual construction, and the Marvin quality was immediately obvious to us.
We made our first order (we split the lower level windows into three different orders so we could pay for them along the way). Sure, the supply chain situation was still slow, so we had to wait six months. But six months later, we had our beautiful efficient windows.
Lesson #1 Learned: Marvin Windows is the perfect place to find high quality aluminum clad wood windows (and I'm certain all other kinds of windows).
Lesson #2 Learned: A highly rated mom and pop lumber store (even if you have to drive an hour) beats big box store service 100% of the time in our experience.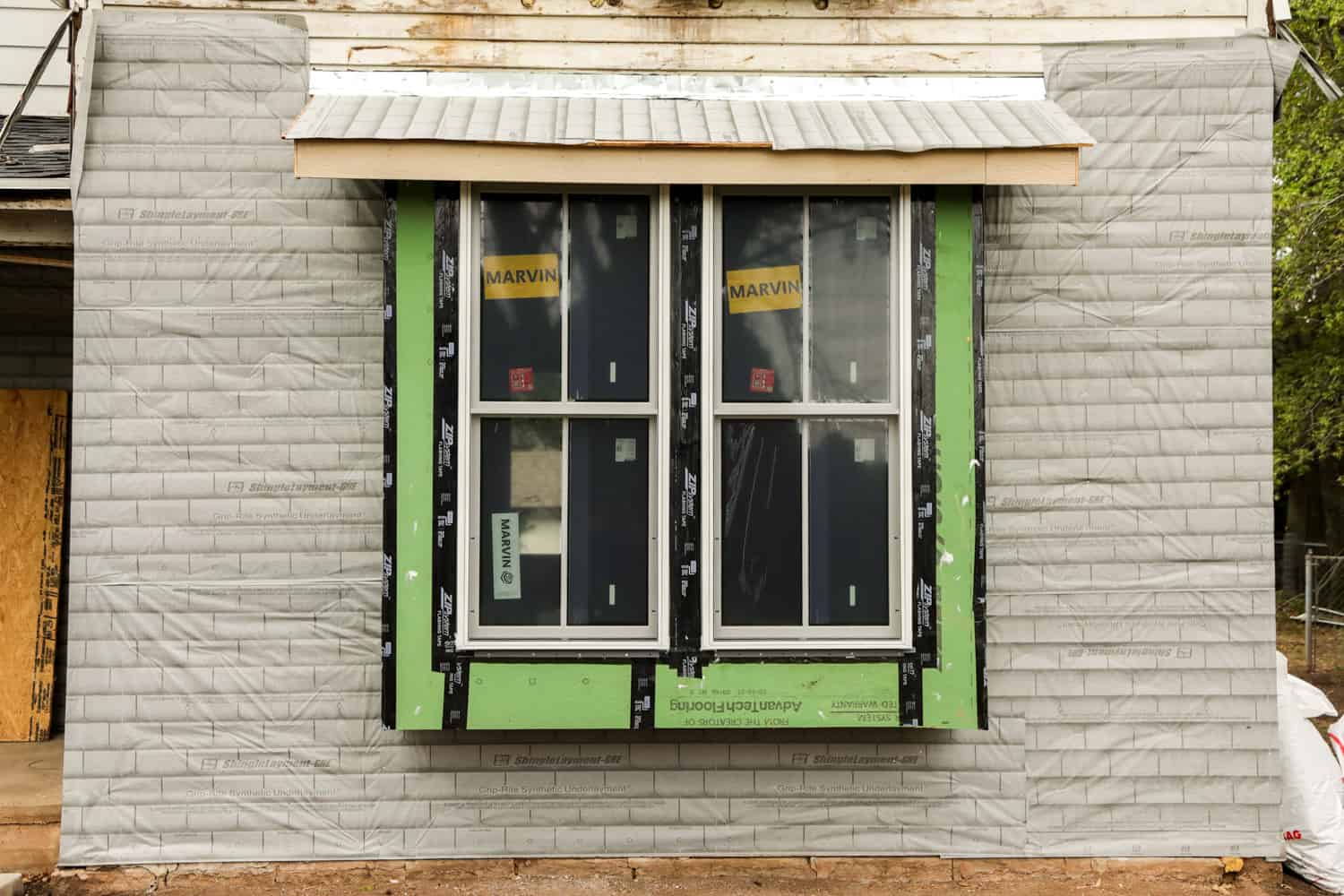 New Windows: DIY Installation
We are DIYers through and through. Now there are some things we DON'T do like electrical, sheetrock and building 2-story additions. But windows we chose DIY installation. (And by "we," I mean Caleb.)
Window installation is one of the highest mark ups of a relatively easy job in the construction world. I mean, HIGH MARKUP. We paid $750 – $850 each for our 72 x 34 inch windows compared to $1,500 – $2,000 each my parent's paid for their much smaller windows and installation (and their windows leak air that you can feel because of faulty installation the highly rated company wouldn't fix).
From seeing two different family member's experience with window companies' work on their old houses, Caleb felt very confident he could do a good job at a much cheaper price. And he had installed most of our windows in our 1900 bungalow remodel, so it wasn't a new experience.
Here's the deal, window installers pull the old window and slide in the new window. If you have damage to the window frame like rot or crookedness from a house settling, they will not rebuild it. They slide in the new window…that's it. So on an old house that's inevitably going to have damage to the existing old wood frame, there are going to be problems when you don't go all the way and fix the "foundation" of the window.
Since this post is about authentic farmhouse renovation how I chose new windows, I'm not here to walk you through how to install a window. This is simply because I don't know. Caleb knows. I don't know. I will just tell you that with much research and careful attention to details (which Caleb does, I don't), you can definitely DIY your window installation.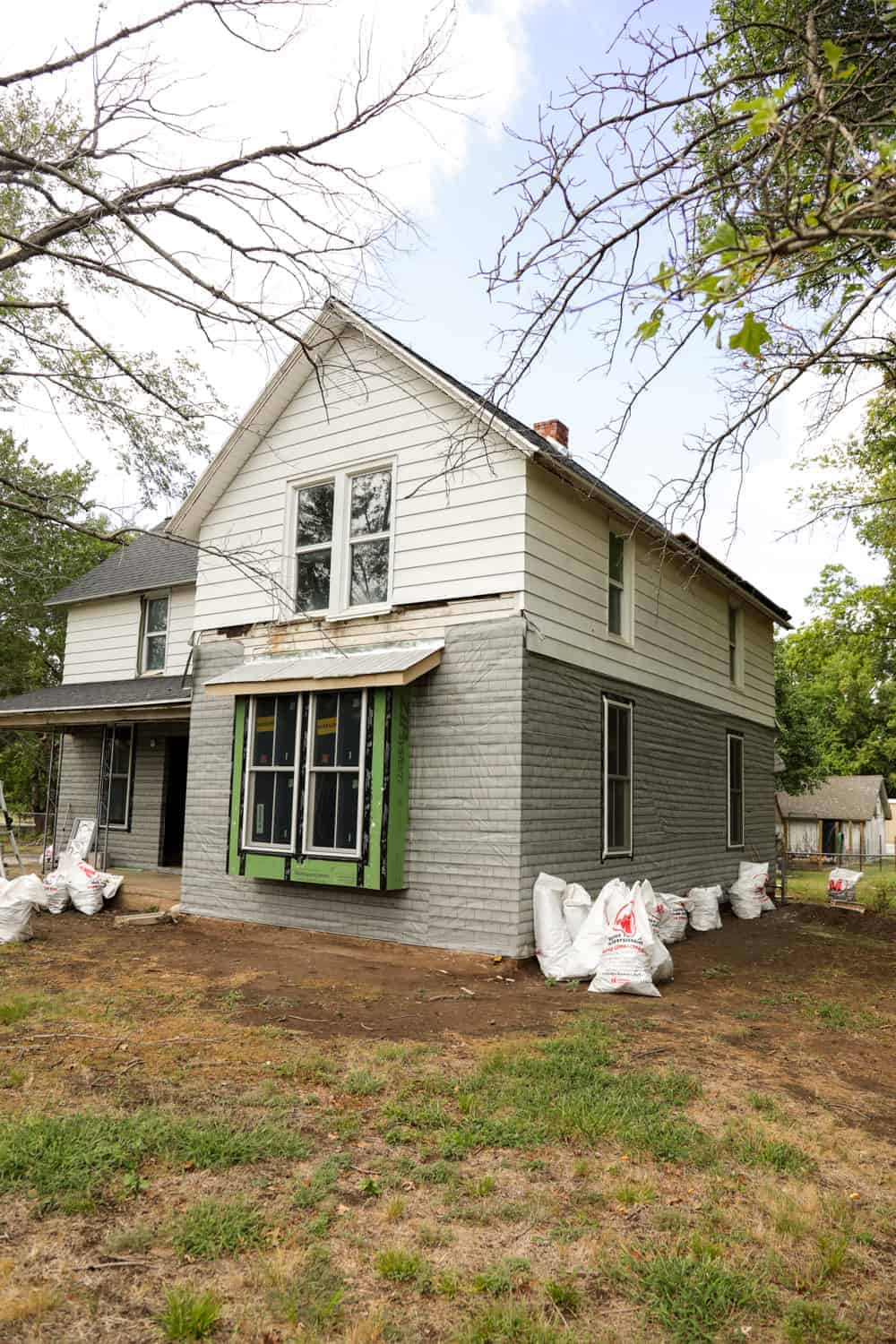 New Windows: Marvin Window Warranty with DIY Installation
Obviously, our windows are new, so we haven't had any warranty issues. We were concerned though about a warranty claim in 15 years if we had done our own window installation and not used a Marvin Window certified installer.
According the Marvin, as long as the installation is done "correctly" with no obviously flubs where your installation lets water run in, they will cover the window with a limited lifetime guarantee. Now it is, of course, up to an inspector to decide if you did the installation correctly. But we are confident that Caleb researched and took the correct steps to do a professional level job. And the windows aren't leaking, so there's your first sign the installation was done well.
What To Do with the Old Windows
We removed about twenty vinyl windows from our farmhouse in order to replace them with new wood windows. They were still in pretty good condition, so I listed them on Facebook Marketplace. They brought in several hundred dollars so far with more for us to list and sold pretty quickly. So if you are replacing your own windows, don't throw them in the junk pile! I don't know anyone who couldn't use an extra few dollars for their DIY fixer upper home renovation expenses.
But if you really don't want to bother selling them, you can donate them to stores like Habitat Restore, a home renovation "thrift store" that supports the Habitat for Humanity charity. They will even come pick them up for you. It would go to a good cause, keep items out of our landfills AND save you money from using a dumpster.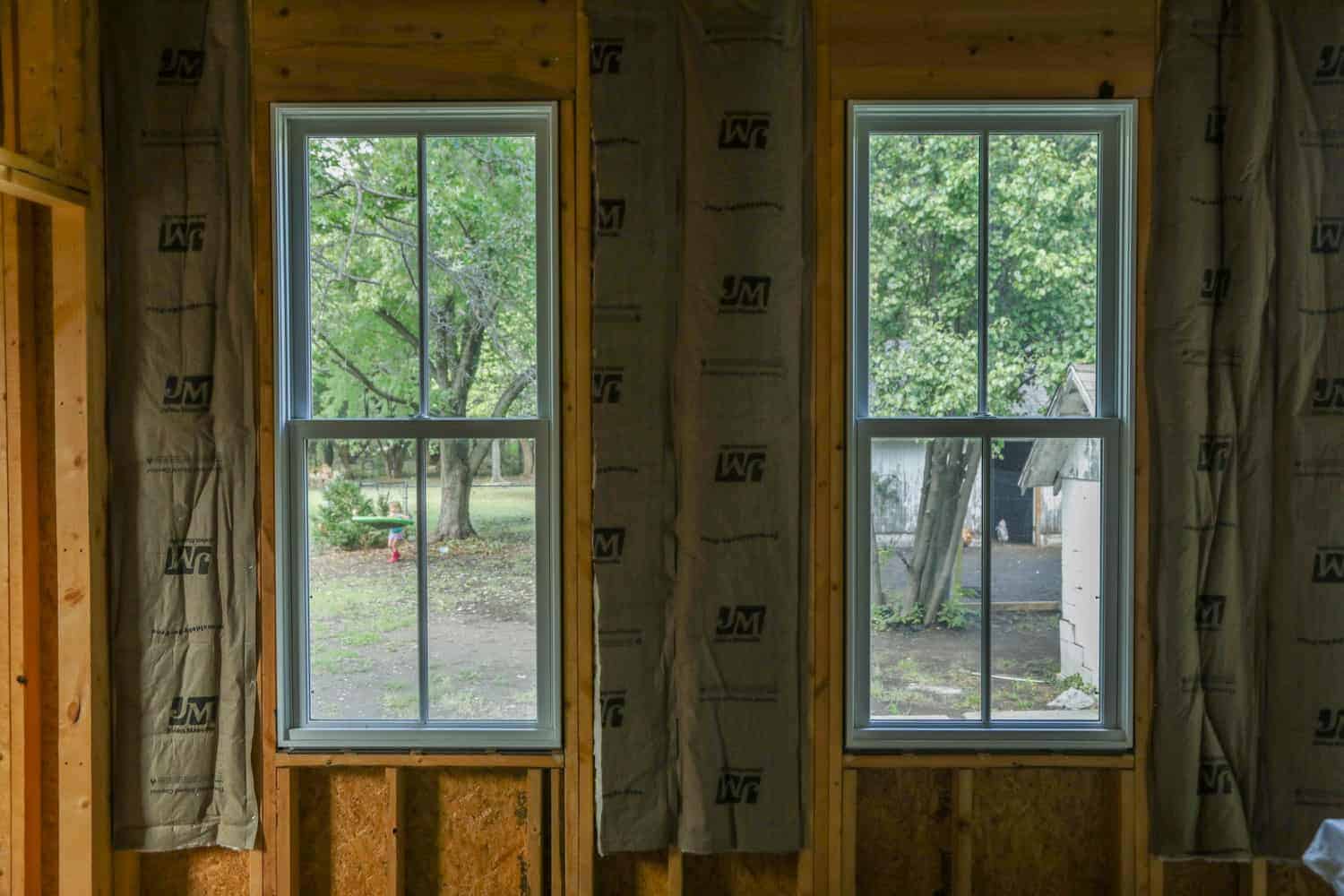 I know it can be an overwhelming task for a DIYer to restore an old house or to simply pick out new windows that will fit an old house style. There are so many options, so many companies, and it is just a huge investment, involving a lot of work. I trust that this article on authentic farmhouse renovation how I chose new windows will give you some insight on your own old home window replacement. It took hours of research, months of thinking and rethinking and (literally) years of waiting for our windows to finally be finished, but I am absolutely thrilled with the result.
Read More About Our Farmhouse Renovation Below
Where to Buy Authentic Materials for Old House Renovation
Farmhouse Remodel Before Photos
Farmhouse Renovation During Pictures
Old Farmhouse Addition During Photos
Antique Farmhouse Wallpaper Found During Renovation
Pin for Later Authentic Farmhouse Renovation How I Chose New Windows