Whether you are renovating an old farmhouse or adding character to a new home, sometimes you just need old pieces of trim, doors, flooring, cabinets and so much more that's hard to replicate at the big box stores. We are restoring our 1900 farmhouse to its former glory, and I'll share where to buy authentic materials for old house renovation. Bonus: we are doing this on a budget, so many of these sources often are less than new prices!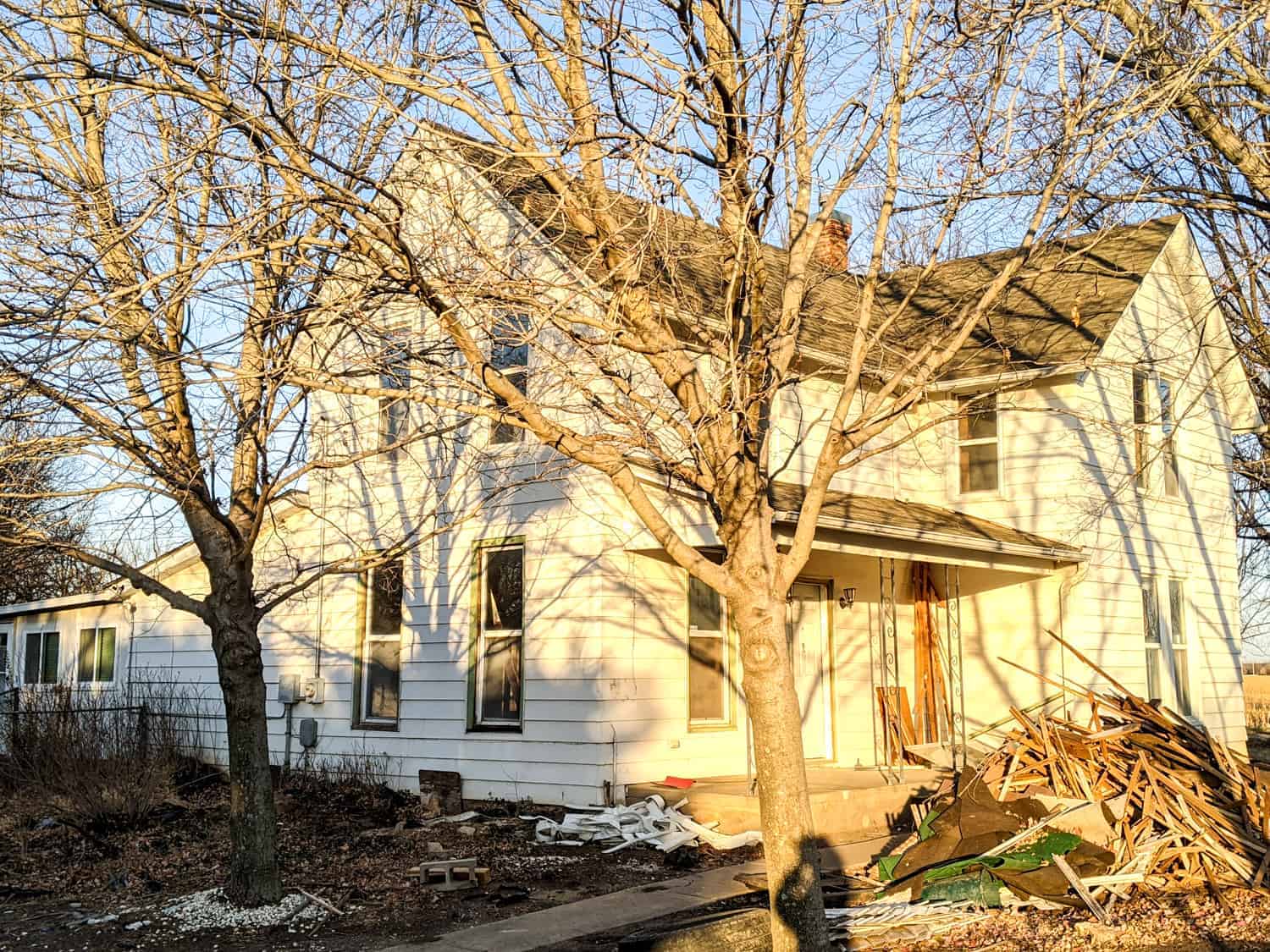 Terms to Search for Original Building Materials
Architectural Salvage – stores that sell any items salvaged from old houses (ie porch pillars, flooring, trim, bathtubs, cabinets, doors, etc)
Reclaimed Lumber, Flooring or Trim – Wood items salvaged from old houses or barns and restored for use
Heart Wood (or Heart Pine, Heart Oak, etc) – Old wood used in building. It was harvested from trees hundreds of years old, so the wood was taken from the "heart" (middle) of the tree. As opposed to wood harvested now from trees 20 – 30 years old. Heart wood is extremely dense and holds up over long periods of time. No longer available except through reclaimed lumber from old houses and barns.
Dip and Strip – the professional method of stripping (taking off) paint or stain off of old wood. This is especially helpful when the item has lead paint. It is a dust free removal option that the professionals take care of.
Lead Paint – Old paint used to be made with lead. If you choose to remove it, sanding the paint can cause a hazardous materials dust that you would not want to breathe.
Reglazing Cast Iron Tub or Sink – the process of refinishing an old tub or sink with enamel paint
Sandblasting – the process (usually professional) of removing old paint from metal items (ie cast iron tub, metal fencing)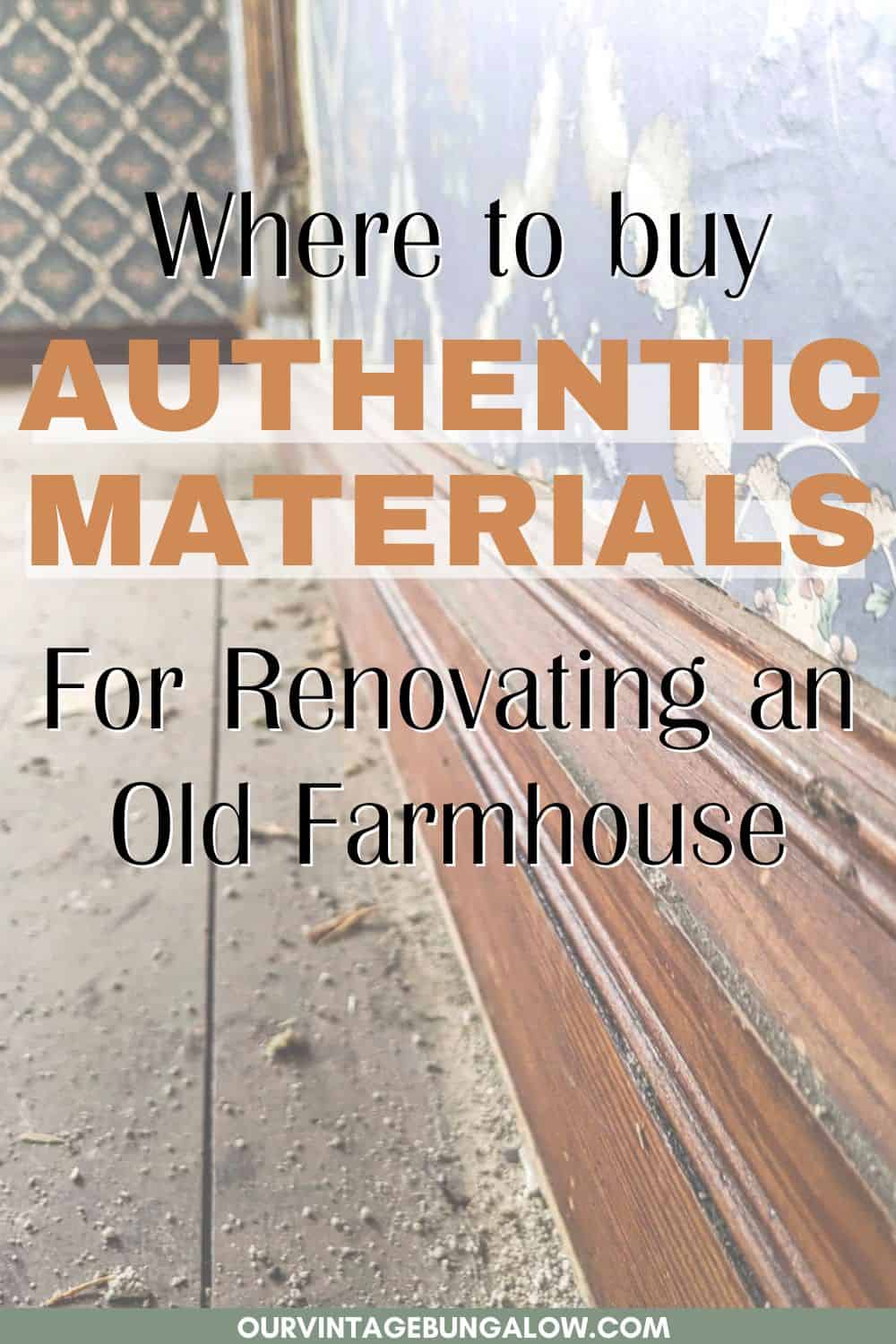 The Story of Our 1900 Farmhouse Restoration
We bought our farmhouse and homestead two years ago. Immediately after closing on the property, Caleb and I drove out to the house and started ripping up carpet. And then we just decided to "peek behind the paneling of this wall to see what was back there." The home had been remodeled in the 1970's, and just about every piece of original trim, doors and character had been replaced.
Our curiosity of what was behind the paneling turned into an all-out restoration of the home. We always planned on completely remodeling, but I hadn't considered the fact that we would tear out ev-ry-thing right away.
Well, here we are, two years into the DIY renovation. It's been a good process and experience, though very hot and dirty. Now we are at the point of starting to put things back in like windows, doors and allllll the interior details that make a house look authentically old.
What I Choose NOT to Buy Second Hand
While I want to add old character to the whole house on our farmhouse house renovation, there are certain house materials I buy new that look old for the sake of energy efficiency and modern amenities. However, it's a short list of items I would not buy.
New Windows – If we had the original windows still in the house, I might consider salvaging them. But while in good shape, our vinyl windows lacked the character I wanted. We purchased new aluminum clad wood windows from Marvin Windows that are more the style of an original farmhouse. This gives the house much needed natural light, new life, energy efficiency and yet an old look.
​Exterior Siding – While we have the original clapboard siding on the house (underneath layers of other siding), we are choosing to purchase new Hardiboard siding that gives just as much character as the old. This allows us to get a product that will last, doesn't need hundreds of hours to restore and the ability to match the siding for our new addition.
Kitchen Cabinets – I am actually still on the fence about this one. But I think in our renovated kitchen, there will be areas where I want custom kitchen cabinets (because soft close doors and drawers that actually slide right!). However, to match the history of our over 100-year-old farmhouse, I will probably also add in old mismatched cabinets into the room to keep an authentic farmhouse kitchen feel.
Kitchen Stove – You can find restored old kitchen stoves that are amaaaaaazing. But I think we will get a new kitchen stove that looks old because, well, new stoves have modern conveniences that I'm kind of used to.
Toilet – Yes, you can buy these used. No, we won't be doing that.
The Style of Our Farmhouse
Authentic Farmhouse – I want to bring back much of the original character of an historic farmhouse built in 1900. I've done research and scoured books and photos of building materials from that era.
Rustic Cabin – However, Caleb loves the Rustic Cabin style. While I'm not willing to put log siding on a farmhouse (umm, doesn't quiiiite fit), I am respecting that he lives in the house too. We will be adding Rustic elements here and there (like a wood burning stove and a more Rustic family room) to seamlessly fit into a farmhouse.
Comfy, Cozy Home – While I want our home to be beautiful, I also realize that sometimes we need to make decisions based on what fits US. While I didn't want an open floor plan, we made larger pass through doorways into the kitchen and family room, not because that was original to the house but because it's what will work for our family.
Building Materials We Have Uncovered in the Renovation
Tearing out all the paneling, (crumbling) plaster walls, carpet, siding and windows has revealed some hidden treasures. Read my post on the 30+ Styles of Historic Wallpaper we found HERE. We've also salvaged some original trim from one of the rooms as well as original green painted outside trim around the windows. I have saved all these clues to the past and will try to incorporate some of them in the final design.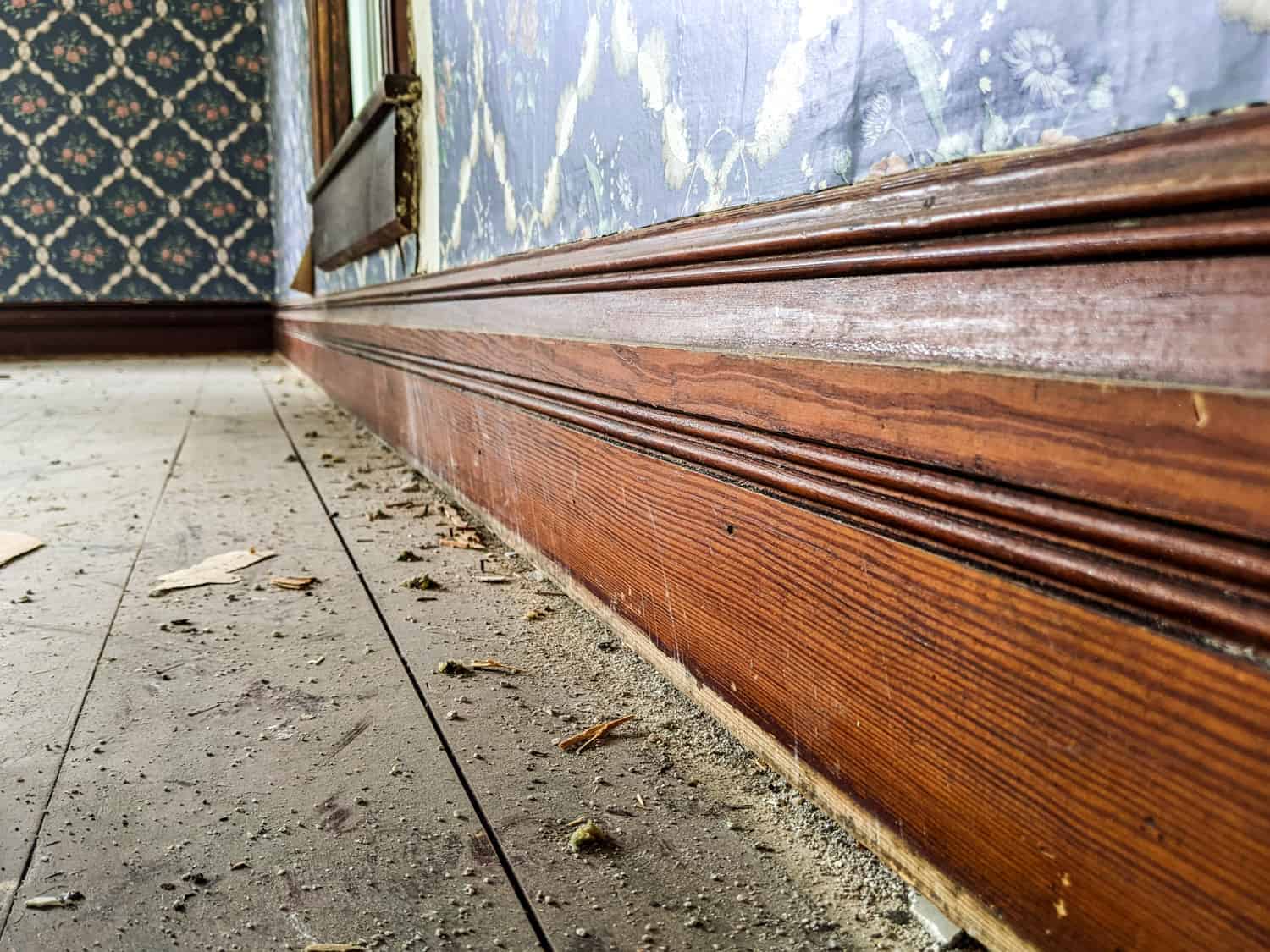 Building Materials We Have Started to Replace
Windows – We are replacing all the windows. They were not original. I measured and did an immense amount of research to decide what would have been the original size and style. We decided to go with four paned wood windows. I will detail our windows story more in a later post.
Exterior Doors – These are extremely pricey in the stores for an old style, so I decided to go to our local Architectural Salvage store to browse their hundreds of doors. We found two, one front and one back, that would fit the old farmhouse style. Since they were painted with probably a century's worth of paint, we paid for professional stripping and refinishing. The purchase price, labor and material cost still totaled less than half of what we would have paid new.
Baseboards and Trim – I have already taken in samples of our trim to the Salvage store, and they have more than enough matching to cover our house. I will have to do research as all of it needs refinishing.
Where to Buy Authentic Materials for An Old House Renovation
1. Buying from an Architectural Salvage Store
This is my all-time favorite place to shop for original building materials. It's like the Lowes for old houses. They usually have hundreds of old doors, trim, wood flooring, railing and so much more. So whether you need a "new" antique front door for your farmhouse, wide trim for your living room or a cast iron tub for your bathroom, you can usually find it in an architectural salvage store.
Our store even arranged for stripping and refinishing the doors to their original beauty. So ask the owner to see if they offer this service or recommend a company because often these doors and trim have years' worth of paint and gunk. While you still have to pay for the service, we purchased two exterior doors, with the refinishing, for less that it would have cost for one new door of this quality.
We are fortunate to have an Architectural Salvage store within thirty minutes of us. I have Googled across the country and found these types of stores in many cities. Look in your area (or at least your state) to see the closest "Architectural Salvage" to you. These are true gems when it comes to restoring old homes.
2. Shopping Facebook Marketplace for Old House Materials
If you know what you're looking for, try searching for it on Facebook. Usually, you can get amazing deals! I've seen original farmhouse sinks, bathroom pedestal sinks and vanities of all styles, wood flooring, trim, well, basically anything that comes from an old house.
There is also a Facebook group HERE called Historic Architectural Savage Market where people sell architectural salvage from houses they are remodeling or tearing down. It is nationwide, but you might be willing to drive if the item is dreamy enough. (Or maybe you'll be lucky and find something in your area.) I've seen amazing finds like butler's pantry cabinets, original light fixtures and unique items for older homes (or newer builds that need some character).
Almost always the items need refinishing or work, but since you can purchase them so cheaply, it is affordable to hire someone to fix it up. Or you can go total DIY and refinish it yourself.
3. Scouring Craigslist for House Materials
Yes, Craigslist is still around. Older people and small businesses usually list items here, so you can find great deals on building materials for your dream house renovation from people who just "want it gone." When I say small businesses, I mean the type of business that refinishes old sinks and bathtubs or has a warehouse full of old cabinet doors you can use. I've gotten Shaker style cabinet doors to add to our existing cabinets to give them a "refreshed" old look in our bungalow renovation HERE.
So from quartz countertops that someone bought but then realized didn't fit to heart wood hardwood floor torn out of a historical house, Craigslist can be a great resource for a new build or a remodeling project.
4. Old Houses and Barns Being Torn Down Yield Cheap Materials (with a little elbow grease involved)
This takes a little more work to find these, but if you come across an old house being torn down, the owners might let you come in and salvage the building materials. Barns are commonly listed on Craigslist for demolition. In our small town, there was an old house where the owners let us take anything we wanted – doors, light fixtures, trim, etc. We had to supply the tools and the elbow grease to remove things. But this will definitely give you the authentic materials for old house renovation that you need! Just spread the word that you want old house junk, and you'll be surprised what people will tell you about!
5. Garage Sale Finds for Random but Beautiful House Materials
I recently came across a beautiful farmhouse sink at a garage sale that was so perfect I almost bought it (even though I had no use for it). Whether people are tearing out items from their own renovation or purchase something and realize it won't work for them, garage sales can be great sources of building materials. No, you can't count on them the same as a store because the finds are, well, random. But keep an eye out for the perfect wall sconce, antique trestle table for your dining room or vintage pedestal sink while you're out and about at yard sales.
Hint: garage sales and estate sales are perfect for vintage and antique furniture to add character to your entire house after the renovation.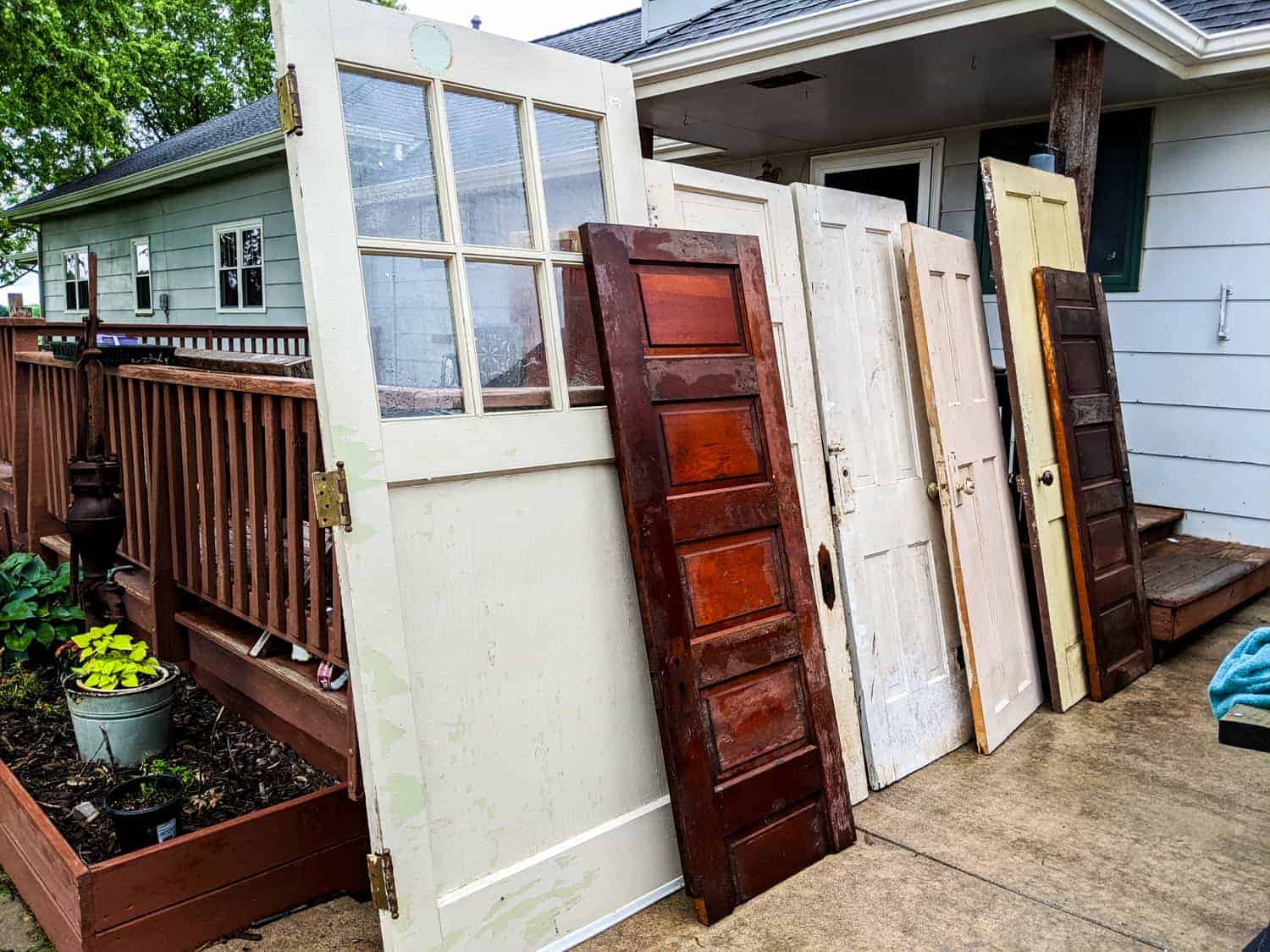 6. Hitting Flea Markets for Unique Materials
Like garage sales, you can't count on flea markets for a regular supply of old house materials. However, you can find treasures for historical houses or your new house needing old style. Whether your design style is farmhouse fixer or Mid Century Modern, it can all come down to the little things. (Old) new hardware for kitchen cabinets, a deep sink for your laundry room or small pieces of molding or trim for the rest of the house can often be found at a good flea market. The best thing is that while you'll spend a little time searching, you usually won't have to spend much money at a flea market.
7. Specialty Local Stores That Refinish Original Fixtures
Whether you search on Google, Facebook Marketplace or Craigslist, you can usually find specialty stores that restore original fixtures like clawfoot bathtubs (perfect for your master bath!), farmhouse sinks or old wood flooring and sell them. Search for "restored antique claw foot bathtubs" or "reclaimed wood flooring" to find these building material re-salers for good quality antique items without you putting in a lot of work to refinish them.
Some ideas for authentic materials for old house renovation that people restore and sell:
​Reclaimed wood for flooring, ceiling beams and trim
​Pillars for the front porch
​Antique stoves
Sinks and bathtubs
Doors, cabinets and pieces of furniture (search for furniture restoration)
Light fixtures
8. Antique Stores and Malls Yield Quality Pieces
Antique stores often carry small, original building materials like light fixtures. It may take searching, but you could be rewarded with a one of a kind piece! If it has the original wiring that's not in good condition, simply take it to an electrician to rewire.
Another big win for antique store finds are free standing cabinets like original Hooser kitchen cabinets, pie safes and china cabinets (that can be used for things like blanket storage, bathroom storage or canned goods storage). These pieces are what were used in original farmhouses instead of built in cabinets, so adding them to historic houses add a lot of authentic character.
9. Ebay for Hard To Find Items
From claw foot bathtubs to antique light fixtures, people on Ebay sell it. Depending on the size of the item, this might not be my first choice. Shipping a bathtub might be pricey, or they might only offer local pickup. But it is an option if you can't find a local supplier. Ebay is also a good place to find antique furniture pieces, shelving or decorative architectural salvage that can serve as an extra boost of authentic antique character for your family home.
10. Etsy for High Quality Vintage and Antique Materials
Etsy will have lots of great smaller items like light fixtures or hardware from any era. They also sell plenty of furniture items that gives much history to your home and would be a great focal point. (Just make sure you pay attention to who is responsible for arranging the shipping for large pieces as some sellers require the buyer to arrange.)
The pros of old house items on Etsy are that you will usually have high quality choices of vintage items. The cons are that the prices are usually more expensive and they, obviously, don't usually carry large items in bulk like wood flooring.
11. New Stores with Old Style for an Easy Win
I am not above buying new items that look old. There are dozens, if not hundreds, of quality online stores that sell antique style light fixtures, hardware, sinks and more. The prices will usually be more than buying used (even when you calculate the cost of refinishing), but sometimes it's worth it to just be able to click and buy without digging through hundreds of grimey doors in a hot warehouse.
Some of my favorite places to buy reproduction but authentic materials for old house renovation are:
I trust that will get you started on your own venture to find authentic materials for your old house renovation. Remember, you don't need to live in a 100 year old home for it to have historic charm. Enjoy the journey and see what building material treasures you can find!
Read more about our farmhouse renovation below
Farmhouse Remodel Before Photos
Farmhouse Renovation During Pictures (2022)
Old Farmhouse Addition During Photos
Antique Farmhouse Wallpaper Found During Renovation
Style Series: What is Farmhouse Style?
75 Kids' Gifts to Make Helping Fun (Renovation and Homestead)
Comment below and tell me your favorite places of where to buy authentic materials for old house renovation
Pin for Later Where to Buy Authentic Materials for Old House Renovation