Sometimes you want to change up the Christmas décor you've used since the first year of marriage. But buying all new Christmas stuff can certainly kill the budget. Here is a list of 45 thrift store Christmas decorations. Not only are they budget friendly, but many of them can be used as regular home decorations the rest of the year!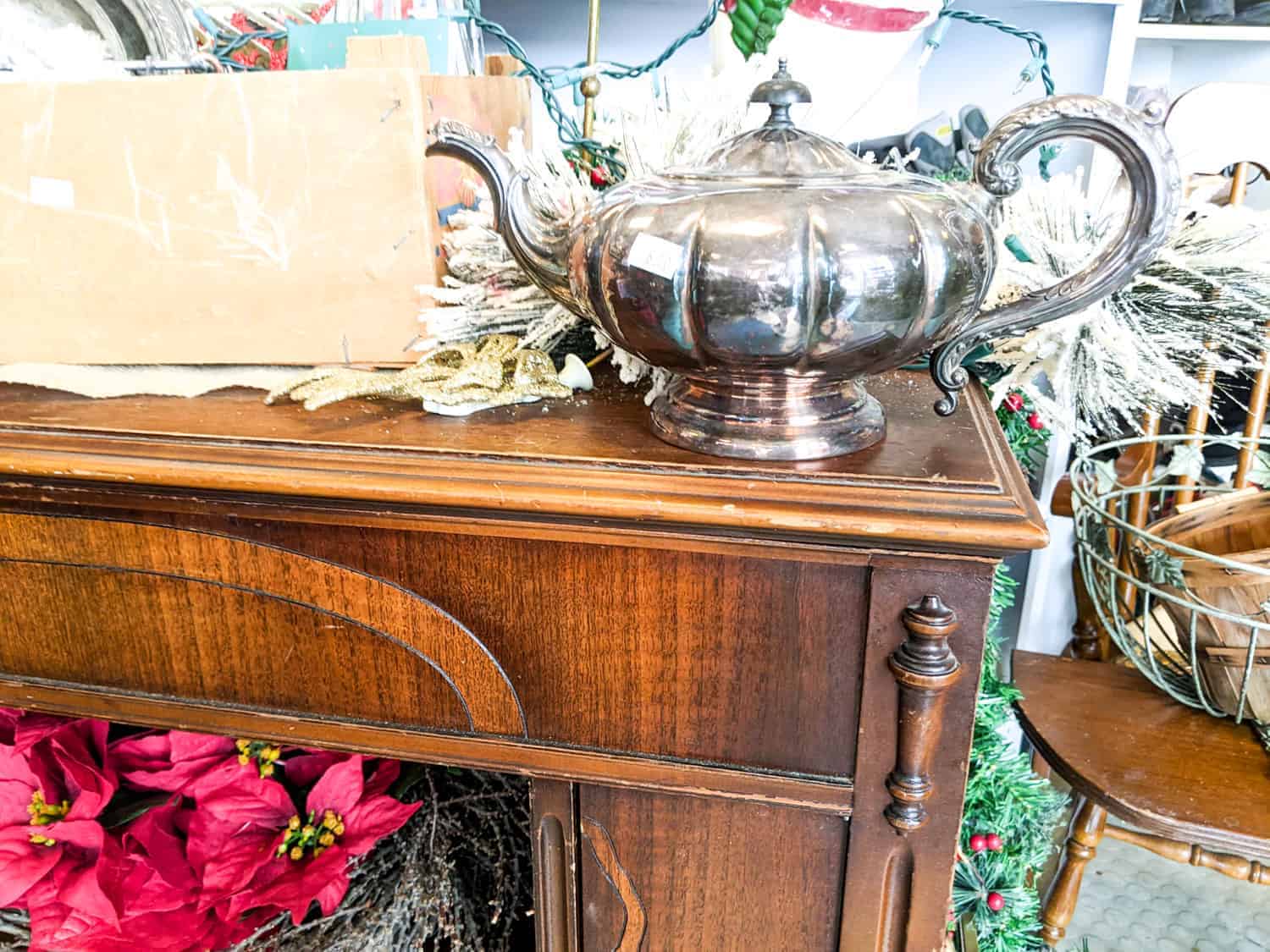 As an Amazon Associate, I may earn a small commission through your purchase through any Amazon affiliate links on this post. This is at no additional cost to you. All recommendations are my own because I believe in each product. See my full Privacy Policy here.
There are certainly a few Christmas decorations that are must haves every year. I mean, that's what Christmas decorating is often about…memories of our childhood or special moments.
A few years ago, I decided to get rid of most of my traditional Christmas decorations and keep just the special items. Of course, I still have a box of Christmas lights and tree balls I use year after year. But on the whole, I generally use items around the house, brought together in a new way. That way I can change up my Christmas decorating fairly often without breaking the bank or storing more tubs of once-a-year décor.
Whether you find these items at a garage sale during the year, at a local thrift store or even around your house, the best part of these 45 thrift store Christmas decorations is they will make your home feel fresh each Christmas season with little effort on your part!
1. Brass Candlestick Holders
These are items that many people already have. Simply change out the color of the candlestick that represents your home's Christmas color theme.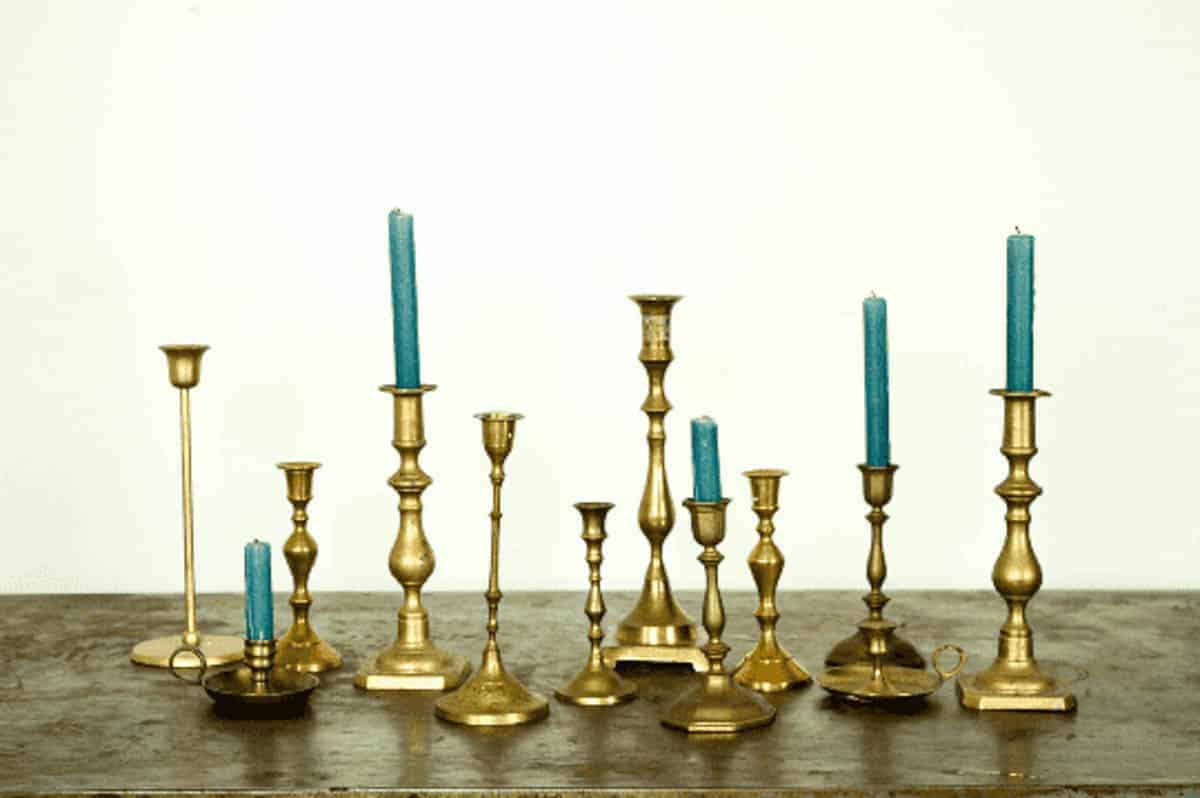 2. Red, Green or White Taper Candlesticks
And speaking of candlesticks, did you know many times your local thrift shops are great places to find brand new candlesticks for a much cheaper price?
3. Mirrors
I love to find vintage style mirrors or even a plain mirror piece to add as sort of a tray under the candlesticks. It acts like a tray and reflects the candlelight, giving your home a wonderful glow.
4. Ribbon
From hanging a wreath or embellishing a Christmas present, ribbon can certainly come in handy this time of year. My favorite thrift store has a crafting section that always stocks lots of ribbons.
5. Vintage Looking Bowls
Choose your style and your color…thrift stores always have tons of bowls. Fill it with vintage mercury glass Christmas balls, oranges or a collection of special Christmas mementos.
6. Vintage Christmas Balls
Around Christmastime, thrift stores always have loads of vintage Christmas decor such as Christmas ornaments. Find vintage Christmas balls to gather in that bowl you found.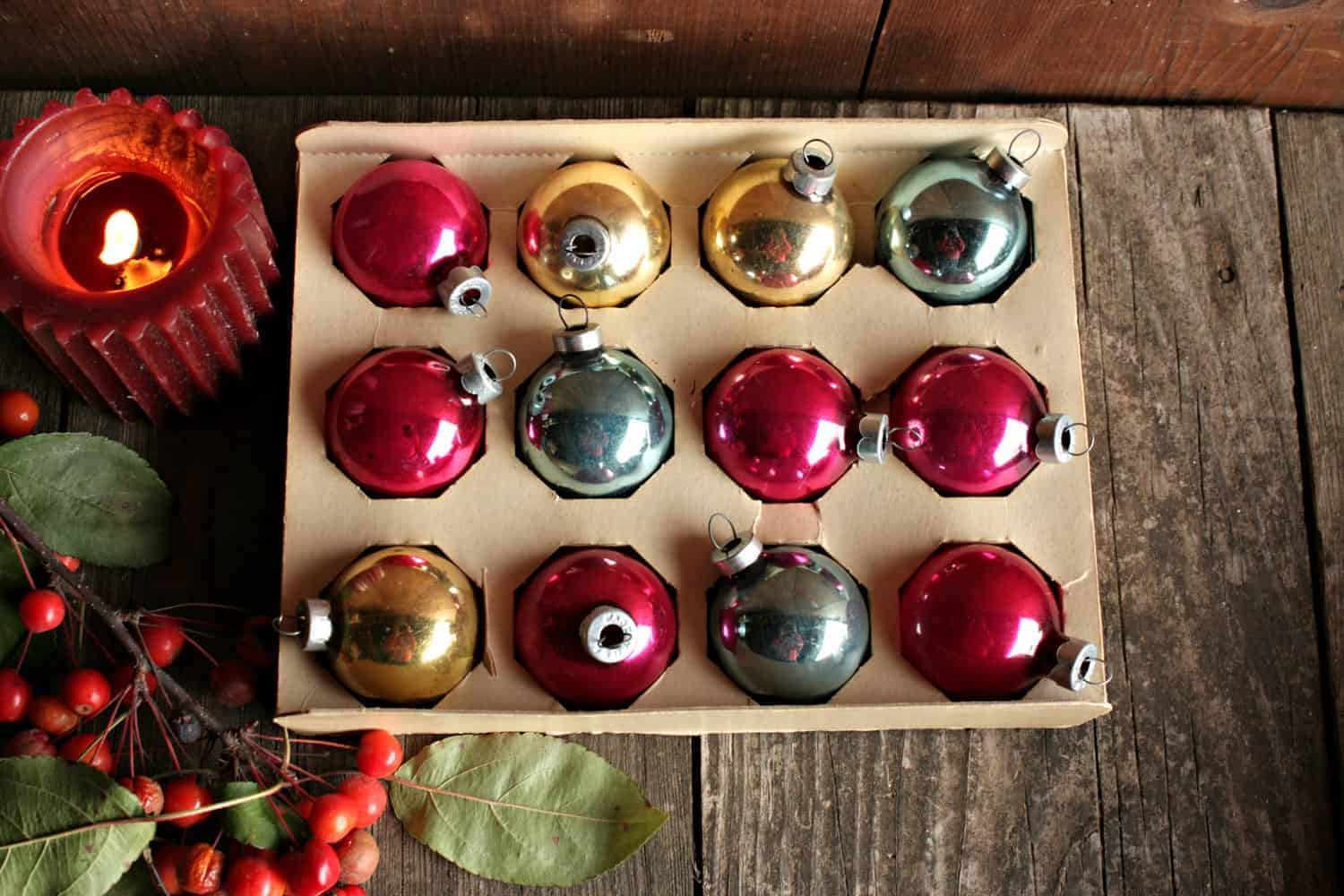 7. Vintage Christmas Décor Boxes
Whether a vintage Christmas ball box or vintage Christmas light box, vintage boxes stacked on top of each other can be a cool way to add a nostalgic Christmas vibe.
8. Fabric
Again, thrift stores often have a craft section. Find a long piece of fabric in your home's Christmas color scheme – silver, white, blue, red, green – and billow it under a display (like your nativity scene or those brass candlesticks on the mirror).
9. Planters
Concrete or glossy red, urns or bowl shaped, planters can be great to add greenery or small tree top for a simple Christmas centerpiece or porch décor.
10. Crates
Old wood crates can be used in a number of ways to add cozy storage to your winter home. From holding blankets, greenery or boots by the entryway, crates can be handy while adding vintage Christmas style.
11. Vintage Books
Find old hardback books in red or green. Stack them up as a display riser and an instant pop of Christmas color. **You might need to remove the dust jacket to find the simple color underneath. Bonus points if you find vintage Christmas books to add to your holiday decor!
12. Quilt or Knitted Blanket
For a new tree skirt, find an old quilt or crocheted blanket. The nice thing is that it doesn't have to be in perfect condition as the presents will hide holes or fraying edges. Second-hand stores often carry Christmas quilts leading up to the holiday season.
13. Tablecloth
Maybe you're a tablecloth kind of person, maybe you're not. I'm not so much, but a small tablecloth can be added at an angle to your table or folded on top of a dresser for unique Christmas style. Look for Christmas colors at local estate sales through the year!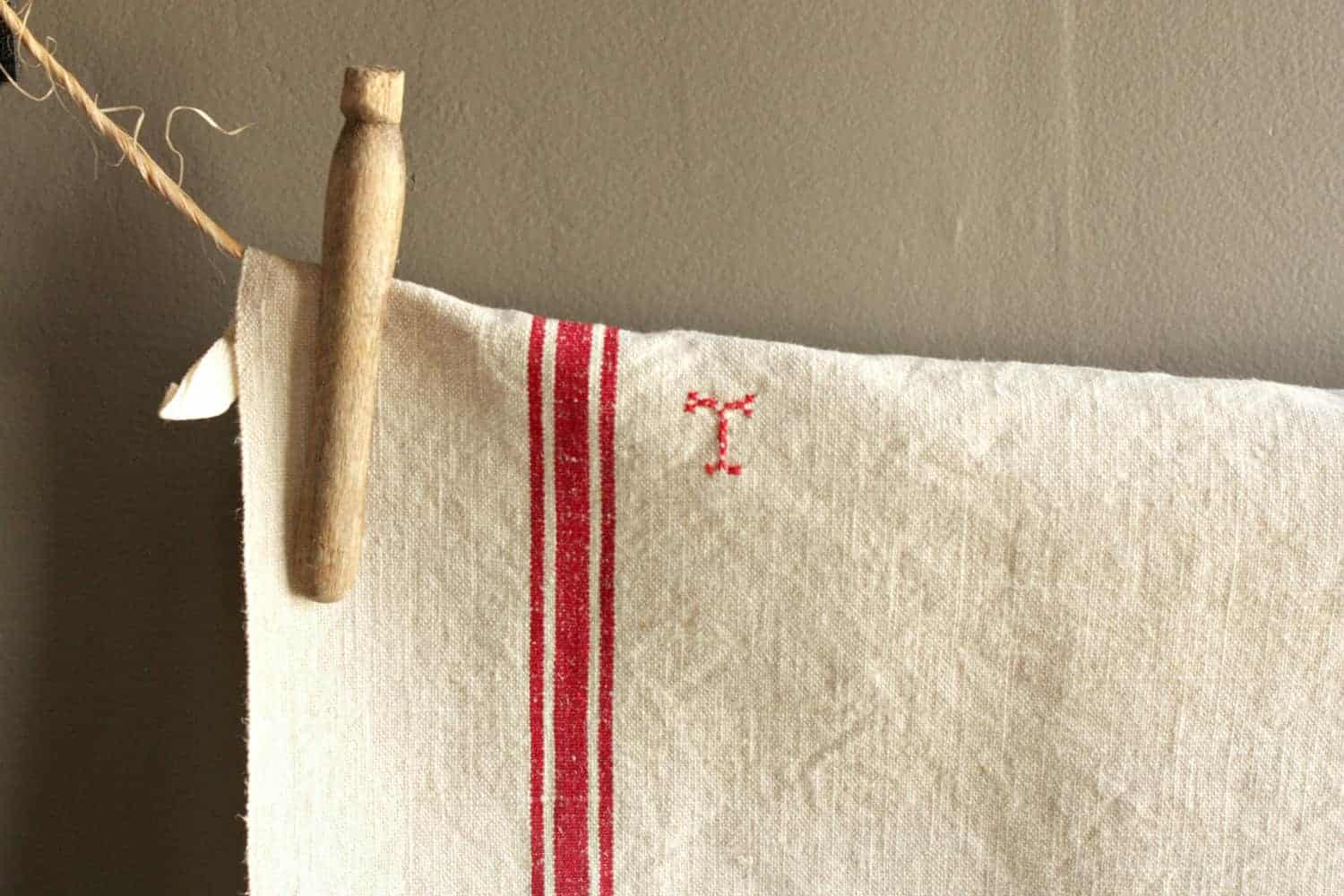 14. Wood Beads
Whether you're lucky enough to find a strand of wood beads or you simply find beads you can string together, wood bead garlands are one of my favorite things for simple Christmas tree décor or along a mantel.
15. Pillar Candles
Like taper candlesticks, thrift shops can be good sources for very inexpensive pillar candles. Find some in Christmas colors for a great addition to your cozy Christmas décor.
16. Jars for Gifts
Glass jars with lids are perfect thrift store finds and are wonderful for holding all kinds of homemade Christmas gifts. From a cookie mix to homemade vanilla, grab a bunch of various jars for inexpensive Christmas gifts. I find jars at garage sales often, so keep your eye out!
17. Branch or Foam Wreaths
Many thrift stores will have those twiggy branch or foam wreath forms. You can then take these and give them new life by adding foraged greenery and berries or ribbon and bells for a great wall or front door wreath.
18. Baskets
Like crates and bowls, baskets are so very versatile in any kind of decorating. Use them to gather foraged greenery, Christmas keepsakes or Christmas ornaments.
19. Lantern
It's amazing how something like a simple black lantern with a pillar candle can add winter coziness to a home. If you find one but it's rusted or the wrong color, simply give it a fresh coat of paint by spray painting it black, gold or your color choice.
20. Empty Frames
Frames abound at thrift stores, but usually they are something less than desirable. Find some large frames with the design you like (ornate vs plain) and then spray paint them gold or silver. You can then hang on your wall a large open frame (or group of frames) around wreaths that you made (with those wreath forms you found!). Other creative ideas include wrapping the frame in Christmas wrapping paper (don't forget the red ribbons!) and hanging it on the wall – as if decorating your wall with a gift!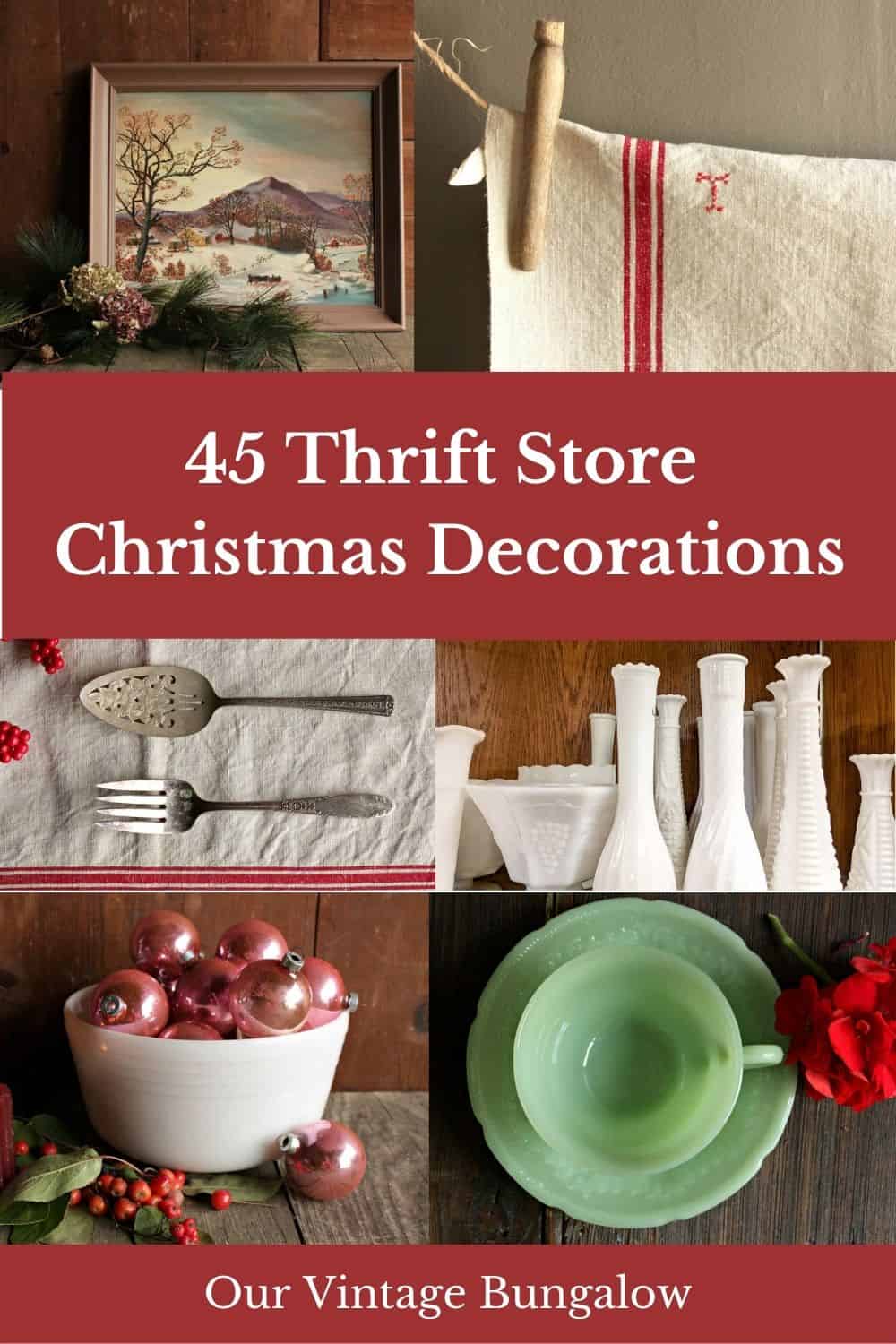 21. Several Vintage Red Thermos or Lunchbox
A collection of red plaid thermoses or a stack of red lunchboxes can be a fun treasure hunt whenever you go thrift shopping. Group them together for a punch of Christmas color.
22. Small Wood Craft Frames
If you find small frames of any sort (but I'm mainly thinking of wood craft frames), you can add favorite photos of past Christmases and hang them on the tree.
23. Yarn
Yarn can be used to make garlands for Christmas trees, to adorn packages or even rolled into balls and collected in a bowl.
24. Copper or Brass Display Bowls
Copper and brass are an easy way to give a touch of Christmas warmth to a room. You can simply use them as entryway key bowls or a bowl holding a scented candle for a bit of glow to your simple Christmas decorations.
25. Winter or Moody Artwork
While good artwork may be difficult to find at thrift stores, it's not impossible. (And don't rule out prints!) Winter scenes or landscapes with warm, moody colors are great pieces to add to your walls during Christmastime.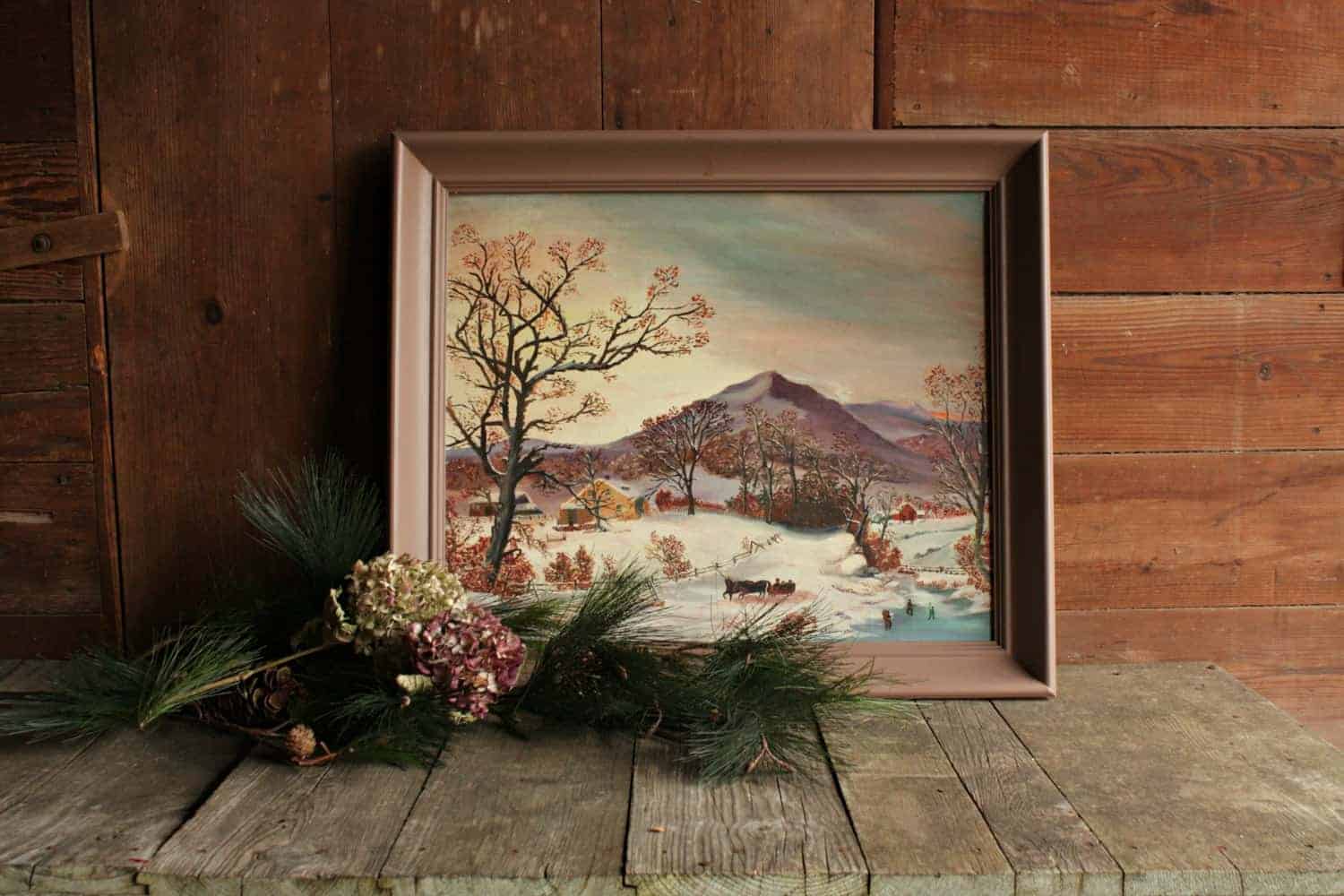 26. White Pitcher
White vessels are perfect for Christmas decorating because it lets the green of Christmas décor pop. Use a large white pitcher as a vase for outdoor greenery or group vintage white dishes like ironstone together and simply add a small sprig of greenery.
27. Pompoms
It's always great to pick up pompoms when you find them. Small or large, these can be strung together for a great Christmas garland.
28. Chalkboard
It can be a large, wall-size chalkboard or small personal size, but if you have a bit of artsy talent, these are great for Christmas messages and scenes.

29. Christmas Cookie Cutters
Cookie cutters can be used in so many ways! Tie a string on for vintage-y ornaments, gather them in a bowl for an interesting collection or, ya' know, make cookies with them!
30. Christmas Records
I'm always seeing a stack of records at the thrift stores I go to. Pick through to find Christmas albums to play on your record player. Or if you don't have a record player, display them as art.
31. Copper Mule Mugs
Something about copper mugs that makes morning coffee or evening hot chocolate extra nice in the winter. Display on a mug rack when you're not drinking from them.
32. Vintage White Hobnail Dishes
As with the white pitcher, a collection of white dishes on an open shelf is show-stopping Christmas decoration. Tuck in sprigs of greenery and bits of red berries.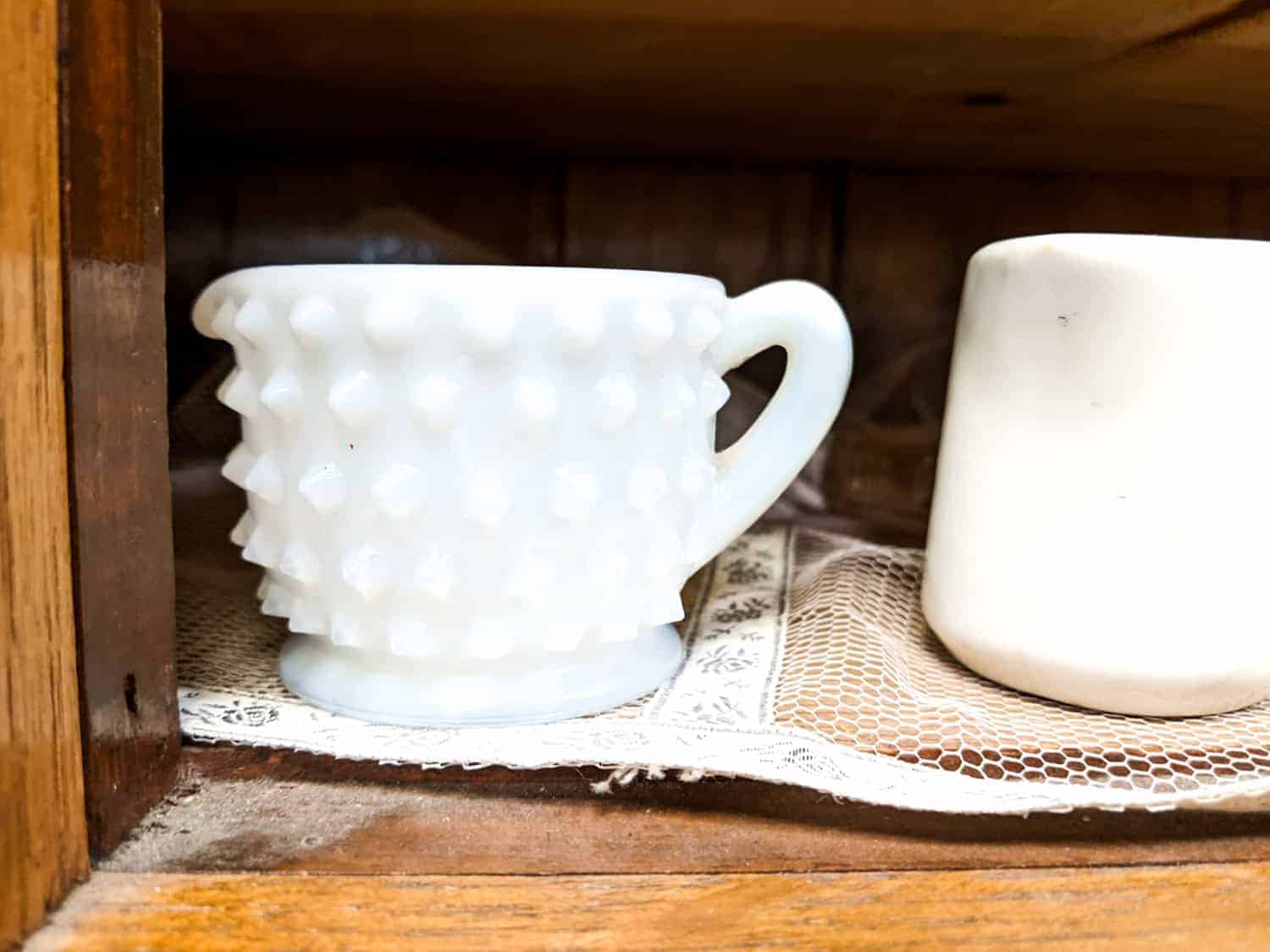 33. Several Vintage Dark Green or White Vases
Pick up dark green or white vases and add branches or red flowers from the store. These will be great for a Christmas centerpiece.
34. Bells
Any kind of bells are instant winter and Christmas decoration. From a brass school teacher bell to sleigh bells, these will look great without being too "Christmassy."
35. Cozy Blankets
Whether it's a red plaid blanket or cozy knitted blanket, these are great to throw on your couch or bed for instant Christmas decoration that's actually usable.
36. Pinecones
If you don't live where you can forage for pine cones, then the thrift store is a great place to get them. Spray them with glitter "snow" or leave them plain for décor that will last all winter long.
37. Christmas Village Houses
You may or may not like the mini Christmas village pieces. I have the ones I carefully purchased when I was eight, so they go up every Christmas. If you don't prefer a full village display, still pick them up at the thrift store. You can spray paint them white and create simple pieces that can be stacked on top of books, in dishes on your centerpiece.
38. Red or Green Plates for Gifting
You can buy Christmas colored plates for a unique Christmas treat tray to give to friends. This will make your treats extra special! (Just include a note saying they do not have to return the plate.) Check your local dollar stores if you don't find them in the thrift shop.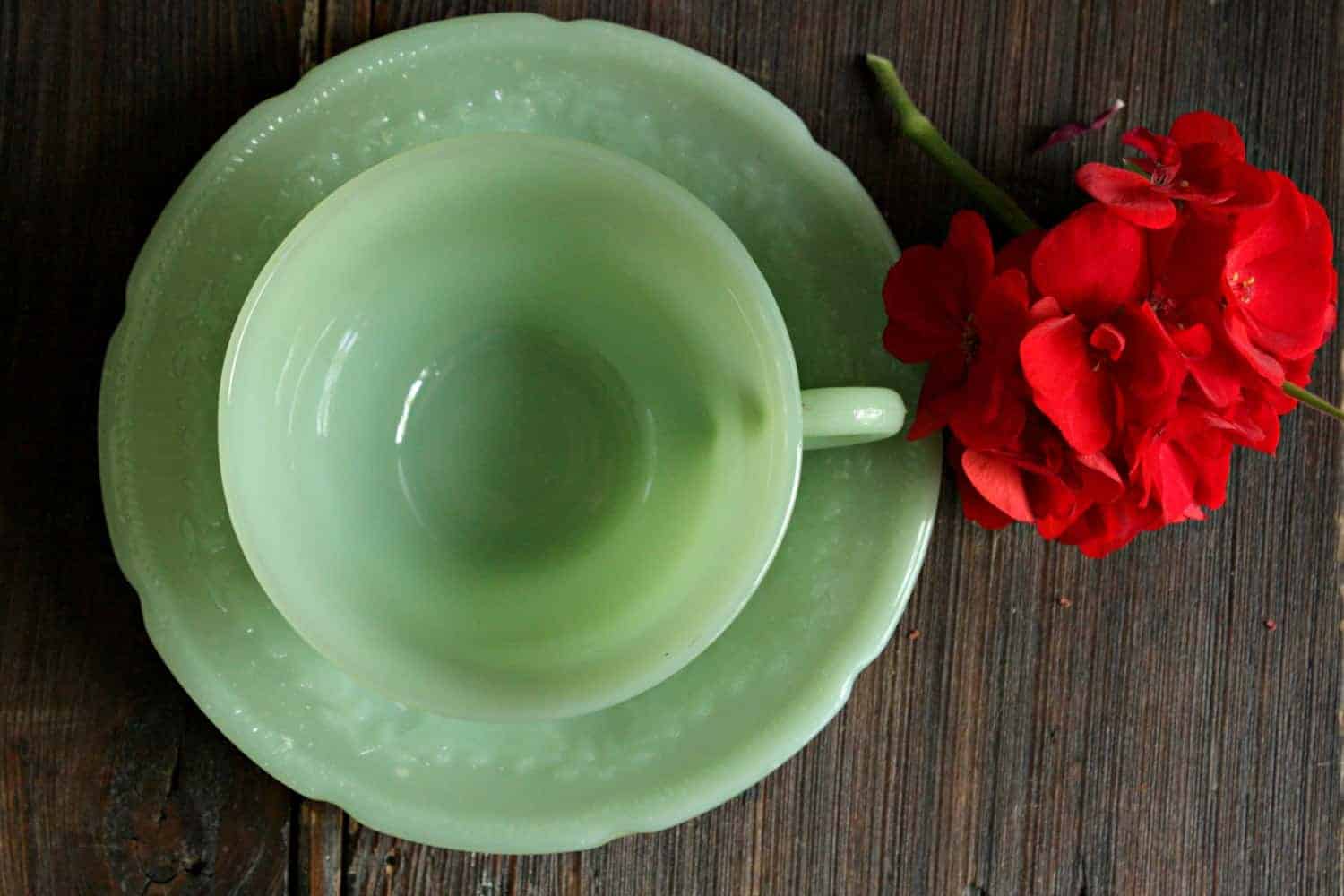 39. Vintage Cards and Postcards
My thrift store has a card section. If you're lucky, you might be able to find vintage Christmas or winter cards that you can frame or set around for a touch of old timey Christmas.
40. Old Red and Green Sheets for a Rag Rug
This takes a little DIY, but if you're in the mood for a winter project, pick up sheets in the color of your Christmas or winter decorations. Head on over to ______ to learn how to make an easy rag rug. This kind of vintage home decor is my kind of great idea!
41. Red and White Checked Better Homes and Gardens Cookbooks
You know that red and white checked cookbook your mom had? Pretty much every thrift store has one…or several. Buy one or buy a collection for great red Christmas kitchen décor.
42. Miscellaneous Craft Supplies for Kids' Ornaments
Every year I like the kids to make a new Christmas ornament. Craft supplies can be found at the thrift store for a fraction of the price. Just keep an open mind when you're shopping! These are the unique items that will be cherished for years to come!
43. Red Berries
Anything with red berries, pick it up. Even if the arrangement is ugly, you can harvest the berries and tuck them into different places for an instant Christmas feel. It's Christmas décor that has the easiest clean up!
44. Every Kind of Star
They can be downright ugly stars or stars that are a part of an arrangement. Go ahead and pick them up. These can easily be spray painted white and gathered as a collection. Or they can be added individually to other arrangements like a centerpiece.
45. Old Advertising Tins in Red
Old advertising tins in your Christmas colors can be used in a variety of ways. Use them as a bowl, a planter or by themselves on a shelf for a touch of Christmas red.
So there are my 45 thrift store Christmas decorations ideas. As with the rest of the year, it's my goal at Christmas to create a cozy home full of my family's memories. I like to shop my home first and pull together things that can be used for Christmas decor. Then I hunt the thrift store. I try not to just rush out and buy new Christmas decorations from retail stores first, because of the cost and second because I don't want to store the seasonal decor for the other eleven months!
Comment below and tell me what ideas from this list of 45 thrift store Christmas decorations you'll try to use!
Read Below for more vintage seasonal decorating tips
40 DIY Old Fashioned Christmas Tree Garland Ideas
40 Cheap Fall Decorations That You Don't Have to Store
Real Fall Leaf Garland Craft for Kids
Get 15 FREE vintage Christmas postcards to add to your Christmas gifts this year!
Pin for Later 45 Thrift Store Christmas Decorations