The holiday season is approaching, and you want to update your Christmas tree. Buuuuut you don't have the budget for all new decorations. I have created a list of 40 DIY old fashioned Christmas tree garland ideas. These garland ideas are easy to create with your kids and a great way to give your tree that simple, vintage look.
As an Amazon Associate, I may earn a small commission through your purchase through any Amazon affiliate links on this post. This is at no additional cost to you. All recommendations are my own because I believe in each product. See my full Privacy Policy here.
Why Make Your Own Christmas Tree Garland
I want to share the simple, vintage lifestyle message at Our Vintage Bungalow. After all, what could possibly be more vintage than homemade Christmas ornaments? Working on holiday crafts is an easy way to get into the holiday spirit and create lasting memories with your children. I have many happy childhood memories of holiday traditions like baking Christmas cookies and doing Christmas crafts. Younger children love 40 DIY old fashioned Christmas tree garland ideas, and they often make perfect gifts for Grandma (or other friends and family)!
Now, I'm not at all opposed to shopping in "real" stores, for Christmas decorations, but all too often that's our first option. For this post, I really want to challenge you to think outside the big box stores (ahem, see what I did there?) and try to scrounge up as much as you can for these garlands without spending a penny!
ONLY shopping retail creates the problems of:
Hindering creativity
Not creating memories with our kids
Harming our desire for simplicity
Making us have to store tons of off-season decorations
Not giving us the satisfaction of making something unique
Costing money best used elsewhere
Teaching our kids to buy stuff, stuff and more stuff
By making something simple like these DIY Christmas tree garland ideas, you can
Open your (and your kids') eyes to common items around you that are gorgeous in their simplicity.
Create peace in your heart by not running everywhere for the newest trend
Save money for items more important and necessary
Still have beautiful and "new" Christmas decorations
Learn yourself and teach crafting skills to your kids
Experiment without the worry of wasting money
Clear out the clutter of excess décor and use up some old craft supplies
Where To Get Supplies for These 40 DIY Old Fashioned Christmas Garland Ideas
I'll be honest, many of these ideas require craft supplies. You can choose to purchase the supplies at a local craft store. But before you jump into the car or on your phone to buy all you need let me encourage you: STOP. There are plenty of other ways to resource these homemade decorations. Think about what you already have or maybe something you can source from nature. Be intentional about your choice and enjoy the calmness that intentionality brings.
Do you already have those craft supplies tucked in a closet or basement?
Can you choose a diy garland with items you can find in the woods or a friend's yard?
Can you find supplies at an estate sale, garage sale or thrift store?
I hope this list sparks your creativity and brings the joy of simplicity and creativity to your home and Christmas tree this year. May you have the beauty of uniqueness rather than the hurry of the retail rat race this Christmas season.
DIY Old Fashioned Christmas Tree Garland Ideas
General supplies needed for all the DIY Christmas garland ideas:
Along with the above, a unique supply list will be included for each of the 40 DIY old fashioned Christmas tree garland ideas.
Supplies:
Supplies:
Supplies: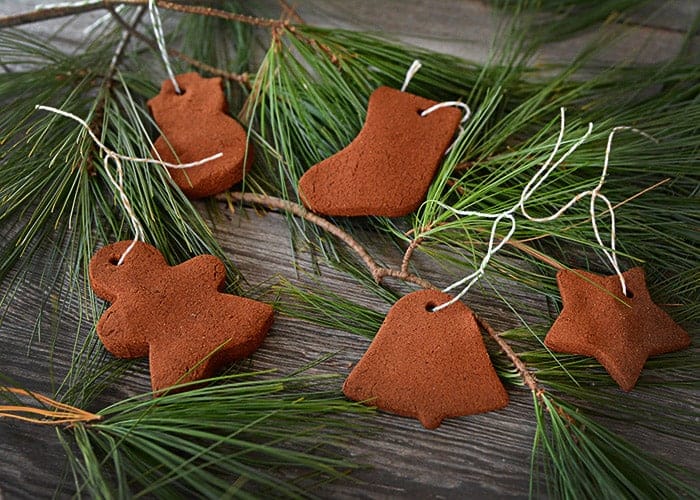 Just string them together in a garland instead of individual ornaments.
Supplies:
Cinnamon
Applesauce
Nutmeg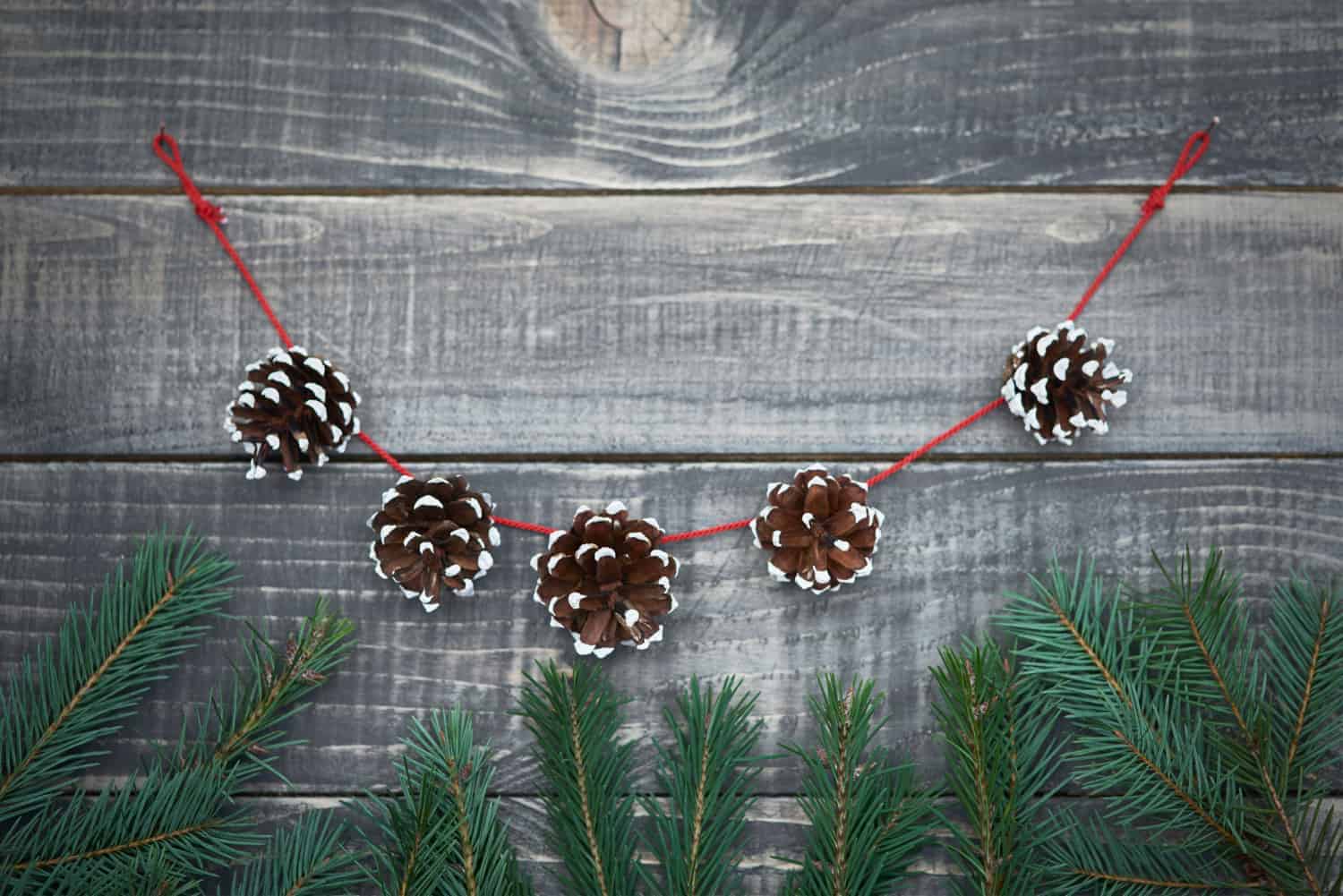 Supplies:
6. Family Photos Christmas Garland
Simply print off various family photos from old black and white to new colored. Get them around the 2 x 3 size. Punch a hole in the corner or attach them to string using small clothespins.
Supplies: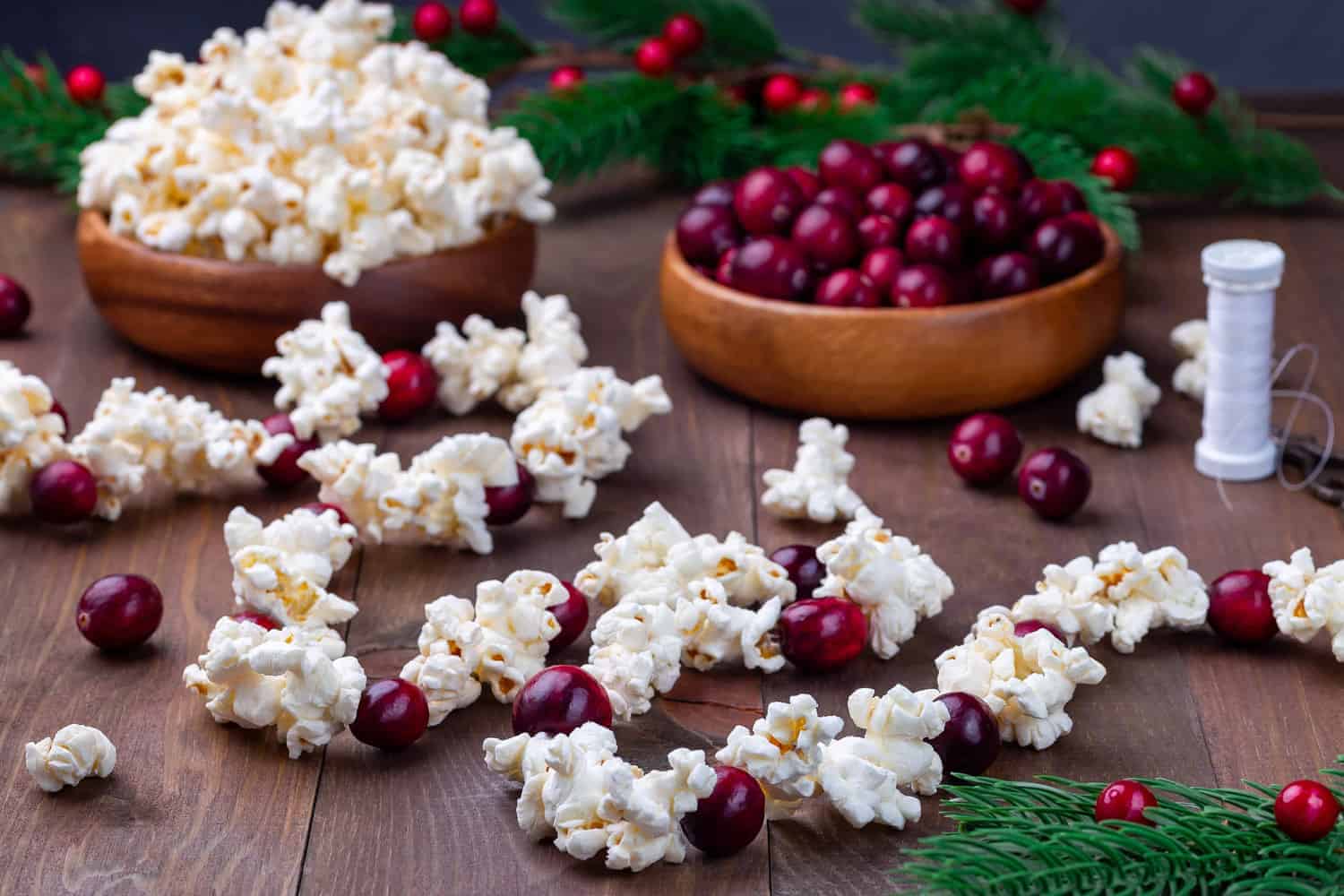 Supplies:
This one is close to my heart. My mom made cinnamon apple garlands to sell at craft shows for years. I can still see ropes of apple slices hanging all over the kitchen. Those simple holiday decorations bring back so many good memories!
Supplies:
Supplies:
Supplies:
11. Pom Pom Garland
This one is pretty self-explanatory. Get pom poms, color and size of your choice and string together with needle and thread. Lots of tutorials I looked up made their own pompoms, but there's just an amount of DIY I'm willing to do, and that seems like it would take a boat load of time.
Supplies: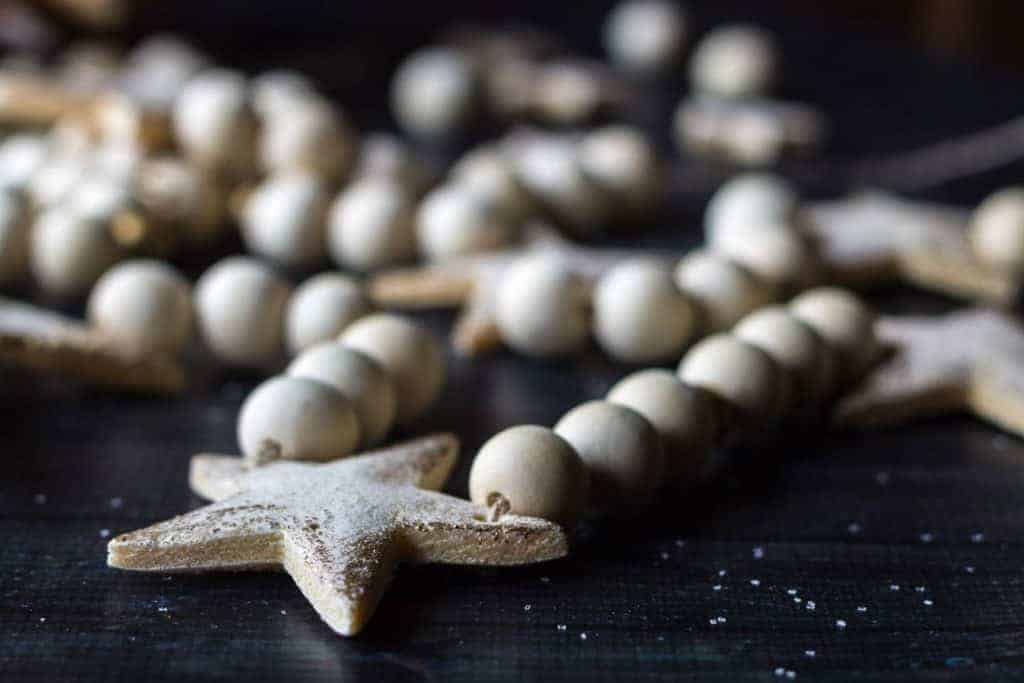 Supplies: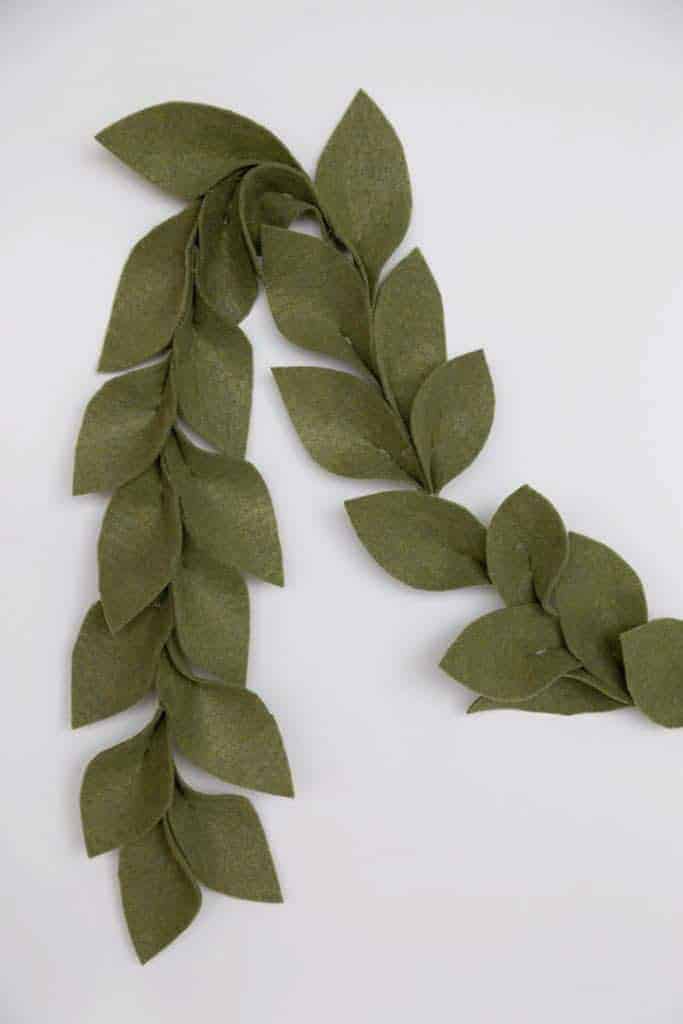 Supplies:
14. Red Berry Garland
Go for a nature hike (in a place you can forage items) and gather red berries on the stems. Little hands love to gather small items, and this is a great way to get the whole family involved! Talk about an inexpensive way to create Christmas memories. Tie berry clusters on string at regular intervals or clip to string with small clothespins. Optional: add them alongside dried orange or apple slices.
Supplies:
Red berry clusters on stem
Supplies:
This tutorial shows how to make a Merry Christmas garland, but you can design any words or draw Christmas pictures on the wood slices instead. Not super artsy? Use Christmas stamps or cut out photos of family and glue on the wood slices!
Supplies: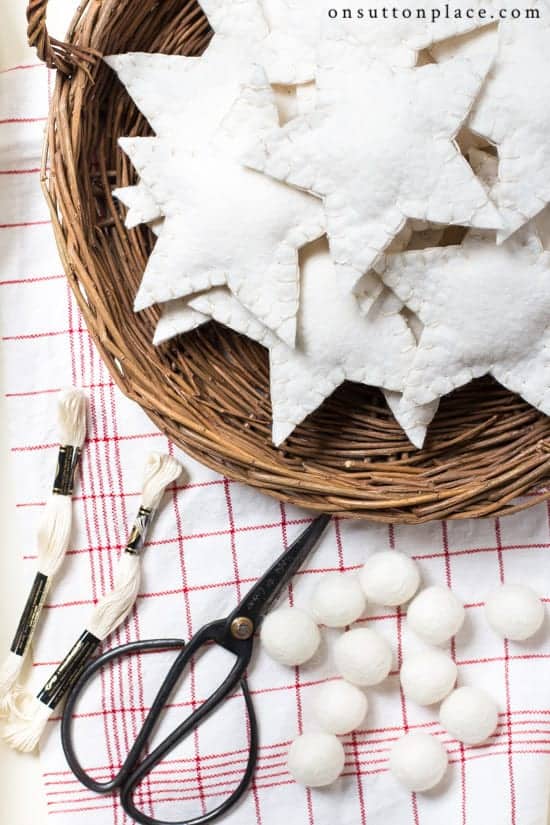 Supplies: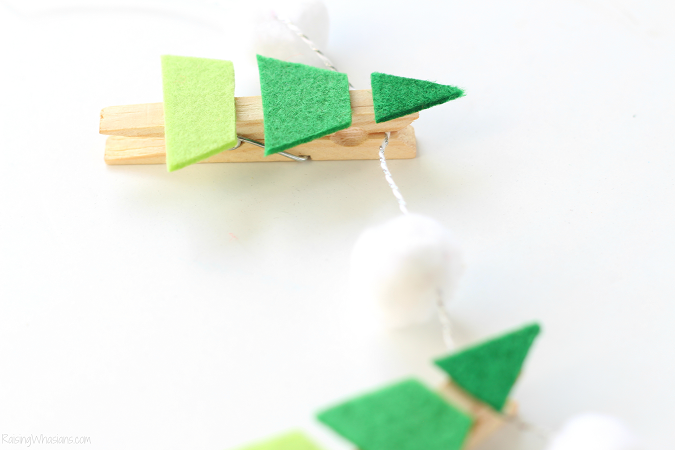 Supplies:
Supplies:
Supplies:
Simply turn tie these at various intervals along a string to make a garland.
Supplies:
Instead of making ornaments, tie these at regular intervals on a string.
Supplies:
23. Bird Feather Garland
Find bird feathers from your nature hikes or get some in bulk. Tie together at regular intervals along a string for a Boho Christmas tree garland.
Supplies:
Supplies:
25. Glitter Cardboard Christmas Garland
Trace Christmas cookie cutters on a piece of cardboard. Cut out with scissors or an Exacto knife. Rub with stick glue and sprinkle liberally with glitter. Poke hole through top with ice pick. String together, tying off at regular intervals.
Supplies:
26. Christmas Wood Cutout Garland
Purchase various Christmas wood cutouts. Paint and tie off at regular intervals along a string.
Supplies:
Or Other Book Page Garland Option from Our Clover House
Supplies:
28. Vintage Christmas Postcard Garland
If you've collected vintage postcards, you may have a fun assortment of beautiful Christmas postcards! Clip them onto a string using small clothespins.
Supplies:
29. Wood Spool of Thread Garland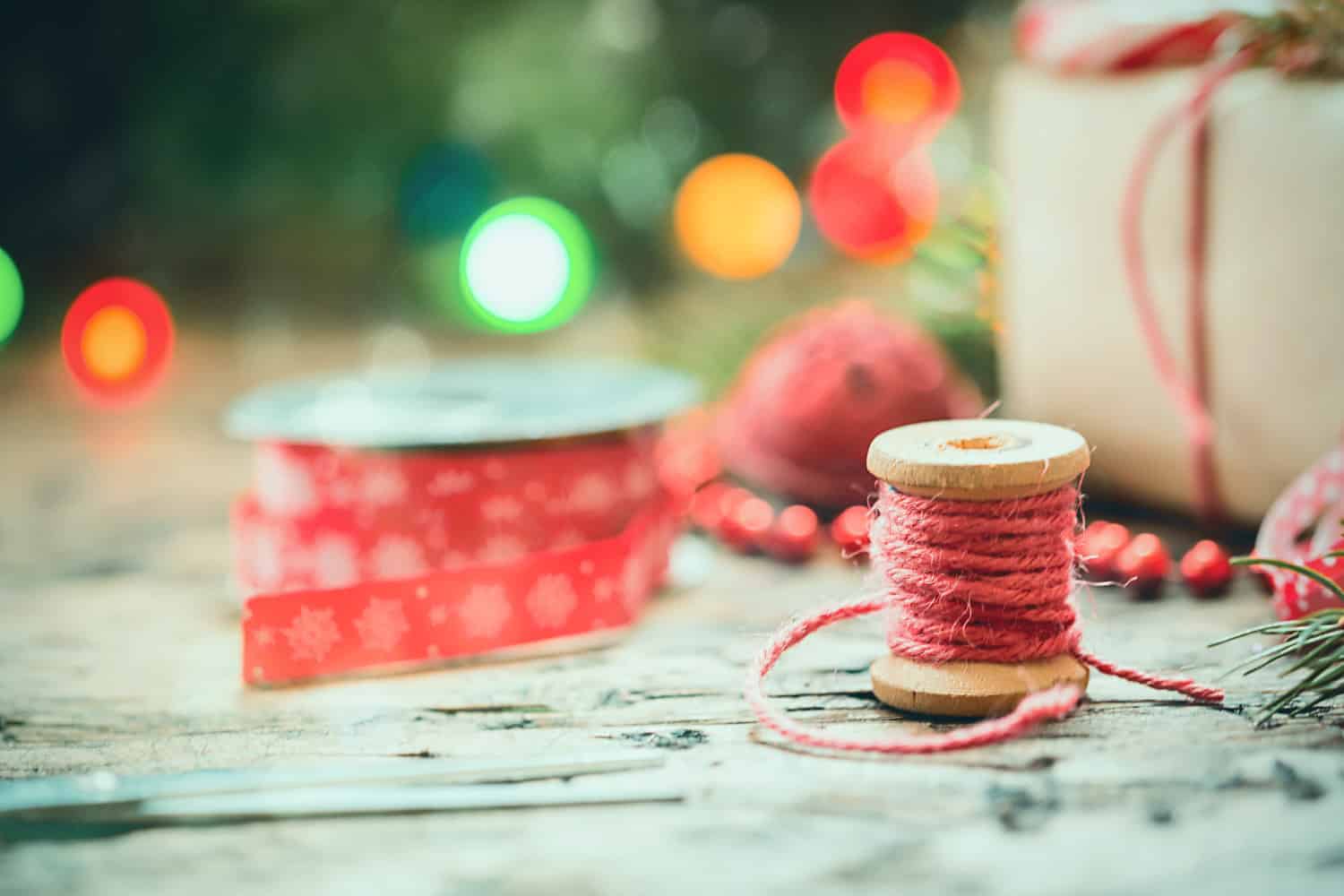 Many estate sales or thrift stores are full of old craft supplies, including vintage wood spools of thread. Start gathering these when you find them. String them together to make a colorful vintage Christmas garland.
Supplies:
Supplies: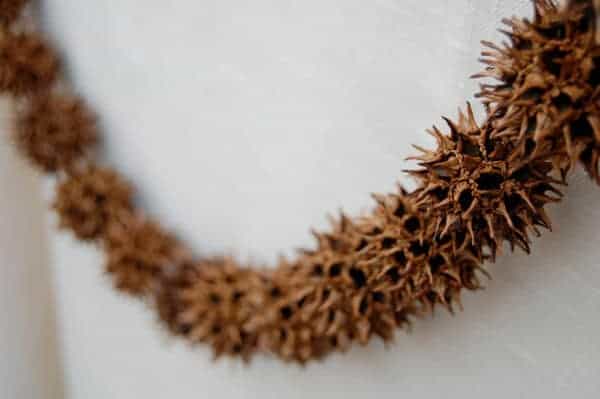 Supplies:
Just take this easy tutorial and make a long strand for your tree.
How to drill holes in shells from Completely Coastal
Supplies:
33. Cotton Boll Garland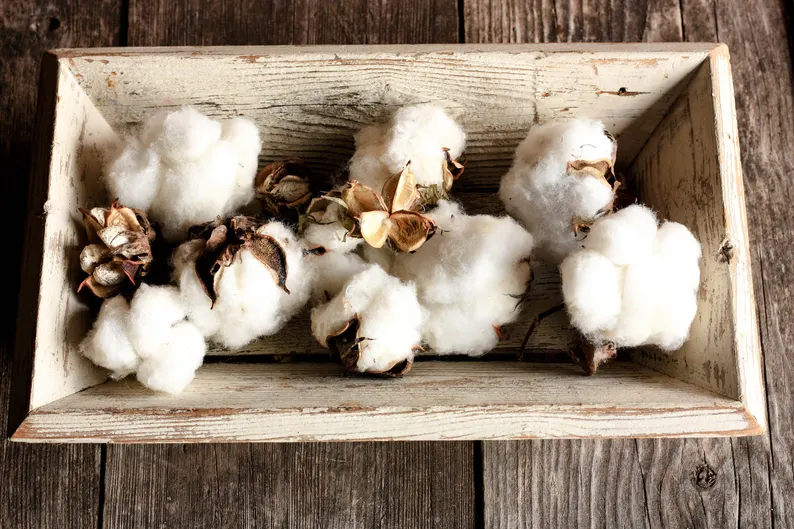 If you live in the Midwest, you may just be near a cotton field. Always, always ask permission from the farmer before just taking cotton, but stringing cotton bolls (the individual ball of cotton) would make a beautiful snowy garland! (You could also use regular, purchased cotton balls!)
Supplies:
Tie your flocked pinecones or hot glue them on a string.
Supplies:
Supplies: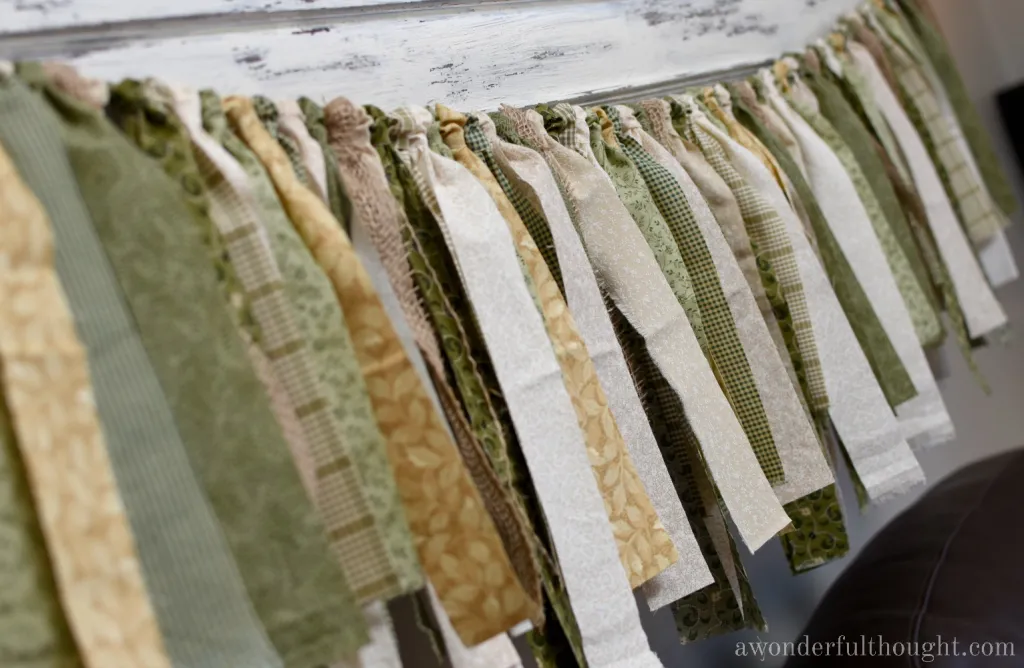 Supplies:
Strips of cotton fabric in various colors
Supplies:
Dried flowers and greenery
38. Strips of Vintage Quilts Garland
You can find vintage quilts in poor condition (cutter quilts) very cheaply at estate or garage sales. There is even a an antique quilt dealer in a nearby antique mall that has a bin of cheap, low quality quilts. Cut into strips. Hem both sides and drape around your Christmas tree for a one-of-a-kind Christmas garland.
Supplies: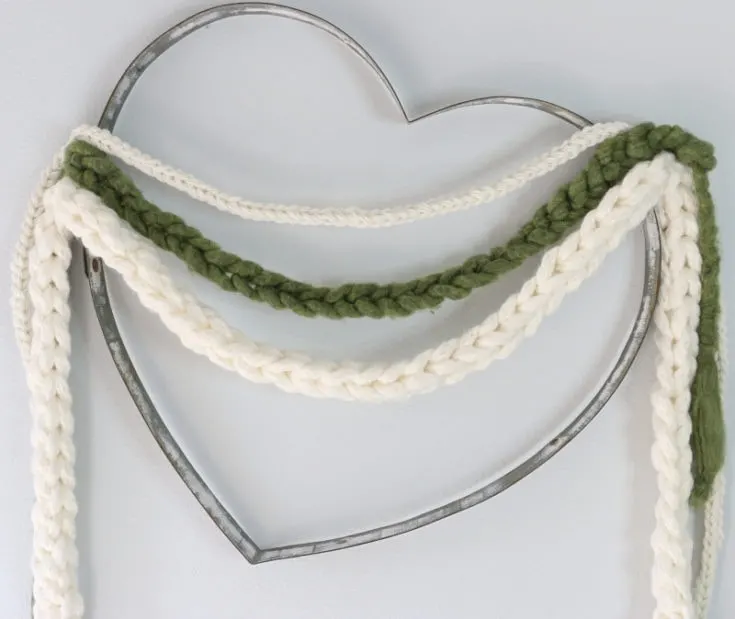 Supplies:
Supplies:
Supplies:
42. A Mix of the Above Ideas for a Unique Christmas Garland
Many of these ideas can be combined for so many unique Christmas garlands for your tree. Some combination ideas are:
Pinecones and cranberries
Felt leaves and pompoms
Cotton bolls and sweet gum balls
Christmas wood cutouts and family photos
Wooden beads and cinnamon ornaments
No matter your vintage decorating style, one (or several) of these DIY old-fashioned Christmas tree garland ideas may just be for you! They will add a unique beauty to your vintage Christmas decorations. They are also a wonderful way to be intentional about the seasonal décor you use (and buy).
Comment below and tell me one or two garlands that interest you this year!
Get 15 Free vintage Christmas postcards from 1900 – 1920's to make a unique garland!
Pin for Later 40 DIY Old Fashioned Christmas Tree Garland Ideas