You've prepared to have a successful garage sale, but your kids would like to get in on the action of selling too! Here are 31 best foods kids can sell at a garage sale (and how to do it) to keep the young ones involved and learn the skills of an entrepreneur.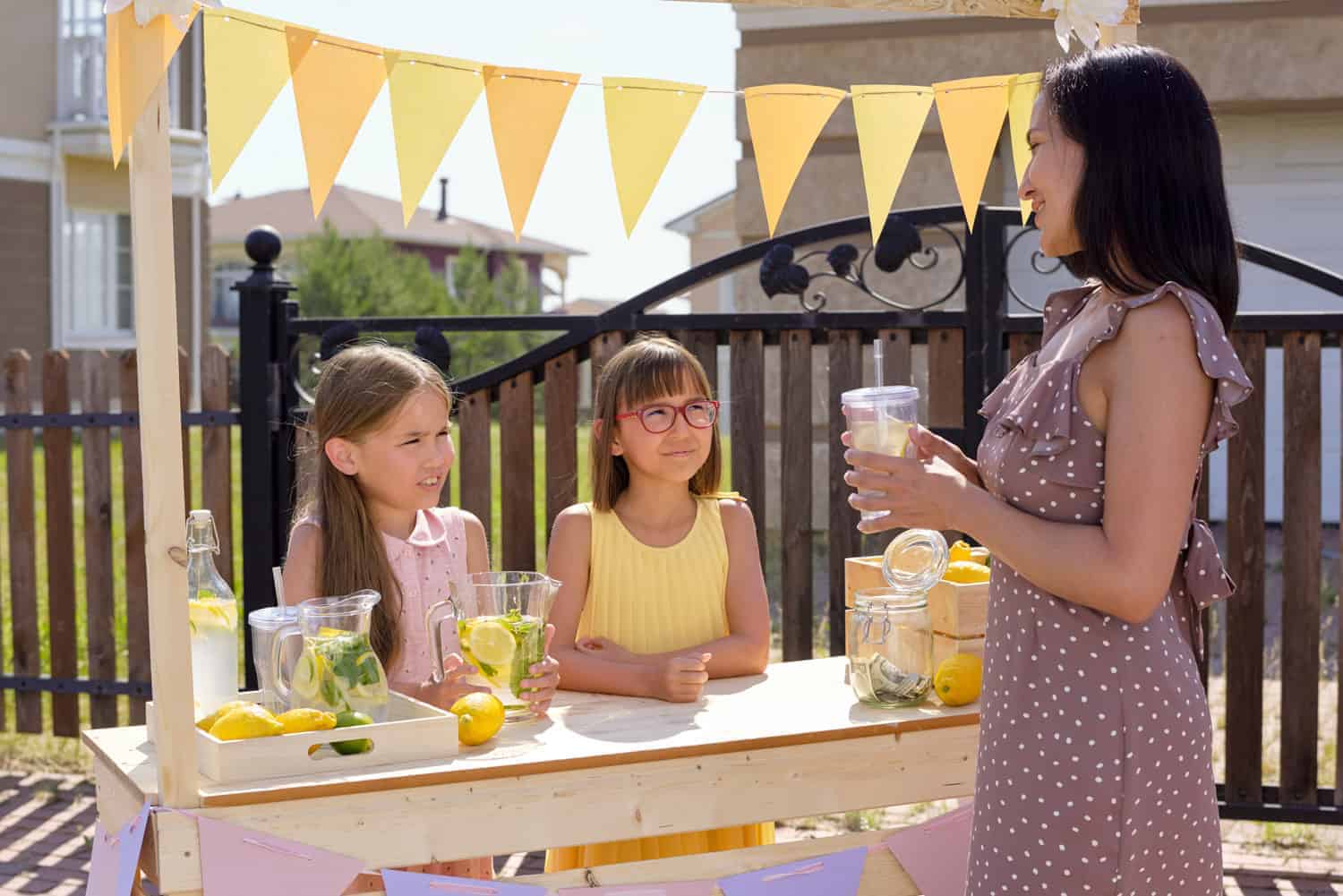 31 Ideas for Best Foods Kids Can Sell at a Garage Sale
Blended Coffee

(Quality) Hot or Iced Coffee

Hot Chocolate

Fresh Fruit (bananas, clementine oranges)

Popcorn

Muffins

Nachos with Canned Cheese

Bottled Water

Ice Cold Canned or Bottle Pop

Sweet Tea

Bagels and Cream Cheese

Cinnamon Sugar Roasted Nuts (easy to do at home!)

Donuts

Homemade Cookies

Brownies

Banana (or other quick rise) Bread

Cinnamon Rolls

Single Serve Chips

Snow Cones

Garden Vegetables (to take home)

Homemade Seasoning Mixes

Hot Dogs

BBQ Sandwiches

Pizza

Pretzel Bites

Candy Bars

Candy

Fruit Snacks

Granola bars

Single Serve Cracker Packages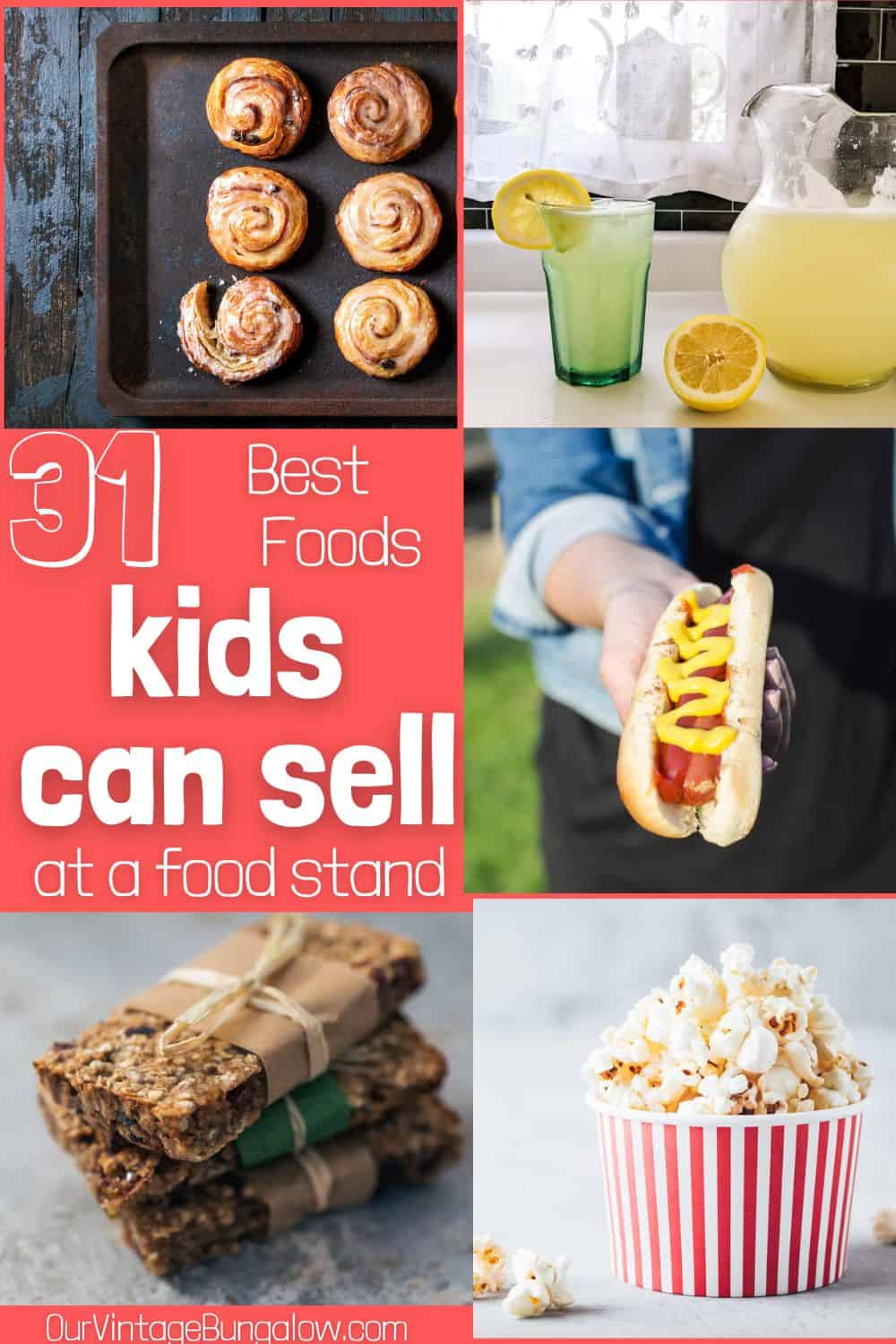 Legalities of Kids Selling Food and Homemade Goodies at a Garage Sale
People I know in my area just set up a food stand for their kids on the day of the sale and ensure healthy food practices. But I know in some parts of the country, the legalities of a food stand might be an issue. Many states allow food items to be sold without inspection under Cottage Law. (Check your state for Cottage Law requirements.) If you have a strict Cottage Law, don't despair. Often you can still sell pre-packaged food, even if you can't sell homemade food.
Some cities and towns require a food permit to sell food and drinks. If you wish, your local City Hall is a great place to check for garage sale food stand requirements and a permit.
Food Handling Advice for Kids Selling Food
I was shopping a garage sale when an adorable little girl asked if I would like some lemonade. Now, who can say no to a sweet four year old entrepreneur? Not me. I replied, "Yes, I would love some!" She reaches her hand all.the.way.into the lemonade pitcher to get the spoon she dropped, and then pours me a cup. Needless to say, I poured it into the street as soon as I was out of sight.
Food handling tips adults need to make sure kids implement:
Proper hand washing when making and serving food (even pre-packaged food)
Clean clothes and face (no one wants to buy even a candy bar from a kid with food stains or a snotty nose)
Organized and clean food stand
Food gloves if touching food (do NOT directly touch food with bare hands)
Proper temperature of food (don't let items sit in the sun all day)
Adult Supervision of Kids Selling Food and Drinks
It is a great thing to teach kids how to sell, but they are KIDS. Having an adult (or an older teenager) help kids at their food stand is the best way to ensure success and a great time. (Yet another reason multi-family garage sales are a good idea … more adults helping!) Don't expect kids to know or use the correct skills. And don't expect that you will be able to run a successful yard sale AND help with the food stand. Having a dedicated adult present (or nearby) is a great way to help kids learn the following food handling and selling guidelines:
How to speak up and ask customers if they would like something
How to not pester customers
How to take money and make change
How to have proper food handling skills
How to properly package homemade items
How to keep items in stock (especially if items are homemade)
How long to chill beverages or cook food
Advertising Your Food Stand
Like anything else, you need to properly advertise your lemonade stand or food stand to attract a lot of potential customers! Post a cute picture of the stand and a yummy picture of the food and drink. Announce it to the general public on
Your private social media page
Facebook Marketplace as part of your garage sale listing
Text to grandparents, close friend and neighbors
Large signs in different areas of your yard
Free printable sign and price list on your food stand (that you can edit and customize!)
What Time of Day for Kids to Sell Food and Drinks
Kids, especially young kids, will only last an hour or two at their food stand. Don't expect them to go all day unless they're older kids and/or highly motivated entrepreneurs. Keep your time expectations low for kids.
All Day – Ideas: Iced bottled water, cans of pop, cookies, quick breads, single serve crackers
7:00 – 9:30 – Ideas: Donuts, coffee, muffins, quick breads, cinnamon rolls, bagels and cream cheese, fresh fruit
9:30 – 11:00 – Ideas: Cookies, brownies, muffins, quick breads, popcorn, lemonade, fruit snacks, garden vegetables (to take home)
11:00 – 1:30 – Ideas: Hot dogs, BBQ sandwiches, single serve chips, candy bars, cookies, lemonade, sweet tea
1:30 – 5:00 – Ideas: Snow Cones, candy, granola bars, blended coffee, cookies
Supplies Needed to Set Up Your Food Stand
Making your food stand isn't always necessary, but can help marketing your kids' food. Even a simple tablecloth and glass with fresh flowers can make a difference! Here is a list of supplies for set up:
Short table your kids can reach when standing
Seating (even on a cooler works)
Cash Box and Extra Money to Make Change
Shade (umbrella, tree or inside garage)
Free Printable and Customizable Menu Price List
Decorations (tablecloth, flowers, artwork and other similar items)
Wet and dry cloths for wiping down area and iced drinks
Supplies Needed To Sell Food and Drink
Being prepared is a crucial step in running a successful food stand at your garage sale. You don't want to add a lot of work on an already busy day of selling. Buying in bulk will definitely save a lot of money. But just be prepared to eat or use food and supplies that were not sold. (You might consider to cover the cost of unsold items for your kids.) Here are key items your kids will need to sell different types of foods.
How Much Should You Charge for Food Stand Items?
Different regions of the country will vary slightly as far as how much you can charge for food and drink at your food stand. But here is a general pricing guideline for your food stand items as well as a customizable and printable PDF you can use as your food stand menu!
You need to calculate your cost of all food and supplies so you don't undercharge with a low price. But you don't want it so expensive that potential customers take a hard pass. Remember, adults can be generous with kids, so a lot of people will often let kids "keep the change" for items with a lower price. But they want to choose to be generous not forced to pay a higher price of $3 for a bottle of water.
General guidelines for how to price items at your food stand:
Cold drinks served in cups – $0.50 – $0.75
Quality hot coffee or specialty drinks in cups – $1.50 – $2.50
Bottled water, pop or cans of pop – $1.00 – $1.50
Baggie of baked goods (3 cookies, large brownie, muffin) – $1.00 – $1.50
Small pan of baked goods (4 cinnamon rolls, pan of brownies, etc) – $5.00
Hot dogs or baked frozen pizza – $2.00 – $2.50
BBQ sandwich – $3.50 – $4.00
Candy bar or package of candy – $1.00 – $1.50
Bag of popcorn or single serve bag of chips – $1.00
Piece of fruit – $0.50
Small packaged item (fruit snacks, granola bar, etc) – $0.50 – $0.75
How to Help Kids Calculate the Profit of Their Food Stand
Decide how much of a learning experience this will be for your kids. Will you cover the expenses, or will expenses be taken out of the earnings? Helping kids calculate the profit minus expenses of their food stand can be a valuable lesson.
Tip: Please be mindful NOT to discourage your kids. It can be easy to rack up a good deal of expenses and then not be able to cover the cost with your earnings! You may need to be willing to cover some or all expenses if their food stand flops. Also, you can always go buy or make more food and drink. But buying a ton before it has a chance to sell on the first day could be a gamble. You decide what's most economical for your situation.
Steps to help kids calculate profit of their food stand:
Get a notebook to keep track of expenses.
Decide with your kids how the profit will be divided up amongst those involved.
Write down the cost of everything you buy (decorations, ingredients, napkins, etc).
Write down how much money you start with to provide change.
Keep all profit in the cash box (instead of letting the kids grab cash to buy something they see).
Add up all cash at the end of each day or session and write it down. Keeping the cash in a designated location is an important thing.
Add up expenses and profit.
Subtract expenses and money you started with from the profit (if you choose for the kids to pay the expenses).
Divide up the profit amongst the kids involved according to a pre-determined agreement.
So now that you've read this list of 31 best food kids can sell at a garage sale (and how to do it), you are prepared to help your kids learn the art and joy of selling! Make it fun. Choose food appropriate for your kids' ability, give adequate adult supervision and help, advertise well to potential buyers and be prepared with proper set up and supplies. If you do your work, your kids will make at least a few sales and some extra cash. And remember, to young children, $5 is an awesome day's work!
Did you enjoy reading 31 Best Foods Kids Can Sell at a Garage Sale (And How to Do It)? Read More Garage Sale Tips!
Sugar Free, No Squeeze Lemonade Recipe
How to Shop Garage Sales with Kids
How to Sell Garage Sale Leftovers
28 Ideas Where to Donate Garage Sale Leftovers
How to Accept Payment at Your Garage Sale
20 Tips How to Price Garage Sale Items
How to Advertise for Your Garage Sale
Pin for Later 31 Best Foods Kids Can Sell At a Garage Sale (And How to Do It)