You've put in all the work to have a successful yard sale. And yet, there is a pile of items worth some money but haven't sold. I will give you 10 tried and true ways I've found of how to sell garage sale leftovers (that have made me $200 – $400 extra after the garage sale!).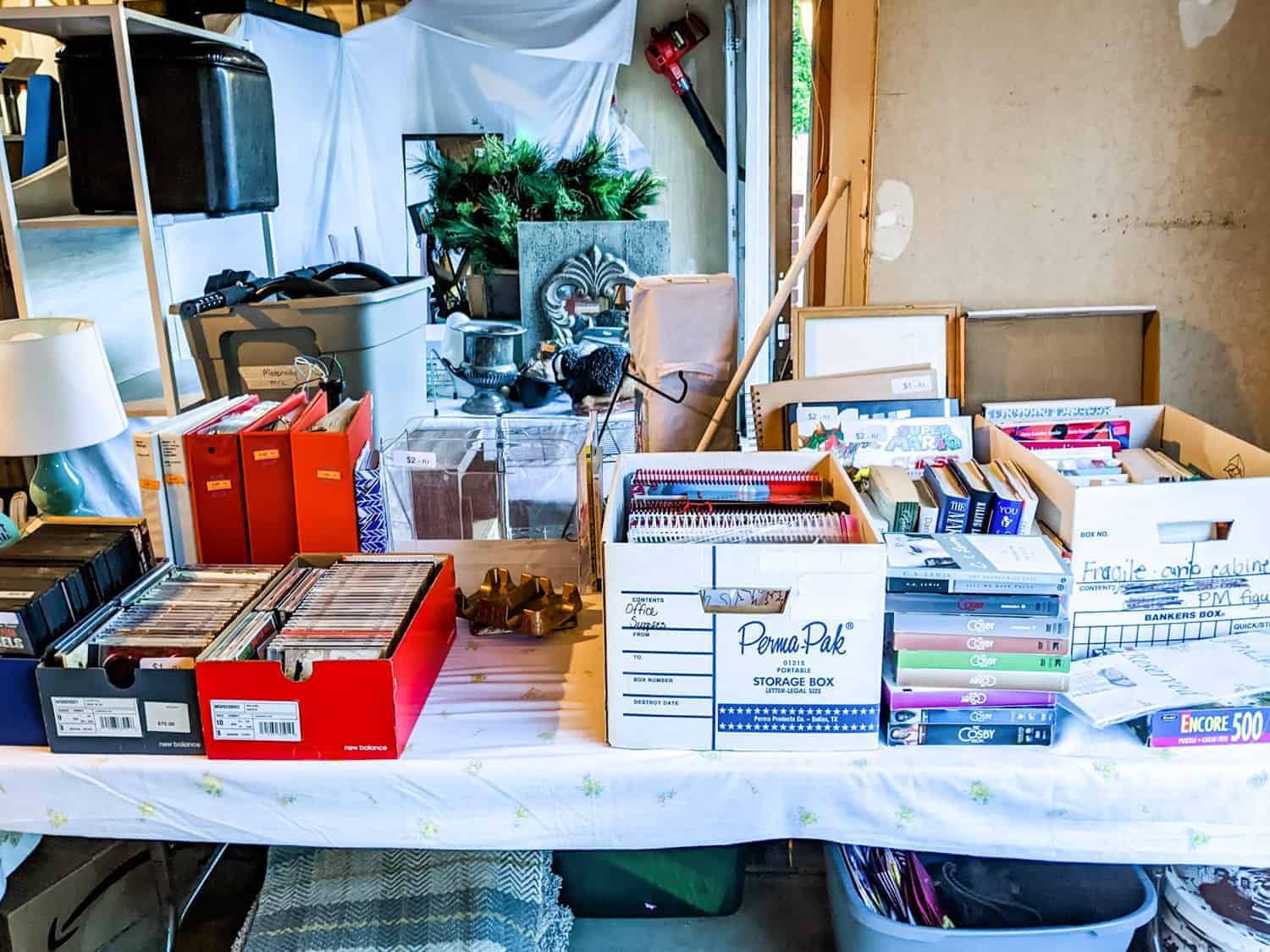 Overview of How to Sell My Garage Sale Leftovers
"By appointment only" sales for similar items
"Sell by the box" on Facebook Marketplace
Sell on consignment at an antique store
Sell to a second hand kid's clothing shop
"Free curbside pickup" on Facebook Marketplace
And more…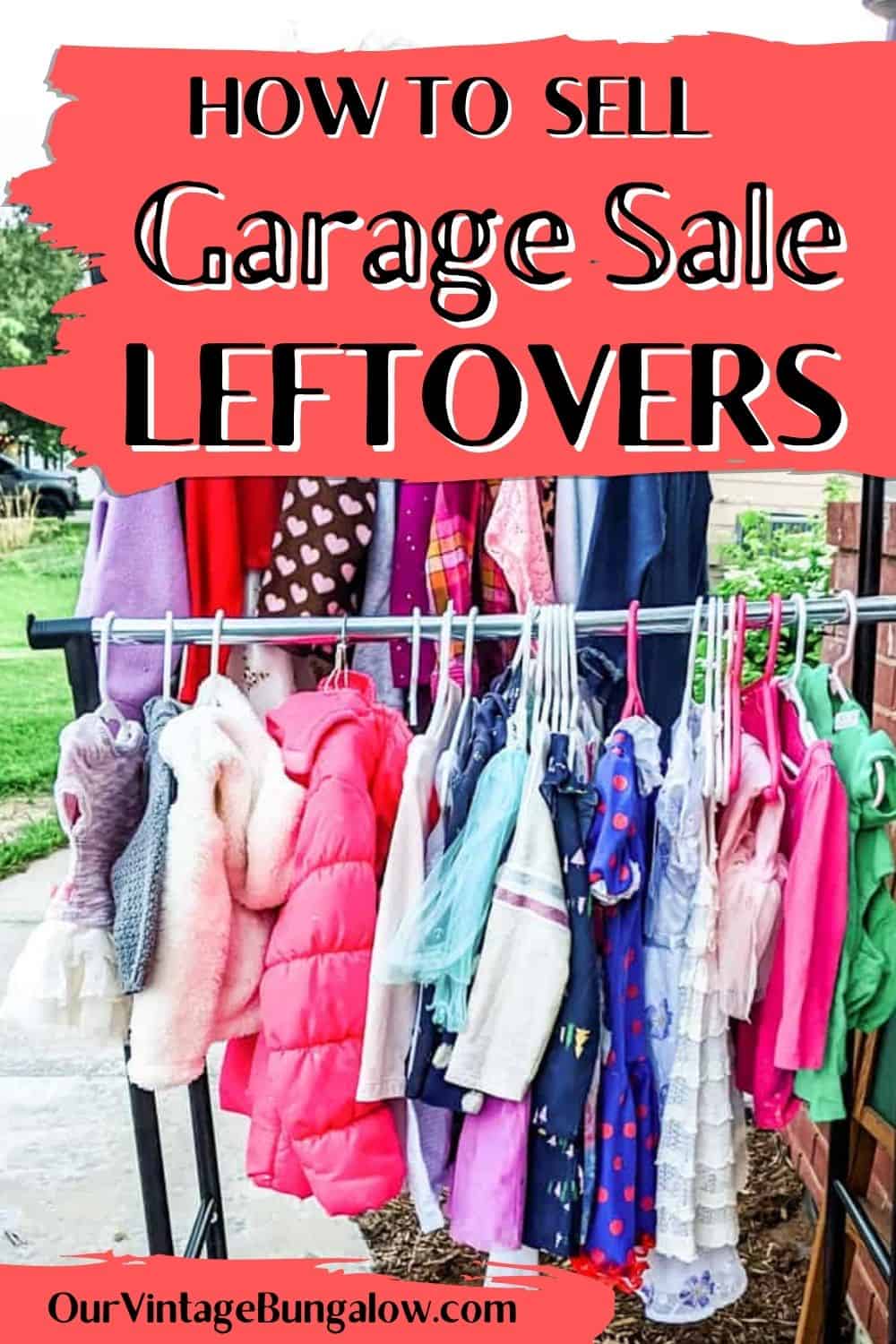 How to Know What to Sell and What to Donate
Deciding which leftover garage sale items to donate vs sell can be tough, especially after you've put a lot of work already into selling at your garage or rummage sale. Some leftover items may simply not be worth additional time of selling and some items may not have the value you think they do. Here are some of my best tips to help you decide if you should just donate the unwanted items and be done with them.
1. You have a large amount of similar types of items
Whether it's vintage home decor, 9 month baby boy clothes, children's items or a pile of electronics and video games, if you have a fairly large pile of one category, you can set up a "by appointment only" sale or sell super cheaply by the box. (I will go into detail on each of these methods further down.)
But one small box of random kitchen gadgets? Just go ahead and put that in the donate pile (unless it's name brand items).
2. You look up the value on Ebay
Thinking your grandma's old vase is valuable and your grandma's old vase actually being valuable can sometimes be two very.different.things. To know for sure how much something is worth, look it up on Ebay to find out for sure. (Details on how to do this quickly will be below.) Just remember, I shoot for a value of more than $25 + shipping cost on Ebay since you have fees, time to list and time to ship the item taken out of that.
Something worth less than $25 or something large or fragile, just donate or consider selling on Facebook Marketplace.
3. You look up the value on Facebook Marketplace
I almost always just sell locally on Marketplace instead of offering shipping. This is a personal decision, so feel free to ship an item if you have a buyer. Look up an item on Facebook Marketplace to see if it is worth your time to list. Remember, you do NOT have fees or shipping to deal with, so feel free to list cheap items, fragile or large items here! I often list $5 items for porch pick up.
4. You call an antique mall or furniture consignment
Many antique malls and used furniture stores have a consignment area you can put your large items in. Yes, they will take a large percentage of the selling price (30 – 40%). But they have the customers, the floor space and the ability to sell antiques and furniture.
Definition of consignment – An agreement to place your items in a store for a certain period of time. If your item sells, you and the store split the proceeds. If your item does NOT sell after the agreed on time, you take the item back. Price sometimes is set by the store and sometimes set by the owner of the item.
5. You call a second hand clothing or kid store
Often, second hand clothing stores either outright buy clothing in good condition or sell it on consignment. But don't think you can take a pile of stained, out dated clothing to just any store. They are pretty picky when they go through items and will even use a black light to find stains. Call to find out what used clothing stores are looking for.
How to Quickly Sort Garage Sale Leftovers in Donate and Sell Piles
I know, the last thing you want to do after a very long weekend of having a garage sale is to organize and sort items. But TRUST ME, putting in an hour of effort at closing time will actually get these items out of your life for good and extra cash in your pocket!
Take one hour (just one hour…DO IT!) to quickly sort what you'll donate and what you'll sell.
Set out boxes, trash bags and/or tubs
Quickly sort each category of small items into "Donate," "Sell Online and Ship" or "Sell Online Locally" piles. (DO NOT overthink this. These are leftovers. If in doubt…DONATE!)
Schedule a trip to the donation center or a call to schedule a free donation pickup ON MONDAY to get rid of the pile ASAP. Read my post on Where to Donate Leftover Garage Sale Items.
Move the "Sell and Ship" and "Sell Locally" piles to an area you will see and get to THAT WEEK. (If you think you'll keep it around for months, just donate it and save yourself the guilt.)
How to Sell Leftover Garage Sale Items on Facebook Marketplace
As I said, I often make several hundred dollars MORE on selling leftover garage sale items online, either locally or on Ebay. I will work hard for a week to list items. Anything that isn't sold that week (except Ebay items which take a little longer), I will donate it. I can't say this enough: The main goal is to get rid of your items. The secondary goal is to make money doing it.
This takes immediate dedication to actually LIST the items and not let them set around for months.
1. Facebook Marketplace By Appointment Only Sale
I sell a lot of antiques. After one of my garage sales liquidating an antique booth, I still had quite a bit leftover. I set up some tables in my garage with the antique items, took some photos, and listed it for people to come by and shop by appointment. This worked amazingly well, and I made several hundred dollars.
Tips for by appointment only:
Keep it narrowed down to a specific category of items (ie baby clothes, antiques, tools, plants).
Take good photos of specific items as well as an overview shot.
Set it up on tables in your garage where you can leave it for a week or so (or easily accessed in totes to pull out).
Keep change on hand for when people come.
Open the garage door and have good lighting (set up lamps/work lights if necessary).
If no one comes within a week, move on to the next method or go ahead and donate to a local charity, thrift store, humanity restore, etc.
2. Facebook Marketplace Sell By the Box
Again, after my successful garage sale and a week of "by appointment only" sale, I still had a few unsold items left. I filled a small box, took a picture of the grouped items and listed the boxes as $5 per box on Facebook. This got rid of the last bits of antiques I had.
Tips for selling by the box:
Keep items narrowed down to a specific category (baby clothes by size, antiques, garden tools, household items, etc).
Put in some larger, attractive items along with smaller items.
Make sure it's not junk (be honest with yourself).
Take an overview photo that shows each item (potential buyers are not going to drive to pay you 5 bucks for a mystery box).
Keep track of each box by numbering them and adding that number to your Facebook post.
3. Facebook Marketplace Free Pickup
Ok, this isn't making extra money, but sometimes you just need something GONE. If you have larger items that you don't.want.to.deal.with, you can take a photo and list on Facebook Marketplace as free. You would only give your address to the person who committed to pick up within a set time period. You would be amazed at what people will come get for free.
Tips for free curbside pickup:
Only give one person your address at a time.
No long term holds if you have people waiting in line (some people can string you along for days and never get around to getting the item).
Set a period of time for pickup. If the person doesn't show, message them and move on to the next.
4. Sell Large Items on Facebook Marketplace CHEAPLY!
You've already tried to sell an item at your sale. If you are still trying to get a little money out of it, great. But price items cheap, cheap, cheap. Just get rid of the darn things. Sometimes not selling an item is just a matter of pricing it too high.
Tips for selling items cheaply and quickly:
Look up similar items on Marketplace; note their prices; price your item cheaper.
Take well-lit photos of every angle as well as any damage there might be.
Use good keywords that you think people will type in to find what you're selling (ie tall dresser, vintage dresser, antique dresser, chest of drawers…use them all).
Read my post on How to Sell Garage Sale Items in Winter for more tips on selling on Facebook Marketplace.
How To Sell Leftover Garage Sale Items on Craigslist
Yes, Craigslist is still used but not for certain items. I would also post on Facebook Marketplace, but you can cross post on Craigslist for more views. Items that sell well on Craigslist are:
Farm and garden items
Vintage and antiques
Building materials
Furniture and appliances
Items with motors and/or wheels (trailers, lawn mowers, cars, power tools)
Tips for selling on Craigslist:
ALWAYS take pictures.
Be aware that scammers are present. If it seems off or too good to be true, delete the message.
If you're uncomfortable with them coming to your house, meet them at a QuikTrip.
How To Sell Leftover Garage Sale Items on Ebay
I love listing smaller items with a $30 or higher value (plus shipping) on Ebay. It does take more effort to list and ship, but it's better than donating an unsold but valuable garage sale leftover. I'm not going to delve into the how's of listing on Ebay here. I will assume you already know or that you can Google the how-to. But here are some quick tips.
Tips for selling on Ebay:
Use the Ebay app camera feature to take a photo, search by photo and quickly look up the item value.
Don't list fragile or large bulky items if it's your first time. (You don't want to hassle with shipping difficult items.)
Only list items $25-30 value or higher (plus shipping). It's just not worth your time for anything lower.
Take well-lit photos.
Find a listing on Ebay similar to yours and use the button "Sell One Like This."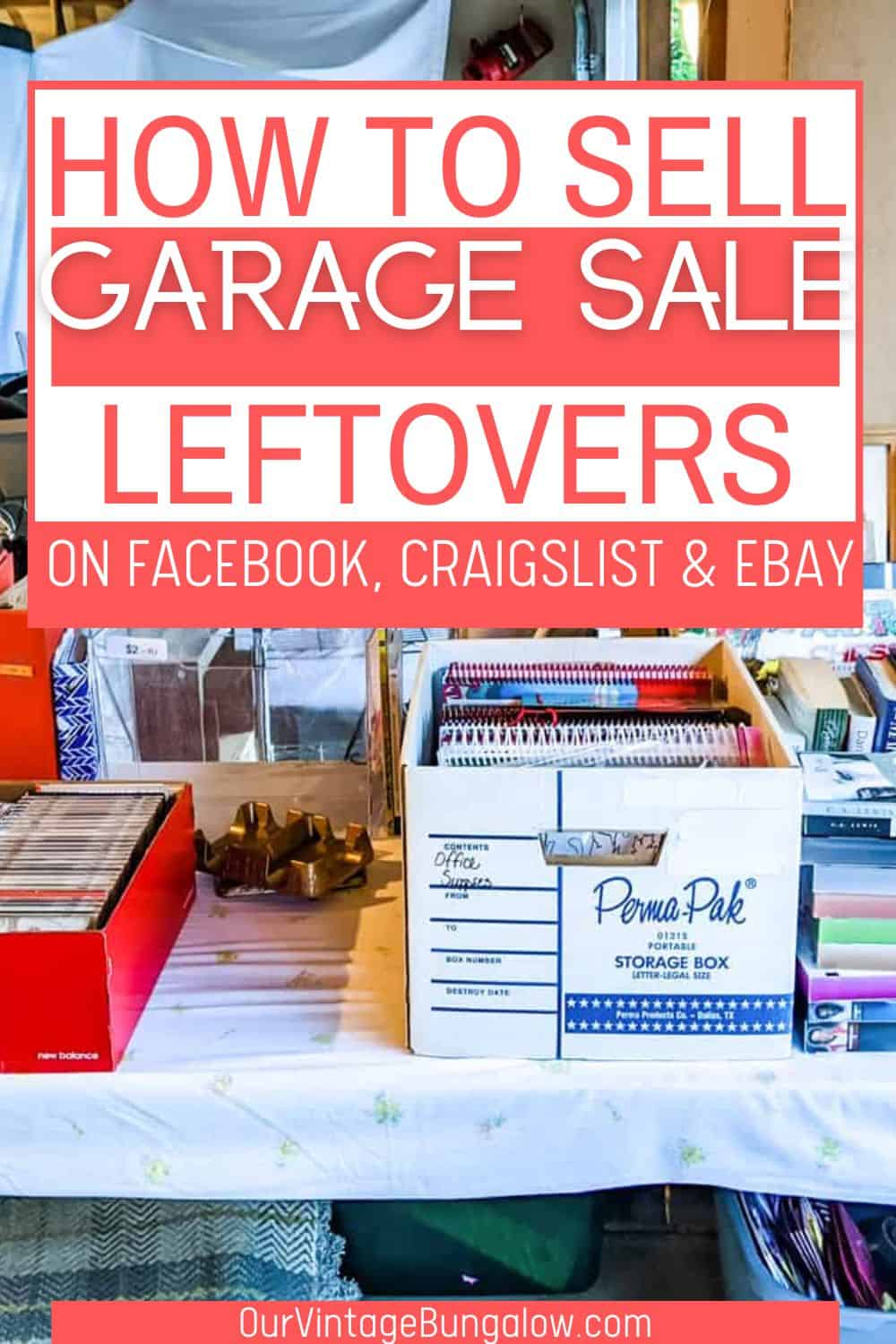 How To Sell Leftover Garage Sale Items at a Consignment Shop
There are numerous used items that you can sell at a local consignment shop. Yes, they take a high percentage for selling your item, but they do all the hard work …and have a much better chance at actually SELLING it, which is something you weren't able to do. Check out local shops for consigning the following items:
Name brand women's, men's and junior's clothing
Baby and kid clothing, toys, books and some gear or furniture
Antiques and vintage (antique malls will have a consignment area)
Furniture and appliances
Exercise and sports equipment
How to Sell Leftover Garage Sale Items to a Second Hand Store
Some second hand stores take things on consignment and others simply buy your items outright. Call second hand stores in your area to see their policy. I love simply selling items to a store since I'm done with it and don't have to worry whether it sells or not. I've actively sold my clothing and baby clothes to a local second hand store…but remember, they will be picky about what they take and will send the items they don't want back home with you.
Tips for selling to a second hand store:
Name brand isn't always necessary but will be more likely to be purchased by the store.
Clothing that is decades old might be too out of date (unless it's vintage clothing)
No torn or stained items!
Make an appointment for the store to go through your clothing.
I trust that this post on how to sell your garage sale leftovers has been helpful to you! No matter how great your next garage sale is, there will always be some leftovers. Being prepared to deal with them is the key for you to get it out of your garage for good (and maybe make some additional cash).
Like this post on How to Sell Your Garage Sale Leftovers? Read More Garage Sale Tips Below!
How to Sell Garage Sale Items in Winter
28 Ideas Where to Donte Garage Sale Leftovers
30 Top Items to Sell at a Garage Sale
How to Advertise For Your Garage Sale
How to Accept Payment at Your Garage Sale
Pin for Later How to Sell Your Garage Sale Leftovers