You've decided to have a garage sale. But after all the work to sell your old stuff, only a few people come. You overlooked THE most important part. I will tell you how to advertise for your garage sale, the tips for a successful sale.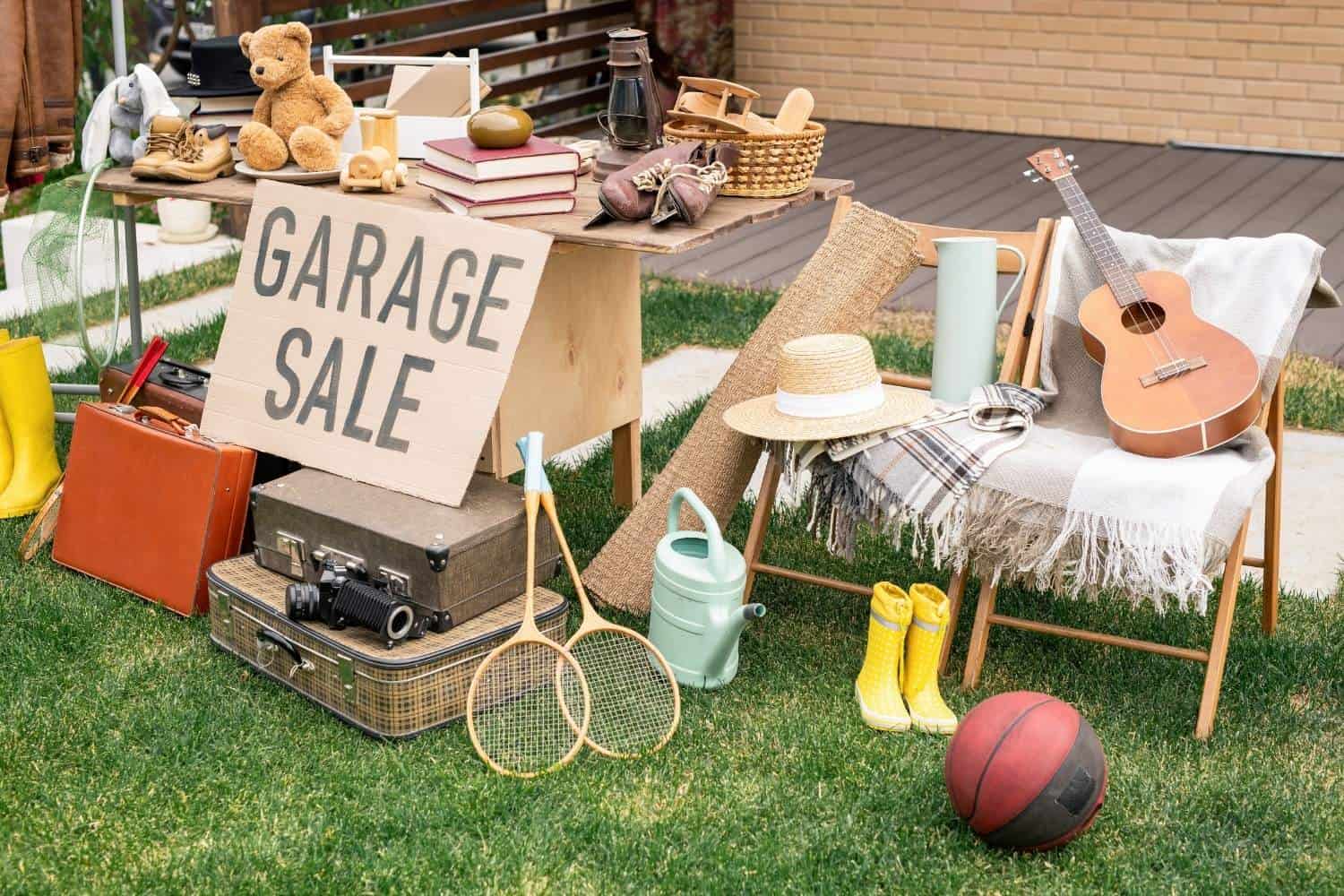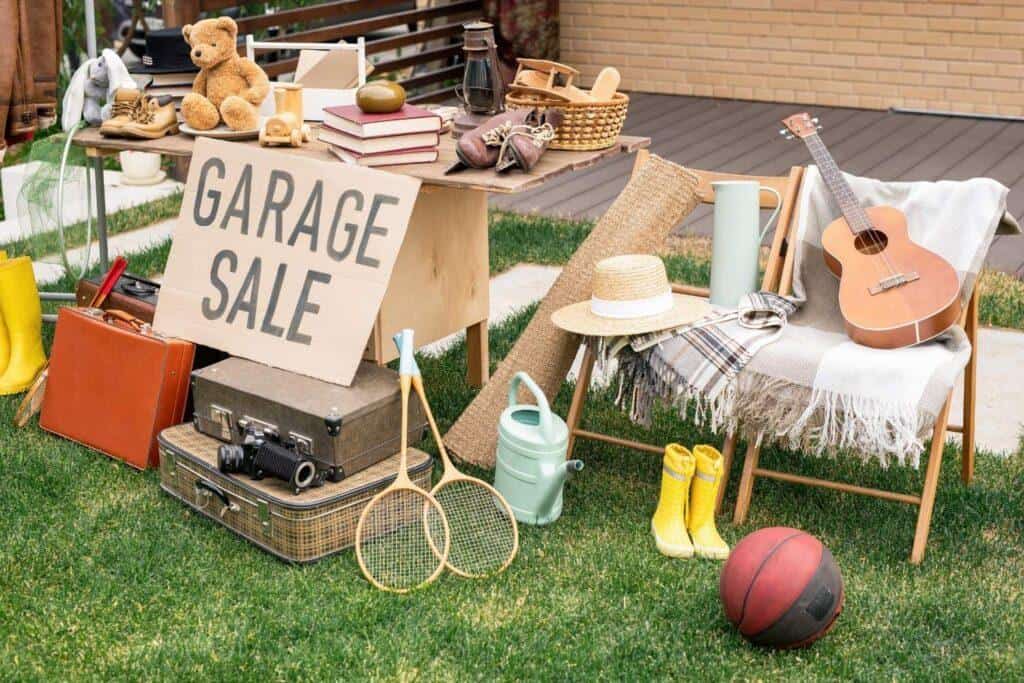 I may earn a small commission through your purchase through any Amazon Affiliate links on this post. This is at no additional cost to you. All recommendations are my own because I believe in each product.
Quick Overview of How to Advertise for Your Successful Garage Sale
Advertise your yard sale in the right places
Have bold and clear street signs
Include in your online ad the time, date, address and all item categories being sold
Take great photos of your sale and items being sold
Answer all the online messages about your sale (it will boost your post!)
Here are my garage sale tips on the most effective ways to advertise and reach potential customers for a successful garage sale. Keep reading because these pro tips will not only save you time but are a good way to make extra cash from your unused items.
Why Should you Have a Garage Sale
Garage sales are a ton of work. It's spring cleaning time and, you decide, the best time to make a little money on your unwanted items. Sooooo you gather, price, clean the garage, set up and throw a couple signs on the corner and sit there for HOURS each day. Yet, at the end of your yard sale, you've made $204 and still have too much stuff that you end up donating.
You probably ask yourself, "Why did I even bother? I will NEVER do another rummage sale!"
I have shopped thousands of sales and held many a successful yard sale. (Yes, I would say I'm a professional garage sale expert.) In my opinion, the MOST OVERLOOKED yet MOST IMPORTANT part of a garage sale is the ADVERTISING. You may have the greatest items at low prices, but if no one knows about your sale, then NO ONE COMES to your sale.
I regularly make over $1000 when having a garage sale. I participate in a multi-family garage sale that totals around $4000 – $5,000…ON A REGULAR BASIS. $4,000 to $5,000 folks. No, we are not selling lots of bigger items. We are around 10 families that have maybe five things with a $100 price tag. The rest is small items from household, kid and vintage categories that you could find in a thousand garages across the nation.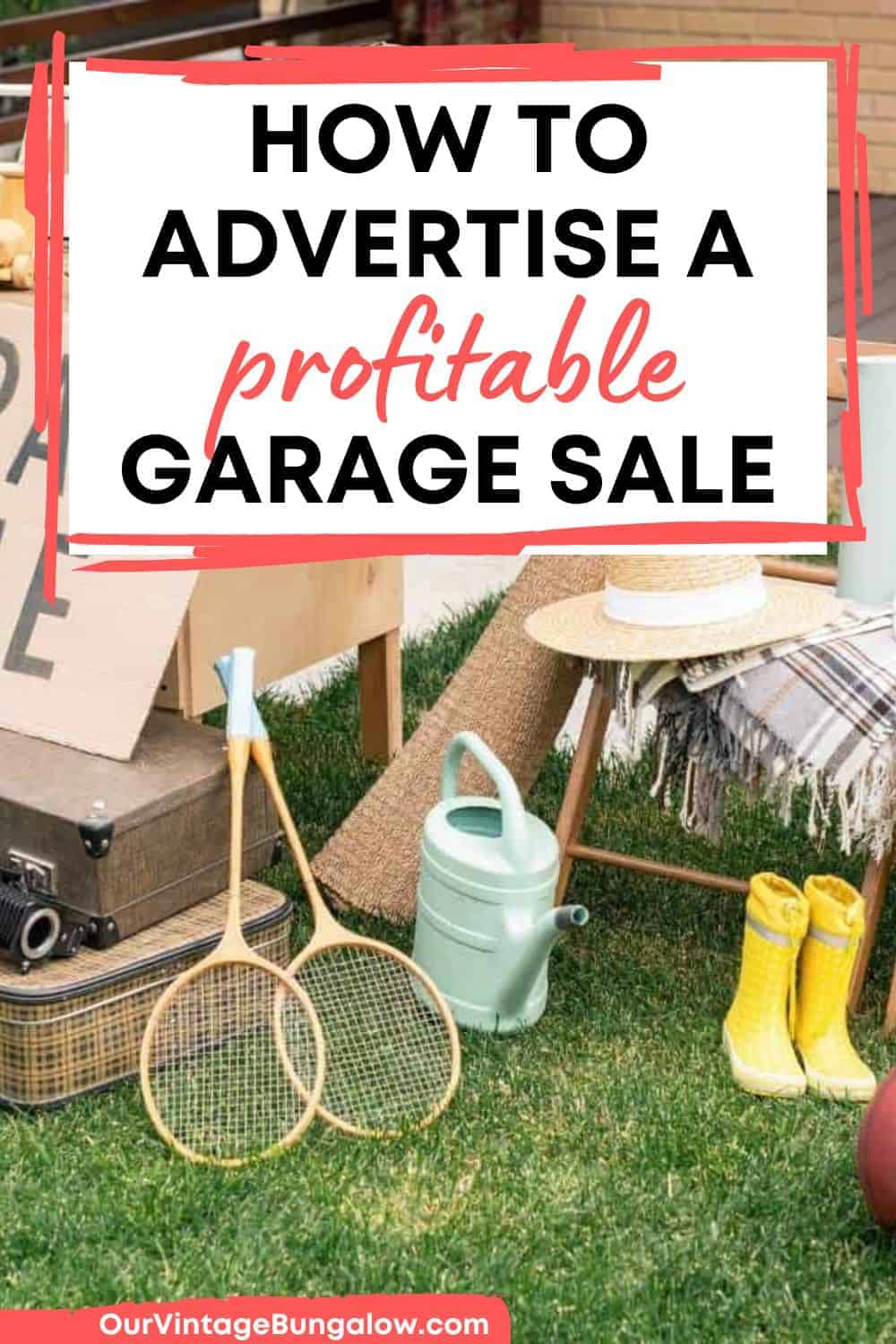 Do I Have to Post a Classified Ad in the Local Newspaper?
Generally speaking, no, I don't pay for or post local paper advertisements. The exception is if you are holding your garage sale during a city wide garage sale weekend (or community garage sale). At that point, the competition is so high that posting in the garage sale classifieds section is a good idea and very helpful. People are also more likely to read a paper during city wide weekend whereas during regular weeks, no one but Aunt Josephine is reading the local paper.
Verdict: Yes and no to local newspaper ads. No during regular weeks. Yes during city wide garage sale weeks.
What Garage Sale Websites Do I Post My Garage Sale On?
Facebook Marketplace is the best of online sites about your garage sale. But, honestly, it is not set up for garage sale listings. That means you HAVE to think like the buyer and include allllllll the information. (I will give an example yard sale listing text in the next section.)
Local Facebook selling groups and your personal page are also great. Social media platforms are the best news spreaders for a reason. If you're a member of your town's Facebook page or local for sale group, don't forget to post your sale there (if allowed). When you post to Facebook Marketplace, you can go into your listing on the computer and automatically add the listing to your facebook groups and personal page.
Craigslist is still used for looking up garage sale listings. It may not be as popular as it once was, but people still use it. You should post your next yard sale there.
Gsalr.com is a garage sale finder within your zip code, and it is free to post just like Marketplace and Craigslist.
Signs, Signs, Signs. Some people will look online to see which sales to go to, but many people will just drive around or stop on the way to work if they see a sign. Signs are such an important way to advertise your garage sale that I'm going to talk about appropriate signage in their own section.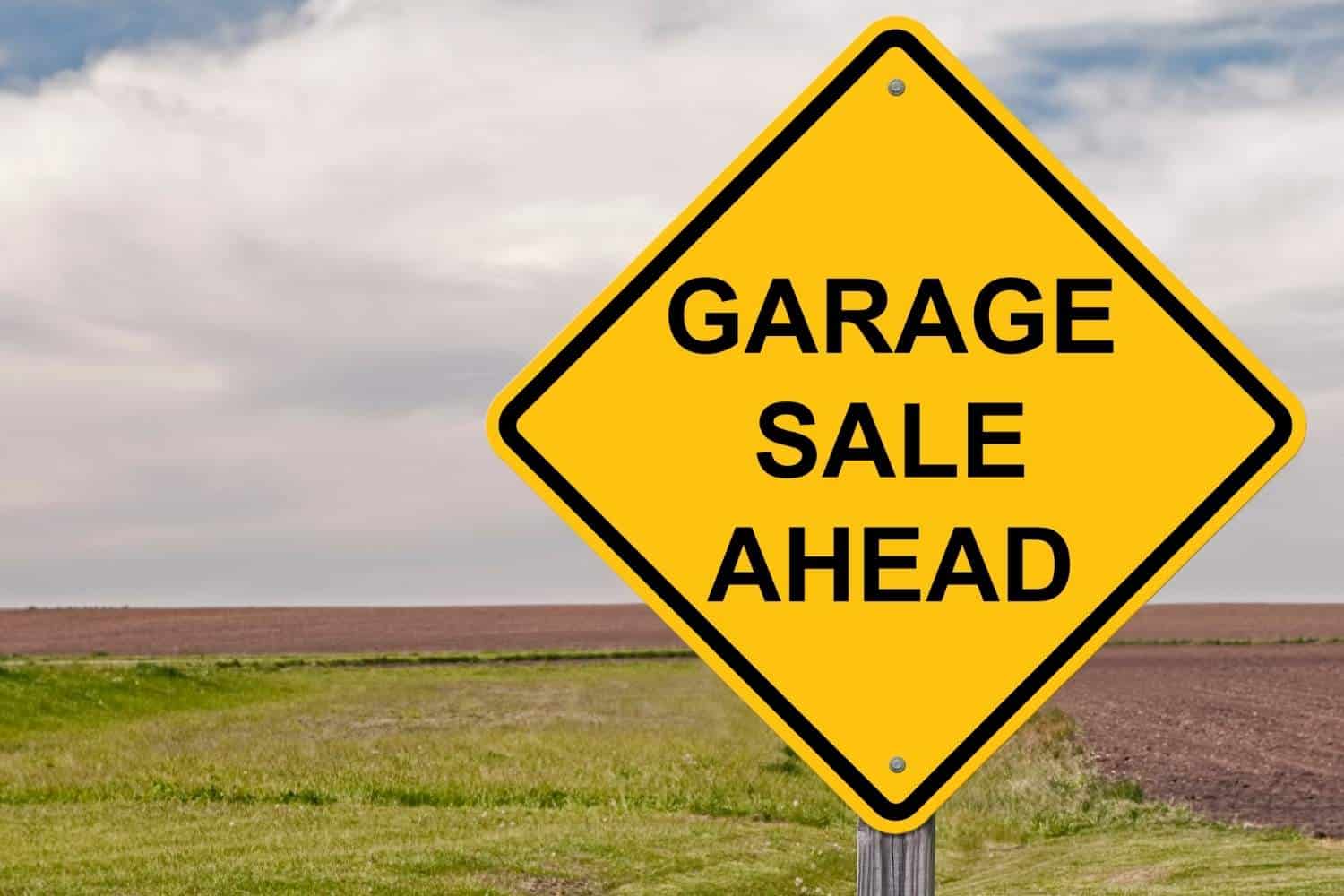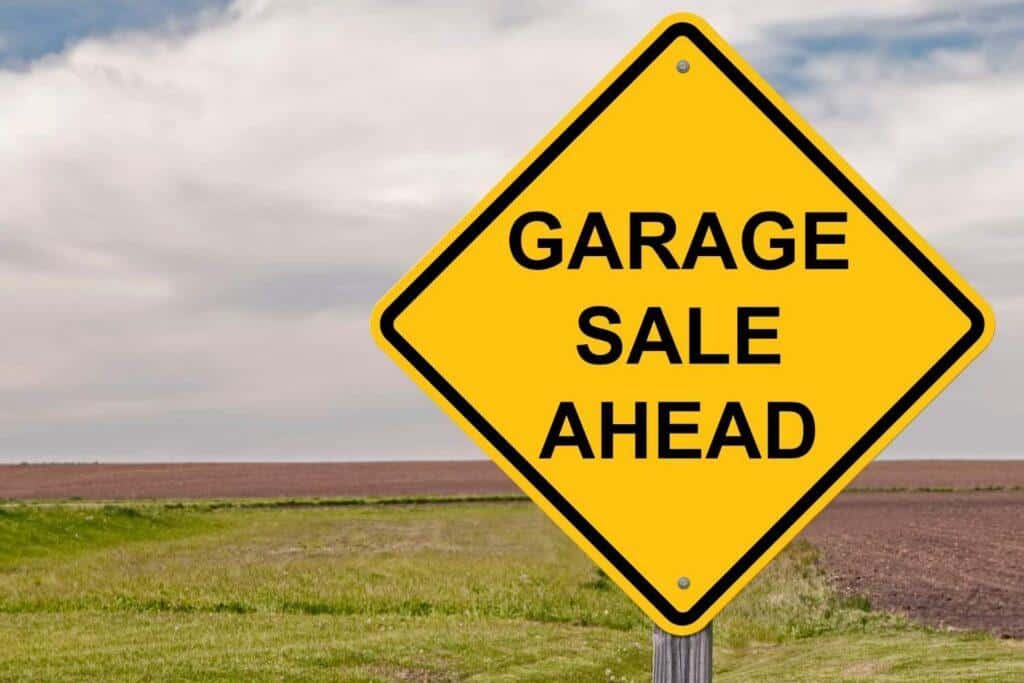 How to Post Successful Signs
First of all, call your city to know the sign rules. My sister lives two miles out of the city and had her yard sale signs confiscated because it was against the rules to send people outside of city limits. Other cities have rule to how close you can put the signs to the street.
I know, buying or making garage sale signs is extra money and time for you to spend, but it WILL pay off in a big way.
Print a Google map of your area/city and mark big intersections close to your garage sale. You will be funneling customers in from these nearby intersections. Also mark ALL corners where the customer will have to turn en route from the main sign(s). (Don't forget the sign for your front yard.) How many times have I been led on a wild goose chase because someone thought that I would automatically know where 346 Drury Lane is located? People don't know your neighborhood. Please, for the love of garage sale-ers everywhere, put a sign at each turn! I beg you. Reassure them they are headed to the right place .
Purchase or make matching signs. You can purchase signs from Amazon that I've successfully used HERE. They don't have to be fancy, but customers will know to follow neon pink or neon green signs all the way to you. Don't leave them wondering if this random white sign is the one they should follow.
And speaking of neon, the brighter the sign, the better. If you make your yard sale signs, purchase neon poster board at the dollar store (all matching, of course) to make signs. (I've found pink or orange stands out best.)
Write the address on the signs and make sure the arrows point the correct way. Just fyi, you might drive around each morning to check the arrows. I've had mine turned around by some bored kids walking home from school.
Place the sign on the corner (side of the street) where people turn. DON'T, for pete's sake, put the street signs on the opposite side of the street or corner. Don't make people get in the wrong lane and have to drive around the block or turn around. You want to make getting to your garage sale EASY!!!!!
What to Include in Your Garage Sale Advertisement
You need to post online the morning or afternoon before your sale. Serious garage sale-ers get up early in the morning and do their research the day/night before. Don't let them miss your listing!
Use this outline online for how to advertise for your garage sale:
Title – Important word FIRST, then "garage sale" then popular items being sold.
Sample Title: "Multi Family Garage Sale – baby gear, Hobby Lobby décor, tools, toddler boy clothes"
First important words to use: "multi family," "vintage," "kid and baby." First words NOT to use: "epic," "huge," "best" (those words give me no real information).
List some popular items being sold – anything that customers might be looking for. Don't expect them to come and find out…becaaaaause they won't.
Zip Code and Address
Every website will ask for the zip code and address because people need to know where to go. Don't forget to include the address!
Details of Your Sale
Include days and DATES. Especially on Facebook Marketplace, you need to include the date since people won't know if "this Saturday morning" means this week, last week or a month ago.
Time. Let people know when you'll be open. They'll be more likely to try to squeeze you in before going to work.
Location (again). Even if you've already put it in. Make it very clear the address.
List of what you're selling. EV-RY-THING. I can't tell you how many times I've seen listings saying "too much to list." Yeah? Well, customers aren't going waste their time without knowing what's on the other end. TEMPT THEM. Selling baby clothes? Tell them sizes and gender. Tools? List them. Household items? Use keywords like "Target pillows, Hobby Lobby décor," "table lamps," "farmhouse décor." Video games and electronics? Tell them name brands, titles, etc. Adult clothing? Again, brand names, sizes, gender. These are big categories that will draw specific BUYING customers to your sale.
PHOTOS. This is also so important that it gets it's own section. Read more on photos below!
How to Take and Post Good Photos to Advertise for your Garage Sale
Include as many photos as allowed. A picture tells a thousand words. We all know this, and yet, so many garage sale listings have NO PHOTOS. Do you know what I do with listings that have no photos? Scroll right past.
Close up and distance photos. Include a couple distance shots (especially if your garage sale is large). Photos of a whole table of (well organized) similar items is also key. Don't forget closer photos of items that draw in people such as electronics, video games, home décor, tools, vintage items, furniture.
Well lit photos. I get it, you set up for a garage sale most of the time the night before so lighting is "meh." Do your best. I always edit my photos quickly in Picmonkey or something similar to brighten up the photos. At the very least turn on the lights in your garage the night before. On the day of the sale (early on), update with better photos when everything is set out.
Update your photos each day. If a big ticket item (such as a stroller or lawn mower) has sold, take a little time at the end of the day to update the photos.
What to Say to Alllllllll the Online Messages About your Garage Sale
You post your sale, put all the information (including date and time) and upload great photos. And then you get questions like, "What time is your sale?" Annoying. But you need these people. They are going to pay you to take your junk away.
Make time to answer questions and messages you get about your garage sale (and, trust me, you will get lots). If you ignore people's messages, they will ignore your sale. Don't ignore questions. You will have a much better chance of interested buyers coming.
How to Make time for Advertise for your Garage Sale
I know all this sounds like a ton of work and time. It is. You already have your hands full getting ready and running the garage sale!
But, again, why put the effort into a sale that no one comes to?
Advertising is THE MOST IMPORTANT part of having a garage sale. Even if you're selling junk people will often find something to buy if they come. No one will buy if no one comes.
So how to accomplish all this extra effort? I would say the key is to HAVE HELP. No one can set up, run and advertise a garage sale all by themselves. Get some friends or family member to go in with you on a garage sale. Put one person in charge of advertising. (Bonus: multi family garage sales are bigger draws for people than single family garage sales.)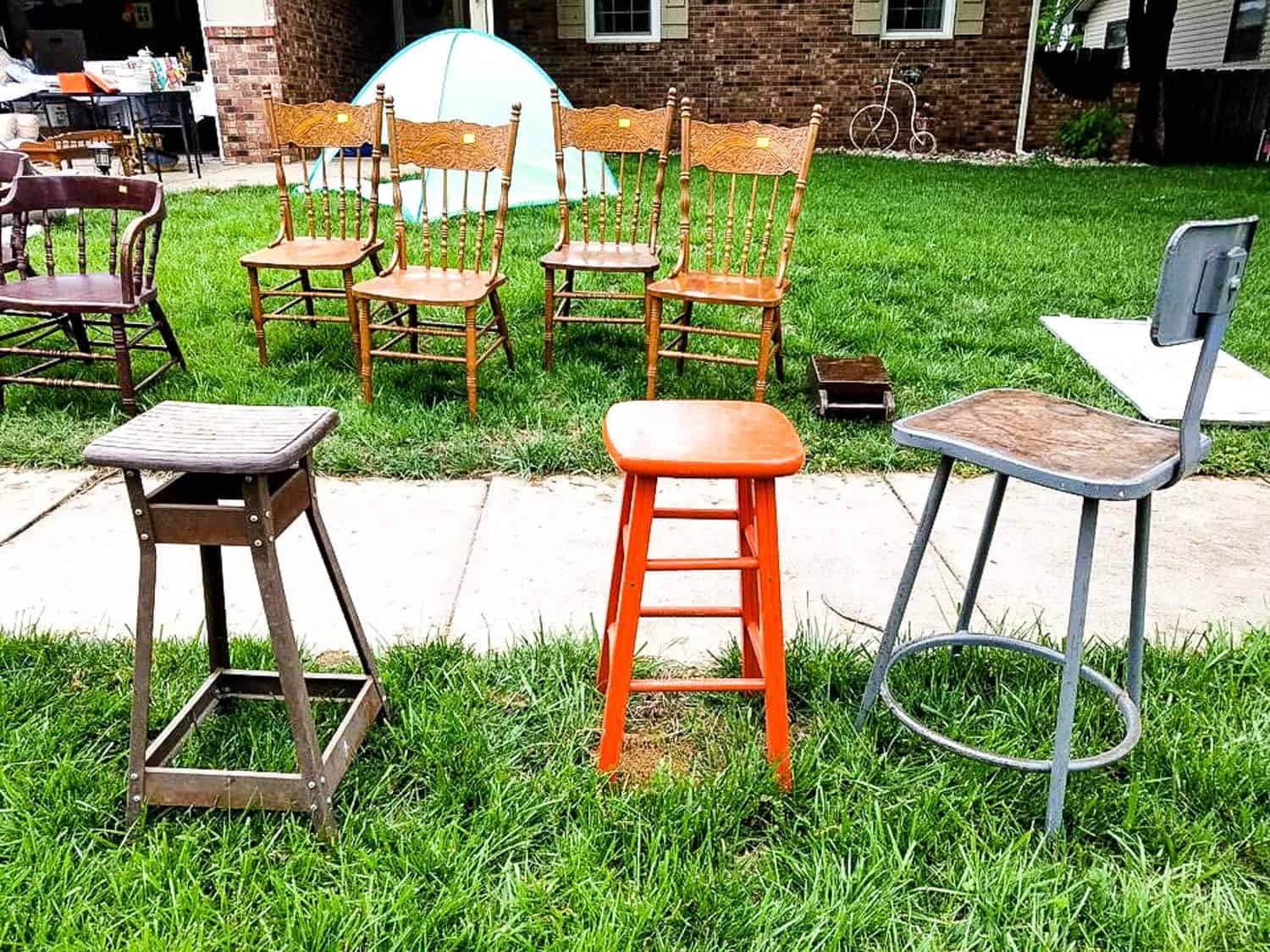 Garage sales are a lot of work, there's no question. Make all that work on your next sale worth it by knowing how to advertise for a profitable garage sale. Bring the people in. It will make all this effort worth it in the end.
Check out these posts for more yard sale tips:
Most Successful Garage Sale Hours, Days and Months
20 Tips How to Price Garage Sale Items
How to Accept Payment at Your Garage Sale
30 Top Items to Sell at a Garage Sale
How to Sell Plants at a Garage Sale (Easy Tips)
How to Sell Garage Sale Items in Winter
Garage Sale Tips for Organizing Kid and Baby Clothes
Happy garage sale-ing! Comment below and tell me if you've ever had a garage sale before and if you enjoyed it or not!
Pin for later How to Advertise for a Successful Garage Sale