There's no getting around it – successful garage sales are a lot of work. Having regularly pocketed over $1,000 at all of my sales, I find the work worth it. But there is an important key factor: you must carefully choose the most successful garage sale hours, days and months. And I'm here to tell you how.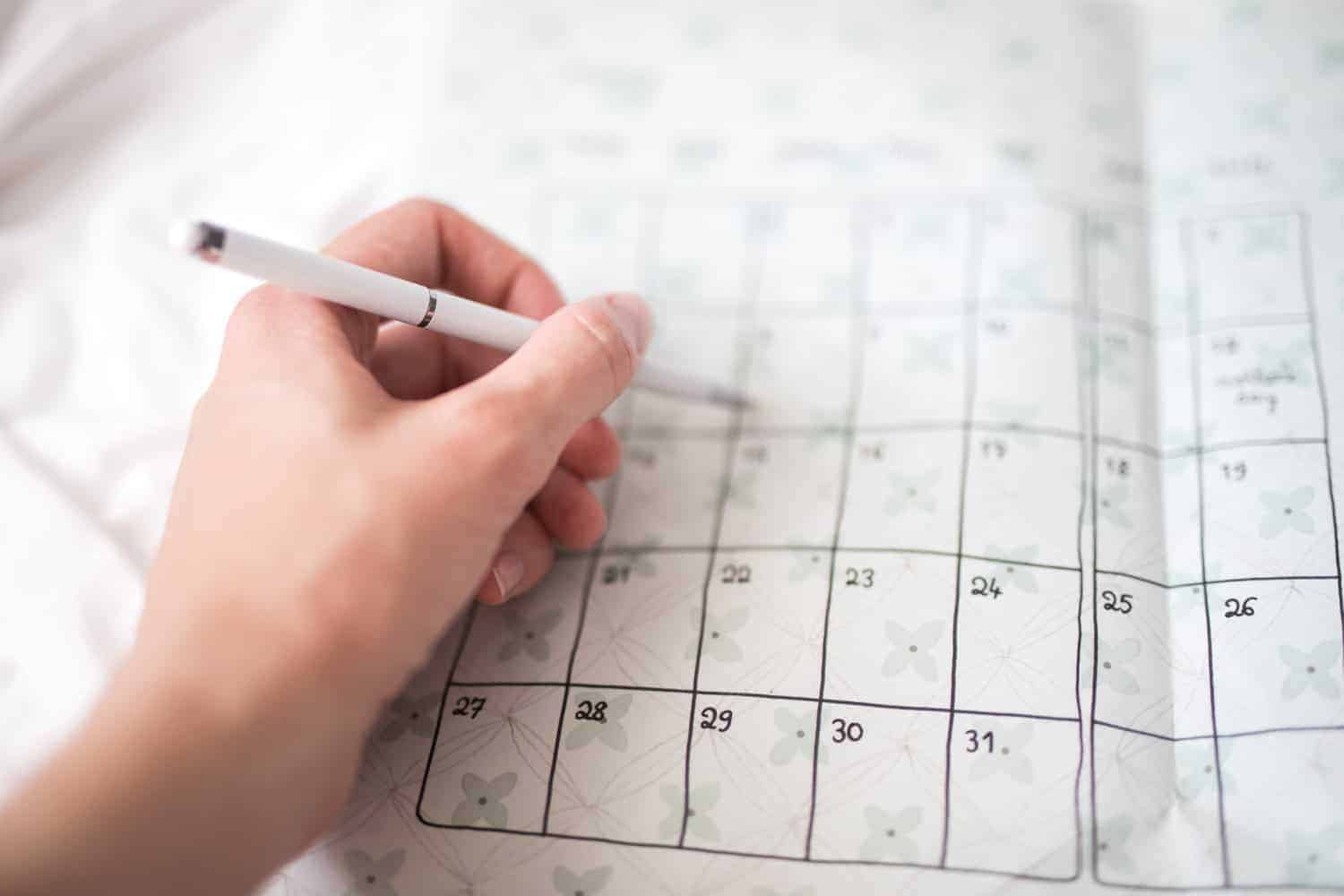 Overview of the Most Successful Garage Sale Hours, Days and Months
Though the best time to have a garage sale varies according to climate, type of town you live in and local culture, here is an overview of the best time to hold a garage sale. I will show you how to figure out what is the ideal time for your location and the times that you should NOT choose.
Opening and Closing Time: 30 minutes before sunrise (6:30 – 7:00) until after evening rush hour (5:00)
Days: Thursday – Saturday
Months: 2 – 4 weeks after spring like weather, summertime or right after school starts in the fall
Events: City wide or neighborhood wide garage sales, community sales, back to school shopping season, rain (yes, rain)
When NOT To Schedule: Around holidays, first week of school, graduation week for your town, etc.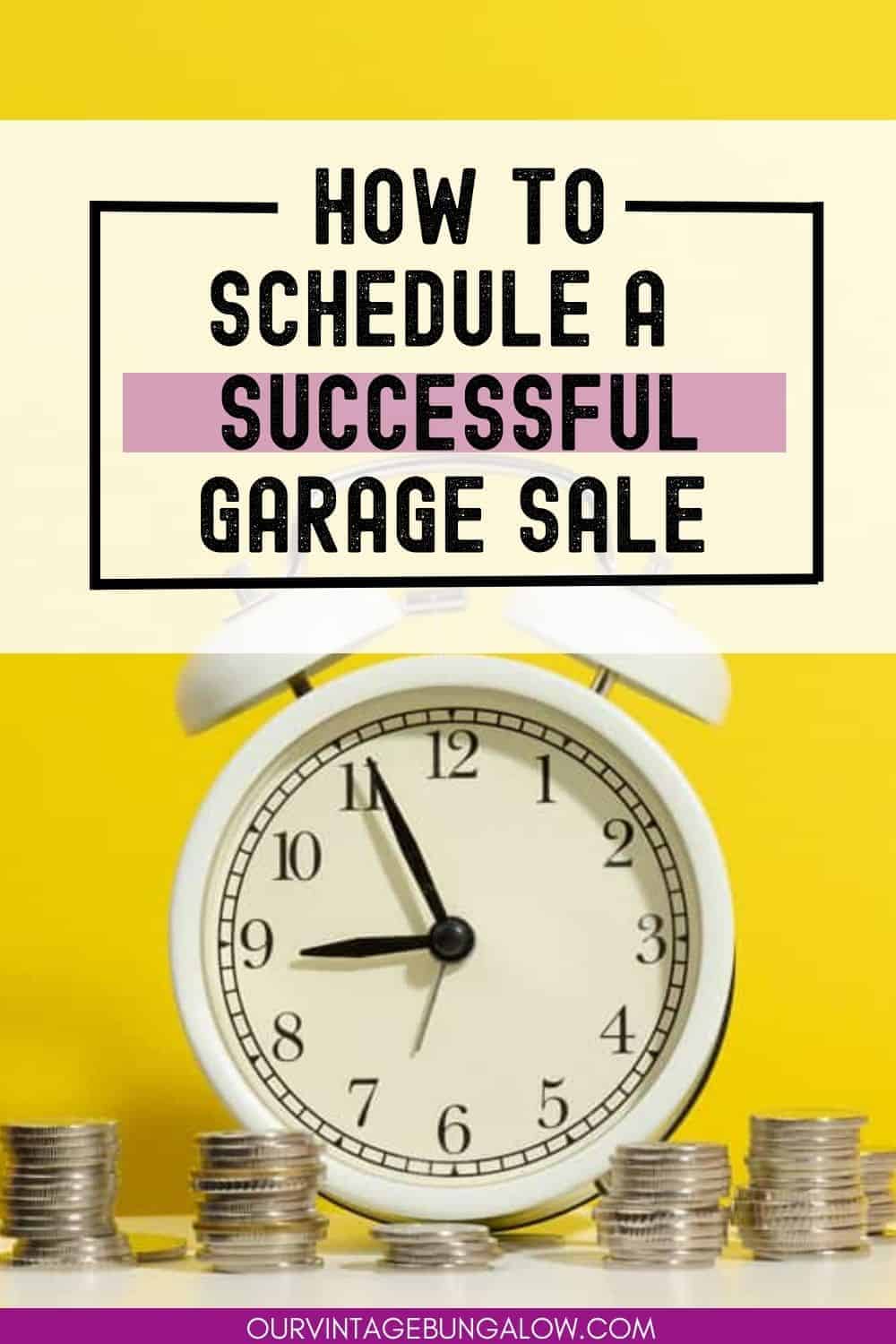 My Background in Garage Sale Culture
This blog post on when to choose the best time for a successful sale is rooted in a lifetime of garage saling nearly every weekend during garage sale season. Shopping and holding garage sales is both a lifestyle and a job for me.
With that said, garage sale culture can vary according to state, climate, type of town (ie college town, military base) and general culture. Even in my area in the south central Midwest, every town has their own garage sale culture. One small town is known as being "sleepy" and having later opening times; one town makes an all-out festival of their city wide garage sales; and one town is known more for antiques than baby clothes.
How to Find Common Local Garage Sale Times
Since it's important to understand your local garage sale culture when choosing the most successful garage sale hours, days and months, you need to know how to find your most common local garage sale times. Of course, if you shop garage sales yourself, you will already know how your town and city works.
But if you are a first time garage sale newbie, never fear. For several weeks, its a good idea to go online to garage sale listings, social media and also drive around your town to find out when others are holding their sales. Write down the times and days and time of year and then look for a pattern.
Here are online locations to find garage sale listings:
Facebook Marketplace
Craigslist
How to Choose the Best Hours for a Garage Sale
While out shopping garage sales, nearly every week I find a sale starting at 9:00 or even 10:00 AM. My first thought is, "Why are they even bothering?" You've put in ALL.THAT.WORK. Please open your doors so you don't miss the people wanting to give you money for your valuable items. Here are key points to consider when deciding your best garage sale hours:
Are there other sales around you? Open up a little bit earlier or close later than them.
City wide garage sales tend to wear people out. Be one of the first sales open to catch savvy shoppers when they're fresh.
Is there a big school, factory or military base near you? When do they get off work? Stay open an hour later than the major rush hour.
Do you have help? Make sure your opening hours fit into when another person (spouse, family members, contributor to your sale) can help move large items such as tables and furniture. (Bribe them to show up early.)
NEVER turn away early birds if you're outside setting up garage sale items. If someone gets up in the dark just to come and give you money and take away your used item, let them shop (even if they're in your way). NO, they WILL NOT come back later when it's more convenient for you. (Can you tell this is a major pet peeve?)
These are the hours of the multi-family sale I participate in (even in our "sleepy" town that doesn't really start the garage sale day until 8:30).
6:00 – 7:00 AM each day of the sale
Set up. This takes a great deal of time. Don't think you can start setting up when you're officially "open." You will drive yourself crazy trying to pull out tables after the start of the sale.
We NEVER turn away early birds (people coming before start time). Actually, we encourage people to come early so we have more space and more money in our pockets.
7:00 AM each day of the sale
Official opening time. After a few early birds, 7:00 – 7:30 can be slow. That's ok! We are ready and this is a good time to sit and enjoy our donuts and coffee.
5:00 PM each day of the sale
Closing time. It is tempting to close up shop from 1 – 3:00 in the afternoon, but if you stay open until 5:00, you can catch the after work people at the end of the day. While not a crowd, it almost always happens that they make a few good quality purchases.
Times of Day for Garage Sale Rush of Shoppers
The night before during set up: Neighbors, other people in your sale and die hard garage salers. If they see you setting up, they might ask to shop. If they're willing to give you money for your household goods, then don't turn them away! That IS the point of all this work.
6:00 – 7:00 AM "Early birds" These people will often arrive in the dark before you're officially open. They are the serious shoppers that snag the most popular items at a good price. (Don't hate on these people! They are willing to give you money for your hard work.)
7:30 – 8:30 AM: People on their way to work or on their way home after dropping kids off at school
9:30 – 10:30: Moms who have just managed to get their babies and toddlers dressed and out the door
12:00 – 1:00: Lunch rush
4:00 – 5:00 PM: People on their way home after work. Many sales close before this, but they miss out on the after work crowd!
How to Choose the Best Days for a Garage Sale
Choosing the best days for your garage sale can be a personal thing. I would certainly be open for 2 – 3 days. One day sales are just not worth the work or a great way to make extra money, in my opinion.
In my area of south central Midwest, here is a breakdown of the days of the week when garage sales are held.
Monday and Tuesday: Almost no garage sales ever. I would not suggest holding it during these days.
Wednesday: Occasionally sales will open on this day. If you want an extra fourth day, go for it. I never do, however. It is not your typical "garage sale day" when shoppers abound.
Thursday: THE garage sale day when many sales start. This is always our highest traffic, highest paying, most popular day.
Friday: Another common day to start a yard sale. It is not as high traffic in our area, but if you're running just a two day sale, then start on Friday.
Saturday: Always a good second or third day of the sale but not a first day. Many people suggest starting on Saturday, but I would not (unless your city requires city wide garage sales to start on this day). Yes, people are off of work, but that means they are sleeping in, fixing pancakes and going to soccer games. You will have traffic but nowhere near the amount on Thursday and Friday.
Sunday: No. Just no. I see so many recommendations to have Sunday sales to catch the church crowd. Maybe I'm missing something, but when I'm driving to church, I'm thinking more about if I can make it in time. And after church, I'm thinking about the quickest way to get lunch.
And to catch the non-church go-ers on Sunday? They've done their running around on Saturday and are chillin' on Sunday morning. You might get a few people, but they're pretty passive shoppers.
The ONLY exception to having a Sunday garage sale is if you are participating in a city wide sale where Sunday sales abound.
How to Choose the Best Month for a Garage Sale
Choosing the best month to hold your garage sale is going to vary a bit according to your climate. I have held sales in the rain storms of spring, the 100 degree days of summer and the blessed chill of autumn. Really, all of these sales have had good traffic because of my advertising. (Read my post on How to Advertise for Your Garage Sale.) But choosing a good month does have some importance.
Here are considerations when choosing the best months to hold your upcoming garage sale:
Spring weather months (March – June depending on your climate):
Garage sale shoppers have been deprived all winter and are READY. Lots of traffic when the weather is nice.
Beginning of the early spring season will have less competition. More sales abound as spring progresses.
More chance to run into rain or cold weather. Have a rain plan!
Summer months (June – August):
Hot, hot, hot. Make sure you provide cool refreshments for shoppers to purchase. (Read my Best Foods Kids Can Sell at a Garage Sale)
Open early to beat the heat.
Kids are out of school, so potentially more shoppers.
Fall Months (September – November depending on your climate):
Fewer garage sales during this time, meaning less competition.
Serious buyers are still eager as long as the weather isn't winter-like.
Provide warm food and drinks for shoppers to purchase.
Winter Months (December – February):
If you're in a warm climate, this can still be a great season (though I don't have warm weather experience in my region).
Indoor sales could work, but you would have to advertise the snot out of it as shoppers are not looking for sales.
Events That Effect a Garage Sale
You could choose a perfect month, day and time to hold your next garage sale, but if it falls on back to school week, graduation week or Easter weekend you are just NOT going to have as much garage sale success or make as much money. Here are events to either avoid and events that would work in your favor.
Events to Schedule During:
City Wide or Neighborhood Wide Garage Sale Weekend (though the competition is fierce…open early, advertise well)
Week before the college in your town starts
Week after K – 12 school lets out
Rain – ok, I wouldn't schedule a sale during a rainy week on purpose. HOWEVER, if it does rain, pull your yard sale items inside the garage or under tents (yes, it will be tight) and stay.open. This is especially true for city wide sales. Garage sale shoppers are a crazy lot and will search out any sale that is brave enough to stick with it. Make sure to update your online post and make a big sign on the garage saying you are open "rain or shine" to give you a better chance.
Events to Avoid:
All holiday weeks/weekends – Easter, Memorial Day, Independence Day, etc
Graduation week for your town
Back to school week
City wide or neighborhood wide weekend – yes, I had this in the list of when to schedule your sale. Depending on your location (are you on a hidden street off the beaten path?), city wide weekend might work against you because of the competition.
The weeks immediately after and before city wide weekend
Now that you've read these tips on the most successful garage sale hours, days and months, you are ready to plan your next successful yard sale! Do your research online and drive around in person to see when your town likes to hold yard sales. And remember, start early and go late, make sure the sale is 2 – 3 days long for the best results and choose the season and date according to events and weather going on in your area. Use these tips and go make some extra cash in your profitable garage sale!
Did you find The most Successful Sale Hours, Days and Months helpful? Read more garage sale selling and shopping tips below!
How to Price Garage Sale Items
How to Accept Payment at Your Garage Sale
Top Items to Sell at a Garage Sale
How to Sell Garage Sale Items in Winter
How to Sell Garage Sale Leftovers
31 Best Foods Kids Can Sell at a Garage Sale
Pin for Later Most Successful Garage Sale Hours, Days and Months