You are overrun with clothes your kids have outgrown, many of them you bought new! It's time to clear out the clutter, hold a garage sale and make some cash. But the thought of all those tiny shoes, onesies, socks and outfits make you shudder. You need some successful garage sale organization display ideas! Here are 25 garage sale tips for organizing kid and baby clothes that have helped our multi-family sale make over $3,000 on a regular basis.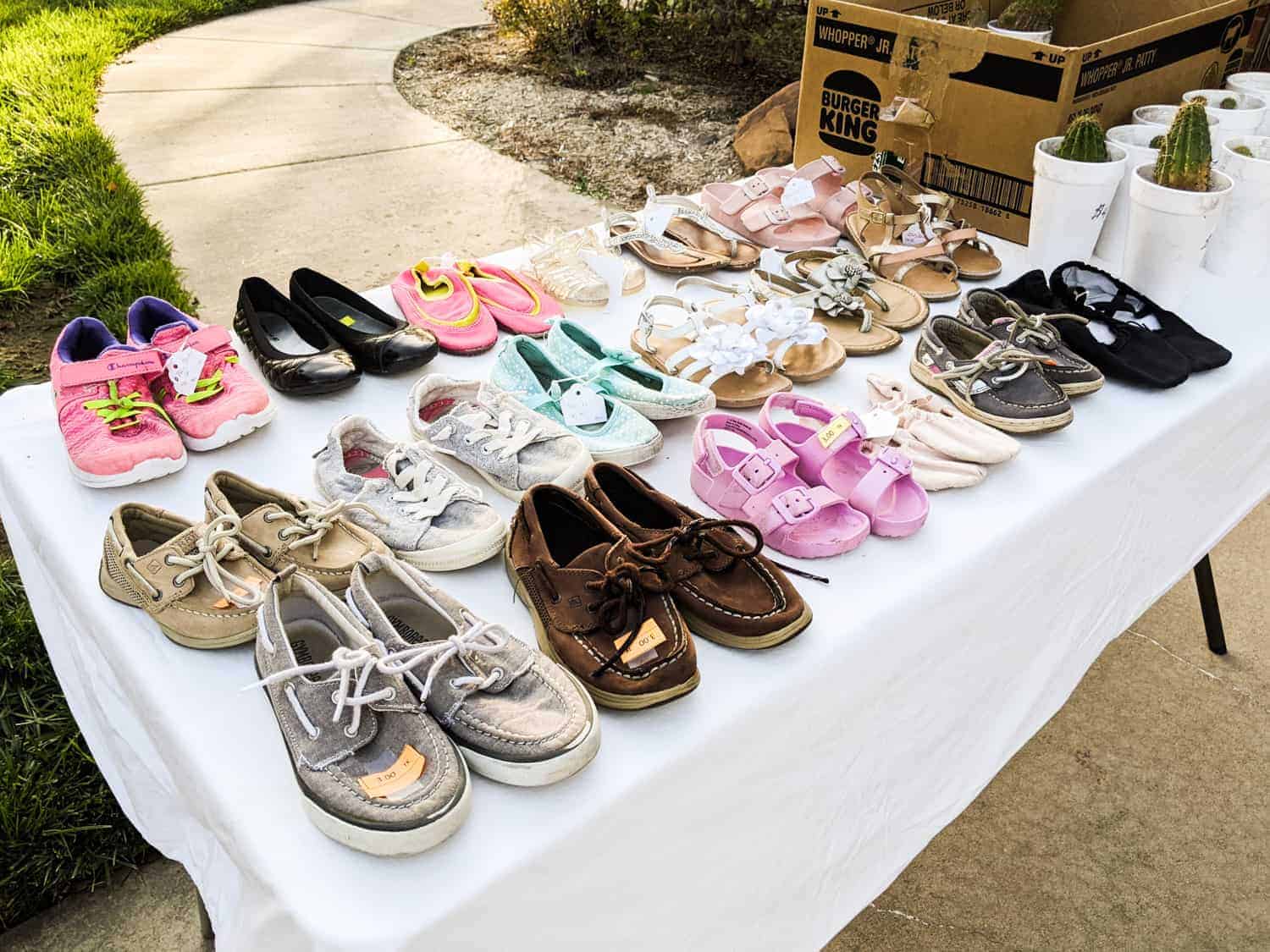 Quick Facts About Successfully Organizing Kid Clothing
Start 3 – 4 Weeks Before the Sale
Price Every Item
Use Free, Customizable Price Sheets on Bright Paper
Sort by Gender and Size
Organize in Tubs or on Hangers
Advertise All the Size Details Everywhere
My Experience Selling Kid and Baby Clothing
A friend and I have held our annual multi-family garage sale for at least ten years. Amongst all the families participating, we regularly make $3000. And someone is always selling kid and baby clothing. Is all the work having a garage sale worth it? Yes, yes it is.
I don't spend money on our kids' clothing. By purchasing nearly everything at garage sales and selling their outgrown clothing at a garage sale, our final cost is $0. And, no, they don't look like ragamuffins.
Supply List for Organizing Kid and Baby Clothing
Free garage sale price tags (easily editable with your initials)
Neon paper for price tags
Scissors or paper cutter
Neon cardstock labels for tubs and hanging clothes dividers
Gallon and quart size storage bags
Kids Hangers (look for them first at thrift stores)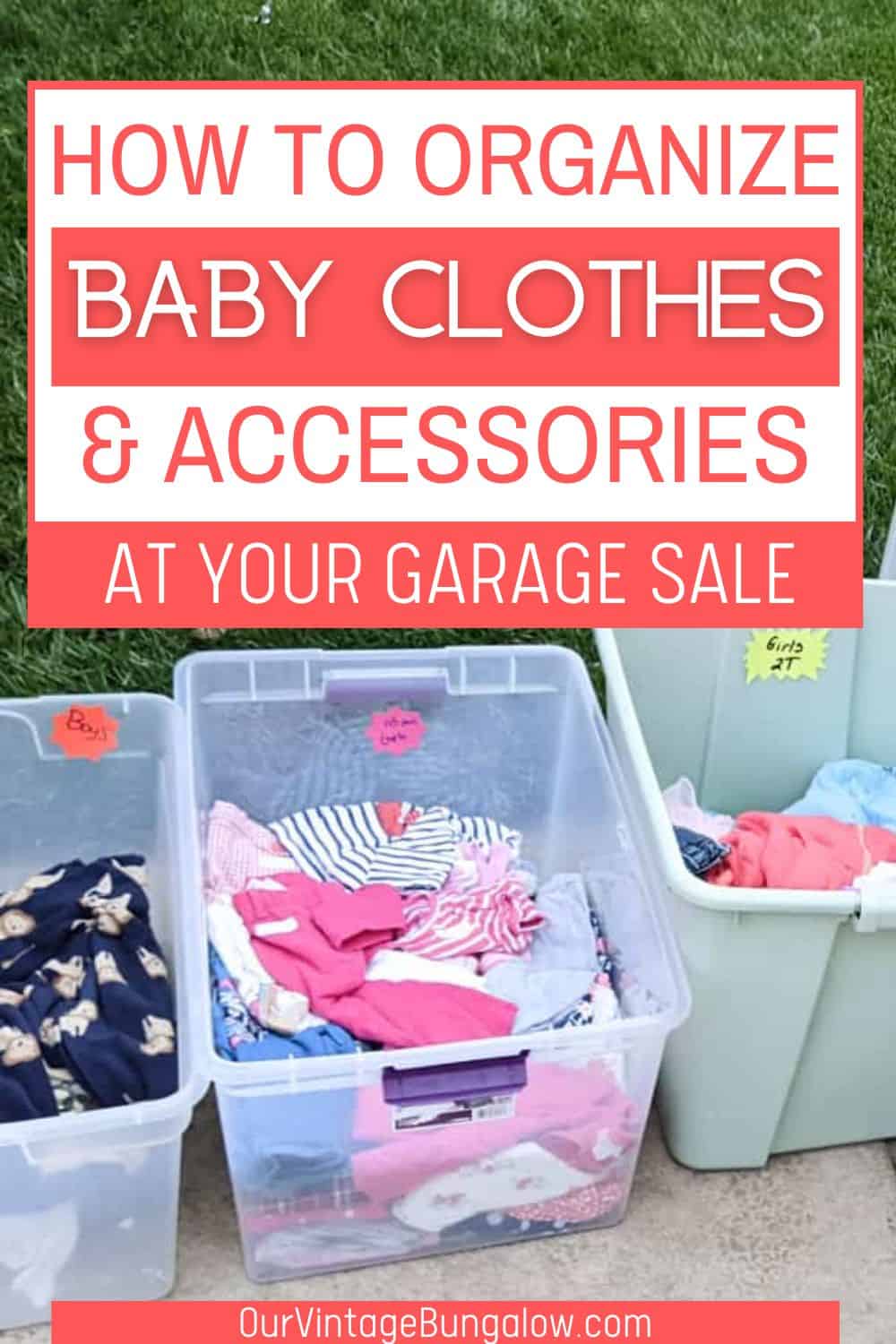 1. Start 3 – 4 Weeks Before the Sale (at least)
Unless you want to develop a twitch and have a very unorganized garage sale, don't start the week of or even the week before your garage sale. Children's clothes and all those small items such as socks and shoes take time and a lot of work to sort and price! Start gathering and pricing your garage sale items three to four weeks ahead of the sale date.
2. Organize the Day Before
Good ol' Ben Franklin said, "By failing to prepare, you are preparing to fail." Do not, I repeat, DO NOT expect to drag out boxes and bags of baby clothes the morning of your sale and sort as you go. You will not have a successful yard sale; you will get a stress headache; and you will swear off ever having a garage sale again.
Organize alllllll your yard sale items onto tables, clothing racks and tubs 1 – 2 days before the sale. Stuff organized tables, tubs and hanging racks into your garage (yes, it will be a tight fit) and have it ready to pull out first thing the morning of.
3. Take Photos While You're Organizing
You need to get your garage sale advertisement WITH PHOTOS out the day before the sale. By taking photos while you're organizing, you will have something to use. (You will want to update these photos on garage sale day when everything is looking nice and bright.)
Read How to Advertise for Your Garage Sale for detailed tips.
4. Advertise All the Details
Advertise, advertise, advertise. I can't say this enough!! Saying you have "baby clothes" will get you lots of message questions but not a ton of in person shoppers. What size? What gender? Any name brand? Do you have shoes and coats too? Tell people all the details as they will NOT get out if they aren't somewhat assured you have what they need.
5. Don't Sell Stained, Ripped or 20 Year Old Items
If potential customers see food stains, holey jeans and baby clothes from the 1990's, they will quit looking at what you have to offer (because, honestly, what you're offering stinks). As much as it pains you to throw Junior's cute sleeper away, if it has a stain, toss it.
And holey jeans from a garage sale are not good "play jeans." Every kid already has those; no one needs more.
6. Use Customizable Price Sheets Printables on Bright Paper
You may think it's expensive or massively time consuming to price everything. Or that the tags will fall off or not be seen. But I have a proven, easy and cheap method of pricing garage sale items (even baby items). You can customize my free garage sale price sheets with your initials, print them on BRIGHT paper and tape it on with Scotch tape. I rarely have any tags fall off, and everyone can see the orange prices.
Print your free customizable garage sale price sheets.
7. Price Every Item
I have seen many sales that have a large price sign but not the individual items priced with a price tag. To put it bluntly, this is lazy and does NOT have as good of results as when you price items individually. (And if you're having a multi-family yard sale, it's impossible to keep track of who gets the money.)
Customers are left confused and constantly having to look at that darn sign over and over and then wondering if they missed an "unless otherwise marked" price. Price.Every.Item.
8. Safety Pin Outfits Together
Outfits can get jumbled so easily. And no one knows that Paw Patrol pajama top has a matching bottom. Invest in a box of safety pins and pin all outfits together. DO NOT fold and tape together or put in a Ziploc bag. I've seen this, and pass on by…because as a shopper, I want to inspect each item, and if they're taped, I can't see if there's a stain.
9. Sort By Size
If a customer has a 9 month baby, they do NOT want to dig through 3 month clothes to find the random pieces that will fit. Sort by size as you are pricing and then you can lay everything out so it's easily found.
10. Sort By Gender
Like the size, gender is pretty darn important to a mom. (And that mom probably has her kids with her and doesn't want to dig through finding the right stuff.) Sort everything, even the hanging clothes, by gender to make it easy to buy.
11. Bag Smaller Items Together
No one wants to buy one pair of baby socks. Group small, same category items together in a bag (ie, socks, bibs, hair accessories). This way you don't have to deal with 10 items at $0.25 each.
12. Highlight Items In the Current Season
Garage sale shoppers will shop for the season ahead, but they don't get super excited about coats in July. Make sure you highlight seasonal clothing (put it front and center). Warm weather items in spring and early summer. Cold weather items late summer and fall.
13. Fold Neatly
You will be spending a lot of time folding and refolding children's clothing items during your sale. But DO IT as much as possible. I have passed up many mountains of kids clothes because they just don't look appealing.
Whether you put your clothing on a table or in tubs, fold every single item and then refold whenever possible.
14. Hang It Up
I don't hang every piece of kids' clothing simply because I don't have that many hangers. If you have the space and hangers, this is the best route for most items.
If you are limited on racks and hangers, here are the key items to hang:
Coats and jackets
Dresses and suits
Dress up clothes (ie Halloween outfits and princess dresses)
Outfits with tops and bottoms
And here are ideas for DIY garage sale hanging racks:
Rope tied tightly between trees or porch pillars
Pole or 2 x 4 between two ladders
Mount a hanging rack to a garage wall
Hang from a porch railing
Rent a rack (you can often find garage sale rentals on Craigslist or Marketplace)
15. Get Extra Hangers from the Thrift Store
There is not much point in having a garage sale if you have to go out and buy a whole bunch of supplies. But there ARE a few supplies that make your garage sale more organized and more likely to make money. If you need extra kid hangers, go to a thrift store and ask if they have any available for free or for a very low cost.
16. Make Size Divider Tags
Make it easy for potential buyers!!! When you hang your clothing, make size divider tags on laminated paper or even simple paper plates to put in between each size category. Color coding them blue and pink is a great way to notate gender divisions.
17. Place in Tubs
Let's face it, when selling kid and baby clothing, most of it is going to be folded. While it can work to stack on tables, my experience is that putting (folded) clothes in tubs on tables is the best method for organizing similar items. This way people can go straight to the tub and dig through, clothing will more likely stay in the size category and you can easily slide under a table when packing everything into the garage for the night.
Also, if you are running low on tables, you can put tubs on the ground. While putting them on tables is best, tubs on the ground is much better than piles of clothing on the ground (ain't nobody want to get on hands and knees to dig through that).
18. Label Tubs
Once you've sorted the clothing into tubs, make sure to label the outside with the size and gender!!! Again, make it easy for the shopper, and they will be more willing to buy. We use brightly colored cardstock labels and tape to the front of the tub.
19. Line Up Tubs According to Size (Smallest to Largest)
Since your tubs are labeled, you can easily see where they should go. Keep all girls together and all boys together rather than intermingling them. And then go from smallest to largest in a line. If a mom needs 9 month clothes, she probably is also looking for 12 month clothes. This keeps everything close at hand.
20. Line Up Shoes
Shoes, oh shoes. How many times have I dug through a tub full of 3 month – 3T shoes, all jumbled together? Let's just say, a shopper has to be pretty motivated to dig and find the matching pair in that mess. And we've already learned…shoppers ARE NOT often motivated to dig. Line up those shoes! These can be under the table (not ideal but common) or on top of a table (best choice). Either way, match them and Line.Them.Up.
21. Get It Off the Ground
Table space is always a premium, I get it. If you have regular garage sales, it is a good idea to invest in some quality folding tables. The more you have things on a table, the more chance it will sell. People just don't look way high or way low.
Here are some DIY garage sale table ideas:
Plywood or old doors on top of two saw horses
Rent tables from a garage sale rental (find on Craigslist or Marketplace)
Boards on top of inverted plastic totes
Book shelf, dressers and tables you're selling
Boards between two ladders
Shelving units from your garage (label "not for sale")
22. Keep Everything In One Section
If you have baby clothes on one side of the garage and then baby shoes on the other side, shoppers might not see (and buy) everything. Make sure you keep hanging clothes, accessories, shoes, toys, blankets, folded clothes and all things baby and kid in one line or one section for easy browsing.
23. Be Willing to Haggle on Bulk (but don't give it away)
People will ask you for less even on brand new toddler Nike shoes you've priced at $2. I don't want to give items away, but I will drop the total price by a few dollars if a shopper has a lot of items.
24. Have Lots of Bags (small and large)
Lots of baby and kid clothing means lots of little items all over the place. Be nice to customers by providing a bag to take everything home.
25. Fill a Bag Sale on the Last Day
The first two days of a garage sale are more about making extra money. The last day of the sale (or at least couple hours) is about getting rid of the stuff. Make large signs and post them all around and update your advertisements announcing a fill a bag sale. Include the following information as people WILL take advantage of you on this:
What bag? Provide plastic grocery bags. (Some people bring their own that you could fit a house into and then get huffy that you won't accept it)
How much for the bag?
What items are included or NOT included?
How full can they fill the bag?
Be firm. As I said, people will take advantage and get huffy when you say no. If a person has overfilled a bag or grabbed items not included, JUST SAY NO.
26. Sell Unsold Items at a Consignment Shop
Hopefully, with your good pricing, advertising and all these garage sale tips organizing kid and baby clothes, you sold most of your items during the sale. But you will always have something left over. Consider taking unsold clean items in good condition to a children's consignment store to make just a few extra dollars on the leftovers. They will go through everything to see what they need and then pay you for what they keep.
Read my post on how to sell leftover garage sale items.
27. Donate Unsold Items Right Away
If you choose not to keep selling your leftovers at a consignment shop, then box or bag up everything immediately following your sale and DONATE IT the next possible day!!!! Please don't keep it in your garage for weeks. That is NOT the point of having a garage sale.
Read my post on where to donate garage sale items.
I get it, these garage sale tips organizing kid and baby clothes sound like a lot of hard work. It is. Making $3,000 in extra cash on a multi-family garage sale won't be easy, but, in my opinion, it is worth it. If you have decent clothing to sell and if you follow these garage sale tips for organizing kid and baby clothes, you will have a successful sale. Trust me.
Read More Garage Sale Shopping and Selling Tips
How to Advertise for Your Garage Sale
20 Tips How to Price Garage Sale Items
How to Sell Leftover Garage Sale Items
Where to Donate Garage Sale Items
Most Successful Garage Sale Hours, Days and Months
How to Accept Payment at Your Garage Sale
Pin for Later Garage Sale Tips for Organizing Kid and Baby Clothes