What is the most important job when holding a garage sale? Advertising! But this is often the most overlooked part of the big weekend. You've put in so much work decluttering, pricing and setting up that advertising is an afterthought on the morning of your sale…if you do it at all. But our multi-family garage sales bring in thousands of dollars over three days, and the big reason is the advertising. I will teach you how to create a successful garage sale ad for Craigslist, Facebook Marketplace and other garage sale apps that will bring the customers flocking to you.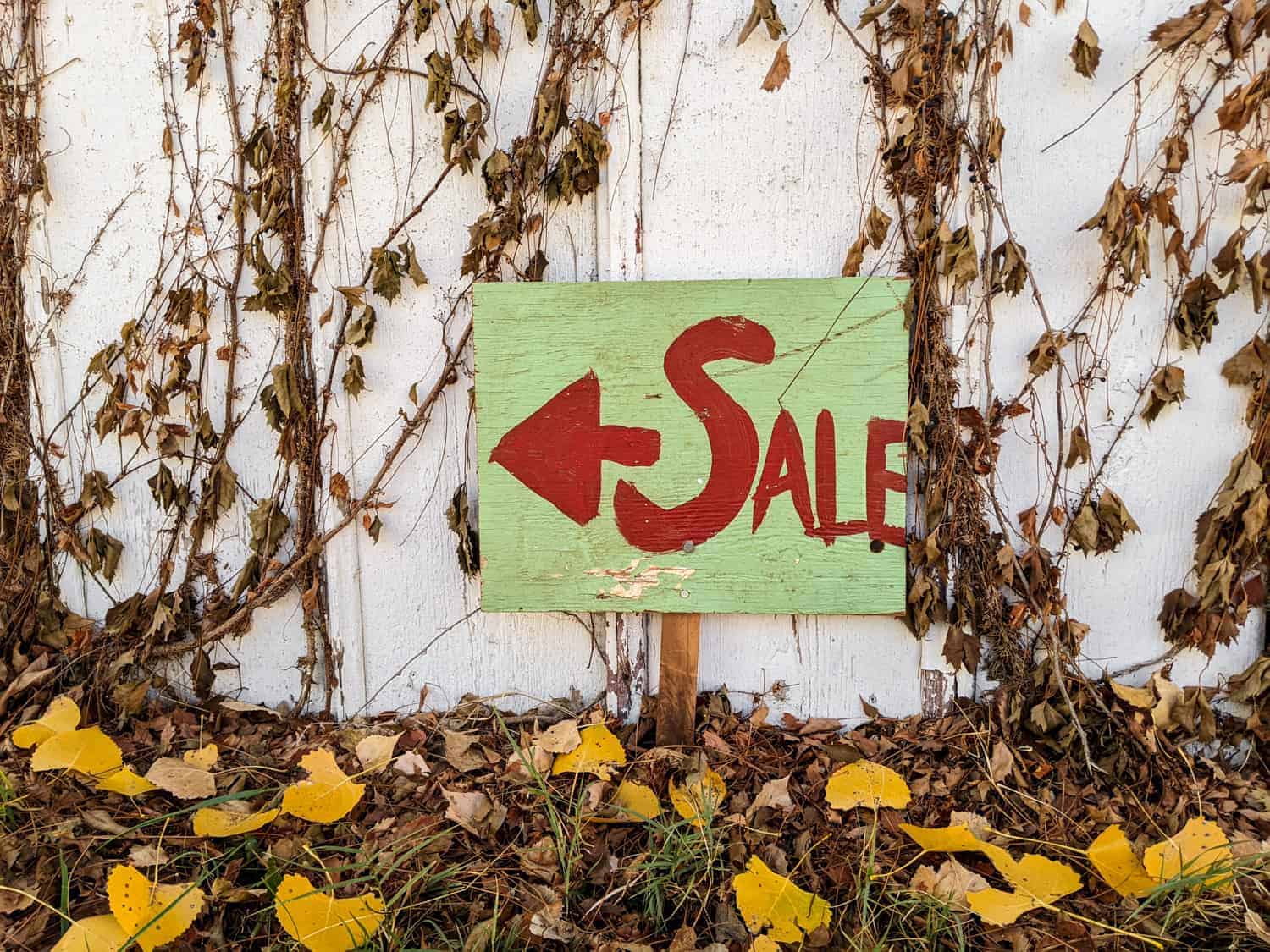 I have been regularly shopping garage sales my whole life and participating in an annual huge multi-family garage sale for well over a decade. Over the years, I have adjusted the advertising for our annual yard sale so that it brings us hundreds of paying customers who say they came to ours because of the yard sale ad they saw online. (We hold the sale during the annual city wide, so there are well over a hundred garage sales and very stiff competition for customers.)
I regularly make over $1,500 per sale, and the total for our last huge multi-family yard sale extravaganza was over $5,000. We may have 3 – 4 items that are around $100, but most of the stuff is clothing, household items and small vintage décor.
So, yeah, the advertising works well.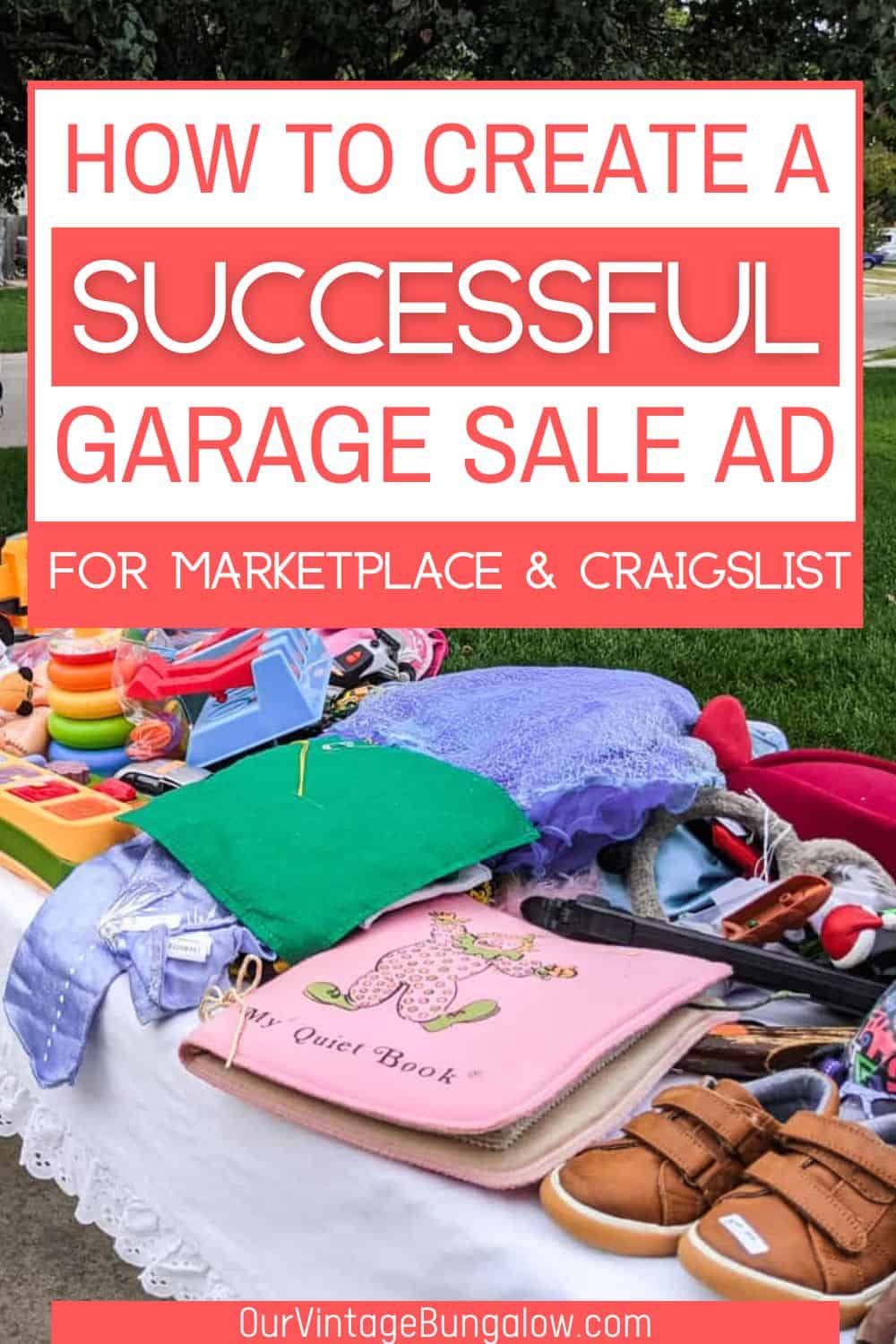 How to Create a Successful Garage Sale Ad (Craigslist and Marketplace)
Have 1 – 2 People in Charge of Advertising
Successfully advertising your garage sale takes time. Have 1 – 2 people in charge of this entire process, so they aren't running around taking money from customers while also trying to post on Facebook Marketplace. Because if you try to do everything yourself, it's the advertising that will suffer greatly. And when your advertising suffers, the number of potential buyers goes down.
That is why having a multi-family garage sale with lots of volunteers is important!
Get a List of All Item Categories from Participants
About 3 – 4 days before the sale, request a list of all item categories, higher dollar items and large individual items from participants. You can do this on a private Facebook group page, email list or texting thread. Ask them to be as detailed as possible.
Example:
Baby and Kids' Clothing (INCLUDING gender and size)
Tools (including name brands and things like "power tools")
Specific pieces of furniture (including name brand if applicable)
Styles of vintage or antique items (ie Farmhouse, Rustic, Mid Century)
Video games, consoles, etc (including names of games and consoles)
Use My FREE Garage Sale Ad Template
To make this whole process quick and easy, download my FREE garage sale add template HERE. All you'll need to do is fill in the blanks. Don't know what to fill in all those "blanks"? Never fear! I will have plenty of prompts for you.
Make an Informative Title (not cutesy)
The title is the first thing that entices a potential customer to click on your listing. When shopping garage sales each week, I see lots of cutesy, funny titles. But phrases like "OMG, Becky, Look At that Sale!" or "Huge Sale!" or "Great Sale!" tells me absolutely nothing about what's available.
1. Start with the main selling point at the beginning of the title.
Example:
8 Family Sale
Moving Sale after 20 Years
Farm Sale
2. Follow up with as many items categories that you're selling that you can fit in the title.
Example:
– Tools, Antiques, Baby and Kid Clothing, Plants, Name Brand Adult Clothing, Furniture, Target Style Home Décor
Put allllll the categories in until you can't add any more words.
Lead with Important Information
Once you have an informative title, customers will click on your listing, whether it be on Facebook Marketplace, Craigslist or another garage sale app. In the body of the listing, LEAD with the important details of your garage sale. This is especially important on Facebook Marketplace, which isn't set up for garage sale listings. (They don't have a designated spot for time, date and location unless YOU put it in front and center for easier access.)
Example:
Thursday, April 2 – Saturday, April 4
7:00 AM – 5:00 PM
123 Your Street
Your City, Your State
If you don't give people the details, they won't know when or where to come. I see some listings that won't include the address unless you message the seller. Let me tell you, people will rarely message because it takes effort, and people simply don't like effort. If you're worried about strangers coming to your house, theeeeeeen you probably shouldn't be having a garage sale where the point is having strangers come to your house.
List All Item Categories and Go Into Detail for Each
So, so many times I see listings that simply say "too much to list!" To be blunt, this is lazy and shows the customer that you are not willing to put the effort into a good sale. If you're not willing to put in the effort to inform, be assured, the customer won't be willing to put in the effort to come.
Yes, your listing is going to be super long with all the relevant information. That's a good thing!!!
I don't usually drive across town to take a chance on a sale where I don't know WHAT they're selling.
Please. List all the categories you've received from fellow garage sale participants. And then go into detail for each category. This is not only one of the best ways to tempt a customer to come, but it also gets key words into your listing that people might be searching for specifically (ie "3 month baby boy clothes"). If your listing has these key words, then you will show up in search results!
Example:
Baby Clothing, Accessories and Gear
Name brand baby boy clothes sizes 3 month, 6 month, 9 month, 12 month, 2T
Baby boy shoes size 2 – 5
Osh Kosh, Target, Baby Gap
Baby crib, toys, high chair, jogger stroller
(Again, list allllllll the things in each category as well as as many categories as you can think of.)
Highlight KEY WORDS
Your listing is hopefully going to be really long, especially if you've organized a large multi family yard sale. Read my Ultimate Guide to a Successful Multi Family Garage Sale HERE.
Long listings WILL be read (or at least skimmed) and WILL draw in tons of customers. But to make it more readable, you need to highlight KEY WORDS with bold, underlined, all caps or italics to make the IMPORTANT INFO stand out.
Type your listing up in a Word document (you can start with my free garage sale template). This way you can save everything and then make edits later.
Example:
TOOLS, guy stuff, FISHING equipment, outdoor GARDEN items
Check out all the name brand DEWALT power tools, like new GARDEN tools and fishing and HUNTING gear. We have rods, tackle, bow in the case, chainsaw, drill, large planters….(you get the point…again, list allllll the items of importance).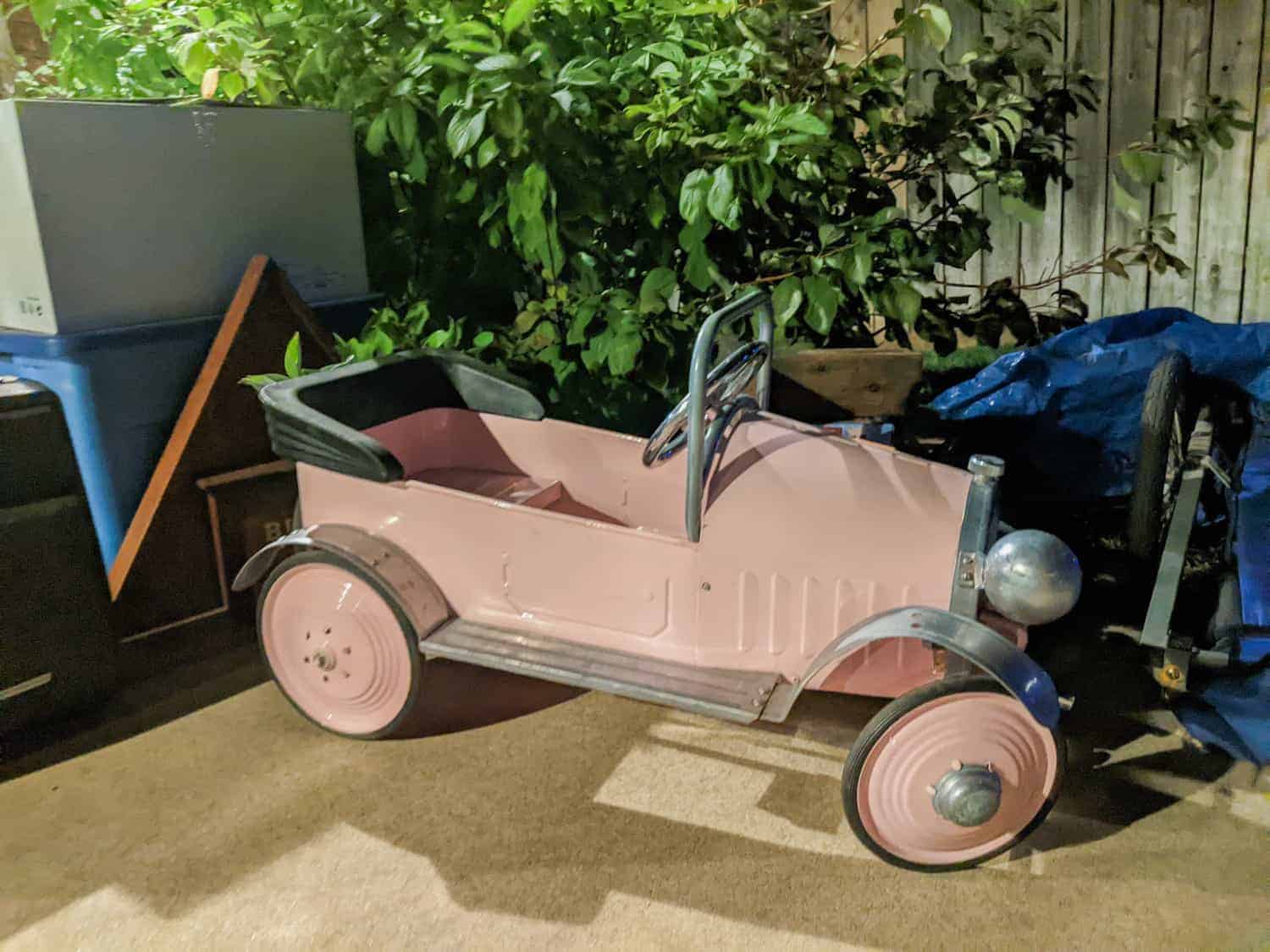 Take Lots of Photos During Setup
You will be posting your garage sale advertisement 1 – 2 days before the sale. And you will need photos to go with that listing. Even if you've done a great title and description, a picture is worth a thousand words. And do you click on listings that don't have photos? I know I never do.
Granted, before the sale, you won't have great pictures, but make them as good as possible. Take photos while everyone is setting up for the sale the 1 – 2 days before. Below is an actual photo I ran across as the first photo of the listing. And this is not an uncommon problem. Ummmmm, yeah, not helpful.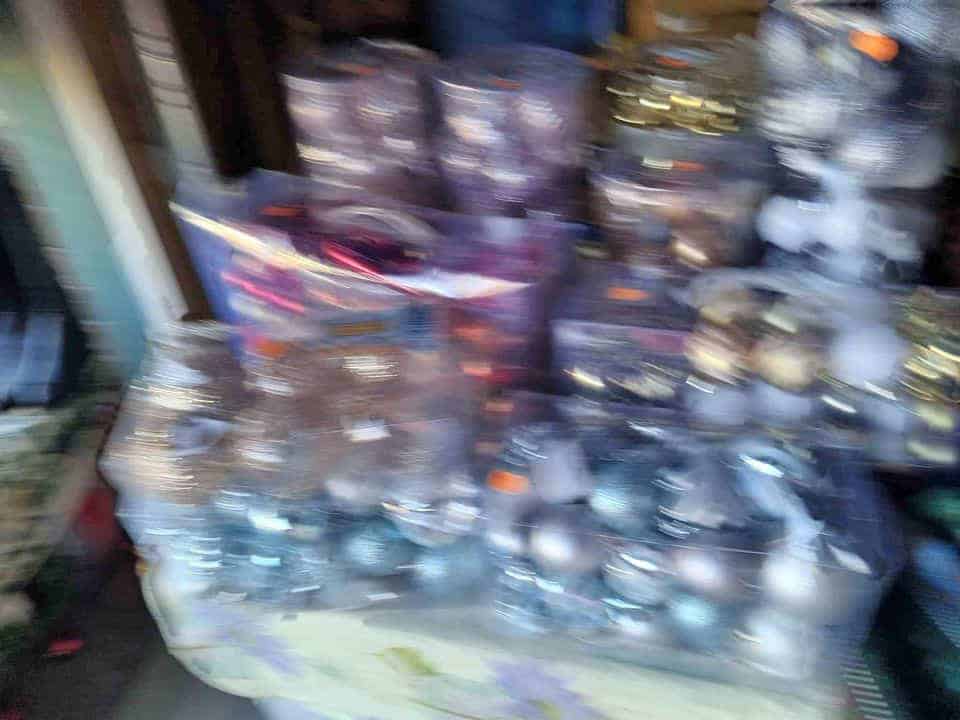 Example:
General photos of tables of items (like baby clothing, tools, etc)
Up close photos of items (furniture, antiques, name brand kitchen items, video games, baby equipment, sports equipment)
Broad photo of the whole driveway or garage (showing that it's packed out)
Sometimes including a photo of your sign so customers know what it looks like and therefore what to follow. (Make sure to have all matching signs…my recommendation are the garage sale signs HERE.)
Edit Your Photos
Many times, you will be setting up as the sun is setting or when it's dark. Take the time to do quick edits to your photos so they are actually appealing. I'm not talking fake looking filters. Just brighten the lighting a little if the photo is dark. Every phone will have a brighten feature on its camera app.
Post 1 – 2 Days In Advance
Garage sale shoppers check listings a day or two in advance. They are typically early risers and don't waste time the morning of garage sales. List your sale AT LEAST one day before the sale if you want to catch everyone. But don't go overboard. If you post three or more days before the sale, your listing will start to get buried and not seen.
Places to Post Your Garage Sale Ad
Post in ALL the places you know get garage sale traffic in your region. At the very least, post on Facebook Marketplace. If you don't know, search different platforms to see if there are many listings in your zip code. If there are, then add your listing.
Facebook Marketplace
Local Facebook selling group pages you're a member of
Craigslist Ad (especially good for antiques, furniture, home reno items)
Gsalr.com
GarageSaleFinder.com
YardSales.net
YardSaleTreasureMap.com
Answer and "Like" ALL QUESTIONS and COMMENTS!
You will get lots of comments and messages about your sale if you've done your listing well. "Is your desk available?" "What time do you start?" "Can I come early?"
Some of the questions are ANNOYING because the information is usually in the listing. (I mean, READ the description, people!)
But you want to answer everything, no matter how annoying. ANSWER. EVERYTHING.
First, Facebook Marketplace likes you when you engage with comments and messages. And when Facebook Marketplace likes you, then they boost your listing to more people.
Second, in Facebook selling group pages, every time you "Like" or reply to someone's comment on your post, it bumps it up to the top of the page, making it more visible.
And finally (and most importantly), these are potential customers who will give you money and take away your unwanted items. No matter how annoying, be polite and answer the question.
Example:
I always let people know they can come early while we set up. Early birds welcome!
I don't hold items (because people often don't show), but I WILL message them if an item has sold before the time they said they could come.
I "Like" every comment, even when it's just someone tagging a Facebook friend.
Update Photos During Sale
When you listed your garage sale 1 – 2 days before the sale, your photos were ok but not great. When everything is pulled out the morning of the sale, take great photos and update it on your listings.
**IMPORTANT: Have 1 – 2 people in charge of advertising so they have the time beyond just running the sale.
Again, highlight tables of items (like clothing) and individual items (large pieces, valuable items, things like video games).
Good lighting is important. Try to avoid part sun, part shade.
Post Individual Items on Facebook Marketplace
There are always slow times at a garage sale. Instead of wasting time on scrolling social media, it's a good idea to take extra photos of large or high ticket items or a specific category being sold (antiques, baby clothes, etc). Post these as individual listings on Facebook Marketplace, Facebook groups or Craigslist.
Example:
Weight bench for sale at our garage sale. (Mention details like condition, brand, etc, as well as time, date and location of the sale.)
Antique dealer liquidation at our garage sale! (Mention style, specific items as well as time, date and location of the sale.)
So many times I've had someone come to purchase one large item and end up buying lots more at the yard sale that wasn't specifically advertised.
Always make sure to remove the listing once it's sold though!
Update Your Advertisement Each Day
You will have lots of items sell if you do your advertising correctly. Make it easier on you and less frustrating to customers by updating your listings at the end of each day.
And then add to the title and body of the description "Updated Listing."
Yes, it takes even more time. I get it. But more people will come if they know what they see isn't sold already.
Adjust Title for Adverse Weather
Many times, no matter how well you've planned, there will be some rain or something happen you didn't anticipate. If there is rain, don't close down your sale! Read my post of 20 Best Rain Plan Tips HERE and then update your listing so people know you're still open!
Especially during a city wide garage sale event, people are hungry to shop, and you will still stay busy despite the adverse weather.
Title Example:
"**Open Rain or Shine** 8 Family Garage Sale – Baby clothes, furniture, tools, antiques"
Make Lots of Money!
There are a lot of factors that go into making lots of money at your sale – quality of items being sold, location, weather, etc. BUT if you do your advertising well, people will actually overcome those factors if they see something they want.
I've driven over an hour to a sale simply because there was something that interested me in the listing. On the other hand, I've often passed up a sale 5 minutes away because there were no photos or the seller said "too much to list."
Do the work, and you WILL mostly likely reap the benefits of successful business.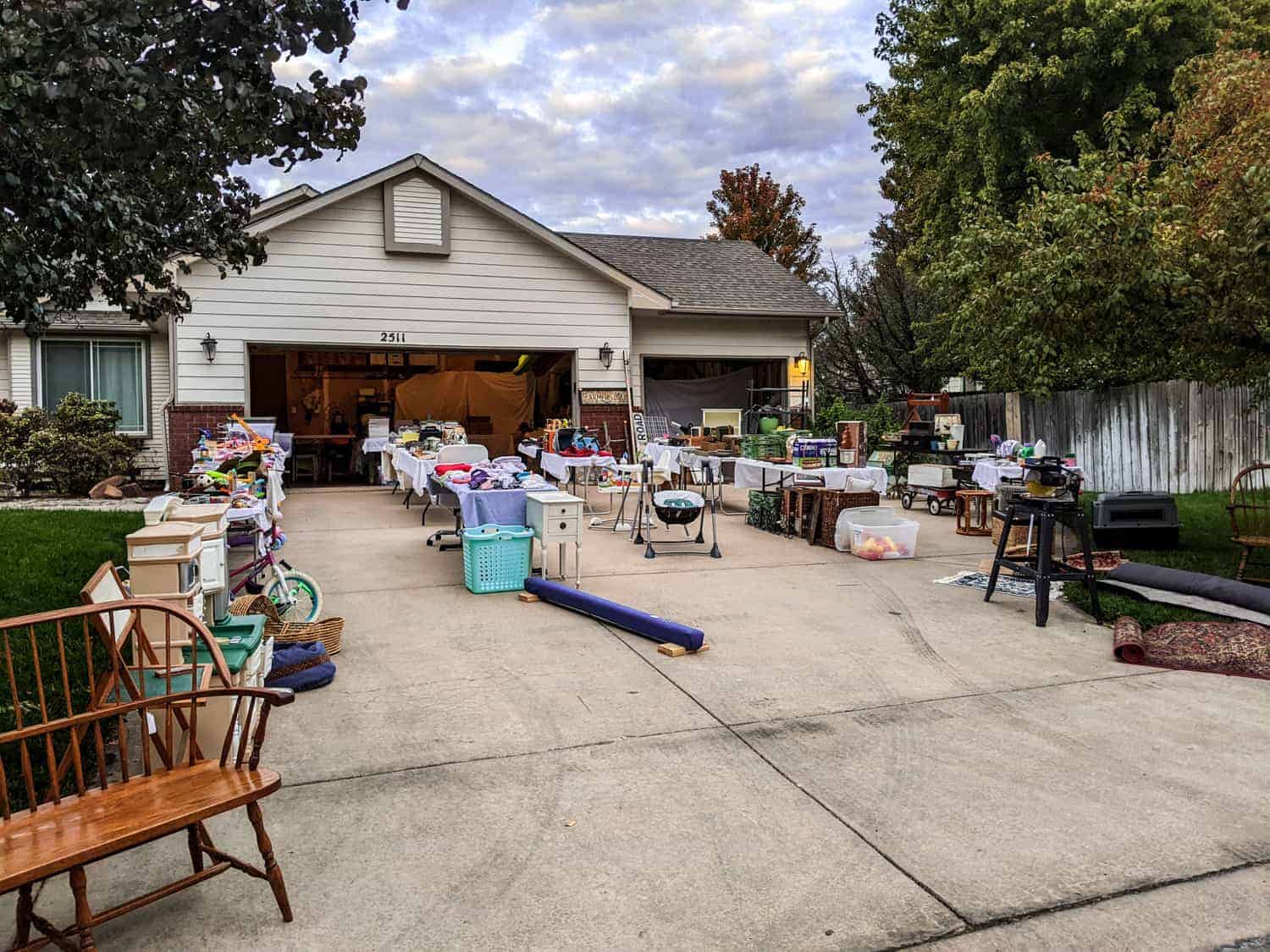 I trust this post on how to create a successful garage sale ad has been helpful for you to attract lots of customers to your next sale! Remember, if you don't let people know, they won't come…even if you have the most amazing stuff at the lowest prices. LET PEOPLE KNOW!!! And have fun making money!
Read More of My Garage Sale Tips!
Part 1: Ultimate Guide to a Successful Multi Family Garage Sale
Part 2: Ultimate Guide to a Successful Multi Family Garage Sale
Part 3: Ultimate Guide to a Successful Multi Family Garage Sale
Beginner's Guide for a Successful Garage Sale
Garage Sale Tips for Organizing Kid and Baby Clothes
Most Successful Garage Sale Hours, Days and Months
20 Tips How to Price Garage Sale Items
…and more!
Pin for Later How to Create a Successful Garage Sale Ad