Whether you're holding a garage sale or shopping the world's longest garage sale, your clothing and accessories make a BIG difference. Here is my tried and true guide on what outfit to wear at garage sales.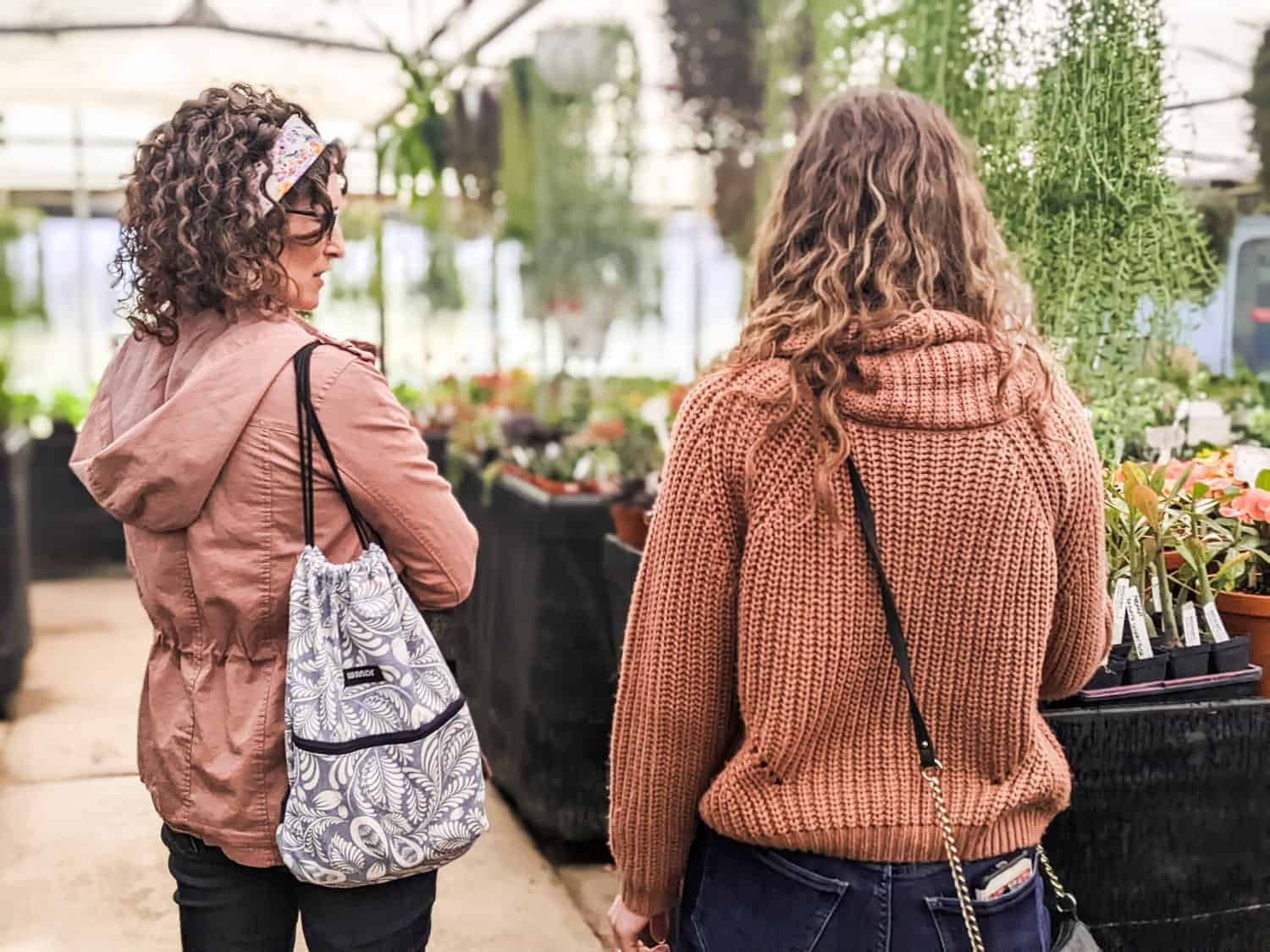 What Outfit Should I Wear at Garage Sales?
Dressing comfortably is a good idea while holding a garage sale (aka rummage sales or yard sales) or shopping for great deals at garage sales. But there are also items you might not have thought of that you should always have such as
People have such a wide variance of personal style that it might seem strange to make general suggestions of what outfit I should wear at garage sales. Of course, you can wear absolutely anything to a garage sale. (I've been known to stop at a sale while all gussied up on my way to my corporate job or on the way home from a wedding.) But after a lifetime of shopping and selling at garage sales, I have found best practices of what to wear that have been extremely helpful and will make your garage sale experience enjoyable and successful!
What Purse Should I Wear at Garage Sales?
This is possibly the most important outfit question you can ask while preparing for garage sale shopping or selling. You will be busy finding killer deals or selling items to people. The worst thing is wondering where you left your purse or cash pouch. And juggling a coin purse in your hand while carrying loads of garage sale items is just cumbersome and not fun at all.
My Personal Favorites: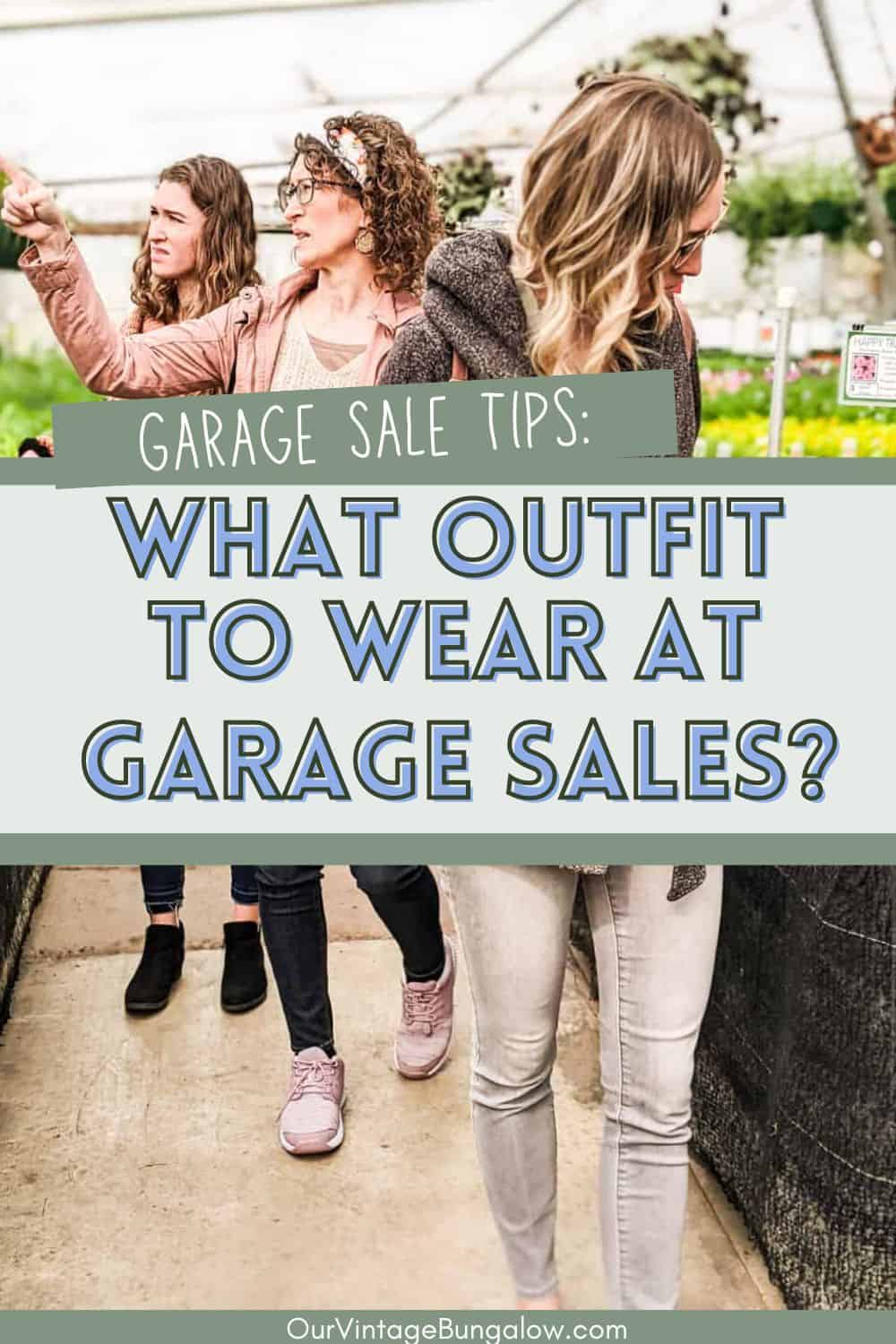 What Money Envelope Organizer Should I Use At Garage Sales?
Don't forget that cash is king while shopping and selling at garage sales! You MUST, must, must have plenty of small bills. I'm a bit of a hot mess when it comes to carrying (and organizing) cash, so it's imperative that I have a cash organizer. Something simple will do, but I recommend some of the money envelope systems below to keep your cash easily accessible while remaining stylish.
My personal favorite:
What Sunglasses Should I Wear To a Garage Sales?
Pro tip: Choose sunglasses with NO NOSE PIECES. I move my sunglasses to the top of my head, and then down, and then up… But those pesky nose pieces would get stuck in my hair, and I would end up standing there trying to get untangled.
I am a person that HAS to have sunglasses in the bright sun, so my solution are glasses that can easily be moved to the top of my head and back down without getting tangled in my hair. Such a little detail but such an inconvenience when schlepping to one dark garage and bright driveway after another.
My personal favorite:
What Shoes Should I Wear To a Garage Sale?
You should wear shoes that you would wear while traveling in an airport or a long road trip. They can be cute, but choose comfort over cute every time because at the end of the day, your dogs will be barkin'.
My personal favorites:
Now, what shoes NOT to wear while shopping or holding a garage sale (unless you're just stopping by on your way somewhere else, of course).
No heels of any sort
No flip flops or backless sandals
No tall boots covering your calf (these get hot and restrictive after a couple hours, even in cooler weather)
What Under Clothing Should I Wear at Garage Sales?
Ok, yes, I'm getting up close and personal. But good underwear and bras are key to comfort. You know I'm right. Wear things that won't creep, poke, squeeze or otherwise make you uncomfortable. This isn't a fashion show…leave the Spanx at home. And there aren't many places to privately readjust while you're surround by fellow garage salers. You'll be up and down and all around. Make sure you're underwear isn't.
My personal favorites:
Cotton Women's Bikini Underwear
What Pants Should I Wear at Garage Sales?
Garage sale shoppers can choose yoga or sweat pants, comfy jeans, cute shorts or athletic shorts while shopping for a good deal or having a successful garage sale. Again, be mindful of the weather in the first place and remember that it will get hotter throughout the day. Do not choose something super nice or easily snagged as a lot of times you might be carrying all sorts of potentially dirty items (aka the good stuff) around. It is not worth worrying about staining or snagging your clothes!
Pro Tip: Make sure you have something with a back pocket or deep leg pocket for your phone! If you're holding a garage sale, you will need a place for that sucker all.the.time.
My personal favorites:
What Top Should I Wear at Garage Sales?
T shirts, sweaters, sweat shirts or casual shirts are always good choices for shopping local sales. Think about what you would wear for comfortable travel. Like the pants, choose clothing that can get dirty while you carry all types of items to your car. And dress in layers no matter what the season. When you're out during predawn hours, either shopping or setting up, it is always chilly. But then it can get quite warm later on.
Pro tip: Long shirt and high(er) neck. You don't have time pulling and holding your shirt while you're constantly bending, lifting and moving at a sale.
My personal favorites:
Should I Wear a Dress at Garage Sales?
If the weather is hot, I love wearing comfortable sun dresses at garage sales! My thoughts on dresses while garage sale shopping is that it shouldn't be so short you're constantly thinking about it…you WILL be doing a lot of bending, kneeling and moving items. And it shouldn't be so long that it gets in your way. It's quite bothersome to be tripping over your dress or skirt while dragging dirty old things out of someone's basement at an estate sale!
My personal favorites:
Casual T Shirt Dress with Tie Waist
Short Sleeve Summer Dress with Pockets
What Hair Style To Wear at Garage Sales?
Of course, people have many, many different hair styles. All I will say is that you need to be mindful of the weather and length of time you will be outside. It may be chilly in the morning while you're setting up the sale but then warm up to 95 degrees by noon. Make sure you have easy access to a hair tie or ball cap if that is going to make a difference in your comfort level in the middle of August. Also, if it rains, you don't want soggy hair getting in your way.
My personal favorites:
What Outerwear to Wear At Garage Sales?
I live in the Midwest and the weather can literally change from a sunny 95 degrees to a rainy 70 degrees in minutes. But even in summer, the mornings are chilly, so I always throw in a jacket while having a garage sale or early bird shopping garage sales. Oh, and don't think that if it starts to rain that sales will close. There have been many occasions when I've run from garage to garage in the rain. (You often find the best garage sales with the best deals during a rain storm!) Always have a jacket, hoodie, rain coat or heavy coat with you, depending on the time of year.
My personal favorites:
What Miscellaneous Items I Should Bring While Shopping Garage Sales?
I am a firm believer in being prepared to fully maximize my good time and comfort level. Last thing is a list of random items I keep in the car while garage sale shopping or holding a successful yard sale.
Umbrella (Again, sales don't stop just because it's raining)
Finger gloves with pullover mitten covers (Sales can be held when it is pretty chilly. Be warm while still able to handle your cash!)
Little or no jewelry (Yes, you can be cute, but save those long necklaces, dangly earrings and bracelets for a time where you're NOT bending over constantly, pulling tables out to your driveway and carrying junk to your car.)
My personal favorites:
Finger Gloves with Pullover Mittens
So at your next garage sale or Saturday morning shopping for garage sale treasures, put some thought into what outfit should I wear while at garage sales! Small details in your outerwear, sunglasses, outfit and purse choice will give your the best time possible. And if you're comfortable, then you're happier. And if you're happier, you have a better chance to keep on schlepping to those sales to find your next treasure or putting in the hard work selling your awesome items!
Read More Garage Sale Quick Tips Below
20 Tips How to Price Garage Sale Items
30 Top Items to Sell at a Garage Sale
How to Advertise for Your Garage Sale
How to Shop Garage Sales with Kids
Shop My Personal Favorites for What Outfit Should I Wear At Garage Sales
Pin for Later What Outfit Should I Wear At Garage Sales