Estate sales this summer have been slim pickin's as my grandma would say. So when I saw the ad for a century old house full of antique treasures that started within the hour, I jumped in my car and headed out. I'm excited to share all the estate sale finds and my latest antique haul at this one sale!
As I said, estate sales haven't been too exciting this summer. There have been lot of them but I haven't found a lot of high-quality pieces. Most of them have been held at new build houses, meaning the owners have already gone through their junk in the past ten years just to move to their new home.
I don't like when owners have already purged, cleaned out and sold their old junk.
It's perfect when owners have lived in their home for decades, hording away all those boxes of vintage pieces in the corners of their basement and garage and storage room.
Finding the Estate Sale
This estate sale was a big un' and full of the good stuff. When I saw the photos online, I knew it was going to be filled with a lot of people. I get weekly emails from EstateSales.net for all the sales in my surrounding area. It's a great resource to keep up on what's listed during the week.
One of my favorite local estate sale proprietors was running the sale. They have reasonable prices, organize well, keep their items in good condition and they know me as one of their regular buyers.
The estate sale was in a gorgeous house built in the late 1800's or very early 1900's.
The entire house was jam packed from creepy basement to airless attic with antiques. The former owners must have been antique dealers, because jam packed doesn't even begin to describe how much stuff there was.
I arrived thirty minutes early and already there were about fifty pickers in front of me. There was going to be competition for this sale!
I was ready.
Need tips on how to shop estate sales? Read my 16 Estate Sale Shopping Tips to Find the Best Vintage Items.
Antiques I Found For My Home
On this sale, I didn't have specific items picked out before. A lot of times, I will scour the online auctions beforehand and head to a couple larger pieces right away.
This sale just had a lot of rare items and interesting vintage pieces in general. I picked up a few items that are not worth reselling but that reflect my own personal taste. I will pack them away for future use in our farmhouse decorating.
1. Enamel Funnel
2. Large Brass Watering Can
Items I Found to Resell
The main purpose of this sale was to find items to sell in my Etsy shop, Our Vintage Bungalow. So I had my Etsy shopping app ready on my phone in case I needed to quickly check prices for items that seemed interesting.
3. Huge Box of Teal Melamine Dishes
4. Wood Butler Sign
5. Rustic Drawer Cabinet
6. Western Sombrero
7. Tea Pot with Copper Cozi
8. Ornate Wood and Brass 1800's Collar Box and Men's Collar
9. Mid Century Salt and Pepper Sets
10. Large Brass Bathroom Counter Mirror
11. Parrot Paint by Number Paintings
12. Mid Century Teal and Orange Mugs
13. Pitcher and Glasses with Rattan Holders
14. Copper Door Pulls
Getting 50% Off Deals on the Final Day
There were so many boxes and tables and rooms of antiques that I knew there would still be good items at the end of the sale. Each day of an estate sale usually has a discount. I wanted to get there at opening time on Saturday to snag the final super discounted deals.
Here are the items I found on 50% off day.
15. Ornate Gold Frames
16. Copper Kitchen Canister Set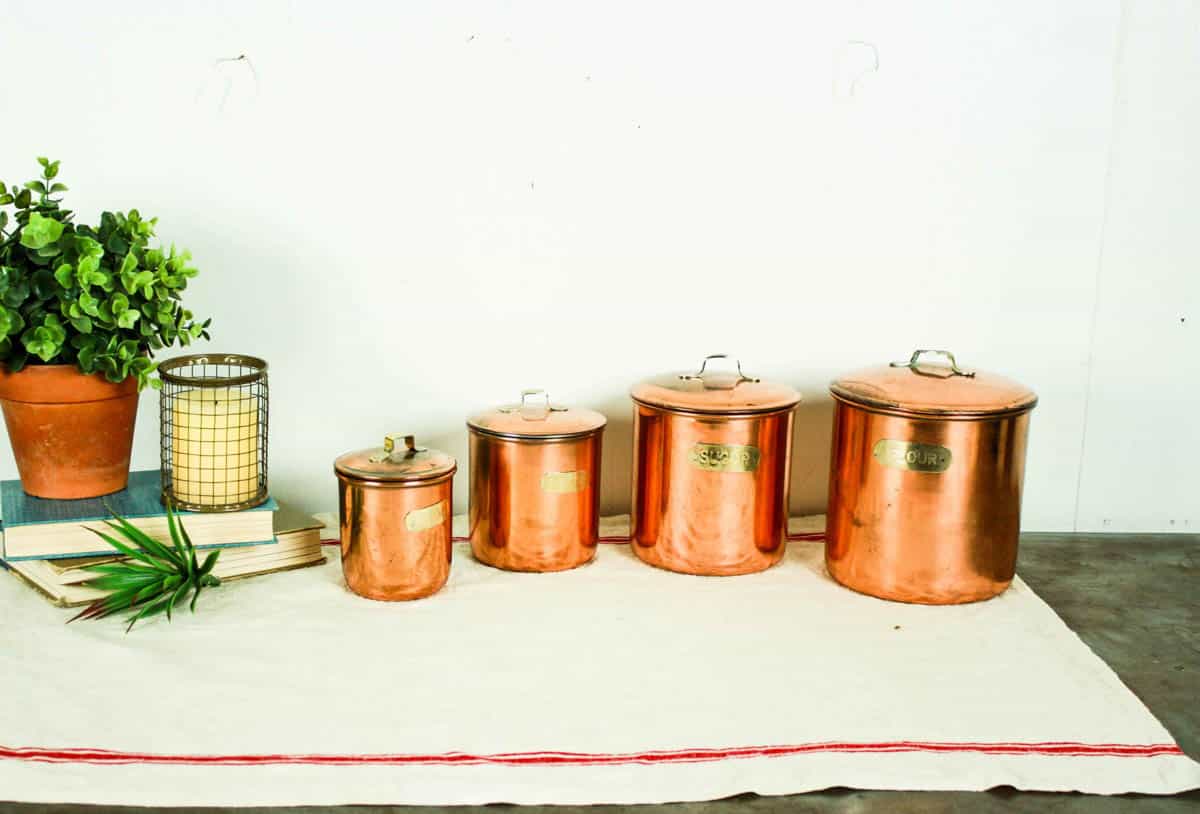 17. Globe
18. Brass Deer
19. Framed Artwork
20. Driftwood Art
21. Brass Compact Mirrors
22. Mid Century Gold Flame Lamps
Items I Asked for a Bulk Discount
23. Vintage Postcards
Generally speaking, you don't offer lower prices at an estate sale unless it's a formal offer in their Bid Box. (Wondering about how to use the bid box? Read my 16 Estate Sale Shopping Tips to Find the Best Vintage Items.)
However, on the final day with 50% discount, I did make an offer on a table full of vintage postcards. I give vintage postcards to my customers as a thank you gift as well as sell some occasionally. So I always try not to pay full price, and I thought I'd share my best tips for making an offer below.
How I made my offer for a lower price:
It was the last day of the sale when the estate sale company just wanted to get rid of items.
I was willing to buy all of a certain item, clearing up a lot of table space for them.
I asked THEM what price they would be willing to take on all of it.
I gave them time and space to calculate.
I understood that it would still be a high dollar price because I was getting a LOT of items.
The discounted price they offered, I accepted. I did not HAVE to accept, but it was more than fair, so I was not going to continue asking them to lower the offer.
I enjoyed sharing my estate sale finds, my latest antique haul with you! It's always an adventure finding vintage and antique items at estate sales, yard sales and thrift shops.
You never know what you'll find. Sometimes it's nothing. Sometimes it's a car full. I hope this has encouraged you in your own antique treasure hunting adventure.
Read more of my vintage shopping and selling tips below.
16 Estate Sale Shopping Tips to Find Best Vintage Items
Guide To Buying Vintage Home Decor
30 Top Items to Sell at a Garage Sale
Comment and tell me what you're greatest antique find has been! I love to hear other people's thrifting adventures.
Pin for Later Estate Sale Finds | My Latest Antique Haul